Contributed by Deetoxify
Before I decided to stick with the title, I already anticipated comments such as "Really, 30k lang dala niya?", "Di kaya ng 30k 'yung Japan", "Ah, baka 7-Eleven or FamilyMart lang 'yan kumain".
With write-ups such as this, sceptic reactions and remarks are unavoidable. The title will either make you curious, interested, or flabbergasted.
I'm not writing this to force you to believe in me or to sway you to bring the same amount as I did. Different people, different interests, different travel styles, and that's okay.
So go ahead, I can't stop your thoughts anyway. You're still reading this, so I guess you're still interested.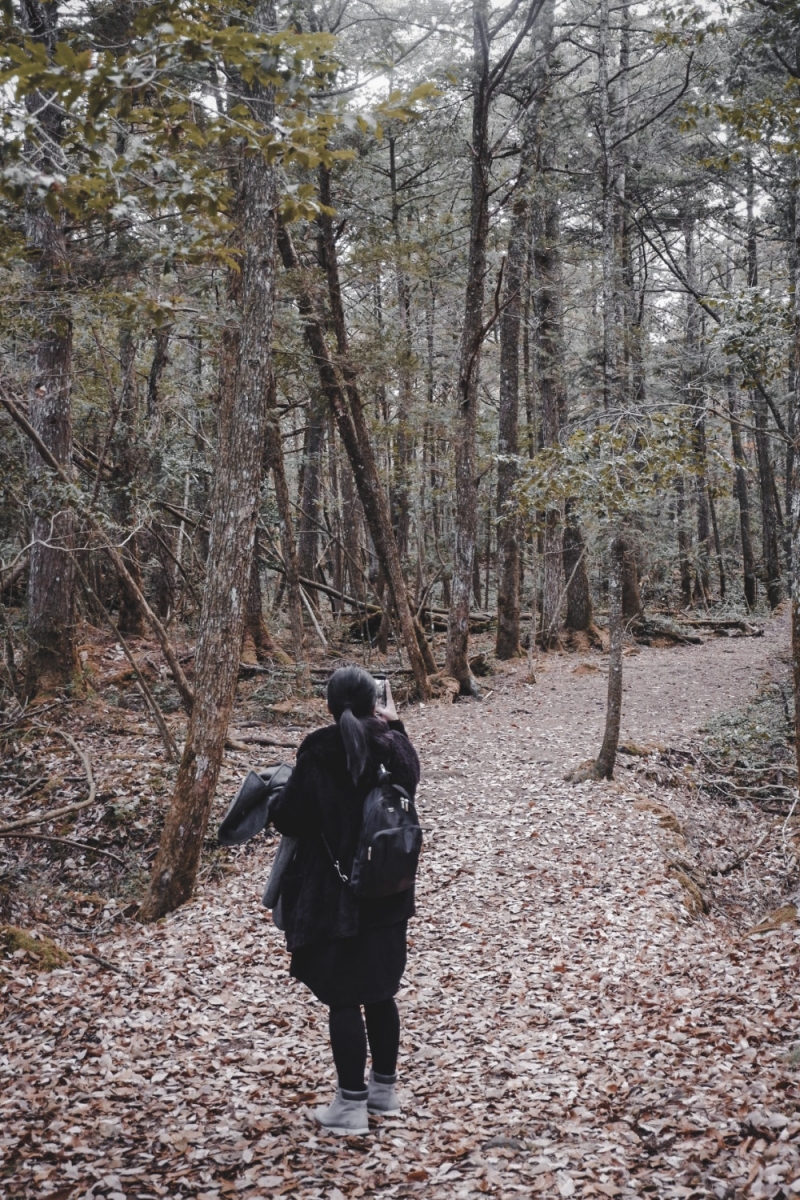 It's true. I only brought ₱30,000. That's around ¥63,000. But it might even shock you more that I came home with more than ¥6,000 remaining in my wallet.
Also read: 29 Reasons Japan is Love
If you're interested to know how my Japan trip went, I'll be sharing with you a brief summary of our itinerary and expenses. Just keep on reading…
#1
You already know how long I stayed in Japan just by the title. So by now, I think you are wondering what parts of Japan I've covered, right?
For 11 days, I was able to visit six counties or prefectures namely, Tokyo, Yamanashi, Kobe, Kyoto, Nara, and Osaka.
"Paano? Nag-bus, train, or plane kayo? How did you manage your travel expenses with your 30k?"
For Tokyo, we purchased the 72-hour Tokyo Subway Pass. It's an unlimited Metro pass covering almost all of Tokyo. It's not hard to use at all! Just familiarise Tokyo's subway/metro map. We bought single tickets for those stations not covered by the Tokyo Subway Pass such as Odaiba and Maihama for the Disney Resort Line.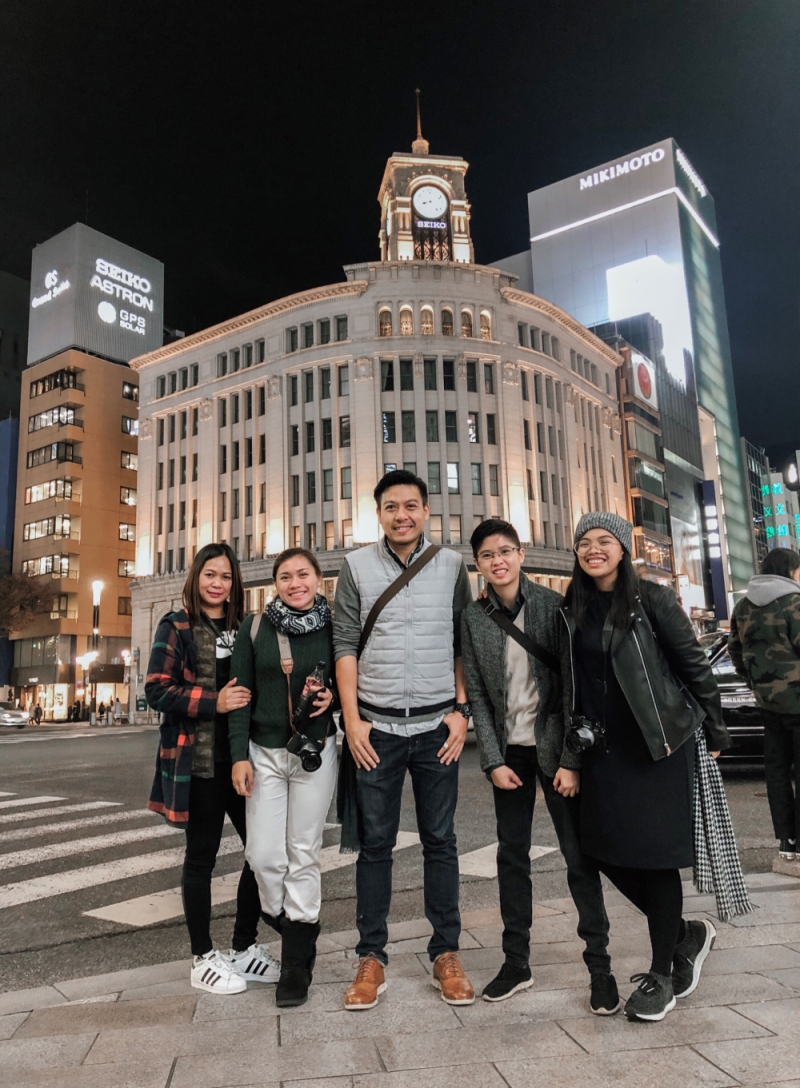 For Yamanashi, we used our JR Pass, combined with single tickets to access the Fujikyo Rail. We also purchased the Fujikyuko Bus Pass.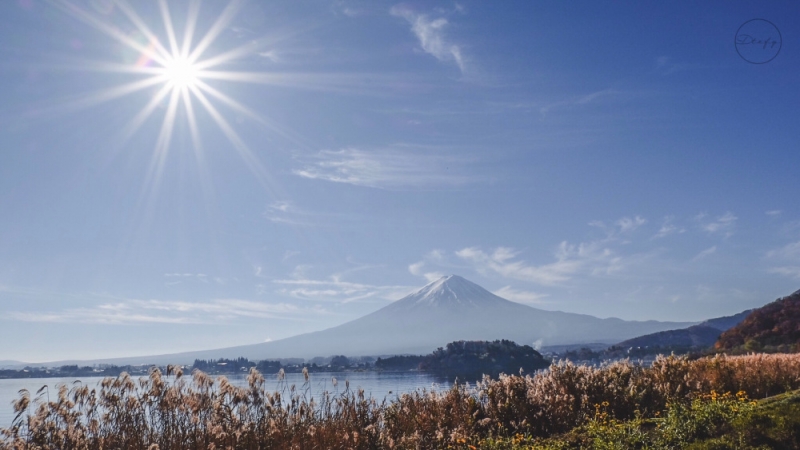 For Osaka, Kobe, Kyoto, and Nara, we used our JR Pass most of the time but we also purchased bus passes in Kyoto and Nara.
I also used Hyperdia (app for Android, website for iOS) and Japan Travel App to help us with train schedules and platform or track numbers.
Quick links:
Tokyo subway map
JR-East Railway map
JR-West Railway map
Fujikyuko bus
#2
What did you do in Japan?
Answer: Legit food trip and a little bit of shopping. *wink!*
"Talaga, nakaya mo pang mag-shop sa 30k na 'yan?"
I did not say anything about shopping in Gucci or Chanel.
"Food trip, saan? Sa 7-Eleven?"
Believe it or not, I was full the entire duration of this trip. There were even times when I did not want to eat anymore because I was still full. Plus, we tried three different steakhouses in three different prefectures. That's something, don't you think?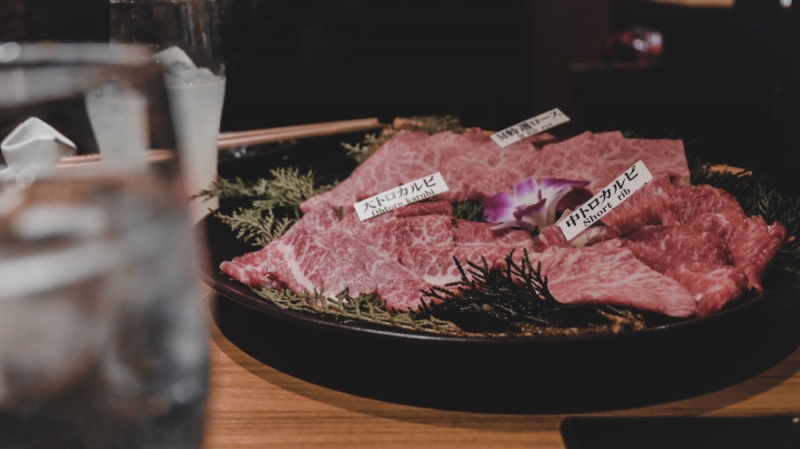 #3
Did you travel solo or with a group?
I travelled with my usual travel group, just like my Beijing and Taiwan trips. We all had ₱30,000 as pocket money.
"Ah kaya naman pala, madami sila eh."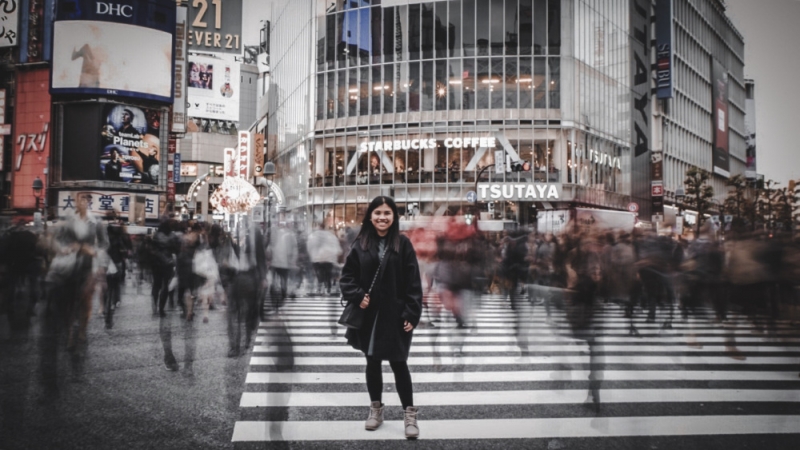 Ito lang talaga masasabi ko: If there's a will, there's a way! Just like taking this photo in Shibuya. Thanks to my travel buddies who are always game to do crazy stuff with me.
#4
Did you visit any theme park?
Of course! We went to Tokyo Disney Sea and Universal Studios Japan.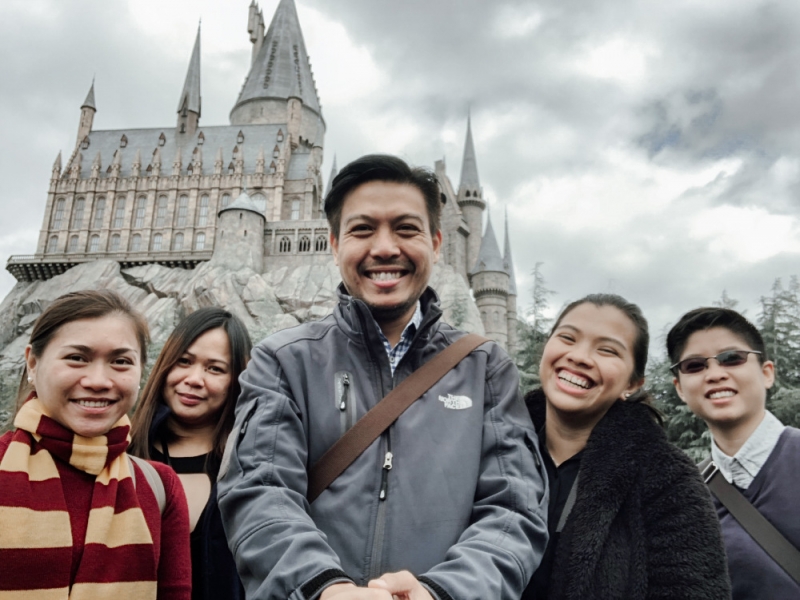 #5
This is the moment you've been waiting for. So how did you fit ₱30,000 for 11 days in Japan?
Here's how:
We pre-paid our theme park tickets.
We pre-paid our museum tickets.
We pre-paid our transportation passes (JR Pass and Tokyo Metro Pass).
We pre-paid our pocket Wi-Fi rental.
We pre-paid our accommodations.
We pre-paid our Philippine Travel Tax.
There are pros and cons when you pay "stuff" before your trip.
Pros
You can sleep soundly because you've paid the essentials already.
You need not bring a huge amount of money during your travel.
You can opt not to pay in bulk and spread out the expenses before your travel date.
Cons
You have to prepare the money earlier.
Prepaying does not spare you from mini heart attacks caused by mailing issues and other kinds of delays.
This is not really a "disadvantage", but it's one of the most common questions I get: What if my visa has not been approved yet? Then make the reservations after you get your visa, just like we did. Timing is key!
Since we've pre-paid the essentials, the money we brought was spent on food, extra transportation costs, and a little bit of shopping. If you're a picky eater or on a tight budget and would rather save money and not spend on food, ₱30,000 is more than enough for you.
Also read: Travellers Now Have To Pay A Departure Tax In Japan Worth ¥1,000 (₱480)
Itinerary
Tokyo
Akihabara
Tokyo SkyTree
Tsukiji Market
Imperial Palace
Hie Shrine
Odaiba Seaside Park and Divercity
TeamLAB Museum
Ginza
Tokyo Disney Sea
Shinjuku Gyoen Garden
Meiji Jingu Shrine
Yoyogi Park
Harajuku Takeshita Street
Hachiko Statue
Shibuya Crossing
Yamanashi
Lake Kawaguchiko
Oishi Park
Maple Corregidor
Aokigahara Forest
Lake Saiko
Fuji Tempura Idaten
Kyoto
Arashimaya Bamboo Forest
Kinkaku-ji Temple
Otsuka
Gion District
Fushimi Inari Shrine
Kobe
Noevir Stadium Kobe
Kobe Harborland
Nikusho Ichiya
Nara
Todaiji Temple
Nara Park
Nakatani-duo Rice Cake Shop
Kintetsu Market
Osaka
Universal Studios Japan
Umeda Sky Building
Kurumon Ichiba Market
Dotonbori
Universal Studios Japan
Matsusakagyu Yakiniku
Restaurants and food we ate
Yoshinoya
Ichiran Ramen
Shake Shack
Random Ramen Restaurant in Ginza (the name was in Japanese)
Baskin & Robins
Tsukiji Outer Market Stalls
McDonald's (just because!)
Oishi Park Ice Cream
Fuji Tempura Idaten
Harajuku Takeishita Stalls
Harajuku Gyoza-Lou
Uobei Genki Sushi
Matsusakagyu Yakiniku
Dotonbori Stalls
Kuromon Ichiba Market Stalls
Creo-Ru Takoyaki
Horai 51
Pablo
Rikuro
Hoehei Gyoza
Otsuka Steak
Arashimaya Food Stalls
Inari Food Stalls
Kendonya Udon
Hougyokudou
Nikusho Ichiya
Calbee
Kaitenzushi Ganko
Nakatani-duo Rice Cake Shop
Elk Cafe
Tokyo Disney Sea Cafe
Universal Studios Japan Cafe
FamilyMart, 7-Eleven, Lawson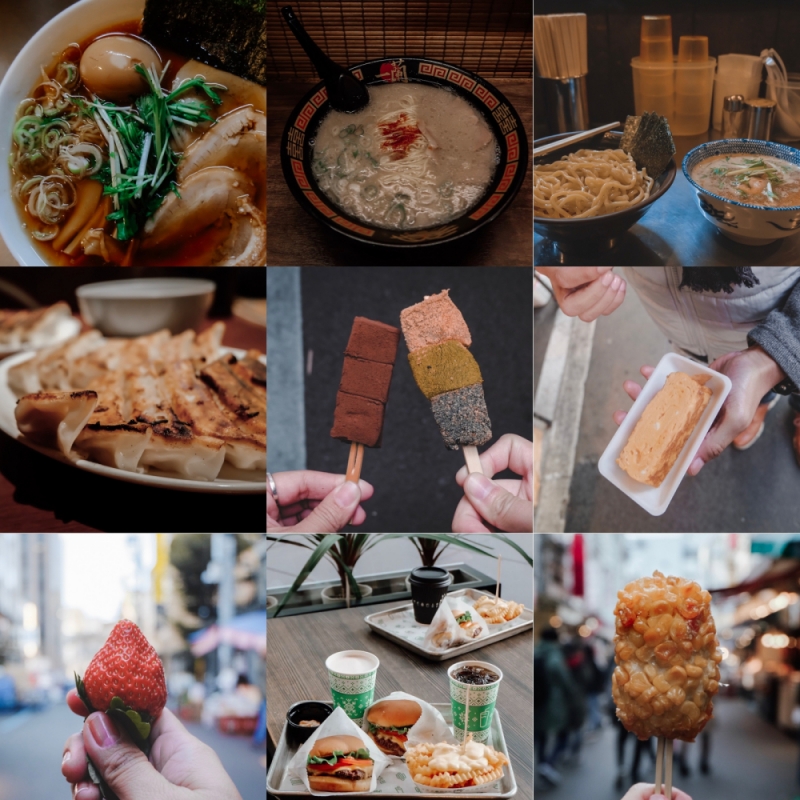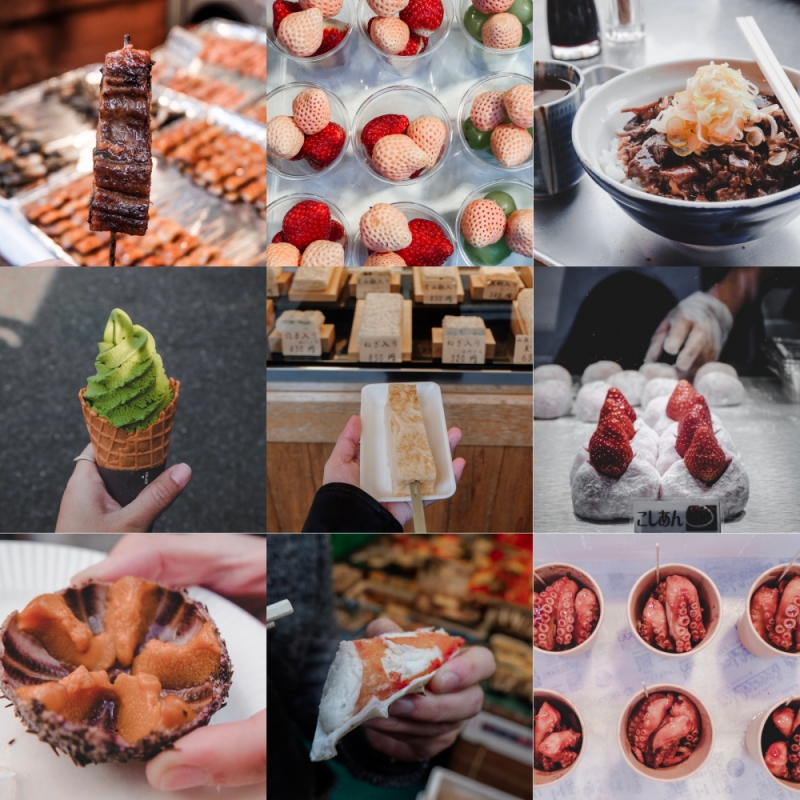 Daily expenses
(Exchange rate as of 26 Nov 2018 was ¥1 = ₱0.47)
Day 1
¥1,000 – Airport Bus
¥380 – Yoshinoya
Free dinner (Thank you, Tita Pinky!)
¥528 – Family Mart
Total: ¥1,908 = ₱896.76
Day 2
¥175 – Corn Fritter 350/2
¥350 – Strawberry 700/2
¥100 – White strawberry 500/5
¥100 – Eel 200/2
¥100 – Egg Tamago
¥250 – Mochi Stick
¥500 – Daifuku – Custard Cream
¥320 – Shimbashi – Daiba Single Ticket
¥380 – Aomi – Shimbashi Single Ticket
¥254 – Tomod's
¥648 – 300 Shop
¥380 – Baskin&Robins
¥850 – Tsukemen
¥151 – Coke
¥223 – Asahi
Total: ¥4,781 = ₱2,247.07
Day 3
¥1,296 – Shake Shack
¥160 – Shin-kiba – Maihama
¥160 – Maihama – Shin-kiba
¥280 – Disney Line (Maihama to Disney Sea)
¥280 – Disney Line (Disney Sea to Maihama)
¥300 – Disney Ice Pop
¥780 – Disney Food
¥200 – Water
¥440 – McDonald's
Total: ¥3,896 = ₱1,831.12
Day 4
¥1,140 – Fujikyo Rail to Kawaguchiko
¥1,140 – Fujikyo Rail to Otsuka
¥1,000 – Bus Pass (500 paid by my friend, her "treat" for arranging the trip)
¥350 – Strawberry Ice Cream
¥300 – Souvenir
¥972 – Fuji Tempura Idaten
¥497 – 7-Eleven
¥890 – Ichiran
¥648 – Sim card 3,240/5
Total: ¥6,937 = ₱3,260.39
Day 5
¥600 – Coin Locker
¥230 – Lawson
¥200 – Shinjuku Garden
¥490 – Harajuku Gyoza-Lou
¥340 – Souvenir
¥98 – Water
¥566 – 7-Eleven
¥862 – Uoebei Genki
Total: ¥3,386 = ₱1,591.42
Day 6
¥225 – Strawberry Mochi 450/2
¥334 – Sweet Potato
¥2,200 – Otsuki
¥134 – Souvenir 400/3
¥770 – Hoehei Gyoza
¥480 – Sweet Potato and Sakura Mochi
¥108 – FamilyMart
Total: ¥4,251 = ₱1,997.97
Day 7
¥2,400 – Nishuko Ichiya
¥2,000 – Iniesta Merchandise
¥385 – Calbee 770/2
¥139 – Cheesecake 695/5
¥500 – Takoyaki
¥220 – Sesame Mochi
¥956 – Daiso Haul
Total: ¥6,600 = ₱3,102.00
Day 8
¥754 – Kaitenzushi Ganko
¥183 – Pablo 915/5
¥248 – Choco Cheese Tart
¥284 – Traditional Mochi 568/2
¥250 – Mochi 500/2
¥1,400 – Shiroi Koibito
¥900 – Royce Chocolates
¥850 – Royce Chips
¥350 – Strawberry 700/2
¥875 – Elk Cafe
¥120 – Choco Pie
¥1,118 – Daiso Haul
¥522 – Muji
Total: ¥7,854 = ₱3,691.38
Day 9
¥850 – Kendonya Udon
¥167 – Grape Fruit 500/3
¥30 – Inari Senbei 120/4
¥150 – Taiyaki Honpo
¥210 – Bus to Todaiji
¥150 – Food for Deer
¥324 – Souvenir
¥210 – Bus to Nara Station
¥6,385 – Matsusakagyu Yakiniku
¥278 – Ippudo Instant Noodles
¥310 – D. Kelly Shopping
Total: ¥9,064 = ₱4,260.08
Day 10
¥308 – 7-Eleven
¥500 – USJ Potato Chips
¥1,100 – USJ Butterbeer
¥250 – USJ IceCream 750/3
¥639 – KitKat Packs
¥2,827 – Don Quijote Haul
¥713 – FamilyMart Haul
Total: ¥6,337 = ₱2,978.39
Day 11
¥1,060 – Airport Train
¥130 – Fanta Grape
¥328 – FamilyMart
Total: ¥1,518 = ₱713.46
Summary of expenses
Day 1 – ₱896.76
Day 2 – ₱2,247.07
Day 3 – ₱1,831.12
Day 4 – ₱3,260.39
Day 5 – ₱1,591.42
Day 6 – ₱1,997.97
Day 7 – ₱3,102
Day 8 – ₱3,691.38
Day 9 – ₱4,260.08
Day 10 – ₱2,978.39
Day 11 – ₱713.46
Total: ₱26,570.04 = ¥56,532
The numbers are already there. You just have to choose the things which are more interesting and important to you whenever you travel. That's where most of your money will go.
As for my travel buddies, I want to say thank you for making our #JaFUN trip live up to its name, and making it the most eventful and memorable one just yet! I still laugh thinking about the things we've experienced. So, where to next?
Also read: 11 Days of All Things Weird & Wonderful in Japan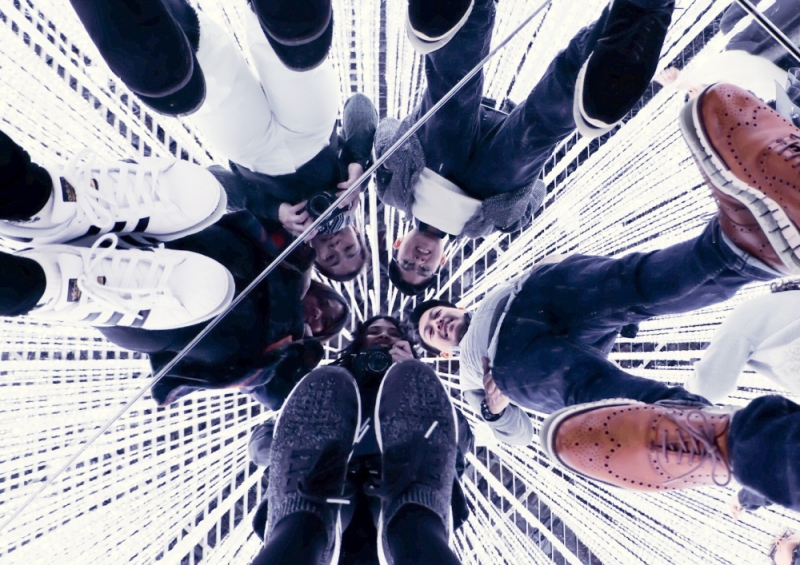 Feel free to leave comments or message via e-mail if you have any questions. If you like this article and want to see or know more about my #JaFUN trip, or other trips and tips, follow me on Instagram, Facebook, and Twitter.