Contributed by hANnaeYTHING
Jejudo (also known as Jeju Island) is the largest island off the coast of the Korean Peninsula, and the main island of Jeju Province of South Korea. The island lies in the Korea Strait, southwest of South Jeolla Province. The island contains the natural World Heritage Site Jeju Volcanic Island and Lava Tubes.
It is known for its beach resorts and volcanic landscape of craters and cavelike lava tubes. Hallasan Mountain, a dormant volcano, features hiking trails, a crater lake at the 1,950m summit and nearby Gwaneumsa Temple. The Geomunoreum Lava Tube System includes 7km-long Manjanggul Cave, created centuries ago when Hallasan was still active.
I first heard about Jeju Island at Korean Telenovelas. It is usually a place to have a vacation as shown in most of the Korean shows and movies. I was intrigued about what this place can offer to a wanderer like me.
Also read: How Filipinos Can Enter Korea Without a Tourist Visa
From Seoul, there are various flights going to Jeju Island. Approximately 98 flights per day. It is an hour and 5 minutes plane ride. There are plenty of airline companies that you can choose from: Asiana, Tway, Eastar Jet, Jeju Air and Korean Air. We took Asiana Airlines and was very lucky to be able to ride the flight earlier than our original schedule. It must be a birthday girl luck!
The best way to explore the island is thru an organised tour or by renting your own vehicle. What we did was that we booked at Yeha Bus Tour for Day 1 and Day 2.
Also read: Tips for Renting a Car in Jeju Island
Day 1: East Concourse
Yeha Bus picked us up at a 7-11 near our hotel at exactly 8.30am. They have designated pick-up time and place. Tip number 1, please be on time since they follow strict time frame. They have an English speaking tour guide. Our first-day tour guide was Jennifer (the girl with the microphone in the photo below).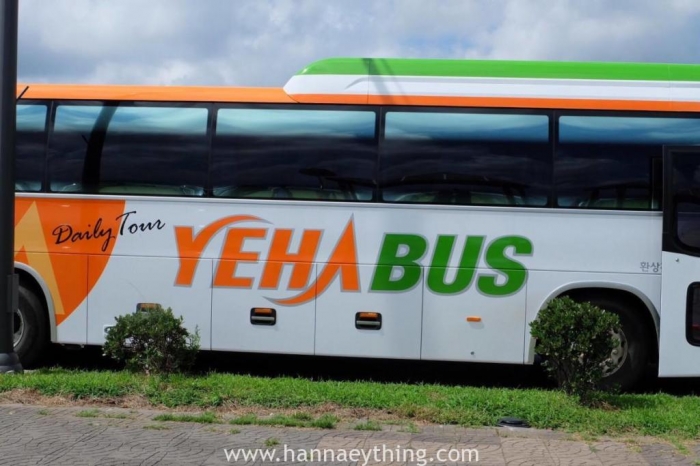 First stop: Jeju Horse Park in Seogwipo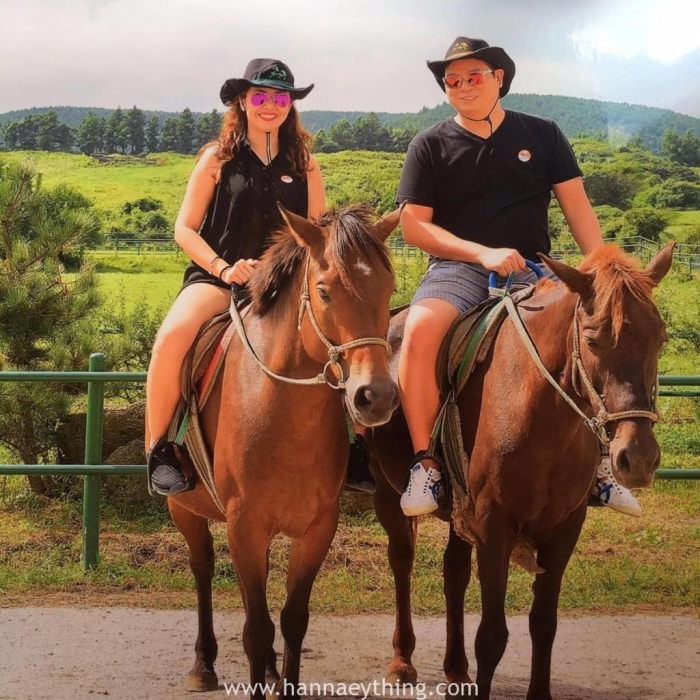 Although not stated in the package, they took us there. Horses play an important part of the Jeju culture and the park was really clean and neat. All the tourists had a chance to ride a horse. Need not fret because they are trained horses that follow the trail even without the guide. It was for free. You are not allowed to bring cameras and phones while inside the park. We left our things on the bus and others left their things at the designated lockers at the reception area. They do have an official photographer and they sold the pictures with frames for ₩40,000 (₱1,600). It is expensive but I bought it because I find the picture very nice.
Also read: 13 Awesome Attractions in Jeju Island You Shouldn't Miss
Second stop: Seongeup Folk Village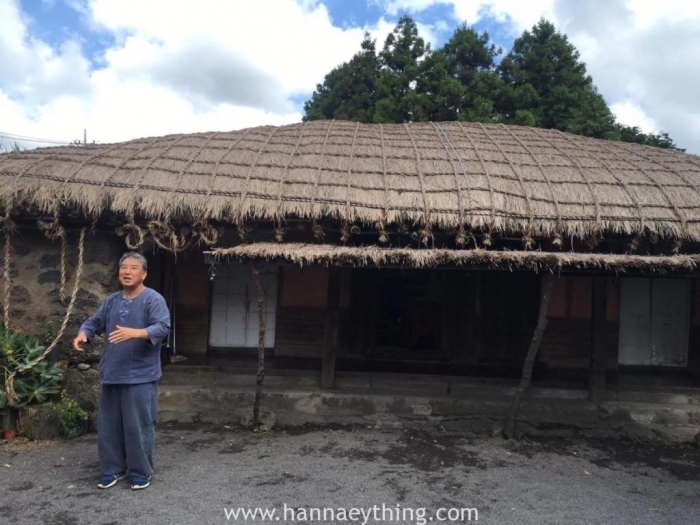 Located at the foot of Halla Mountain on Jeju Island, Seongeup Folk Village is a small town that holds a vast amount of culture.
Cultural properties in the folk village have been handed down from generation to generation and include treasures such as residential houses, Confucian shrines and schools, ancient government offices, stone statues, large millstones (pulled by horses or ox), fortress ruins, and stone monuments. We went to see one of the residential houses and we were graciously welcomed by the owner of the house.
The Seongeup Folk Village shows the unique culture of Jeju Island: the black lava rock walls, the straight but curvy alleys to block the wind, and the stone grandfather statues (Harubang), which have become a prime feature of the landscape.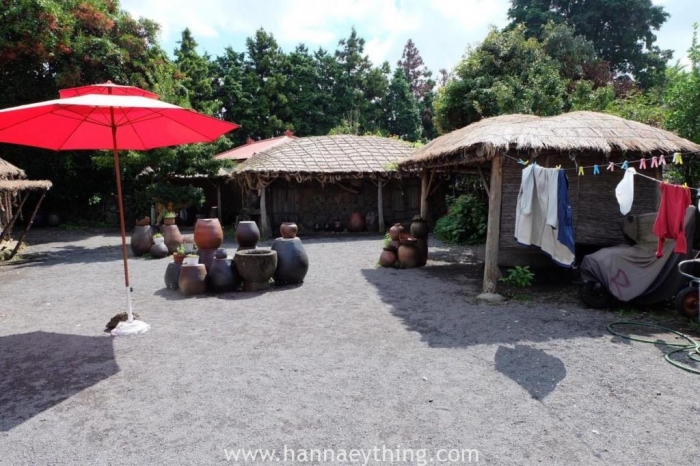 One of the village houses in JejuThe local black-haired pigs and tongsi (pigsty / restroom) are especially well-known characteristics of Jeju folk culture. The Jeju black pork is said to be very nutritious.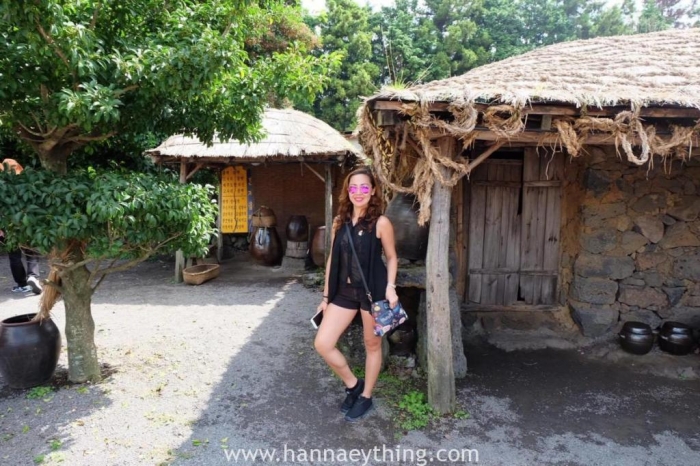 It was like an immersion to the local Jeju life. The owner was very accommodating and very informative. At the end of the tour, we were served with a very refreshing cold tea. He was also selling local made tea and honey, good thing that we did not buy because we found exactly the same tea and honey at a local supermarket sold at a cheaper price. Another tip!
Third stop: Lunch
They took us to a local Jeju restaurant wherein we were served with Jeju Black Pork with unlimited kimchi, rice and vegetables. We had fun cooking our own dish. I did not quite enjoy the food because I am not a spicy-food lover but it was enough for me since I was able to taste the famous Jeju Black Pork which is a must-try when in Jeju.
Fourth Stop: Seongsan Ilchulbong Peak
Seongsan Ilchulbong Peak rose from under the sea in a volcanic eruption over 100,000 years ago. Located on the eastern end of Jejudo Island, there is a huge crater at the top of Seongsan Ilchulbong Peak. The crater is about 600m in diametre and 90m high. With the 99 sharp rocks surrounding the crater, it looks like a gigantic crown. While the southeast and north sides are cliffs, the northwest side is a verdant grassy hill that is connected to the Seongsan Village. The ridge provides an ideal spot for walks and for horse riding as well.
The sunrise from the crater is magnificent. Also the Seongsan Ilchulbong Peak surrounded by bright yellow coloured canola flowers in the spring is truly a sight to behold but we went there in the afternoon, so we were not able to witness the sunrise but just the same, the view was awesome!
Before we trekked to the Peak, our tour guide took us to a viewing deck from afar that has a magnificent view of the peak.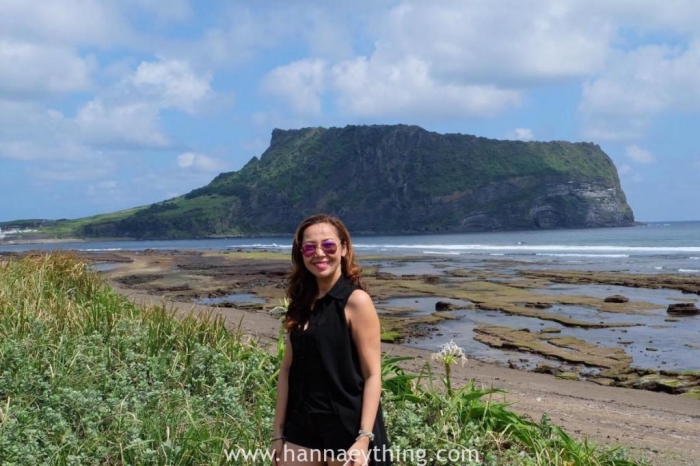 Moving forward, we travelled for a few more minutes until we reach the starting point of the trek going up the peak.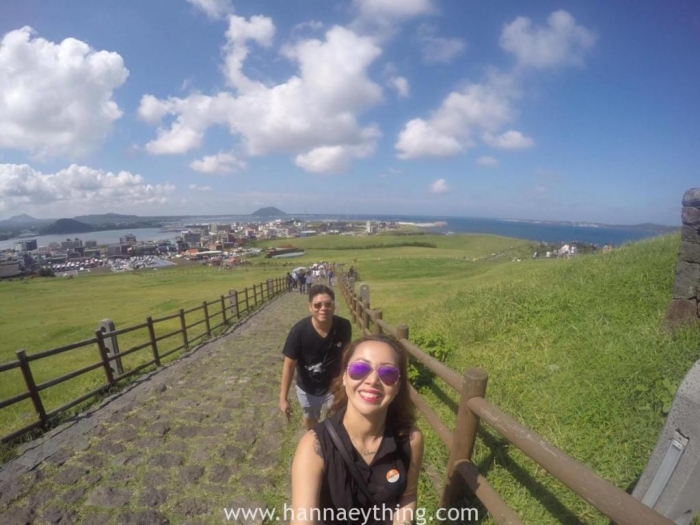 If you are taking this tour, make sure to put on sunblock because it is a long trek with less shade along the trail. Thank goodness that it was bit breezy when we went there. That was tip number 4.
Our first stop was the viewing deck with an awesome view of the city. We continued going up the stairs for about 30 minutes. The trek is actually depending on how fast you can walk going to the top. There is a designated meeting place and time at the parking area. We were given 2 hours to explore the place and I think it was enough to go up and down and still have time to rest in between and savour the view. Tip number 5, be on time always. If the guide will tell you that you are given an hour, always come back on time so that your tour mates will not be waiting for you. Always remember that their time is also as precious as yours, so do not waste other people's time.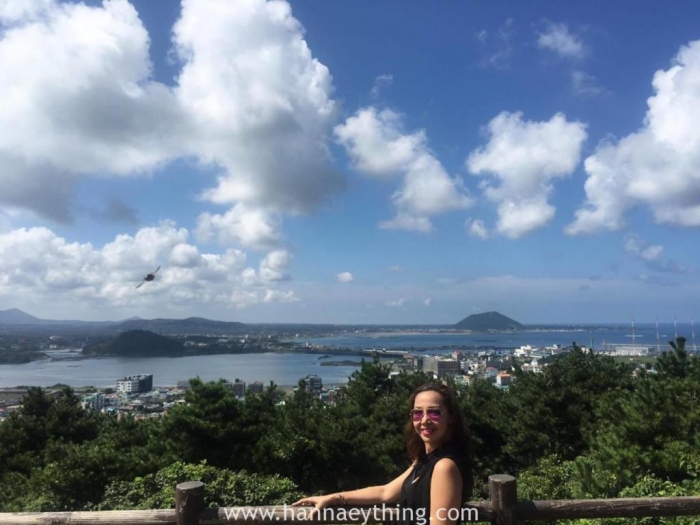 We finally reached Ilchulbong Sunrise Peak! The view was just awesome! No wonder that this is one of the UNESCO World Heritage Sites.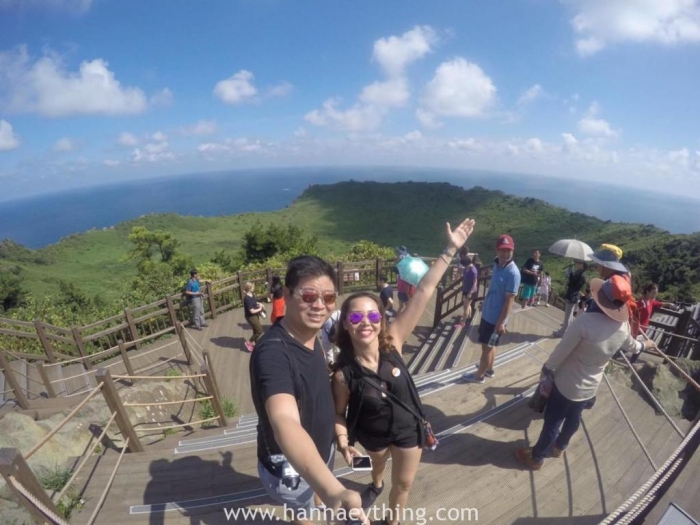 If going up was a struggle, going down was easy breezy and still with a beautiful view.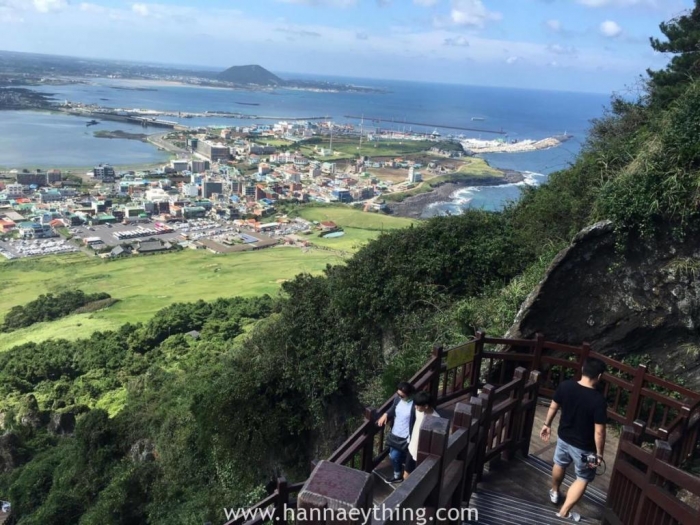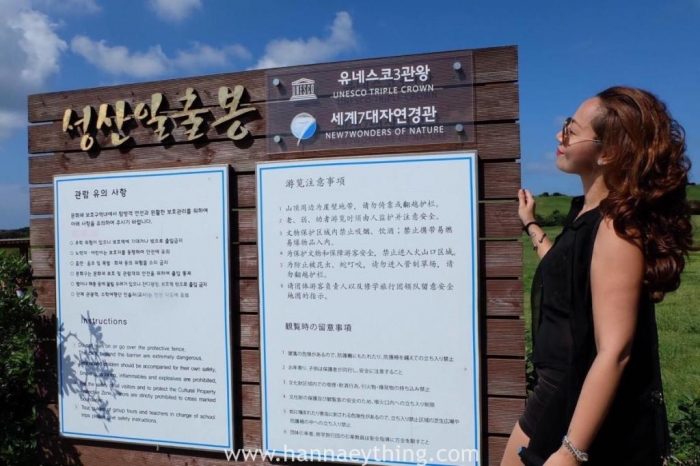 After the trek, we had enough time to have some snacks. There are lots of cafes and restaurants near the parking area. I also had the chance to buy my Jeju Starbucks City Mug since there is a Starbucks coffee shop nearby.
Fifth stop: Jeju Woman Divers Show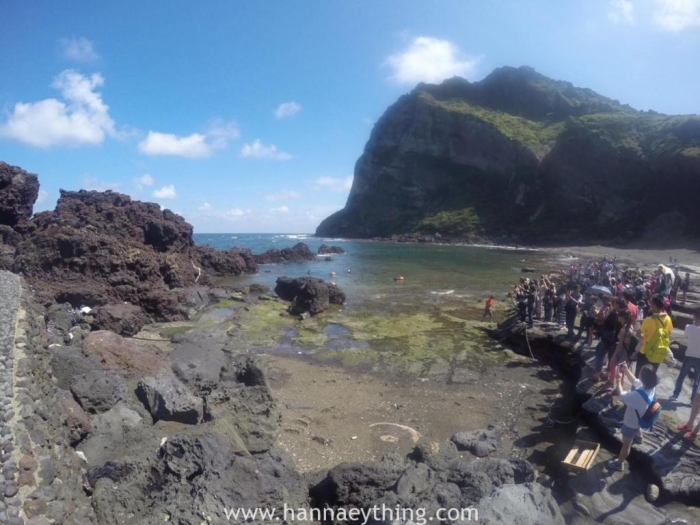 The venue is situated right next to Seongsan Ilchulbong and there are 2 performance times: 1.30pm and 3pm. The 3pm show fits into the tour schedule. Before they dive, these brave women sing and dance too.
Fifth stop: Manjanggul Lava Tube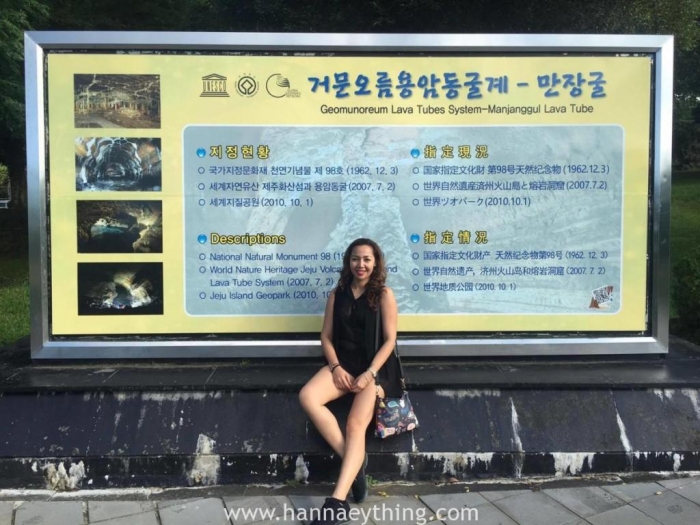 From the hot trek, we now went to the very cold Manjanggul Lava Tube. Manjanggul Cave is one of the finest lava tunnels in the world and is a designated natural monument. A lava tunnel is formed when the lava that was deep in the ground spouts from the peak and flows to the surface. Manjanggul Cave has a variety of interesting structures inside including 70cm lava stalagmites and the lava tube tunnels.
Only 1km of the 13,422m Manjanggul Cave is open to tourists. The inside of the tunnel sustains a temperature of 11~21℃, creating a comfortable atmosphere. There are rare animals such as bats living in the tunnel, which makes this tunnel valuable for researchers as well. The stone pillars and stalactites are widely spread and the tunnels show off the cave's topographical features. "Stone Turtle" is especially eye-catching because it is shaped like Jeju-do Island.
It is best to bring cardigan or jackets for this tour, tip number 6!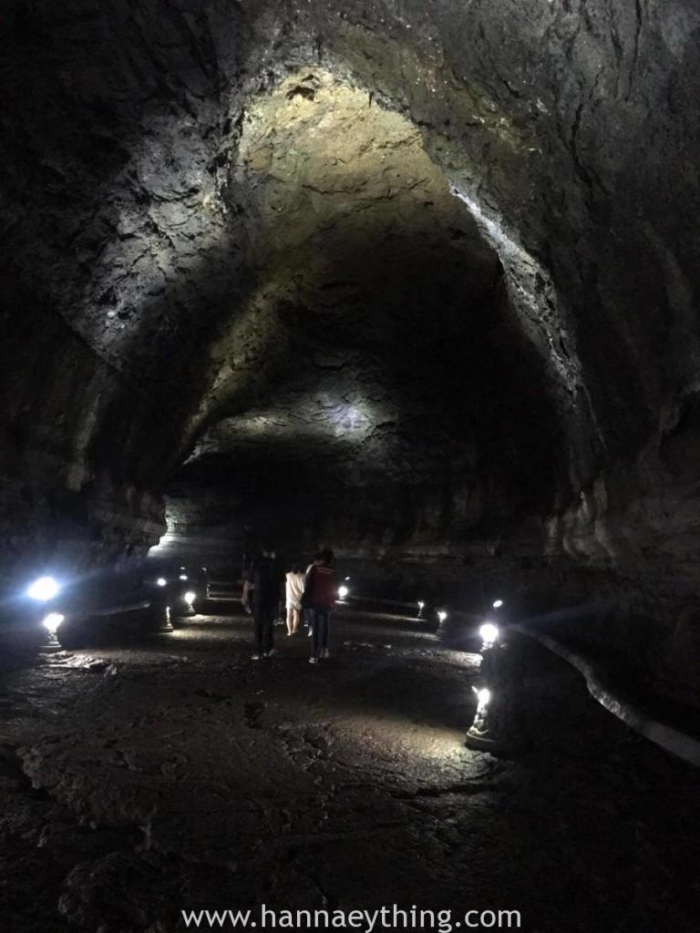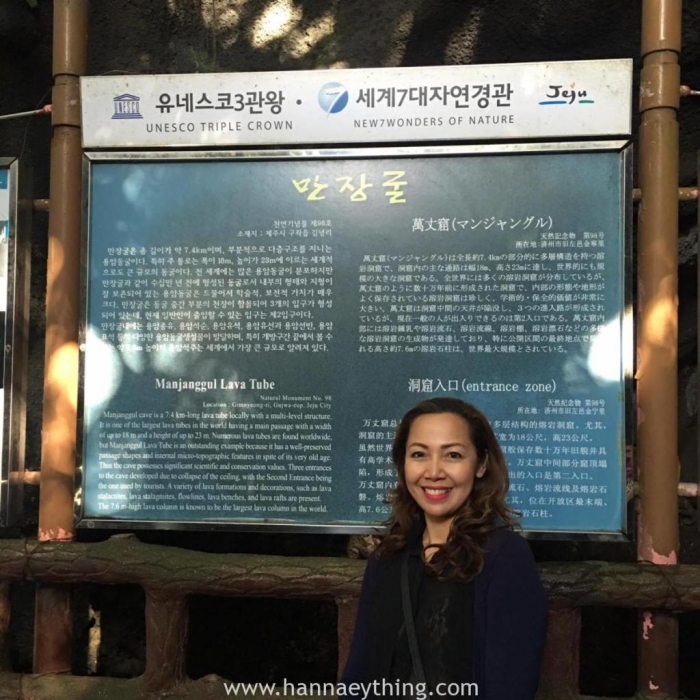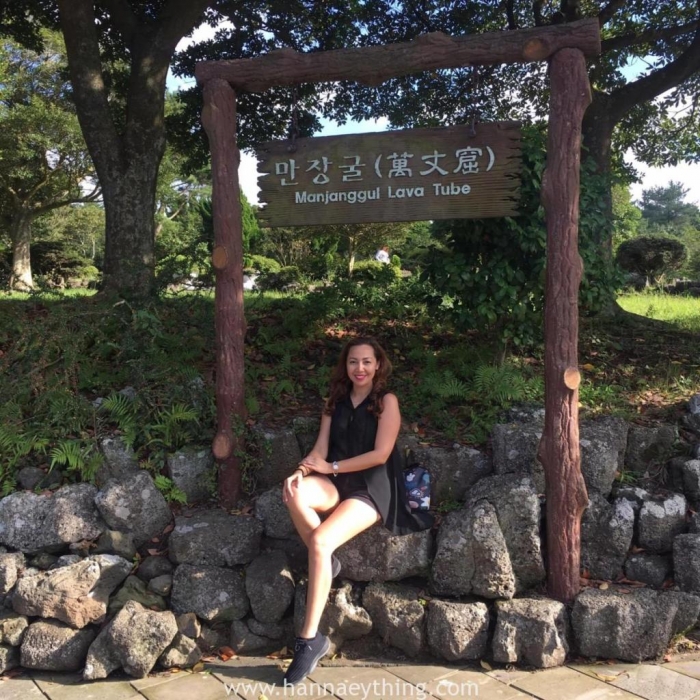 Instead of dropping us back to our hotel, we went down to the city proper to have an early dinner. We were able to spot Kyochon Restaurant. Korea is well-known for chicken and beer combi food. We tried Kyochon chicken as it has been named as one of the restaurants that serve chicken (and beer).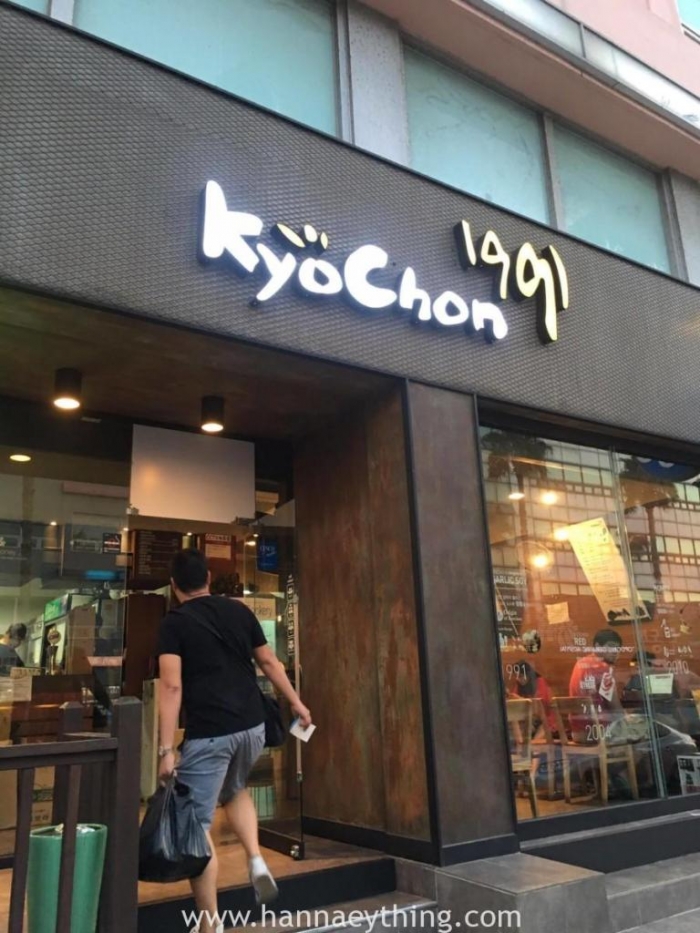 After a sumptuous Chicken and Beer dinner, we wanted to go back to our hotel. Our experience going back to our hotel was a little scary. We looked up at the internet on which bus to take and we thought that we rode the right one but just as we were about to take a seat on the bus, the driver told us to go down. Initially, we thought that our card was out of credits but as far as I could remember, we loaded up enough credits to our card. We went down at the national highway with all the speeding cars and buses.
We walked further and saw a gasoline station but none of them knew how to speak English and they thought that I want to use the comfort room so they directed me to the restroom. We saw a couple who were waiting for a bus or taxi and when we asked them for directions, they also did not know because apparently they were also lost tourists like us. Anyway, we looked up Google maps and our hotel is around 2 kilometres away from our location, we decided to just walk. We passed by a 7-11 store, tried to check the balance of our cards and it was confirmed that we truly have enough credits.
Arriving at the hotel with tired feet, we asked the receptionist of the bus route and told her that we were ejected from the bus even with enough credits in our card and she explained that once you hop on the bus, you should tell your driver your destination and if the bus will pass by your destination, the driver will compute for the fare before you swipe it at the machine. Anyway, I believe that it is due to miscommunication or just pure bad luck that we were asked to go down the bus. But I always see the bright side of everything, we were able to walk hand in hand around Jeju and saw the city at night. It was quite romantic. I was game at walking also since we were so full and it is a way to burn the calories.
Day 2: West Course
After a restful sleep, we woke up rejuvenated and ready for another tour. This time, we took the West Course. We were fetched at the same time, at the same place and they were on time.
First stop: Hyeobjae Beach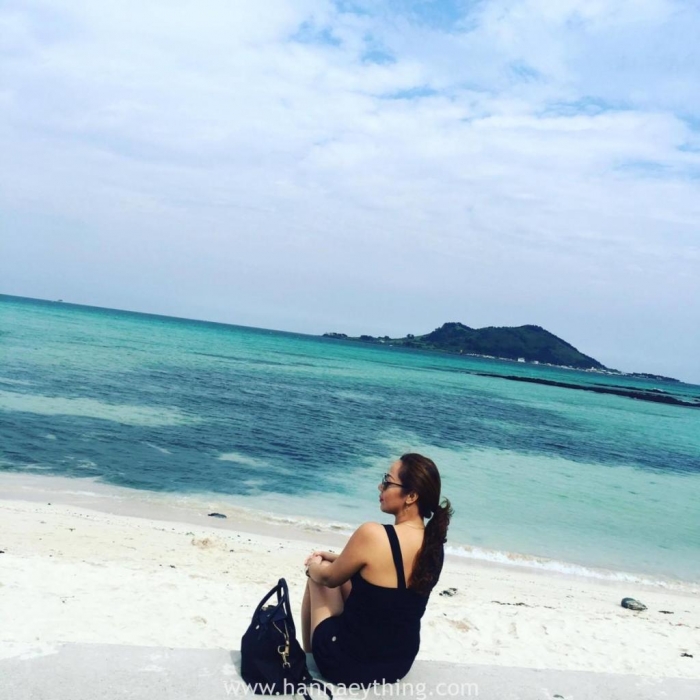 We were given a few minutes to enjoy the beach view at this side of Jeju Island. I love how the breeze touches and relaxes me. I have always been a beach lover.
Second Stop: Hallim Park
Hallim Park is about 100 thousand square metres. It has a variety of gardens that can be enjoyed in any season. Visitors can enjoy checking out Palm Tree Road, Jeju Stone and Bonsai Garden, Water Garden, Subtropical Botanic Garden and much more. The most famous tourist sites in Hallim Park are Hyeopjaegul and Ssangyonggul Caves, known to be the only two-dimensional caves in the world. In addition, a folk village, children's amusement park and outdoor resort facilities make it enjoyable for both children and adults.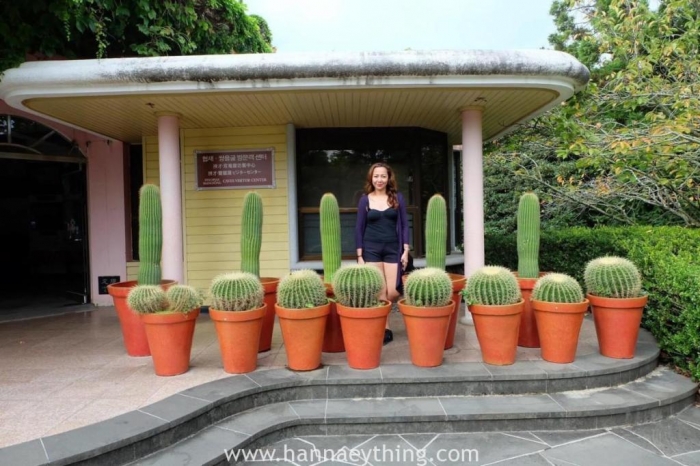 The park was really big! I had a great time checking out different kinds of plants, trees and bonsai. This place is perfect for nature lovers. We were given an hour to roam around the park, and our tour guide, who is another English-speaking Korean, told us to meet him at the parking area.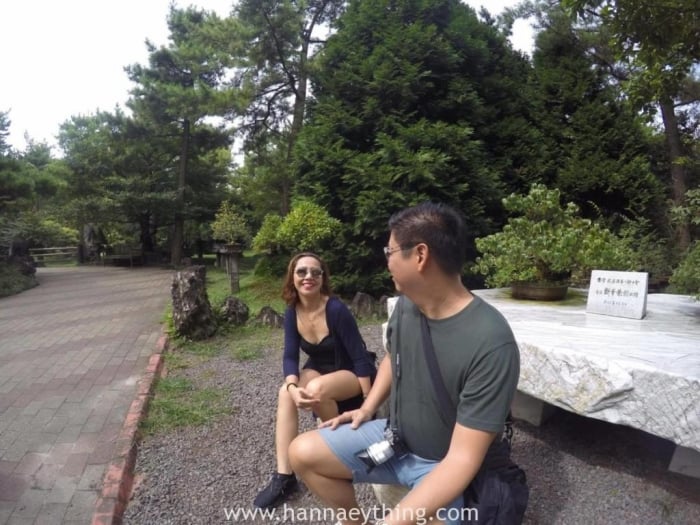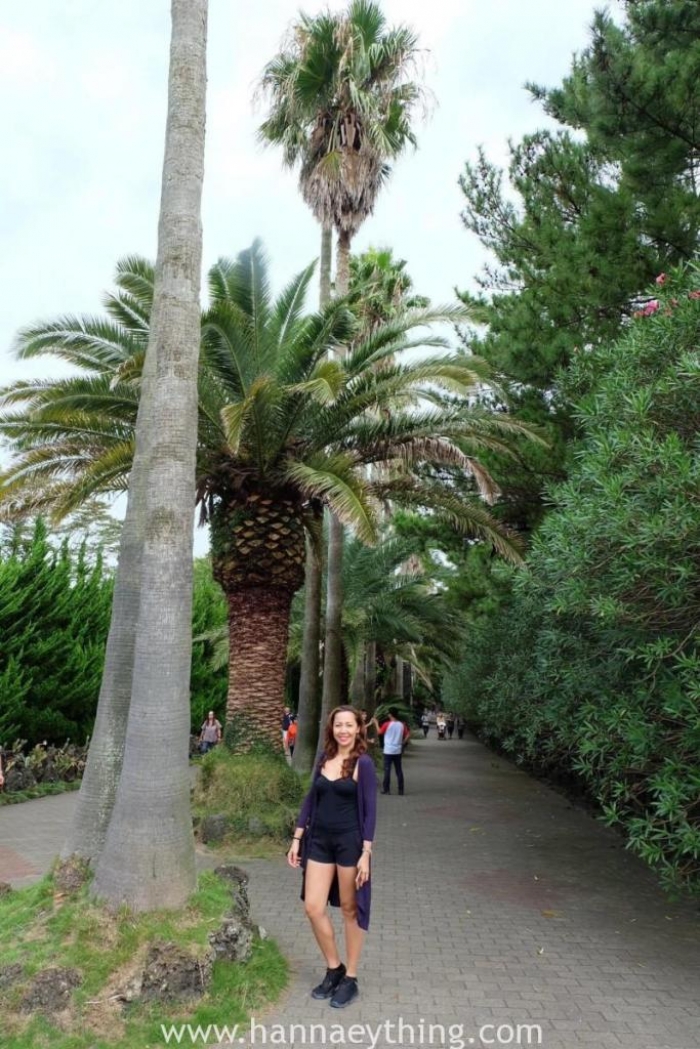 Third stop: Haenyeo Divers
Haenyeo (Hangul: 해녀; lit. sea women) are female divers in the Korean province of Jeju. Known for their independent spirit, iron will and determination, the haenyeo are representative of the semi-matriarchal family structure of Jeju.
Fourth Stop: Gosan-Suwolbong GeoTrail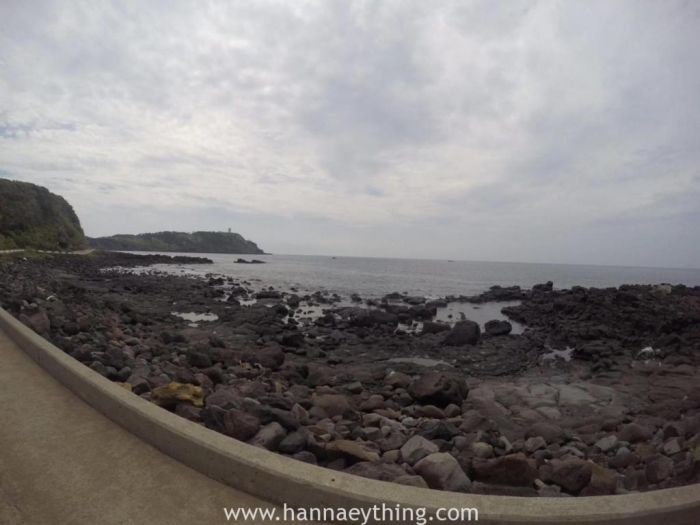 It is a quick 20-minute walk or around one kilometre.
Our tour guide told us that these were formed naturally through the hydro-volcanic activity from the shallow waters. Everything we saw was a wonder of nature and I am in awe by what I saw.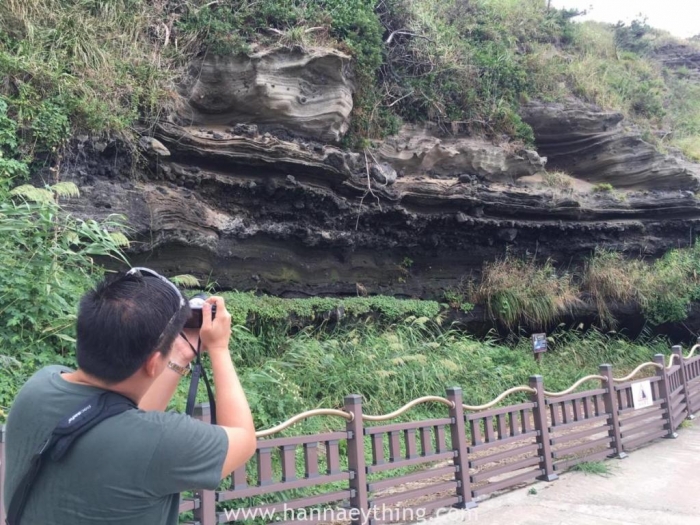 Fifth stop: Buffet Lunch at the Spirited Garden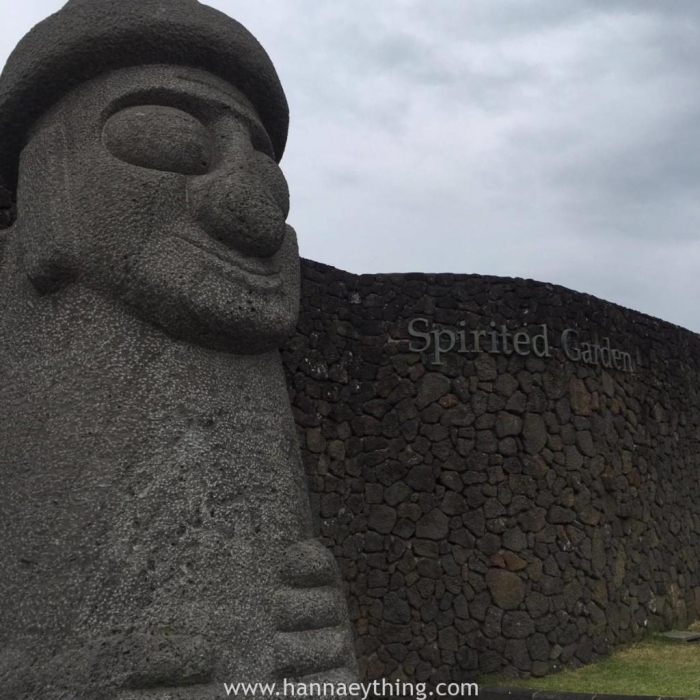 Used to be called as  Bunjae Arpia, Spirited Garden was renamed in 2007 and was renewed as an international garden. Hundreds of potted plants are located in the Nature Garden with a theme of oreum and water. The history of the garden started in 1963 when Seong Beomyeong, a director, came to Jeju and cultivated the wasteland full of rocks. The garden came into the international spotlight as the beautiful garden was created from the wastelands by a single farmer. The garden has been visited by many honoured public figures such as Jiang Zemin and Hu Jintao from China, Nakasone from Japan, Kim Yongsun from North Korea and others. Currently, about 400 planted trees are on display.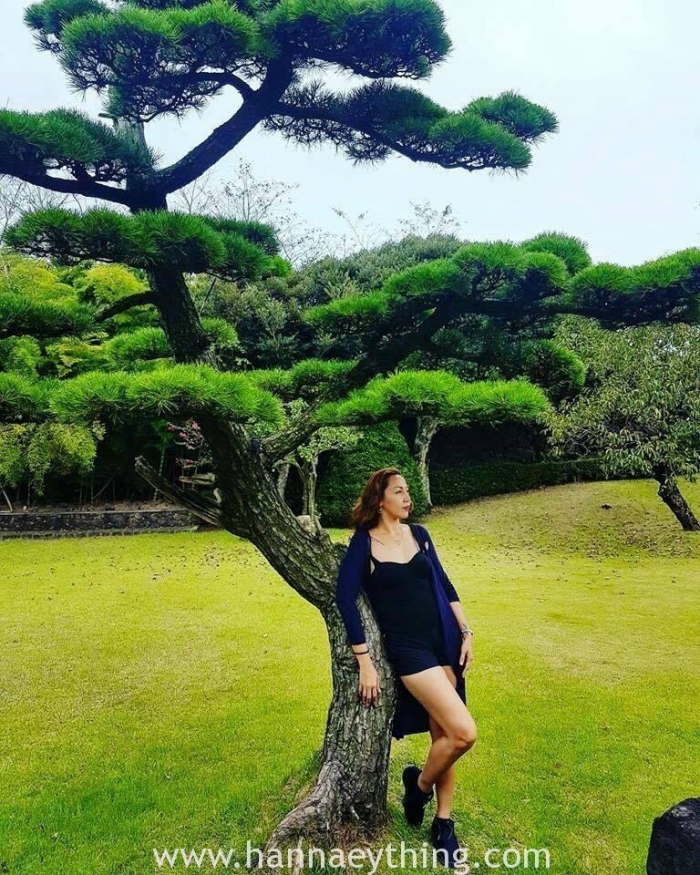 The buffet restaurant was inside the Spirited Garden. There were so many food choices and what made it more delightful was that the lunch view is the garden itself. The food was great and the ambience was perfect. It was truly a beautiful surprise for us because we were not expecting too much from the tour. We tried joining tour groups before and more often than not, they will just let you eat at some cheap buffet restaurants but this was different!
Also read: Muslim-Friendly Seafood and Vegetarian Restaurants in Jeju Island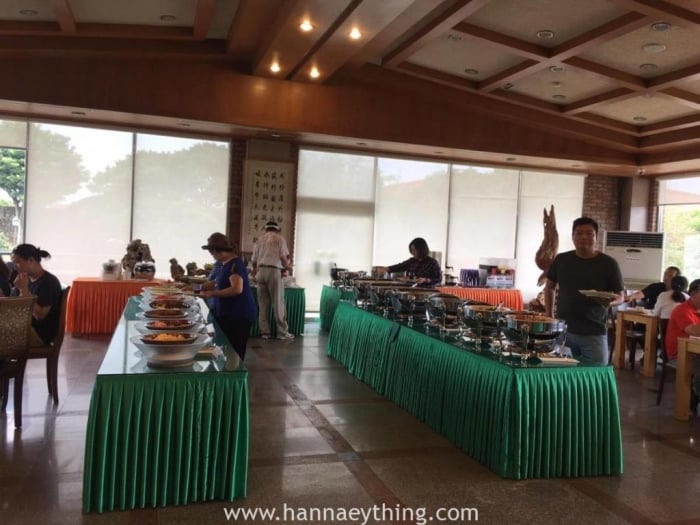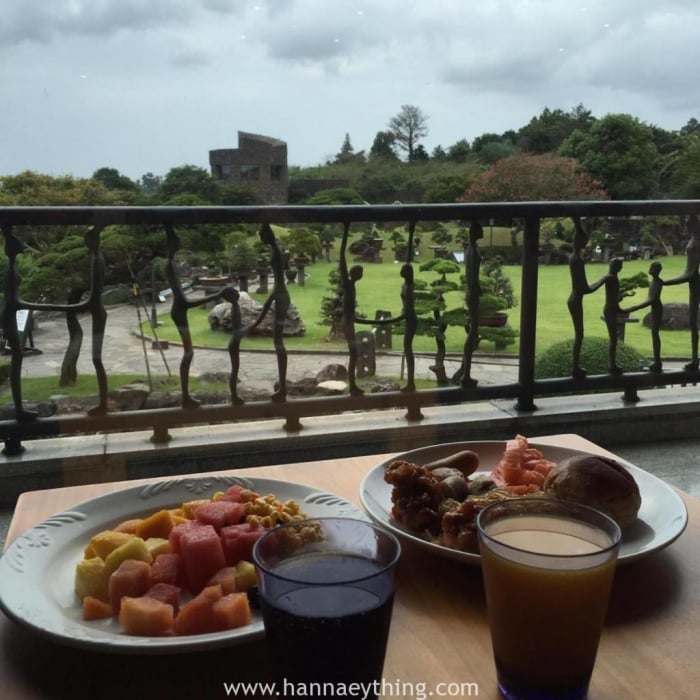 Sixth stop: Mt. Sanbangsan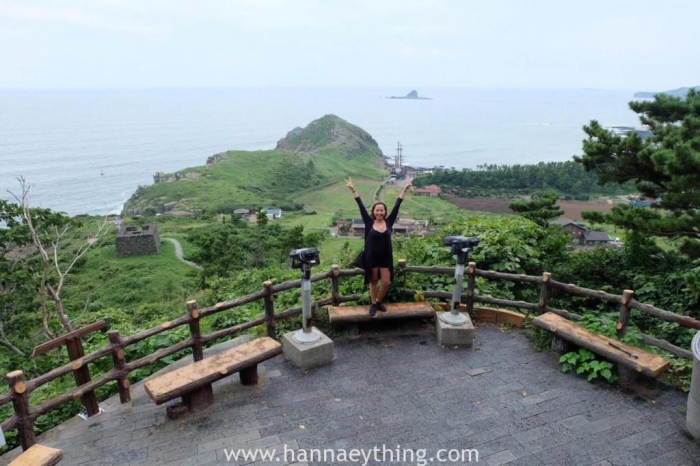 Sanbangsan Mountain is the result of violent volcanic activity some 700,000 to 800,000 years ago and is, in fact, a huge body of lava. The cliffs on the southern side of the lava dome are marked with a rich variety of curious formations such as weathering pits and talus scree slopes, some of which are as high as 200m. As its name 'sanbang' – literally meaning 'a cave inside a mountain' – suggests, this mountain contains a cave, which is located about 150m above sea level and has a spectacular view out over the ocean. Due to its close location to the sea and its high elevation, the peak is often ringed with clouds. The upper slopes of the mountain have their own distinct climatic conditions and are protected for their value for botanical research.
It was a 45 minutes trek up and down. For both West Course and East Course, wearing comfortable shoes or sneakers is a must. The view going up was breathtaking and there were several view decks and worship altars going up.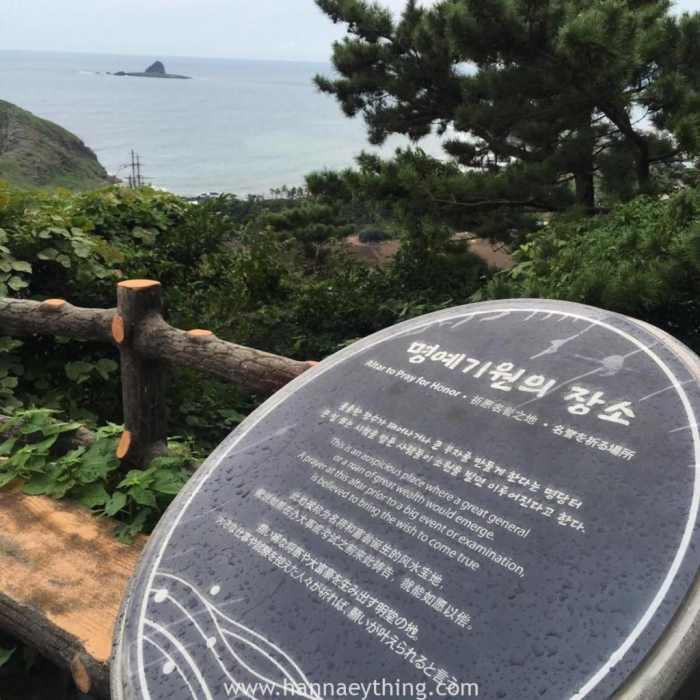 The highlight of the trek is the Buddha Altar where we gave respect and offered prayers.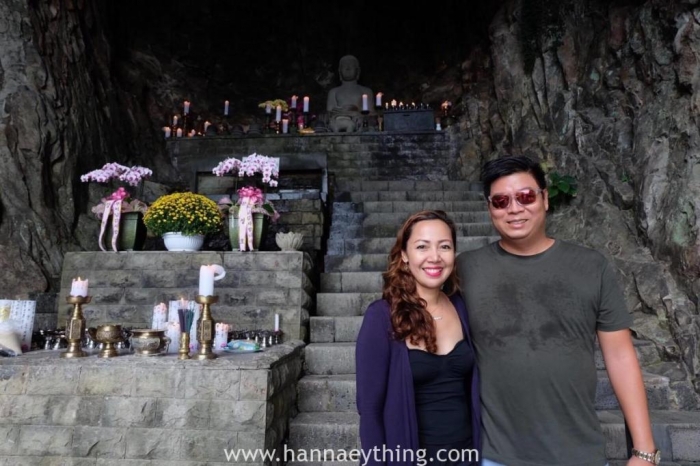 Combination of rain and sweat as we reach the top.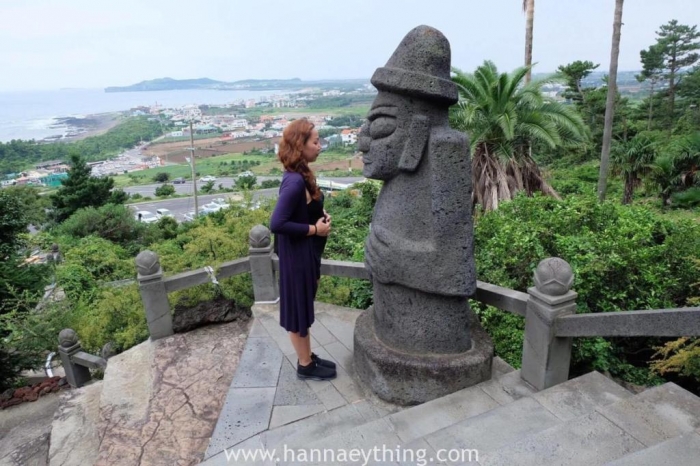 Dol hareubangs, also called tol harubangs, hareubangs, or harubangs, are large rock statues found on Jeju Island off the southern tip of South Korea. They are considered to be gods offering both protection and fertility and were placed outside of gates for protection against demons travelling between realities.
Seventh stop: Cheonjeyeon Falls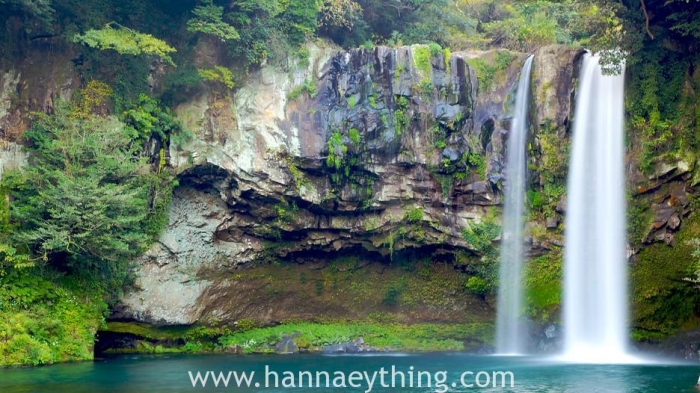 Our last destination was between Cheonjeyeon Falls or the Teddy Bear Museum. We were given a choice to choose which destination we wanted. Our guide said, that most Asians will go to the Teddy Bear Museum and Europeans prefer to see Cheonjeyeon Falls but surprisingly in our batch, only a few Asians (Filipinos) went down to the Teddy Bear Museum. Most of our tour mates chose to trek further going to Cheongjeyeon Falls.
Cheonjeyeon Falls, named "The Pond of God," consists of 3 sections. Around the falls, a variety of plant life thrives, such as the rare 'solimnan' reeds. To the east, there is a cave where cold water pours from the ceiling to create the first waterfall. The water gathers into a pool and from there, falls two more times, creating the second and third waterfalls, which then flow into the sea.
In Cheonjeyeon Valley, visitors can see Seonimgyo Bridge (arch bridge with 7 nymphs carved on the side) and the octagonal Cheonjeru Pavilion. Seonimgyo Bridge is also called Chilseonyeogyo, meaning "seven nymphs bridge," and it connects Cheonjeyeon Falls with Jungmum Tourist Complex.
On the surface of Cheonjeru Pavilion, there is a painting that tells Cheonjeyeon's legend of the seven nymphs and the mountain god. In May of every even-numbered year, the Chilseonyeo Festival is held here.
It was drizzling when we went there and I am glad that one of our tour mates from Singapore shared her umbrella with us.
Since we were traumatised by what happened the other night, we preferred to go home to our hotel and let the front desk order for us. All guests can make use of all the things in the kitchen. There was free Korean rice which really tasted good; you just have to cook it. There was also a complimentary drink that you enjoy either at the guest area or at the convenience of your room. The guest can have one drink per day that you can get whenever you feel like it.
For breakfast, you can cook eggs and there were bread and jams for all the guests. And coffee of course and milk for non-coffee drinkers.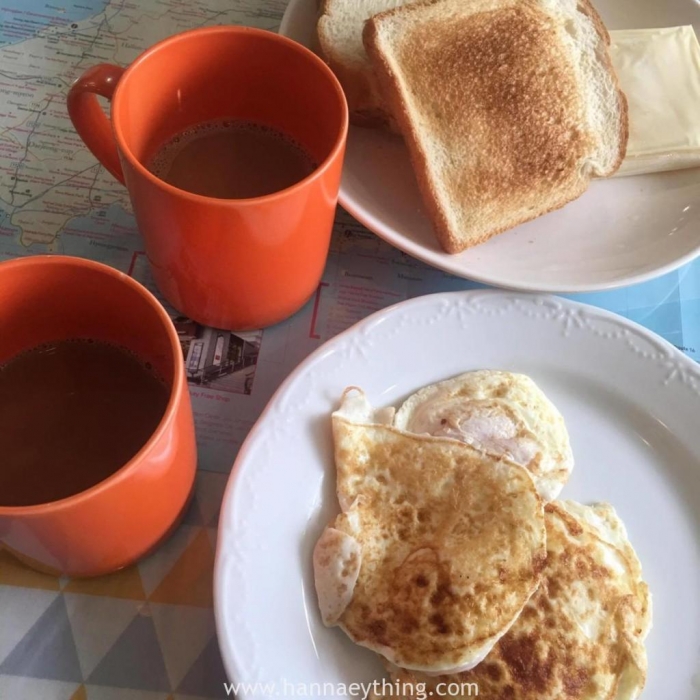 What I love about this kind of guesthouses is that we were able to mingle with our fellow tourists and share travel stories with them.
Day 3: DIY Tour
On our last day in Jeju Island, we prefer to roam around the city on our own.
Our agenda was to go to the adult theme park, Jeju Love Land.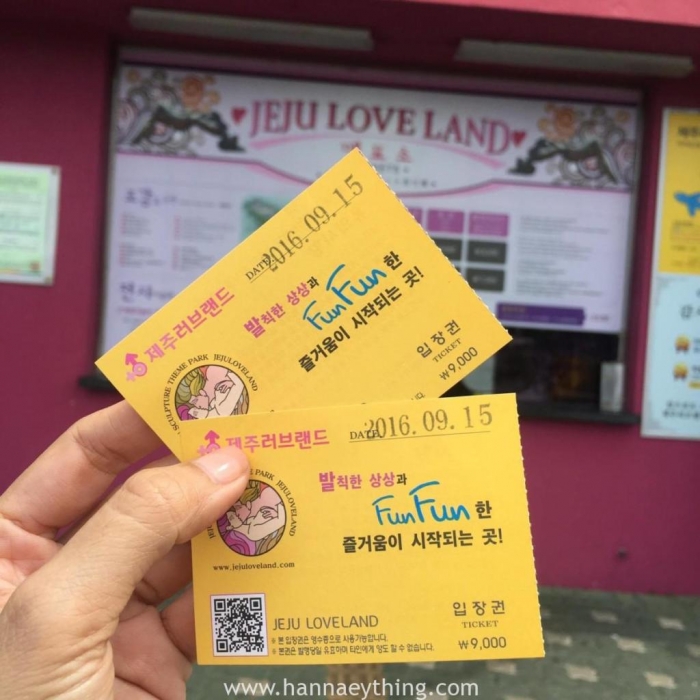 Jeju Love Land is a theme sculpture park based on sensuality and eroticism. Twenty artists, mainly graduates of top art school Hongik University, helped open it in November 2004. It was the first such museum in Korea at that time. The spacious park (39,667m²) is home to over 140 sculptures (40 within the gallery and 100 outside). The whole  looks like a piece of land art.
Also read: 8 Quirky Museums You Must Visit on Jeju Island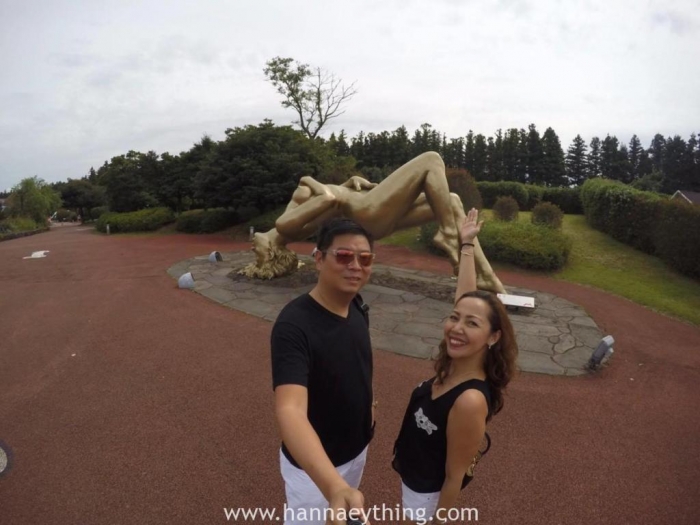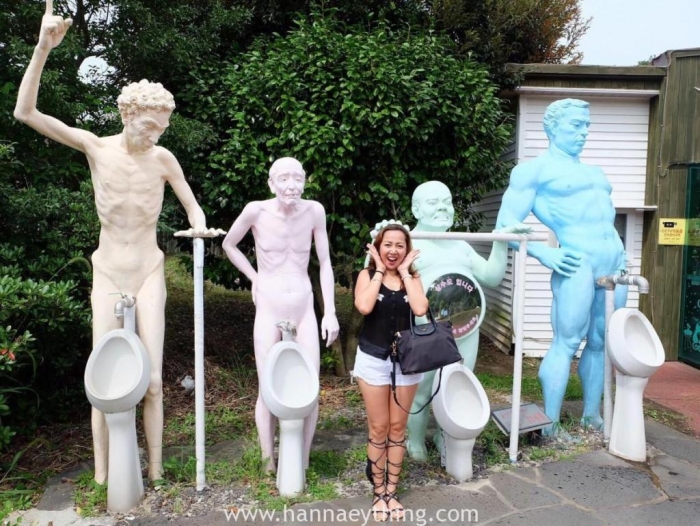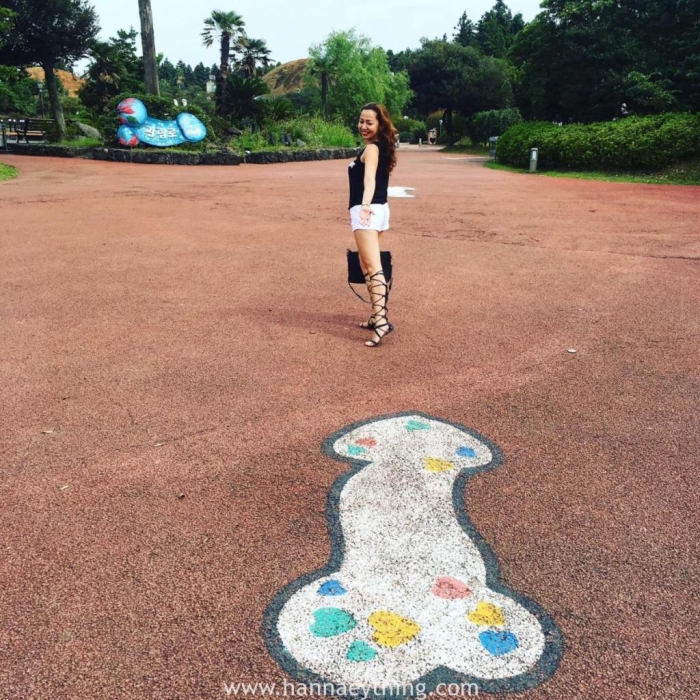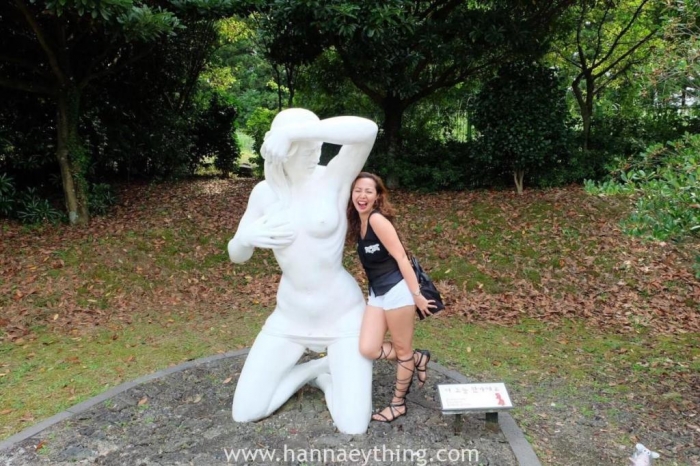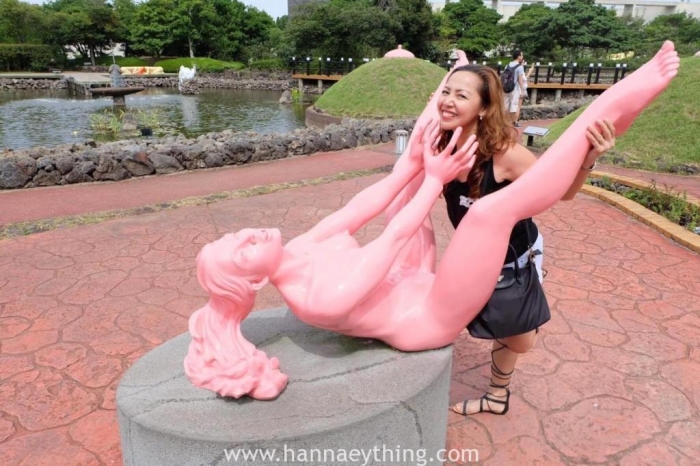 It was a fun place for matured people. We explored the place for an hour.
Lunch was at the famous fast food chain in Korea, Lotteria.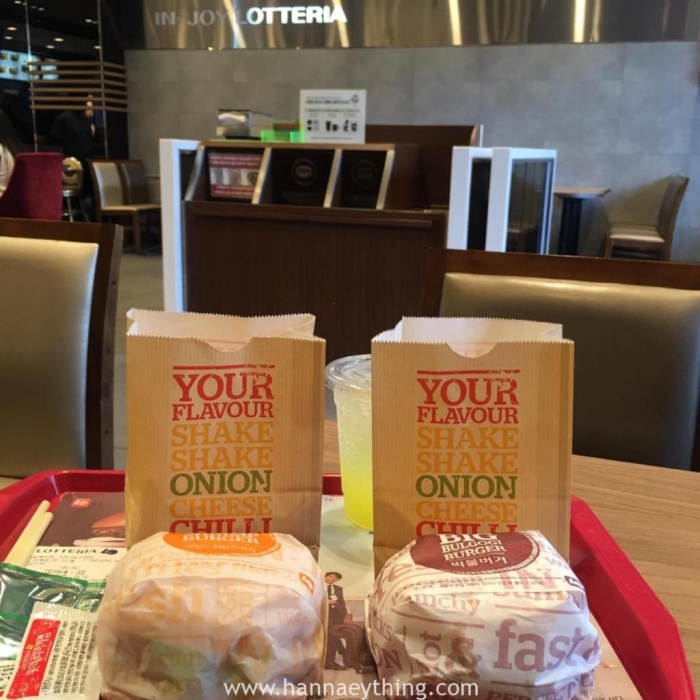 Our last stop at Jeju Island was a visit to Lotte Mart wherein I hoarded so many Lotte goodies. From candies to cookies to chocolates!
This trip is truly one for the books. Although our schedule was really full packed (like any other trips we made),  I still enjoyed every bit of it. Jeju Island is so rich in culture and tradition. The island is so green and beautiful! It is a must visit island for any adventurer who loves trekking, sightseeing and appreciates the beauty of nature. Jeju island is deserving to be chosen as one of the New 7 Wonders of Nature through the New 7 Wonders of Nature campaign by the New7Wonders Foundation. This is an island that you should not miss visiting when you travel to South Korea.
For questions and queries, feel free to write a comment below. I am thrilled to hear from you.