I don't think that any Pinoy Kobe Bryant fan, die-hard or not, will ever really forget waking up to such heartbreaking news on the morning of 27 Jan 2020.
Most of us were instantly in tears just minutes — some, even seconds — after opening our eyes for the first time that day. And I'm pretty sure I'm not the only one who had trouble easing back into the work (or school) week after discovering that the man we considered a living legend was actually gone. To this day, it's something I still haven't fully wrapped my head around.
Losing a legend
Honestly, who knew that the death of someone you've never even met could possibly affect us so much? But I suppose that when someone has touched your life in such a great way, details like whether or not you've actually had a personal relationship with them simply fade away. 
Kobe wasn't just an NBA legend. To add to his jaw-dropping talent on the court, he inspired fans the way he got back in the game after countless obstacles, his unrelenting 'Mamba Mentality' (a constant pursuit to improve oneself), and his unmatched love for his family. More than a gaping hole in the world of sports, his death equaled the loss of a hero, an idol, and a source of inspiration.
Our prayers go out to every single person who was lost in the recent Calabasas helicopter crash: Kobe and Gianna "Gigi" Bryant; John, Keri, and Alyssa Altobelli; Payton and Sarah Chester; Christina Mauser; and Ara Zobayan. 
Manila lights up purple and gold in honour of Kobe Bryant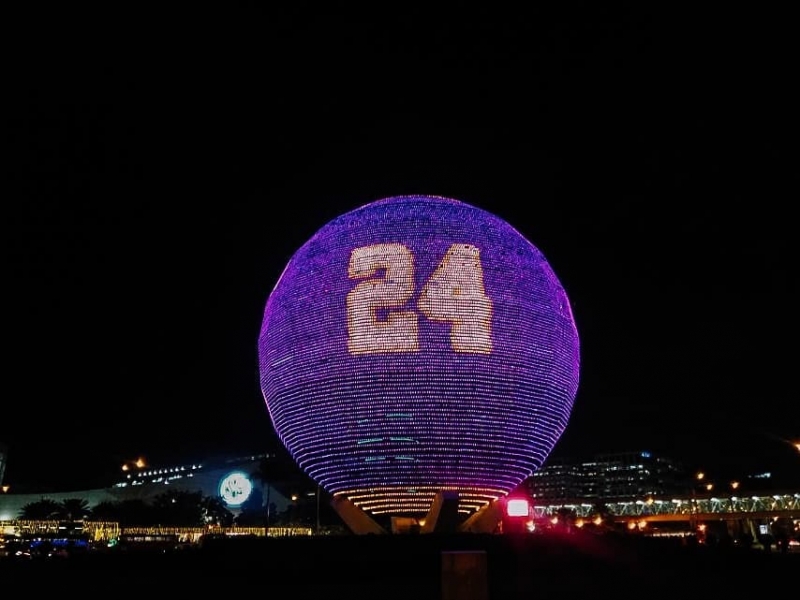 It shouldn't come as a big surprise that Kobe Bryant had a huge amount of fans here in the Philippines. We Pinoys love watching a good game of basketball — so how could most of us not admire someone who had often been deemed the 'GOAT' (Greatest of All Time)?
Being among the world's top social media users, we definitely felt a close connection to Kobe thanks to his Twitter and Instagram accounts. I myself was one of those who rejoiced when he finally opened an IG account back in 2013.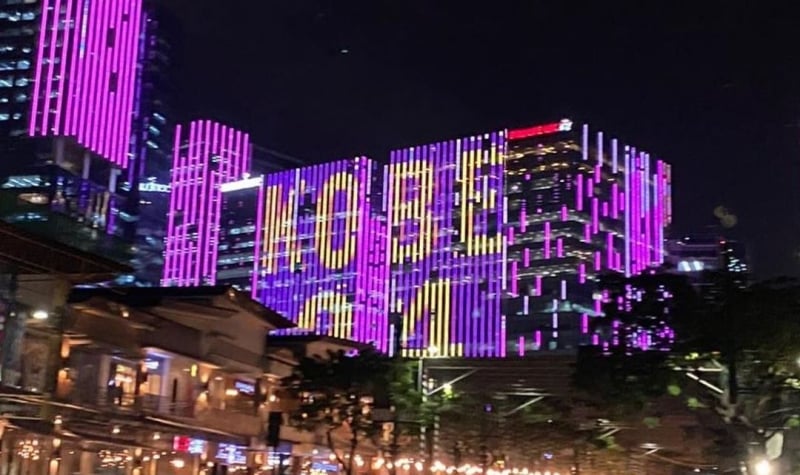 Just hours after news broke out, the streets of Manila were lit purple and gold in honour of Kobe, who spent his entire 20-year NBA career with the Los Angeles Lakers. The globe at SM Mall of Asia, Uptown Mall in Bonifacio Global City, and Araneta Coliseum are just some of the places that proudly displayed the team colours and Kobe's jersey number, 24.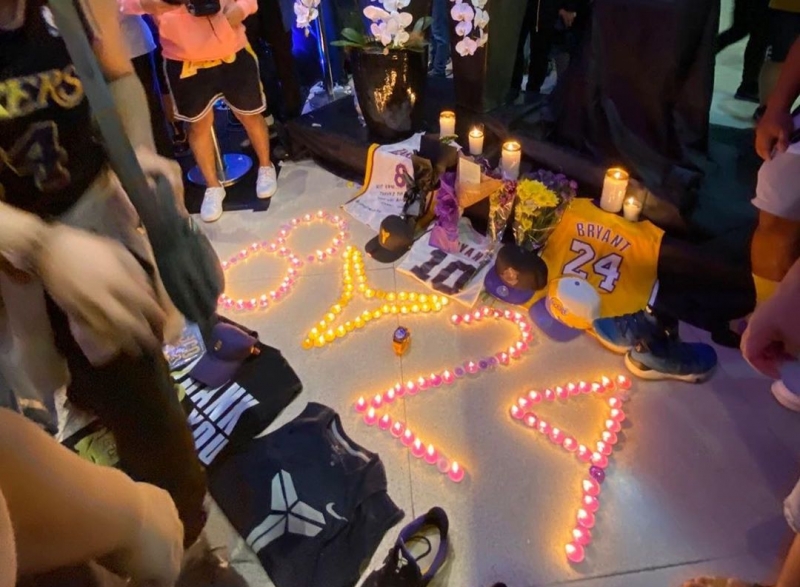 Fans also held a simple memorial inside Araneta Coliseum. They lit up candles, brought over their favourite Kobe Bryant memorabilia, and wrote out messages to the late basketball star. To add, electronic billboards along EDSA and in Eastwood City and RONAC Art Center proudly displayed images of Kobe as well.
Pinoy fans can pay tribute to Kobe Bryant at these spots in and around Manila
Some of you might be wondering where else fans can pay tribute to the late basketball star. Besides admiring beautiful cityscapes with touches of purple and gold, Kobe lovers may also visit some of these spots in and around Manila.
Kobe Bryant Exhibit — House of Representatives, Quezon City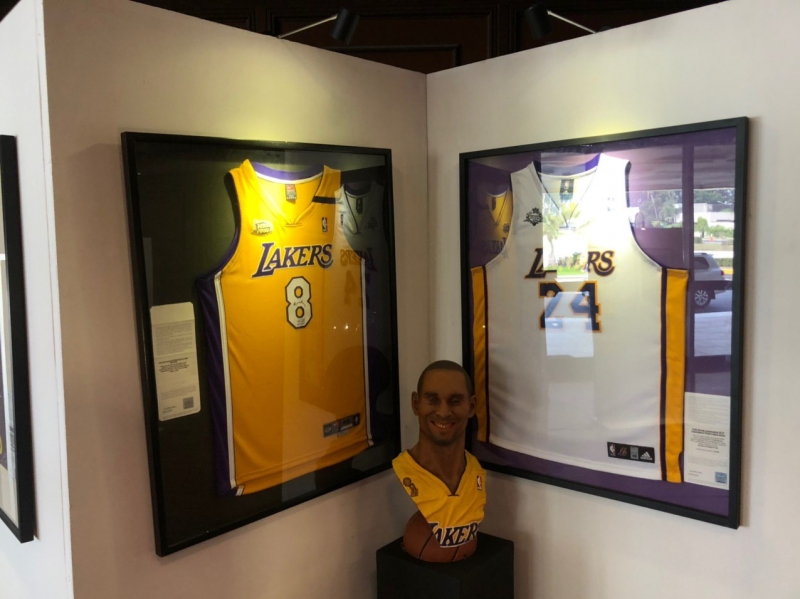 Launched on 29 Jan 2020, the Kobe Bryant Exhibit at the House of Representatives houses 24 items to commemorate the Black Mamba, his life, and his career.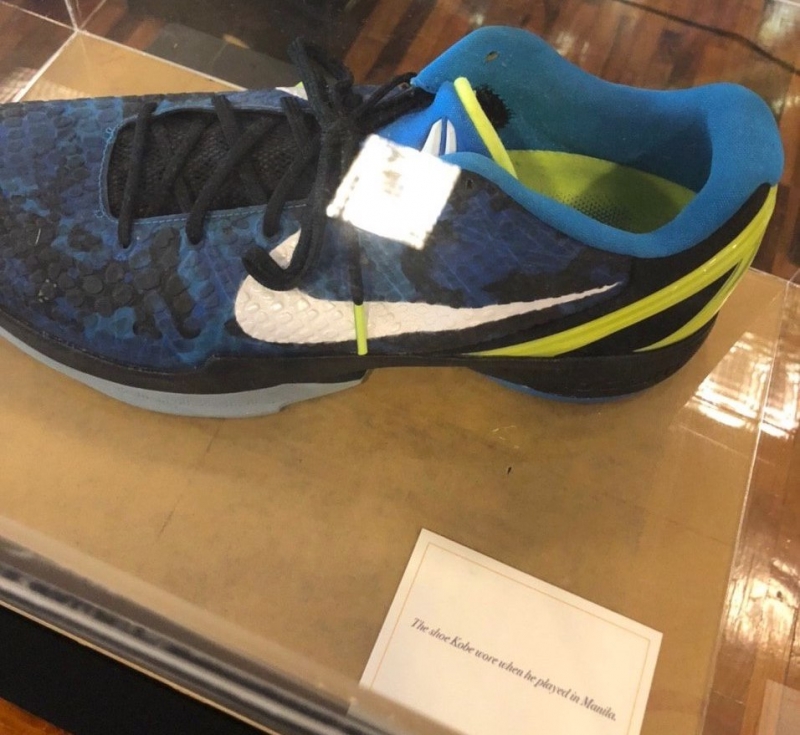 The collection includes authentic autographed jerseys and photographs, Kobe Bryant-themed memorabilia, and a shoe worn by the late NBA superstar himself during a game he played in Manila.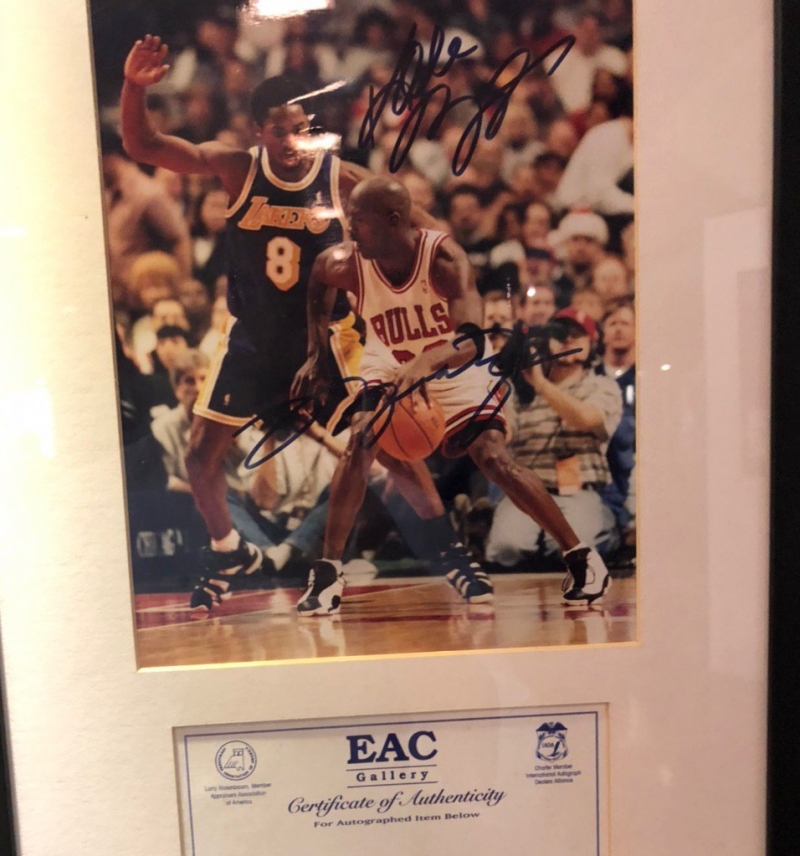 It has yet to be announced how long this collection will be displayed — keep watching this space for updates.
Kobe & Gianna mural by Tenement Visual Artists — Tenement basketball court, Bonifacio Global City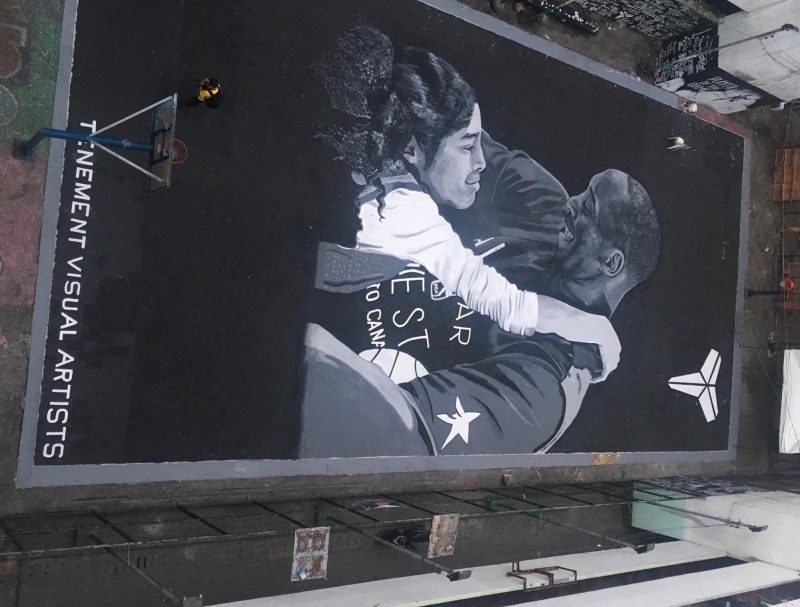 Tenement Visual Artists worked tirelessly for 18 hours to put together this beautiful, heartwarming mural of Kobe Bryant and his daughter Gigi. Nearby residents were pleasantly surprised to wake up to this work of art at the Tenement Basketball court the day after the father and daughter's passing. One of the artists, Mike Swift, said that they will continue to paint more tributes until Kobe and Gigi's burial.
House of Kobe — Karuhatan, Valenzuela City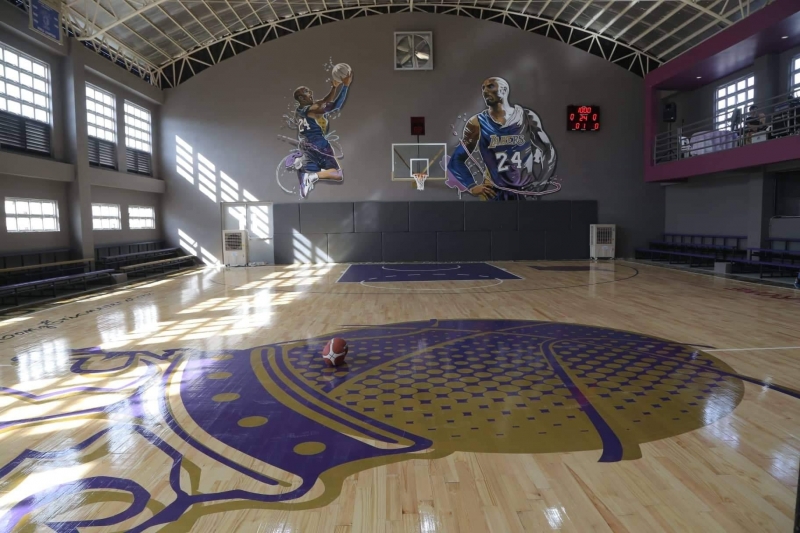 Valenzuela's House of Kobe, which started construction in March 2019, was inaugurated mere hours before Kobe Bryant's passing. It was with great sadness that those who put this initiative together learned that the inspiration behind this Kobe Bryant-themed basketball court would never be able to pay a visit. The murals that adorn its walls were painted by local street artists.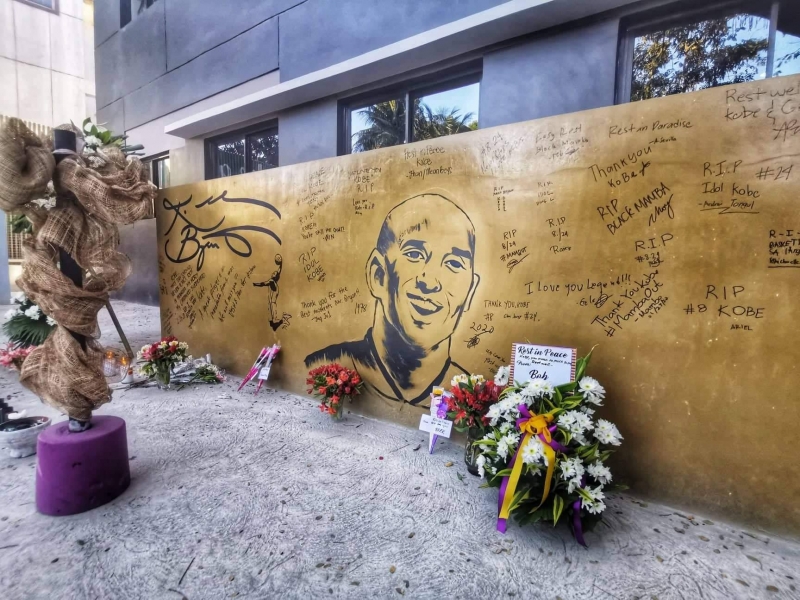 Outside the court, resident fans also put up a wall in tribute to Kobe with yet another mural, drawings, and messages to the NBA champion. Flowers were offered to honour him as well.
Fans may also add these Kobe Bryant-inspired spots outside the PH
Murals along Los Angeles
What better place to commemorate the life and career of the Los Angeles Lakers superstar than in LA? The colourful streets of LA are marked by several wall murals inspired by Kobe Bryant himself.
Also read: 12 Places to Visit in LA for First-Timers
#MambaonMelrose mural by JC Ro — Melrose Avenue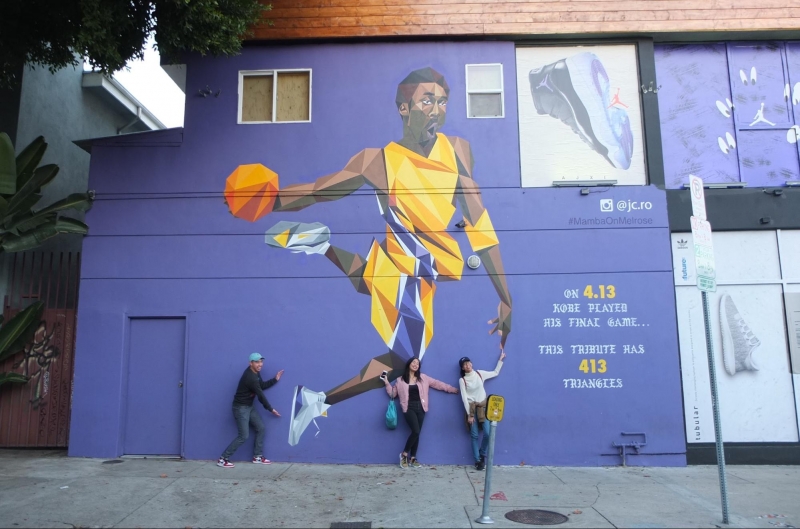 Just outside Shoe Palace on Melrose Avenue, you'll find this mural that was created to commemorate Kobe's final game as a Laker and NBA player. Local street artist JC Ro painted a likeness of Kobe with 413 triangles to mark the date of his last game, April 13. Since his passing, it has become a memorial to the late superstar — fans have left behind flowers, candles, and post-its with their messages.
Mural in honour of Kobe Bryant's 20 years as a Laker by Jonas Never — Lebanon Street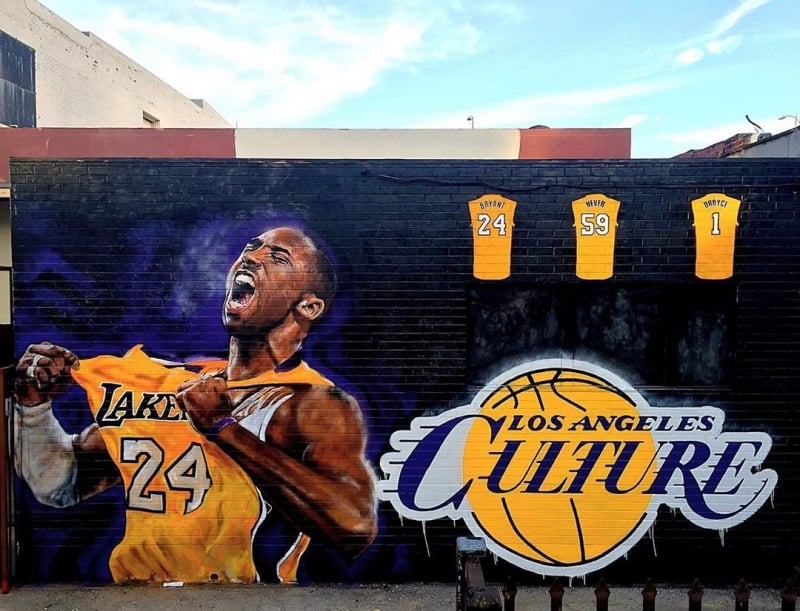 This mural by street artist Jonas Never is located on Lebanon Street, across the convention centre near Staples. Another spot where fans can pay tribute to Kobe Bryant, it was painted a few years back in honour of Kobe's 20 years as a Los Angeles Laker.
Kobe and Gigi mural by Jules Muck — Pickford Street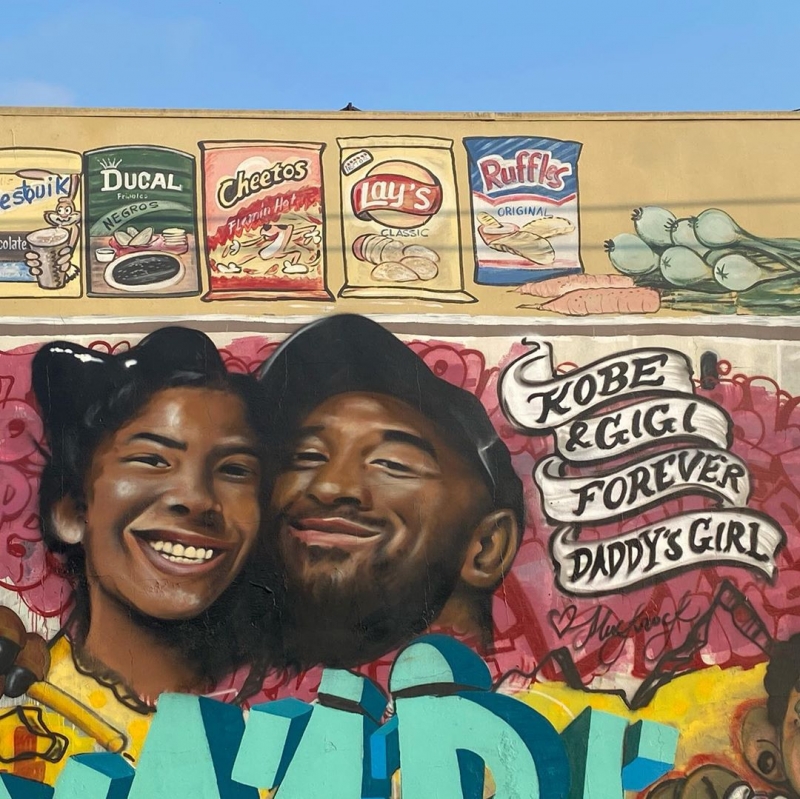 After news broke out about Kobe and Gigi Bryant's passing, street muralist Jules Muck received a great number of requests to create a public mural to honour them. In just six hours, the artist was able to spray paint a portrait of the father and daughter duo. Located along Pickford Street, this mural was based on a photo of the two from Kobe's Instagram page. To this, the artist added the lines "Kobe & Gigi" and "Forever Daddy's girl".
Bonus: Be Kobe sign — Meriken Park in Kobe, Japan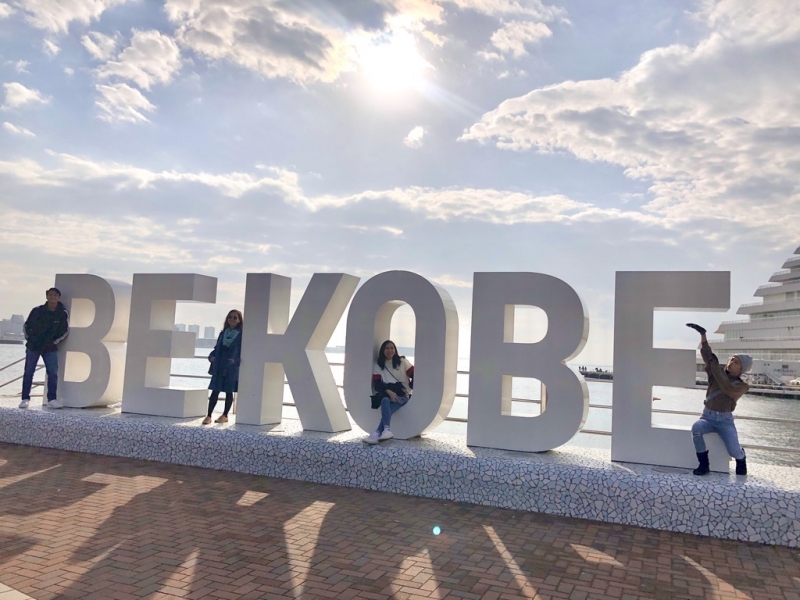 Did you know that Kobe Bryant was named after the port city of Kobe? His father, Joe Bryant, had a great love for Kobe beef. From 2001 to 2011, Kobe Bryant was actually named ambassador of the city. The 'Be Kobe' sign may not have been created in his honour, but my family and I sure thought of it that way. Don't miss this spot the next time you're in Japan!
Also read: Japan Travel Guide: 9 Days with ₱35,000 Budget (Excluding Airfare)
Fans all over the world were shaken by Kobe Bryant's passing — many of them Pinoys like myself. But thanks to these tributes and the legacy he left behind, he will never be forgotten. 
And besides, the great Kobe Bryant once said it himself: "Heroes come and go, but legends are forever."