Contributed by Inspiring Grateful Travels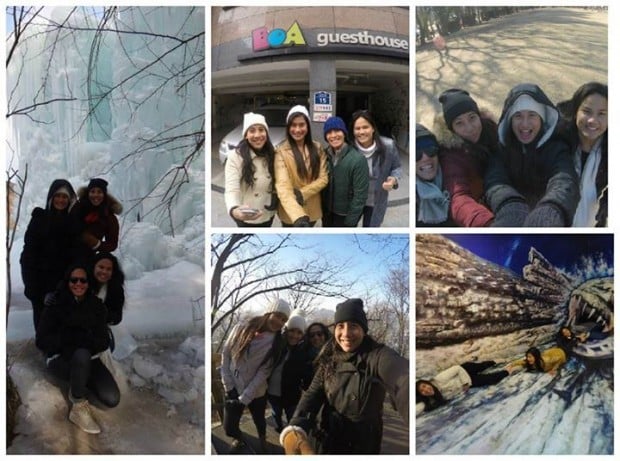 "It is so important to dream, and to dream in the family" – Pope Francis
My dream is to travel the world and I wanted to share this dream with my family so for the first time, I treated them an international trip! Korea is the best Asian country I have been to so far! It is the only country I want to go back to so soon already. 4 days is not enough. I want to experience all the seasons!
Also read: 10-Family Friendly Destinations in South Korea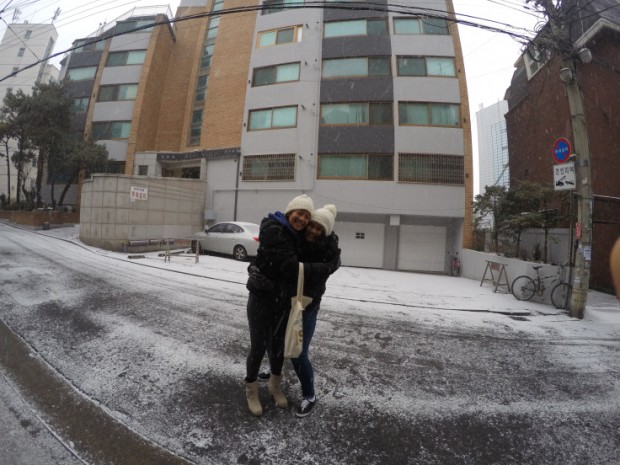 Snowing outside BOA Guesthouse
My family and I are very grateful to have been blessed with this travel experience!
First, I want to thank everyone who helped me out! Thank you for sharing your itineraries, pieces of advice and experiences! We also want to thank YOU – Kritzia Santos, Tita Marie Yuvienco, Tita Jenny Santos Silayan and Tita Melet for sharing your winter clothes with us! It really helped us save a lot of money! Your clothes were both stylish and almost effective in keeping us warm! Thank you! We're very grateful!
Korea is a great country! I'd like to go back soon maybe during Spring or Autumn. It's not a place to spend just 4 days in.
Also read: 20 Absolutely Magical Photos of Korea That Prove It's A Winter Wonderland
Where we stayed
Boa Guesthouse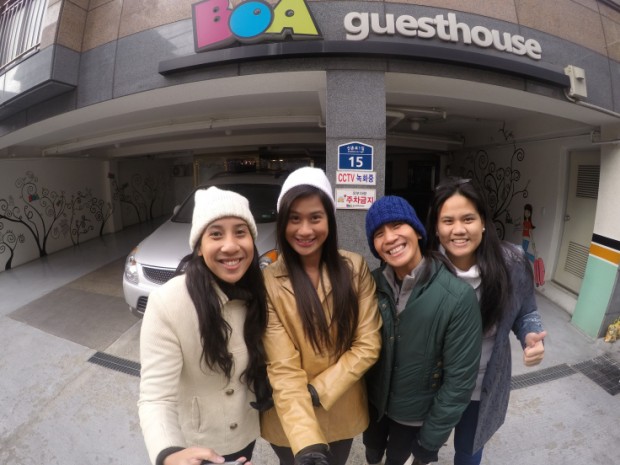 Outside BOA Guesthouse
We stayed at BOA Guesthouse because it's where a lot of my mom's friends stayed at. We booked it through Agoda so we got a discount. People were so nice and very accommodating! Breakfast was really good too! The bread was so good that I wanted to steal the whole loaf! Our room was very clean and the floors were heated so it felt really nice when we got back from the outside. This guesthouse is near tourist places and a train station Hongik as well.
Train system
The train system in South Korea is amazing, efficient, clean and cheap.
Attractions
1. Hongik University Street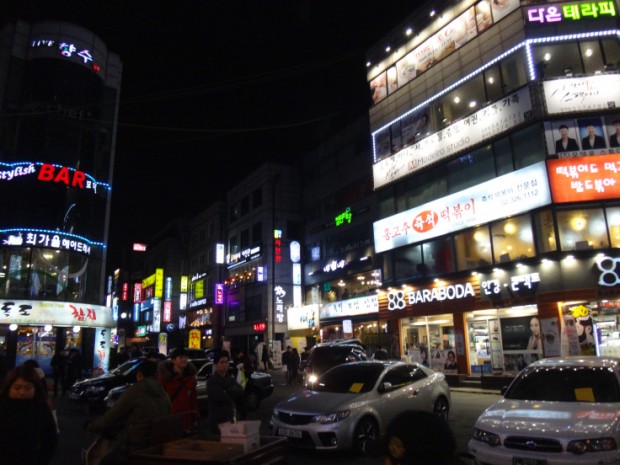 Night Life at Hongik University Street
In Seoul, near universities, there are a lot of shopping and food streets! Lucky for us there was one near our guesthouse! This street is very cool as there are a lot of shopping and food finds! We also saw a lot of students singing and playing guitar along the streets! I can't imagine how they could do that during the cold weather but they do have an audience! We ate the best Korean food here and walking here was basically an experience. The sights and the weather were really a blessing.
2. Myeongdong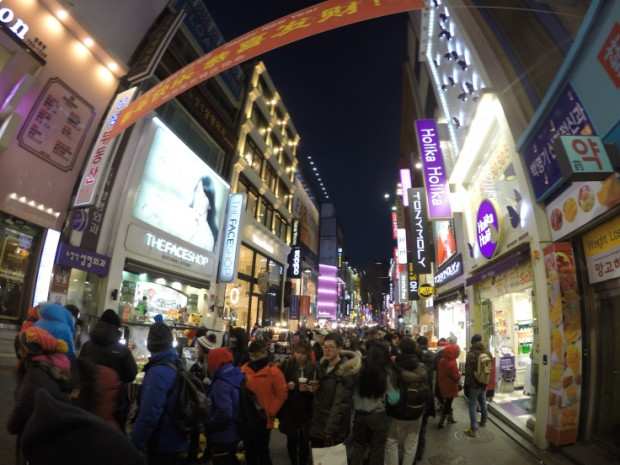 Freezing Myeongdong!
Myeongdong is like the High Street, Greenhills or Makati of the Philippines. Lots of cheap finds for pasalubong! Lots of restaurants, money exchanges and shops! Since we went at night, it was extremely COLD! An amazing sight! There were a lot of Koreans speaking to us in Filipino. Here, you'll find a lot of socks! I don't know why but almost every alley had a store selling socks at PHP 40. The socks were very cute. The Korean restaurant we ate at here had the best beef! My sister and I liked it very much.
Also read: Seoul: 10 Tips for Shopping in Myeongdong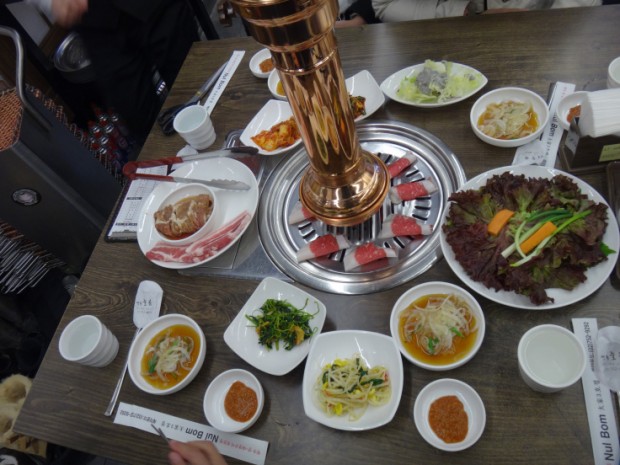 Korean Food at Myeongdong
3. Changedeokgung Palace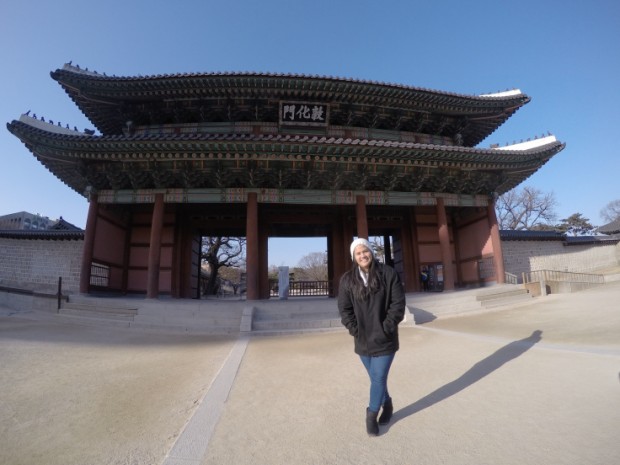 Outside the Palace
Since it was very cold, we didn't get to explore this place. We just took a picture outside the palace walls. Maybe when I come back, and the weather is a little bearable, I would visit all the famous palaces.
4. Trick Eye Museum and Ice Museum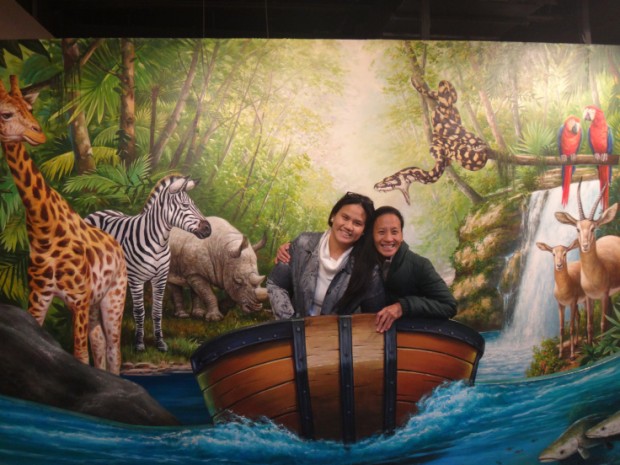 In the Jungle
We loved the Trick Eye Museum! I really missed my family laughing a lot! That's why this travel was really good for us. This museum got us to laugh a lot and take nice pictures. All the paintings were really creative.
Also read: 10 Reasons Why You Must Visit Seoul's Trick Eye Museum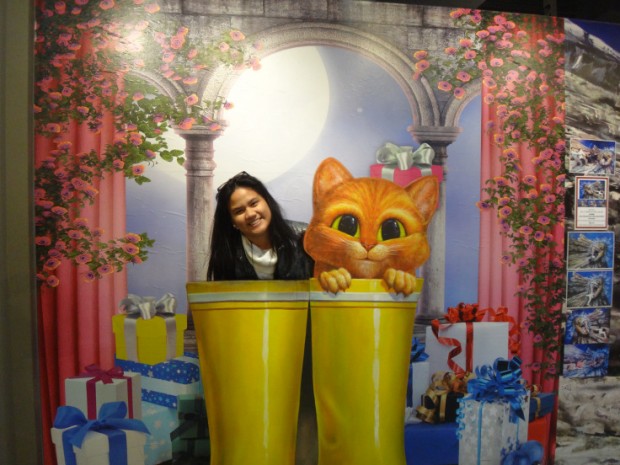 With Puss and his boots
5. Petite France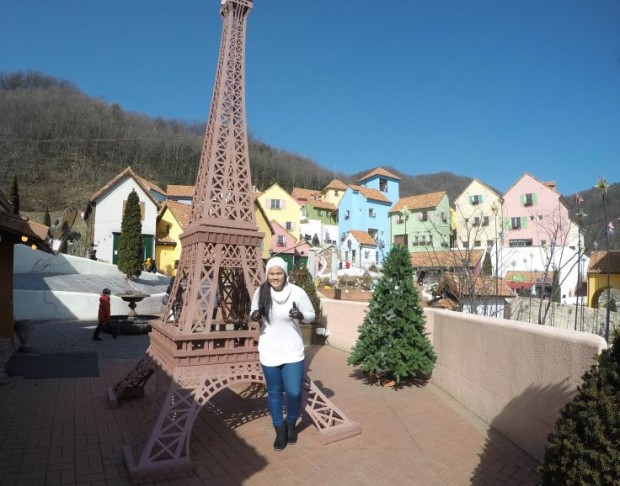 Eiffel Tower at Petite France
Petite France is about 2 hours away from Seoul. It is very scenic and a representation of Paris' top tourist destinations and provinces. My sisters found it too cold here as it was surrounded by mountains so they stayed inside the luxurious lodge most of the time. My mom and I explored a bit so that we wouldn't waste the entrance fee. What I really loved about this place was the part of the Art of Southern France.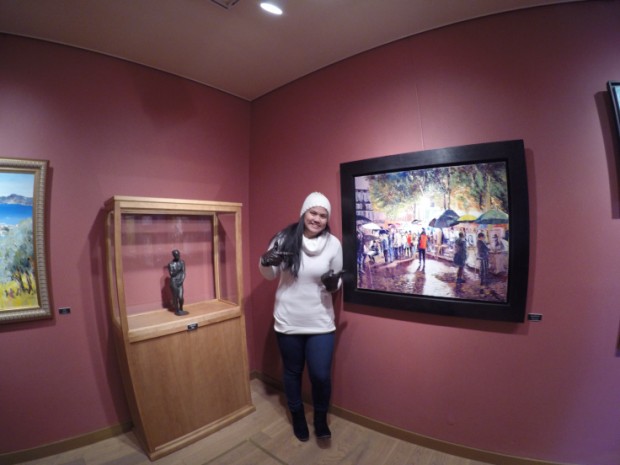 Southern France Art
I am not really a fan of art but I'm a fan of this one. When I get my own home, I'm going to buy one of those paintings. It's very beautiful. Southern France is now a part of my must-see travel list!
6. Namsam Tower
Namsam Tower
I was really excited about this one because I am a fan of Boys over Flowers! Gu Jun Pyo and Geum Jan Di used Namsam Tower as a shooting location! For me, this is the coldest place we went to. The views were nice but food was very expensive.
Also read: 5 Korean Drama Filming Locations that Every Hardcore Fan Must Visit
Best-est Korea day ever!
We availed the popular public Drama + Ski tour from SEOULNTOUR. Our tour guides, Gina and Kas, were very accommodating and cool. They are well travelled and really knowledgeable! Since it was a public tour, we were with 2 more people and they're from Singapore.
7. Nami Island
Nami Island is one of the most beautiful places I have ever seen in my life so far!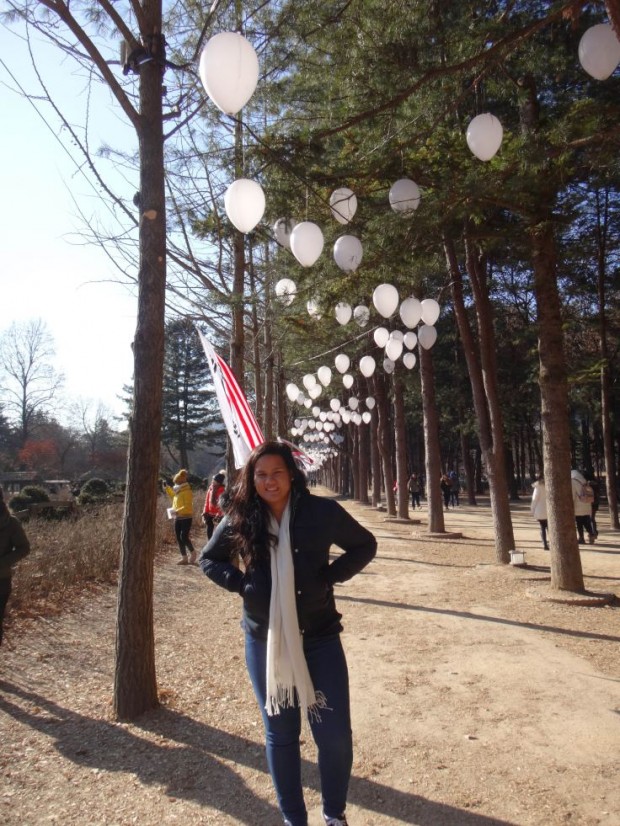 Nami Island Tree Rows
The place was just so overwhelming! Since this island was surrounded by a river, it was extremely cold. I couldn't even feel my feet anymore. I didn't mind though, the place was just too beautiful. I just ignored my cold feet and hands just to experience this amazing place as much as I can.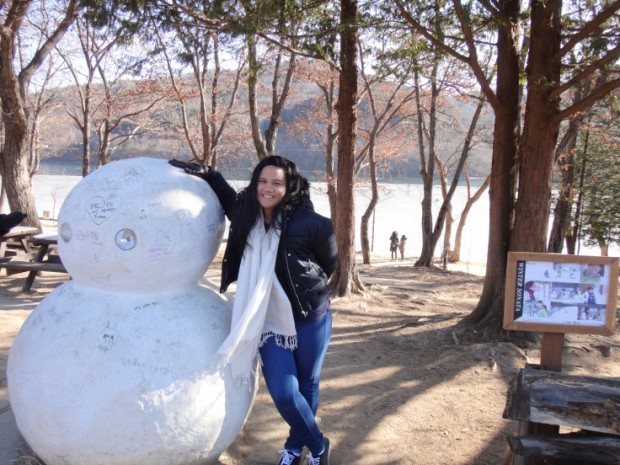 Snowman by the Frozen Lake
The best scenery – Line of Korean Trees, Mountains and Frozen Lake! We were just here for about 2 hours but if given more time, I'd stay here for one whole day. I'll definitely come back to this place.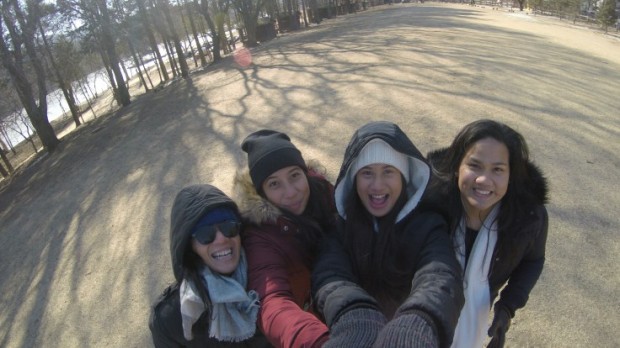 Playing around with the GoPro at Nami Island
8. Elysian Gangchon Ski Resort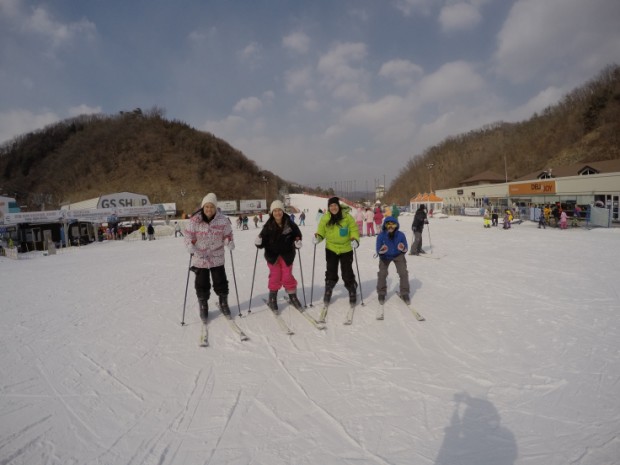 Skiing at Elysian Resort
Best activity ever! Before I turn 25, I really wanted to experience SNOW and what a better way to maximise it than to go to a SKI RESORT?! Elysian Resort was beautiful! I only see this in movies, and I was really in awe during those moments thinking, "Wow, I'm really here!".
Also read: 6 Best Ski Resorts in South Korea to Visit This Winter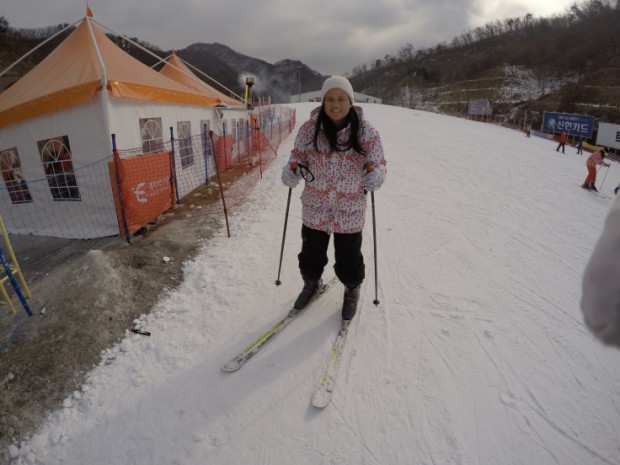 Skiing at the Beginner's Hill
Skiing is scary at first and the snow boots are very uncomfortable but the overall experience was worth it! One of the best experiences in my life I have to say!
KOREA WAS REALLY AN AMAZING EXPERIENCE. I'm going back and I'm going to experience all the seasons! I love travelling alone but I also love travelling with my family, and this trip made me realize that. I dream to travel the world and now I dream to travel the world with my family.
Also read: How to Travel Korea on a Budget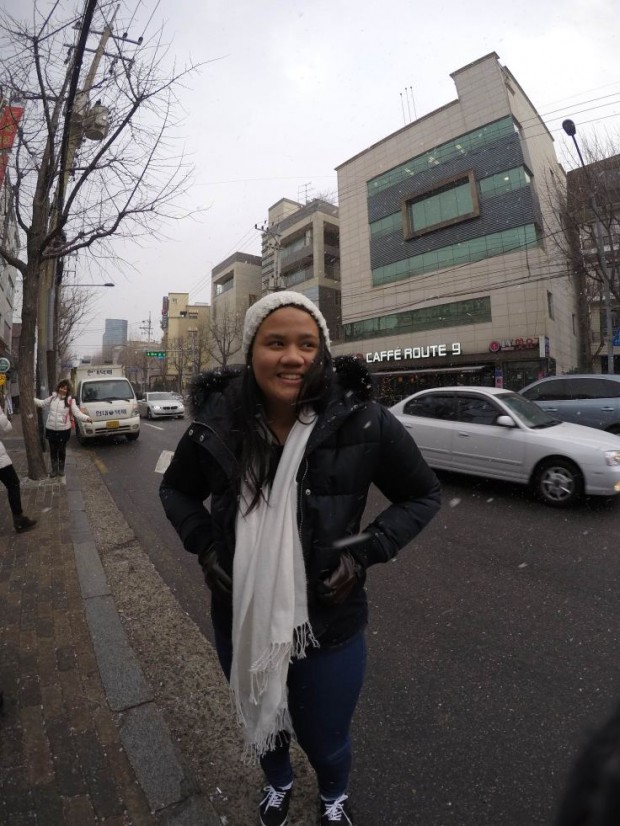 Seeing snow for the first time!
I am very grateful for the money that I paid for these amazing travel blessings (amount is per person):
AirAsia Flight
₱6,440
Airport Fees:Travel Tax

Terminal Fee

₱1,620

₱550

Accommodation – BOA Guesthouse (3 nights)
₱3,150
Trick Eye Museum
₱615
Nami Island and Ski Tour (Includes lunch and transportation)
₱5,700+
FoodTransportation (Taxi and Train)

Entrance Fees – Petite France

Souvenir Gifts

₱5,000+
Estimated Total
₱25,000