From beautifully renovated vintage houses to trendy cafes with colourful interiors, the Laguna foodie scene covers pretty much everything under the sun. Whether you're spending the weekend or just passing through, this is a fantastic place to travel to for a hearty meal (or a good cup of brew). Here, we've rounded up the must-hit Laguna restaurants and cafes, especially if you're in the province, to breathe new life into your Instagram feed.
Also read: 10 Airbnbs & Vacation Rentals in Laguna That Are Staycation Goals
IG-worthy restaurants and cafes in Laguna
1. Sulyap Gallery Cafe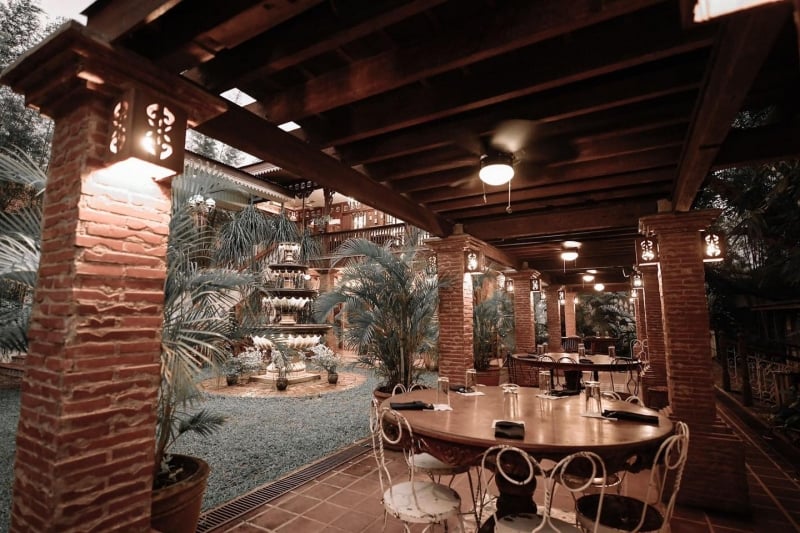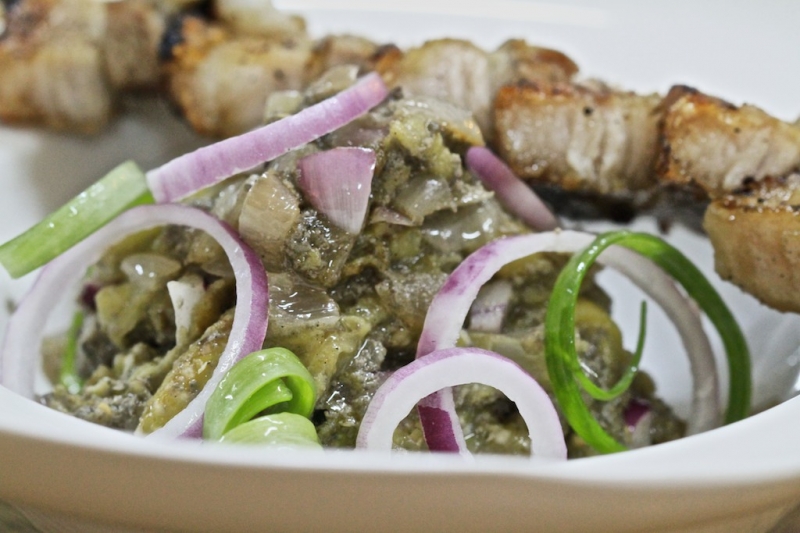 Step inside Sulyap Gallery Café, and it's easy to feel a sense of coming home. And not just because it's set in a heritage home, although the vintage furnishings and antique pieces definitely add to the old-world vibes. It's a pleasure to explore and even more to capture on camera. 
But this Laguna restaurant shines brighter through the food. Sulyap is known for serving top-notch Filipino cuisine, with a smattering of international dishes for variety. Try a San Pablo speciality dish called kulawong puso ng saging or kulawong talong. For something more familiar, you also can't go wrong with beef salpicao or gambas alajillo.
Opening Hours: Daily, 10am­–7pm
Address: Brgy. Del Remedio, Cocoland Compound, San Pablo City
2. Patis Tito Garden Café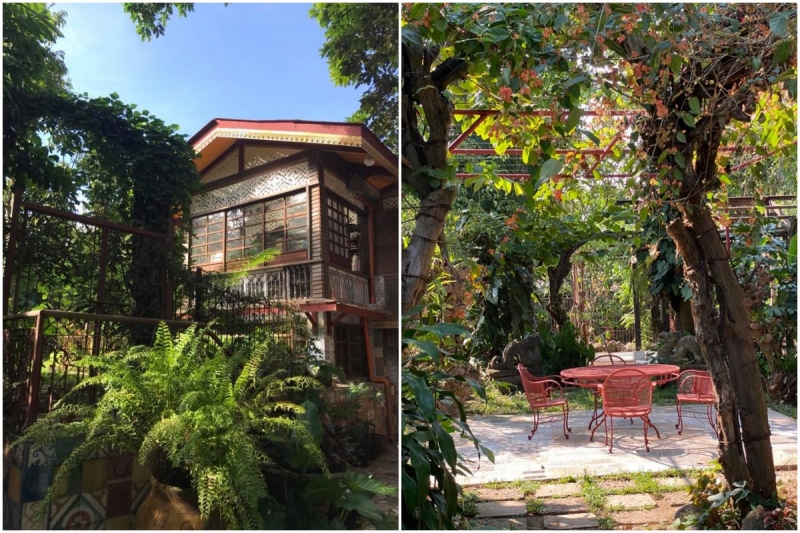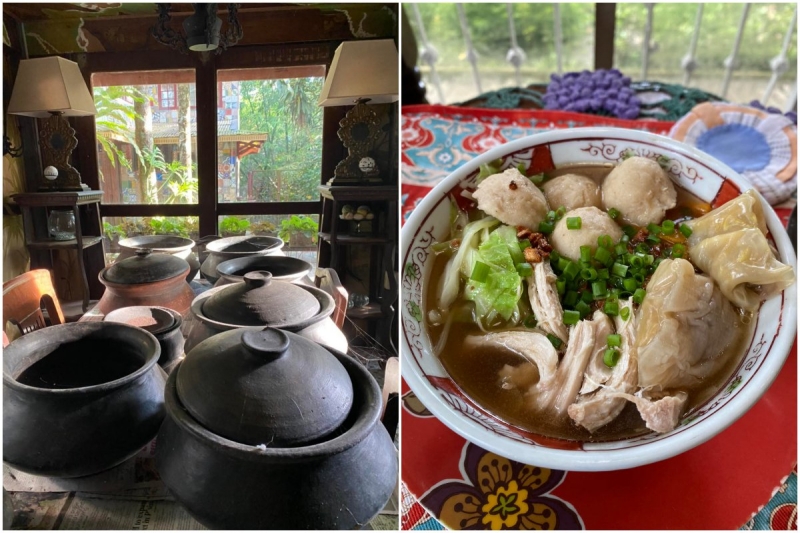 Do you know Patis Tesoro? Yes, Patis, the renowned Filipino fashion designer. She and her late husband Tito Tesoro are behind Patis Tito Garden Café, one of the most picturesque Laguna restaurants in the city of San Pablo. Lush gardens frame the uniquely designed restaurant built out of upcycled materials from heritage houses. There's also a bed and breakfast on the property, just in case you don't want to leave after your meal! 
Expect classic Pinoy dishes to go with the distinct locally inspired aesthetic. Slow-cooked food in the traditional palayok is a speciality, like sinaing tulingan or bangus kinulob.
Opening Hours: Daily, 10am–9pm
Address: Brgy. Sta. Cruz, San Pablo City
Also read: 8 Heritage Restaurants and Cafes You Can Find in Metro Manila
3. Calle Arco Restaurant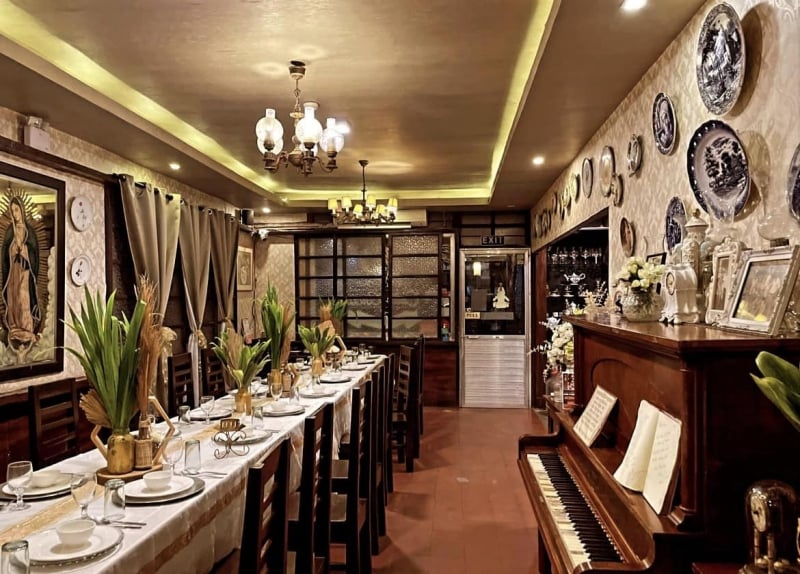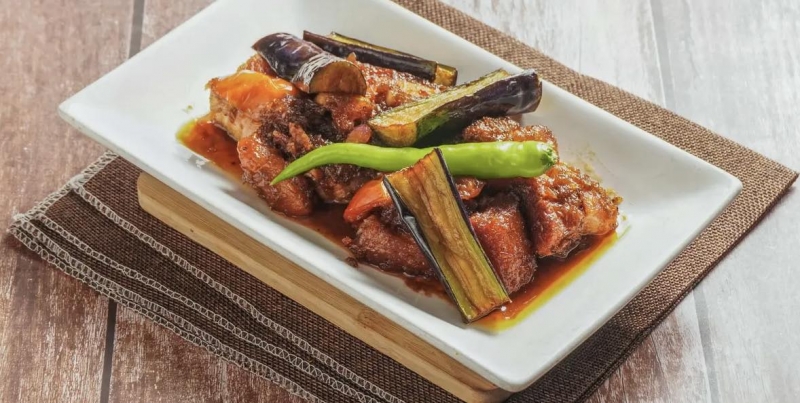 Trust us when we say it will take a while before you run out of heritage restaurants in Laguna! Another must-visit: Calle Arco Restaurant, found in a decades-old ancestral home in Pagsanjan. Cosy interiors and old photographs make guests feel like dining in their lola's house! Ultimately, travellers come to Calle Arco to sample well-prepared Filipino favourites, such as sweet and sour pla-pla, sinigang na baka, and pork binagoongan. 
Opening Hours: Daily, 10am–9pm
Address: 57 Rizal Street, Pagsanjan
4. Kape Kesada Art Gallery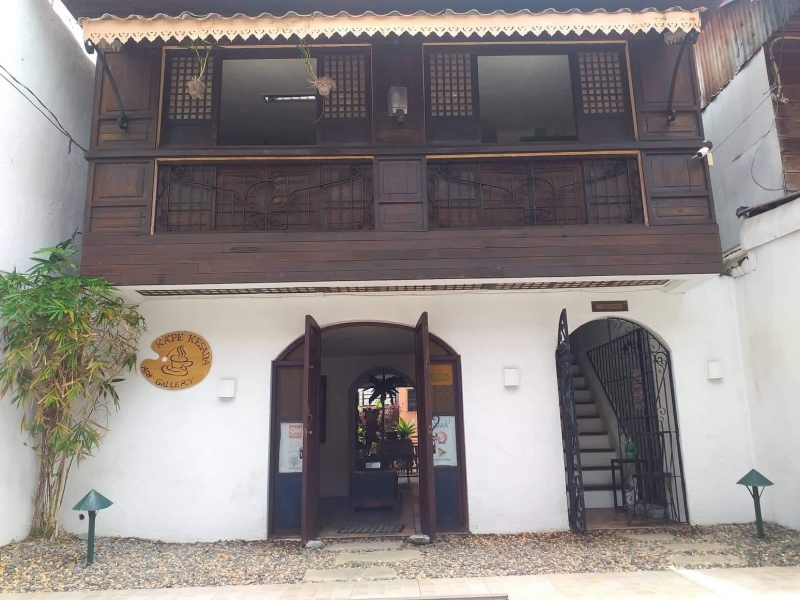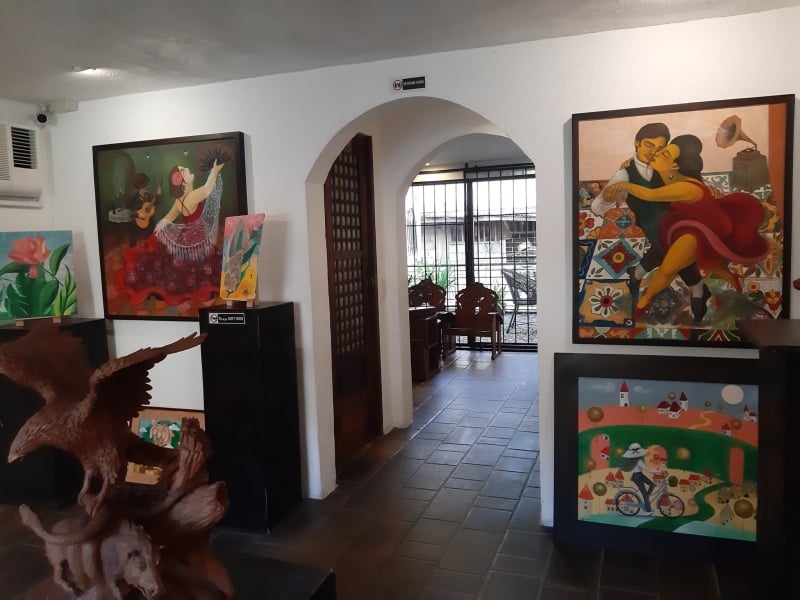 If you think art and coffee go together, Kape Kesada Art Gallery is your kind of stop. Tucked in a two-storey ancestral building in Paete, this gallery-turned-cafe regularly features exhibits by well-known and up-and-coming local artists. Most travellers who drop by are here to check out the art and old-world architecture. But if you're after a good cup of coffee, Kape Kesada is also known for making a mean brew. There are also yummy pastries and kakanin to sample!
Opening Hours: Friday–Wednesday, 8am–6pm
Address: Quesada Street, Paete
Also read: Street Art in the Philippines: 10 Spots That Tell Stories and Expressions
5. Del Mano's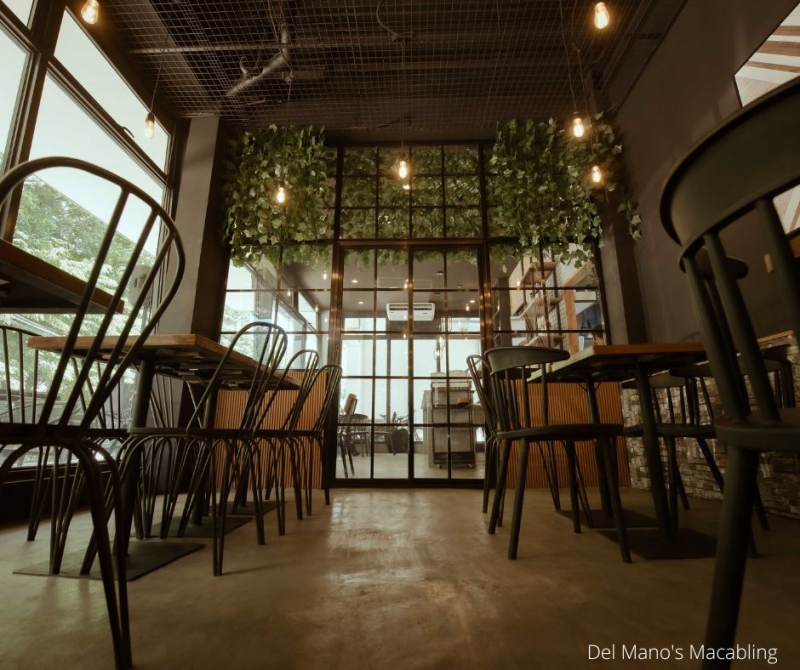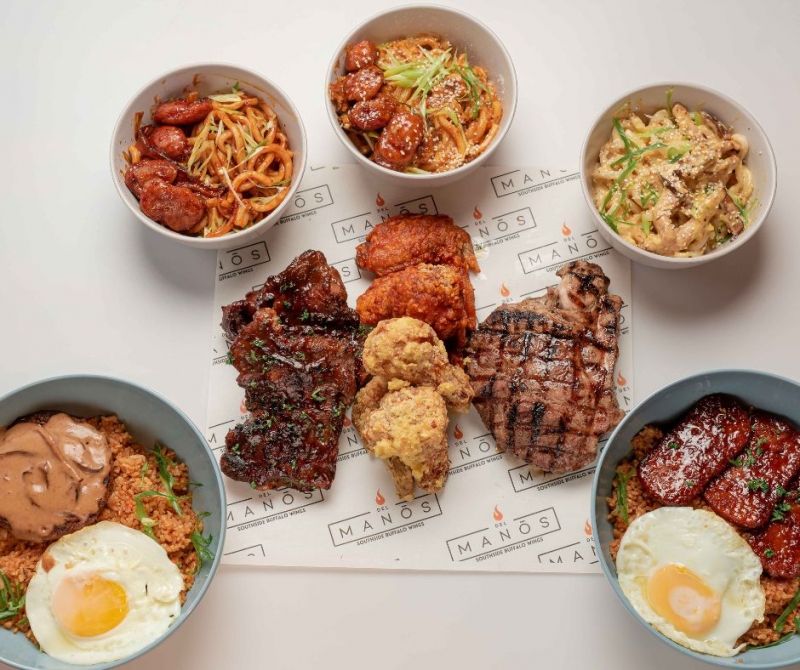 One fine example of homegrown Laguna restaurants is Del Mano's, a fun urban dining spot perfect for eating out with friends. If you're lucky, live music may even be playing when you visit! Although out-of-town diners may not be familiar with Del Mano's, it's popular enough in Sta. Rosa that a second branch even opened in mid-2022. And the food is excellent, too! This is your stop for hearty comfort food, with most regulars raving about the restaurant's steaks and chicken wings.
Opening Hours: Daily, 11am–9.30pm
Branches: South Hampton Subdivision | Sta. Rosa Town Center
6. Seoul Kitchen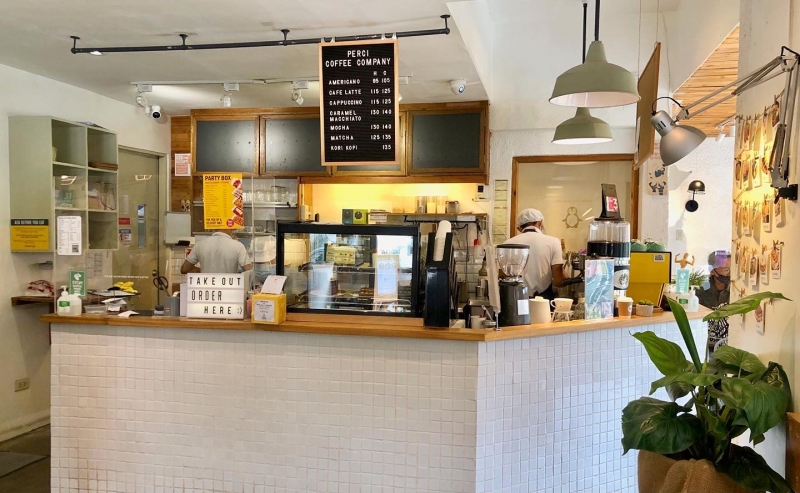 Experience a taste of K-drama bliss in Seoul Kitchen, a cute little dining spot in Los Baños, Laguna. Inside, the space is bright and airy — definitely, a great space for that Instagram snap! And Seoul Kitchen serves authentic Korean fare that are as photogenic as they are tasty, from the jjigae and kimbap to the colourful pastries. Visiting for a special occasion? Order one of the adorably designed cakes for the event!
Just keep in mind that locals love this restaurant. Expect to wait a bit if you're coming in during the lunch rush.
Opening Hours: Daily, 11am–7.40pm
Address: 9005 Pearl Street corner FO Santos Street, Umali Subdivision, Los Baños
7. Satya Graha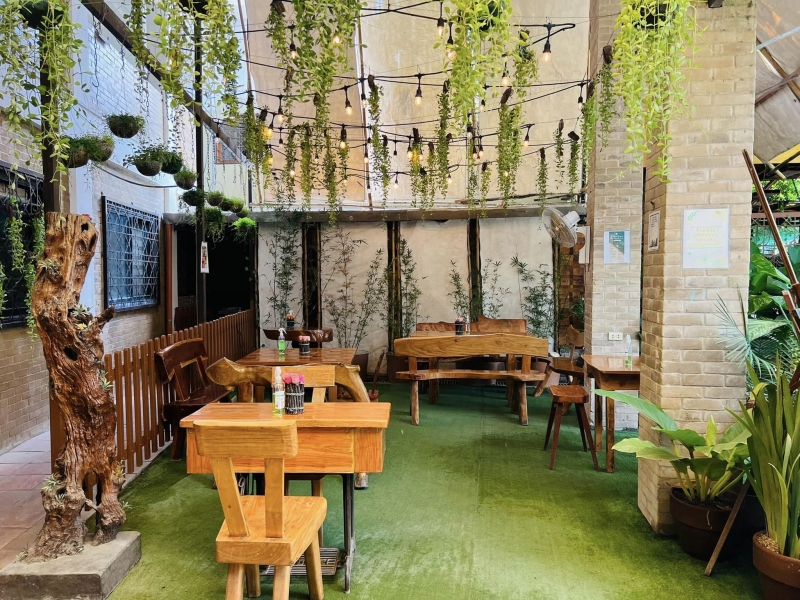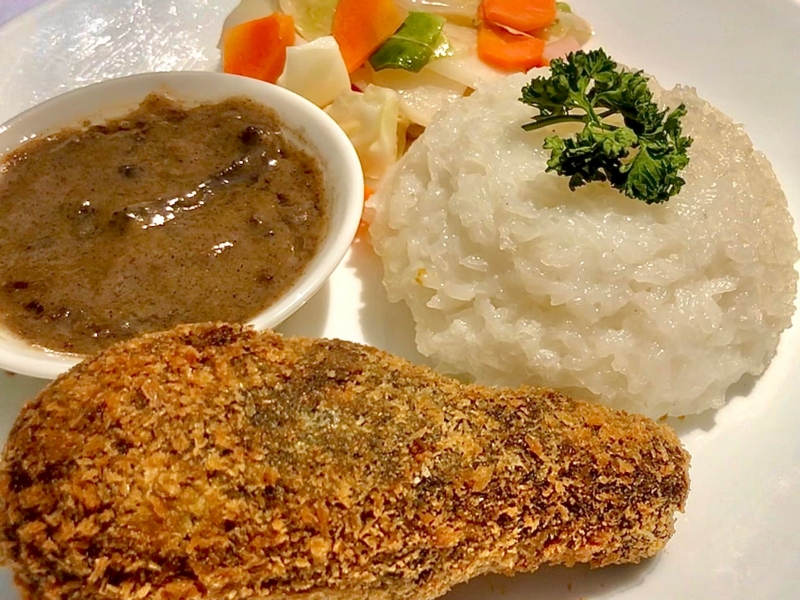 Vegan-friendly restaurants can be hard to come by in meat-loving Philippines. Fortunately for Los Baños natives, there's always Satya Graha. Vegans and vegetarians will be happy to see an extensive plant-based menu — and al fresco dining only adds to the Instagrammable experience! We're pretty sure even meat eaters will be just a little bit in love with meat-free food after a meal in Satya Graha. 
Opening Hours: Wednesday–Sunday, 9am–6pm
Address: 1460 Siving Street, Batong Malake, Lopez Ave., Los Baños
Also read: Vegetarian and Vegan Travel Tips From 6 Plant-Based Pinoys
8. The Morning After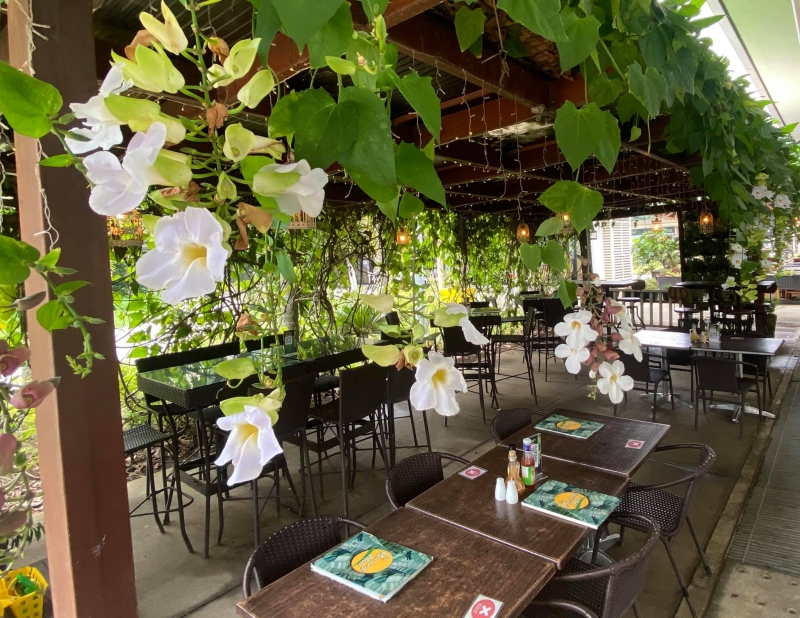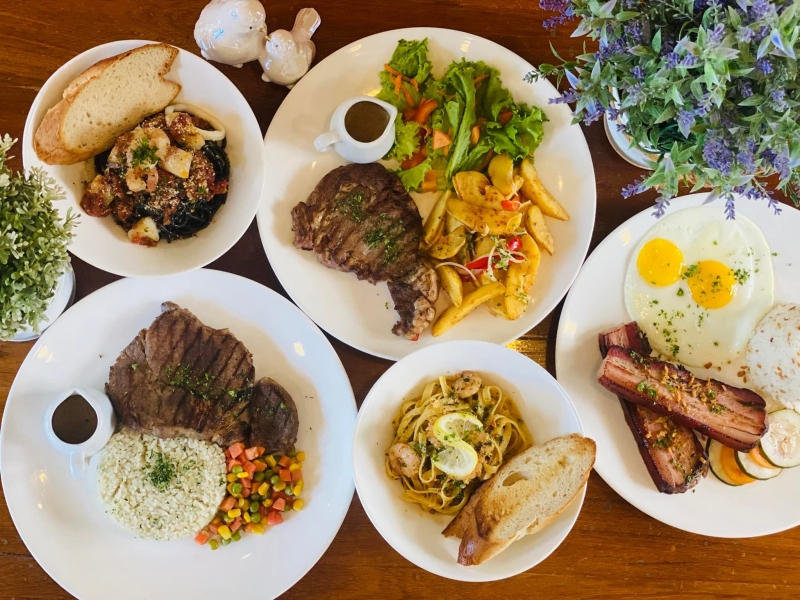 Looking for Laguna restaurants for an early brunch? Morning After offers delectable brunch fare that's well worth going to Nuvali for! On weekend mornings, the vibe is pretty and pleasant, with indoor plants and twinkling lights.
The Instagrammable diner is especially known for serving all-day breakfast, from Pinoy-friendly silog meals to more Western dishes like chicken and waffles. We have to say, the hand-rolled breakfast pizza is a particular highlight! And serving meat-free options alongside meaty staples, Morning After is ideal for vegans wondering where to eat in Sta. Rosa, Laguna.
Opening Hours: Monday–Friday, 8am–10pm; Saturday–Sunday, 7am–10pm
Address: Building G, Ayala Malls Soledad, 3 Santa Rosa – Tagaytay Road, Sta. Rosa
9. Fluff Koppi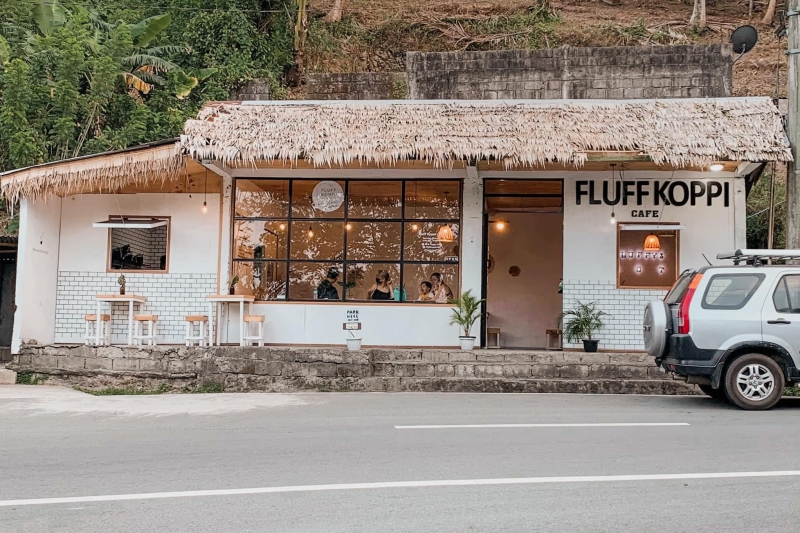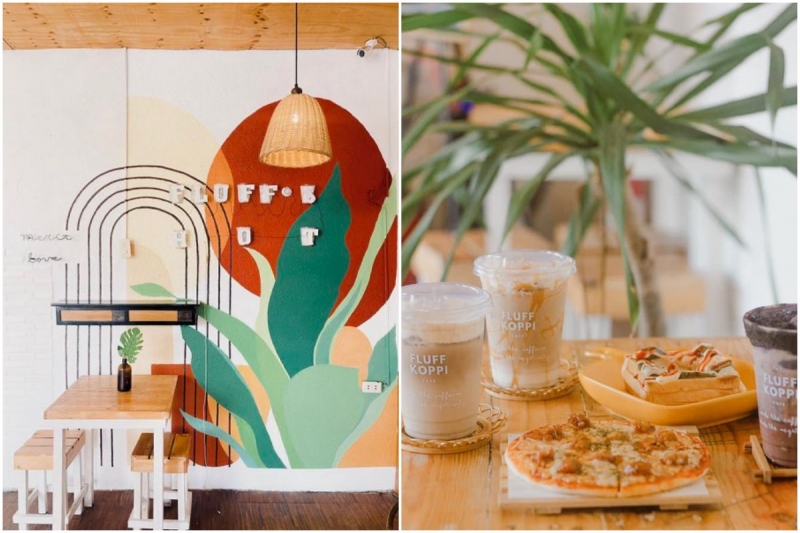 If you're in Pililla, Rizal, one of the nearby Laguna cafes you can visit is Fluff Koppi. This minimalist haven is only a five-minute drive away from the famous Pililla windmills! And with bright murals, tropics-inspired décor, and lush indoor plants, Fluff Koppi is a stylish place where you can start (or end) the day on a sweet note. Large windows promise plenty of natural light, so you're assured of well-lit photos all day long!
Opening Hours: Monday–Friday, 8am–8pm; Saturday–Sunday, 8am–10pm
Address: Purok 6, Brgy. San Miguel, Mabitac
10. Hiraya Manawari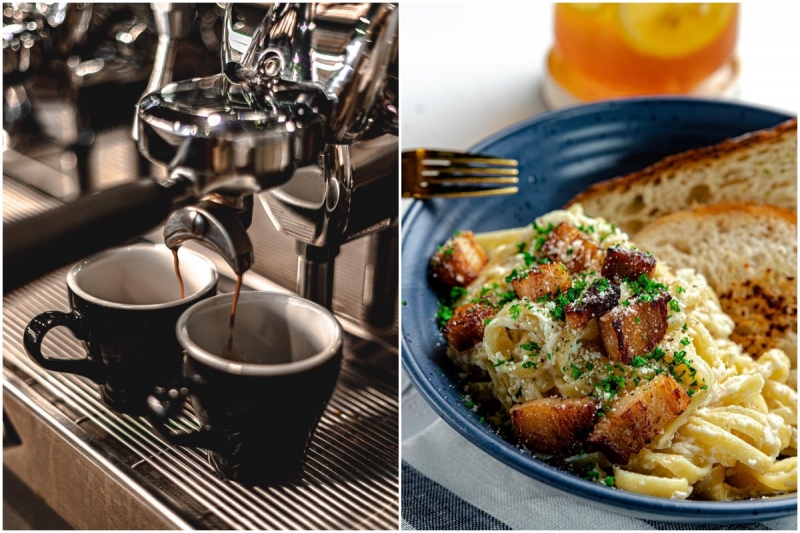 Drawing its name from an ancient Tagalog phrase that means "reach for your dreams," Hiraya Manawari is a cafe in San Pedro aiming to offer a new-wave coffee experience in the province of Laguna. Chic interiors blend tropical notes and industrial design for a backdrop that guarantees at least one good photo for your Instagram feed. Plus, this is one of the Laguna restaurants with sockets for diners who need to work on the go.
Caffeine addicts will be happy to find an extensive coffee menu, but if you prefer tea, you've got a few choices as well. Rice meals, sandwiches, pasta, and desserts are also available.
Opening Hours: Daily, 10am–8pm
Address: Level 4, Robinsons Galleria South, Km. 31, National Highway, San Pedro
Also read: 10 Waterfalls in Laguna for a Refreshing Natural Shower
Hungry yet? We're certain there are a lot more dining spots to enjoy in the province, but these Laguna restaurants and cafes are an excellent place to start. Kain na!
---
Featured image credit: Hiraya Manawari | Facebook