From time to time, we long to experience things we would only see in foreign countries but without the hassle of getting onto expensive flights — from the cherry blossoms of Japan to attractions inspired by international destinations like Africa, Italy or the Netherlands. Now, here come the light pillars in Sulu, which you could say is the Philippine version of the Northern Lights in Iceland. And, just like all of those things, they're magnificent beyond words!
Last seen around the first week of July 2019 by residents of the Southern Philippine province, the light pillars appear to be tall green illuminations resembling giant floating candles. This is not the first time the Tausug people have witnessed such sighting in their skies. "Madalas po akong nakakakita ng light pillars, actually any time po yan lumalabas, pwede po thrice a year or twice a month", said local Hydee Aradais in an online interview, who recently shared photos of the light pillars on Facebook. The latest sighting lasted for nearly 30 minutes.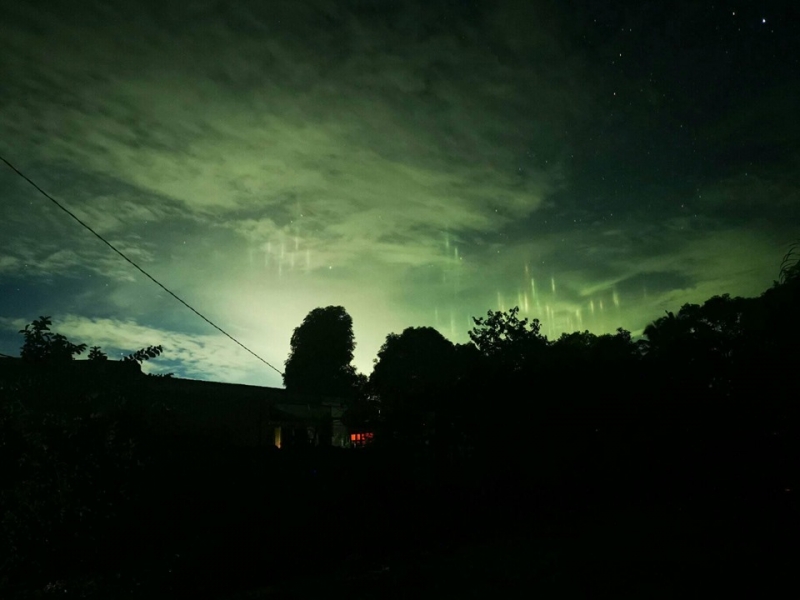 Eventually, the Tausug have gone to call these light pillars Lansuk-Lansuk, which is the local term for a candle. According to Hydee, many of the locals believe the lights are an omen that something tragic will happen in the vicinity, but he begs to disagree. "Para sa akin, it's just a coincidence na lumabas ang light pillars at ang masamang pangyayari", Hydee shared.
The Philippine Atmospheric, Geophysical and Astronomical Services Administration (PAGASA) said that the lights are caused by ice crystals and moonlight, as reported by GMA News Online. How, you might ask? To put it simply, the thin cirrus clouds above Sulu contain a special kind of ice crystals. These crystals then reflect moonlight, creating the vertical reflections in the Sulu skies.
Also read: 12 Philippine Destinations for Stargazing and Milky Way Sightings