"This is it, Joser. Are you really sure you're doing this?" I pondered as I made my way down to the lobby of my Kathmandu hotel. There, my trekking group greeted me. The sun had barely risen. My fingers still had Holi powder residue from the festival the day before. And, in less than four hours, we were to commence our 12-day Everest Base Camp Trek. First on the agenda? Fly to Lukla Airport, the most dangerous airport in the world.
Otherwise known as Tenzing–Hillary Airport in honour of Tenzing Norgay and Edmund Hillary, the first people to summit Everest in 1953, Lukla Airport rests at 2,845 metres above sea level. That's just about a hundred metres short of the tallest mountain in the Philippines, Mount Apo. Was I nervous? For sure. However, I got more concerned about the fact that I was this close to experiencing the Himalayas up close. I wasn't about to let that opportunity go.
Also read: Why You Should Visit Nepal At Least Once in Your Life
Why is Lukla Airport the "most dangerous"
Located roughly 139 kilometres east of Kathmandu, Lukla Airport is the most popular and convenient gateway to the Khumbu Region, where the Nepal side of Everest stands. At this elevation, flying to the airport aboard a plane which is no longer than two e-jeepneys put together can be quite a ride, to put it mildly. But that's not even the cherry on top.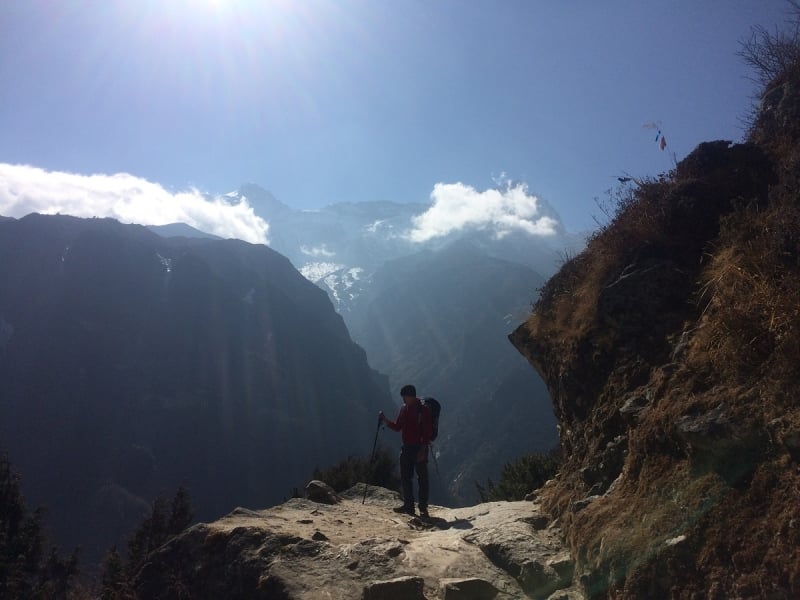 The airport also sits at the edge of a mountain. Cliff on one side, a stone wall on the other, with a 527-metre runway in between. You might think that this is a tad short for an airport runway, but that's exactly it. To put it in perspective, think of the main runway at the Ninoy Aquino International Airport. Lukla Airport's runway is about seven times shorter than that!
I'm no aviation expert, but this means pilots would have to time their landing and takeoff perfectly to avoid potential accidents. A not-so-fun fact: There's been a record of at least eight significant accidents within the past two decades involving Lukla Airport. The most recent one was of a Summit Air plane in April 2019. A co-pilot and two policemen standing by died after the plane skidded off the runway while attempting to take off.
The boarding
We spent about an hour at the boarding area of Tribhuvan International Airport's Domestic Terminal, waiting for an announcement whether the flights would push through or not. Let's just say that the weather wasn't ideal that morning. I was close to backing out of the whole trip thinking it was a sign that something terrible was bound to happen. It didn't help that everyone else around me kept silent, either. Some months, passengers would wait hours (even days) just to hear a boarding call!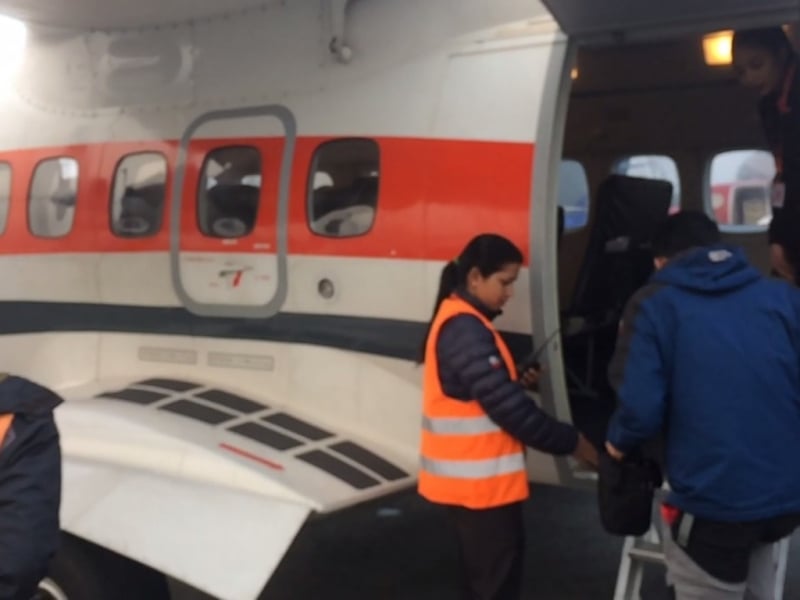 As soon as the announcement was made, we were the first passengers to board. We waited for another half hour or so in the airport bus before finally being taken to our plane. It was a tiny, 18-seater Turbolet operated by Summit Air (yes, the same airline involved in the 2019 Lukla Airport accident I mentioned). Following other flyers' recommendations, I chose a seat on the left side of the plane for the best views of the Himalayas.
The flight
Indeed, the first half of the flight turned out fabulous. From where I sat, I witnessed the landscapes change from city to forests to snow-capped peaks, then finally, to a village — all in 30 minutes. As the plane made its final approach, we endured several bumps that had me holding on to my seat for dear life. I've never ridden a roller coaster, but I could've sworn this experience beats that in a heartbeat.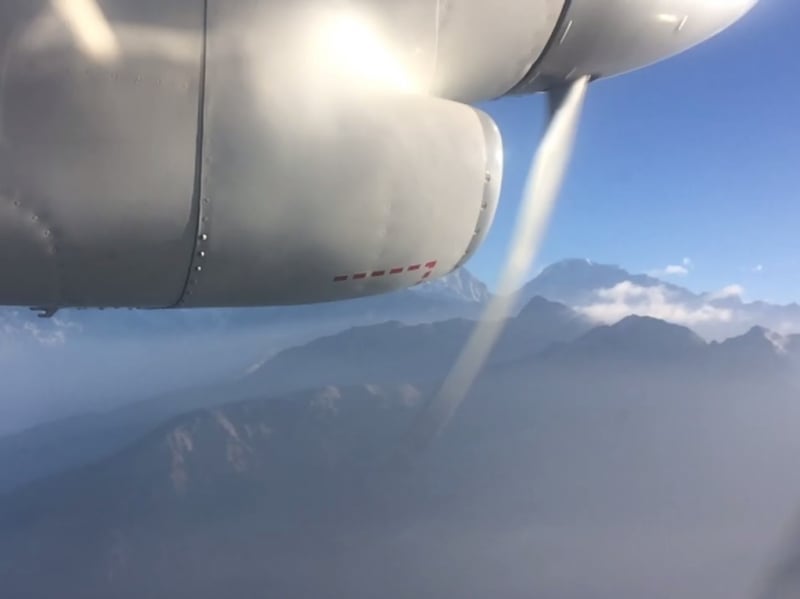 Close to landing, I set my documentation plans aside and just prayed that we make it safely past the cliff. Apparently, just 700 metres below Lukla Airport's notorious runway is a small village. I figured, more than 18 lives would be at stake should anything go wrong. Thankfully, the landing was rather smooth. The plane made an impressive turn just seconds away from hitting the stone wall and onto the taxi area.
Also read: Trekking to Everest Base Camp On A Budget (Under USD1000)
The airport
Lukla Airport only operates in the morning, and its tarmac can only accommodate roughly two to three planes at a time. Before I could compose myself from the flight experience, everyone else had started going down. I, too, followed carrying just my daypack and a couple of leftover candies from the flight in my pocket. It was a good thing I brought them because I needed something to chew on to distract myself from our next ordeal — the freezing mountain weather.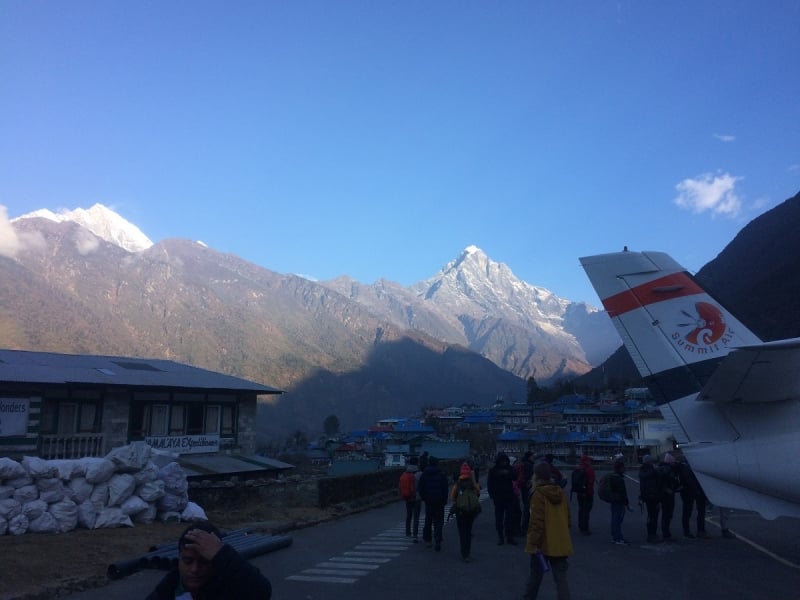 A crowd of trekking guides and porters was waiting by a fence near the arrival area. After picking up my main bag from the huge pile next to the plane, I made my way indoors as fast as I could to prepare my down jacket rental and find the nearest toilet. There was only one for each gender, so get ready to endure long lines, particularly on peak season.
I rejoined my trekking guide and trekking companion and we went to the back of the airport, where the exit was. Then, we had to climb a small flight of stairs past a certain viewpoint just above the stone wall. This is the spot where visitors usually get a panoramic view of Lukla Airport, the surrounding village and nearby mountains.
The vicinity
We ended up at a restaurant directly across the airport. The plan was to have breakfast here and do final preparations before we officially start the Everest Base Camp Trek. Note that the prices of food from this point on tend to be more expensive than in the city.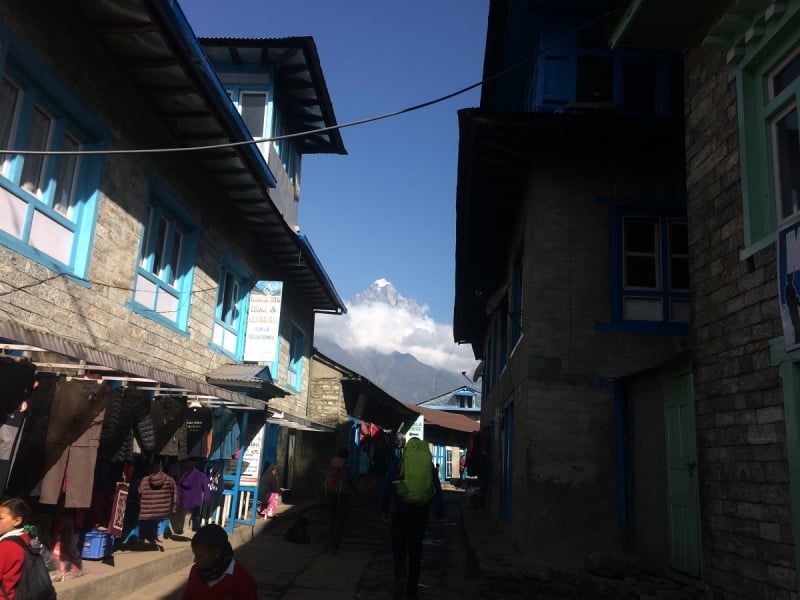 After a quick breakfast, I went back to the viewpoint, where I spent about 30 minutes documenting planes and helicopters land and take off. When I was done, I walked around the village to see a herd of yaks for the first time. If you're doing the Everest Base Camp Trek, expect to see a whole lot more of them during the duration of your trip.
Apart from the yaks, the village seemed like any other village you'd see in mountainous areas in the Philippines. Then, it was time for the trek. Whether I managed to come back to Lukla for my flight to Kathmandu — stay tuned!
Also read: 6 Things These Airports in Asia Do Better Than Everyone Else
Tips for flying to Lukla Airport
Flying to Lukla Airport is highly weather-dependent. Make sure to allot at least two weeks for your Everest Base Camp Trek in case things don't go your way the first time.
There are no seat assignments on the plane, or at least if you're flying with Summit Air. In such case, make sure to choose a seat on the left side of the plane going to Lukla Airport for better views of snow-capped mountains and the airport's infamous runway.
The plane doesn't have a toilet, so make sure to do your business while at the boarding area at Tribhuvan International Airport's Domestic Terminal. And try not to drink too much water right before or during your flight!
If you're scared of heights, roller coasters or tight spaces, then flying to Lukla Airport may not be the best idea. To get to Khumbu Region, you can take an eight-hour overland trip to the municipality of Jiri, about 50 kilometres (or a minimum of three days trekking) away from Lukla Airport. I wouldn't advise going for the helicopter tour as well if you're not used to high altitudes and if you're travelling on a budget.
Spending more time at Lukla Airport is an experience in itself. You can see fellow Everest trekkers or summiteers from around the world begin and end their journey here. Also, the views surrounding the facility are a sight to behold on their own. If you want to make the most of your Lukla Airport experience but don't want to spend several days trekking, you can just take a two-day hike up to Namche Bazaar. It's a small trading town at 3,440 metres above sea level. You can still see the Everest peak on your way here. Then, you should be able to hike back down to Lukla Airport in one day, spend a night in the vicinity (there's not much going on here) and catch a flight back to Kathmandu the next morning.
To have a better idea of how flying to Lukla Airport is like, watch this video I made about my solo Nepal trip.