What do travelling to Macau, Singapore, Hong Kong and Bali have in common? Aside from being popular travel destinations among Filipinos, they're also known to be some of the most expensive for the average traveller. For Singapore, it's primarily the food; Hong Kong, accommodations; Bali, round-trip flights. And Macau? Well, everything — or at least that's what most people on the Internet say.
In travel terms, anything that comes with the 'expensive' tag can easily be labelled as overrated. Perhaps the biggest victim of this, based on observation, is Macau — the very destination I travelled to for three days as part of a recently concluded post-birthday trip.
"Three days? In Macau? You must be out of your mind!" I remember thinking this to myself just after booking my flight to this special administrative region in China four months prior. From the perspective of a budget traveller, maybe I was (others only recommend visiting Macau on a full or half-day trip from Hong Kong). Otherwise, three days offers but a smidgeon of what this place truly has to offer. Whether I liked my experience in Macau or not — you'll just have to wait until the end of this article!
Also read: 17 Things to Do in Macau For the First-Time Visitor
Travelling to Macau: My takeaways
Food and accommodations don't come cheap at all
Most of the damage from travelling to Macau comes from two things — food and accommodations. A single meal with drinks, whether I was in Macau Peninsula or in the Taipa area, cost me at least ₱300. This is twice the amount of what I typically spend in other places, including the Philippines.
Before you wonder, yes, I did try the pork chop bun, which is one of those things travellers say you can't miss while in Macau. But I also ended up spending two of my meals at a local McDonald's and Jollibee. Either way, the amount of money I spent on food was clearly above average.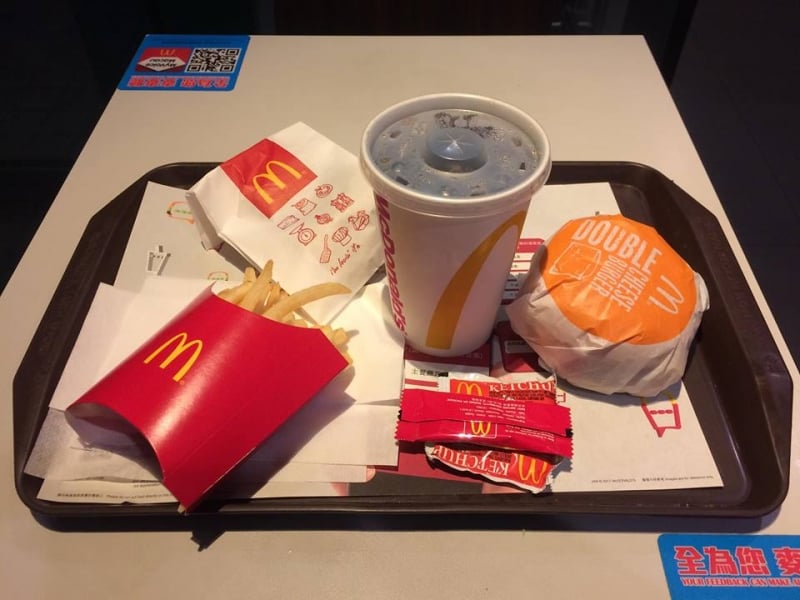 As for accommodations, it is said that travellers won't find a single hostel in the city. There are only hotels, which charge a minimum of ₱2,000 for one night in a basic guestroom. I once did a mock reservation via a third-party booking platform and got the cheapest rate of ₱6,000 for just two nights!
After expanding my research, however, I came across a certain guest house that was by far the most economical accommodation in Macau. SanVa Hospedaria, considered the oldest guest house in the city, costs less than ₱1,500 for one night in a tiny, windowless room. It comes with a single bed, electric fan (no air conditioning throughout the building), and a room sink with a mirror. There's only one bathroom area which is shared among all house guests.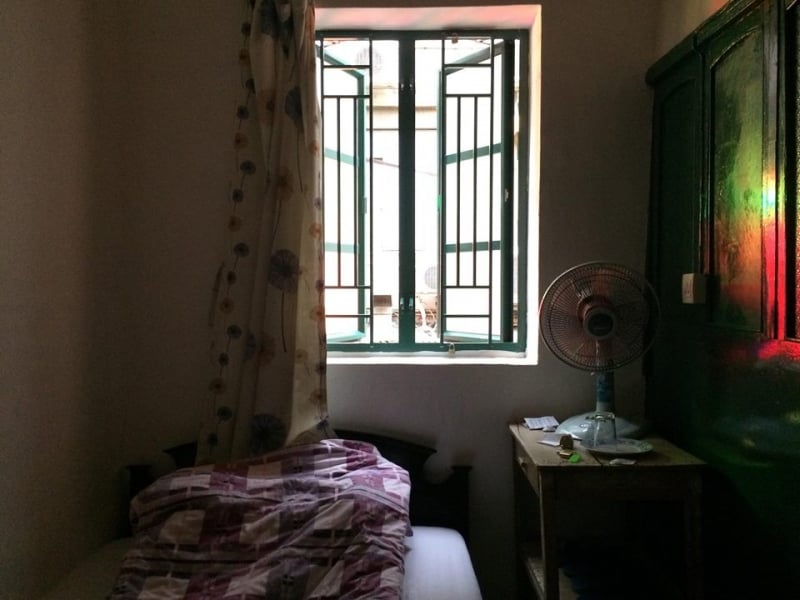 I paid a bit more and got one of their rooms with a window. If it were any other trip, I would've easily dismissed the place. But there are a few things about it that convinced me this was still the better accommodation for my holiday.
One, it was the first and longest standing guest house in all of Macau. Since I love taking part in history in ways that don't necessarily require a trip to a museum, this resonated with me right away. The house has even been featured many times over in movies and magazines! Two, it was located along Rua de Felicidades (also known as Happiness Street), another cultural landmark in Macau no more than five minutes away from Senado Square. Three, I happened to visit Macau during wintertime, which made the lack of air conditioning a much smaller deal than if I had visited in the summer.
I did find much cheaper accommodations through Airbnb, but that would've meant sleeping on a tiny mat in an apartment kitchen or behind a couch in a congested living room (I get claustrophobic at times). Neither offered a space for keeping my important belongings.
But it's affordable everywhere else
One of the biggest surprises of my visit was doing the actual tour of Macau. The city might not be the most affordable in terms of food and accommodations, but my wallet found redemption when it came down to this part of the trip.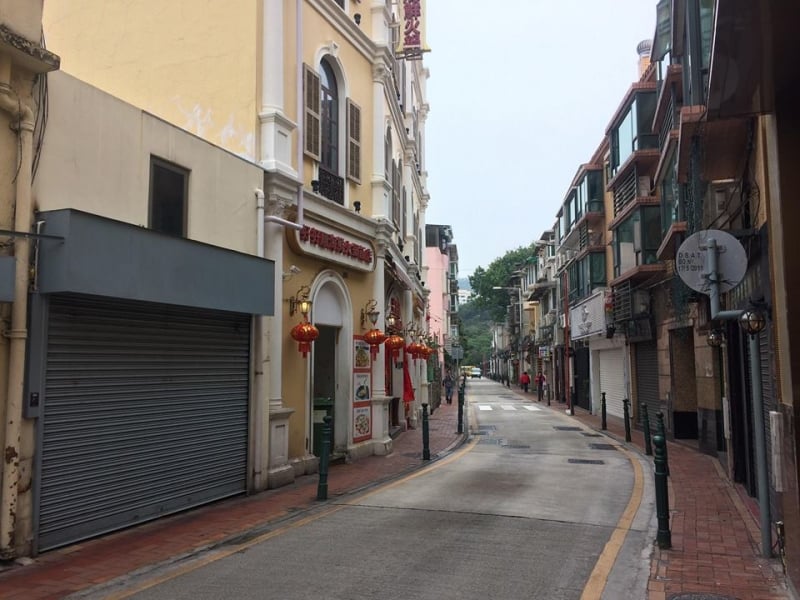 In case you wanted to know, the whole of Macau measures a mere 30.5 square kilometres, just a few kilometres bigger than Makati City. What does this mean? It's basically a playground for people who love to explore on foot, myself included. Visiting in the end of winter made walking around all the more convenient (just be sure to put on proper clothing). This also saved me heaps of money.
It's possible to explore Macau on the cheap during other seasons, too. How? By taking advantage of the free shuttle buses of some of the biggest hotels and resorts in the city. These buses have predetermined stop points throughout Macau, and if you plan your visit well, I doubt you'll spend a single penny for sightseeing.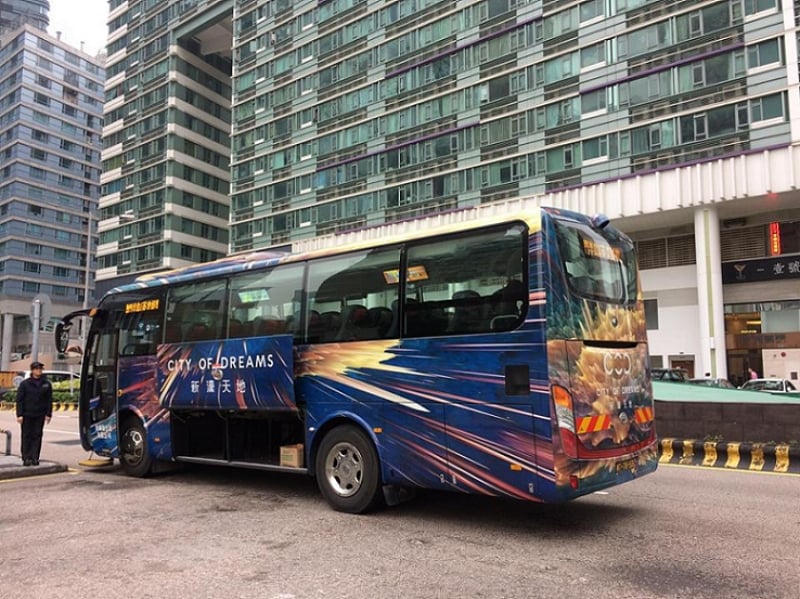 During my trip, I made use of the bus at City of Dreams after exploring Taipa and Cotai for a day. This took me to the Grand Emperor Hotel in Macau Peninsula, which is just a few minutes' walk to SanVa Hospedaria. Again, these rides are for everyone. You don't need to be a guest in these hotels or resorts, or even have to bring a special document to hop on one!
Riding the free shuttle buses also makes it easier to explore Macau's attractions. Yes, attractions. These impressive properties make up a big chunk of Macanese culture, and I made a good decision to visit a few of them while I was in the Cotai area. From the toilet rooms to the escalators and the walkways, everything was just so ornate (and free to take photos with!).
Also read: How I Spent My First International Trip in Hong Kong and Macau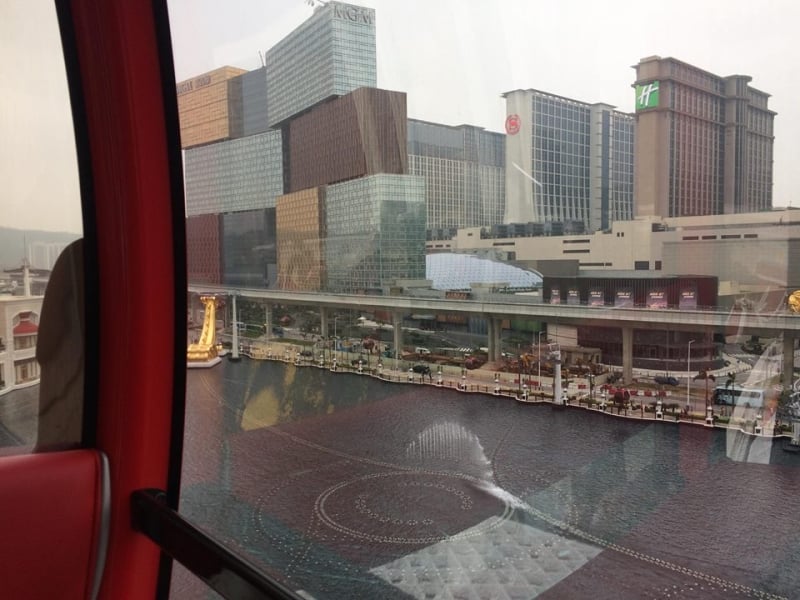 Would you believe that I got to ride a cable car in Wynn Palace at no cost? I just saw a sign that said "Complimentary Ride" as I walked past the luxury resort, and immediately made my way to it. I had to ask the staff if I really didn't have to pay anything (since there were only about two other people in line at the time). As soon as they said yes, I entered one of the cars, which I had to myself the entire time!
It's not just the casinos or the ruins
Google the word "Macau," and you'll be greeted by photos of four of Macau's top attractions: Ruins of St. Paul's, The Venetian Macao, Macau Tower Convention and Entertainment Center, and Senado Square. Like many of you, I was once fooled by the idea that these are all there is to Macau. On my trip, I discovered that in fact, they're not.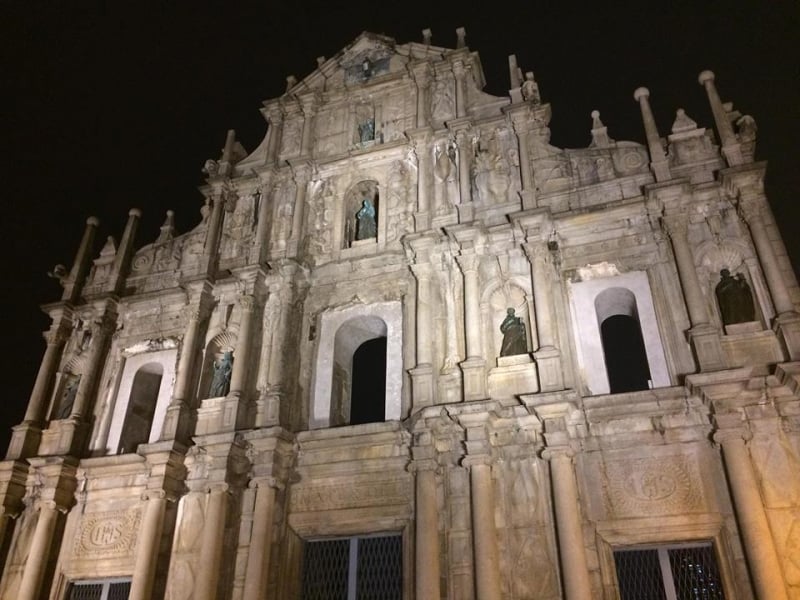 Don't get me wrong. All four of these places are magnificent in their own right. I especially loved the Ruins and Senado Square. I was hesitant to visit them at first because of the unsightly photos I'd seen online of how overpopulated they can get during the day. Since I had three days to spare, and my hotel was located nearby, I decided to see them late in the evening. With a quieter and even quite romantic ambience, my leisurely 10pm strolls turned out to be the highlight of my Macanese holiday.
With these two spots out of the way during my daytime itinerary, I had the chance to explore neighbouring places that I wasn't so familiar with. On my second afternoon, I walked the entire stretch of Av. de Almeida Ribeiro and Av. do Infante Dom Henrique, then spent a few minutes looking over Mainland China from a random spot I chanced upon near Sofitel.
Another time, I went to Macau Tower where I watched a live bungee jump — the highest commercial bungee in the world — for the first time. Since I had no intention of jumping, I settled on seeing a couple of people do it from a viewpoint below the tower. I did this for free, too! Meanwhile, the route going to the tower from my hotel and back was just as fascinating: Cobblestone streets, Portuguese-style buildings, miniature parks, and stunning views of the Nam Van Lake and Sai Van Bridge.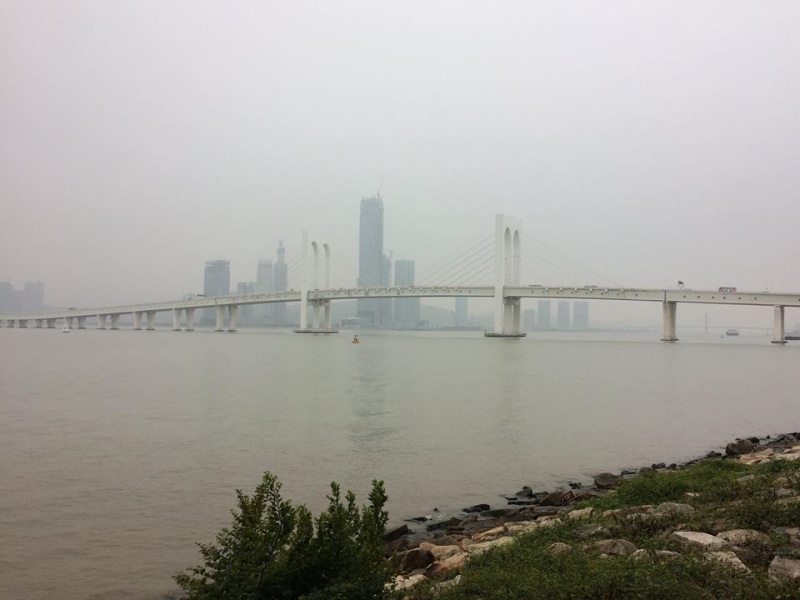 There were a few more places I wish I had gotten to explore more but didn't because of lack of time. These were the Guia Lighthouse, Penha Church, and the Coloane area, where I unexpectedly found myself after I took the wrong bus from the airport to Macau Peninsula. A long way from many of Macau's main attractions, Coloane seemed like a great place to spend a laid-back afternoon. I already imagined myself wandering around its vivid streets and nature trails countless times since I left the place.
It isn't a place for backpackers, but Filipinos expats? Yes.
There was one thing I instantly noticed upon arriving at the Macau International Airport: There wasn't a single travel backpack in sight. The lines at the immigration area were filled not by Westerners, but returning locals and Filipinos who, until now, I couldn't tell whether were coming for tourism or work.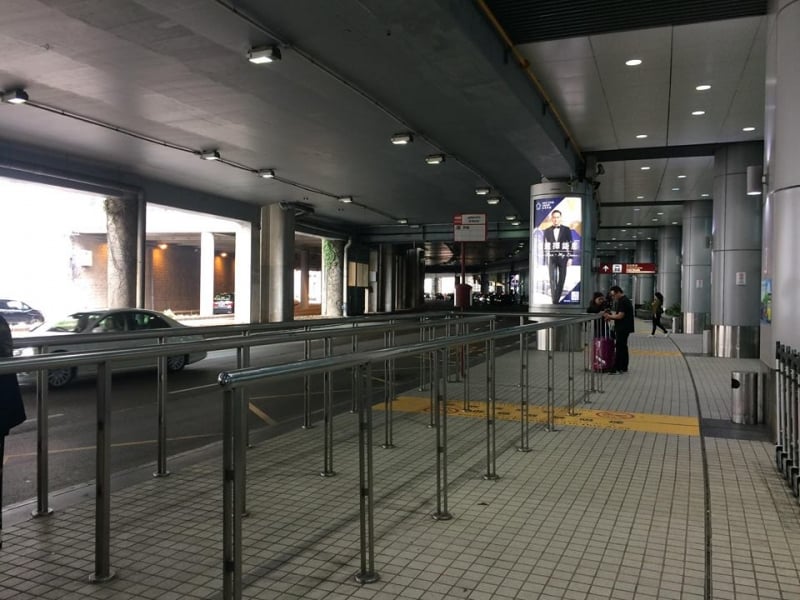 It was the same scenario when I rode the buses going to my hotel from the arrival area, and when I arrived in my neighbourhood, supposedly the main tourist area of Macau. If anything, it felt more like being in a massive outdoor shopping mall in Metro Manila than a foreign travel destination altogether.
Furthermore, compared to tourist centres in Bangkok, Hanoi, and Kathmandu, travel agencies apparently aren't a thing in Macau. That, or I was simply searching in the wrong area, or perhaps they were hidden deep inside those mysterious buildings surrounding Senado Square. I had no idea. Not even my hotel receptionists seemed like they wanted to have anything to do with me after I checked in. No tours, transport services, or even a map to offer. Everything I asked for had to be written down on the spot, which I was still thankful for, of course. It might've been different if I stayed in a regular hotel, though.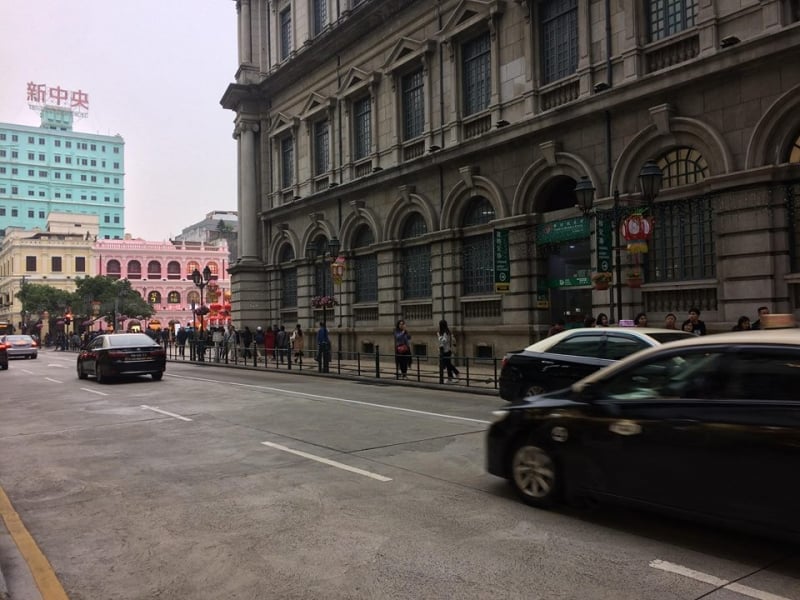 With Filipinos practically everywhere in Macau, I learned that I didn't have to force myself to speak English every time I needed help with directions. I can't speak Chinese or Portuguese, even if my life depended on it. I also learned that the phrase "Are you a local?" was much more practical than asking "Are you a Filipino?" before starting a conversation with anyone in the city. At every corner, there were always those familiar looks of a kababayan, and they were comforting.
Since I couldn't find any recognisable travel group, I had to plan and follow my entire itinerary on my own. At the same time, there was no pressure for me to do everything right the first time because it seemed like nobody knew any better than I did. If I wanted to be alone on this trip, I definitely achieved that in Macau. But it also wouldn't hurt to bring a companion the next time I find myself in the city, especially if I want to split expenses.
Travelling to Macau: Final thoughts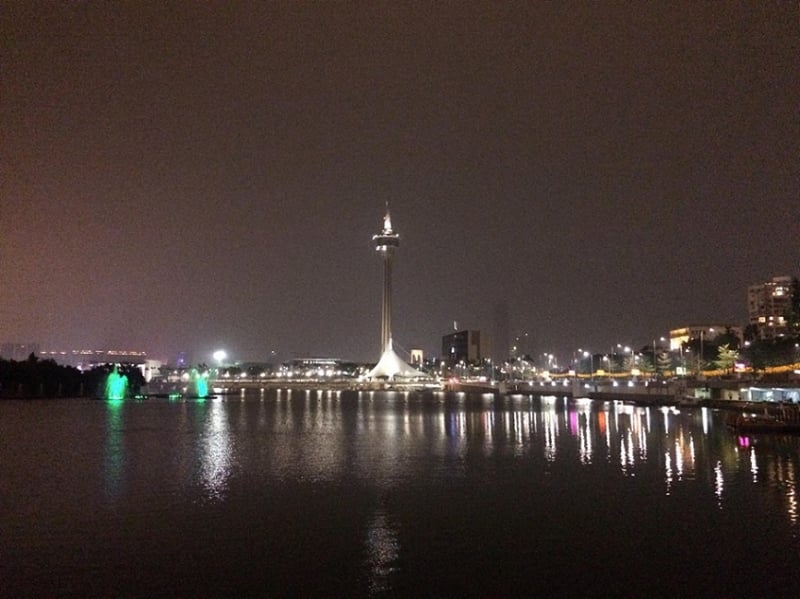 Macau was my first stop (and the place I spent the least time in) during my multi-city trip that ended in Hanoi, Vietnam. The moment I hopped on the ferry to Hong Kong, I couldn't help but wish I'd given it a few more days. The contrast between the old and the new was so apparent as well as intriguing — I reckon not even a full week in the city would do Macau justice.
It's not the best place for the typical backpacker or long-term traveller, and I realised that's where most people's indifference towards this destination comes from. Truth be told, the place is so overrated that it's become underrated. To see past its crowded attractions, one ought to allot more days to explore the city, or at least plan a day itinerary completely different from the norm.
To answer a couple of questions I posed at the beginning of this article: Yes, I did like my experience in Macau, so much more than I thought I would. Is it overcrowded? Yes, in some areas and at specific hours during the day. But is it overrated? I think not.
Also read: Travelling Around Macau On A Budget: Tips and Tricks To Remember