Contributed by Wanders of Eve
Just very recently in March, I travelled to South Korea for the third time. On my second day, it rained in the afternoon and I was enjoying my own company at Dumulmeori River, a beautiful spot in the southmost part of Yangsuri. The place is a little over an hour of train ride from Seoul. I wanted some peace and quiet, so I decided to come here for my 34th birthday.
I was walking towards the river bank when I noticed an elderly woman struggling to take a selfie while holding on to her green umbrella. I volunteered to take her photo. After taking a few shots with her cellphone, a woman in a yellow jacket with this giant camera slung around her neck approached us. Her name is Sukyoung. It turns out she and Yongsim are friends. As we exchanged pleasantries, I learned that Sukyoung works for a local newspaper. She is a photographer and she already travelled to 63 countries. She had visited Cebu and Palawan in the past. She is a diver, too, and plays golf every so often. Their family resides in Seoul and she has two daughters; the eldest, who is about my age, is a Korean language instructor.
Also read: My 7-Day Solo Trip to South Korea Under ₱20k (All-In) Budget
When they learned that it was my birthday, they sang a birthday song to me. I found it really sweet and I appreciated that they tried their best to communicate with me even when they struggled to speak English. We took photos together as a keepsake to our meeting that day. It was already five in the afternoon when Sukyoung told me they had to go back to Seoul. After exchanging business cards and wishing each other a good time, she walked towards her friend. But I saw her stop and look back to watch me wave goodbye so happily to Yongsim. Off they were and I went around to take more photos of the Dumulmeori River.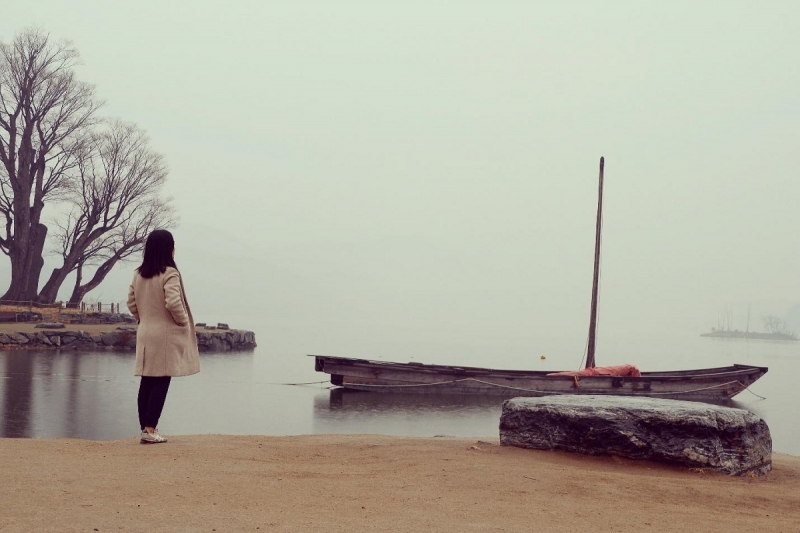 After about half an hour, I was surprised when Sukyoung came back. She asked me if I want to go back to Seoul with them in her car. I am guessing it is a mother's protective instinct since I mentioned earlier that I was travelling alone. It was already getting dark and it was raining so I thankfully obliged. In the car, I was offered hot lemon tea, black tea and oranges. In her wanting to express how much she welcomes me in Korea, Yongsim looked at me from the passenger's seat and said, "Welcome to Korea, good person", to which Sukyoung chuckled.
As the car plied the wide expressway and the night fell, the rain pouring so heavily, I began to freak out. I started to question my judgement, whether I was right being in the company of these two women who I just met. I tried my best to keep calm. In the backseat I was quiet, and thoughts started to run through my head. "Makakauwi pa kaya ako ng buhay sa Pinas?" "Saan kaya nila ako dadalhin? Ibebenta ba nila ako sa sindikato?". If only I could jump out of the window at that moment while the car sped up in the highway. Thinking about it now, I can only shake my head and laugh to myself.
An hour passed and I felt relieved when the car drove over the bridge in Han River, the road which led to central Seoul. We drove past Myeongdong until we pulled up in a narrow street in Sindang. Yongsim got off and Sukyoung told me to get off the car, too. It turned out they were inviting me to dinner. Jongsik oppa, who owns the quaint restaurant, also joined us. It was a feast of sundae (Korean blood sausage) and sundae-guk (soup made with blood sausage). I was so full! We ate a lot of strawberries and chamoe (Korean yellow melon), too! Dinner would not be complete without soju, and we said "Geonbae!" as we raised our glass.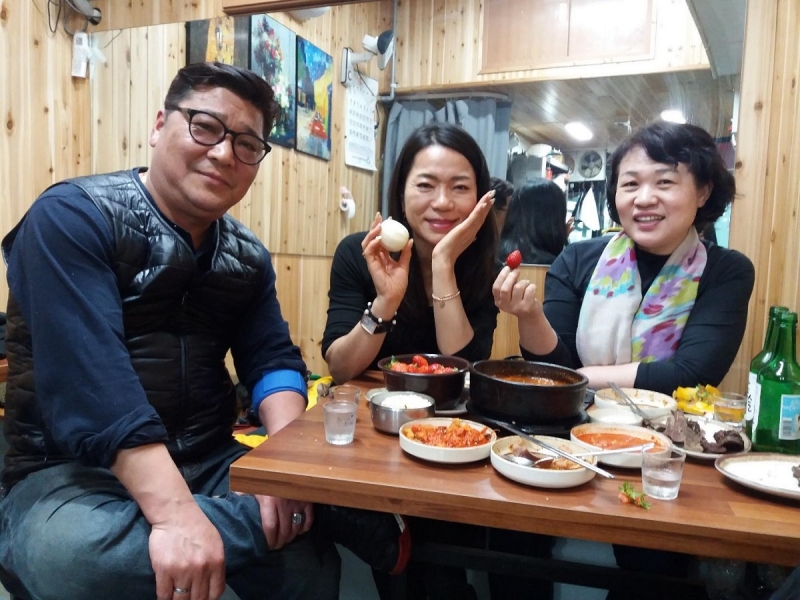 In order not to trouble her because I know she was tired from driving all the way from Yangsuri to Seoul, I told Sukyoung I would just take the train from Sindang to Chungmuro. In her struggle to express herself, she put her daughter on the phone and let her speak to me. Her daughter explained that her mom was worried because it was raining, it was almost freezing outside and, you got it, I was alone. As if driving me back to Seoul and feeding me a sumptuous dinner was not enough, Sukyoung insisted to drop me off at my guesthouse before she headed home.
We met again two days after. She invited me to join her and her friends from her photography club in visiting the secret garden in Changdeokgung Palace. In order to join the private tour, you must book ahead of time. But Sukyoung managed to get me a slot because I learned from the tour guide that somebody cancelled. I was waiting outside the palace gate for her when it started to rain. It was so cold that I walked back and forth to keep myself warm. But as the downpour turned from transparent drops into white, I got so excited I took a video of it and momentarily forgot that my hands were already getting numb from the cold. It was my first time to see snowfall.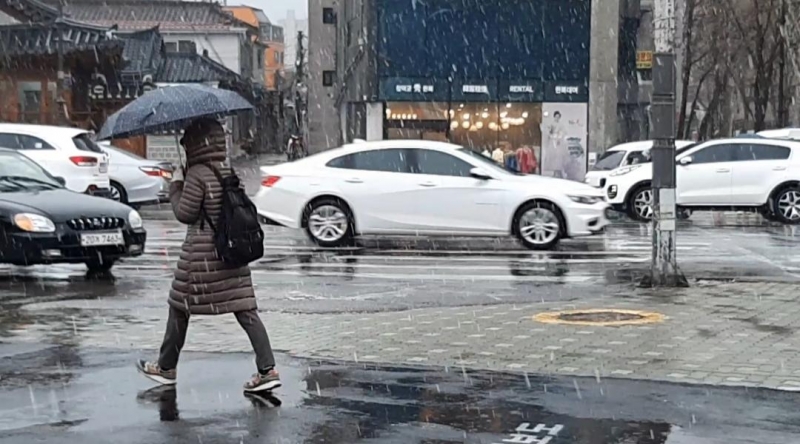 It stopped snowing when Sukyoung arrived. She waved excitedly when she saw me. Later, she later handed me a small paper bag; a birthday gift I guess or a keepsake for a newfound friend. In it was a Korean Najeon Chilgi lacquerware. Archaeological artefacts prove that a well-made piece of lacquer can maintain its original state for more than 2,000 years. Then, she took something from her bag and looked at me from side to side. She was looking for pockets on my coat where she could put the heat packs that she brought for me. She tucked one onto my waist and one into my pocket to keep my hands from the cold. She was extremely thoughtful.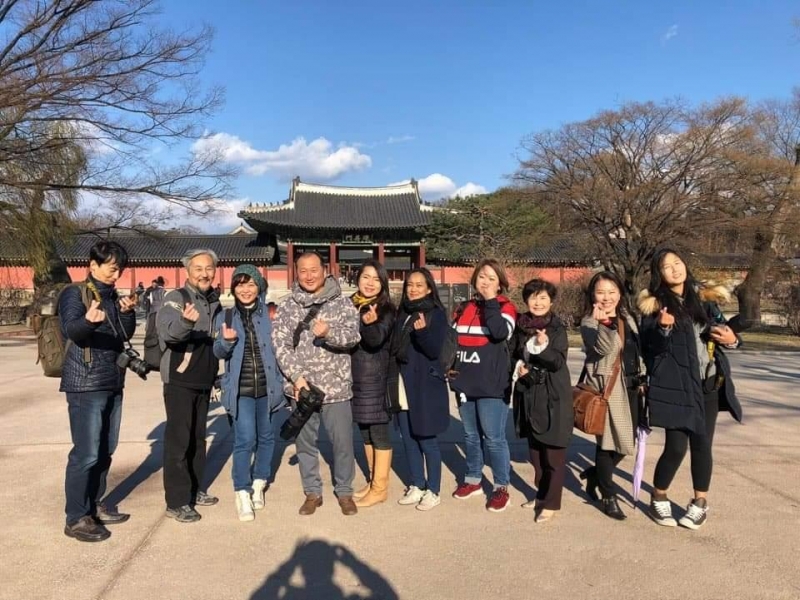 One by one her friends arrived and she introduced me to them. "Yogi chingu, Philippine", I heard her say. One of her friends thought that I was a local and greeted me "Annyeong hashimnikka!", which is more formal than Annyeong haseyo, and is used when you meet somebody for the first time.
A few minutes into walking around the garden, it started to snow again. I forgot to bring my umbrella, so I covered my head with a scarf while I struggled to take photos. When she saw me like this from the crowd, she waved and signalled that we take shelter in a nearby pavilion. She took off her raincoat and had me wear it, tied my scarf and bundled me up like a child. Her kindness was overwhelming. She had wanted me to wear her vest as well, but I just begged off. As I tagged along, she would tirelessly take photos of me. It became sunny in the afternoon, but whenever it got really cold, her female friends would also take turns in tying my scarf.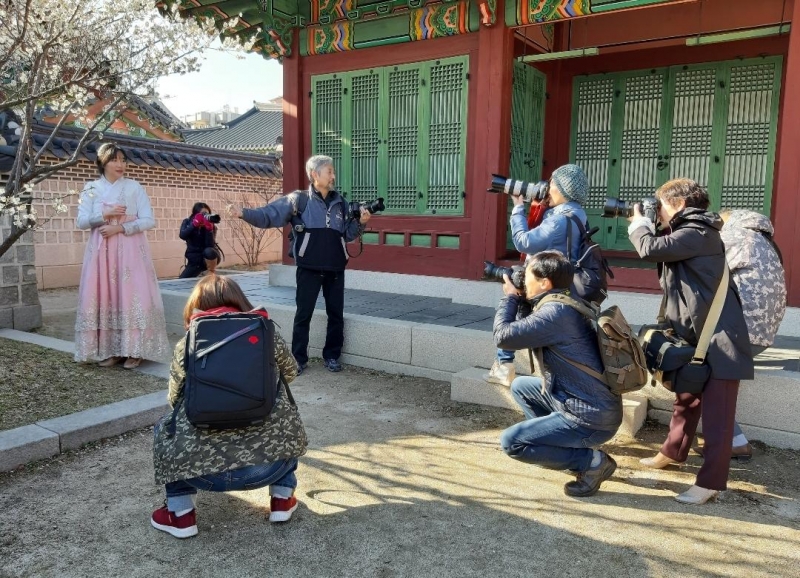 Having this growing love for photography, I felt so privileged to be in the company of these photographers. Their leader during the photo walk was once a photographer for La Mode magazine in the United States. Mr. Lee finished his degree in photography from Brooks Institute and he currently teaches photography in Daegu and Deojoen.
Watching him from the side as he zealously took photos, I couldn't believe he is already in his late sixties. I told him that Sukyoung is my first Korean friend. I smiled widely when he said, "I am the second". He went on to invite me to join them for dinner. He was such a gentleman.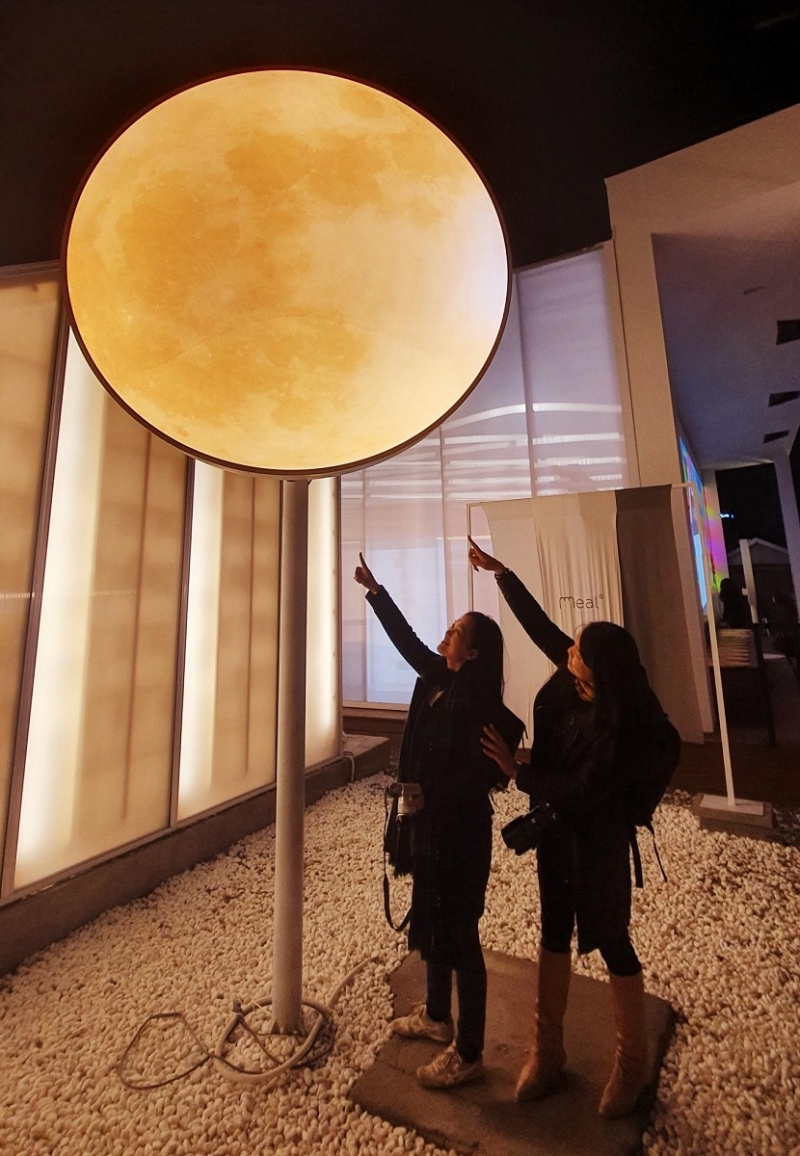 We had dinner at a restaurant in Ikseon-dong, a neighbourhood lined with hanoks that were turned into shops, restaurants and cafés. We had coffee after dinner, too. It could have felt like being out of place, clueless as to what they were talking about because they were conversing in Hangeul, but the warmth of their company made me feel otherwise. It felt like family. Was that even possible? Yes. Plus, I almost look like them, it wasn't that difficult to blend in!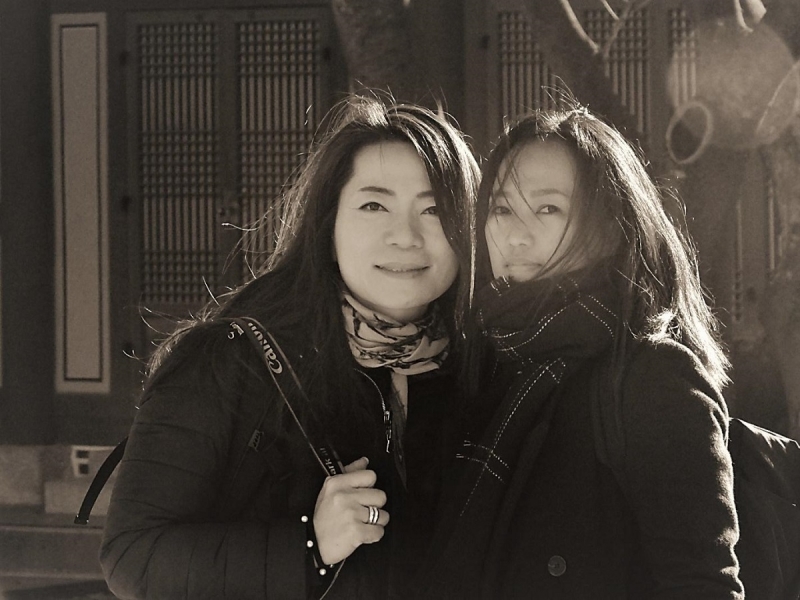 To my Korean chingu, Sukyoung unnie, thank you very much for your kindness. You are a proof that there remains goodness in humanity. I will never forget you, and you are one of the reasons why I will always love going back to South Korea. You are God's way of telling me how much I was loved, back in Dumulmeori River, on my birthday. I miss you already while I am writing this story. I shall see you again soon, unnie.
Also read: 30 Fun Things to Do in Seoul on Your Very First Visit