Have you ever gone to a place, one you never imagined yourself liking in a million years, and ended up falling completely in love with it? That's precisely how I felt about Macao.
I may have only stayed there for three days on my first visit, but the trip was somewhat life-changing nonetheless. I have more memories to share about Macao, but for now, I only wish to tell you that even for a small city, the adventurous possibilities it holds are endless. In fact, it would take quite a few Macao itineraries before you can truly say you've experienced everything that the city has to offer.
So let's not waste any more time, shall we? Here are fun and worthwhile 3-day Macao itineraries that every traveller needs to make the most of this tiny yet vibrant East Asian destination!
Also read: Top 8 Reasons Why Filipinos Have to Visit Macao
Macao itineraries for every kind of traveller
For the thrill-seekers
Many people liken Macao to Hong Kong because of their cultural and geographical similarities. But if there's one thing that sets Macao apart from its neighbouring metropolis, it's the number of thrilling activities it offers. There are things you won't at all expect from a place that's mostly known for its sumptuous food and luxurious resorts. For starters, give these places a try!
Day 1: Macau Tower and city centre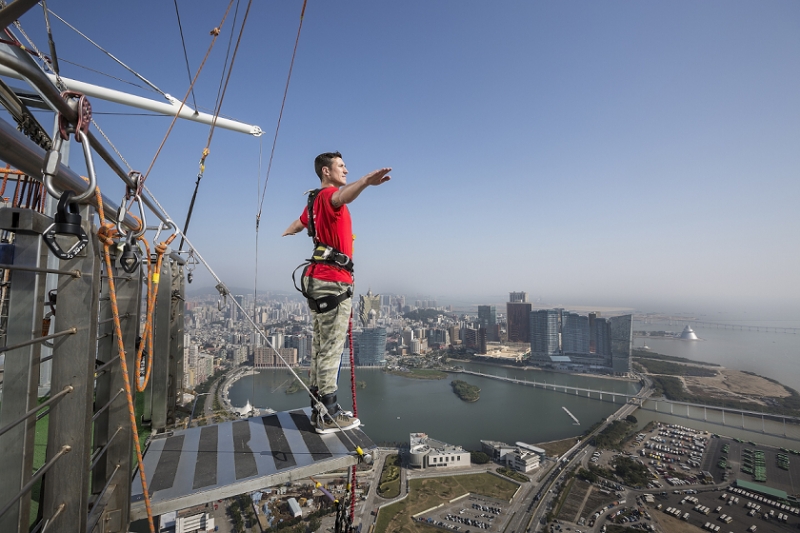 Start your adventure-filled Macanese holiday with a nerve-wracking yet totally scenic leap! Specifically, from the world-famous Macau Tower Convention & Entertainment Centre, or Macau Tower for short. After getting instructions and changing into your bungee outfit, jump down a height of 233 m, unaccompanied except by trusty harnesses, to the bottom of the tower. The jump itself may only take less than a minute, but the thrill and the view that come along with it are something that will stick with you for a long time!
But don't stop there, Macau Tower is also home to the famed Skywalk. With a guide, you'll take a tour of the tower's peak on a glass platform. In comparison to the bungee, you can take your time admiring the view of Macao and the nearby islands. Once you've literally found your footing and you've collected your souvenir photos (either from the jump or walk), enjoy the rest of your day discovering Macau Peninsula. Try hiking up Guia Hill or simply navigating around the city centre. With Macao's bustling streets, you're bound to stumble upon a few lesser-known adventures!
Day 2: Cotai Strip and Coloane Walking Trail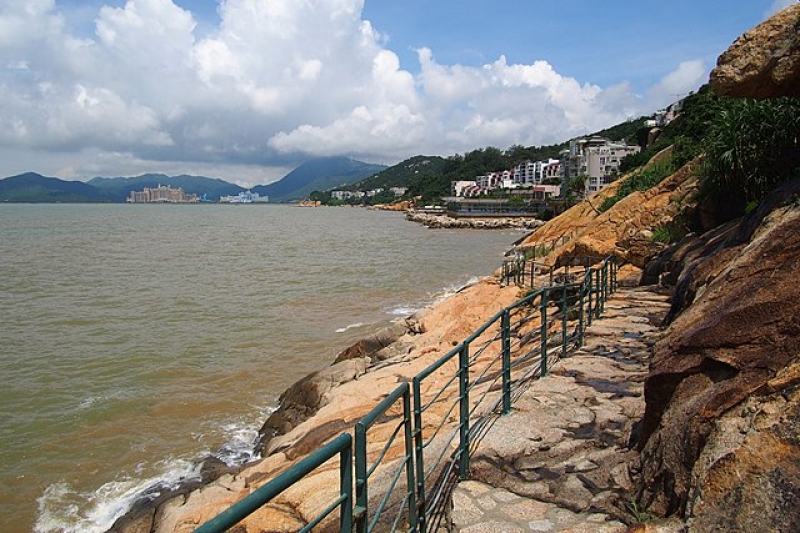 Hop on one of the free hotel shuttle buses that will take you to Taipa Island. Roughly thrice the size of Bonifacio Global City in Taguig, this island serves important Macao landmarks, including the Macau International Airport and Macau Stadium. Furthermore, it's home to Macao's coveted skycab found at Wynn Palace, which you can ride free of charge. Have fun sightseeing Macao in the air while being transported to one of the city's most glamorous and celebrated hotels!
From Cotai Strip, continue south towards Coloane Island. With a faithful pair of outdoor shoes and water bottle, take on the 8.1 sq km Coloane Walking Trail, which just happens to be Macao's longest walking trail! With several entrances and temple-style rest points, you can easily customise your hike around the hills of Coloane, all the while indulging in unparalleled views of the island, Cotai Strip and Hac Sa Beach.
By dusk, make your way back to Cotai Strip in Taipa Island for another thrilling ride of a lifetime. This time, in cinematic Studio City for its acclaimed Golden Reel. Positioned in between the entertainment centre's two towers, it is the first figure eight-shaped Ferris wheel located at 130 m from the ground!
Day 3: Macau Grand Prix and other Macao events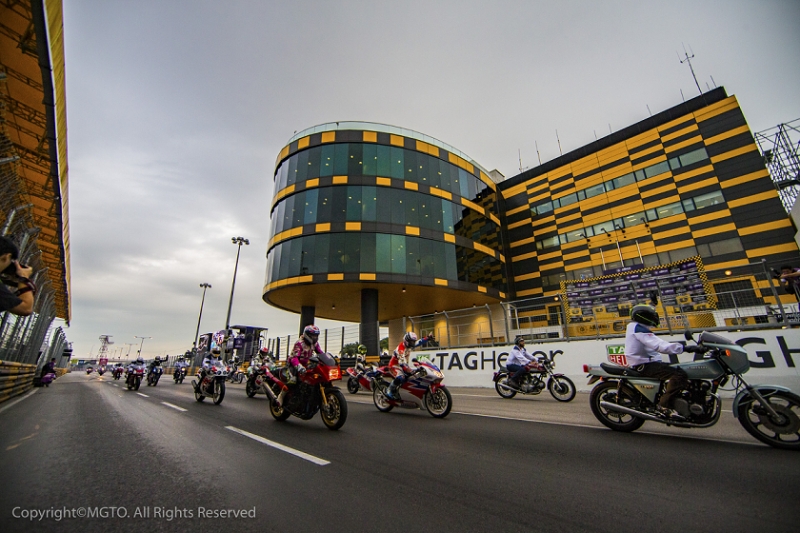 Filipinos are no strangers to big festivals and extravagant events. But Macao festivals are undeniably in a league of their own. That said, make sure to include some of Macao's fascinating events and festivities in your Macao itineraries!
One of the more remarkable events is called the Macau Grand Prix. Through the years, this huge street circuit racing event has given Macao the title as a top racing destination in the region. Unlike most races, however, both cars and motorcycles participate in this event. Simply watching the motorsport spectacle happen right before your eyes should be a must-experience!
It started in 1954, and now, the Macau Grand Prix is on its 66th year and scheduled to take place from 14 to 17 Nov this year. If you can't make it by then, plenty of other thrilling events still await you in Macao, too. Watch out for the Light Festival, Macao International Parade and International Film Festival & Award Macao. The much-awaited Macao International Marathon is also set to happen this December!
For family and luxury vacationers
Small for the family to navigate together yet dynamic enough for those seeking all-around extravagance, Macao is a travel destination unlike any other. From the laid-back gardens in Macau Peninsula to the bustling international attractions in Taipa Island, our Macao itineraries for family and luxury vacationers will surely cover everything you seek!
Day 1: Revolving restaurant and Macao city parks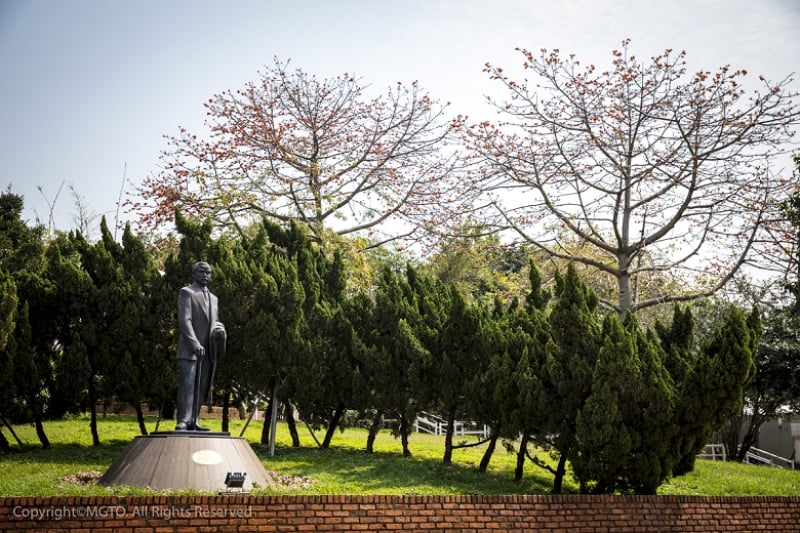 Somewhere amidst Macao's towering apartment buildings, monumental hotels and sky-scraping corporate establishments are relaxing parks and gardens, ready to soothe any tired Macao explorer any time of the day! What's even better? They're all great for families and recreational travellers!
Take Lou Lim Ieoc Garden for example. Famous for its lotus ponds, traditional Chinese and Victorian-inspired structures, this picturesque city park has been one of Macao's most vital landmarks since the early 1970s. What better way to begin your leisurely Macanese exploration than with a stroll at where locals head to for their morning rituals? In terms of Macao itineraries, families and luxury vacationers also can't miss out on a few other city parks, like the Camoes Garden, which is Macao's oldest park, Dr. Sun Yat Sen Municipal Park and Casa Garden.
Finish the day with a mouth-watering meal at Macao's famed revolving restaurant. Open from 11.30am to 10pm, this iconic dining place is best visited during sunset and evening hours. By then, you'll be able to witness Macao's gorgeous rainbow-like city skyline as you chow down on the restaurant's delectable treats — whether it's an unfailing seafood platter, a flavourful chafing meal or a go-to dessert like the restaurant's strawberry lemon curd tartlets paired with a hot cup of tea!
Day 2: Cotai Strip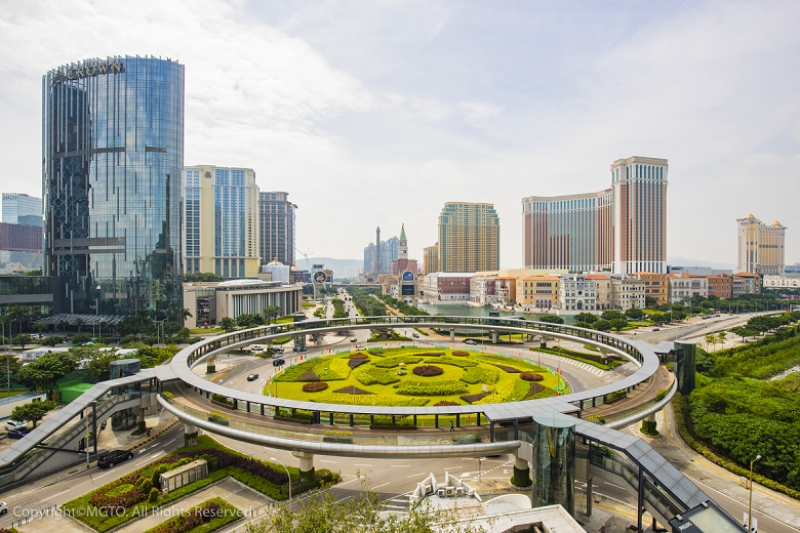 How do you even begin to explore a place as extensive as Cotai Strip, more so in a single day? With at least a dozen major hotels and resorts, that might sound impossible at first. In reality, wandering around this glossy destination is not only easy, but also fun and even totally Instagram-worthy! But first, a fun fact: Did you know that the name Cotai was derived from combining Coloane and Taipa (Co + Tai)? This is because the strip actually sits on a reclaimed land between these two areas in Macao!
Moving on, the first thing you have to do when in Cotai Strip is to ride the gondola at The Venetian. As the biggest hotel of its kind in Macao, exploring the interiors of this Italian-inspired masterpiece is made more scenic and fuss-free if you do it in its canals. In the same expansive building, there are 3,000 hotel rooms and 300 luxury shopping boutiques all yours to revel in!
Just like The Venetian, all of the other international hotels and resorts in Cotai Strip have something to offer for the entire family or those enjoying a luxurious Macanese getaway as well. Snap photos at Macao's replica of the Eiffel Tower at The Parisian, drop by the Batman Dark Flight and WB Fun Zone at Studio City, and for the day's finale, watch the sought-after House of Dancing Water show at City of Dreams!
Day 3: Macao theme parks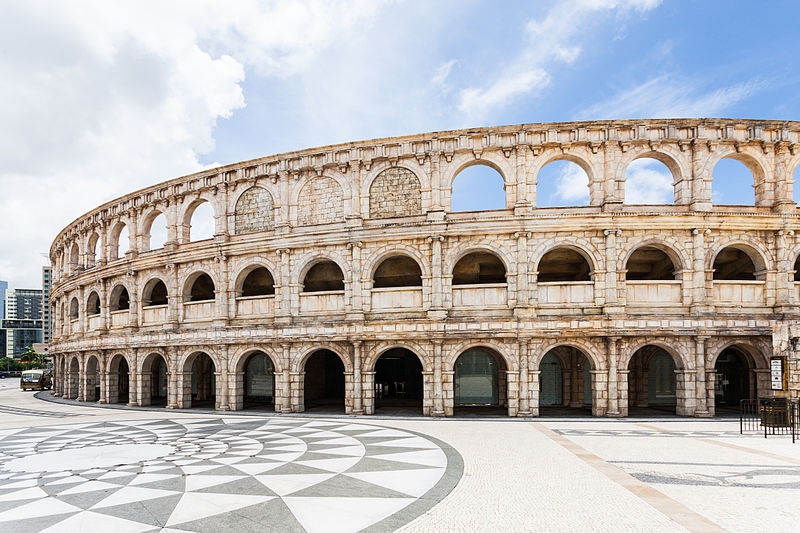 Apart from its green gardens, a visit to Macao isn't complete without stopping by at least one of its two theme parks: the Macao Giant Panda Pavilion and Macau Fisherman's Wharf. Situated in Seac Pai Van Park on Coloane Island, the giant fan-shaped Macao Giant Pavilion is Macao's only "zoo", housing animals from gorillas, monkeys and obviously, pandas. Watch them from one of the viewing paths provided at the indoor activity area or the outdoor yard.
There's also the Pavilion of Rare Animals, a conservation area for rare animals in Macao such as red pandas. Moreover, try not to leave without hitting the Macao Giant Panda Gift Shop. It sells all sorts of panda merchandise so you can take a piece of the pavilion home with you. Toys, stationery, household items, you name it!
If you're looking for more action, head towards Macau Fisherman's Wharf in Macau Peninsula. Unlike most attractions in its league, the Macau Fisherman's Wharf offers free admission to visitors and is open round the clock! Inside, you'll find structures inspired from various seaports around the world, rides, restaurants, a couple of hotels, and retail stores. Of course, don't forget to visit the iconic Roman Amphitheatre. Not just a perfect Instagrammable spot in Macao, this 2,000-seat colosseum plays host to concerts and other grand performances in Macao!
For cultural buffs
As glitzy as it looks from certain viewpoints, Macao takes its history and culture seriously. Whether it's food, temples, churches, or museums, Macao's best cultural offerings will be evident throughout your stay, no matter where you go in the city! Get your geek on and follow another one of our Macao itineraries designed for curious cultural enthusiasts!
Day 1: Macau Peninsula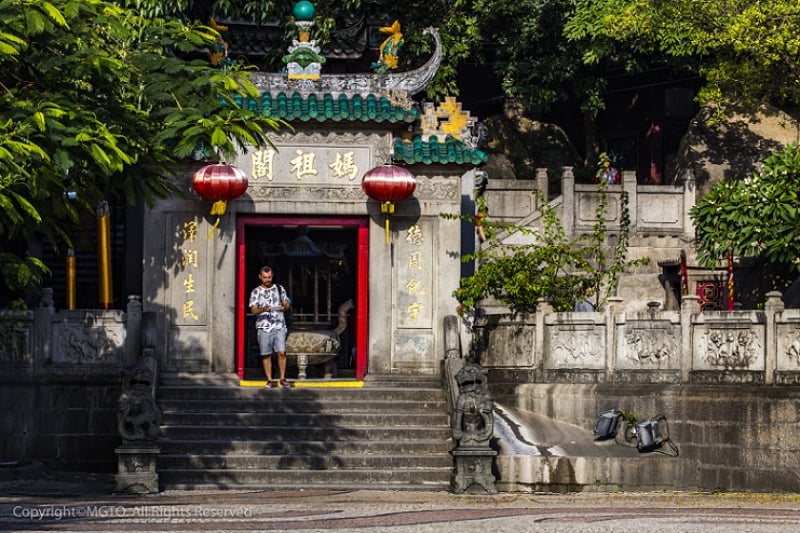 Macao has a dedicated trail for discovering its top historical spots. If that's not enough to convince you to go on a cultural expedition of the city, I honestly don't know what will! But for those confident enough to call themselves certified cultural connoisseurs, this one's a real treat.
Comprised of 25 ancient monuments, urban squares and other cultural spots, the Macao Heritage Trail is a reflection of the city's rich and colourful past. For your convenience, simply ask for a map from your hotel, or study one located at one of the stops itself. It'll show you the exact points where you'll find the heritage attractions, helping you manage your Macao DIY walking tour better!
While you're free to explore the trail any way you want, I highly suggest starting at A-Ma Temple on the south end of the trail. This over 500-year-old temple is Macao's oldest and perhaps the most important. Visiting early on in the morning is ideal. This way, you can avoid the rest of the tourist crowd usually coming from Hong Kong and Mainland China.
Move upwards, passing through notable spots like Mandarin's House, Senado Square and St. Dominic's Church. Then, end your tour at Mount Fortress, hopefully in time for sunset. Or, if you complete the trail early, you can spend your spare time inside the nearby Macao Museum to learn more about everything you've just visited!
Day 2: Taipa Village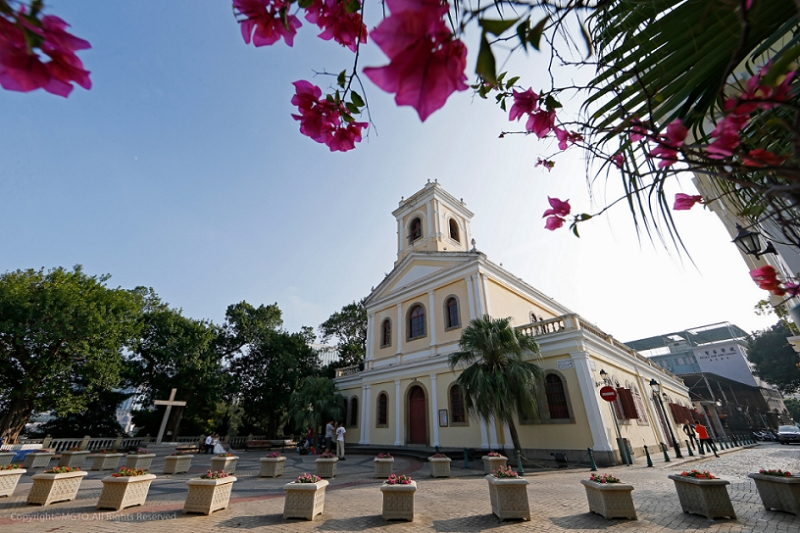 Not to be confused with Taipa Island, where it's situated, Taipa Village is one of Macao's best-preserved cultural sites and a must for your Macao itineraries. Not to mention, it's one of the most physically colourful historical areas in the city! Connected to Cotai Strip via a modest linkway near The Venetian, Taipa Village is the idyllic place to see Macao's East-meets-West culture, with Chinese temples and Portuguese churches dotting significant points of the village.
Start your Taipa Village tour with a visit to the Taipa House Museum. Designed in true Portuguese architecture, the museum comprises of distinct green and white houses formerly occupied by Portuguese officials way back in the day. Today, they feature artefacts and other items that represent those bygone times. Behind the houses, you'll find a pathway that leads to the top of a small hill. There, you'll find the Our Lady of Carmo Church, which is the only catholic church on the island. Operational since the mid-1880s, the quaint pastel-painted structure and its surrounding area offer stunning views of Cotai Strip and the nearby Taipa Houses Museum complex.
A few minutes walk from the church is Rua do Cunha, a well-known food hub in Macao where you will come across all sorts of Macanese delicacies in hawker-style restaurants, food stands and other shops. If you're on a food crawl of Macao but don't want to get caught up in the busy crowd of Senado Square, this is the place to be! Other must-visits in Taipa Village include the Taipa Village Art Space and Pak Tai Temple.
Day 3: A-Ma Cultural Village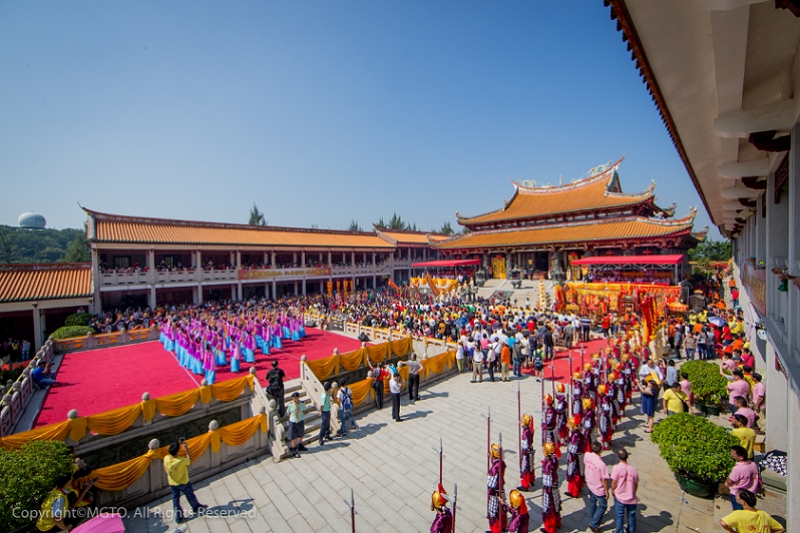 Wrap up your cultural tour of Macao by spending a laid-back day in Coloane Island, specifically at the massive A-Ma Cultural Village. Measuring 7,000 sqm, this cultural complex was built to celebrate A-Ma, known as the Goddess of Seafarers. In the heart of it is Tin Hau Temple, the biggest and oldest in Coloane Island. The climb to the temple itself offers sightings of intricately carved creatures significant to Chinese heritage — a tiger, a lion, a phoenix, and cranes.
Once you get to the top, you'll be greeted by the village's main gate pavilion, the temple's spacious courtyard and the main hall. In addition, you'll find a fish pond, souvenir stalls and, if you happen to drop by during the first two quarters of the year, thousands of devotees and tourists joining in the annual Chinese New Year and A-Ma Festival celebrations. Finish up by hiking a few flights of stairs to another highlight of the village, none other than the world's tallest statue of A-Ma herself. Witness the epic figure at 170 m above sea level as you savour the view of the Coloane Island and the temple complex just below!
Also read: 10 Underrated Things to Do in Macao for An Unforgettable Vacay
Be it a physically demanding adventure, a luxurious family-friendly escapade or an enriching cultural expedition, exploring Macao has never been more exciting! Depending on what kind of traveller you are or the sort of experience you're looking for, take your pick from these fun and well-curated Macao itineraries. Believe me, you won't regret it!
For more information on Macao tourism, or to check out the latest happenings in Macao, visit Macao Government Tourism Office's official website!
---
Brought to you by Macao Government Tourism Office.