Food, history, luxury — in a nutshell, these three words summarise exactly why Filipinos have to visit Macao. And no, we aren't talking about a short side trip when visiting Hong Kong! While Macao may just be a few kilometres bigger than our very own Makati City, you'll find that a quick day trip will only get you but a taste of what the city has to offer.
Don't let its size fool you — with so many gorgeous sights, amazing food, and exciting activities, you'll want to explore every nook and cranny of this charming city. Keep reading, and you'll soon discover why exactly Macao is such a bucket list-worthy destination!
Also read: Travelling to Macau: My Thoughts After a 3-Day Visit
1. Macao is a visa-free destination for Filipino travellers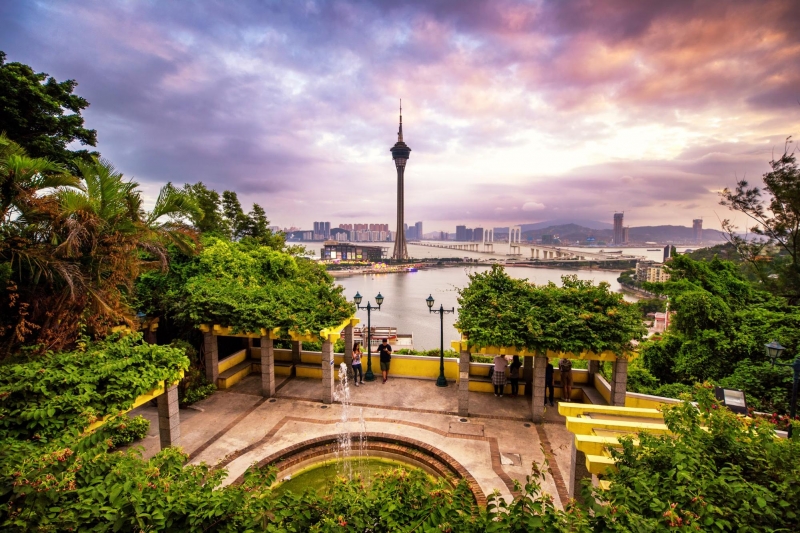 Let's start with a few magic words to start this list: Visa-free entry. 
As a visa-free destination for Philippine passport holders, how could Macao not be on any Filipino traveller's radar? Undeniably, we Pinoys love visiting places that our passports can take us, especially without the need to go through tedious visa applications. Even more so, we love exploring destinations that are close by!
Thankfully, Macao is just two and a half hours away from Manila. And with a valid Philippine passport, you can stay for up to 30 days. Getting there is fuss-free, too — the country's leading airlines have daily direct flights from Manila to Macao. Alternatively, you can also fly to Hong Kong and cross over to Macao in just an hour or less. Back in the day, taking the ferry was the only way to get to Macao from Hong Kong. But thanks to the newly erected Hong Kong-Zhuhai-Macao bridge, you can also opt to get there by bus or by cross-boundary coach!
2. The historic centre is a World Heritage Site
Whether you're a history buff, can't get enough of great architecture, or just generally enjoy surrounding yourself with beauty, you're bound to appreciate Macao's famous Historic Centre. At this UNESCO World Heritage Site, you will witness an awe-inspiring blend of Eastern and Western cultures, beautifully preserved to stand the test of time. 
Senado Square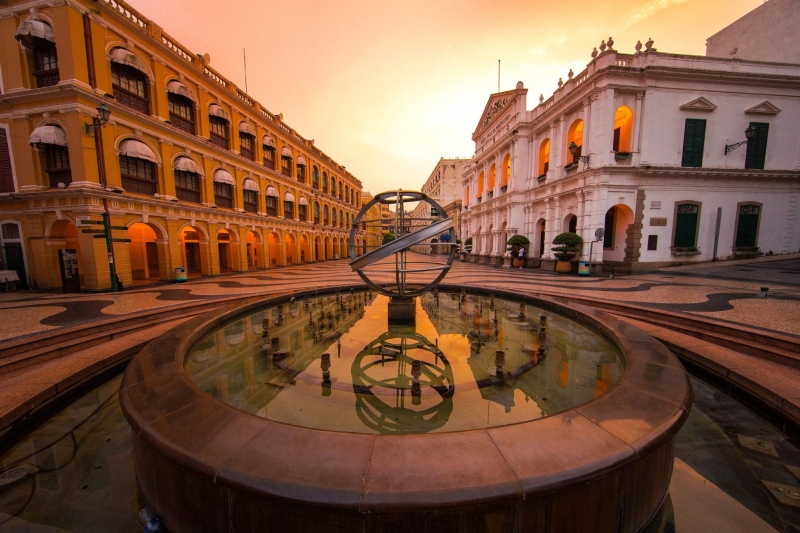 Senado Square is one of Macao's most popular sights, and it's not hard to see why everyone falls in love with it. With its old-world charm, pastel-coloured buildings, and tiles that form a wave-like design, it's reminiscent of the town squares you'll find in Portugal.
A cheerful place to sit, hang out, and people-watch, the busy square is lined with preserved European-style buildings, restaurants, and shops. Still Macao's urban centre to this day, Historic Centre hosts majority of the city's public events. Here, you will also find the Leal Senado Building (the former seat of government for which Senado Square is named) and the stunning Baroque-style St. Dominic's Church.
Ruins of St. Paul's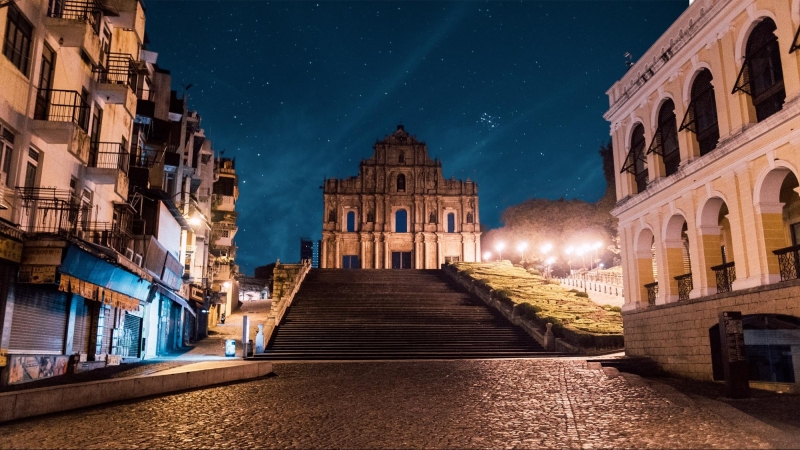 From St. Dominic's Church, continue walking northward for about 10 minutes, and you'll find the iconic Ruins of St. Paul's. Built in the 1580s, this site originally included the Church of St. Paul and a school called St. Paul's College. The Church of St. Paul used to be the largest Catholic Church in East Asia, and was even dubbed the 'Vatican of the Far East'! Sadly, the site was a victim of three big fires. In the end, only the church's front facade (a mix of Eastern and Western elements) and stone stairway survived in the rubble.
Via a steel stairway, you can climb up to the top for a better look at the facade's stone carvings. Plus, you'll be able to enjoy a beautiful panoramic view of the city, too! Similar to how we do with fountains, it's become a practice to throw coins into the ruins' top window for good luck. At the bottom of the ruins, you'll find the Museum of Sacred Art and Crypt, which houses many religious artefacts.
Moorish Barracks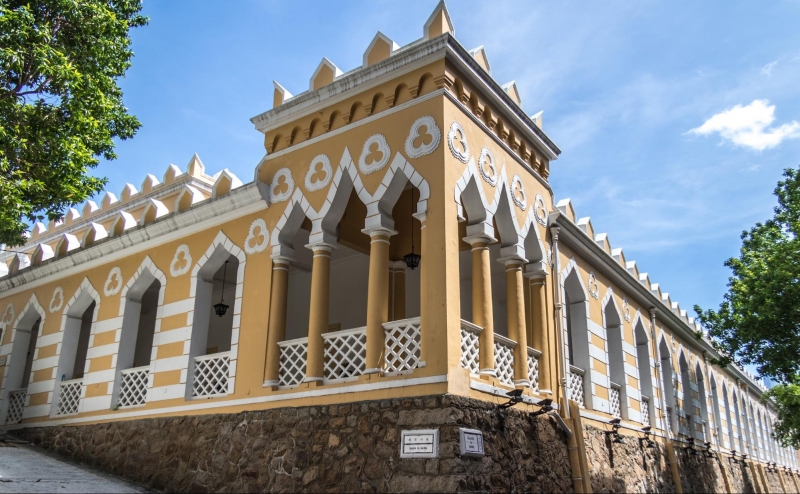 In a sea of works of European-style architecture and Chinese temples, the Moorish Barracks is the only Arabian-style building in Macao. Originally built to house Indian soldiers appointed from Goa to Macao in 1874, it now stands as the Macau Port Authority's headquarters. This eye-catching architectural masterpiece is a gorgeous work of Arabian and Gothic design, as evidenced by its ivory yellow pillars and pointed arches. While you are only free to wander around the veranda, a visit is certainly still worth it — this building is truly a sight to behold, after all! 
Apart from these sights, there's still so much to see across Macao's UNESCO Heritage Trail! Are you up for a fun challenge? The Historic Centre has a total of 25 landmarks — and each and every one is worth visiting. So, why not try to see them all?
Also read: The Ultimate UNESCO Heritage Trail Across Macao: 15 Sites You Must Visit
3. Macao is a certified foodie destination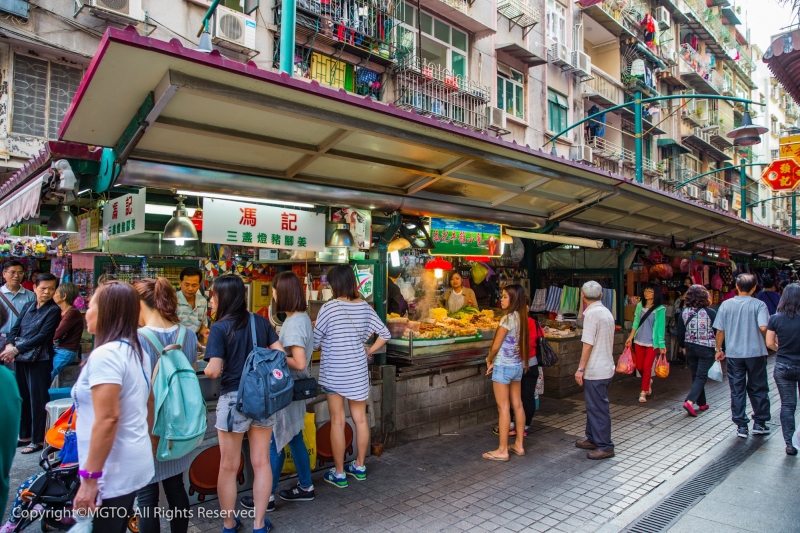 Another reason why Filipinos have to visit Macao? The great food! After all, savouring the best of the local cuisine is always half the fun of travelling to a new place — don't you agree?
Macao's local food scene is definitely worth travelling for — and the city's even got a title to prove it! Named one of the world's 26 UNESCO Creative Cities of Gastronomy, Macao is actually home to the world's very first fusion cuisine. The Macanese cuisine, which dates back almost 500 years, is a big part of Macao's cultural identity. A mix of Eastern and Western elements, it features a blend of Portuguese and southern Chinese ingredients and cooking techniques. 
Portuguese egg tarts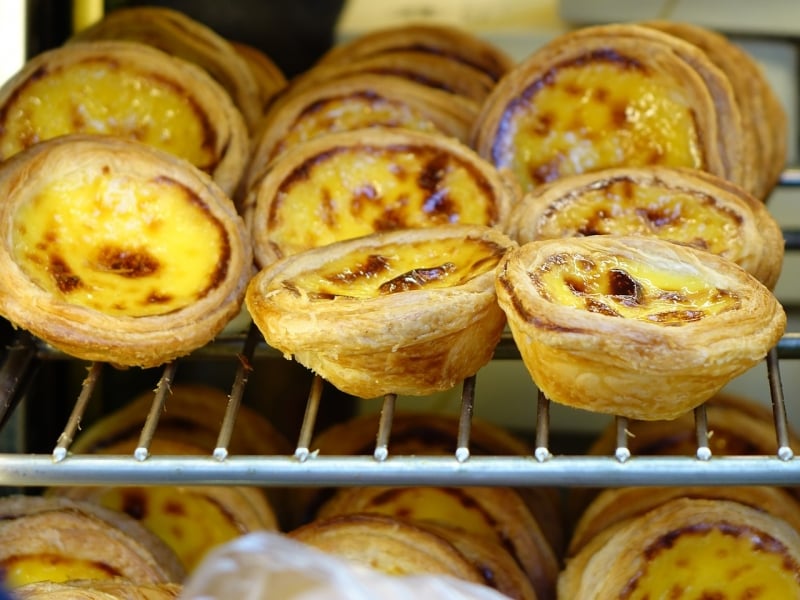 No trip to Macao is complete without tasting the city's most famous snack! Portuguese egg tarts are mouthwatering egg custards with buttery, flaky crusts, with delicious caramelised toppings. Make sure to check out Lord Stow's Bakery for some of the best egg tarts in Macao. And don't forget, these heavenly goodies are best eaten freshly baked — so make sure to take a bite as soon as possible! 
Pork chop buns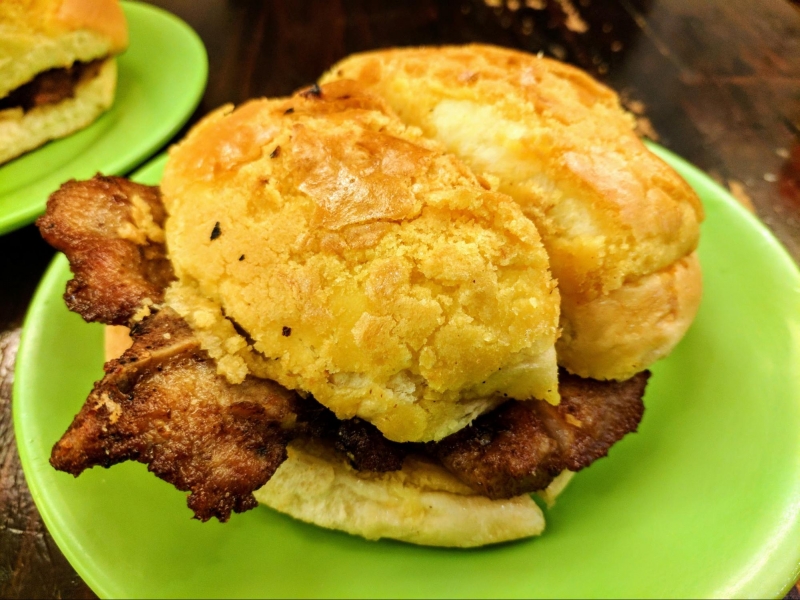 Macao's pork chop buns are another local favourite. While they certainly look simple, you will surely find yourselves craving for more! Crispy on the outside, juicy on the inside, and marinated to perfection, fried pork chops are slid horizontally into freshly baked Portuguese rolls. (Drool!)
Almond cookies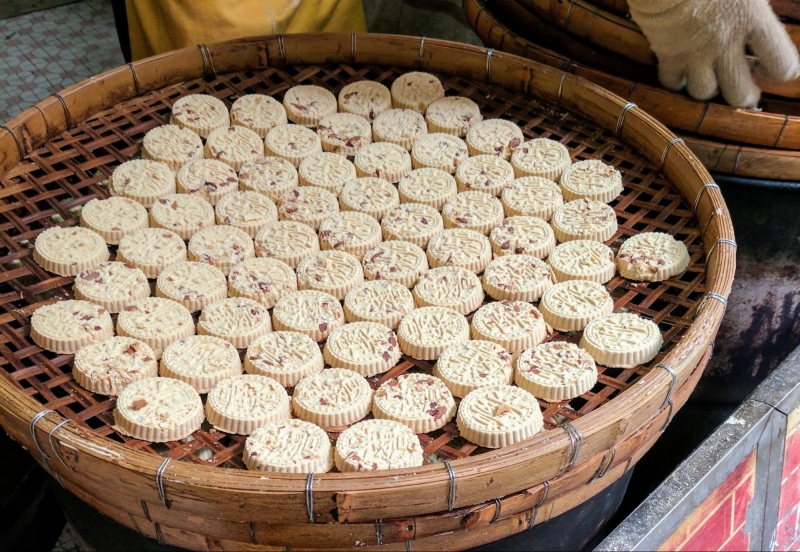 Almond cookies are another iconic Macanese snack. With a sweet, unquestionable fragrance, you'll be able to sense them even from a distance! And even better, they taste just as great as they smell. Eat them while they're freshly baked, and these sweet treats will melt in your mouth!
Of course, there are so many more dishes and delicacies to try out. And whether you're dining at a restaurant or grabbing a bite at a street side eatery, you're in for some of the most scrumptious flavours! If you do find yourselves shopping for snacks along the streets, make sure to take advantage of the free samples!
Also read: 10 Delicious Food You Must Eat in Macau
4. There are lots of exciting things to do around the city
Besides sightseeing and sampling the local cuisine, taking part in exciting activities will certainly be among the highlights of your visit to Macao! There's something for everyone to enjoy, no matter your age or what kind of traveller you might be.
Go bungy jumping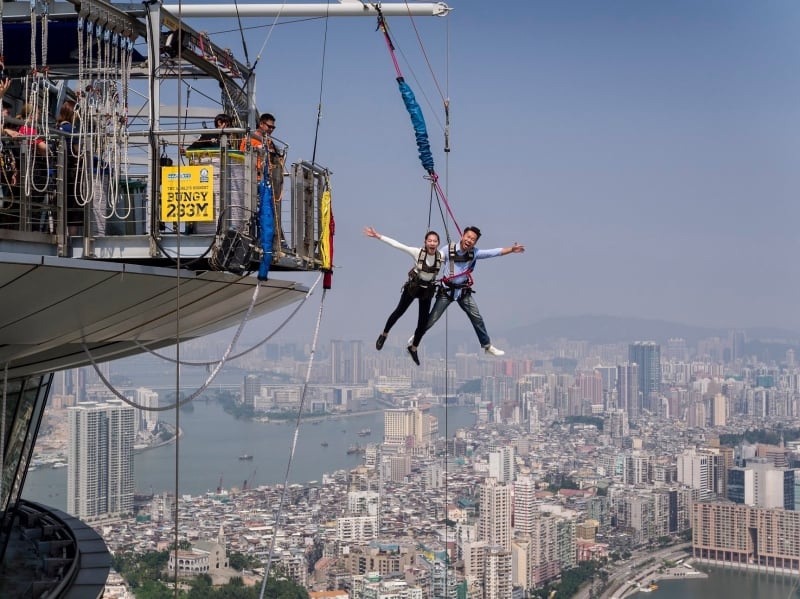 Firstly, Macao is a world-famous bungy jumping destination. At 233m, the AJ Hackett Macau Tower bungy jump is the highest in the world. In addition, you can also go on a skywalk, skyjump, or climb your way to the very top of the city's iconic tower!
Watch a show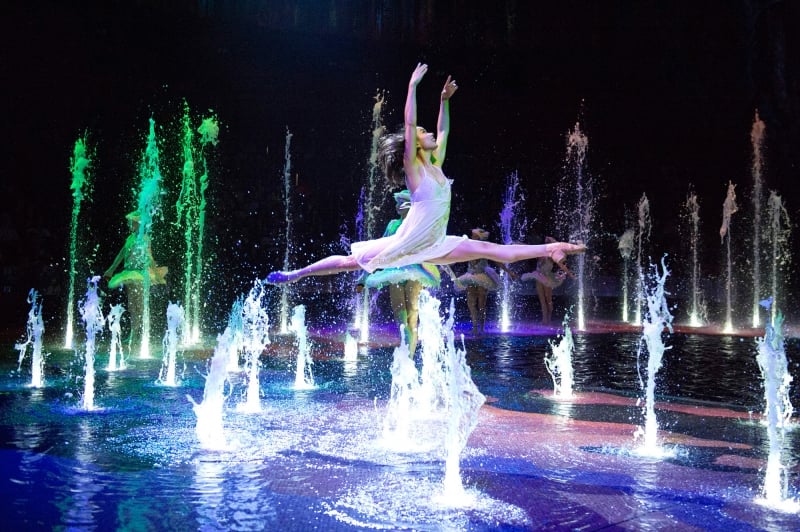 Second, Macao is known for their shows — and while tickets don't always come cheap, they're certainly worth the splurge! The House of Dancing Water, in particular, is probably the most popular show in Macao. It also happens to be the world's largest water-based stage production — so prepare to be wowed! With state-of-the-art effects and an inspiring story of love and adventure, this 90-minute experience is one you definitely won't forget.
Go museum-hopping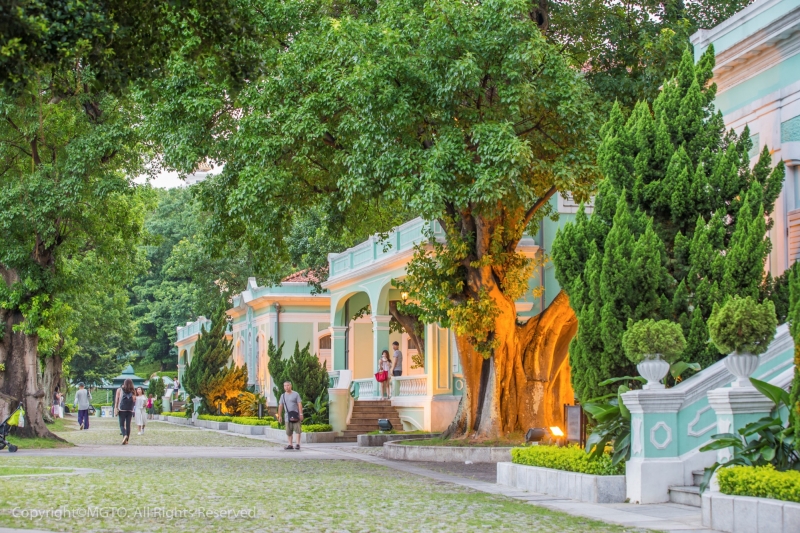 Third, museum-hopping is another thing you cannot miss in Macao! The city is dotted with different types of museums, and they're known to be engaging and highly interactive. The fact that admission is free (or very nominal) is definitely a perk!
Found in the charming and traditional Taipa Village, the Taipa Houses Museum is yet another place to discover more about Macao's unique cultural heritage. The museum complex is made up of five green and white European-style houses, where senior civil servants and Macanese families used to reside. Built back in 1921, the houses have since been restored and currently display various historical artefacts and exhibits. Admission to this museum complex is free!
Go luxury hotel-hopping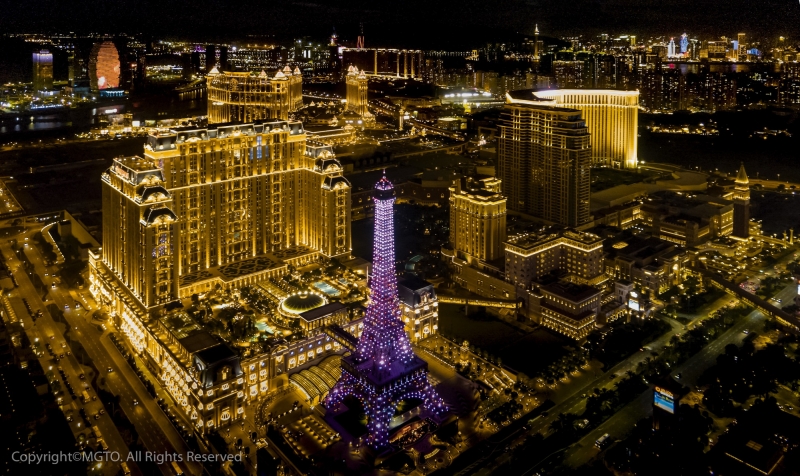 Lastly, what's a trip to Macao without hopping from one luxury hotel to another? Whether or not you decide to stay at one of them, feel free to visit the many sumptuous resorts that the city is famous for! Here are just a few things you can do at some of Macao's top hotels and resorts: Go for a gondola ride at The Venetian Macao, climb the Eiffel Tower or watch the daily lights show at The Parisian Macao, witness a diamond show at the Galaxy Macau, and ride a cable car at the Wynn Palace! 
5. Getting around is easy and affordable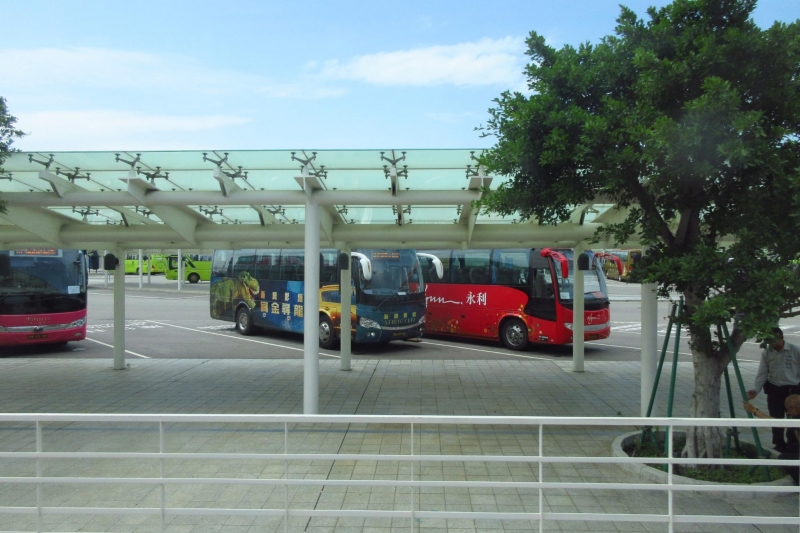 Because of its reputation as an expensive travel destination, Macao is often overlooked. If you look past the glitzy hotels, however, you'll find that sightseeing around the city doesn't have to break the bank. If you play your cards right, you can get around the city without spending too much — or even without spending at all. Being a small city, Macao can easily be explored on foot. Thankfully, it's pretty easy to navigate! 
Your complimentary ticket to getting around the city? Free shuttle buses! Emblazoned with the logos of the city's top luxury hotels, they go around the city and anyone is free to take a ride — you don't even have to stay at these hotels! These shuttles make stops at the China Border Gate, the airport, ferry terminals, and lots of major scenic spots. They're comfortable, air-conditioned, and often offer free Wi-Fi, too!
6. Exciting events take place all year round
Not just ideal for sightseeing, Macao also hosts a lot of major events worth travelling for. Time your visit accordingly, and you can take part in these fun festivities!
Art Macao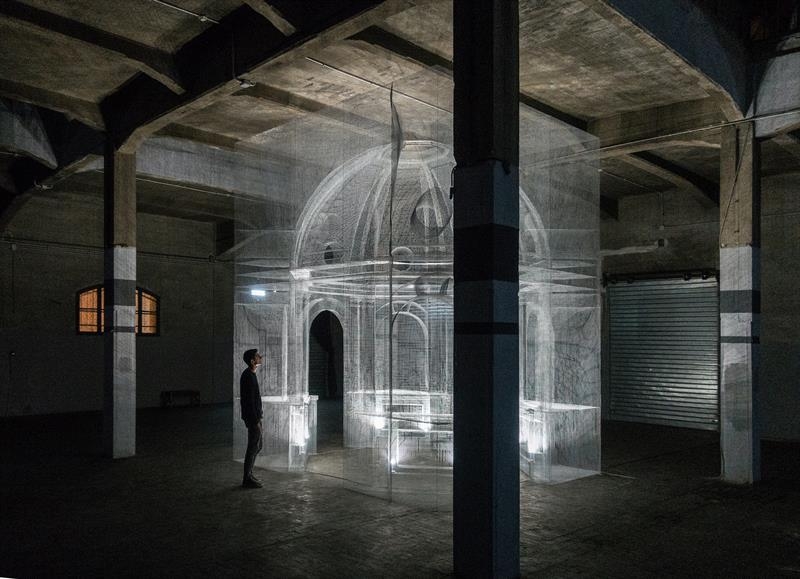 First launched in 2019, Art Macao is a five-month mega international arts and cultural event, scheduled from June to October. A city-wide initiative, Art Macao has various exhibition venues across Macao. You'll find visual artwork by renowned Chinese and overseas artists on display around the city's museums, hotels and resorts, foreign consulates, and outdoor public spaces. And what's more, the event also involves musical and theatrical performances and exciting youth festivals!
Macau Food Festival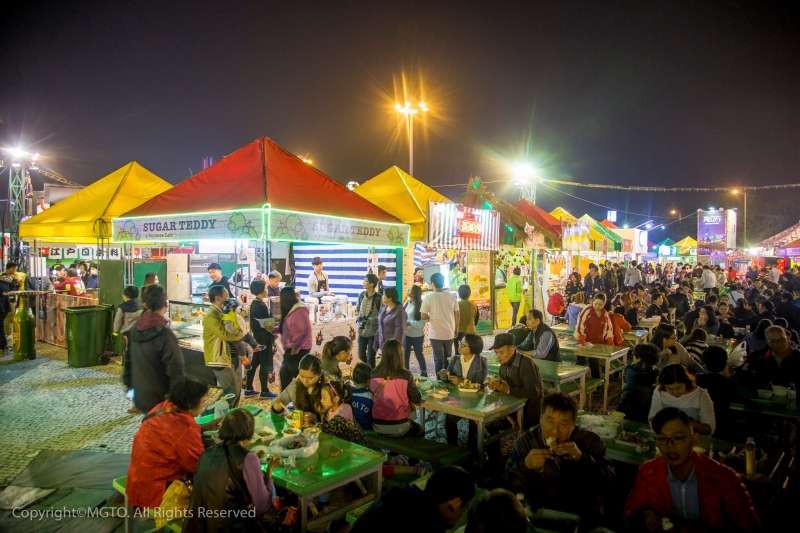 Pinoys love a good food trip — so the Macau Food Festival is a big reason why Filipinos have to visit Macao! This event is held every November — and it lasts a total of 17 days! This highly anticipated event takes place at Sai Van Lake Square, close to the famous Macau Tower. Here, you'll find over a hundred food stalls offering Asian, European, Mainland Chinese, and local Macanese delicacies. (No wonder the event takes place for almost three weeks!) Besides the food, the festival also involves live entertainment, guests, and beer competitions.
Macao Light Festival
There are some places that are gorgeous by day, and become entirely different sights at night. This is something that the Macao Light Festival focuses on. Held every December at various locations around the city, this event invites visitors to discover more about the local culture through projection mapping, light installations, interactive games, and several other activities! At the same time, they also draw guests to visit more of the city's attractions at night.
7. Macao is a world-class shopping destination
In case you didn't already know, Macao is a real shopper's paradise. Thanks to its free port status, it's ideal for purchasing luxury label clothes, antiques, and home furnishings — and at significantly lower prices, too. (Definitely another reason why Filipinos have to visit Macao!) With malls and outlets for high-end shopping and markets perfect for bargain hunting, the city is just the place to shop till you drop!
Taipa Island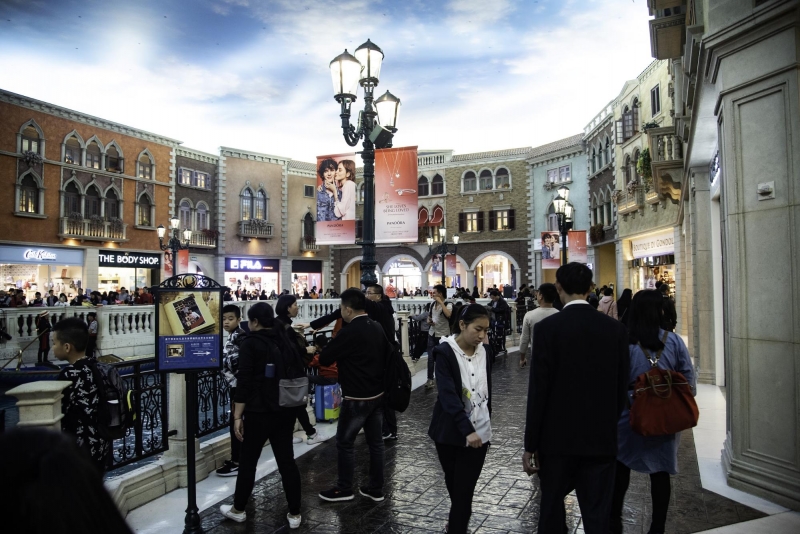 Over in Taipa Island, you'll find the famous Venetian resort, which houses some of the world's top luxury brands. Macao's largest indoor shopping mall, the Grand Canal Shoppes is a treasure trove for couture clothing and fast fashion, stunning jewellery, and designer furniture. On the other hand, the Taipa Village market is great for finding high-quality crafts, clothes, jewellery, and mouthwatering local delicacies.
Downtown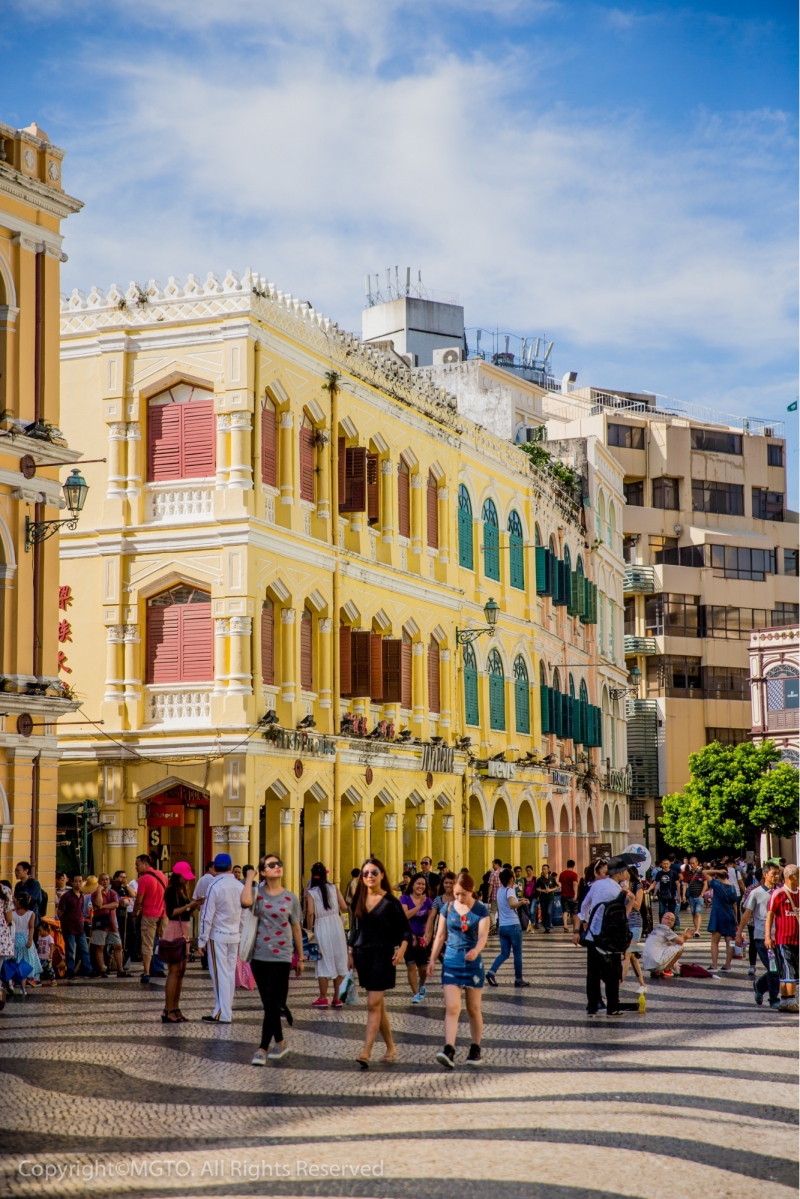 Downtown, you'll find more markets, malls, and local shops. Check out the markets for fresh produce, local handicrafts, and antiques. Senado Square is great for finding mainstream fashion brands at cheaper prices! Meanwhile, you'll also want to make several stops along Rua de S. Domingos, which is often compared to Hong Kong's Causeway Bay. This shopping street is studded with stores that sell clothes, jewellery, shoes, and cosmetics. In addition, you'll also find boutiques that offer glassware and intricately designed porcelain ornaments.
Outer Harbour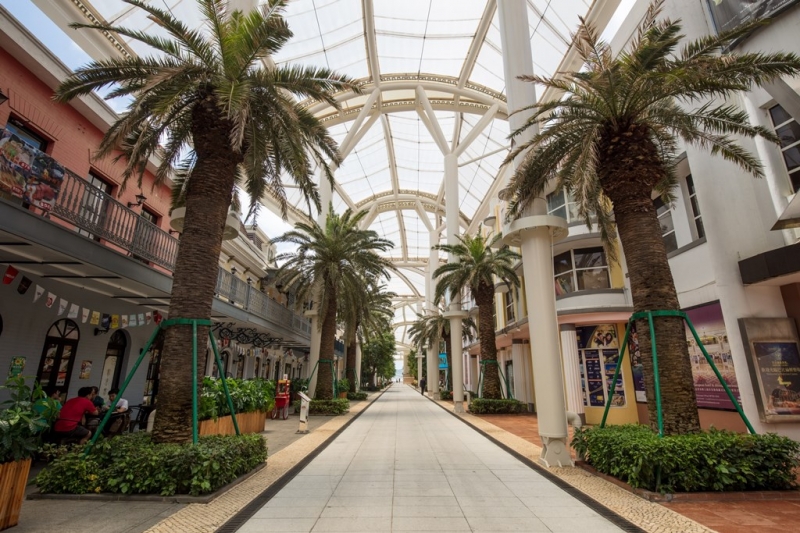 Planning to do some serious shopping? Macao's Outer Harbour is the place for you! This area, home to a wide assortment of shops, is said to be comparable to London's Bond Street and Hong Kong's Tsim Sha Tsui. In particular, you'll want to head to One Central Macau, Macau Fisherman's Wharf, and the Wynn Macau for a world-class shopping experience.These shopping centres offer high-quality brand items at lower costs!
8. There are fun things to do outside the city, too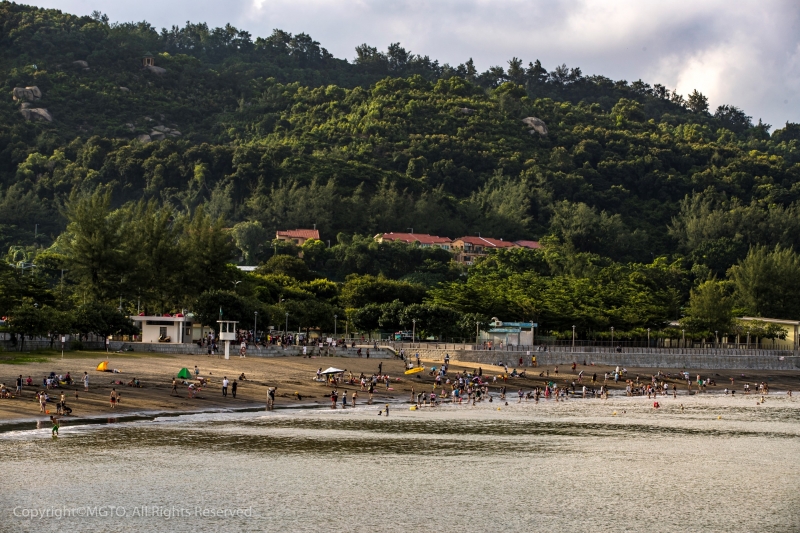 Thought Macao was all about shopping and luxury hotel hopping? There's fun outside the busy city, too!
Enjoy a day at the beach
Beach day? Yes, please! Hac Sa Beach is Macao's famous black-sand beach, and provides a quiet escape from the buzz of the city. An added bonus? It's never crowded! Come early to watch the sunrise, or drop by at night to witness a gorgeous star-filled sky. Around the area, you'll find barbecue pits, and a campsite. You can even spend the day doing water sports, or enjoying leisurely activities at the Sports and Recreation Park or the Reservoir Country Park!
Go hiking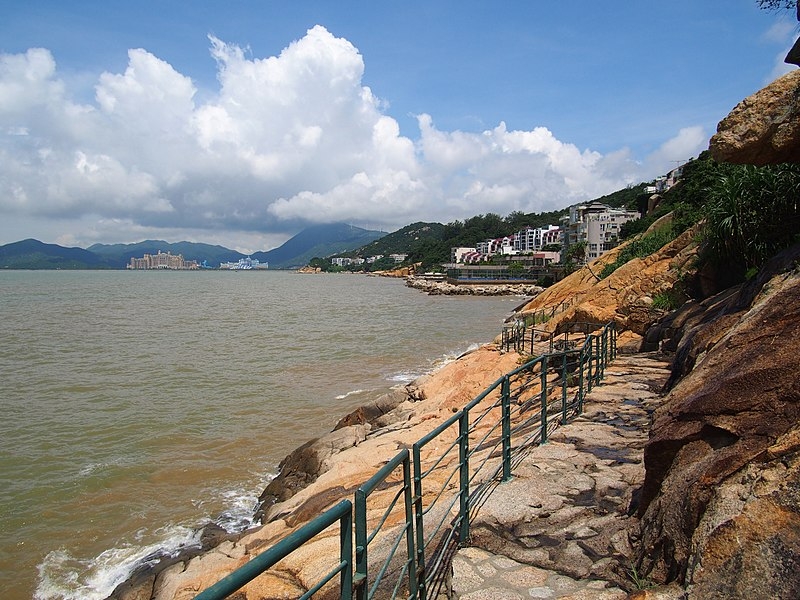 Why not gear up and go on a hike? Macao is home to various hiking trails, perfect for nature-lovers, as well as those looking to catch a breath of fresh air. Treat yourself to some of Macao's most rewarding views, and marvel at all the lush greenery and various types of flora, and fauna.
Long Chao Kok Coastal Trail is great for enjoying the sea breeze and taking in relaxing views of the water. Meanwhile, the Small Taipa 2000 Circuit is ideal for those looking for a short and easy, but nonetheless scenic hike! For a little something extra, try the Trail at Mong Há Hill. Along the trail, you'll find a fitness circuit — perfect for getting a good workout in! Plus, there's a super-cool Eco-Centre nearby, too — it comes with a library, mini theatre, and an experimental farm and greenhouse!
Also read: 17 Things to Do in Macau for the First-Time Visitor
Well, what do you think? With breathtaking sights, amazing food, and exciting festivals and activities, there's not a shortage of reasons why Filipinos have to visit Macao! Whether you're vacationing with family, friends, or with your loved one, you're certainly in for a vacation to remember. 
For more information on Macao tourism, or to check out the latest happenings in Macao, visit Macao Government Tourism Office's official website!
---
Brought to you by Macao Government Tourism Office.