Contributed by Four Eyed Laagan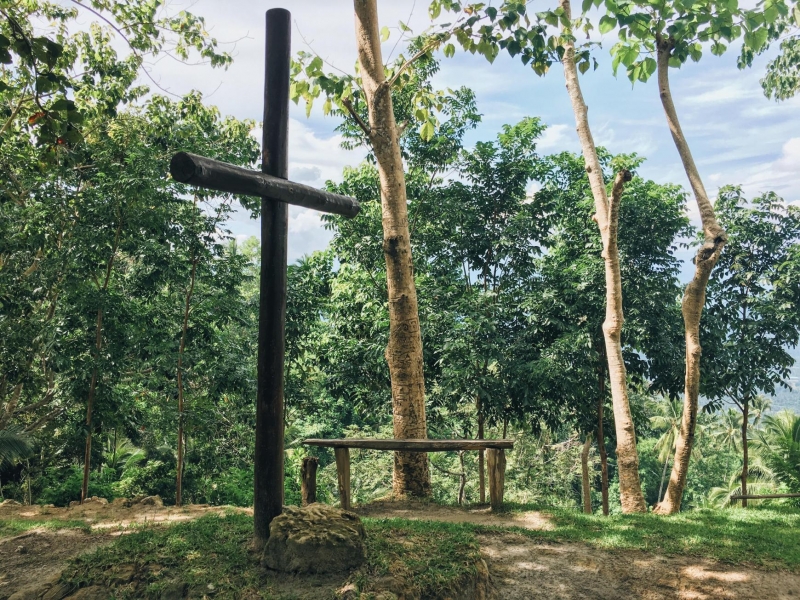 "The beginning and the end mean so little, what matters most is what's in the middle." – The Middle by Lauren Alaina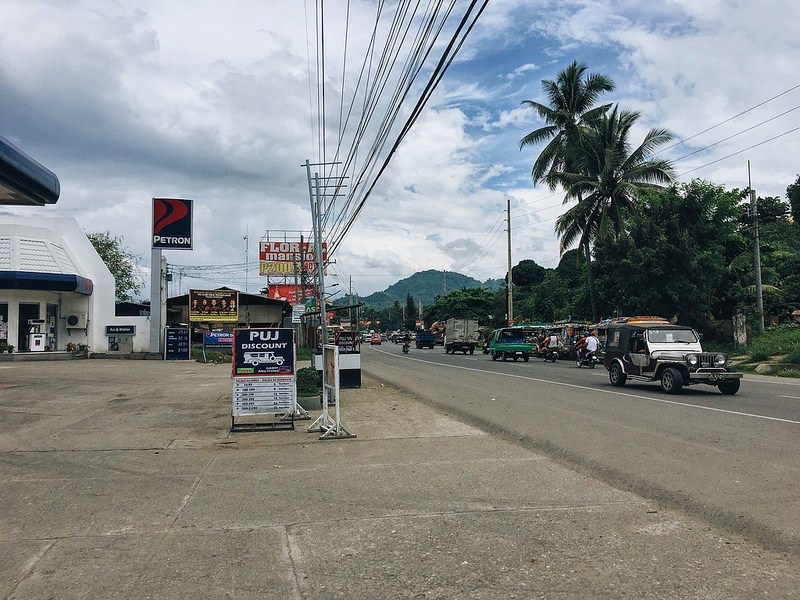 Every journey has its unique experiences and distinct memories depending on how it started, how it ended or how it was during the process. Trekking to Mt. Agad-Agad proved to me that the end does not justify the means but rather justified along the way. Literally being described with the lyrics mentioned above, what mattered most was the trail and the experience rather than the view and scenery at the peak.
Also read: Iligan's Tourism Triangle: Maria Cristina, Mimbalut & Tinago Falls
It was Friday morning when I convinced my cousins and a friend to climb the lone mountain for trekking in Iligan City – Mt. Agad-Agad. Many discouraged us because they described going to Agad-Agad as tough and exhausting. However, that did not discourage me and even made me push further for this adventure to materialise, and I had three people to tag along with my crazy plan.
Getting there
We met up at St. Michael's Parish Church, also known as Iligan City's Cathedral, around 6 in the morning. We then had our last buy for trail food and water just a block away from the Cathedral, finished our pack, and we are ready!
We rode a jeepney to Pala-o from the Cathedral and disembarked at City Hospital. From there, we were picked up by motorcycle taxis to Brgy. Pugaan, where Mt. Agad-Agad's foot is.
After a few minutes, we arrived at foot of the mountain and then braced ourselves with the extreme adventure we will be into for the next hours.
Commencing the trek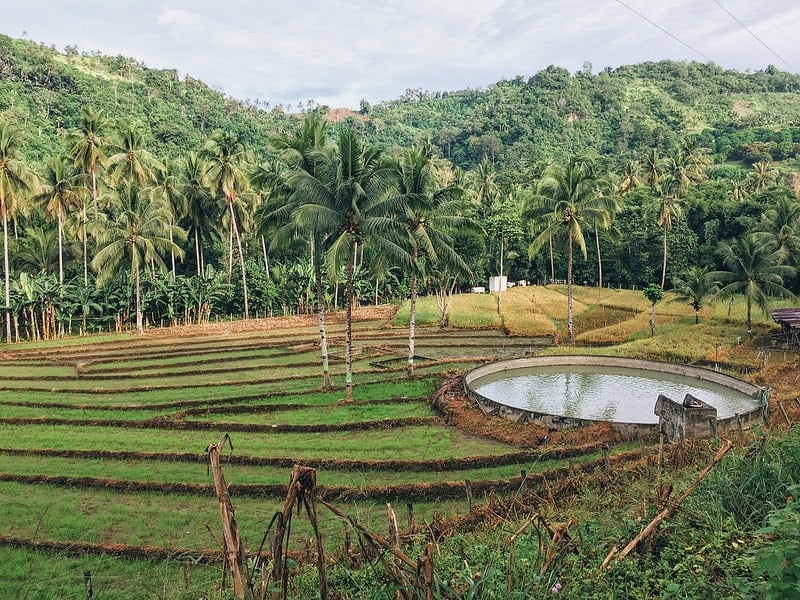 We were dropped at the lowest point of the foot of Agad-Agad, thus we had to hike a cemented uphill road for almost 30 minutes to Brgy. Langilanon, the jump off. It was also at the small barangay that we acquired and met a local to guide us to the peak. Everything was good then, thus, we had to proceed on the real trek.
The first part of the trek offers a spring stream for the locals and a small waterfall called the Langilanon Falls. It's not big enough for you to swim but it is a great source of fresh water. We did not get some water because our bottles were still full.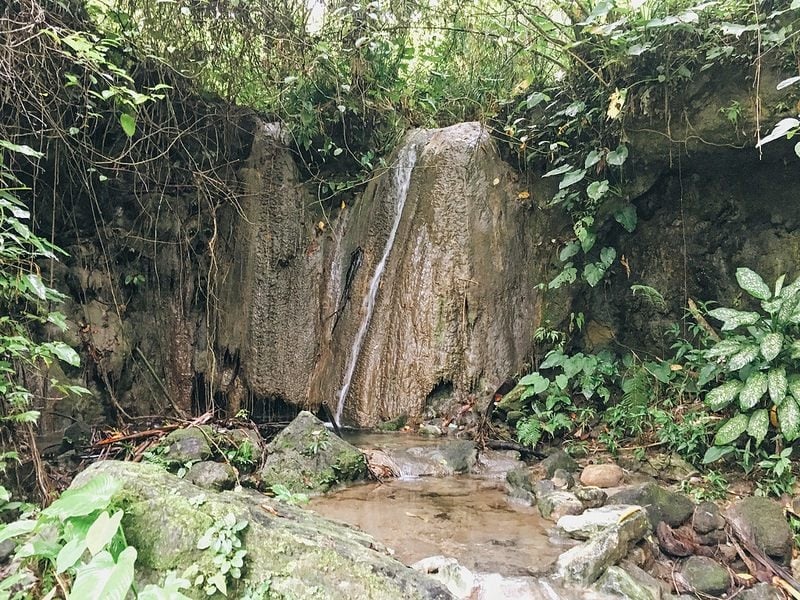 Direct assault to the peak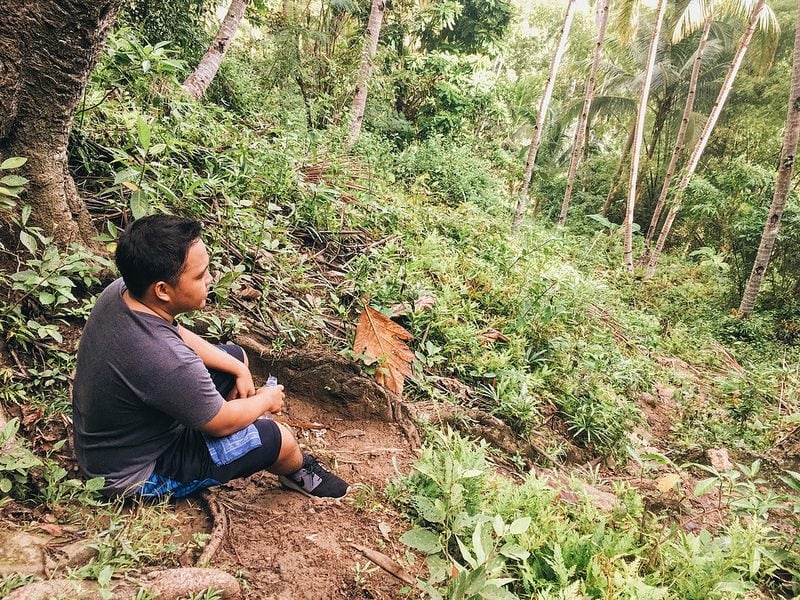 From the Langilanon Falls, we had a direct uphill trek that surprised most of us. Haha! Giving us trembles in our knees and spring-like sweat all over our body. My cousin even had his light gray shirt turned to dark gray because of his sweat. The trek was harsh for first timers because this would require strong leg strength, enough will and motivation to continue.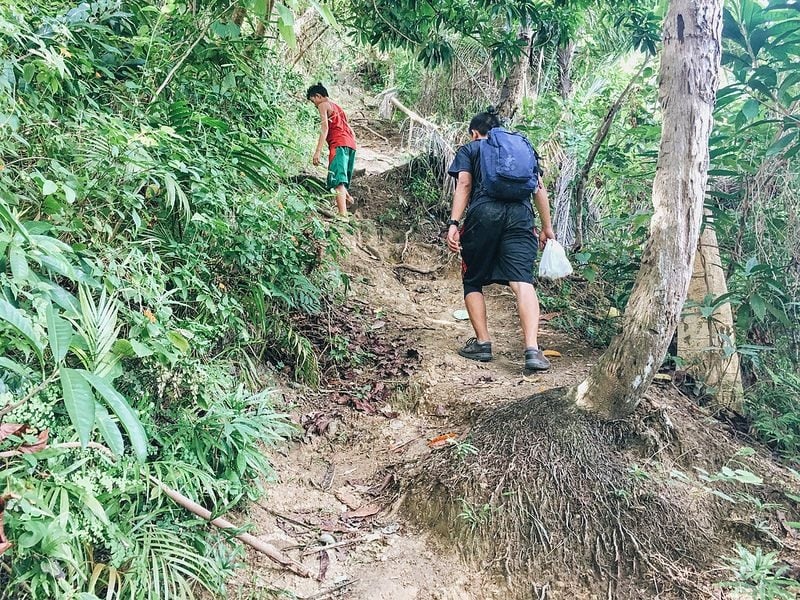 The trail is quite established and I could say that it is semi-executive because it is clear and is not covered with thick vegetation. There are even bamboo rails for some parts, however, the 70 degrees passageway will surely make you tell that established and executive trails should never be underestimated. Mighty Mt. Agad-Agad defies that principle, thus implying this is definitely not for starter trekkers. This is pretty great for mountaineers to prepare for a major climb.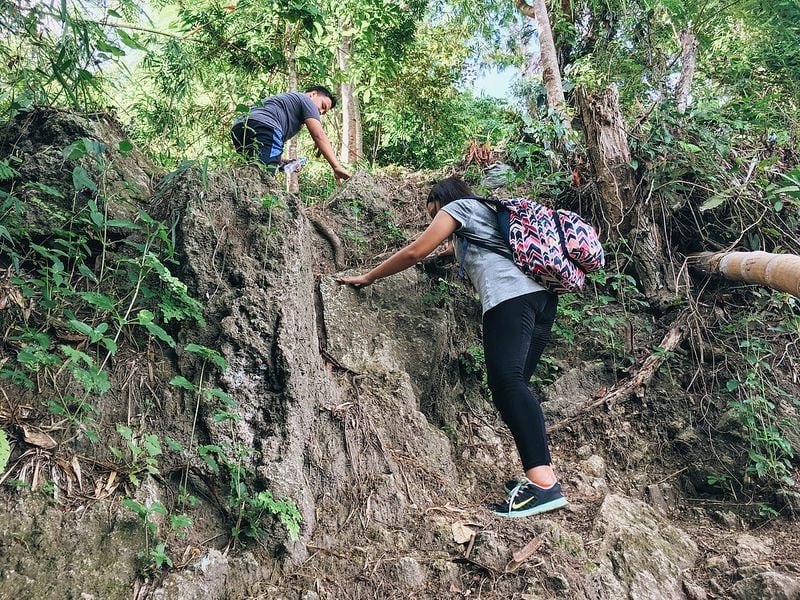 Since I was the only trekker of the group, I had to help them along the journey, making it more fun and remarkable especially for them, the first timers. I actually had fun. How did I make it fun? I cracked several hugot and jokes to them and they actually laughed but they scolded me because the more they laugh, the more they ran out of breath. Hahaha! Pushing and motivating them was the key for starters and I'm glad they made it.
It took us an hour long of assaults to reach the peak and the camp site.
Welcome to Mt. Agad-agad Adventure Park!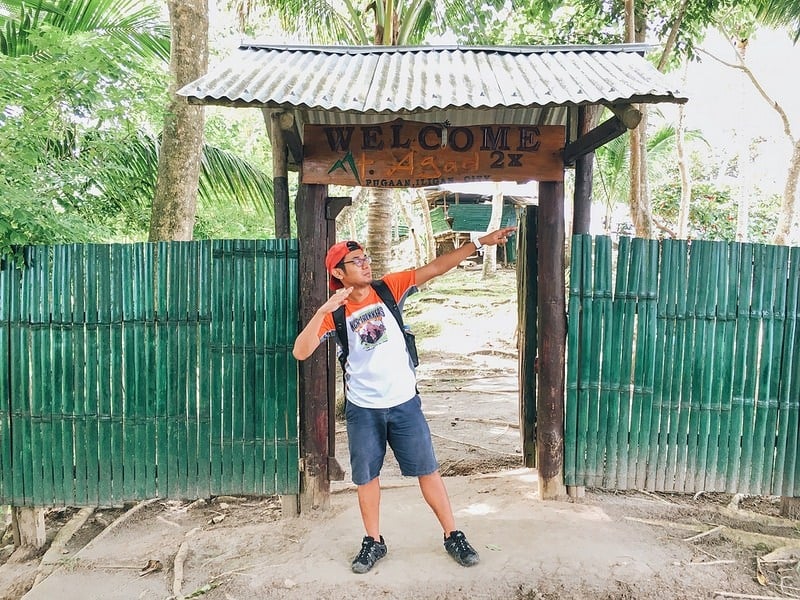 Surprisingly, there's a park at Agad-Agad's peak! There are huts, swings, chairs and tables, a restroom and even flower pots to beautify the place. That was my first time seeing something like that at the highest point of Iligan City. What I knew was only the Agad-Agad signage so I was not expecting it at all!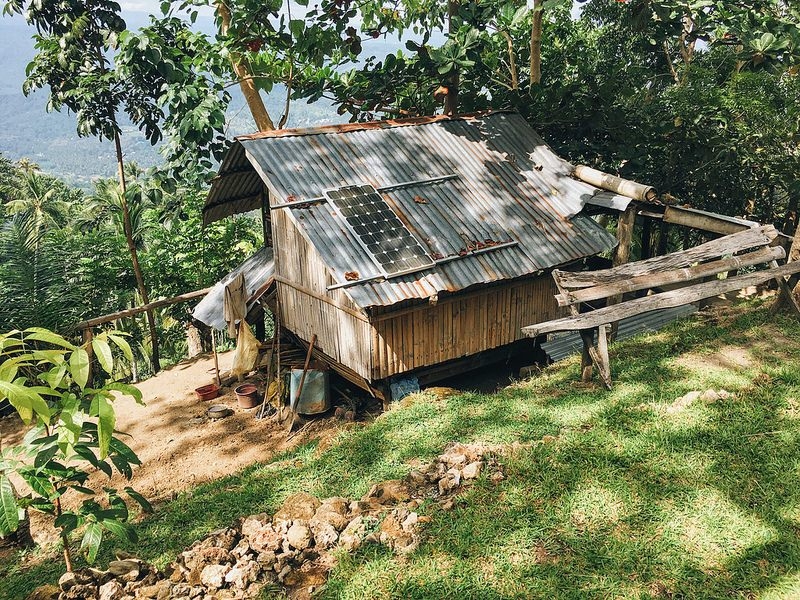 The park serves as a campsite, too, for trekkers who wished to stay overnight. It is maintained by locals namely Joseph and Levi who are hospitable and accommodating.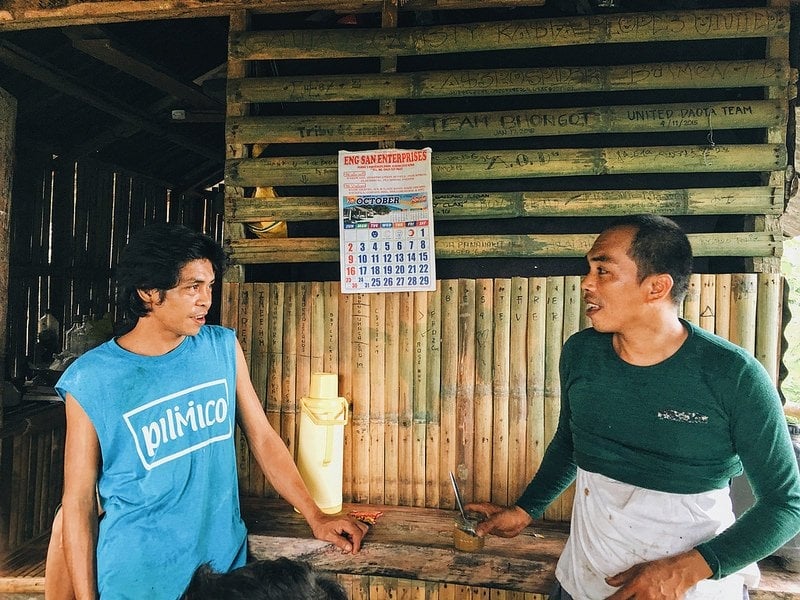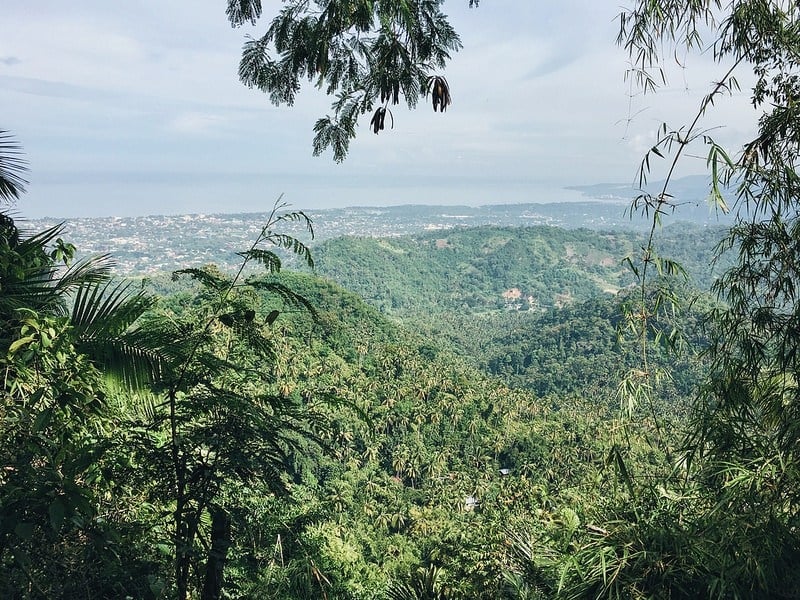 The peak at 470 MASL offers a partial view of the entire Iligan City and huge establishments like Gaisano Mall are clear from the top. The wind breeze also gives a refreshing vibe for us who had the knee-trembling trek. What I liked most here, by the way, was that there was still network signal and data connection – snapchaaaattttt!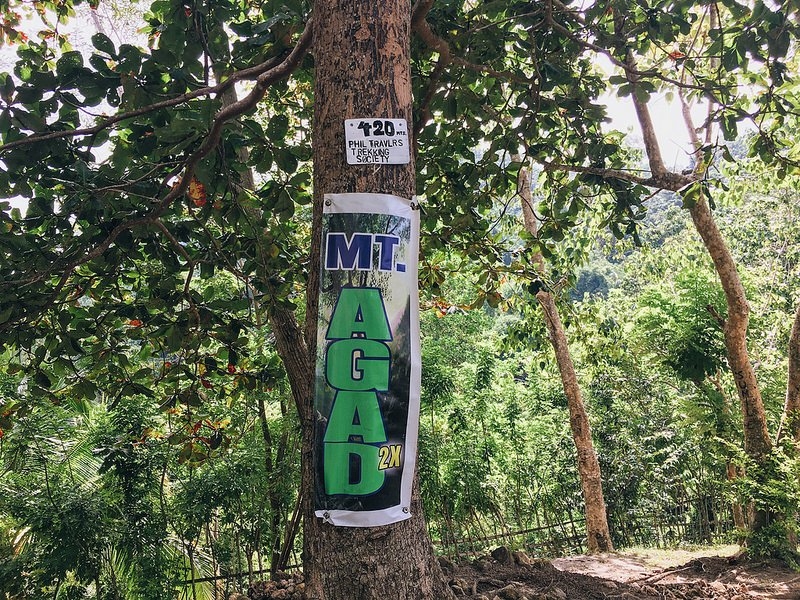 After almost an hour of relaxing, chilling and them drinking a cup of coffee, we had to recommence the trek going down to go home.
Slopey trek down from Agad-Agad
Who says trekking down in a 70-degree trail is easy? It is indeed never easy. You should be extra careful, else you will roll down to the foot of Agad-Agad. It's quite a shortcut but a bloody one, so never attempt to do that!
Also read: Northern Mindanao Travel Guide: Iligan, Camiguin, Bukidnon & CDO
Trekking down was a bit faster than hiking up because we had fewer stops and rest. Nevertheless, the shorter time, our knees were shaking more and our bodies were sweating. This seems to be more difficult than climbing up and the struggle is real! It's funny because we were like scared little monkeys that were cautious on every step we take and yet our local guide was like a ninja who just easily shifted through the downhill trail.
After 40 minutes, we reached Brgy. Langilanon and had to depart home.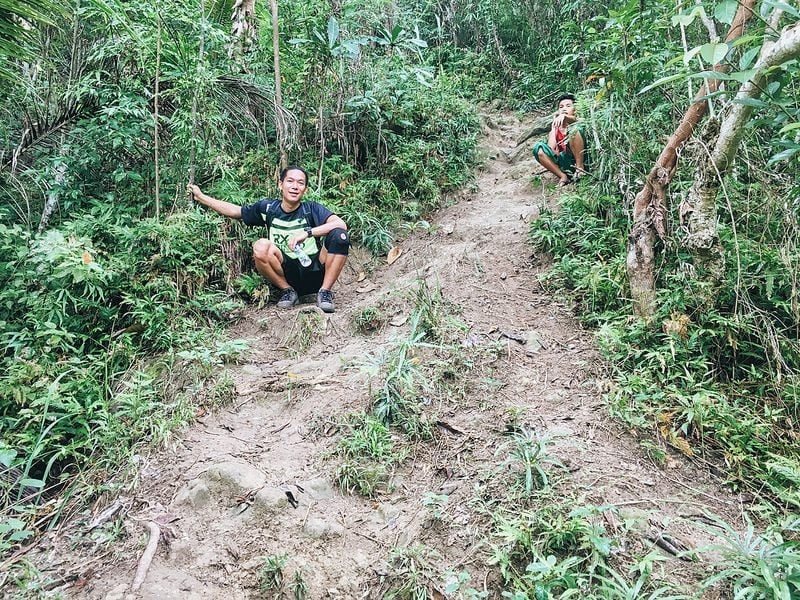 In my own opinion, the adventure was more fun along the way than what we had during the peak. The trail offered a great sense of adrenaline and momentum while the peak gave us the relaxing and refreshing moment that is quite a reward for the tasty achievement.
I asked my cousins on their experience climbing Mt. Agad-Agad and this will be covered in the next post. Stay tuned!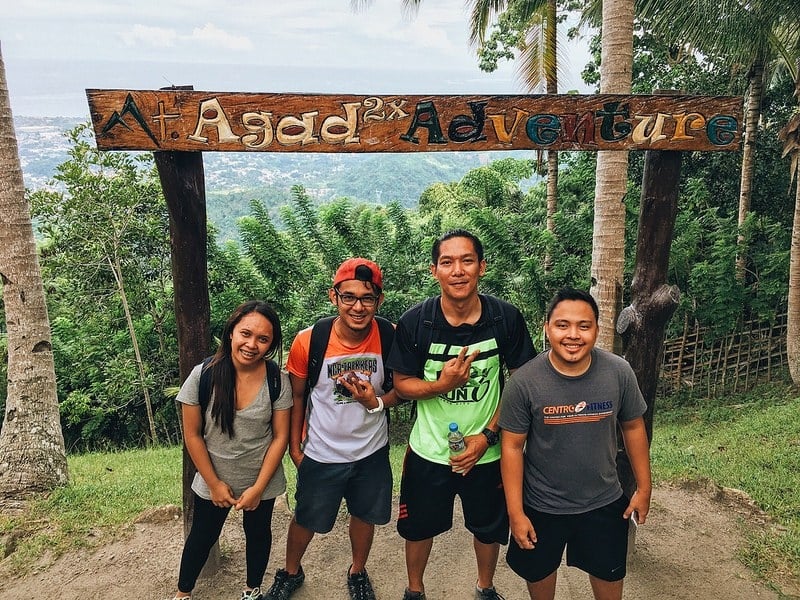 When you plan to visit Iligan City, make sure to include this on your bucket list!
Also read: Top 10 Mountains in Philippines With the Most Incredible Views
Itinerary
07:15 AM – start trek
07:44 AM – Langilanon
08:50 AM – Mt. Agad-Agad Peak
10:05 AM – Going Down
10:48 AM – Back to Langilanon
Expenses
Jeepney from City Proper to Pala-o – ₱7/pax
Motorcycle taxi – ₱30/pax
Entrance Fee at Agad-Agad -₱10/pax
Guide Fee – ₱200 tip