Contributed by Momo Talamayan
Did you ever dream of going to the Land of the Morning Calm? Are you a fan of K Dramas? Or do you want to experience eating an authentic galbi, bulgogi, bibimbap and other Korean dishes? I bet at least one of these makes you want to visit South Korea at least once or for some, multiple times. But before you do any of these, you need to get a visa and being a third world passport holder, getting such is not as easy as one two three. Applying for a visa has always been a daunting task – from collecting the required documents to falling in line in submitting your application and the hardest part, waiting for the results: Is your visa application approved or denied?
I know there are countless South Korean Visa guides out there but I just want to share my personal experience. I scored a cheap round-trip ticket for Seoul during Jeju Air's promotion last January 2017 for only $67.50. I actually didn't have plans of visiting South Korea again because I've already been there on December 2015, but the promo is just too tempting.
Also read: My South Korea Tourist Visa Approved: 5 Easy Steps for Filipinos
I started reading blogs around May and I happened to know about the BPI and BDO Credit Cardholders Multiple-Entry promo in one forum that I have been reading. I then checked the Korean Embassy's website to verify and found out that it's legitimate. So, I immediately applied in BPI and luckily got approved. It took a month before I finally received my Gold Credit Card.
Here are the steps in applying for a South Korean Tourist Visa (For Employees). For other types of visa, please check the Embassy's website.
Complete basic requirements
Here are the documents that applicants need to file:
1. Visa application form
Fill out this form completely and correctly in block letters using a black pen.
Don't leave anything blank. Put "N/A" instead if the item does not apply to you.
I am always asked what to write on some items so here are some of my insights:
Item 1.7 National Identity No. – Just write "N/A" as we don't have this in the Philippines.
Item 10.1 Estimated Travel Cost (in US Dollars) – I'll take what was advised to me before and that is to allot at least $80 to $120 (₱4,000 to ₱6,000) per day to be safe and for you to have an idea as well how much you should have in your Bank Certificate.
2. One 35 mm x 45 mm coloured passport photo against a white background (to be pasted on the form)
3. Original Passport
Valid for at least six months and should have at least two blank pages.
4. Photocopy of Bio-Page
This is located on the second page of your passport.
5. If applicable, original and photocopy of valid visa(s) and arrival stamps to OECD-member countries within the last five years
These will greatly impact your application and you will also be considered as a frequent traveller, which means the processing time for your application will only be three days.
Additional requirements
1. Original personal Bank Certificate
Tell the bank personnel to include the account type, account opening date, current balance and ADB or Average Daily Balance.
2. Bank Statement
Original or certified true copy of bank statement/passbook for the last three months.
3. ITR (Income Tax Return)
Get a copy of this from your Human Resources department and write your signature at the bottom.
4. Certificate of Employment
Get a recent copy of this from your HR and have it include your designation, date hired, compensation, office address, HR landline number (cellphone number is not allowed) and HR email address.
5. Copy of PRC Card (If applicable only)
And here's where the BPI/BDO Credit Card Promo comes in. Holding one of these cards (see below for the types of cards eligible) EXEMPTS you from submitting Bank Certificate, Bank Statement and ITR which simply means you don't have to worry anymore about your show money. All you need to provide are the Original Statement of Account of your card (original, meaning the one mailed to your billing address) and a photocopy of the card (but the original card should be presented to the visa officer during the application).
Also read: [UPDATED]: How Filipinos Can Get a South Korea Tourist Visa With No Income Tax Return (ITR)
If you enrolled for a paperless billing, you need to visit your bank to acquire the original copy of your Statement of Account. A printed copy of the emailed statement will NOT be accepted anymore. This is based on the latest announcement on the BPI and BDO Credit Card Promo on the Embassy's website dated 23 March 2017. A Certificate of Employment, however, is still required.
Submit your documents to the Embassy or Consular Office of Korea in the Philippines
After gathering all the necessary documents, head to the Embassy of the Republic of Korea in Taguig City from 8.30am to 11am. No appointment is needed.
Address: 122 Upper McKinley Road, McKinley Town Center, Fort Bonifacio, Taguig City
I strongly suggest you go there as early as you can. When you arrive, you will need to write your name on a sheet of paper which will be the security guard's basis as to who will come in first. After writing your name, you can have your breakfast in Jollibee which is just across the Embassy. Just make sure to be back by 7.15am.
Tip: If going early isn't possible, try to go there at least before 10am as you might not be accommodated especially if the queue is long. They normally do early cut-off.
Once inside, you need to queue again and have your documents initially checked by the staff just beside the main door who will then give you a number as to which window will you submit your documents. There are three of them.
Windows 1 and 2: First-time Applicants, or those who have no previous tourist visits to any OECD-member countries.
Window 3: Frequent Traveller, or those who have been to OECD-member countries within the past five years. OECD-member countries are: the US, Canada, New Zealand, Japan, Australia, Schengen member states and the UK. Although Korea is a member, only those who have visited more than twice within four years will be considered as a frequent traveller. Those applying for the BPI/BDO Credit Card Promo shall be accommodated at this Window as well.
The visa officer will check your documents and you will be given a claim slip which you will have to present when you claim your visa.
Tip: Don't submit any documents that are not required, such as plane tickets and hotel reservations, as these will just be removed by the visa officer. Only the listed requirements will be accepted. I saw some who even brought with them their Land Titles and the ORCR of their car, flight tickets and hotels but these documents were just removed.
Pray for the best
This is the hardest part of the process where being paranoid is inevitable. But did you know that there's a website where you can check your application status? Simply visit this link: www.visa.go.kr. From the forum that I am reading, it's pretty accurate. So how can you use it?
Click ENGLISH on the upper right corner then choose "CHECK APPLICATION STATUS > CHECK APPLICATION STATUS AND PRINT" on the left side. You will then see this: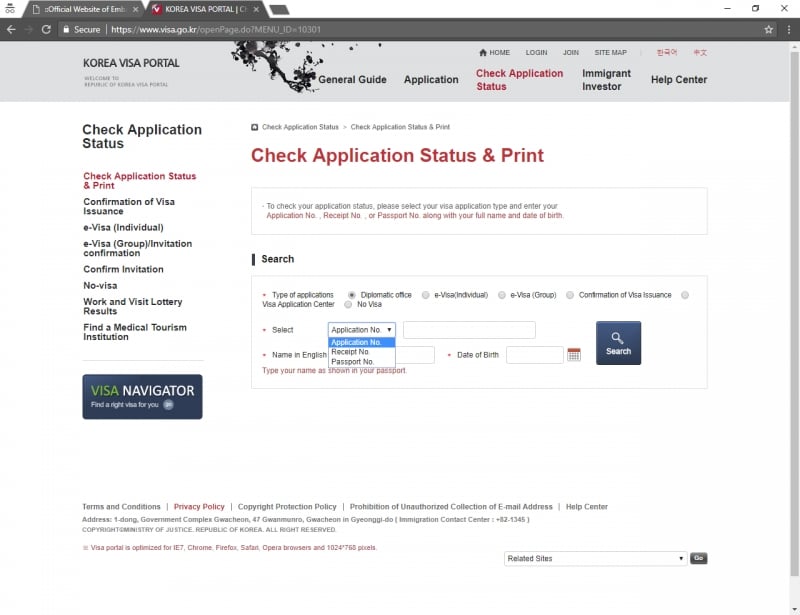 You don't have to click anywhere as it will automatically direct you to 'Diplomatic Office". From the 'Select' tab, you have three options. You can use the first two (Application No. & Receipt No.) but others say it would show "NO SEARCH DATA HAS BEEN FOUND". So simply choose Passport No., then on the name tab, put your surname first followed by your given name. On the date of birth, fill it up using the pop-up calendar. It will then show the status of your application. I hope and pray that you see the word "APPROVED".
As for my experience, I applied on a Monday. I checked the status the next morning and it says "Application Received". I checked it in the afternoon and it was changed to "APPROVED". That gave me a little confidence and peace of mind knowing that my schedule to claim my passport would be Thursday. Thursday came and I got my passport back with an APPROVED MULTIPLE-ENTRY VISA for three years without submitting Bank Certificate, Bank Statement and ITR.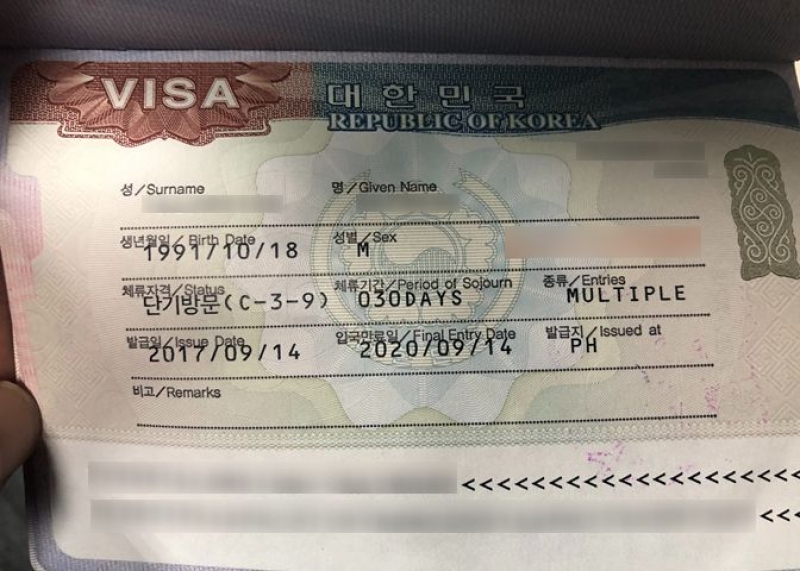 Here were the documents I submitted in summary:
Visa application form
One 35 mm x 45 mm coloured passport photo
Original passport
Photocopy of passport's Bio-Page
Photocopy of visa(s) to OECD-member countries. I had three Japan Visas (two Single-Entry Visa and a Multiple-Entry Visa), one Single-Entry South Korean Visa and an unused Schengen Visa issued by the French Embassy.
Latest and original Statement of Account and a photocopy of the credit card. I also showed my card to the consul.
Birth Certificate. I needed to submit this as well in because I was applying with my brother (he's my supplementary card holder) and it would prove our relationship.
What are the types of BPI/BDO cards eligible for the promo?
BPI
BPI Gold Master cardholders can get a Multiple-Entry visa valid for three years.
BPI SkyMiles Platinum Master Card and BPI Amore Visa Platinum cardholders can get a Multiple-Entry visa for three to five years.
Gold BPI Express Teller Debit cardholders can also get a Multiple-Entry visa for three to five years.
BDO
BDO Gold cardholders can get a Multiple-Entry visa for three years. Included are Gold Visa Credit Card, Gold MasterCard Credit Card, Gold UnionPay Credit Card, Gold JCB Credit Card.
BDO Elite Cardholders can get Multiple-Entry visa for three to five years. Included are Platinum Visa Credit Card, Titanium/Platinum and World Elite MasterCard Credit Card, Gold/Platinum/Cathay Pacific and American Express Charge Cards issued by BDO, Diamond UnionPay Credit Card, Diners Club Premiere.