Contributed by Anna La Viajera
Whatever is your travel budget and preference, here's what you wouldn't want to miss out on your Europe trip – trying their local cuisines. With its rich history, arts and culture, the continent offers a culinary adventure for every type of foodie traveller out there.
Also read: Our Ultimate Europe Trip: 10 Countries & 15 Cities in 27 Days
Food is an integral part of a country's culture that reflects its characteristics and identity. It won't hurt to splurge a bit for that authentic gastronomical experience. After all, trying the food that is native to the country brings a completely unique treat. A pizza in Italy won't taste the same as that pizza offered at your regular eating place.
Europe is home to some of the world's most delectable fare. Below is a list of signature foods to try in each European country:
1. Greek salad (Athens, Greece)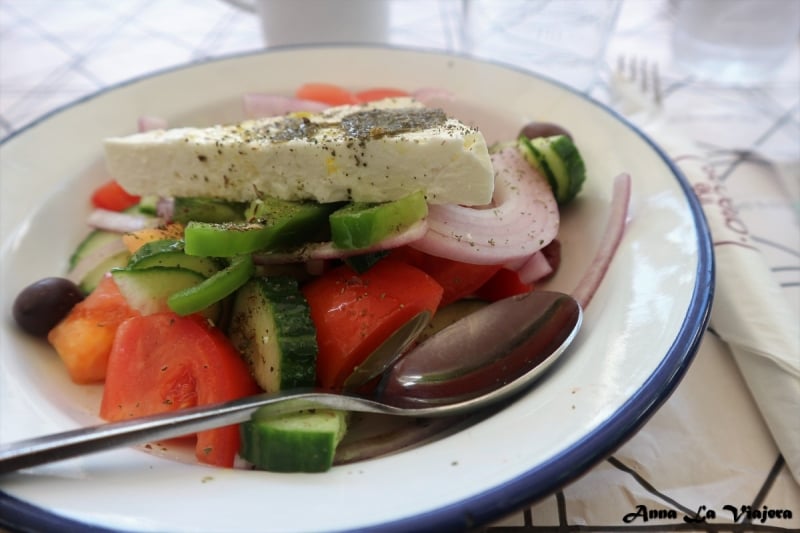 Price: €4.90
Want to eat healthy but on a budget? Worry not. When you're in southern Europe, this is not impossible. For a health-conscious food lover, Greece is a food paradise. You can always start your meal with a bowl of Greek salad, also known as Horiatiki salad at a typical Greek taverna. This rustic salad is made with huge cuts of tomatoes, big pieces of cucumbers, onions, olives (usually Kalamata olives), a piece of feta cheese on top, seasoned with salt and oregano and dressed in olive oil. Green bell pepper portions and berries of capers are also included. How healthful can that be?
2. Pizza al taglio (Rome, Italy)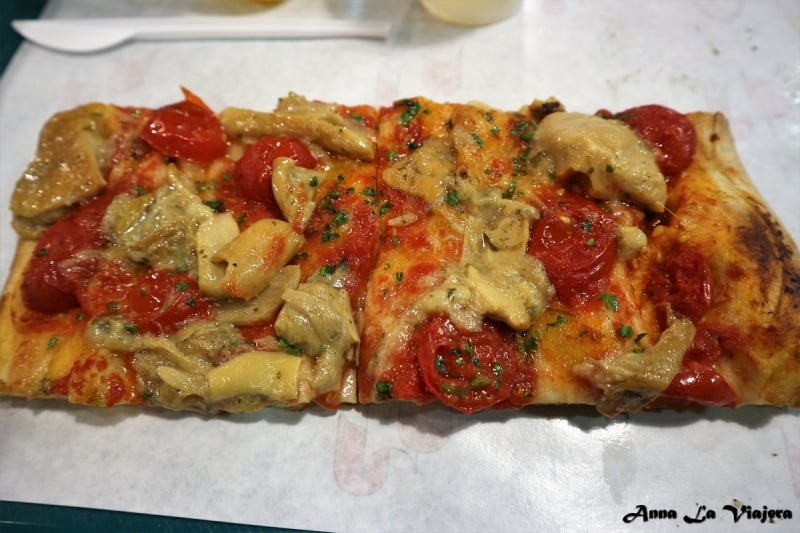 Price: €4.50
Without being necessarily in Naples where the modern pizza was invented, eating any variety or toppings of pizza anywhere in Italy is a genuine delight. Be it thick crust, nepoletana, alla marinara, and al taglio, among others. One of the varieties of pizza conceived in Rome and is common throughout Italy today is the pizza al taglio which literally means pizza by the cut. This traditional casual Italian dish is baked in rectangular trays and sold in square slices.
3. Strozzapreti (San Marino)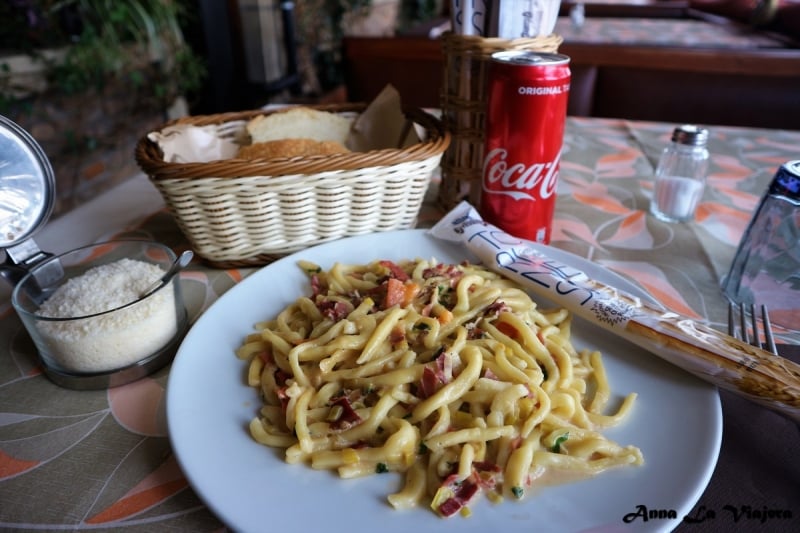 Price: €6.40
San Marino is a tiny microstate that is landlocked by Italy. The San Marinense cuisine is solidly similar with Italian cuisine specifically in the Bolognese region. Pasta, pizza, and wine are as common in San Marino as they are in Italy. San Marino has high standard of living so dining out there can be pricey. But as suggested by their Tourism office, I had a lunch out in a local, affordable San Marinense restaurant overlooking the mountains. The menu includes familiar Italian dishes. Your best bet would be pasta such as Strozzapreti that is hand-rolled and served with meat sauce and cheese.
4. Thuringer bratwurst (Frankfurt, Germany)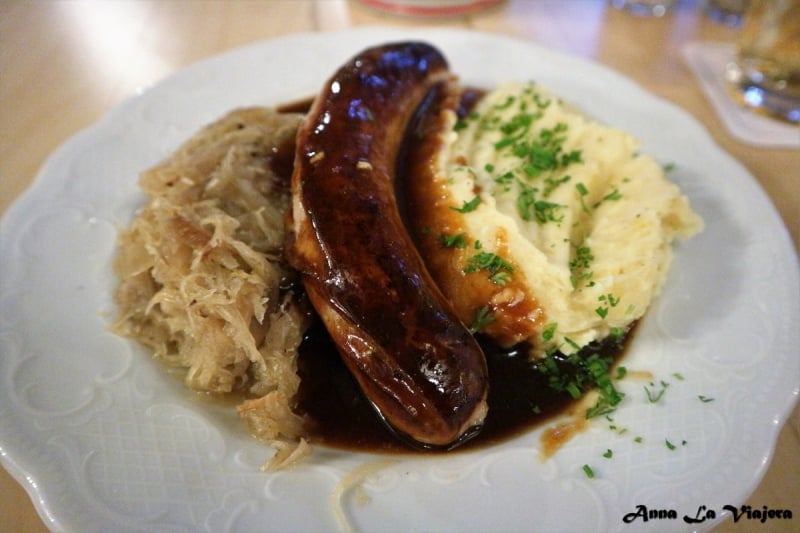 Price: €7.80
Yes, Germans love sausages. And it's such a regret if you haven't tasted one while visiting Germany. A popular type of sausage which is also considered as one of Germany's national dishes is Bratwurst. The one I tried is called Thuringer Bratwurst, that was thin and long in shape accompanied by mashed potatoes and sauerkraut, a finely cut fermented cabbage which is also part of the country's many national staples.
5. Macarons (Paris, France)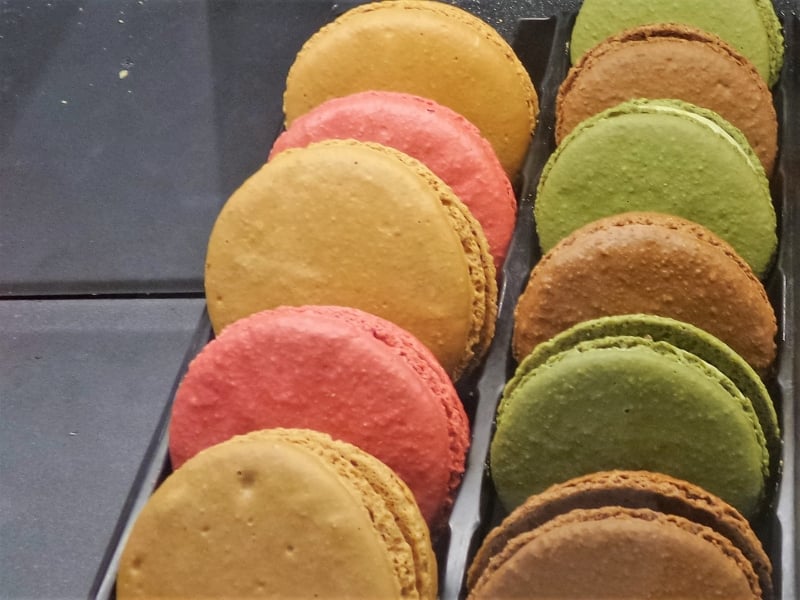 Price: €2.95
French gastronomy is regarded as a key driver in making France the most attractive country to visit. With over 400 types of cheese, a variety of wine and countless Michelin-starred restaurants, it's easy to see why French cuisine is renowned as one of the finest in the world. Don't forget to try its national dishes such as pot-au-feu, crepe, bisque, and macarons. That French macarons though is a joy for any sweet tooth.
6. Churros with hot choco (Madrid, Spain)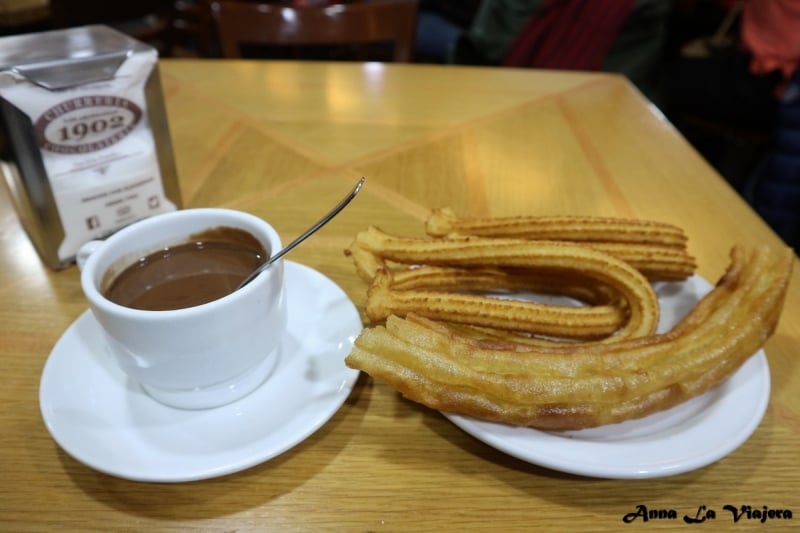 Price: €4
It's hard to find any reason not to like Spain. In Madrid alone, the capital is dotted with several plazas surrounded by local and international restaurants alike. Spanish food is a feast. Paella, torta, jamon iberico, tapas,pa amb tomaquet, and the list goes on. Let's not forget churros which is also a traditional food in Spain. This fave fried-dough snack comes in thin, long, thick, or knotted forms and can be dipped in hot chocolate or duce de leche. Just bring in patience with you when you enter some traditional churrerias (churro shops) because some of them can be jam-packed with churro lovers like you.
7. Sardinhas assadas (Lisbon, Portugal)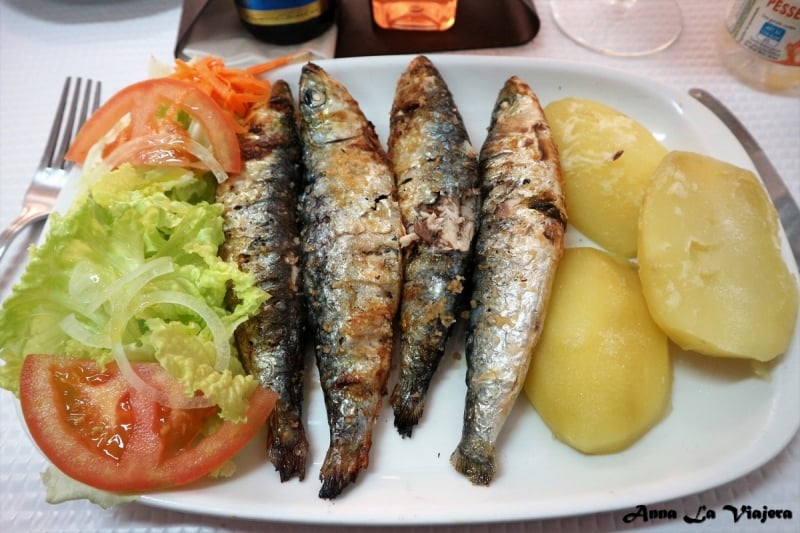 Price: €8
Probably one of the cheapest destinations in Europe, you can easily fill up your stomach in Portugal without costing you an arm and a leg. Most of the meals in Lisbon are priced at less than €10 in enormous portions. You haven't been to Lisbon, Portugal if you haven't tried their summer favourite, Sardinhas which is normally presented as assadas (grilled). They are served with a dash of olive oil drizzled over the tops, sprinkled with sea salt with chunks of boiled potatoes on the side. Irresistible!
8. Endive and Ham au Gratin (Luxembourg)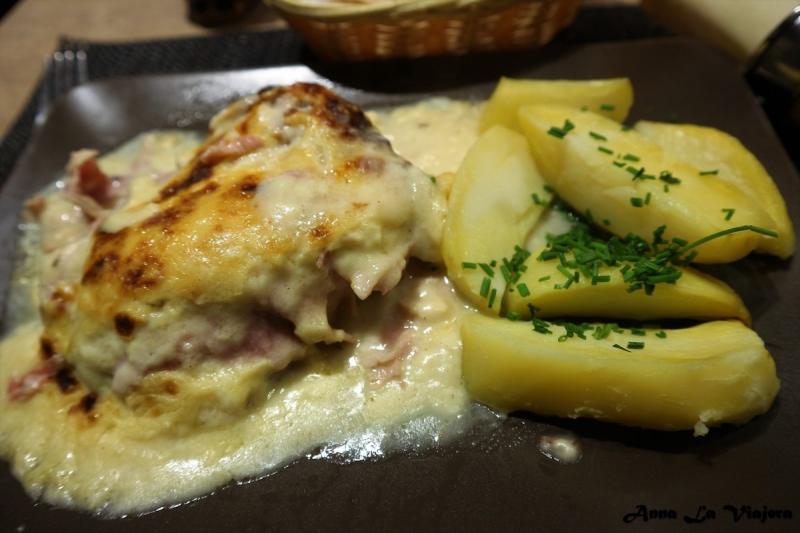 Price: €11
Luxembourgish food is international brought by its geographical location, being positioned between France, Belgium and Germany. It's effortless to hit upon French pastries, German sausages and Belgian menu while on a food hunt in Luxembourg. When you say Luxembourgish food, meats, potatoes, cheese, beans would come to mind. It depends on the season but when you're in Lux on a fall, you may sample this favourite comfort food Endive and ham au gratin made from fancy ham, melting cheese and slightly bitter endive which can warm you up in a cold weather.
9. Gulas with knedliky (Prague, Czech Republic)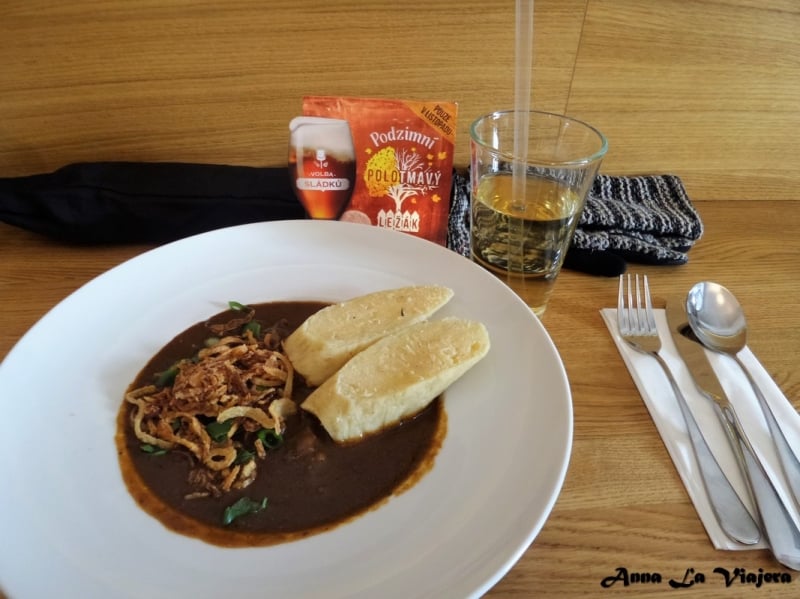 Price: €7
With around 200 castles, Czech Republic is undoubtedly the most castle-rich country in the entire Europe. The most beautiful and biggest would be the Prague Castle. Located in the heart of the European continent, expect Czech cooking to be heavily influenced by its neighbouring countries. One mainstay Czech fare is the knedliky (dumplings) made from a combination of flour and potatoes. This favourite side dish usually accompanies meat plates like gulas, svickova, among others.
10. Trdelnik (Bratislava, Slovakia)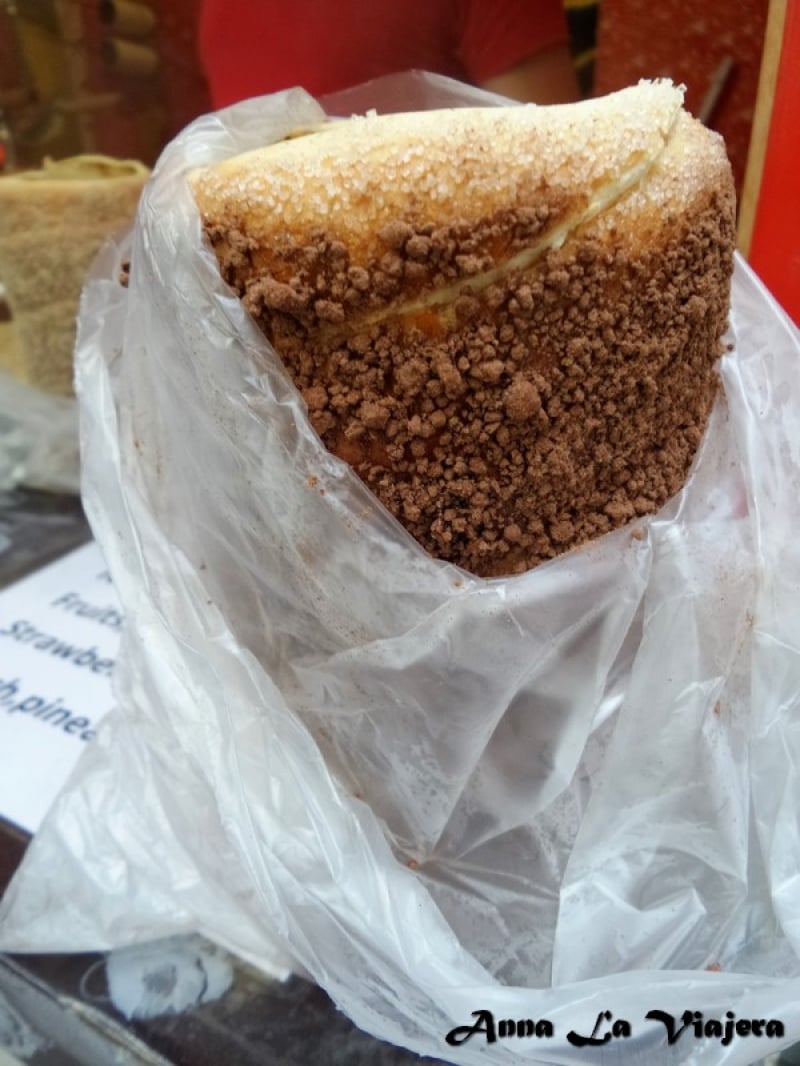 Price: €3
There is no such thing as Slovak cuisine as most of them come from bordering Eastern European countries such as Austria, Czech Republic and Hungary. Thus, most of the food that you'll come across there are also straightforwardly available in those other countries. One example is the Trdelník, a traditional cake baked on a rotating spit over open fire, then topped with sugar and walnut mix. Delicious!
Also read: 25 Must-Try Foods to Hunt Down on Your Next Eastern European Adventure