Contributed by Where's Jason?
"Where are you going next?" a friend of mine asked.
"Nepal," I answered.
"So you're going to Mt. Everest?"
"Uhh… I'd love to, but nah, it takes too many a days just to get to the base camp. And besides, I'm not ready for that."
Almost everyone assumes you're going to Mt. Everest once they hear Nepal. It has become synonymous to Mt. Everest and it's every hiker's dream to at least have a peak of the Himalayas.
Also read: Trekking to Everest Base Camp On A Budget (Under USD1000)
I know three hiking options: you can hike to Hotel Everest View/Panorama Hotel, Everest Base Camp, or the summit. The first one is for beginners to moderate hikers, which can be done in five days. The second one is for strong hikers in twelve days, and the last one for, of course, the most serious and seasoned hikers in six to eight weeks.
Because I only have a week off from work, the first one seems the most doable – hiking up to the Hotel with the backdrop of the Everest. That'll be a sensational view!
The initial plan
Day 0 – Arrival in Kathmandu
Day 1 – Fly to Lukla (Gateway to Everest) and hike to Benkar
Day 2 – Hike to Namche Bazar
Day 3 – Hike to Panorama Hotel, then hike back to Namche Bazar
Day 4 – Hike back to Lukla
Day 5 – Fly from Lukla to Kathmandu
Unfortunately, after much research, I find out that the flight to Lukla is unpredictable due to the ever changing weather. Flights are most often cancelled, rescheduled, or delayed. And I become paranoid about missing my plane ride. If I really want to do this, I should have at least two more days of allowance. Thus, prompting the need for a change of plan.
Surfing the net for more things to do, I learn that I can take a scenic flight atop Mt. Everest. That'll be cool, but the price is not. So off I went to search for more, landing me to a place called Pokhara. There's an ultra-light plane ride where you can take in the mountain scenery. It's not the Everest, but it is still part of the Himalayas!
Jason's hot tip: If you have wads of cash and no time to hike, book your scenic flight at getyourguide.com. If you have time to hike to the Everest, book your flights to Lukla with Tara Air.
I did my Nepal trip last March of this year. Surprisingly, Kim Chiu, the actress also went to Nepal after two months. I think it's for her upcoming movie "Ghost Bride." We did almost the same thing from Kathmandu to Pokhara. Maybe she stalked and followed me… in my dreams. Check out @chinitaprincess on Instagram for proof. Then follow me @wheresjason_ig for more adventures (wink).
Itinerary
Manila to Hong Kong
There are no direct flights from Manila to Kathmandu. You have to transfer at Hong Kong, Kuala Lumpur, Bangkok, or Singapore. I went with Jet Airways to Hong Kong since it was the cheapest at the time. But there's another stop in India, before finally travelling to Kathmandu.
Jason's hot tip: No need for transit visa in India if you're not leaving the airport and just transiting. Check skyscanner.com for flights.
Day 0 – Hong Kong to Kathmandu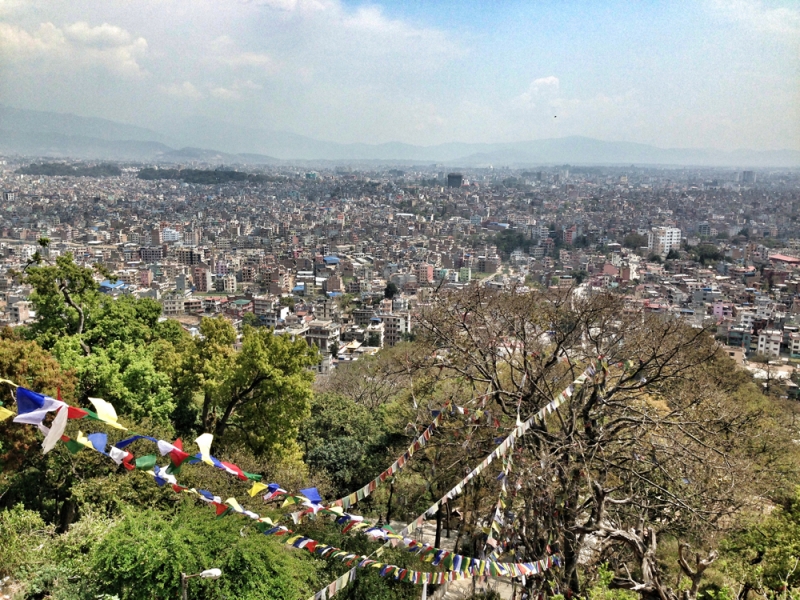 My seatmate on the way to Nepal happened to be a local student. We chatted and exchanged stories about our life. I even learned that he has a lot of Filipino friends in Hong Kong. This made me comfortable, as he offered a ride to my hostel, to which I accepted with glee.
When we arrived at the airport, he assisted me with getting the visa-on-arrival. I just had to fill some form, give an I.D. picture, and pay the visa fee. And "Tadaah!", visa stamped on my passport. Easy-peasy!
Also read: How Filipinos Can Get a Nepal Tourist Visa on Arrival
His friends were waiting at the parking lot. They picked us up and they dropped me at Elbrus home. As we bid our goodbyes, my new friend handed me cash, which I, of course, refused. But he insisted and said, "Welcome to Nepal, pare!" It was heart-warming. What a way to start an adventure!
Jason's hot tip: The address in Kathmandu is a bit confusing, so make sure to have a contact number of your accommodation.
Day 1 – Kathmandu city tour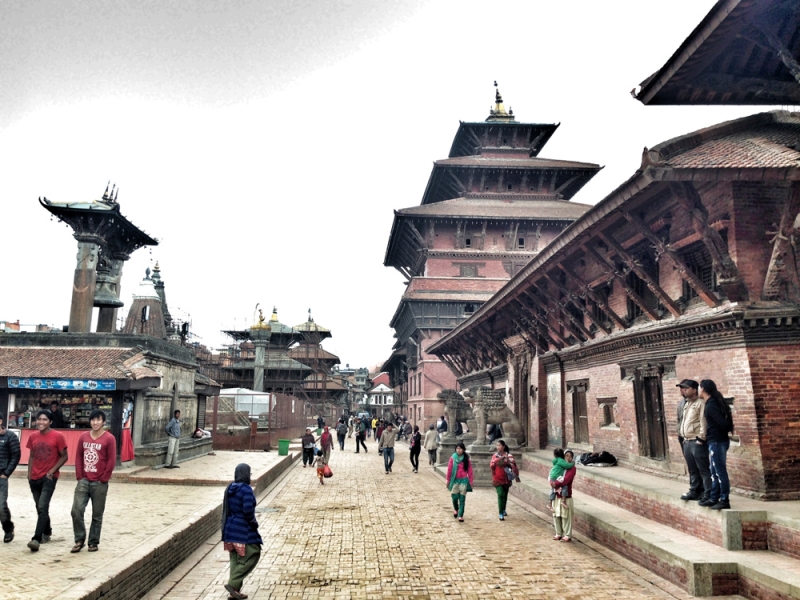 I went outside the hostel after my breakfast, only to be welcomed by the hustle and bustle of the city. It was chaotic – lots of people, traffic, and muddy streets. But it was all part of the adventure, right? Then I walked and walked some more to nowhere. I was planning to wing it, but I got lost. I went back to Elbrus home and booked a city tour in an instant.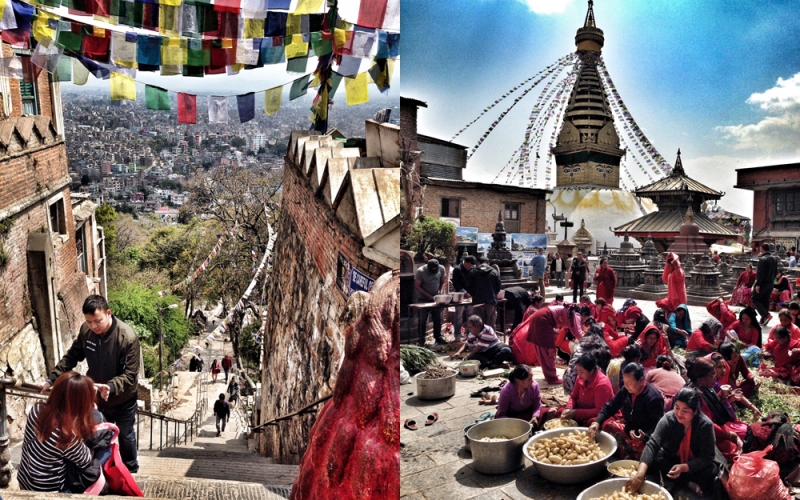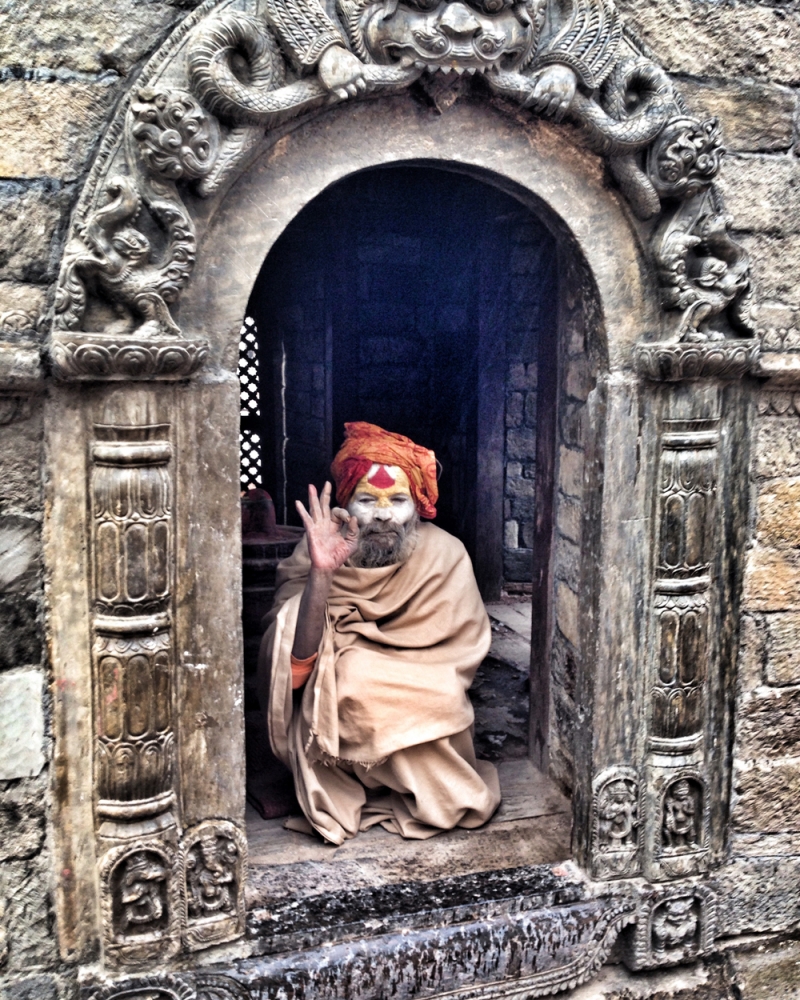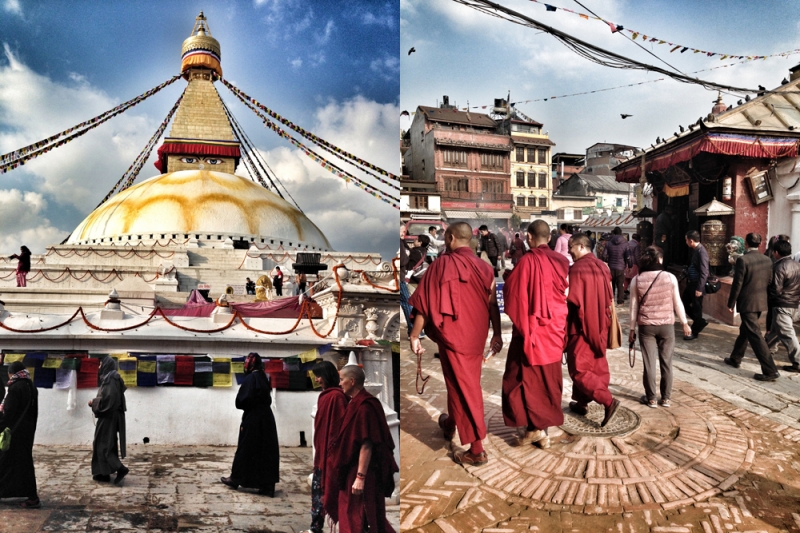 Oh boy, I got a private vehicle with a driver for myself for the whole day. We went to see Kathmandu Durbar Square, a historic landmark with temples and palaces; Swayambhunanth, the monkey temple at the top of a hill with the best panoramic view of the city; Pashupatinath temple, the quest for the "chosen one" or the holy ones, and Boudhanath, the largest and holiest Buddhist Stupa.
Day 2 – Kathmandu to Pokhara
I bought my ticket at the lobby of Elbrus home and the staff accompanied me to the bus station. I rode the public bus to Pokhara. It was more than a five-hour drive with stops for biological breaks.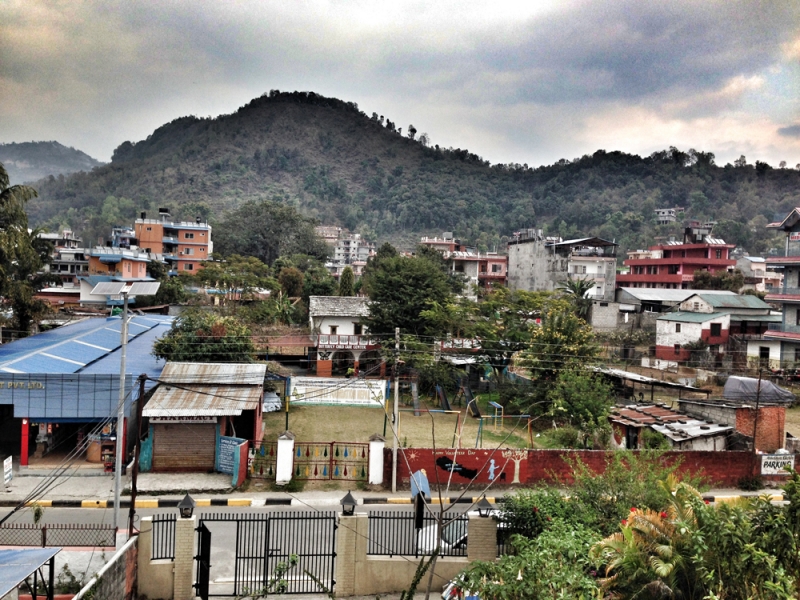 Once we arrived at Pokhara, I took a taxi and checked in at Hotel Mountain View. This was the best budget hotel I've stayed in my life, not because of the room, but because of the lovely owners. They're very hospitable and accommodating. They will help you arrange your itinerary, call tours for discounts, and answer all of your questions. I'd rate them a perfect 10 out of 10 for their quality service.
In the afternoon, I strolled along the lakeside to admire the serenity of the place. I liked it a lot better than Kathmandu. It was peaceful and relaxing.
Day 3 – Ultra-light plane ride
The moment of truth came – the two-seater plane ride with the view of the Himalayas. It was epic and it was one of the most amazing things I've ever experienced.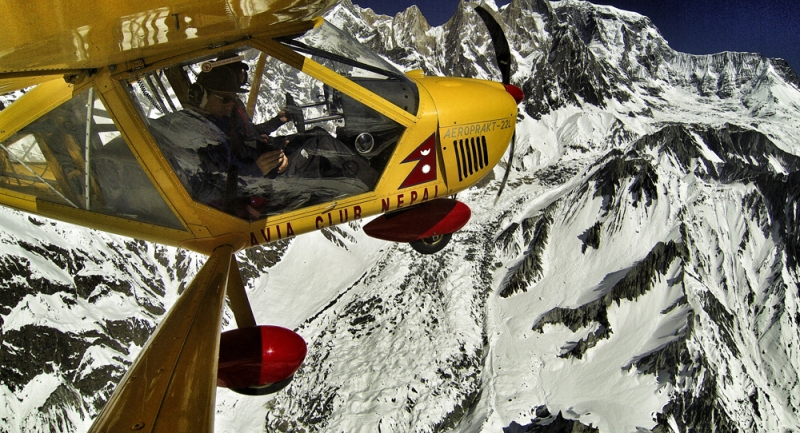 Overlooking the town, approaching the mountains, flying over and back was just too breathtaking. Watch my video here under the videos tab.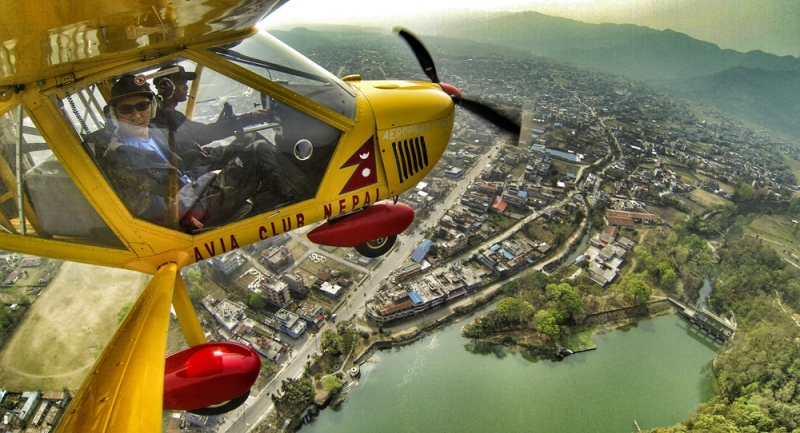 In the afternoon, I went back to the lake, but this time I rode a boat to cross the other side. I hiked to the top until the Stupa, pausing along the trails to absorb the view.
Day 4 – Bungee jumping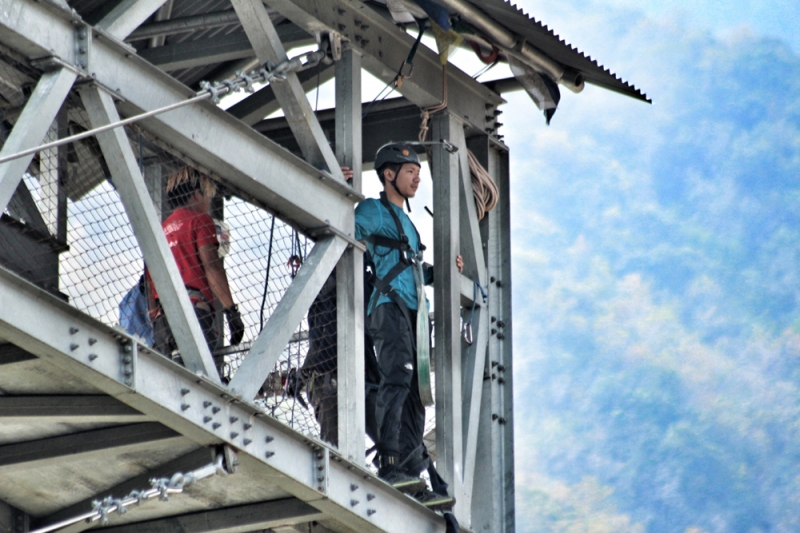 If the ultra-light plane ride was a much-awaited activity, the bungee jumping was not. I was scared and nervous the night before the jump. Anxiety was crawling in my skin. The feeling got worse as I got closer to the jump site.
And as I fell, all concrete things turned to abstract, seconds to hours, and anxiety to adrenaline rush. It felt like I was in the Matrix movie, for the longest three seconds of my life. It was a very exhilarating experience. This is a must-do. Check out my detailed bungee jumping story here.
Day 5 – Pokhara to Kathmandu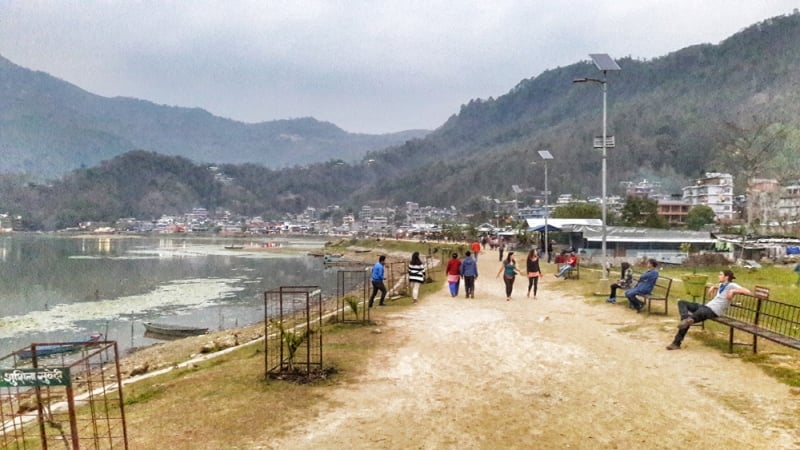 It was time to say goodbye to Pokhara and say hello to another five-hour bus ride back to Kathmandu. This time, I booked a room at Kathmandu home hotel to cap off my Nepal trip.
Day 6 – Kathmandu to Manila via Hong Kong
After breakfast, I headed straight to the airport to catch my flight back to Manila
To sum it up, I missed Pokhara the most. The outdoor activities, plus chill vibe was to die for. If I had the chance to stay longer, I'd do more hikes, as there were tons of trails to choose from. It's definitely a trekking hot spot and an adventurer's paradise!
Also read: How I Spent 49 Days in Nepal as an Earthquake Relief Volunteer
Summary of expenses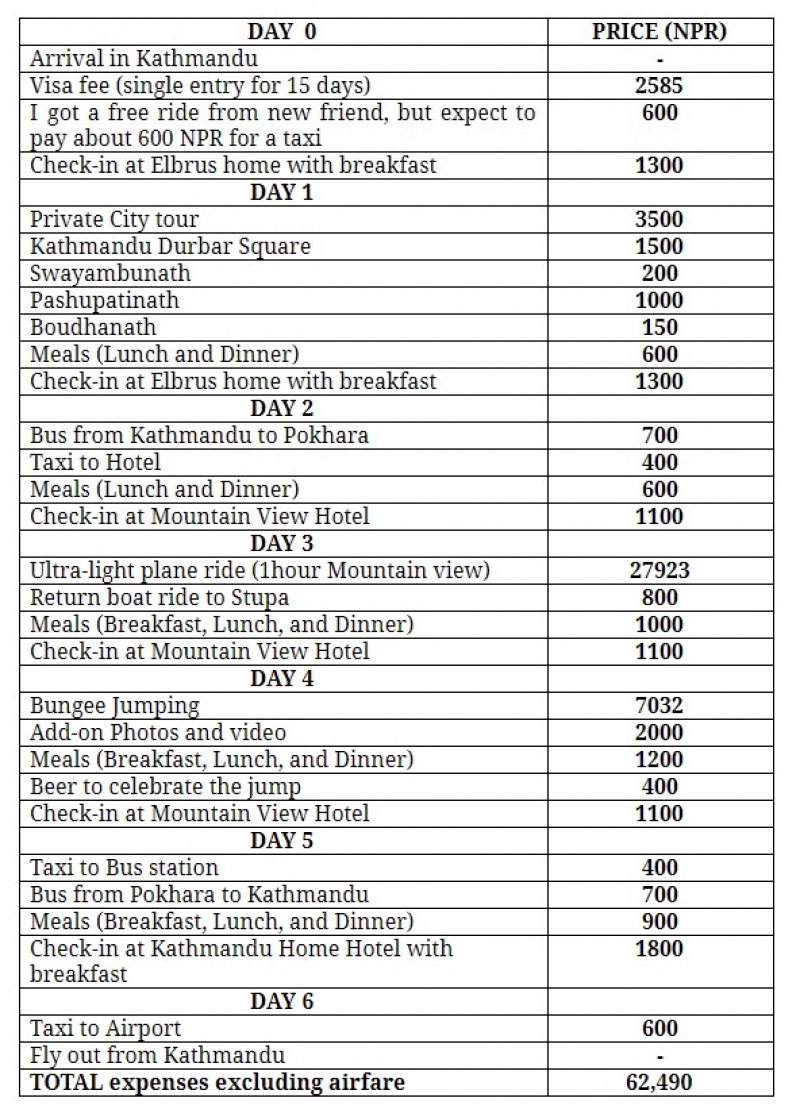 I spent a total of NPR62,490 or ~₱30,490 for six days, excluding air fare (for reference, a Manila – Hong Kong round-trip ticket costs around ₱5,000, while a Hong Kong to Kathmandu round-trip ticket costs around ₱20,000). Look for discounted tickets and book early so you could get cheaper deals.
Jason's hot tip: Try the pepper steak meal at Maya Restaurant in Pokhara, and have an Everest beer at Busy Bee Café (Typical meal price ranges from NPR300 to NPR600 ).