Nightlife in Manila is certainly exciting — new clubs and bars always seem to be opening left and right. But still, there's nothing quite like discovering a new speakeasy. It always feels like being in on a really good secret, don't you think? And while there's no longer any real reason for these bars to be hiding (the Prohibition has long been over, after all) — we can't help but enjoy playing a little hide and seek with them.
Also read: Asian Cities with the Most Fabulous Nightlife
Many of us have spent weekend after weekend checking out Manila's not-so-secret bars in Makati and Bonifacio Global City. ABV, The Blind Pig, Bank Bar, and Ocean's Telephone Co. are just few of them. But just when we thought we'd seen them all, we discovered that there are still a number of Manila speakeasies we've yet to explore. In short, these spots have done an excellent job at lying under the radar!
So, if you've been hoping to experience a different side of nightlife in Manila, you've come to the right place. Below, we list some of the metro's underrated and must-visit speakeasies. Take notes, because you'll definitely want to hit them up after work and over the weekend!
Experience nightlife in Manila at these underrated speakeasies
1. Int.Bar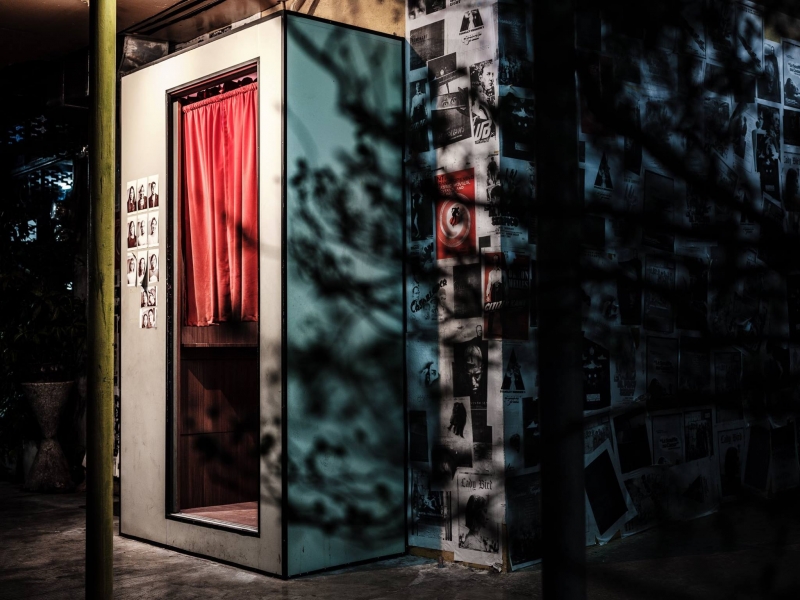 Come here for: Vintage photos, quiz nights, and cocktails named for classic works
Cubao Expo is one of Quezon City's underrated gems — but its niche market is more than enough to keep it alive and kicking. A vintage-inspired speakeasy, Int.Bar fits perfectly with the overall vibe at Cubao Expo — a go-to for cool and quirky finds, live music, and fun food trips. Find this secret bar hiding behind a fully-functioning photo booth (they even post the photos on their Facebook page!), and treat yourself to their signature cocktails, aptly named for classic films, literature, and music.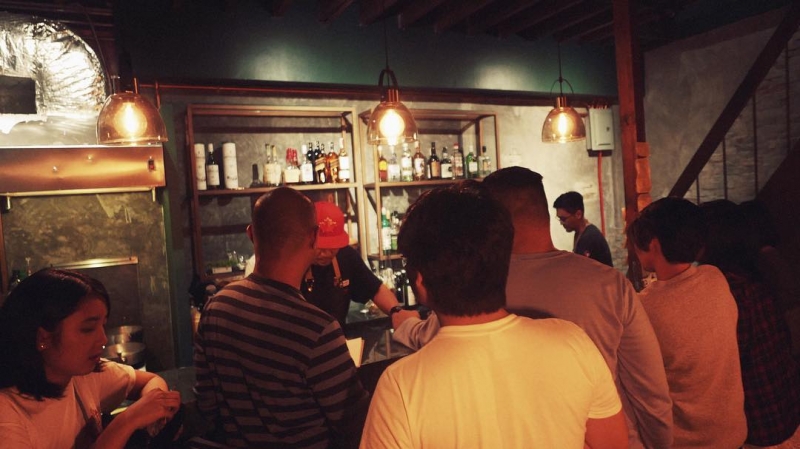 While this quiet speakeasy is perfect for intimate get-togethers, Int. also hosts mixology classes and fun quiz nights you'll want to join with your barkada. They've been known to quiz guests on Harry Potter, Marvel, and Lord of the Rings trivia — sounds like the perfect picture of nightlife in Manila to us!
Address: Cubao Expo, 3 General Romulo Ave, Cubao, Quezon City, 1109 Metro Manila
Hours: Tuesday to Sunday, 5pm to 1am
Contract: Facebook page
2. Prima Facie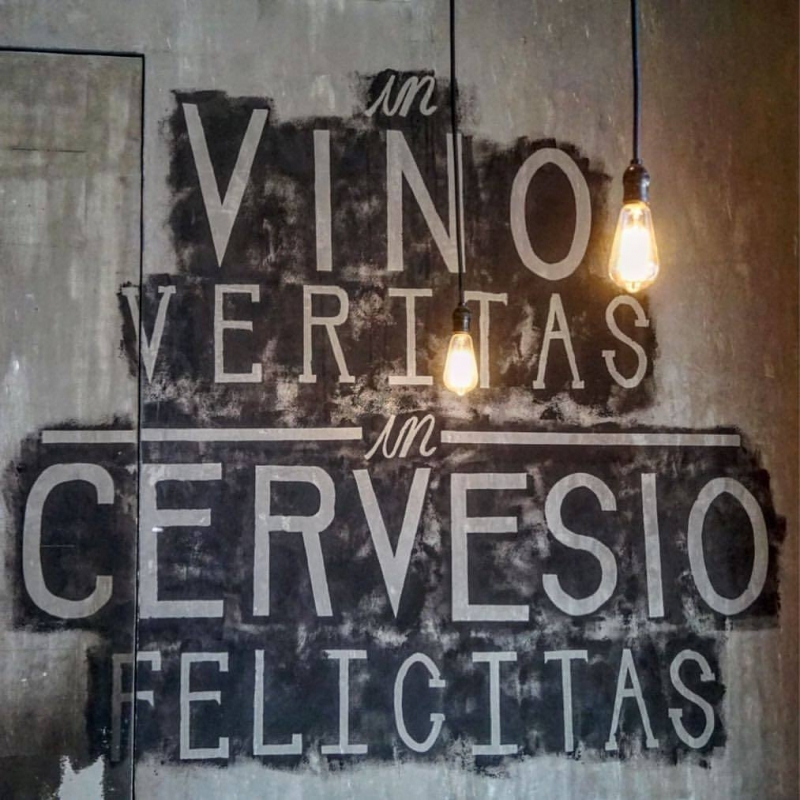 Come here for: A wide selection of drinks, delicious bar chow, and Instagrammable interiors
Whoever said Quezon City doesn't have enough cool bars just wasn't looking hard enough! On the contrary, it's actually home to some of the best places to experience nightlife in Manila. Prima Facie is a bar hidden inside a bar — Vitto's Wine Bar & Restaurant, to be exact. Just push past the wall mural at Vitto's (yes, like those trap doors in mystery films!) to get to this charming speakeasy that exudes old-world charm.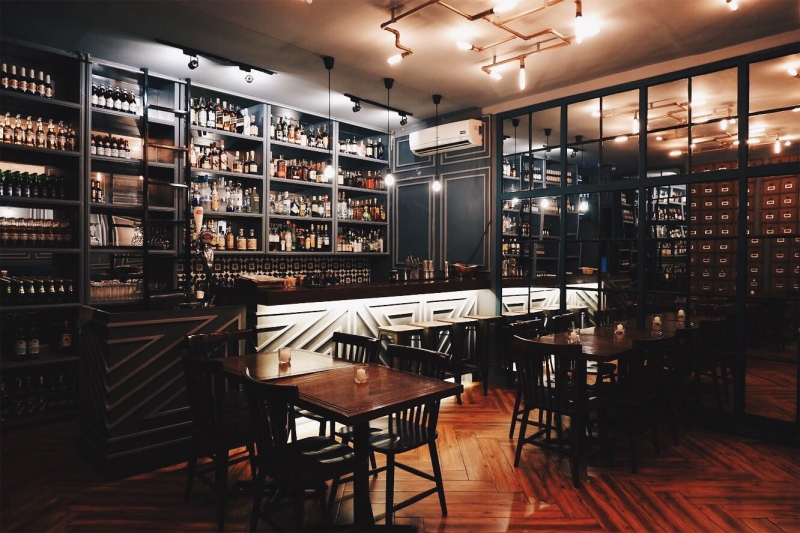 With its laid-back ambience, Prima Facie is one of those places where you'll want to unwind after a day's work or enjoy drinks over candlelight with your significant other.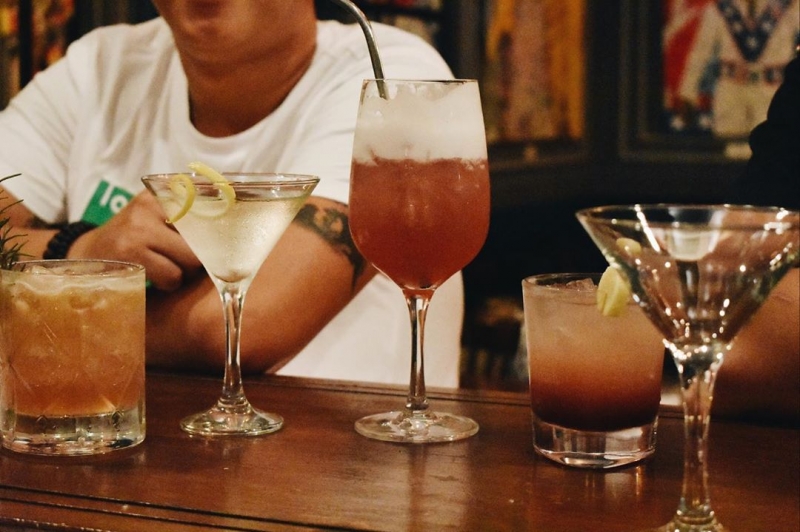 Its extensive menu boasts classic and signature cocktails, whiskies, beers, and even more liqueur options. And as if that wasn't enough, they have a generous selection of bar chow, from cheese sticks and parmesan truffle fries to sisig and calamares!
Address: 114 Scout Lozano St., Quezon City, Metro Manila
Hours: Monday to Thursday, 6pm to 1am; Friday to Sunday, 6pm to 2am
Contact: Facebook page
3. Run Rabbit Run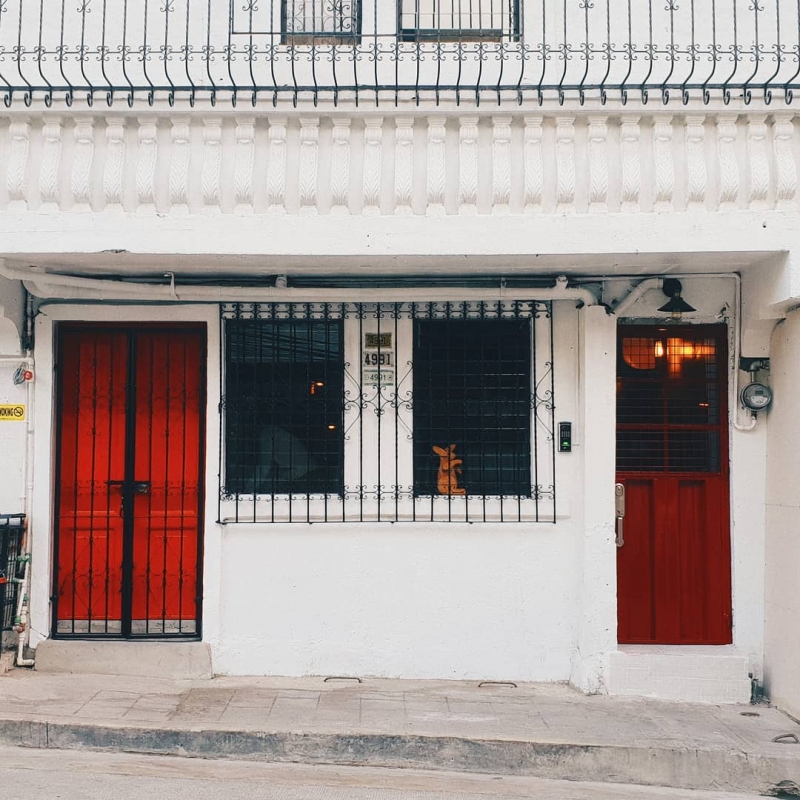 Come here for: Cool art, good music, and even better cocktails
Just when we thought we'd been to (or at least heard of) every bar in Poblacion, we discovered that Run Rabbit Run has been hiding behind the red doors of this residential home all along. Run by a group of passionate individuals, this speakeasy serves amazingly crafted cocktails that look every bit as good as they taste. And if you love a good G&T, they also have a wide selection of gin and tonics to choose from!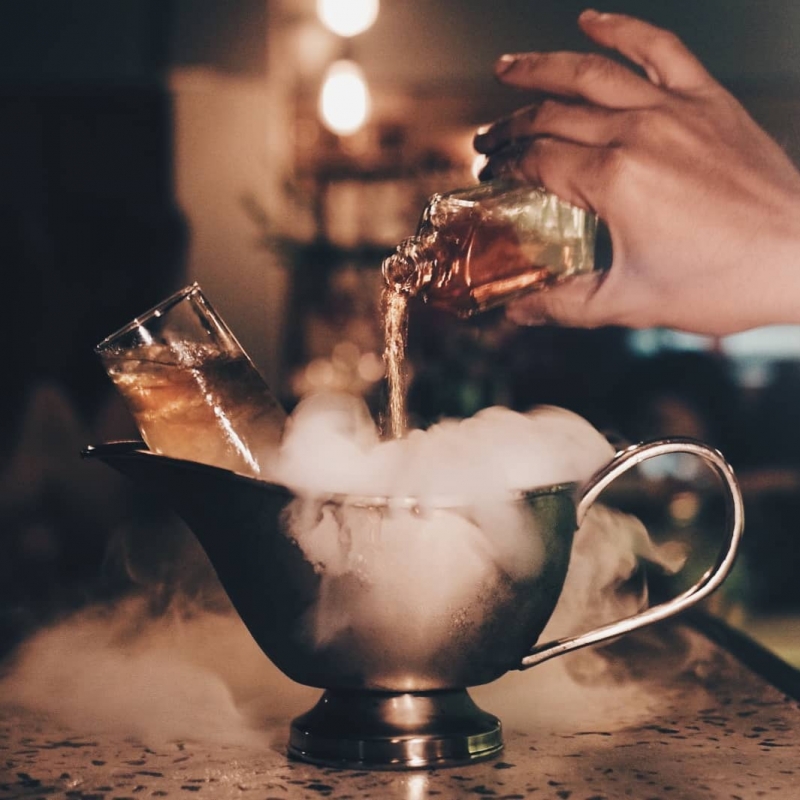 Run Rabbit Run's exotic take on cocktails, however, is not the only thing that keeps their customers coming back for more. They're also known for their excellent music selection, curated by their very own team. Plus, the art they have on display, created by both established and up-and-coming artists!
Address: 4991 P. Guanzon Street, Makati, 1012 Metro Manila
Hours: Tuesday to Wednesday, 6pm to 1am; Thursday to Saturday, 6pm to 3am
Contact: Website
4. Elbert's Upstairs Bar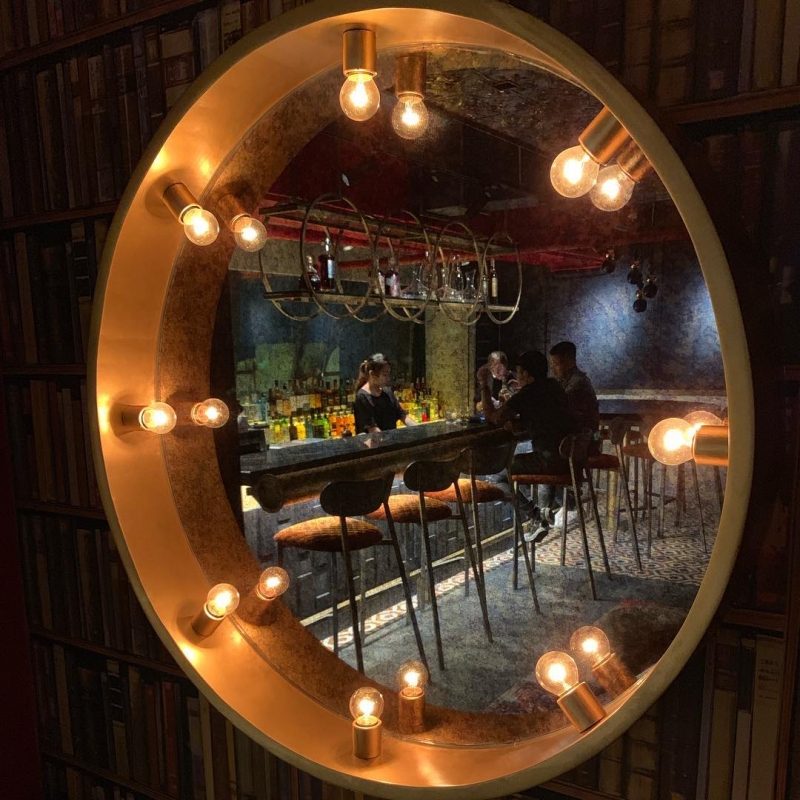 Come here for: Cocktails, charcuterie, and cheese
Who knew that so many restaurants were hiding some of Manila's best-kept secrets? While enjoying your go-to bowl of ramen at Mendokoro, you probably wouldn't suspect that a speakeasy bar was sitting just a few feet above you.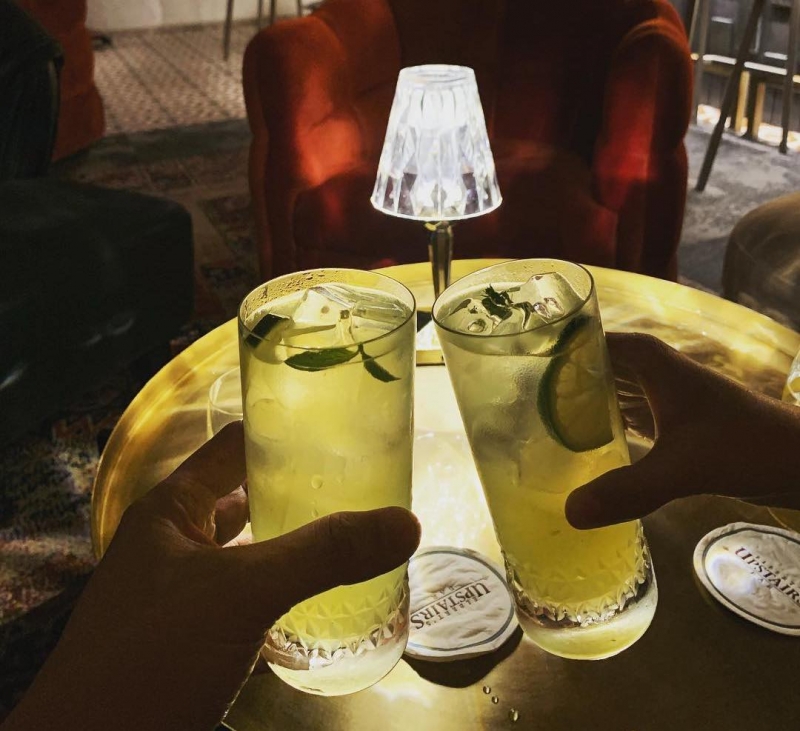 With its elegant ambience and stylish interiors, Elbert's Upstairs Bar is the chic living room of our dreams come to life. At this speakeasy, enjoy intimate get-togethers over cocktails, whisky, or gin. Pair your drink of choice with cheese and charcuterie platters, and you're in for a perfectly quiet night out.
Address: Icon Plaza 26th Street, cor Federacion Dr, Taguig, 1630 Metro Manila
Hours: Sunday to Thursday, 5pm to 1am; Friday to Saturday, 6pm to 2am
Contact: Facebook page
5. Hotel Bar at Pink's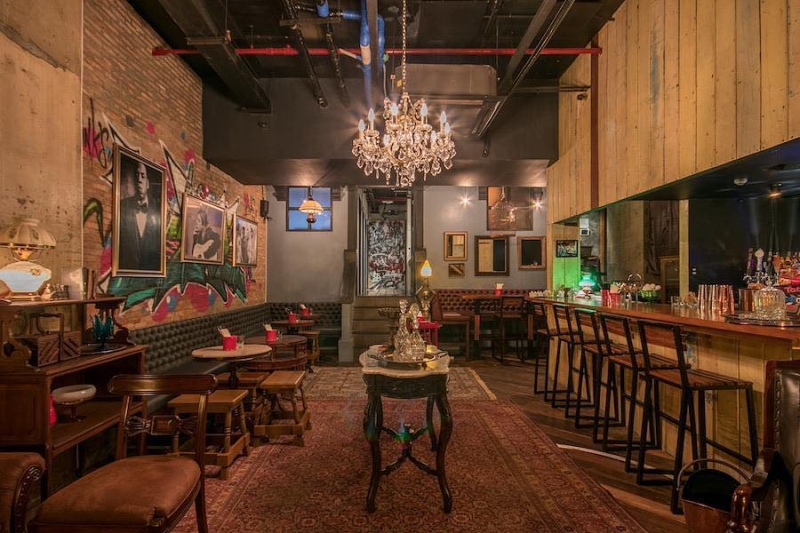 Come here for: Hotdogs, cocktails to your liking, and feel-good beats
Hotel Bar has been hidden inside Pink's Hotdogs for years, but you'll notice there hasn't been too much online buzz about it. Without any pressure to aggressively put their name out there, word of mouth has been more than enough to get them a good following — which just goes to show that it's one of the places to experience the best of nightlife in Manila.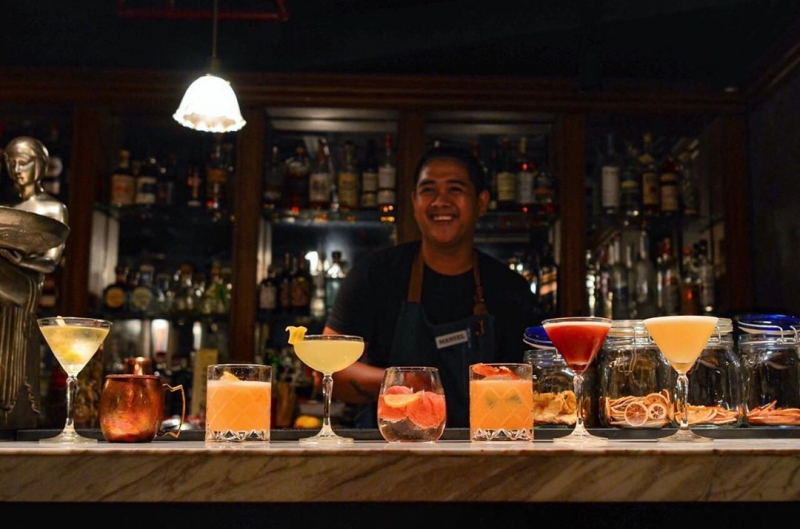 Our favourite thing about Hotel Bar? It aims to be all-inclusive, and not at all intimidating. Its interiors are utterly stylish, yet very welcoming. They don't veer away from playing familiar beats, either — as opposed to some places that play tunes you sometimes have to struggle to recognise (or enjoy)!
Plus, we love that they serve classic cocktails, and are more than happy to custom-create a drink that fits your liking. We recommend the calamansi mojito — sweet and with a hint of ice cream, it'll easily be one of your faves!
Address: Ground Floor, Shangri-La at the Fort, 5th Ave., Taguig, 1634 Metro Manila
Hours: Sunday to Thursday, 5pm to 2am; Friday to Saturday, 5pm to 3am
Contact: Facebook page
Catch live music at these chill bars
6. 78-45-33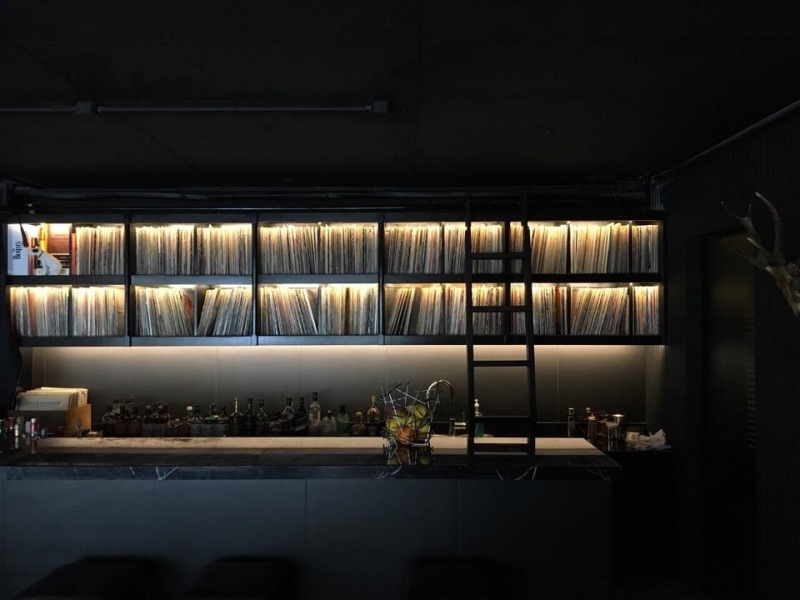 Come here for: Conversations, cocktails, and classic jazz music
By now, almost everyone has heard of 78-53-86, White Plains' low-key jazz and whisky bar with almost 10,000 vinyl records on display. Tucked away in Salcedo Village, you'll find 78-45-33, its sleek Makati counterpart. Decorated like a bachelor's pad from the '70s, this neighbourhood speakeasy is designed for conversations over classic cocktails and good music.
At 78-45-33, you'll hardly ever find more than 15 people there at one time — and that's just how they like it. The goal at this speakeasy is for everyone to hear and appreciate great quality music, after all! (Read: This is where introverts will want to experience nightlife in Manila.)
Address: LPL Mansion, San Agustin St., Salcedo Village, Makati, 1227 Metro Manila
Hours: Monday to Sunday, 4pm to 1am
Contact: Facebook page
7. Futur:st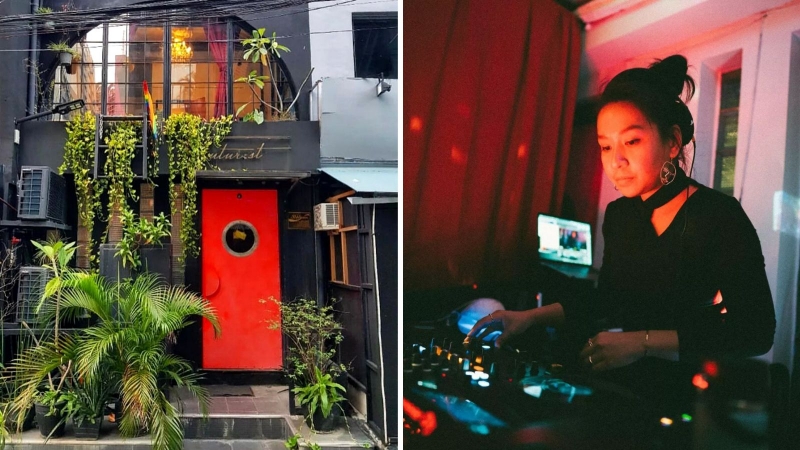 Come here for: Live DJ sets, cocktails, and Asian fusion bar chows

For your Friday night escapades, step into the vibrant enclave of Futur:st in Poblacion. This resto-bar and art gallery is the second outpost of Cubao's best-loved Today x Future, where folks can get a taste of the local art scene. Decked out in quirky furniture and knick-knacks, its space serves as a chill spot in the neighbourhood for dining, drinking, and dancing. 
Address: 5062 Guerrero, Makati, Metro Manila
Hours: Wednesday to Saturday, 2pm to 2am
Contact: Facebook and Instagram pages
8. Jess & Pat's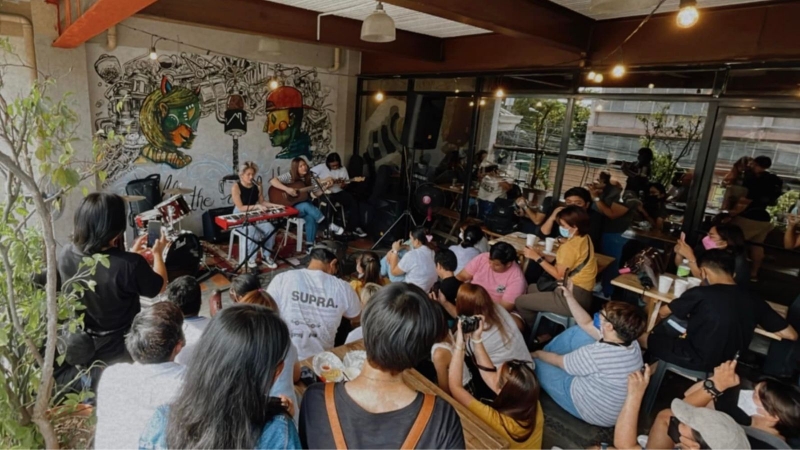 Come here for: Local musical acts, comfort food, and a relaxed atmosphere

Often frequented for its lineup of local bands and artists, Jess & Pat's makes for the perfect laidback hangout spot in Quezon City. Here, you can indulge in your favourite comfort eats like burgers, chicken wings, and pasta, while vibing to great music. For refreshments, take your pick among coolers, mocktails, and coffee if you're not feeling too famished. 
Address: 2/F 63 Maginhawa Street, UP Village 1101 Quezon City
Hours: Thrusday, 1.30pm to 10pm; Friday to Saturday, 4pm to 10pm; Sunday, 2pm to 10pm
Contact: Facebook and Instagram
9. Single Origin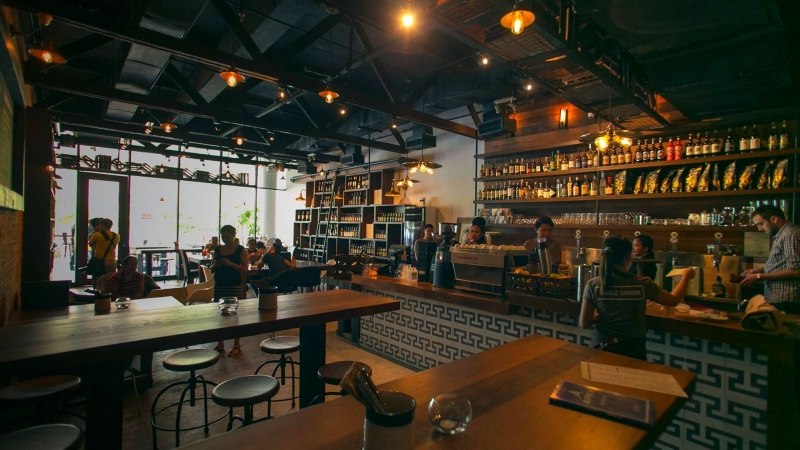 Come here for: Jazz nights, handcrafted cocktails, and speciality coffee
With multiple branches spread out across the metro, we don't doubt you've heard of Single Origin. Best-loved for their speciality coffee creations and mouthwatering Italian-inspired fare, this roaster and resto is more than just your go-to spot for brunch. By sundown, its BGC branch transforms into a jazz bar for evening cocktails and conversations. Chance upon their live music events for a sophisticated yet relaxed evening out! 
Address: C3, Bonifacio Highstreet, 7th Ave, Taguig, 1634 Metro Manila
Hours: Monday to Sunday, 7am to 12am
Contact: Facebook
10. OTO
Come here for: Killer music, bespoke cocktails, and mouthwatering Japanese fare

Tucked away in one of the quieter streets of the Makati CBD is listening room and cocktail bar OTO. This evening lounge boasts a floor-to-ceiling vinyl collection, modern furniture, and an incredible sound system which make for the perfect environment for enjoying music.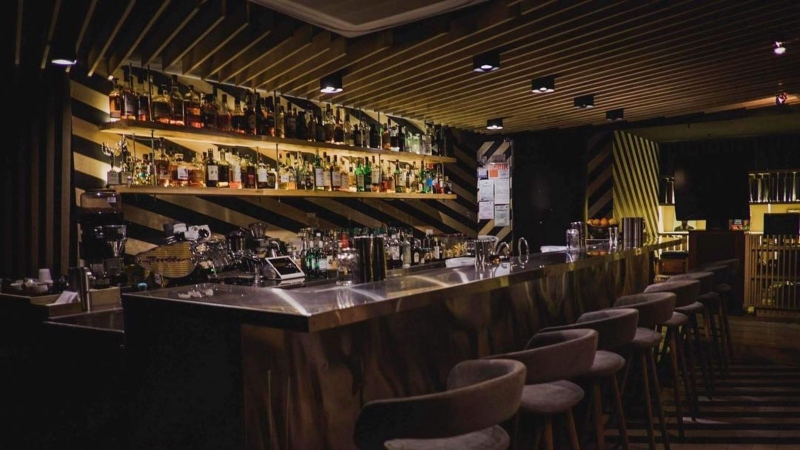 Food-wise, OTO's menu comprises delectable Japanese bar chows, which pair well with their collection of bespoke cocktails and whiskeys. Behind the bar are skilled mixologists who are ready to serve you signature, classic, and modern mixed drinks handcrafted to perfection. Now, this is truly a hot spot for audiophiles and night owls! 
Address: 5880 1210, 5880 Enriquez, Makati, Metro Manila

Hours: Tuesday to Satuday, 11am to 2am

Contact: Facebook and Instagram pages
Also read: 15 Instagram-Worthy Cafes in Metro Manila
Just when you thought you were ready to spend your weekends at home, these speakeasies reminded you of just how exciting nightlife in Manila can truly be!