Nightlife in Manila is certainly exciting — new clubs and bars still continue to open left and right. But still, there's nothing like discovering a new speakeasy. It always feels like being in on a really good secret, don't you think? While there's no longer any real reason for these bars to be hiding (the Prohibition has long been over, after all) — we can't help but enjoy playing a little hide and seek with them.
Also read: Asian Cities with the Most Fabulous Nightlife
Many of us have spent weekend after weekend checking out Manila's not-so-secret bars in Makati and Bonifacio Global City. ABV, The Blind Pig, Bank Bar, and Ocean's Telephone Co. are just few of them. But just when we thought we'd seen them all, we discovered that many speakeasies are still lying under the radar:
1. Int.Bar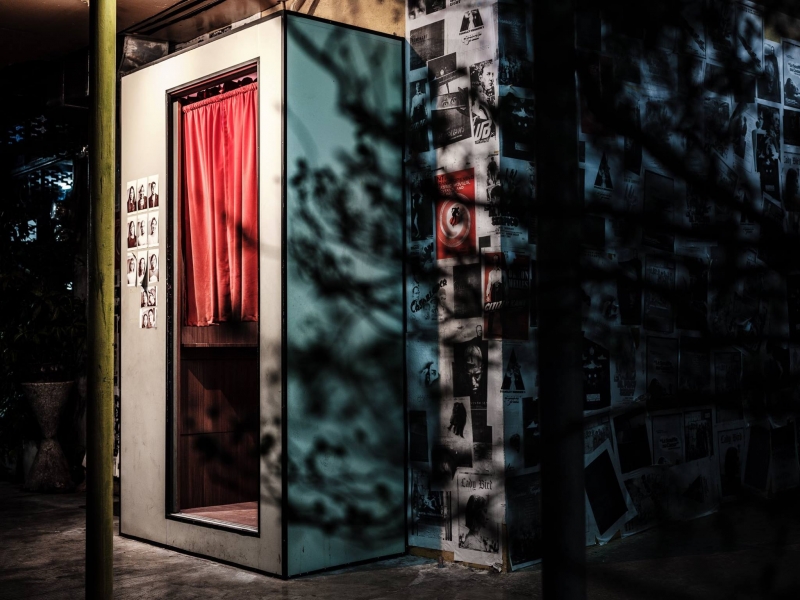 Come here for: Vintage photos, quiz nights, and cocktails named for classic works
Cubao Expo is one of Quezon City's underrated gems — but its niche market is more than enough to keep it alive and kicking. A vintage-inspired speakeasy, Int.Bar fits perfectly with the overall vibe at Cubao Expo — a go-to for cool and quirky finds, live music, and fun food trips. Find this secret bar hiding behind a fully-functioning photo booth (they even post the photos on their Facebook page!), and treat yourself to their signature cocktails, aptly named for classic films, literature, and music.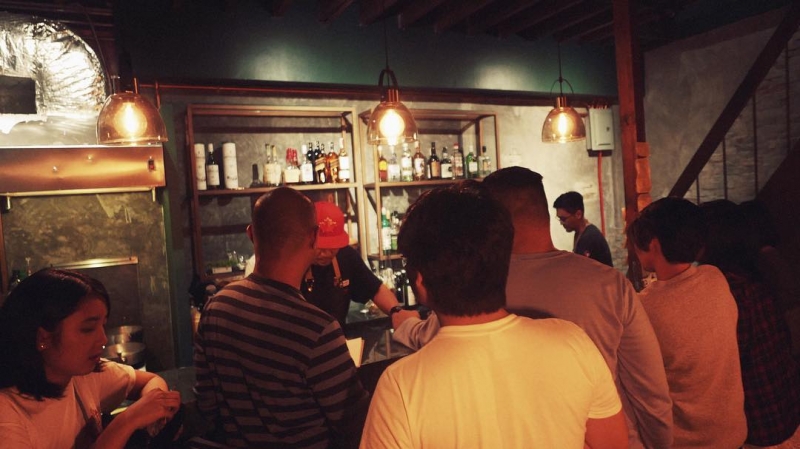 While this quiet speakeasy is perfect for intimate get-togethers, Int. also hosts mixology classes and fun quiz nights you'll want to join with your barkada. Just this year, they quizzed guests on Harry Potter, Marvel, and Lord of the Rings trivia!
Address: Cubao Expo, 3 General Romulo Ave, Cubao, Quezon City, 1109 Metro Manila
2. Lan Kwai & Hong Kong Cuisine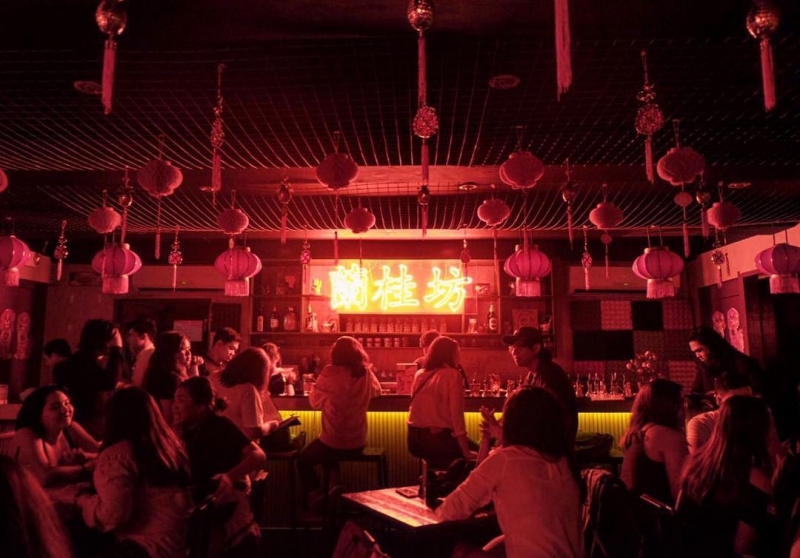 Come here for: Bang-for-your-buck cocktails, fun neon signs, and Hong Kong bar bites
Lan Kwai may seem like your regular Chinese restaurant from the outside, but it's highly unlikely that you'd walk right by it without noticing. It's pretty hard to miss — just look for the unsuspecting building that people seem to be milling in and out of almost every night in Katipunan. As you enter, find yourself transported into Hong Kong's popular nightlife scene — minus the unreasonably priced drinks!
A favourite for its Instagram-worthy neon signs and wallet-friendly cocktails, this speakeasy tends to get crowded really quickly — so try to come by early! Their fishbowl cocktails are great for sharing, perfect for a fun night out with the barkada. Enjoy them with your pick of Hong Kong-inspired bar bites!
Address: 42 Esteban Abada St, Quezon City, 1108 Metro Manila
3. Prima Facie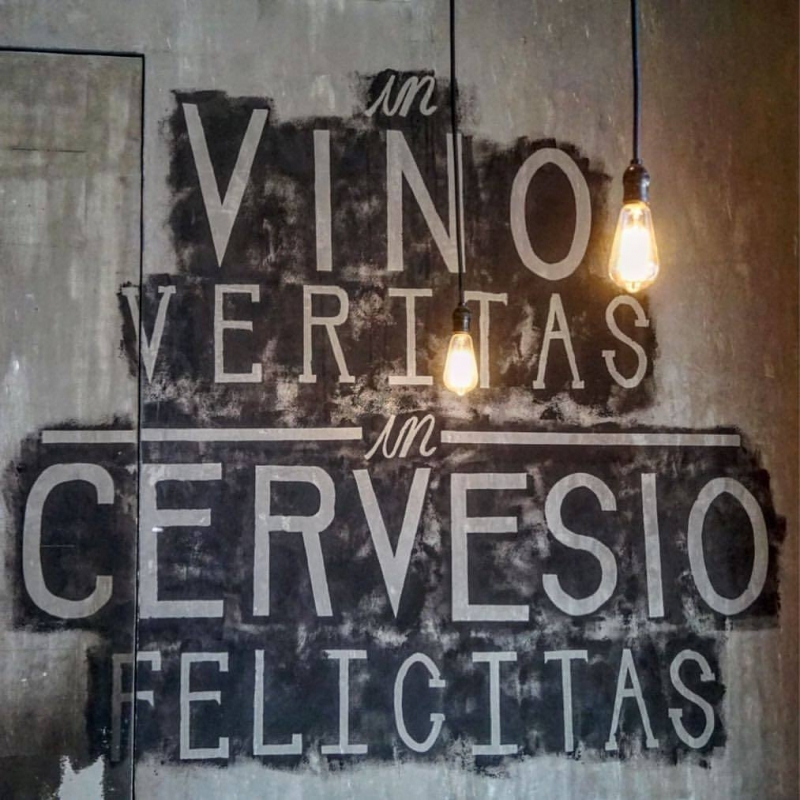 Come here for: A wide selection of drinks, mouthwatering bar chow, and the cosy ambience
Whoever said Quezon City doesn't have enough cool bars just wasn't looking hard enough! Prima Facie is a bar hidden inside a bar — Vitto's Wine Bar & Restaurant, to be exact. Just push past the wall mural at Vitto's (yes, like those trap doors in mystery films!) to get to this charming speakeasy that exudes Old-World charm.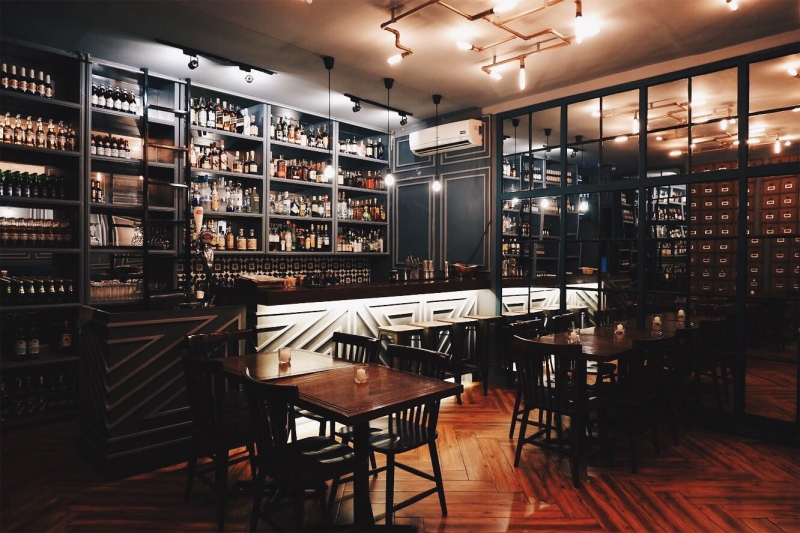 With its laid-back ambience, Prima Facie is one of those places where you'll want to unwind after a day's work, or enjoy drinks over candlelight with your significant other. Its extensive menu boasts of classic and signature cocktails, whiskies, beers, and even more liqueur options. And as if that wasn't enough, they have a generous selection of mouthwatering bar chow, from cheese sticks and parmesan truffle fries to sisig and calamares!
Address: 114 Scout Lozano St., Quezon City, Metro Manila
4. Unit-6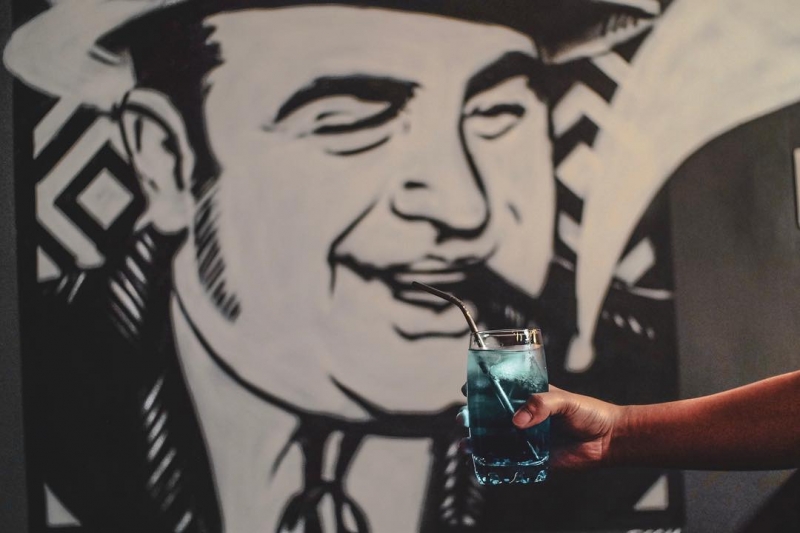 Come here for: BOGO Tuesdays and Thursdays, sneaky cocktails, and Pinoy pica-pica
Unit-6 is one of the newest additions to Manila's nightlife scene, making this one of the metro's more under-the-radar speakeasies. Look for the vending machine close to a cafe called Tipsy Beans, and pull on the steel bar — it's actually the doorway to this industrial-themed secret bar.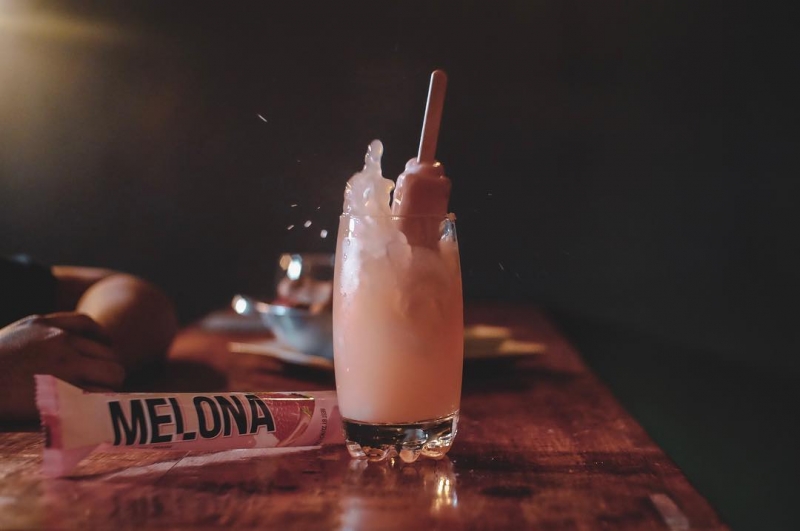 This speakeasy is undeniably cool, and its cosy ambience and creative menu speak for themselves. With cocktails like their Adios (a mix of gin, rum, tequila, and vodka) and Melona vodka (a sweet yet sneaky pick), and their street food platter and adobo nachos, Unit-6 is easily your new favourite hangout. We'll see you there on Tuesdays and Thursdays for buy-one-get-one cocktails!
Address: 2nd Floor, 50 Domingo M. Guevarra, Mandaluyong, 1550 Metro Manila
5. Three Little Pigs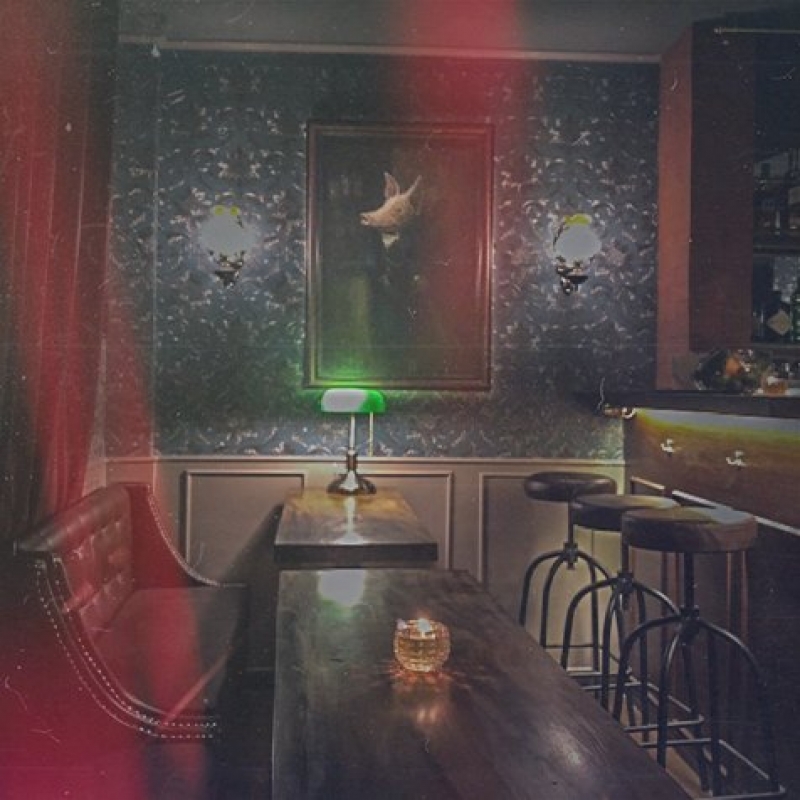 Come here for: Classy interiors, a fun and quirky theme, and a wallet-friendly menu
When you discover that this speakeasy sits above Sisig Society, you'll find it makes perfect sense that it's called Three Little Pigs. At the restaurant's second floor, an unassuming white brick wall doubles as an entryway to a secret staircase leading up to  this bar. When you first see its classy interiors, you'll feel transported to another era — and perhaps expect that their menu items are on the pricey side.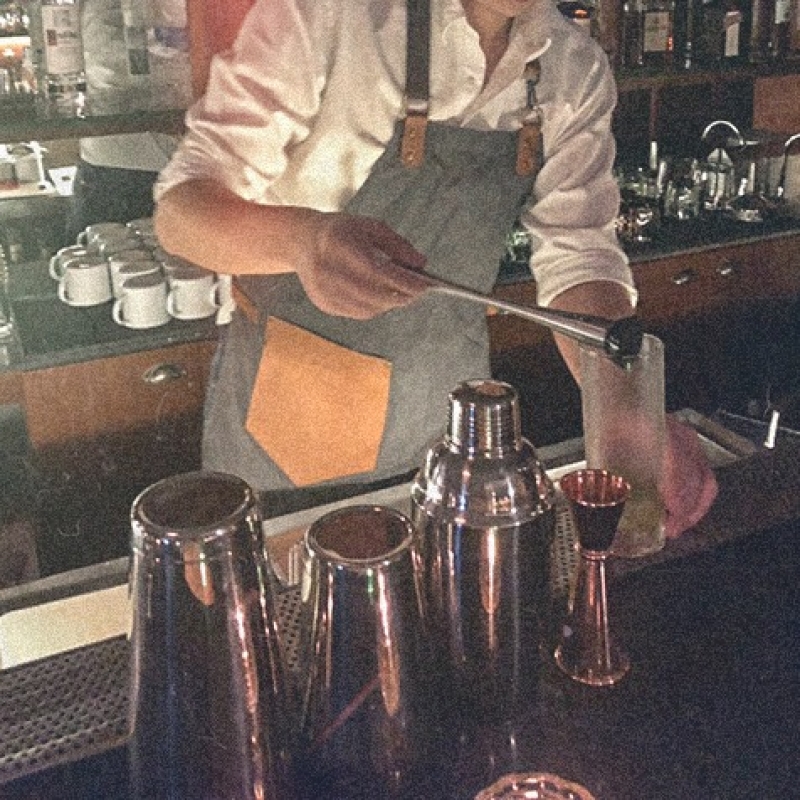 But here's why Three Little Pigs is one of those speakeasy joints you'll want to keep coming back to — to add to its cool vibe and quirky yet charming theme, its menu is surprisingly more wallet-friendly than you'd expect. Their classic cocktails are expertly made, and they're best paired with their (pork-free! — because pigs are held sacred here) pica-pica.  
Address: 12 E Capitol Dr, Pasig, 1600 Metro Manila
6. Run Rabbit Run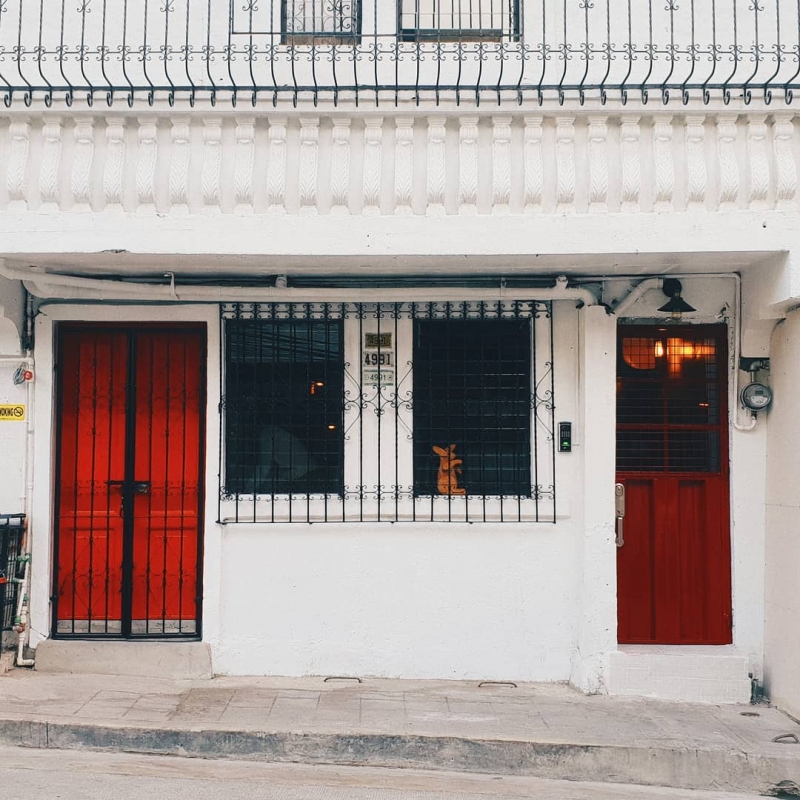 Come here for: Cool art, good music, and even better cocktails
Just when we thought we'd been to or at least heard of every bar in Poblacion, we discovered that Run Rabbit Run has been hiding behind the red doors of this residential home. Run by a group of passionate individuals, this speakeasy serves amazingly crafted cocktails that look every bit as good as they taste. And if you love a good G&T, they also have a wide selection of gin and tonics to choose from!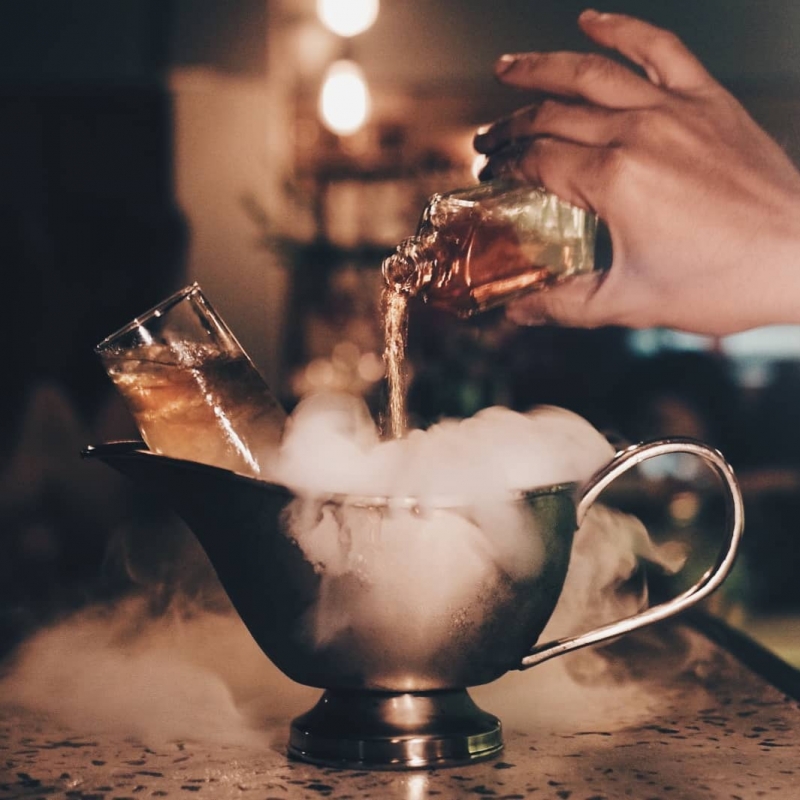 Run Rabbit Run's exotic take on cocktails, however, is not the only thing that keeps their customers coming back for more. They're also known for their excellent music selection, curated by their very own team. Plus, the art they have on display, created by both established and up-and-coming artists!
Address: 4991 P. Guanzon Street, Makati, 1012 Metro Manila
7. 78-45-33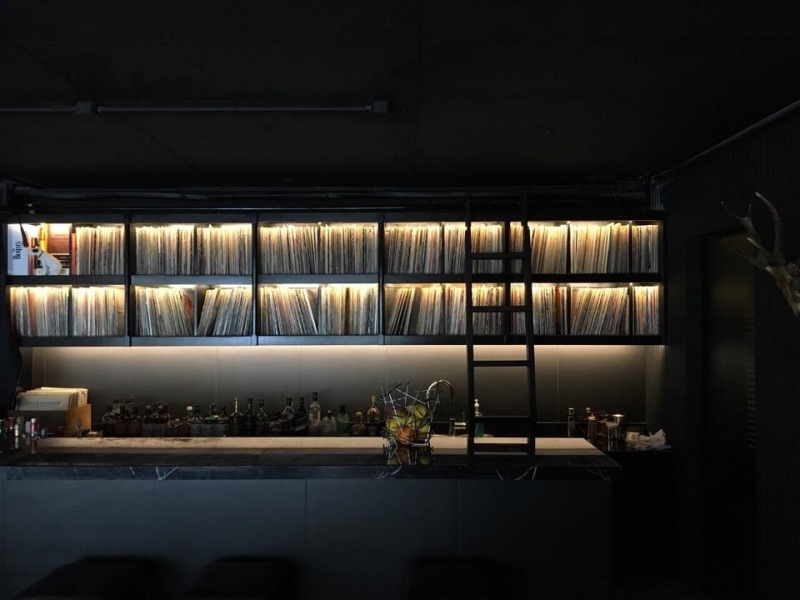 Come here for: Conversations, cocktails, and classic jazz music
By now, almost everyone has heard of 78-53-86, White Plains' low-key jazz and whisky bar with almost 10,000 vinyl records on display. Tucked away in Salcedo Village, you'll find 78-45-33, its sleek Makati counterpart. Decorated like a bachelor's pad from the '70s, this neighbourhood speakeasy is designed for conversations over classic cocktails and good music.
At 78-45-33, you'll hardly ever find more than 15 people there at one time — and that's just how they like it. The goal at this speakeasy is for everyone to hear and appreciate great quality music, after all!
Address: LPL Mansion, San Agustin St., Salcedo Village, Makati, 1227 Metro Manila
8. Elbert's Upstairs Bar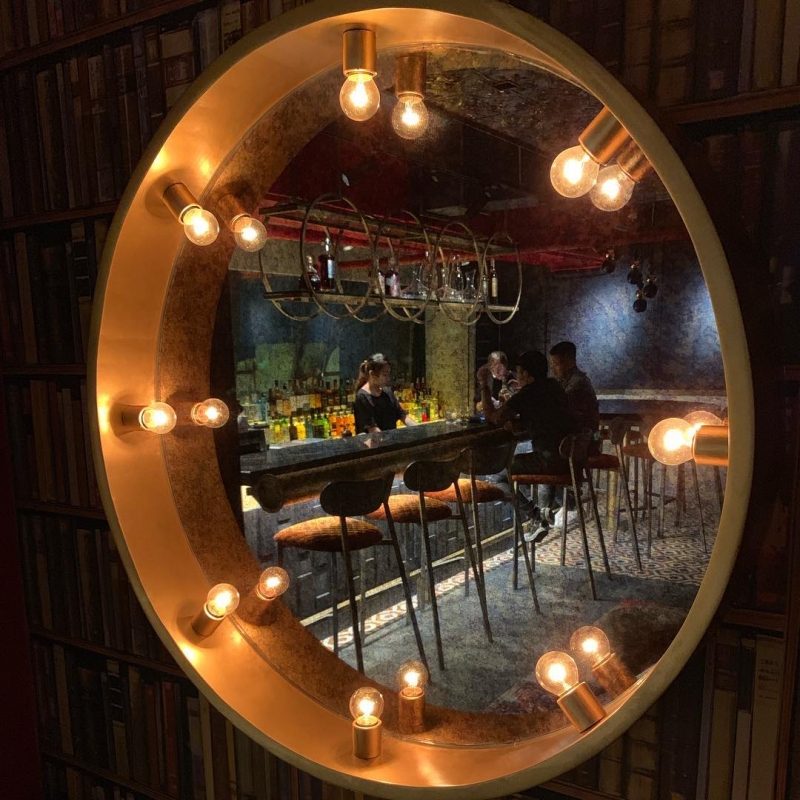 Come here for: Cocktails, charcuterie, and cheese
Who knew that so many restaurants were keeping some of Manila's best-kept secrets? While enjoying your go-to bowl of ramen at Mendokoro, you probably wouldn't suspect that a speakeasy bar was sitting just a few feet above you.
With its elegant ambience and stylish interiors, Elbert's Upstairs Bar is the chic living room of our dreams come to life. At this speakeasy, enjoy intimate get-togethers over cocktails, whisky, or gin. Pair your drink of choice with cheese and charcuterie platters, and you're in for a perfectly quiet night out.
Address: Icon Plaza 26th Street, cor Federacion Dr, Taguig, 1630 Metro Manila
9. Nomu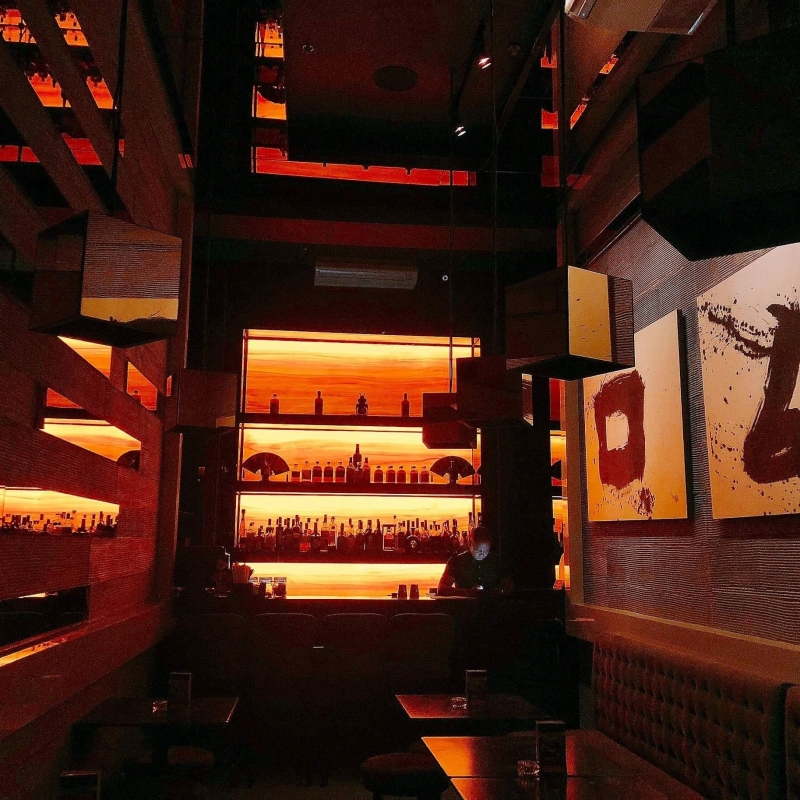 Come here for: A generous lineup of whisky, fruity cocktails, and Japanese bites
It's pretty surprising that a Japanese whisky bar with dim, moody lighting can be found within the confines of Nomi Matcha. Walk past the restrooms at the bright and cheerful cafe, and you'll find the entry to Nomu — an unlabelled door, simply adorned with a Japanese fan.
This speakeasy is one of those spots for more intimate gatherings. It's the kind where you can have a proper conversation, instead of having to shout over loud music. True to its theme, Nomu offers a selection of authentic Japanese whisky. But its sweeter menu items are worth trying, too — the matcha amaretto sour, in particular! To complete your experience, enjoy your drinks with seared salmon, or sticks of yakitori!
Address: 7th Avenue corner 31st Street, Taguig, Metro Manila
10. Hotel Bar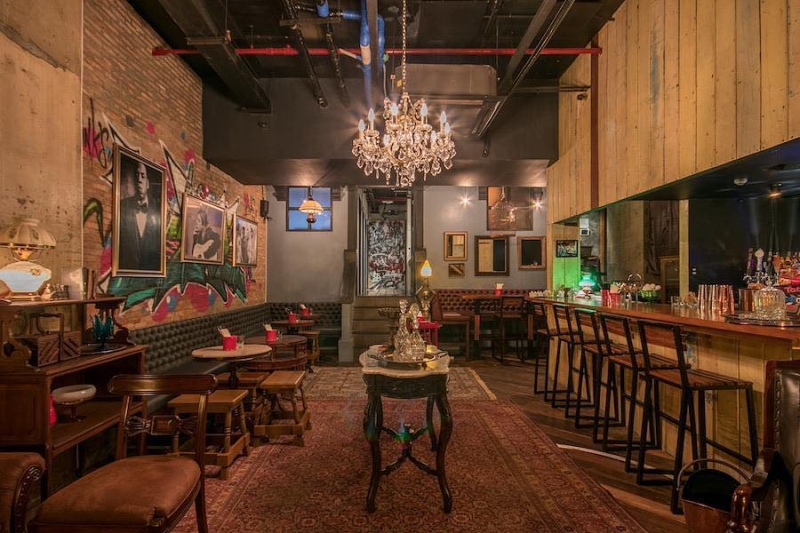 Come here for: Hotdogs, cocktails to your liking, and feel-good beats
Hotel Bar has been hidden inside Pink's Hotdogs for years, but you'll notice there hasn't been too much online buzz about it. Without any pressure to aggressively put their name out there, word of mouth has been more than enough to get them a good following — and that's something we find very attractive about this speakeasy.
Our favourite thing about Hotel Bar? Its aim to be all-inclusive, and not at all intimidating. Its interiors are utterly stylish, yet very welcoming. They don't veer away from playing familiar beats instead of tunes you sometimes have to struggle to recognise (or enjoy). They serve classic cocktails, and are more than happy to custom-create a drink that fits your liking. It's a cool, casual joint, perfect for unwinding after work, or on weekends!
Address: Ground Floor, Shangri-la at the Fort, 5th Ave., Taguig, 1634 Metro Manila
Also read: 15 Instagram-Worthy Cafes in Metro Manila
Just when you thought you were ready to spend your weekends at home, these speakeasies reminded you of just how exciting nightlife in Manila can truly be!