Dear Department of Foreign Affairs,
Must we all know suffering before reaching nirvana?
Okay, that might have been a tad melodramatic — but really, DFA, don't you agree that Filipinos also deserve nice things? Like… say, passport processing that's speedy and convenient?
Although I would want to point out other things that other government offices could improve, recently renewing my passport has pushed me to cast a spotlight on this matter: Why is passport processing so troublesome for the average Filipino?
My first passport processing experience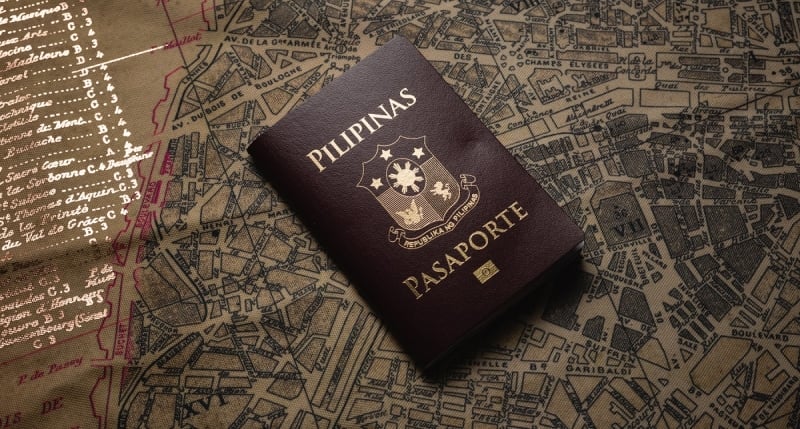 Lest I be accused of making a hasty generalisation, I'll admit that the first time I applied for a passport wasn't bad at all. But that was in 2014, and it was one of those "Passport on Wheels" partnerships with the media conglomerate I then worked for. All I had to do was show up at the office (where lighting was AWESOME, but more on this later) and voila — hassle-free passport application! I received my passport on time, too.
Also read: I Saved Up to Travel Abroad For the First Time When I Was 25 & Here's What I Learned
Passport processing delays every year
The thing is, I know other Pinoys weren't lucky enough to have the same pleasant experience because passport delays were always in the news. In fact, try Googling "Philippine passport delay <insert year here>" and you're bound to come across some article or advisory online EVERY YEAR from 2011 to now. Which begs the question: WHY???
Passport processing in the current day
I think the best way to paint this picture is to recount how renewing my passport was for me last month. But let's start with some great improvements I heard from people who've visited DFA for passport processing earlier in 2018:
Passport processing — in malls and even in the main DFA office in Aseana — is speedy and can be done within an hour. I know someone who did it in 30 minutes. He even rejoiced on social media.

There are now MORE slots made available for those who would like to secure an appointment via the DFA online system, unlike in the past years, when you couldn't even get a schedule within the same month that you booked.

Passports arrive on time whether they're for pick-up or for delivery.
That's a far cry from 2011, when someone I also know had to wait THREE WHOLE MONTHS for their passport to be released by DFA. THREE MONTHS. Let that sink in.
My passport renewal experience
Also read: A Guide to Renewing Your Philippine Passport
Securing an appointment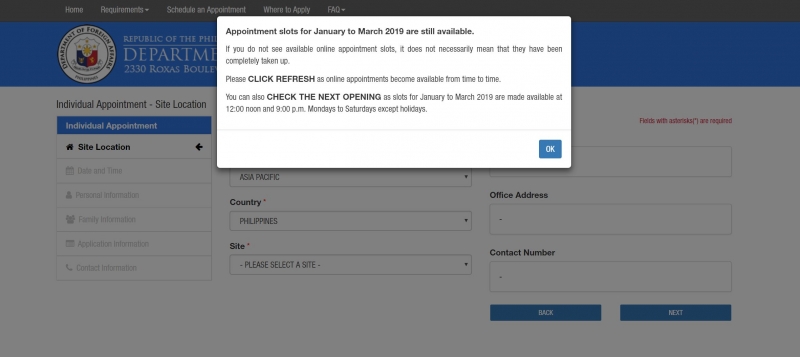 I just searched for an available slot in December 2018 and thankfully, I was able to secure one within the same month. Great, I thought. Some people kept on telling me I had to book with DFA at least three months before my intended date of appointment. They said available slots were like needles in a haystack, but not this time.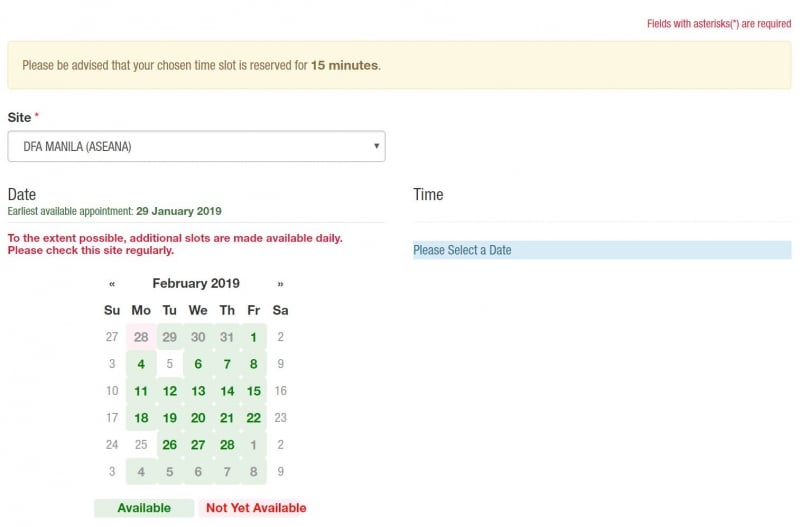 Paying for my slot was a breeze, too. I just went to the nearest 7-Eleven and paid through their bills payment machine. I received confirmation via e-mail promptly. To be honest, I was quite impressed. But you know what they say, good things don't last… or at least they don't come easily.
Visiting the DFA consular office during the day of my appointment
On the date of my appointment, I arrived early since DFA specifically asks applicants to be there at least 30 minutes before their timeslot. I was surprised to see lines for two dates: 26 Dec and 28 Dec (my appointment slot). Apparently, since the 26th was suddenly declared a holiday, it messed up appointment bookings and all DFA offices had to make up for lost time. Everyone who showed up for their appointment on 26 Dec was turned away. I think about the people who had to travel a long way to get to their cancelled appointment.
So you can imagine the crowd's (and the DFA employees') declining enthusiasm that day. I mean, nobody was expecting a pleasant time (WHICH IS SAD, REALLY), but none of us were prepared for this either.
On top of that, we all spent almost an hour stuck in our seats (no movement at all in line!) because apparently, the system froze(?) or computers at that particular DFA office suddenly encountered a glitch. I'm not even sure what happened and people were obviously starting to get restless. We didn't get an explanation. There was no apology. All we could hear was DFA employees running around behind the scenes asking, "Ano, okay na ba? Hindi pa rin? Gumagana na ba?"
All in all, I spent over three hours in DFA that day.
Waiting for my passport to be delivered
But still, I was glad that part was over. Now all I had to do was wait. My passport was scheduled to be released on 10 Jan 2018. But since I opted for the delivery service, I had to wait for an additional one to two working days. No biggie. And since they were using a reputable courier service, I thought, why not?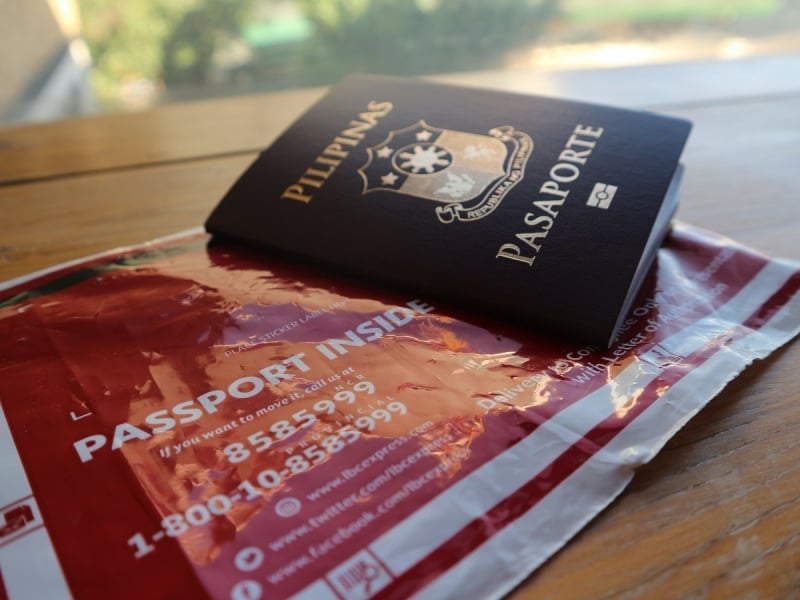 But suddenly I realised it was already 14 Jan and still, no passport. Did I mention I paid for express passport processing? And yet, when I would trace my passport through the courier's tracking feature, it would simply say that there were no delivery details available for my tracking number. Which means my passport wasn't even up for delivery yet.
DFA customer service
Now, anyone in my position would be worried, right? Where was my passport? I mean, there's this pizza company that promises to deliver on time or else your pizza is FREE. But I guess this isn't pizza. It's just a passport. (Can you feel my eyes rolling?)
While I understand, DFA, that you won't delay the release of anyone's passport on purpose, I still think we deserve an explanation. Or at least, my calls should have been answered. I called your main office, only to be given the number of the branch where I processed my renewal. I called several times, but no answer. I don't want to sound whiny, so here's a summary of the customer service I experienced post-renewal:
Calls were answered after a few tries but they only gave the number of the DFA branch where I applied for renewal because "e-passport appointments lang po ito, ma'am". The phone operator couldn't give me an update on passport releasing or point me in the right direction.
DFA branch or consular office

:

536 9994 (SM Manila)
NEVER ANSWERED PHONE CALLS. The phone was either busy or unavailable. I don't understand how this could happen. Were you dodging a lot of inquiries and complaints? Or perhaps it's the usual "We're undermanned" or "Everyone's busy, no one can take calls".
Yes, I resorted to Twitter and they're actually very accommodating! That was a pleasant surprise. But they didn't offer me an explanation, either. Which I understood. I'm sure the social media handlers try to cover everything, but they can't possibly answer every follow-up when they're also constantly working on official communications.
DFA delivery service hotline:

567 1111
VERY EFFICIENT. I must say, this was the only office that really helped. They patiently answered my questions and answered my calls EVERY TIME. They were the ones who told me that there was a delay in passport releasing, and that my passport hasn't been released for delivery yet. They also promised that the LBC tracking feature would be updated once LBC actually received my passport from DFA — and this was true! DFA released my passport 17 Jan and it was delivered to me by LBC the next day.
Final thoughts
To cut the story short, my passport was late by six working days (I didn't count the weekend in between those dates). It's a short wait compared to the passport horror stories I found online, and I find it alarming that I'm trying to make a one-week delay sound acceptable.
Some people never get updates on their passports for months. Some encounter problems with the courier and find themselves trapped in a game of "whose fault is it?"
So again, DFA, why does this happen? You've issued one statement after the other year in, year out: "we're trying our best to keep up with the demand for passport application"; "we're doubling our capacity to serve you"; "we're still adjusting because of the transition to the e-passport system". Obviously, there's a problem. And (Fortunately? Unfortunately?), it's your job to solve it.
Glitches and data concerns
Here's a question I've been itching to ask: What's up with system glitches? Isn't this a sign that we have to update our system? I bet you're going to tell us we can't afford to. Poor Filipinos.
And what about the safety of our data? Someone says a contractor ran off with our data, someone else says it's secure. Did you even care to officially explain this hullabaloo? And no, don't do it via Twitter, please.
Passport photos
And why can't we expect decent passport photos to this very day? It's 2019, for heaven's sake. Mobile phones take better photos! Heck, my UMID photo is okay and the only difference was better lighting. All you need is a decent camera and proper lighting and I assure you, DFA, we'll all look human in our passports.
My first passport photo is proof of this: The venue was well-lit, the camera was okay, my photo turned out great. My current passport photo is another story. It looked like it was taken in low light and was poorly edited in a botched up attempt to fix the image. The photo's digital file was briefly flashed onscreen after it was taken at DFA; it looked acceptable. I know DFA employees were swamped that day so I didn't even ask for a retake. I looked normal then, so why do I look crappy in my passport? Was it also a matter of bad printing? If that's the case then you have an even bigger problem. You should look for another contractor (again *sigh*).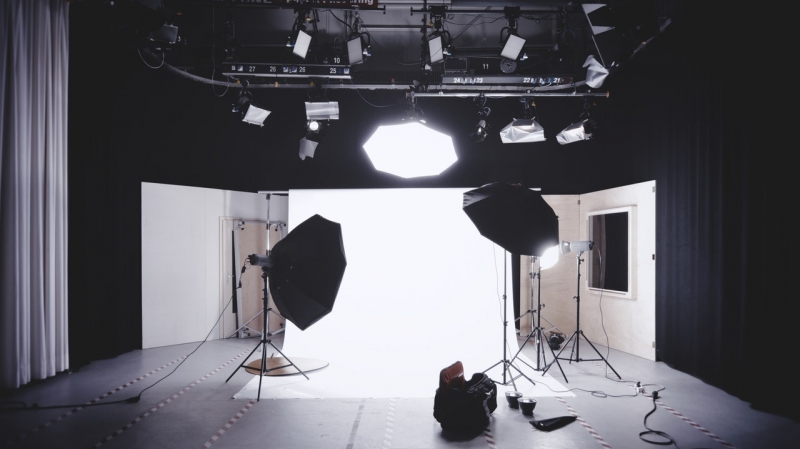 Before you say that I might've just looked off on that day, I assure you I didn't. I looked grey and bloodless in the photo, and I am certainly not in real life. Plus, a supportive friend told me I don't even #wakeuplikethat. She would know; we've gone on a trip together.
DFA, I'm sure you're familiar with the expression, "look good, feel good". Don't you think we'd be prouder to carry our passports around if we looked good in them, too? Kudos on the new design — we love it! But you really have to work on our photos. It's not a matter of conceit. We carry these damn documents around the world; of course, we want to look decent. Mostly, we want to look like ourselves. Is that too much to ask?
It's more fun in the Philippines
Really? Sometimes I start to doubt this catchy slogan. If this were true, wouldn't it be nice if Filipinos were primarily the ones to feel this? Don't get me wrong — I love my country. But add in the mix corrupt officials making the government inefficient, thick pollution that just gets worse every year, a general lack of discipline among citizens, among other things… then it doesn't seem so fun, does it? We can't even get proper IDs and documents without running into some glitches and delays. Where's the fun in that?
Out of the three improvements I previously stated (and wholeheartedly believed in), it turns out only one was true: that there were more slots available now than back then. Considering everything, we've really come a long way in terms of passport processing. But there's no denying it: There's A LOT of room for improvement. Don't you agree?
Also read: 8 Things You Should NEVER Do To Your Philippine Passport