Contributed by Faye de Jesus
It was the most "tita" and touristy thing to do in one of the most beautiful and romantic cities in the world. Going against the very hip and millennial DIY-style of travelling, I booked a private car to go around Paris and its suburbs last summer. I ended up paying a little bit more, but immensely enjoyed the city without the hassle and also learned so much from a fellow Filipino.
Also read: A Filipino Traveller's Dream Eurotrip: 9 Cities, 8 Countries in 17 Days
I met driver and tour guide Miko Capucao just outside my hotel building on a balmy morning in the capital city of France. I was standing at the entrance, planning to explore Paris on my own, just guided by my offline map and glossy brochures I absent-mindedly grabbed from the hotel lobby.
Meanwhile, he was there at the hotel to pick up his clients, a Filipino family of three, who had booked him way ahead of time for a day tour.
Pinoys naturally gravitate towards each other. One look was all it took. Well that, and a lot of begging on my part for them to "adopt" me for a day.
To make a long story short, I joined that day tour and got to see Paris and nearby places with Miko and a bunch of friendly kababayans.
Originally from Apalit, Pampanga, Miko has lived in Paris for 14 years with his wife and two children and is already five years into working as a tour guide in the city. "Alam ko ang pasikot-sikot dito", Miko said as he recalled how he used to drive for a diplomat working at the Philippine Embassy in France before driving for Uber then freelancing as a tour guide.
Our itinerary that day was packed, but the private car ride was extremely comfortable, convenient, safe and unhurried, and even peppered with funny and insightful conversations with fellow Filipinos to boot.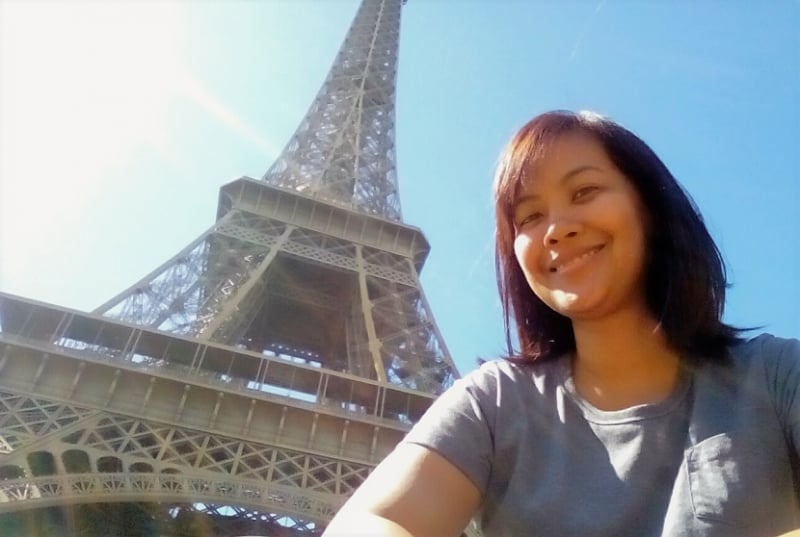 The evening before, I already had my taste of "adventure" (translation: got lost, chased trains, walked a long way) with a bunch of newfound friends. We rode the metro after a late dinner to see the Eiffel Tower dramatically lighting up the night sky. It took a lot of Amazing Race skills to finally get there, so believe me, that "chillax" tour with Miko was very much welcome.
Our tour took us from Moulin Rouge, which looked just as gaudy in the morning, to the basilica of Sacré-Coeur and the amazing views from up on the hill, to the artsy markets, cafés and crêperies of Montmartre. We then took our sweet time at the Chateau de Versailles (Palace of Versailles), that huge castle with the eye-popping golden gates, located almost 30 kms outside Paris. Even the tree-lined streets leading up to the Palace were a sight to behold and literally a welcome breath of fresh air from the crowded streets of Paris.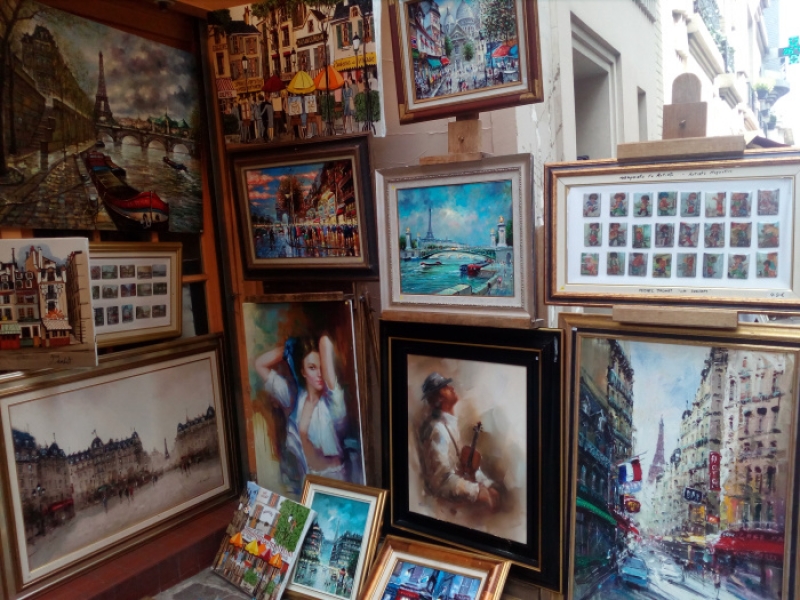 We also got to see the Academie Nationale de Musique (Palais Garnier opera house), the Grand Palais (where there was a Rodin centennial exhibition), the cannons, weapons and French military uniforms at the Musée de l'Armée (army museum), and the iconic Eiffel Tower, Champs Elysses, Arc de Triomphe and Notre Dame Cathedral.
It was surreal seeing and touching the padlocks at Pont des Arts (love locks bridge) but the arch bridge itself, with a view of the Seine river, was strikingly haunting in the fading sunlight.
We spent the rest of the day exploring the Louvre Museum's grounds and gardens. The museum itself was already closed when we got there.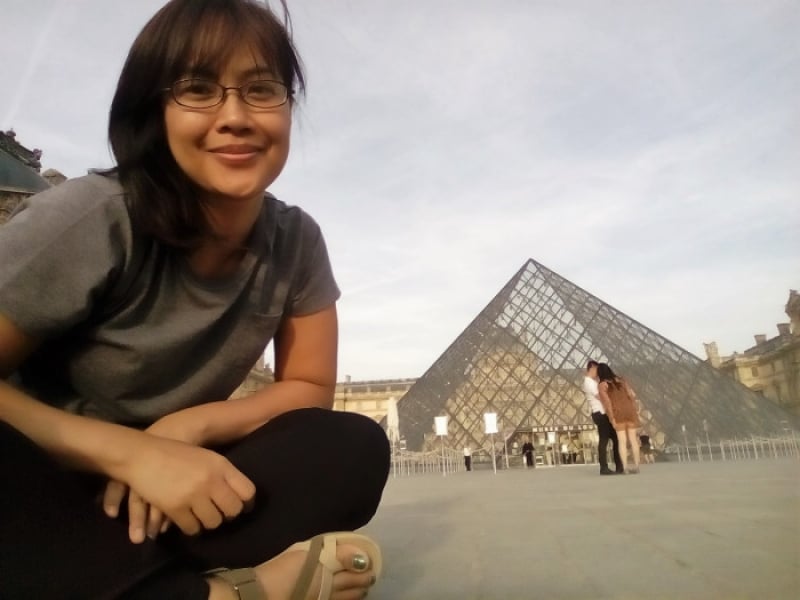 As the trip neared its end, I asked Miko if he enjoys his job and his life in France. He turned pensive, "Masarap manirahan sa France dahil dito ko talaga naranasan ang equal treatment ng gobyerno sa mga tao". He said the government-mandated benefits are top-notch and there's the perfect balance of work and play in the way of life of the locals that he has already imbibed.
And the best thing he likes about his job? He shared, "I earn money while enjoying travelling. Nakakarating ako sa mga iba't ibang mga lugar. I'm also learning a lot, kasi 'yung mga clients na nakakasama ko, mga matatalino. Mga Pinoy din sila based in the US, Canada, UK, but most of them are tourists from the Philippines".
Asked for recommendations for first-time travellers to French destinations, he excitedly went on about Mont Saint-Michel, Normandy, Bordeaux, Lourdes and the south of France. "Maingay na rin kasi at masyadong matrapik sa city. Yung Eiffel Tower, dadaan-daanan mo lang habang nandito ka. Ikaw pa magsasawa".
I told him I'd probably never get tired of seeing the Eiffel Tower that close. It was something I only used to dream of while looking at Parisian travel photos online. Given the chance, I'd gladly choose a French holiday any time – with its traffic, bustling people, noise and all, to momentarily escape the mayhem in Manila.
Also read: Here's What I Realised from Spending on a European Trip
Want to tour Paris or the French countryside on board a private car? You may contact Miko Capucao via Viber (0033644952945) or Facebook (Miko Transport). This is not a sponsored post. I paid for the tour services and didn't know the tour guide/driver prior to this trip.