Local brew, coffee artists, and even latte competitions — the Philippine Coffee Fiesta sounds like the perfect way to celebrate International Coffee Day to us! Happening from Thursday, 29 Sep to Sunday, 2 Oct, this four-day coffee extravaganza at Level 2 Unimart Capitol Commons is for every coffee addict looking for their next latte fix in the metro.
The Philippine Coffee Fiesta is a flagship event of the Philippine Coffee Guild, the country's biggest and most progressive coffee organization. With International Coffee Day taking place on 1 Oct, the fiesta kickstarts the caffeinated celebrations with a slew of activities designed to bring out the best of Philippine coffee.
What to expect at the Philippine Coffee Fiesta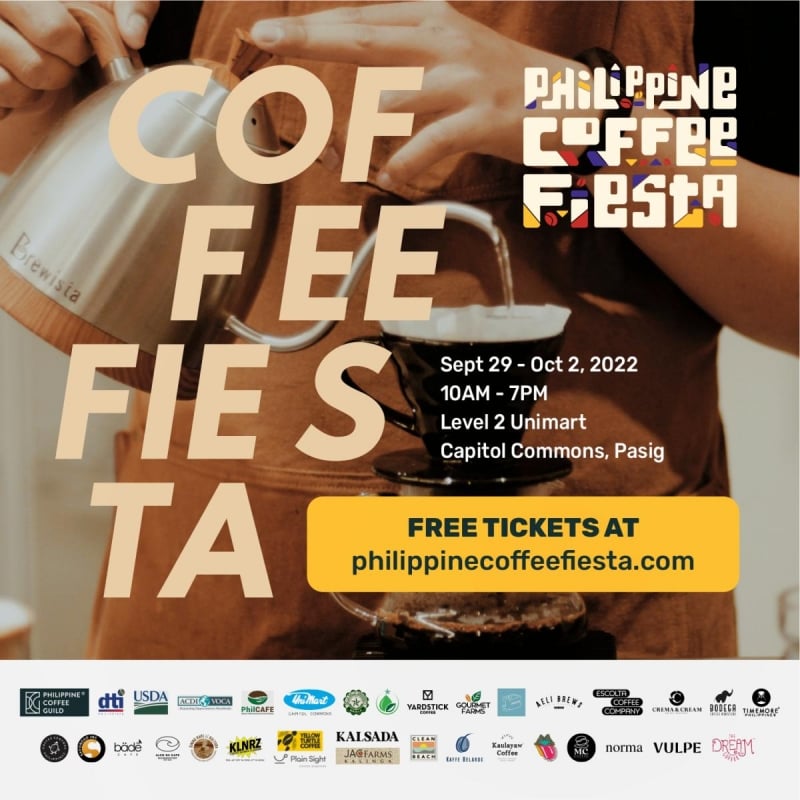 Coffee Fiesta Market
Find your next favourite brew and learn more about local brew. At the market, guests can explore beans from some of the country's top roasters, like Yardstick Coffee, Gourmet Farms, El Kapitan Coffee, Aeli Brews, and Escolta Coffee Company.
Coffee Science Brewing Bar
Get a taste of some of the nation's best coffee at the all-day brew bar during the festival. The bar will be manned by talented baristas representing local shops and brands, including Crema & Cream Coffee Roasters, Bodega Coffee Roasters, TIMEMORE, Savoroso Inc., Bade Café, and Alon ng Kape. Enjoy science-centric coffee talks, from types of coffee to grind sizes, filters, and pouring styles.
Other Events
We're celebrating everything coffee-related! As such, the Philippine Coffee Fiesta is staging a variety of activities to promote the thriving coffee scene in the country. Head to the Philippine Coffee Fiesta on 30 Sep at 1.30pm to witness a Live Painting Demo. This arty event is headed by Sining Kape at Kultura, an organisation of Filipino coffee artists.
The fiesta also stages its signature event Kape't Kwentuhan on 1 Oct at 10.30am. Here, guests will get to listen to insightful panel discussions among coffee producers. Participants will include women and youth representatives who are part of the industry.
Moreover, guests are also invited to participate in tasting award-winning Philippine coffees on 1 Oct at 2.30pm. This tasting event will highlight the fine robusta winners of the 2022 Philippine Coffee Quality Competition.
Finally, the last day of the Philippine Coffee Fiesta will host Guild Throwdown: Manila. This exciting event will include a latte art competition and a brewdown. There's been two successful rounds in Davao City this year. And now, the first-ever Guild Throwdown in Manila is finally happening on 2 Oct starting at 10.30am.
Also read: Philippine Travel Mart 2022: Everything You Need to Know
From art demonstrations and an extensive coffee market to a barista brewing throwdown and local-centric coffee discussions, this year's fiesta has plenty to offer every kind of coffee connoisseur. Expect to leave the venue feeling even more inspired to brew your next cup of coffee. This is the only way to celebrate International Day of Coffee, if you ask us!
Make your way to Unimart Capitol Commons in Pasig City from 10am to 7pm. Catch the Philippine Coffee Fiesta 2022 and mingle with fellow caffeinated folks. Entrance to the event is free, but guests must sign-up and get a digital ticket at www.philippinecoffeefiesta.com.
---
Special thanks to the Philippine Coffee Guild for inviting TripZilla to the Philippine Coffee Fiesta.