I just came back from a Surigao summer escapade with friends, and I must say that I truly had a BLAST in this beautiful part of Mindanao despite the mishaps we had along the way. I would be lying if I say that it's the perfect vacation with the cancelled flight, the waiting times, the butt-numbing rides, the allergies, and the headaches. But everything (good or bad) is part of the incredible lived experience I wouldn't trade for anything, and if you'd ask me if I'll go through all of it again — definitely YES, in a heartbeat!
Also read: 10 Hottest Summer Destinations in the Philippines for Your Next Barkada Trip
Here, let me share with you our great 4D3N Surigao adventure complete with itinerary, travel tips and budget breakdown.
Day 1: Butuan City – Bislig City
Thanks to Cebu Pacific for cancelling our Cebu-Surigao flight that very same day. I thought we would have to cancel the whole trip, but it was a blessing in disguise. Cut the story short, we asked to be re-routed to Butuan, and so we arrived safe and sound at Butuan Airport at around 1:30 PM.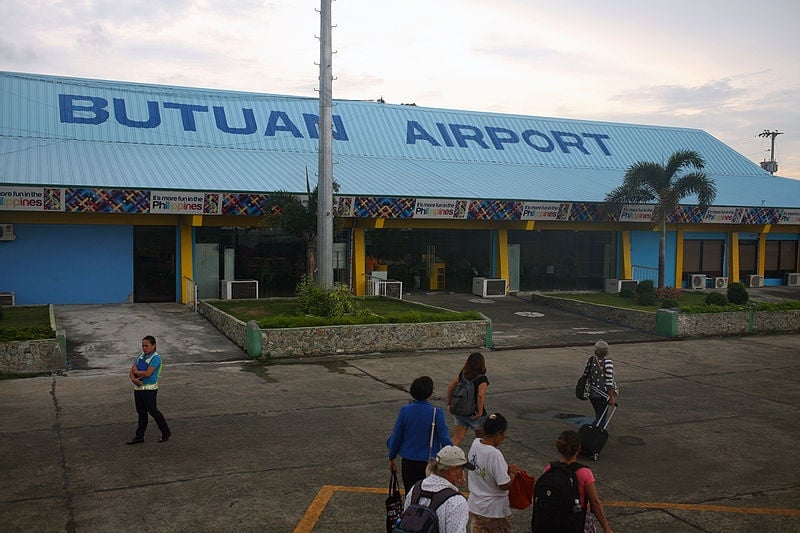 Image credit: Paolobon140
Tip: Butuan City is approximately 3 hours away from Bislig City, which is home to the majestic Tinuy-an Falls. If you're planning to follow this itinerary, might as well book a flight to Butuan City instead of Surigao City to save on travel time.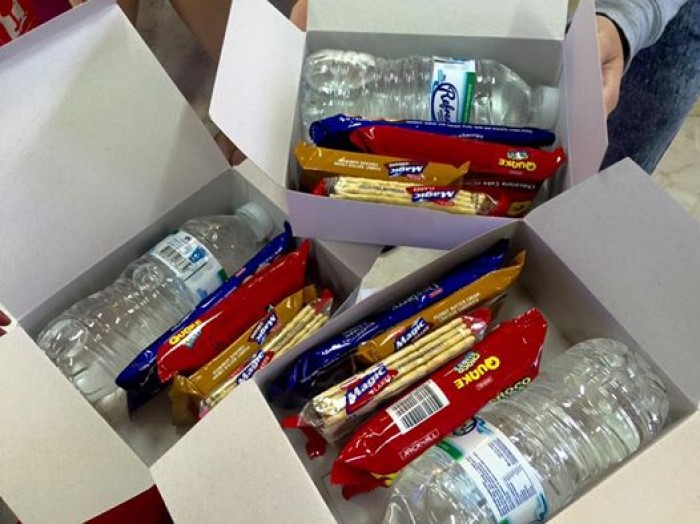 To make up for the cancelled flight, we received a box of snacks and a travel voucher each. Yes to FREE flights! Our friends who departed from Manila received PHP 500 as transportation fee from Butuan to Surigao.
We rented a van for PHP 3,500 a day, and it was already waiting for us somewhere near the airport before we touched down in Butuan City. Thanks to Confesor-Lentic family, especially to Tita Elizabeth, for preparing a sumptuous lunch for us. We stopped by a beach nearby to enjoy our lunch feast.
We arrived in Bislig City at around 7:00 PM and spent the night at St. Francis Pension House. We only paid PHP 2,500 good for all 9 persons.
St. Francis Pension House contact number: +63 86 853 2106 / +63 86 628 2107
Day 2: Bislig City – Hinatuan – San Agustin
Tinuy-an Falls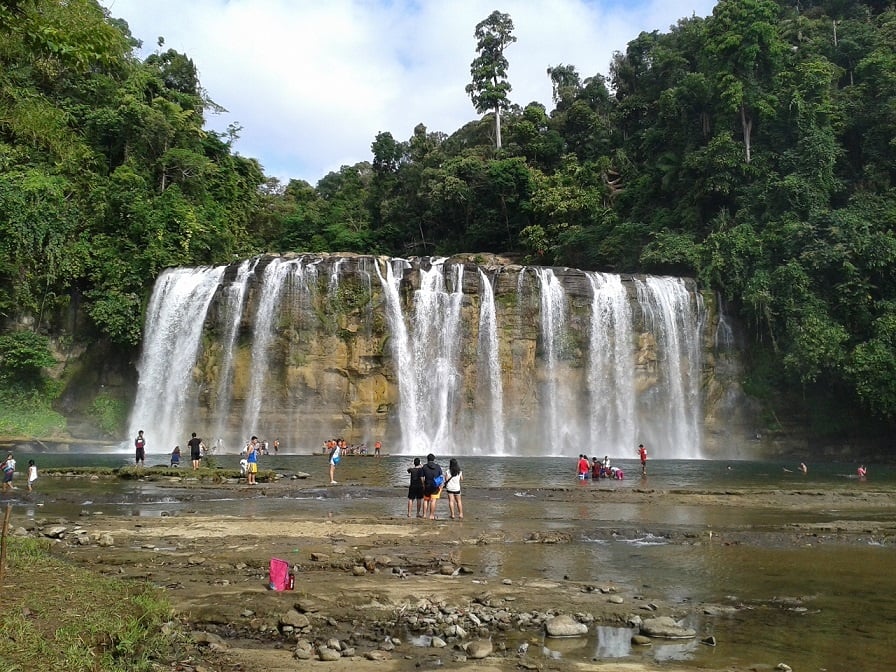 Marvelling at the astounding beauty of Tinuy-an Falls
After having our breakfast in a small eatery beside the pension house, we immediately proceeded to Tinuy-an Falls, which is approximately 30 minutes away from where we stayed. If you have no vehicle, you can ride a habal-habal (special kind of motorcycle) to reach the waterfalls. Luckily, we had a van to drop us off at the exact location, so no habal-habal ride for us.
Also read: 13 Awe-Inspiring Waterfalls in the Philippines You Must Visit
The group decided not to take a dip into the cool, inviting waters of Tinuy-an Falls because we planned to get fully soaked at Hinatuan Enchanted River.
Hinatuan Enchanted River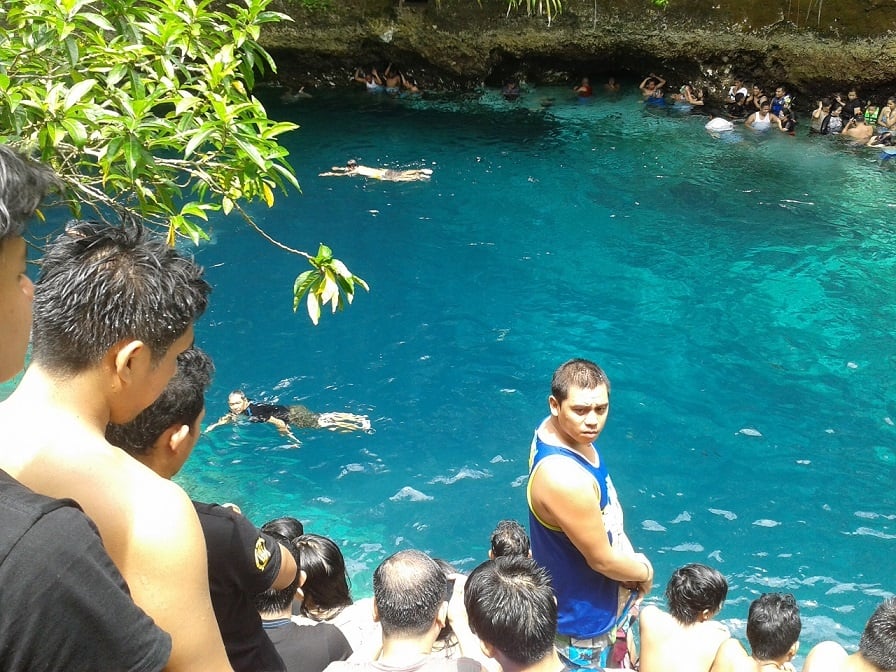 From Tinuy-an Falls, the ride to Hinatuan Enchanted River takes about an hour. We reached Hinatuan at around 11:00 AM, and there was already an overwhelming number of people from all ages! I kind of expected it because it was Holy Week, but it's still CRAZY to be there with such a crowd. Of course, it didn't stop us from dipping into its super enchanting waters. The unbelievable photos you see online almost exactly depict the actual scenery — you definitely have to see it for yourself!
Tip: Don't miss the fish-feeding session at 12:00 NN where you can witness different kinds of fish swimming to the rhythm of the music. It's a sight to behold!
Also read: 10 Strange Places in the Philippines You Probably Didn't Know About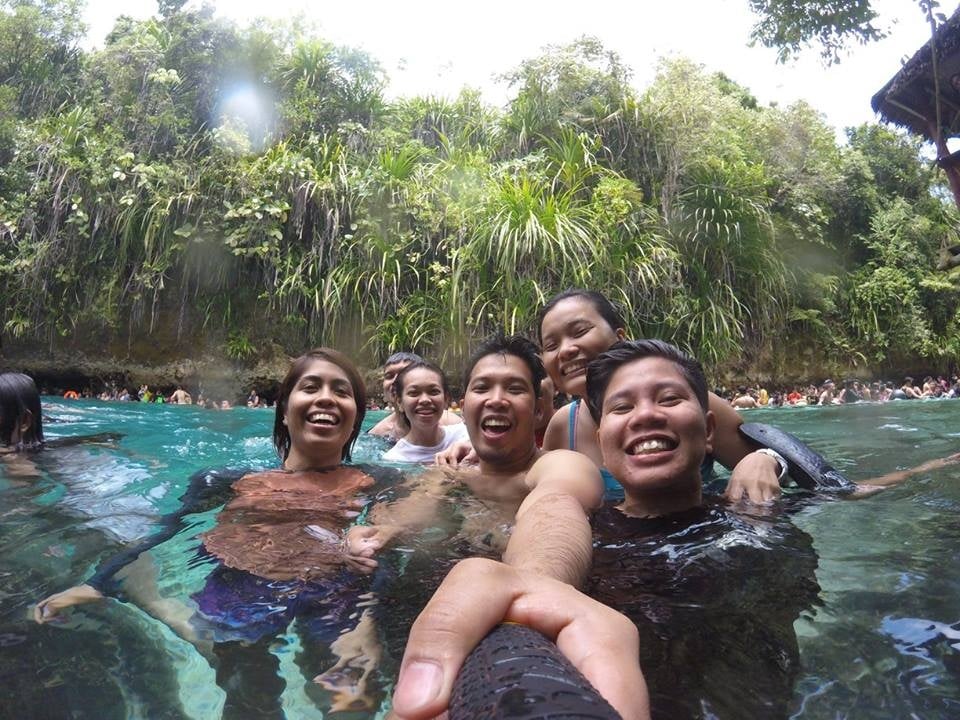 Who would want to swim with such a crowd? We did!
Holy Week is a terrible time to visit the Enchanted River. If you hate the crowd, you must avoid this peak period. Also, there are small stalls nearby selling affordable fresh seafood and local cuisine. A plate full of shrimps costs only PHP 150, can you believe it?
Britania Group of Islands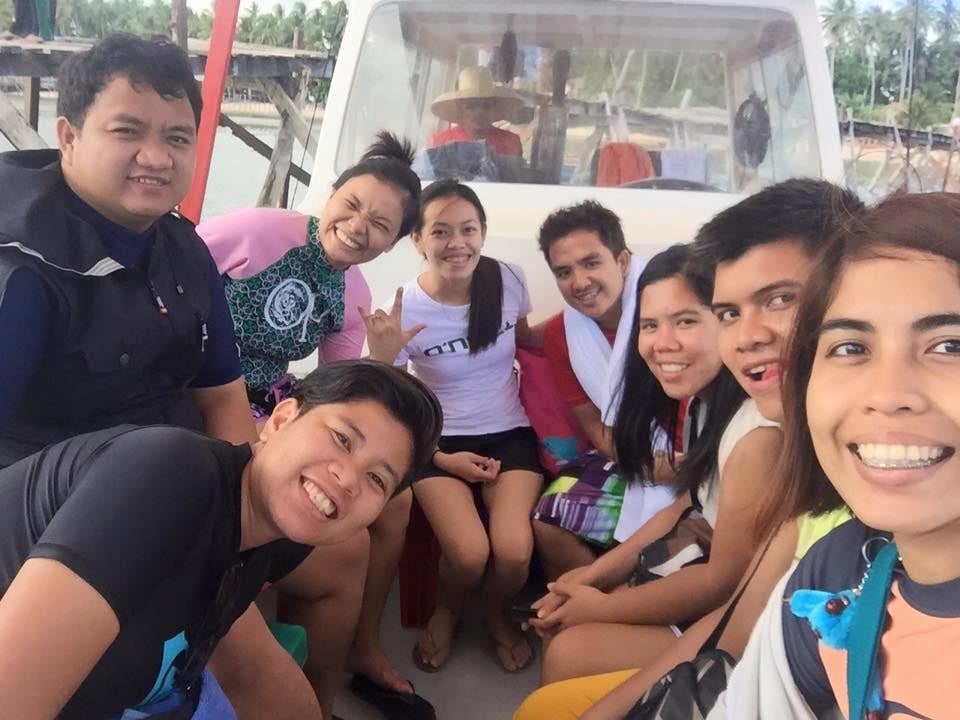 All aboard our hybrid yacht! 🙂
Due to time constraints, we had to rush to San Agustin so we can still do island hopping at Britania Group of Islands. From Hinatuan, it took us around 2 hours to reach San Agustin. All accommodations at the jump off beach to Britania Islands were fully booked. We tried our luck at Mc Arthur's resort but it was full. We decided to go for island hopping first and worry about the accommodation later to save time. That was a smart move, I should say.
Here are the three islands (or islets) included in our island hopping tour:
1. Hagonoy Island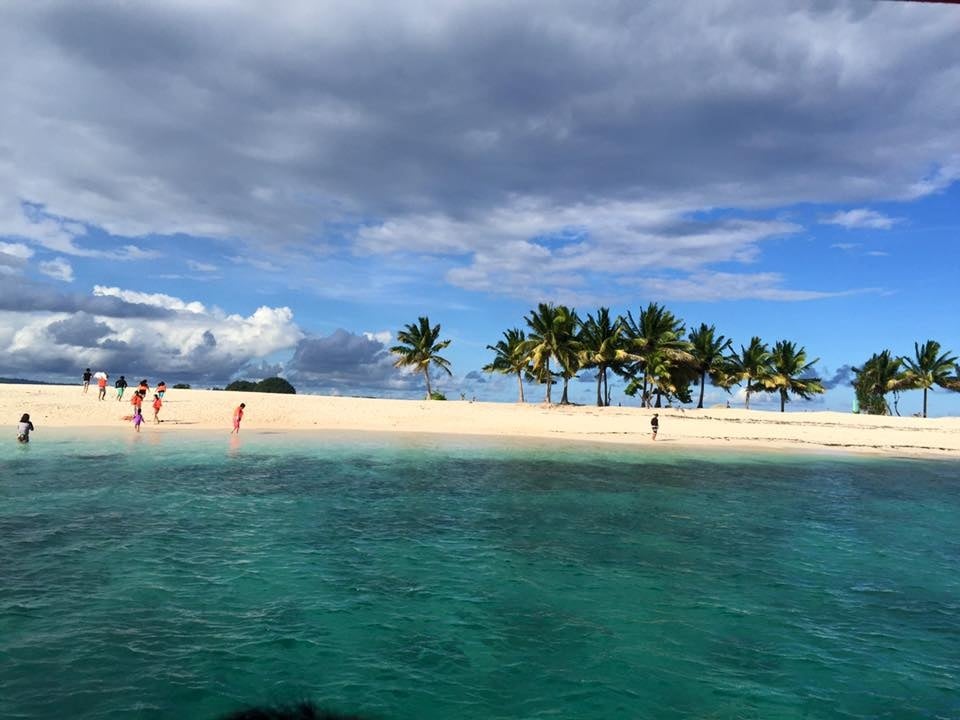 2. Hiyor-Hiyoran Island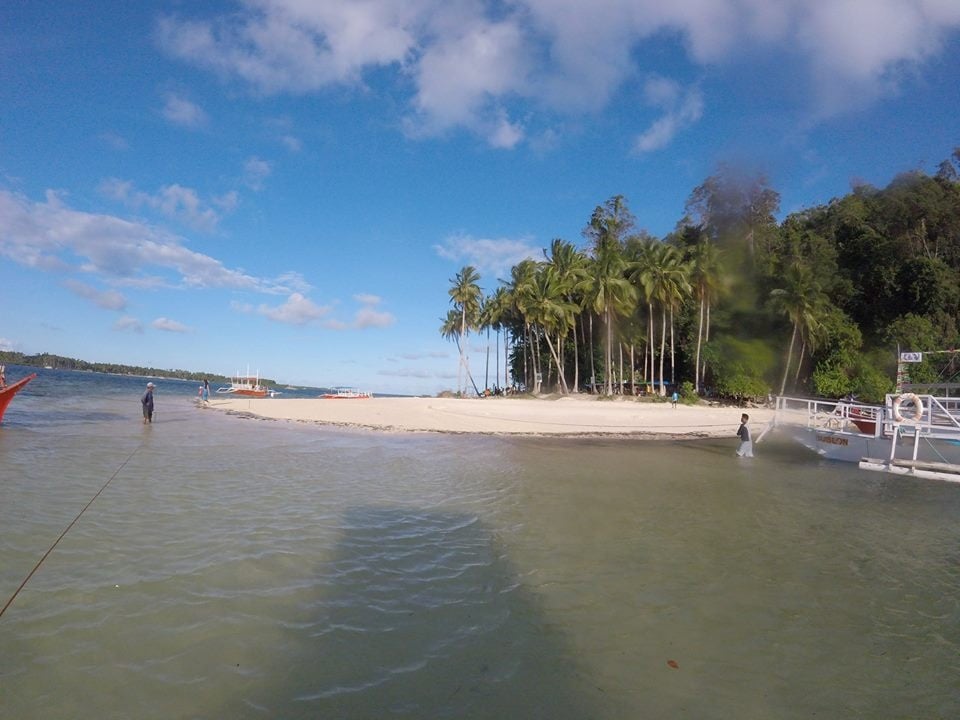 3. Boslon Island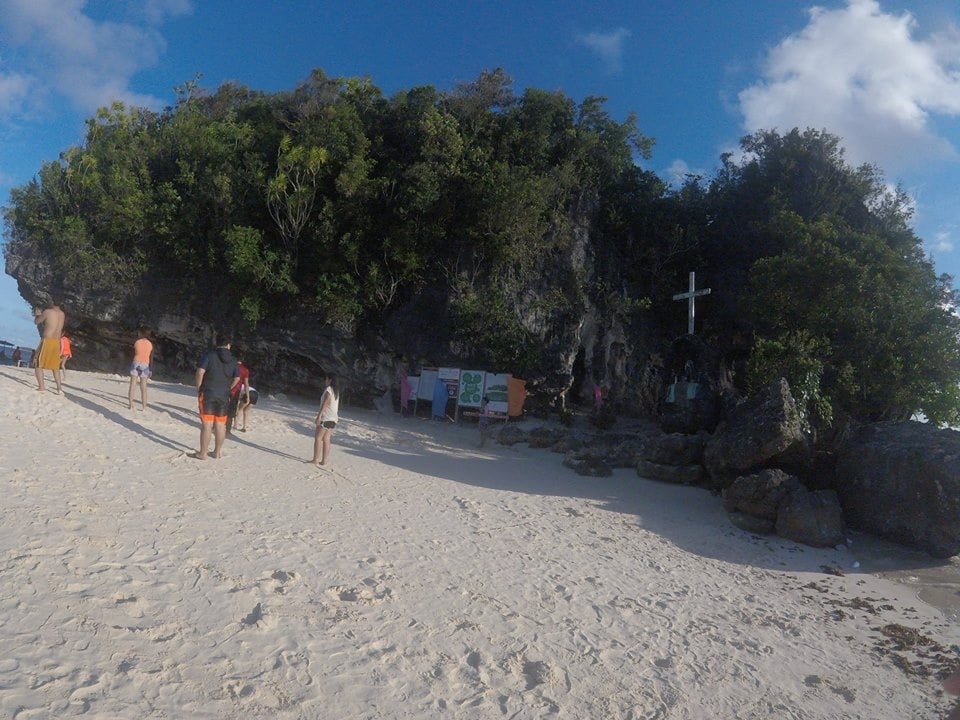 It was the fastest island hopping trip I've ever had in my entire life — three islands in less than two hours! Whew! We need to rush from one island to another because it was already getting late, and we still need to look for accommodation. I was already starting to have a headache, but it still didn't stop me from having so much FUN!
Also read: 7 Strangely Formed Islands in the Philippines You Probably Didn't Know About
Alas, we found the perfect place to stay for the night — J Francess Homestay. It's located a few steps away from the Tourism Centre and La Entrada Resort and Restaurant. We only paid PHP 2,500 for a room good for all of us. You are free to use its kitchen and dining area so you can cook whenever you like. After all the activities for the day, we barely had the energy to prepare for our food so we chose to dine out at La Entrada Resort and Restaurant.
Tip: Don't be fooled by fixers who will try to help you find a place to stay. Go directly to the tourism centre and ask for assistance. Better book your accommodation ahead so you won't waste time finding one when you're already there.
J Francess Homestay contact number: (+63) 939 593 0677
Day 3: Bucas Grande Island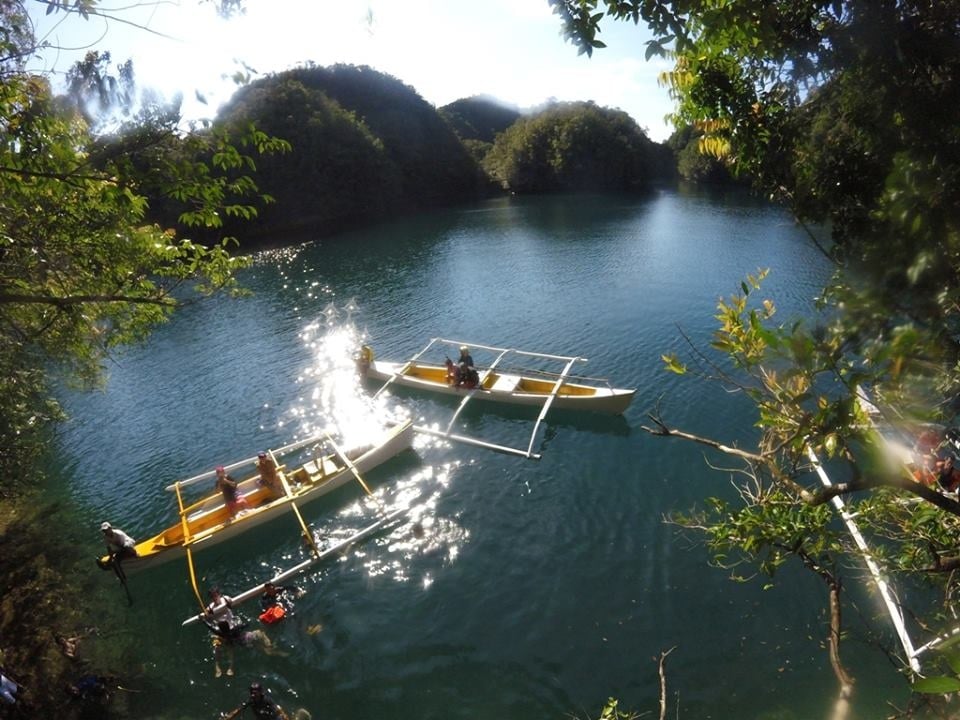 After our breakfast at La Entrada Resort, we packed our stuff and went on a three-hour ride to Hayanggabon Port in Claver, the jump off point to Bucas Grande Island. We pre-arranged for a pump boat to take us to Bucas Grande but it didn't show up on the scheduled time. We waited and waited, and went hungry for almost two hours, but it didn't arrive. We finally opted to arrange for another boat within the port for PHP 4,000. At first, it looked pretty expensive to me, but in the end it was still worth it given the patience and promptness of the boatmen. It's their source of living so please know when to haggle. PHP 4,000 / 9 of us = PHP 444 – not bad per person.
What I found quite overpriced is the regulated tour of the Sohoton Cove National Park. Our pump boat dropped us off at the centre where you need to pay for tour fees to enter the Sohoton Cove and have the stingless jellyfish tour.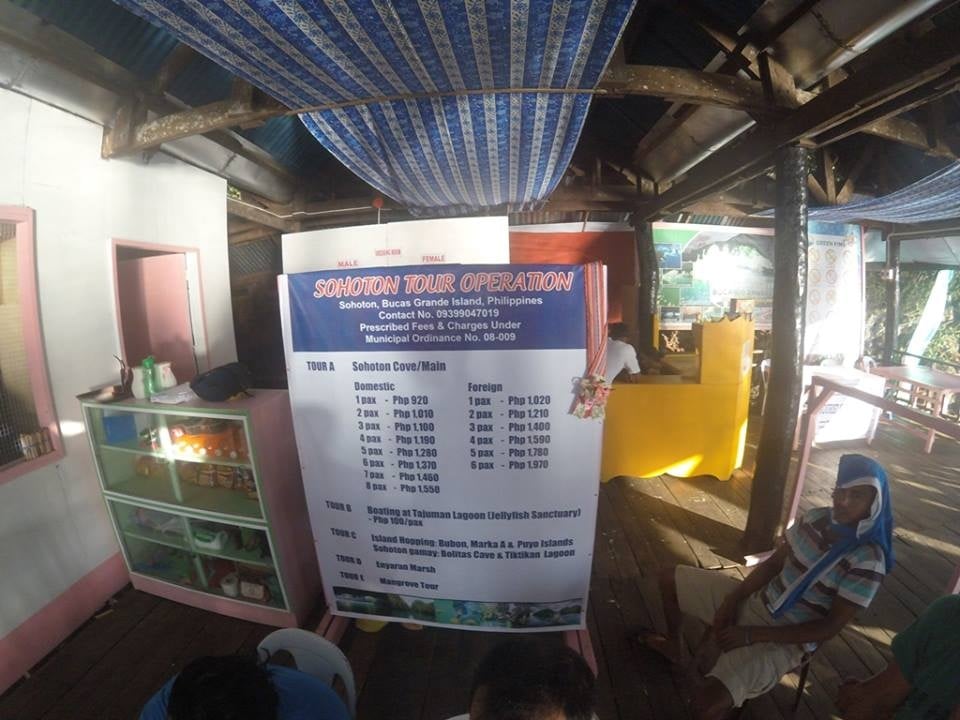 We took Tour A (for Sohoton Cove) and Tour B (for jellyfish). There are assigned tour guides for each small boat. We enjoyed the first few minutes of Tour A, but in less than an hour, it's already over. I didn't even get to swim and snorkel around. Plus, their snorkelling gear costs PHP 200, which I think has no use because you are not given enough time to swim! I expected more for the price we paid.
My displeasure didn't end there. They dropped us off at the waiting area for Tour B, the much awaited stingless jellyfish tour. Our priority number was 23, and it didn't move from number 18 for so long. Then, we realised we're wasting our time. We arrived at a group consensus of forgoing the jellyfish tour, so we asked for a refund and decided to go for island hopping instead. We didn't regret it! We went to the secluded Marka-a Island where we frolicked around and witnessed the stunning sunset.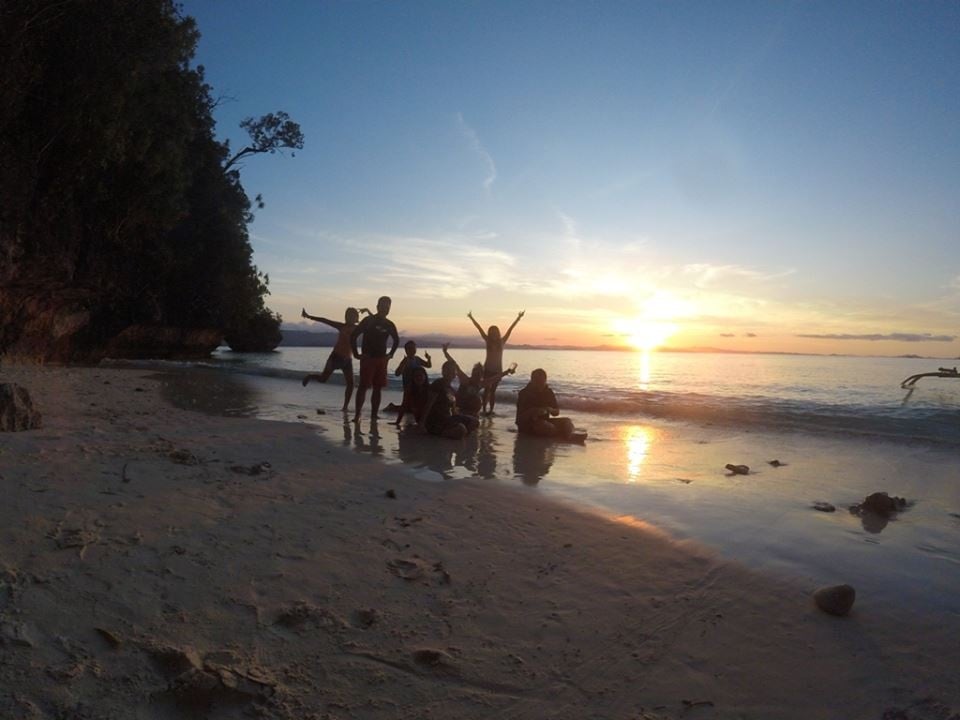 Enjoying the beach and the sunset at Marka-a Island
Also read: 15 Secret Beaches in the Philippines You Probably Didn't Know About
While riding the pump boat, we saw some stingless jellyfish in some parts of the area, so it was a good decision to drop Tour B. We capped off the night with a relaxing stay at Lagoon Tiktikan and Sohoton Gamay Resort. It was affordable (PHP 400 per head per night) with hospitable staff who prepared meals for us! Plus, it has a secret lagoon where you can let loose and be close to nature.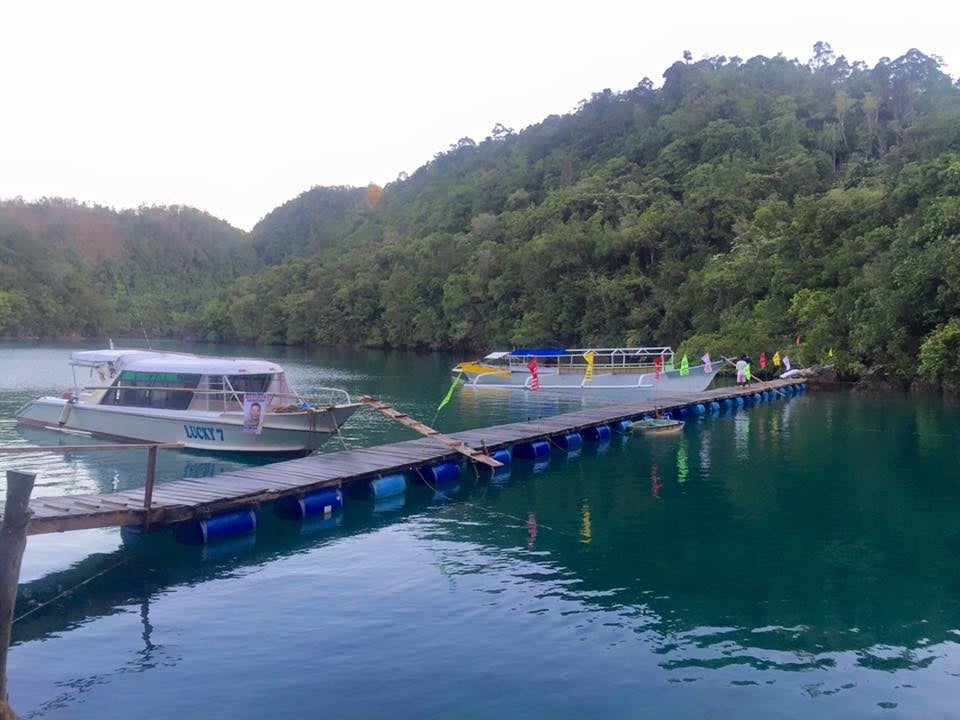 View outside the resort
Lagoon Tiktikan and Sohoton Gamay Resort
Contact Person: Sheryl Coray (General Manager)
Contact Number: (+63) 948 385 6291
Day 4: Claver – Surigao City
The pump boat picked us up at 8:00 AM,though it had been waiting for us since 7:30 AM. From Lagoon Tiktikan and Sohoton Gamay Resort, we arrived at Hayanggabon Port in Claver at 9:30 AM. And from there, it took us approximately 1.5 – 2 hours to reach Surigao City. Thanks to Confesor-Lentic family for accommodating us and preparing lunch for us! Did I mention that seafood in Surigao is incredibly cheap and delicious? I'm allergic to seafood but I really can't resist! You can just imagine how good their seafood is!
Time to say goodbye to Surigao! But I still managed to do a side trip to Brgy. Banbanon to have unlimited buko (coconut) straight from the coconut trees! Awesome, right? Again, great thanks to Confesor-Lentic family! It pays to have a friend from Surigao.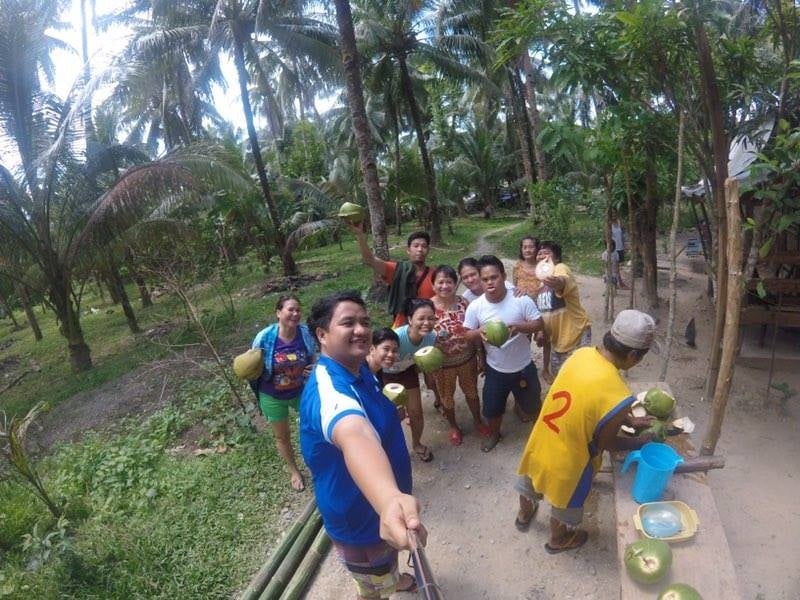 At Brgy. Banbanon, enjoying unli buko with Confesor-Lentic family
So that sums up our 4-day adventure in Surigao! See more travel tips and cost breakdown below:
Additional Tips
You might get sensitive to seafood and other local food so it's best to bring some medicine for anti-allergy, LBM, constipation, and even for headaches and sea sickness. Better safe than sorry!
Protect your skin by wearing sunblock, especially when island hopping.
Keep some extra cash as ATM machines are only found in the city area.
During peak season (March-May), it would be better to book your accommodations beforehand.
Have your own snorkelling gear because renting one can get pretty expensive.
Wear light, fast-drying and hand-washable clothes.
Bring extra battery or power bank for your mobile phones and gadgets.
Bring some snacks to munch on while travelling.
Prepare your music playlist for the road trip.
Do NOT throw or leave garbage anywhere. Learn the Leave No Trace (LNT) Principles by heart.
Breakdown of Expenses
Day 1: Cost Per Person
St. Francis Pension House + fee = PHP 290
Utensils, shared commodity = PHP 60
Van + gas = PHP 450
Dinner = PHP 190
Total = PHP 990
Day 2: Cost Per Person
Breakfast = PHP 60
Tinuy-an entrance = PHP 50
Enchanted River = PHP 30
Lunch = PHP 120
Gasoline = PHP 110
Britania island hopping + van parking = PHP 180
Van and driver fee = PHP 390
Dinner at La Entrada = PHP 200
Overnight at J Francess Homestay = PHP 280
Total = PHP 1,420
Day 3 & 4: Cost Per Person
Breakfast at La Entrada = PHP 120
Van and driver fee = PHP 390
Round trip pump boat Claver to Bucas Grande = PHP 440
Sohoton Cove tour = PHP 260
Lagoon Tiktikan and Sohoton Gamay Resort = PHP 400
Dinner = PHP 110
Breakfast = PHP 70
Van from Claver to Surigao City (Day 4) = PHP 180
Total = PHP 1,970
Grand Total (excluding flights) = PHP 4,380
To arrange for a van transport, you may contact: Joel Batusa (+63) 939 202 1689
A big shout out to my friend Sher Rashid Lentic for meticulously planning for everything! This trip wouldn't be possible without him and his very accommodating family! Thank you!
Also read: Top Philippine Destinations for Your 2016 Long Weekend Getaways