Filipinos, in general, are naturally hospitable. But as a proud Bulakenya, I'd say we have mastered next-level hospitality, with one of our love languages being cooking. I hardly know any Bulakenyo who doesn't have a knack for it. As a matter of fact, in Bulacan, you'll find a carinderia on almost every street.
As someone who enjoys lutong bahay, I make it a point to eat in a carinderia whenever I travel to other places because that's where I get a taste of culture and authenticity. The exemplary carinderia culture mixed with the Bulacan level of hospitality paved the way for many homegrown coffee shops and restaurants in Bulacan to make a name for themselves. Want to know the best places to try in Bulacan? Keep reading!
Also read: 8 Things to Do in Bulacan for All Kinds of Travellers
Kain tayo! Must-try restaurants in Bulacan that will keep you coming back for more
1. Wes Lee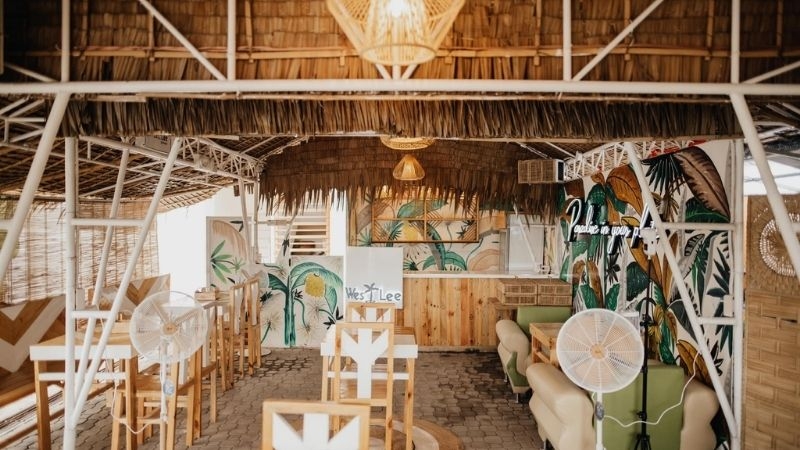 Did we just discover a new tropical paradise? Less than an hour away from Manila awaits your next favourite summer destination! The chill and youthful vibe at Wes Lee will make you fall in love with the idea to finally take that much-needed island break.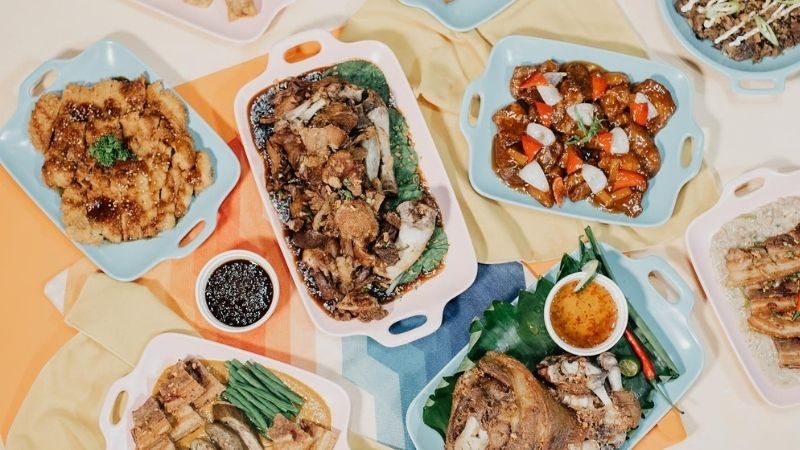 Must-try dishes include the best-selling pancit sisig and crab pancit;  then, you'll want to follow them up with everything else on the menu like Wes Lee chicken, pinakbet x banget, sticky mango turon, and more. Wes Lee also serves fresh fruit shakes to live up to the island vibe — you definitely can't skip these!
Address: Total Gas Station, Parulan, Plaridel, Bulacan 3004
2. Cocina Avelina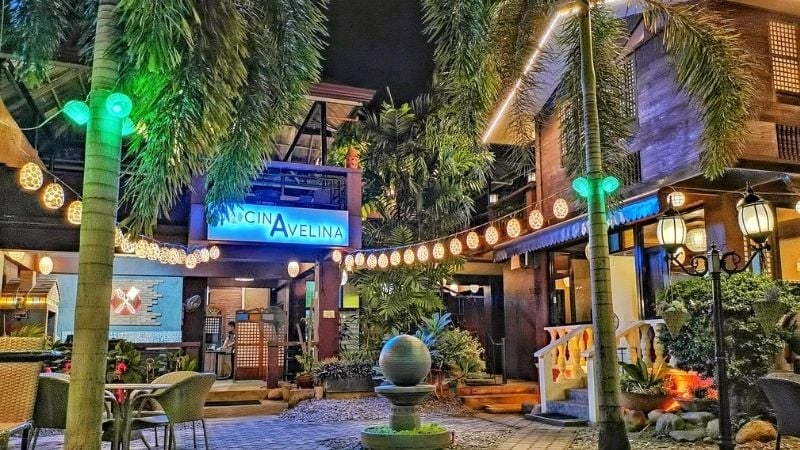 Though you'll love eating in Cocina Avelina any time of the day, nothing beats the al fresco experience here at night. We also love the lights, architecture, greenery, and safe distancing in the dining areas that provides guests with peace of mind. Good news to those looking for a traditional Filipino venue  — it's one of the restaurants in Bulacan that you can rent for private functions, too!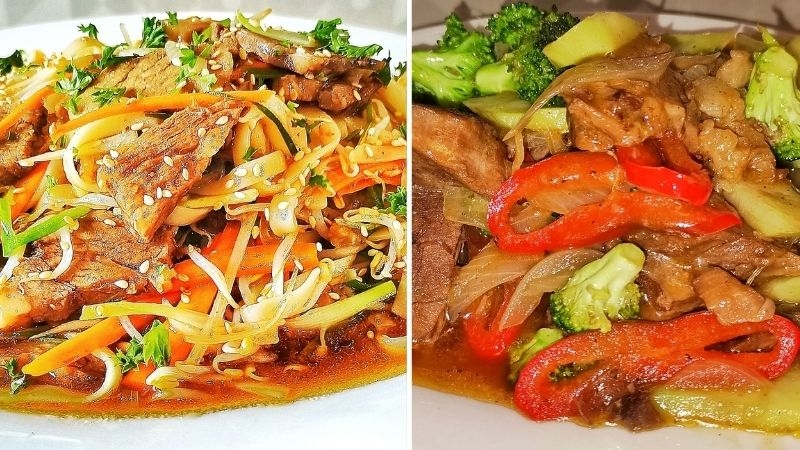 You can choose from their food options: sizzlers, pasta, seafood, rice toppings, and pica pica. You'll surely lose track of time as you chat the day (or night) away with your friends or family! Without a doubt, the old house charm of Cocina Avelina will make you feel cosy and at home. 
Address: Calle Rizal, Sta. Barbara, Baliwag, Bulacan 3006
Also read: 8 Heritage Restaurants and Cafes You Can Find in Metro Manila
3. Quality Choices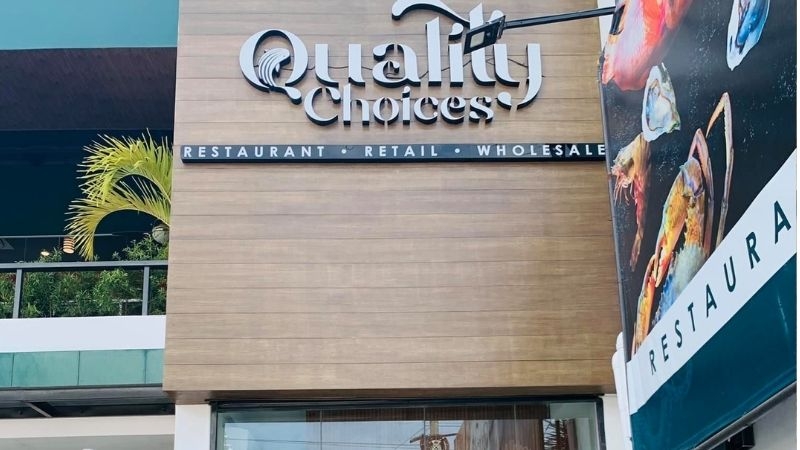 Seafood lovers will surely adore everything about this restaurant in Bulacan. Their mission? Warm Filipino hospitality and genuine service! Their brand name stands for everything they represent. Aside from the scrumptious meals, guests can also take home their fresh and affordable seafood.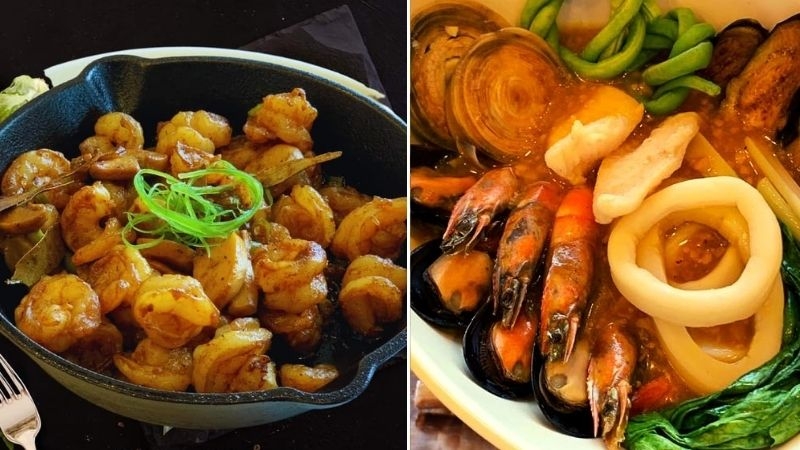 The family-friendly atmosphere will immediately fill you with warmth, comfort, and belongingness upon entering. Their budget-friendly set meals start at ₱150! Many customers appreciate the idea of this all-in-one stop for dining, retail, and wholesale shopping, especially as people try to limit their time outdoors. 
Address: Lolomboy, Bocaue, Bulacan (beside LTO Bocaue) 3018
4. Pugpog Biker's Highlands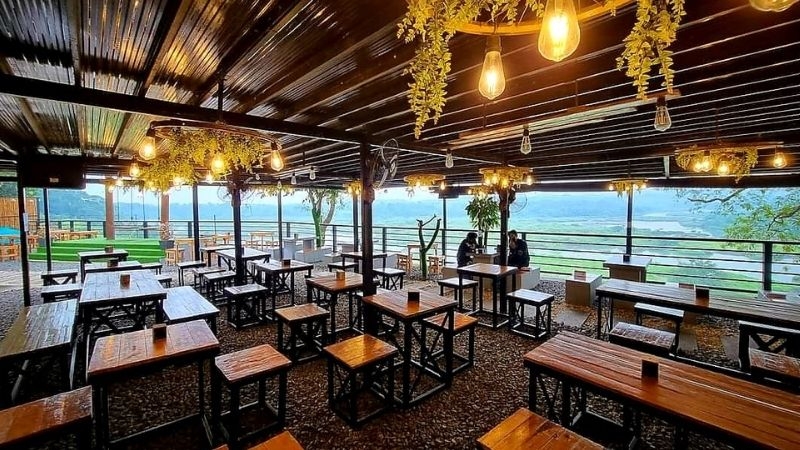 Dining with an overlooking view? We'll take it! Pugpog Biker's Highlands has a spectacular view of the mountains and rivers, instantly putting it on the list of the must-visit restaurants in Bulacan. It's a popular stopover for those going to DRT searching for thrilling trails and adventures.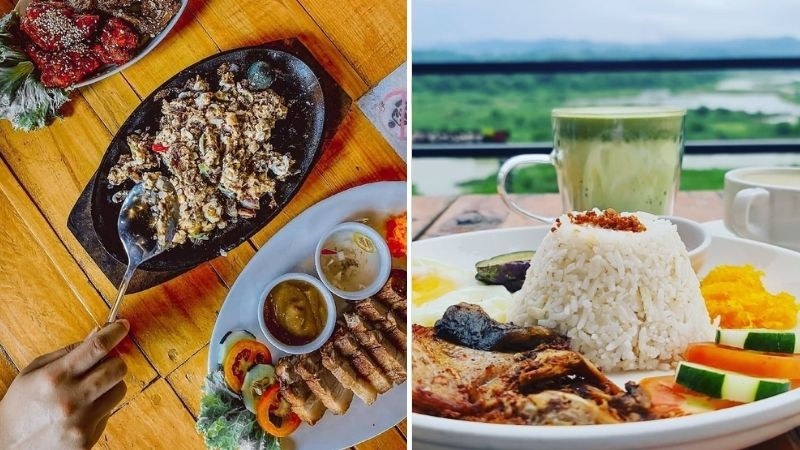 Pugpog Bikers Highlands is the best tambayan for both locals and tourists for that visually appealing and unique culinary feast. Prepare to indulge yourself with affordable putok batok meals that will definitely make you want to come back as soon as you leave! When you visit Bulacan, make sure to include this restaurant in your itinerary. 
Address: Pugpog Road, Brgy.Sta.Cruz, Angat, Bulacan 3012
Also read: 15 Breathtaking Overlooking Spots to Visit Right Now
5. Millhouse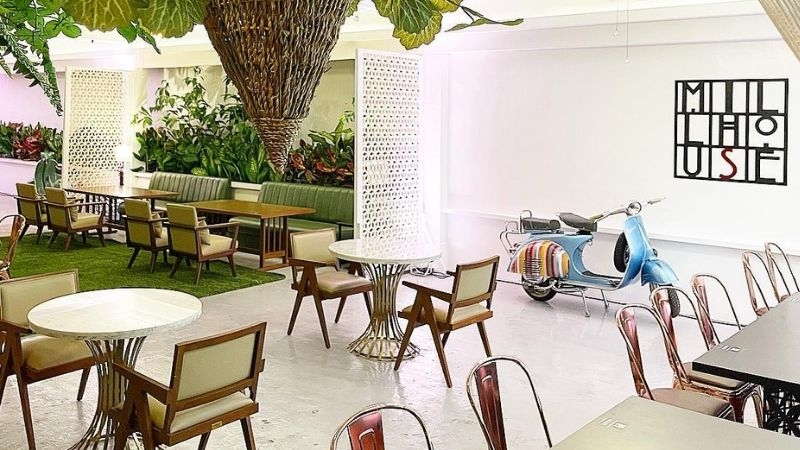 Millhouse provides a delightful "plot twist" amid the rows of residential houses and small commercial spaces in the area. The exterior and interior of this restaurant are impressive and well thought of. You'll find endless Instagrammable spots that leave every onlooker curious and interested to see this restaurant in Bulacan for themselves.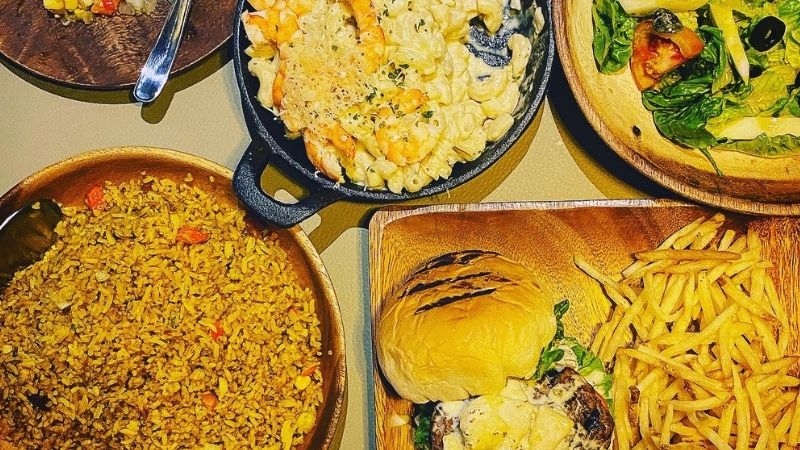 Millhouse is one of the many restaurants in Bulacan that offers both al fresco and indoor dining. Make sure to come on an empty stomach because you won't be able to resist mouth-watering food options like the popular Millhouse BBQ ribs, nutty chicken BBQ, king lobster, and more. Millhouse also displays a Vespa collection, another treat for motorcycle enthusiasts!
Address: 217 A.Mabini St., Sabang, Baliwag, Bulacan 3006
Instagrammable cafes in Bulacan
6. Cafe Beam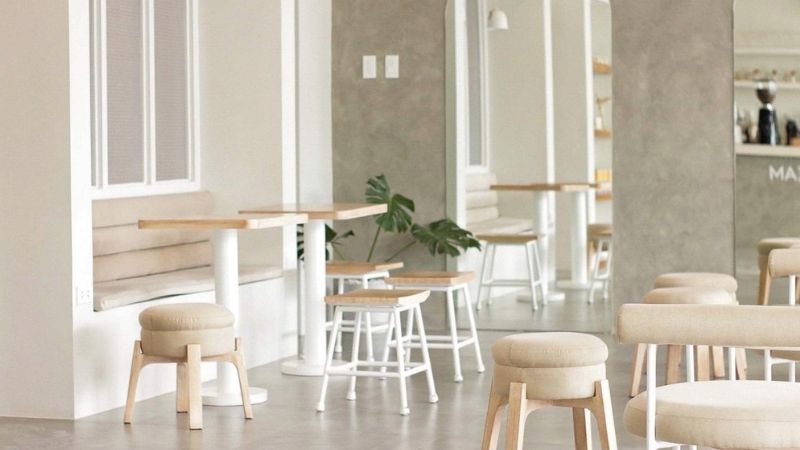 When it comes to Instagrammable cafes in Bulacan, Cafe Beam is impossible to miss! This cafe has a chic and charming personality that appeals to all ages. Perfecting the art of minimalism with its simplicity and lack of clutter, Cafe Beam is the perfect hangout spot to unwind and relax.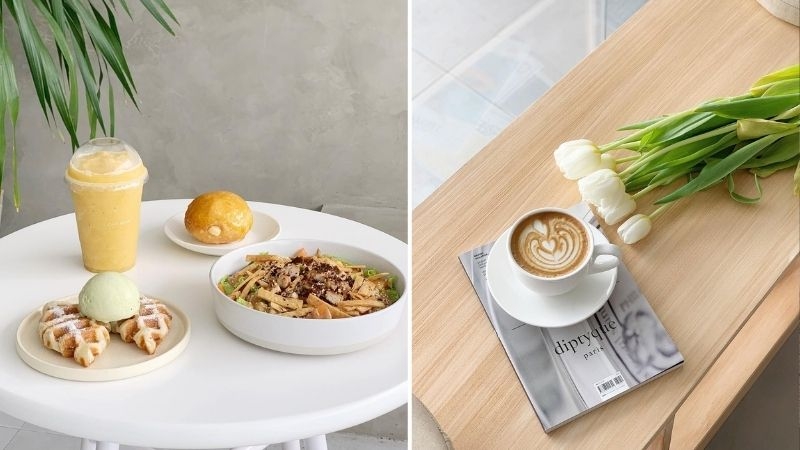 Their speciality coffee is a must-try, but going through everything on the menu is highly recommended. Cafe Beam's food options are as divine as its aesthetics. People rave about their notable croiffle (a marriage of croissants waffles), udon pasta, and other brunch offerings. 
Address: Unit 1-2 Point A Bldg., DRT Highway, Tarcan, Baliwag, Bulacan 3006
Also read: 15 Roadside Coffee Shops in & Near Metro Manila
7. Cafe Congreso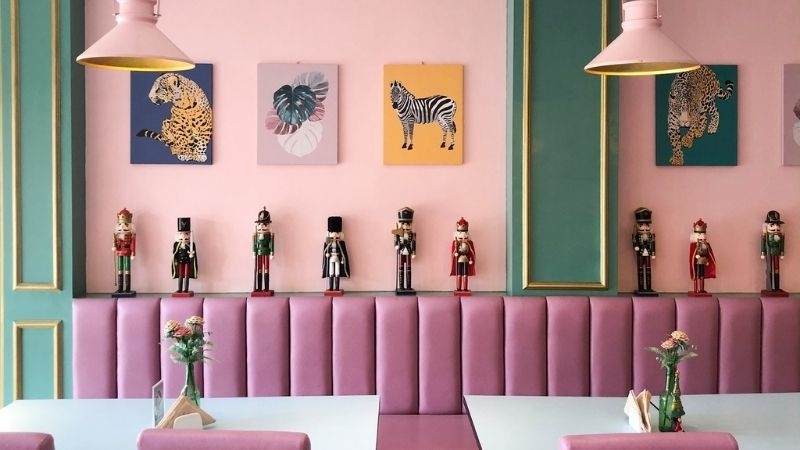 The pastel hues and the dreamy candy-coloured theme of this cafe in Bulacan are a total treat to the eye and your Instagram feed! The movie The Grand Budapest Hotel inspired the interiors of Cafe Congreso — film enthusiasts, can you tell?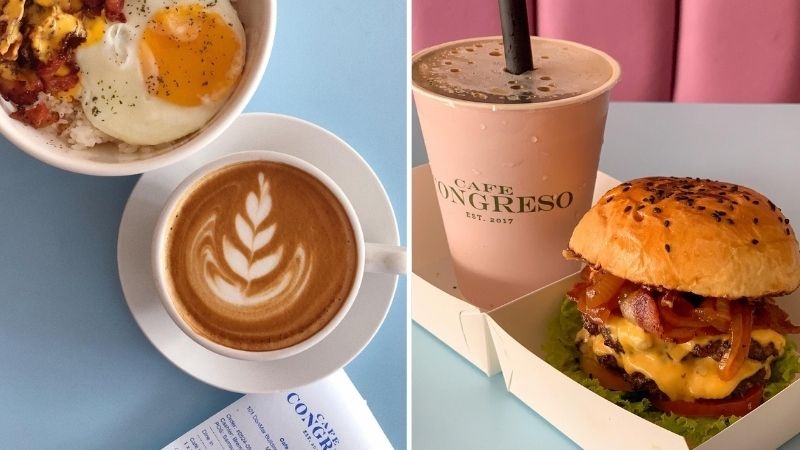 Take a pick from their rice meals, burgers and sandwiches, pasta, and seemingly endless choices of coffee and frappes. Don't miss their cinnamon rolls and freshly made doughnuts when you visit! 
Address: G/F, Don Mar Building, Paseo del Congreso Street, Catmon, Malolos,Bulacan 3000
8. Mini Blanc Cafe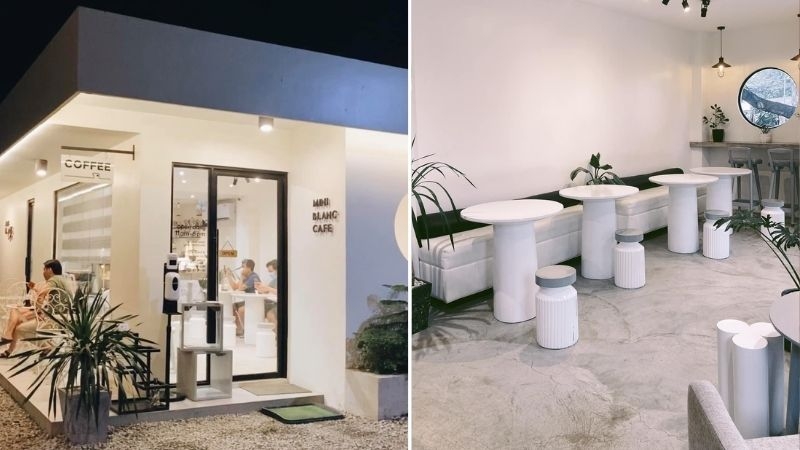 A picturesque little cafe in Bulacan, Mini Blanc Cafe, proves that  "not everything is as it seems." Do not be fooled with its simple and small facade. Once you enter, prepare to be pulled in a safe and inviting space, ideal for taking your mind off the noisy outside world.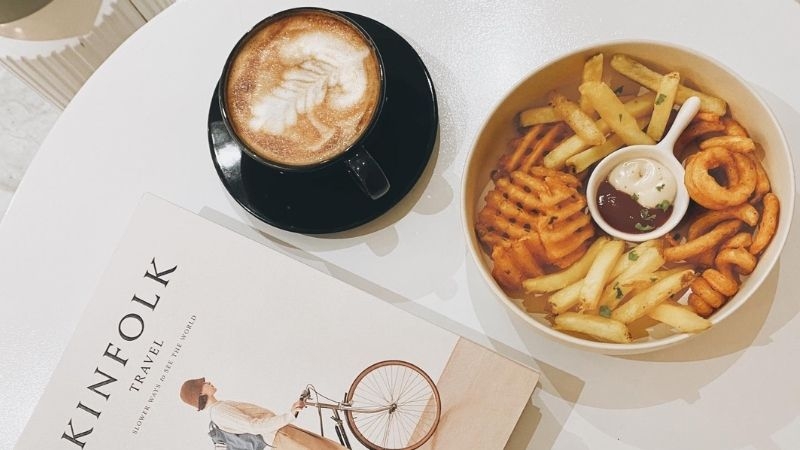 At Mini Blanc Cafe, you cannot just come and go. Whether you decide to stay inside or outside, it won't matter because every spot is undoubtedly great for your feed. You'll love their equally simple but exciting menu, which adds more reason to include a trip to this cafe in Bulacan as a part of your weekend habit. 
Address: 63 Longos, Pulilan, Bulacan 3005
9. Cafe Sucre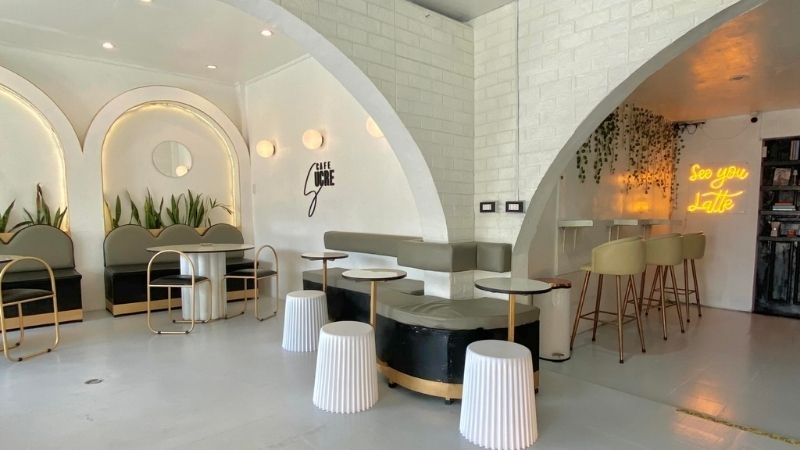 The minimalist and appealing atmosphere of Cafe Sucre makes it a fine option for those in constant search of beautiful places to explore. Sucre, which means sugar, suits the delectable options of sweet treats that this cafe in Bulacan has in store.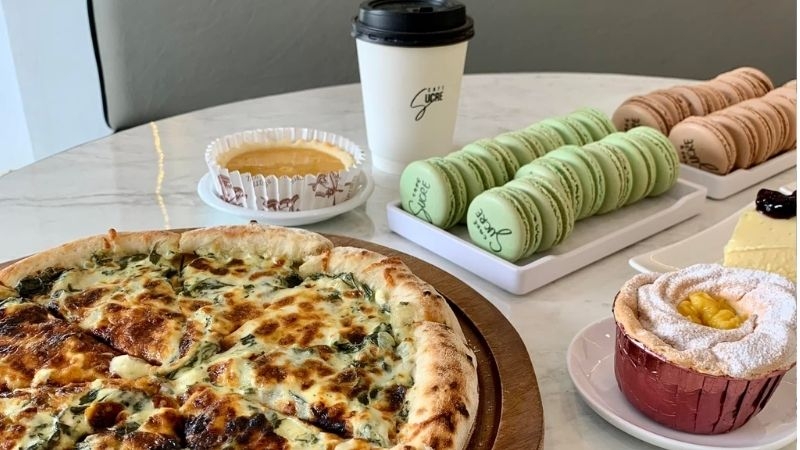 Their famous french macaron, OG cookies, and other desserts are well-complemented by a similarly diverse list of different coffee and tea. Their tuna pesto, truffle pasta, and creamy spinach pizza are must-tries. You cannot miss out on those best-selling dishes!
Address: VV86+P28, Guiguinto, Bulacan 3015
Also read: 15 Best Cookies in Manila and Where You Can Find Them
10. Planthropist Garden + Cafe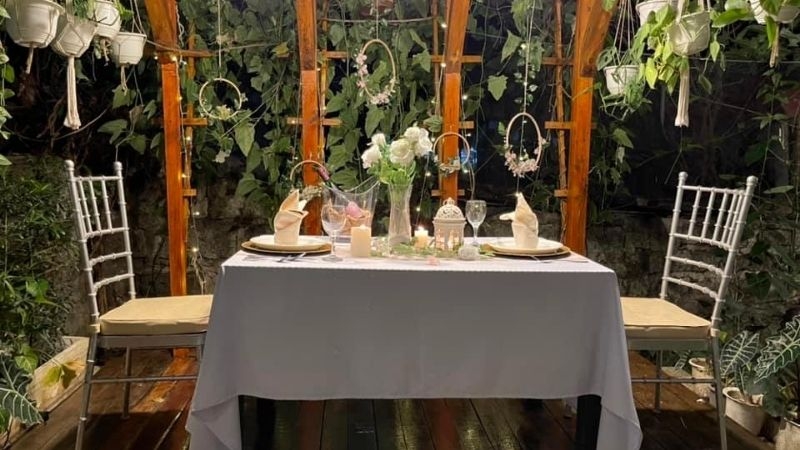 A trip to Bulacan wouldn't be complete without plant shopping. At Planthropist Garden + Cafe, you won't solely be satisfying your plantita heart — you'll come home with a happy and full stomach, too! It's only open from Friday to Sunday, making it a perfect stop for your upcoming road trip.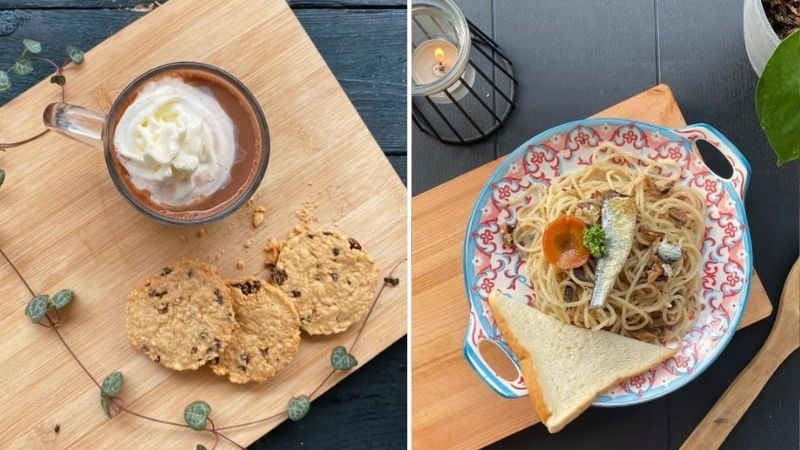 You can purchase a plant from Philanthropist Garden + Cafe for as low as ₱50. Meals are budget-friendly and sulit, that's why tourists and locals alike keep coming back. This plant haven cafe in Bulacan has become a go-to place for friends and families to catch up on weekends. 
Address: 275 Parada, Sta. Maria, Bulacan 3022
Also read: Gardening for Beginners: Stories & Tips from 20-Something Enthusiasts
Bulacan has come a long way. It was an entirely different scene years ago, as Bulakenyos needed to visit Manila to explore and taste other cuisines. With more cafes and restaurants in Bulacan, we're finally getting the spotlight we deserve!