Ahh, Cebu! After a quick trip to the Queen City of the South, I promised myself I'd go back as soon as I could. More than the beautiful sights I got to see, it was truly the food I was missing once I made my way back home. Lucky for me, I was blessed with a few Cebuano friends who were more than happy to let me in on the best restaurants in Cebu City. A few, I happily stumbled upon on my own.
And let me tell you — there's a lot more to Cebu than its famous lechon! This being said, here's a list of restaurants you have to try if you happen to be in the city. (Or better yet, travel to Cebu just for the sake of hitting every restaurant on this list!) 
Also read: Cebuano Street Food That Deserves Netflix Screen TIme
Hole-in-the-Wall Restaurants in Cebu
1. Pungko-Pungko sa Fuente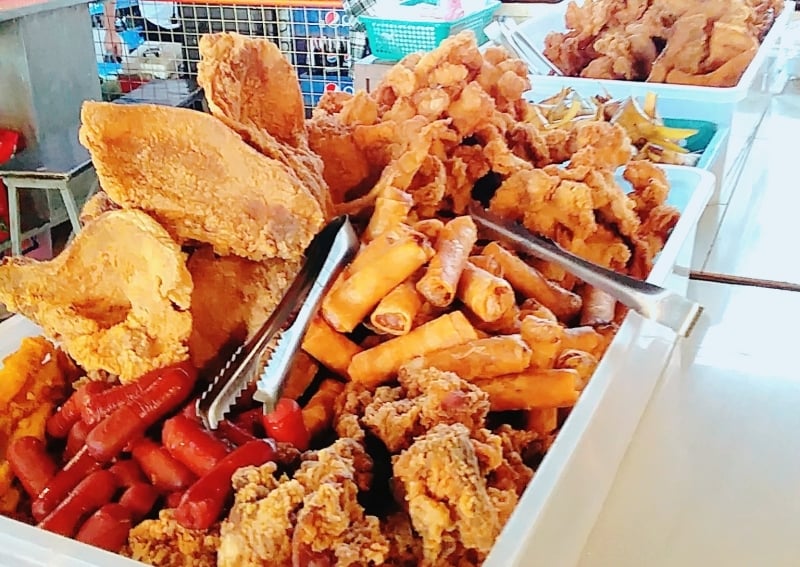 The secret to discovering the best of Cebu City? Follow the locals! Any true blue Cebuano knows that a meal at a pungko-pungko is a must for an authentic Cebu experience. These street side stalls sell a wide assortment of sinfully delicious fried food — and a full meal will only set you back at least ₱50! Pungko-Pungko sa Fuente, in particular, is known to be the best pungko-pungko in the city. 
As is the custom at any pungko-pungko, you'll find boxes of fried treats atop the tables at this humble restaurant. These include (but aren't limited to) fried chicken, longganisa, lumpia, pork chop, buwad (dried fish), and ginabot — Cebu's version of chicharon bulaklak. Complete your meal with a few orders of puso (hanging rice) and an ice-cold bottle of Mountain Dew!
Address: 52 A J Llorente St., Cebu City
Operating hours: Monday to Sunday, 6am to 10pm
2. Siomai sa Tisa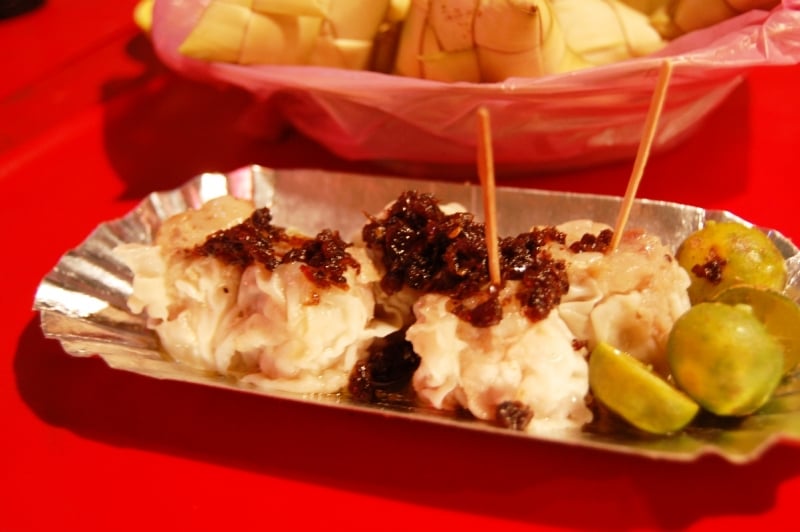 Fun fact: Cebu is just the place to satisfy all your siomai cravings! While you'll find stalls all over the city, Siomai sa Tisa is the place to get your fix. Ask anyone how to get there, and they'll knowingly give you directions — it's a household name in Cebu, after all. Anyone who's tried their siomai swears it has a distinct flavour you won't find anywhere else!
A set of roadside stalls selling delicious siomai at wallet-friendly prices, Siomai sa Tisa is open until the wee hours of the day. Way Tugpahay is one of the most popular stalls, and they're even open 24/7! (So if you're looking for somewhere to eat after enjoying Cebu's nightlife, you know where to go!)  Here, siomai is meant to be eaten with your hands — and loads of chili oil! 
Address: 816 Katipunan St., Cebu City
Operating hours: Open 24 hours from Monday to Sunday
3. Tagala Chicken Butterfly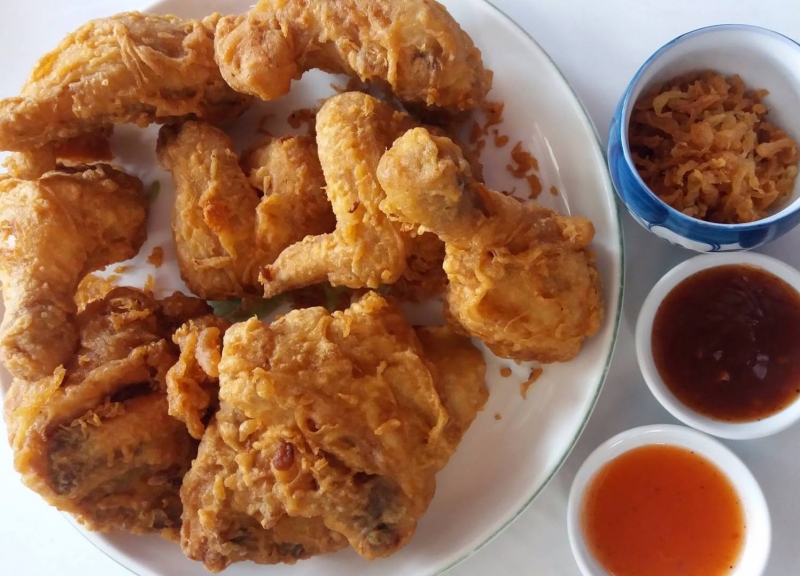 Can you ever go wrong with fried chicken? It's such a staple meal! When in Cebu, Tagala Chicken Butterfly is the place to go for the absolute best fried chicken in the city. Trust us, this local favourite will put even your favourite fast-food chains to shame!
Tagala's deep-fried chicken is tasty, crispy on the outside, and juicy on the inside — and you'll love their sauces just as much. Pair your fried chicken with their spicy sauce, their sweet sauce, or even a combination of both! Enjoy yours with a few orders of puso and a side of ngohiong (a Cebuano staple similar to lumpia). Plus, don't forget to ask for their (free) crumbs — their leftover batter makes for a delicious snack to munch on!
Address: Don Jose Avila St., Cebu City
Operating hours: Monday to Saturday, 8am to 7pm
4. Larsian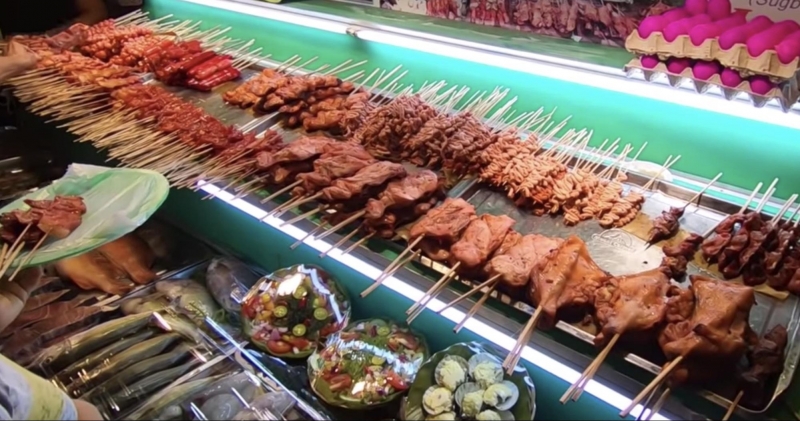 If you ask your local Cebuano friends to take you around, they'll most likely take you to Larsian — a complex of about 30 vendors serving a generous selection of grilled meat and seafood dishes! A favourite haunt for locals and tourists alike, this place can get really busy; it's the type of place to go for a food trip, instead of an intimate get-together. Dine with a large group, and you're welcome to haggle — you can ask for discounts as well as freebies like unlimited soup and soft drinks!
Take your pick of meat, seafood, or street food favourites, and have them grilled on the spot! Popular menu items include their pork barbecue, isaw, grilled squid, scallops, inihaw na manok, and butter garlic shrimp. Larsian is also the ideal place to sample the famous chorizo de Cebu! Just like most street stalls around Cebu, meals are meant to be eaten with your hands — so dig in and enjoy!
Address: Don Mariano Cui St., Cebu City
Operating hours: Open 24 hours from Monday to Sunday
5. Kusina Uno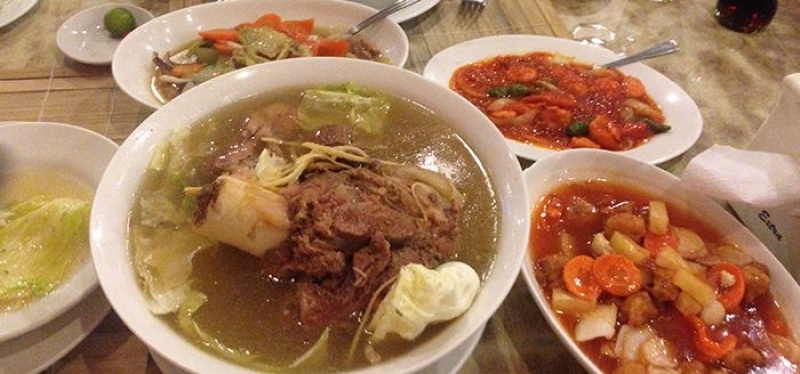 There's nothing like a home-cooked meal, and Kusina Uno certainly doesn't disappoint at serving up Pinoy comfort food. On the hunt for the best pochero in Cebu? This is where to get it! The Cebu-style bulalo dish actually happens to be the city's most popular 'drunk food.' Locals crave for this melt-in-your-mouth dish, even on nights out! Thankfully, you can satisfy your pochero cravings at this 24-hour restaurant no matter the time of day.
An interesting take on the popular dish, their sizzling pochero is another must-try menu item. Don't miss out on their chicharon bulaklak, either! 
Address: GND Building, F. Cabahug St., Cebu City
Operating hours: Open 24 hours from Monday to Sunday
6. Sugbo Mercado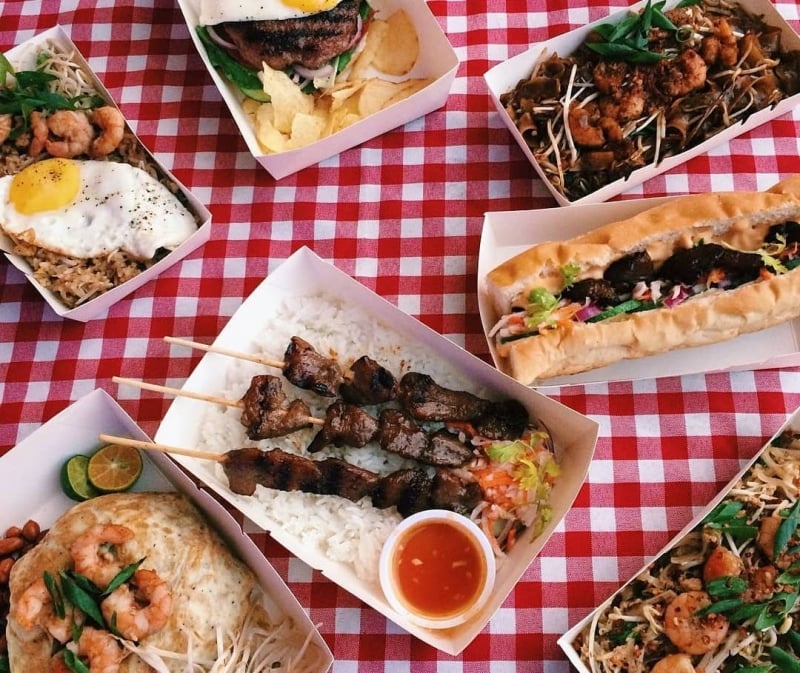 Indecisive couples, take note: Sugbo Mercado is a godsend for those who always have a hard time choosing where to eat. Operating every Thursday until Sunday, this weekend market is home to around 20 different vendors. Here, you can choose among meals from different cuisines — from local Cebuano dishes like lechon belly to other Asian and Western delights like ramen, takoyaki, Vietnamese spring rolls, and baked scallops.
Their other interesting offerings include flavoured silvanas and milk tea ice cream. (Yum!) Truly a foodie's paradise, there's so much to choose from — we won't be surprised if you end up coming back to sample them all!
Address: Cebu IT Park, Garden Bloc, Inez Villa St., Apas, Cebu City
Operating hours: Thursday to Sunday, 5pm to 1am
Also read: 12 Must-Try Foods at Cebu's Sugbo Mercado
7. Joed's Lutong Hapon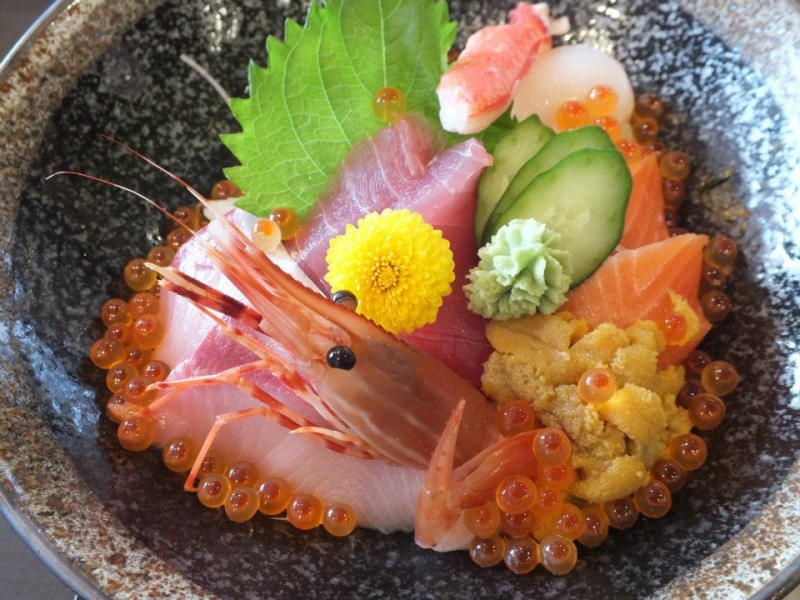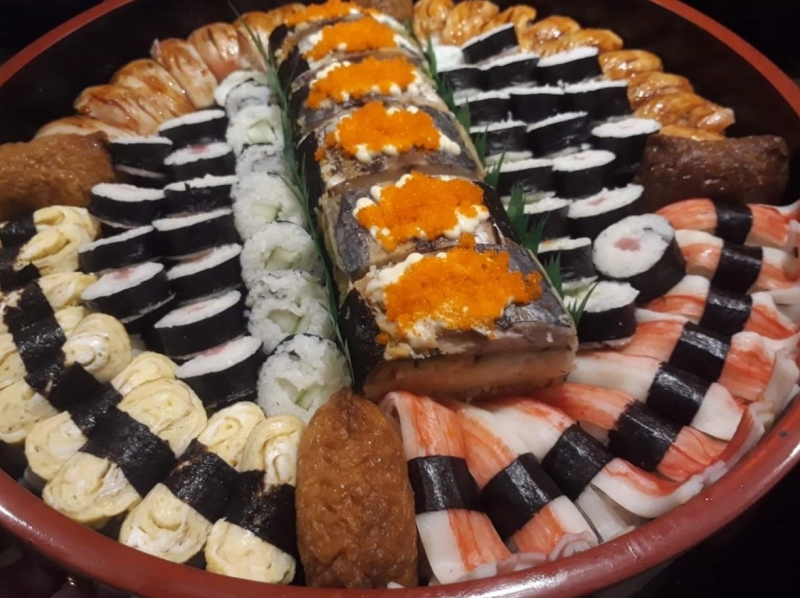 Having started as a simple carinderia, Joed's Lutong Hapon has become tons of locals' go-to place for home-cooked Japanese dishes. From sashimi and delicious sushi rolls to scrumptious rice bowls, their satisfying meals won't break the bank, either! Come for your fix of best-sellers like their California crunchy maki roll, chicken teriyaki, katsudon, and beef gyudon.
This ambient Cebu restaurant is a nice place for dates, catching up with friends, and intimate gatherings. They even have live music performances several nights a week!
Address: 299 Pres. Quirino St., Cebu City
Opening hours: Monday to Sunday, 11am to 4am
8. Melton's Halo-Halo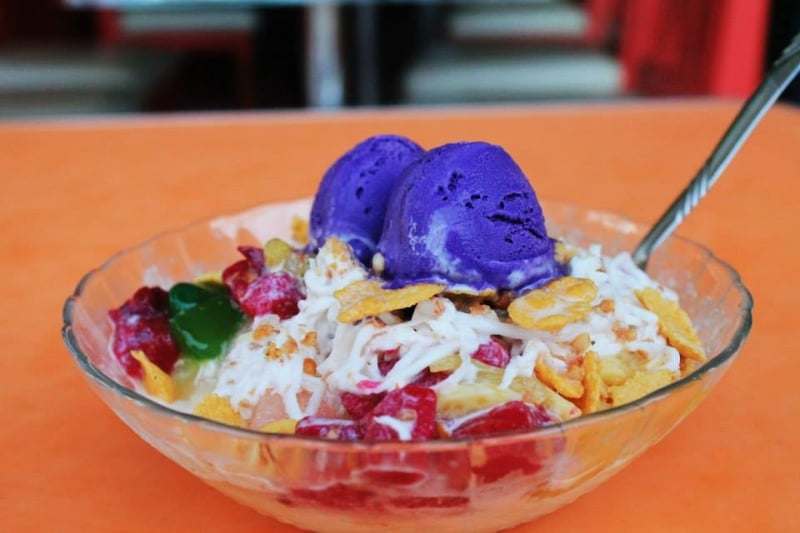 Looking for a sweet treat, or a delicious way to beat the heat? Head to Melton's Halo-Halo — their special halo-halo is some of the best you'll have in your lifetime. Plus, it's really affordable, too!
Not your typical halo-halo, theirs is served in the form of smoothly shaved ice with red banana, ube, langka, coconut, and leche flan. For an extra fee, upgrade your order and get their super special halo-halo, which comes with two scoops of ube ice cream and additional yummy ingredients! In addition, Melton's also serves other snacks that include ngohiong, pizza, fries, batchoy, tempura, and squid balls.
Address: Katipunan St., Cebu City
Operating hours: Monday to Sunday, 1pm to 11.30pm
Cebu restaurants for a fully satisfying meal
9. CnT Lechon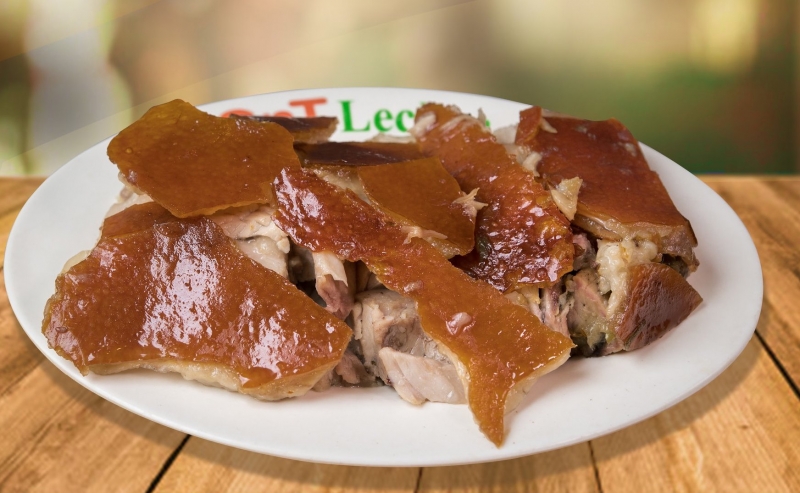 Of course, how is a trip to Cebu ever complete without trying their famous lechon? There are lots of places to get your fix, but CnT lechon is a must.
Serving some of the best-tasting lechon in all of Cebu, theirs comes with crispy skin and tender, succulent meat. It's so tasty, you won't even need any sauce! Their spicy lechon is something you can't miss out on, either. Pair it with puso and some refreshing calamansi juice! Their other stand-out menu items include sinigang na hipon, pinakbet, sweet and sour fish, and pancit canton.
Address: 1377 V. Rama Avenue, Guadalupe, Cebu City
Operating hours: Monday, 10 am to 9pm; Tuesday to Friday, 7am to 9pm; Saturday to Sunday, 6am to 9pm
10. Rico's Lechon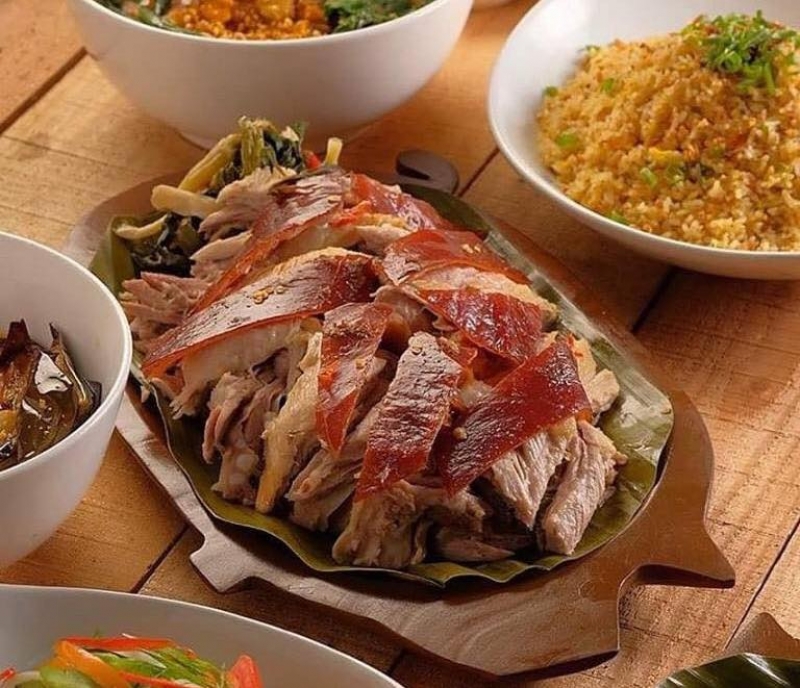 Rico's Lechon is one of the city's go-to spots for crispy Cebu Carcar lechon. Available in original and spicy flavours, their lechon goes perfectly with their wide range of menu items. Their extensive list of must-try dishes includes their sizzling lechon sisig, kinilaw na tanigue, Bicol express, monggos, and calamares. Go crazy and treat yourself to a satisfying feast!
Address: Vibo Place, N Escario St., Cebu City
Operating hours: Monday to Sunday, 10am to 10pm
11. I Love Bucket Shrimps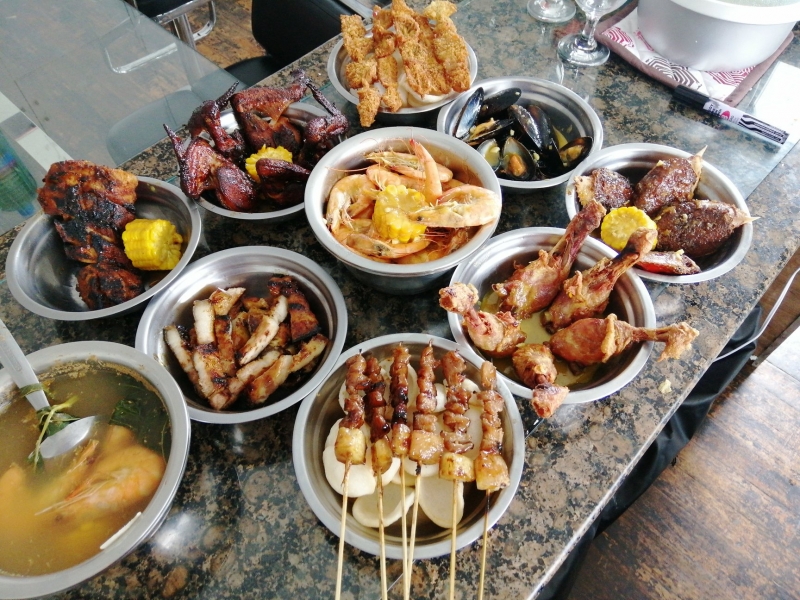 I had one of the best meals at this particular restaurant, and that makes it one of my personal favourites. It was a rainy afternoon, and we were warmly welcomed into the humble establishment. Even after finishing our meal, the staff urged us to stay because it was pouring out — and this was even when they happened to be getting ready for their siesta hours. My friends and I loved their genuine hospitality as much as their mouth-watering dishes!
Our recommendations? The shrimp, of course — plus their saucy crab! — cooked in I Love Bucket Shrimps' signature sauces. They come in three flavours: garlic butter, cajun, and curry. Plastic gloves are provided so you can fully enjoy your meal with your hands, minus the mess. To complete your experience, have your shrimp and crab with steaming hot rice and an ice cold beer — yum!
Address: A. Climaco St., Cebu City
Operating hours: Monday to Sunday 11am to 2pm, 4pm to 9pm
12. Dimsum Break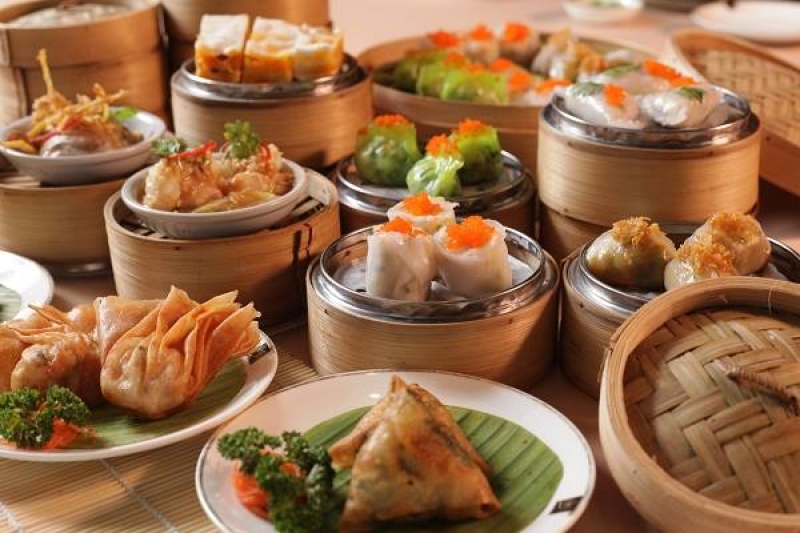 Like I said earlier, Cebuanos love their siomai. It's no wonder Dimsum Break came highly recommended by my local friends! During our first time at this restaurant in Cebu, my friends and I ordered pork siomai, hakaw, and yang chow fried rice — the usual quick bites when at a Chinese joint.
As we were enjoying our meals, we couldn't help but notice that pretty much everyone around us was ordering this particular bowl of rice covered in sauce — apparently, this was their best seller! We later learned this was Dimsum Break's original steamed fried rice: fried rice topped with pork and shrimp, and then steamed together with their secret sauce. Naturally, we had to eat there again and order it — and it definitely hit the spot!
Address: G/F North Arcade, Banilad Town Centre, Gov. M. Cuenco Ave, Cebu City
Operating hours: Open 24 hours from Monday to Sunday
Restaurants in Cebu for breakfast, coffee, and light meals
13. Abaca Baking Company
Since I'm a big lover of coffee and pastries, Abaca Baking Company is easily another of my favourite restaurants in Cebu. They offer a generous selection of baked goods — but their pain au chocolat would have to be my top recommendation. It's not everyday you find one as big and chocolate-filled as theirs!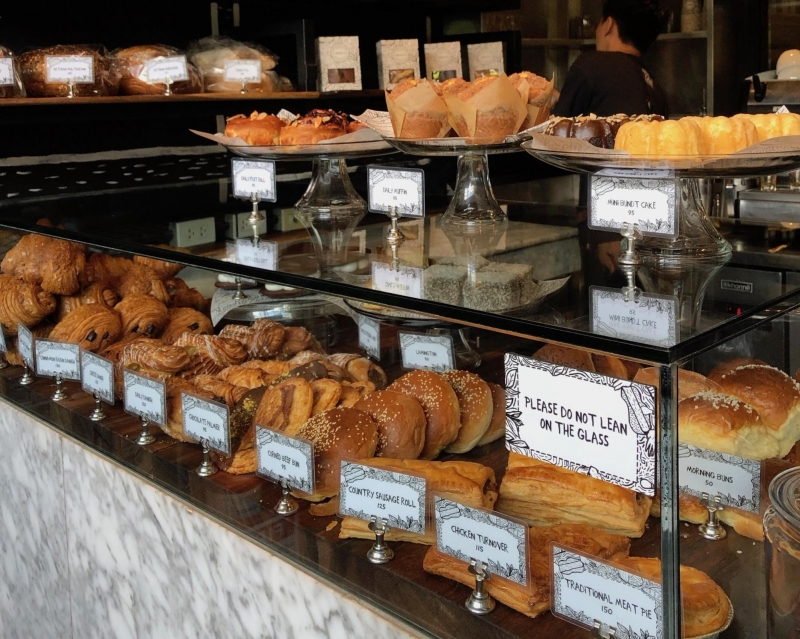 In addition, they also serve a mouth-watering all-day breakfast menu, with notable dishes like chorizo fried rice and corned beef hash. Pair your dish of choice with a cup of coffee or any of their fresh-squeezed juices — and voila! Perfect combination.
Address: Crossroads, Banilad Rd., Cebu City
Operating hours: Monday to Sunday, 7am to 10pm
14. 21 Kilometers Coffee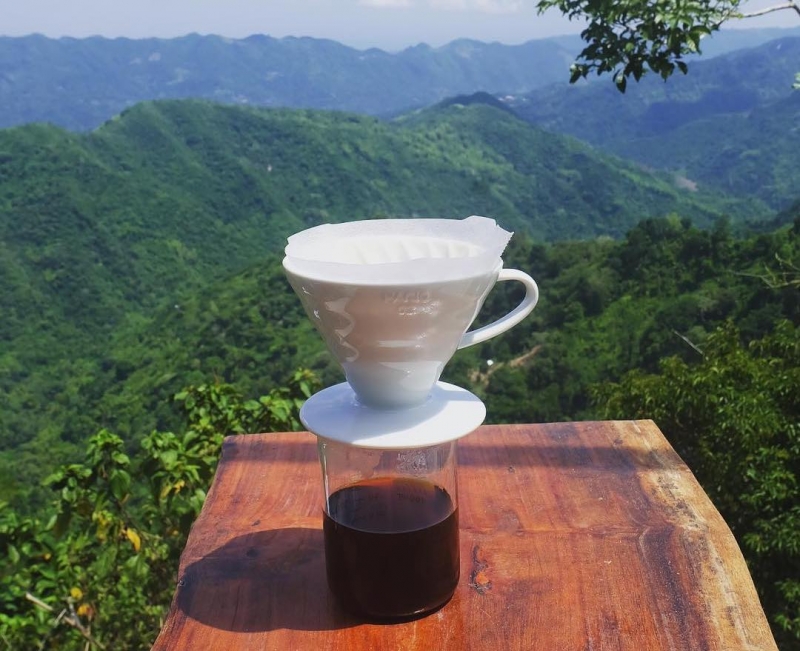 Coffee with a view? Yes, please! This mountaintop cafe is 25 kilometres away from the city centre — and it's definitely worth the trip. Serving speciality coffee, fresh fruit shakes, pastries, and an all-day breakfast menu, this restaurant is an ideal stop on your way to popular Cebu City tourist spots like Sirao Garden and Temple of Leah.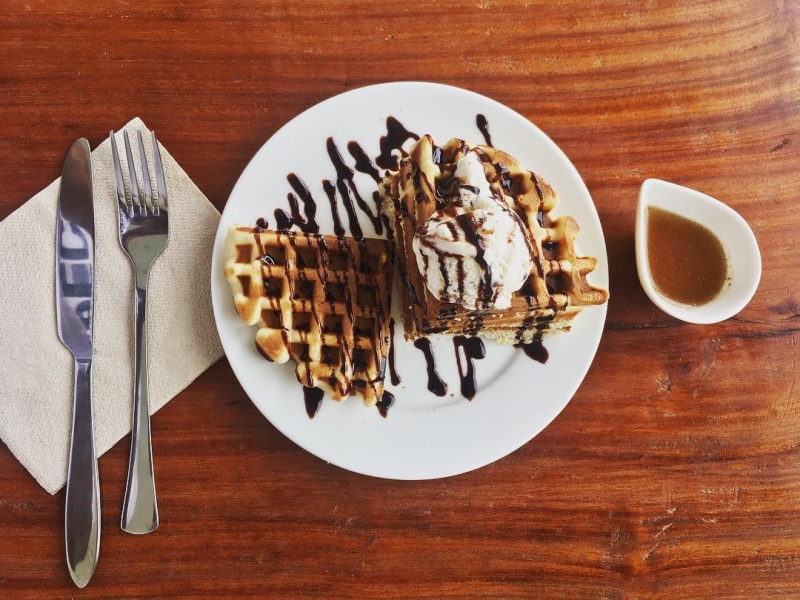 They serve an interesting selection of coffee, made with beans from Kenya and South Cotabato. Their pour-overs, iced black, and iced mocha are definitely worth trying! Non-coffee drinkers may opt for their traditional dark chocolate or tablea, as well as their iced matcha. As for food? Make sure to try their banana pancakes with bacon, beef and cheesy lasagna, or burger with fries! Their cheesecake flan will be the perfect sweet ending to your meal.
Address: Cantipla 1 Tabunan, Cebu City
Operating hours: Wednesday to Monday, 7am to 7pm
15. The 8th Mug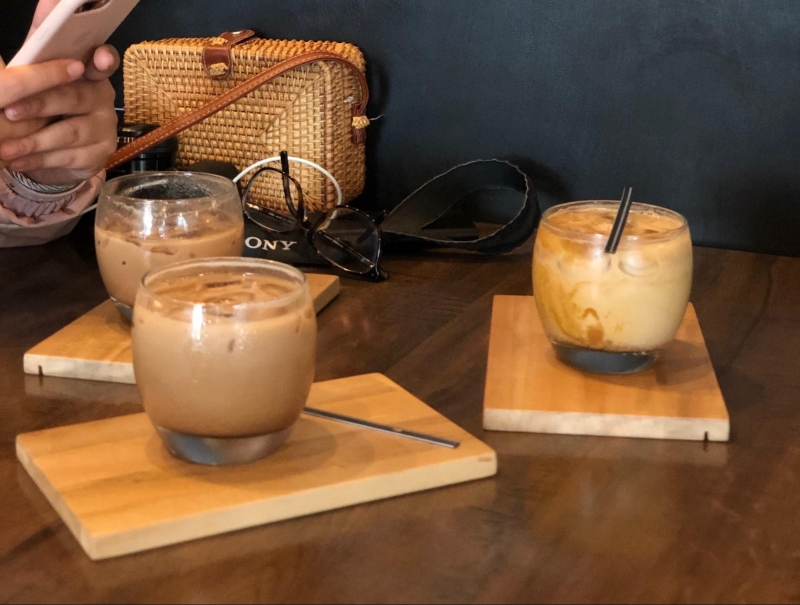 I stumbled upon The 8th Mug while scrolling through the Cebu City geotag on Instagram. I saw photos of the coffee and the cute interiors, and I was sold. Just hours after touching down in Cebu, it was my first stop — and it did not disappoint!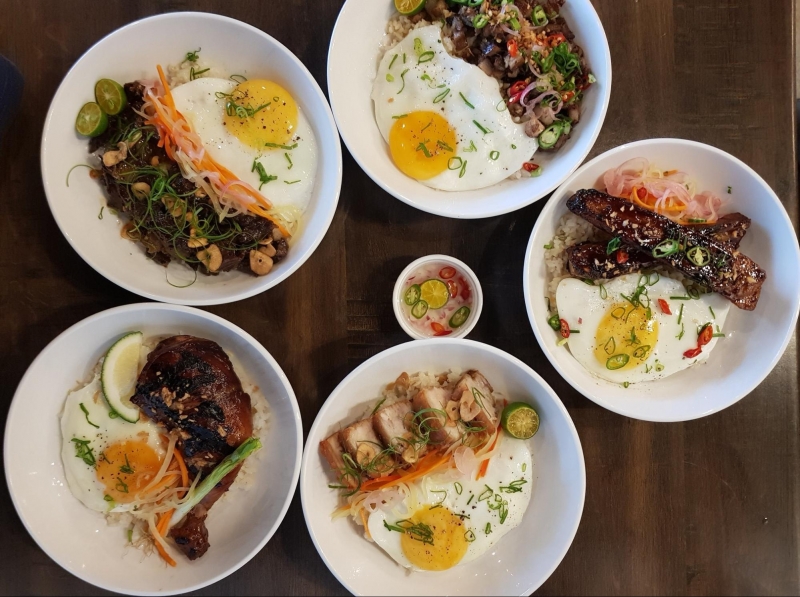 Not only is their coffee delicious (my friends and I ordered their cafe mocha and butterscotch latte) — they're beautifully presented, too! To add to this, all their menu items are made from scratch, guaranteeing that your meals will always be freshly made. You can't go wrong with their burgers, fried chicken, sandwiches, and pasta. Plus, their rice bowls, which come in a variety of flavours: pork sisig, lechon kawali, beef tapa, chicken bbq, and barbecue ribs!
Address: 59 N Escario St., Cebu City
Operating hours: Monday to Sunday, 8am to 10pm
Cebu restaurants with great food and Instagrammable interiors
16. House of Lechon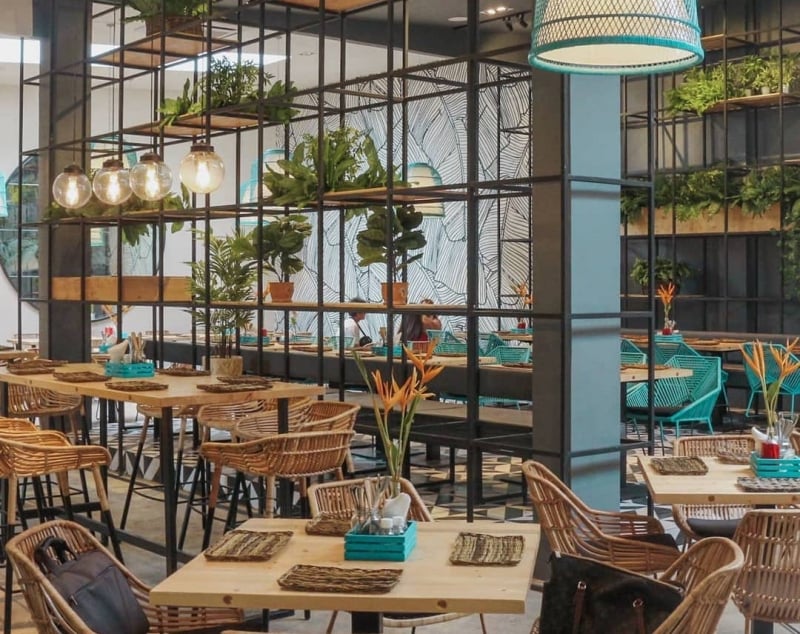 Not only does House of Lechon serve mouth-watering dishes — this Cebu restaurant has gorgeous interiors, too! A beautiful blend of modern and native Filipino elements, the decor gives it an ambience worthy of just about any special occasion.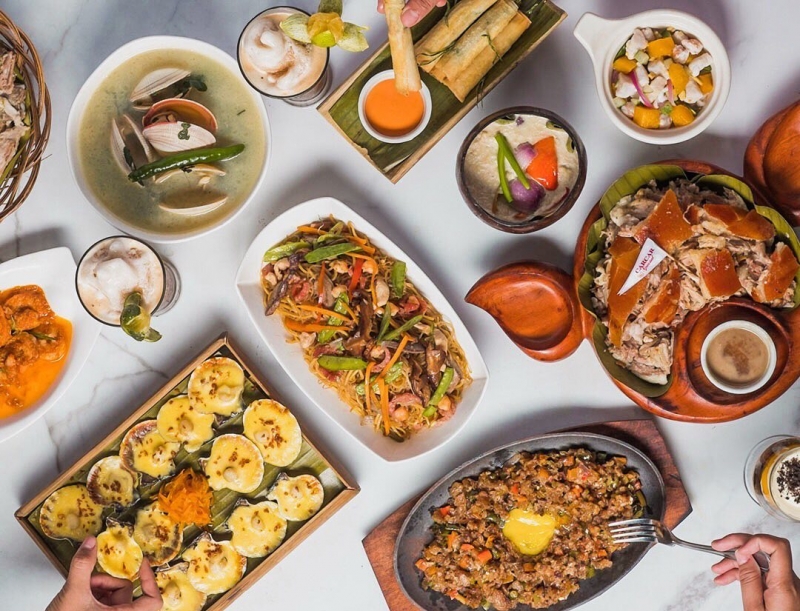 Needless to say, you have to try their lechon! Prepared Carcar-style, its meat is tender and moist, its skin is crispy — and it comes in original and spicy flavours, too. What makes it different from others? It's bathed in lechon drippings, and this delicious sauce is served on the side for those who might need a little extra. To add to your dining experience, make sure to order some oyster sisig, baked scallops, and ngohiong to go with your lechon! For dessert, try the Oreo mango float — you won't regret it!
Address: Acacia St., Cebu City
Operating hours: Monday to Sunday, 10am to 10pm
17. Yolk Coffee & Breakfast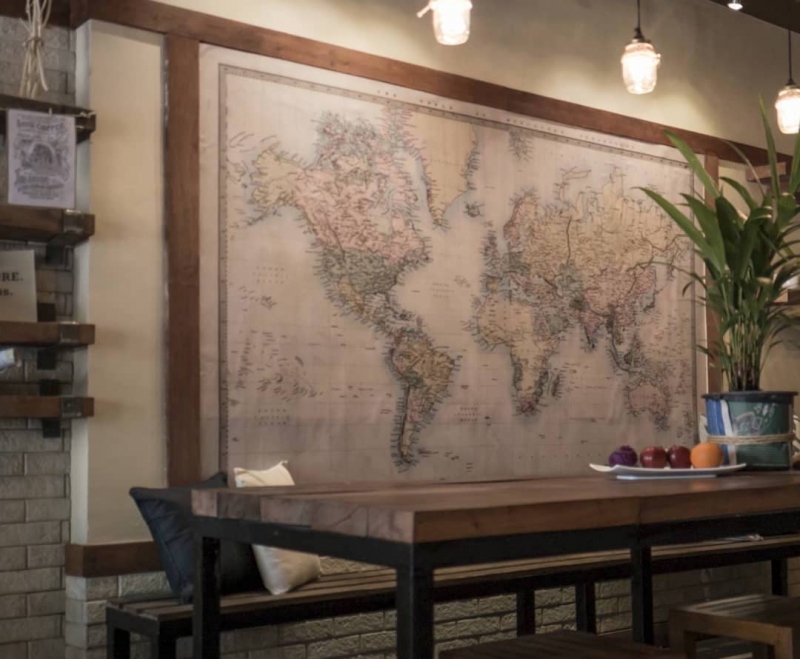 This all-day breakfast spot is probably one of Cebu's hidden gems. Sure, it comes highly recommended by a lot of people — but with an excellent menu, great service, and beautiful interiors, it's pretty safe to say it still doesn't get enough hype! To add to this, they're also known for their strong Wi-Fi connection — something to take note of if you need to get some work done!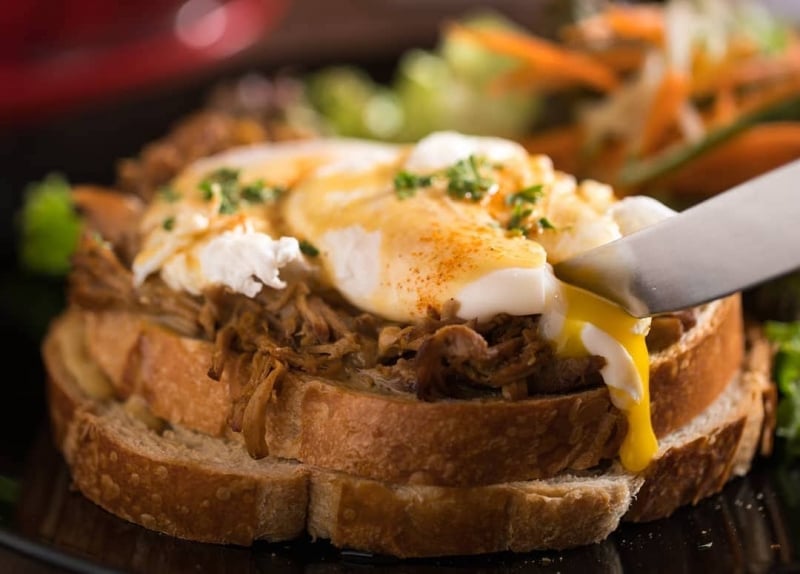 Those who've been to Yolk Coffee & Breakfast swear that they serve some of the best coffee in Cebu City. They have a generous selection of coffees (they even have a third wave coffee bar!), but their white brew seems to be the most highly recommended. For breakfast, take your pick of these best-selling menu items: chorizo and eggs in a pan, eggs Benny, do-it-yourself omelette, or Pumba sandwich: made with humba-inspired pulled pork, cream cheese, and pickled vegetables.
Address: Tan Kim Building, 80 Tres Borces Padres St., Cebu City
Operating hours: Monday to Sunday, 7am to 7pm
18. La Vie Parisienne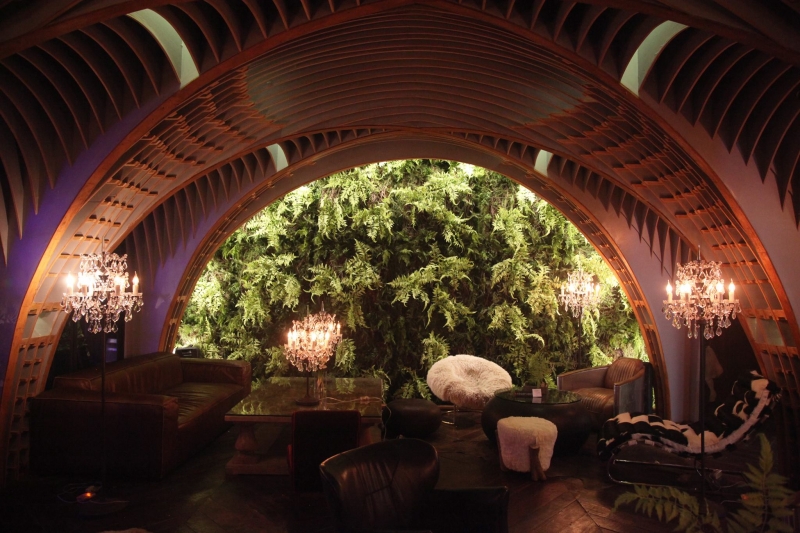 Pretty much everyone visiting Cebu has already heard of La Vie Parisienne. More than anything, this restaurant is known for its Instagrammable design. No matter where you grab a table,whether it's inside or outside, you're guaranteed to be seated somewhere picture-perfect! It's particularly ambient at night, making it an ideal spot for romantic dinners.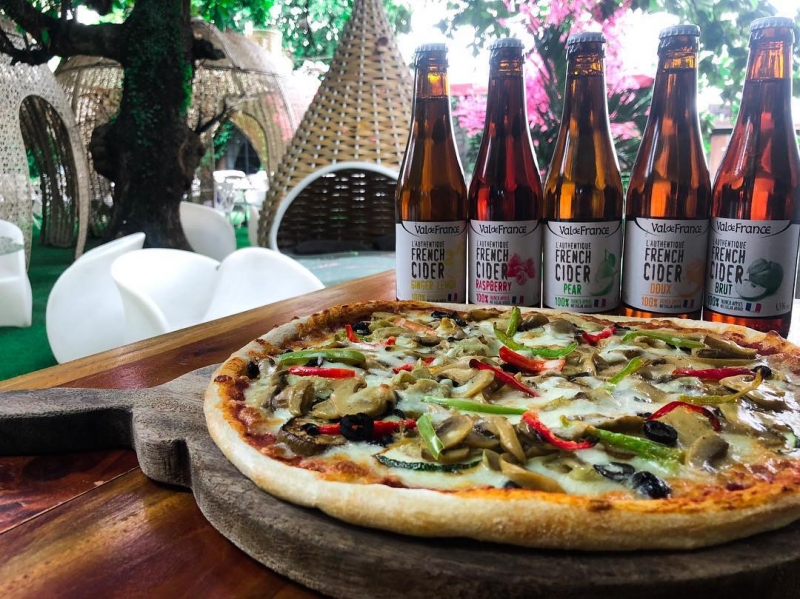 This self-service restaurant offers French pastries, deli meats and cheeses, an extensive selection of wines and beers. Their thin-crust pizzas, croissants, and macarons are among their most popular menu items!
Address: 371 Gorordo Ave., Cebu City
Operating hours: Monday to Sunday, 9am to 3pm
Restaurants in Cebu for dinner and drinks
19. La Vie in the Sky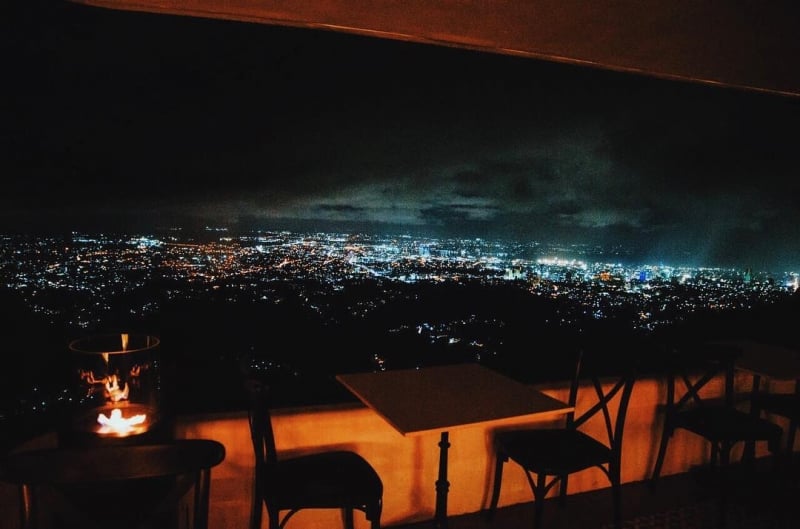 With a breathtaking view of Cebu's city skyline, La Vie in the Sky is ideal for any and every occasion. Whether you're celebrating something special, dining with your significant other, or having drinks with friends, this ambient spot is the perfect place to celebrate with a bottle of wine. Of course, if you want to see the gorgeous city lights, it's best to head here for an al fresco dinner or after-dinner drinks!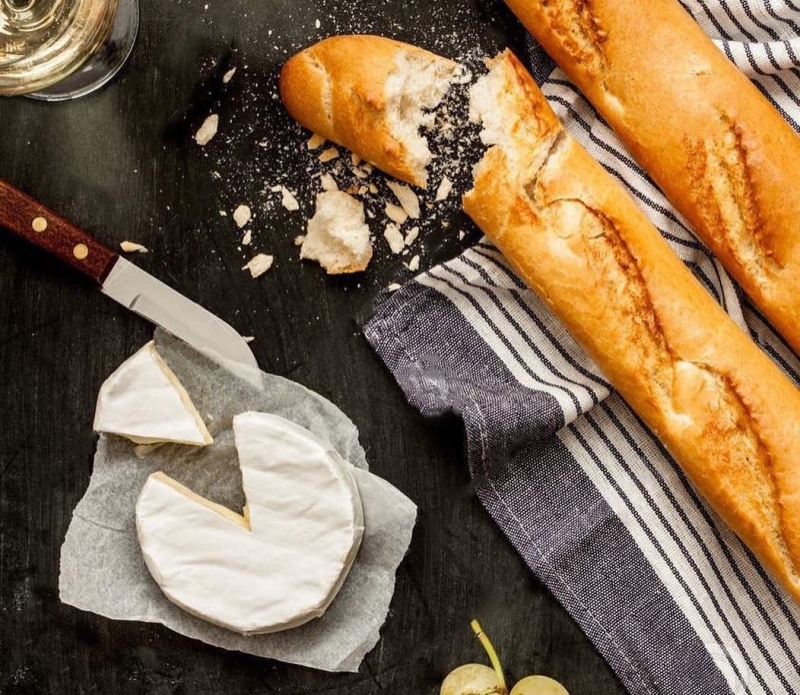 A quick escape from Metro Cebu, this restaurant offers the same pastries, wines, and deli goods served at La Vie Parisienne. To add, they also serve a selection of Filipino dishes! Oh — and did we mention the amazing view? 
Tip: Make sure to secure a safe ride back to the city! Cabs don't go this far up the mountain, so you'll have to hire a car, or bring your own. Drive safe!
Address: Cebu Tops Rd., Cebu City
Operating hours: Monday to Sunday, 10pm to 2am
20. Pueblo Mexicano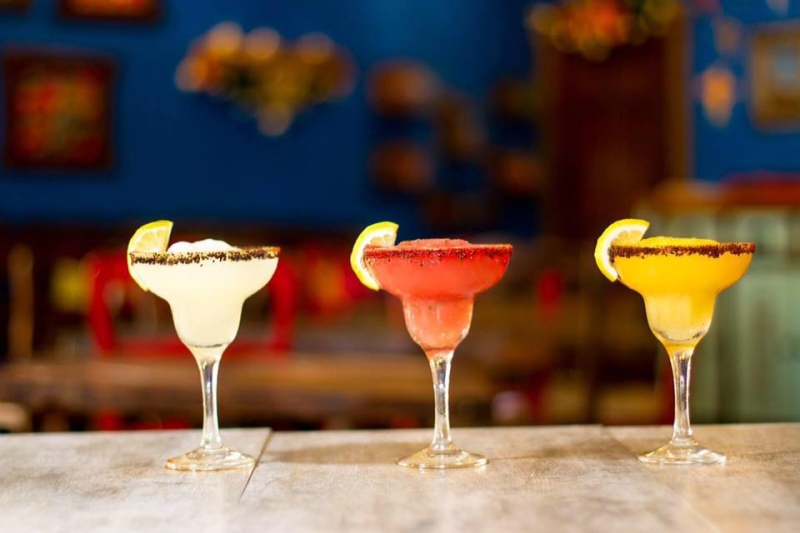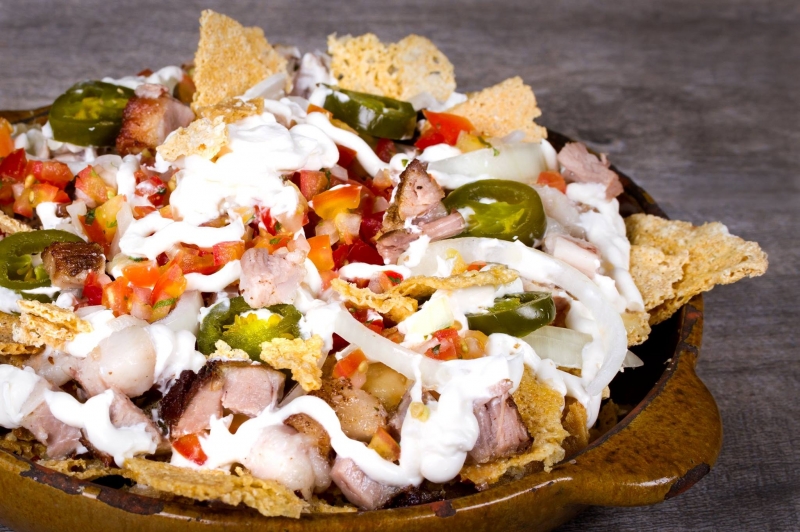 Margaritas, anyone? Pueblo Mexicano serves these fruity cocktails in a number of delicious flavours: classic lime, strawberry, guava dalandan, watermelon mint, passion fruit, and hibiscus. It's just the place to grab drinks with a group of friends!
This Cebu restaurant also offers authentic Mexican food and a selection of Peruvian, Argentinian, and Spanish dishes — and they go perfectly well with their cocktails! More than just nachos, tacos, burritos, they also serve mouth-watering tamales, chilorio de puerco (Sinaloa-style lechon carnitas), and chalupas poblanas (canape-sized corn tortillas that are pan-fried and topped with chilorio pork and pico de gallo).
Address: Banilad Town Center, Gov. M. Cuenco Ave., Cebu City
Operating hours: Monday to Sunday, 11am to 11pm
Also read: A Healthy Food Trip in Cebu: 5 Must-Try Vegan & Vegetarian Restaurants
Are we missing anything on this list? Feel free to let us in on your favourite restaurants in Cebu City!