Contributed by Blue Hamburger
For many, Rio de Janeiro is synonymous with Cristo Redentor, the Sugarloaf or the beaches of Copacabana and Ipanema. While I agree that these places entice me to come and visit, I wanted to go to Rio to visit a favela (shanty town). Yes, that stinky, shady area of Rio notoriously known for violence and drug trade (as media unfairly reports).
Also read: 10 Countries Filipinos Probably Didn't Know They Can Travel to Without Visa
Side story
In 2014, I tried applying to be an Olympic volunteer and began the long (and to some extent, quite tedious) process of screening and interviews. I have been trying to be one since Beijing Games but I always end up short. For Beijing, it was because of my lack of Mandarin knowledge, and for London, it was because of my visa application. Rio could have been my most successful bid if not for one silly mistake: I overlooked my confirmation email (it went to my junk mail) and missed my deadline to confirm that I accept the terms and condition of being a volunteer. I was that close!
So I decided that if not for the Olympic Games, I will still push through with my trip to Rio. I thought I could devise some other plan to fulfil my goal of visiting the favelas. Maybe I could find some short volunteer jobs during my stay.
Bem vinda, Rocinha!
A few hours after I posted a public trip notification on CouchSurfing, I received an invitation from a local to host me. I politely explained that I already sorted out my accommodation and what I was more interested was to tap a volunteer gig if there is any. Luckily, he is part of an organisation teaching children in one of the favelas in Rocinha. Bingo! The conversation went on and by the end of our lengthy discussion, I was all set to join him during my entire stay.
I was excited and grinning from ear to ear when I left Doha. I endured that 14-hour flight from Doha to Sao Paulo and another six hours of bus ride from Sao Paulo to Rio thinking that this trip had a deeper purpose rather than just the typical touristy kind. I arrived in Rio by 7am and I was already relying on free WiFi as I failed to secure a local sim card. My excitement dwindled when I checked my phone and saw this: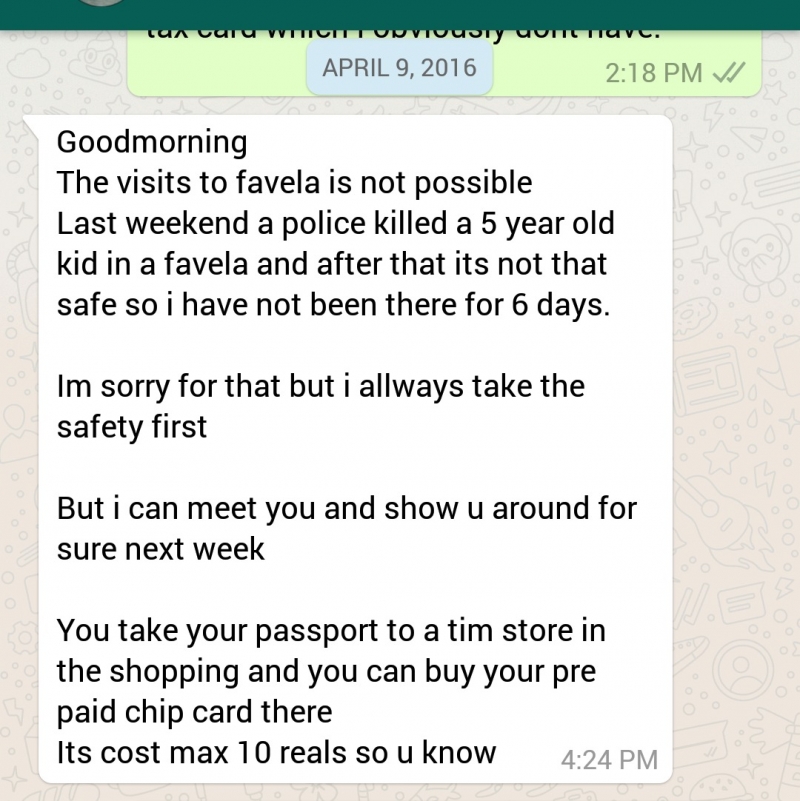 Just like that, my supposed volunteer job was now gone and I was already in Rio without a definite plan. I couldn't risk pushing my luck to go by myself knowing that just the other night, there was a shootout. Perhaps it was a sign.
Roncinha out, Vidigal in
I spent the next few days wandering around Rio on my own and mostly by foot. On those days that I felt lazy to think of where to go next, I would kill time by the beach. I was staying in a hostel in Copacabana which is five minutes away from the long stretch of powdery white sand.
It was on my fourth day that I learned about a hiking trip to Dois Irmaos. It will be roughly a two-hour hike which is not bad, and besides, it had been part of my to-do list: go to either Dois Irmaos, Pedra Bonita or Pedra Telegrafo.
The biggest surprise came when I learned that in order for us to hike, we will pass by a favela. It might not be Rocinha but instead, Favela Vidigal. For most locals, Vidigal is safer than the notorious Rocinha. I thought I couldn't be picky. A favela is a favela and I wanted to see it.
Also read: Top 10 Things to Experience in South America
How to get there
We took a public bus from our hostel to Vidigal. Easy. It cost around R$3 and 30-minute ride (depending on traffic). It is located at Avenida Niemeyer 210. From there, you have three options:
Walk your way up past the favelas and to the top of Dois Irmaos.
Take a van which will take you to the football field and start your hike from there.
Take a motor taxi and experience the thrill of how these seeming daredevils romp their way up to the same football field.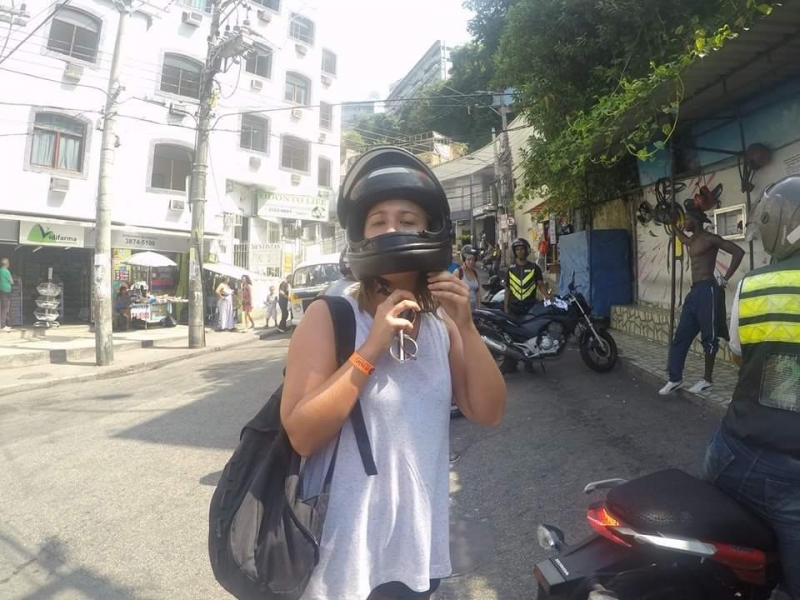 Truth be told, I'd only tried motor taxi once (in Bangkok) and I thought I would never do it again. I wanted to take the safe alternative (van) but the rest of the group decided to take the motor taxi instead. So with one deep sigh, I picked my helmet (the only thing that would protect me) and a local escorted me to his motorbike. The guy could not speak English and I was trying to explain to him to please go slowly if possible but none of it registered to him as we crisscrossed on our way up at lightning fast speed. The more I told him "slowly por favor", the more he sped up. I guess I was saying the opposite.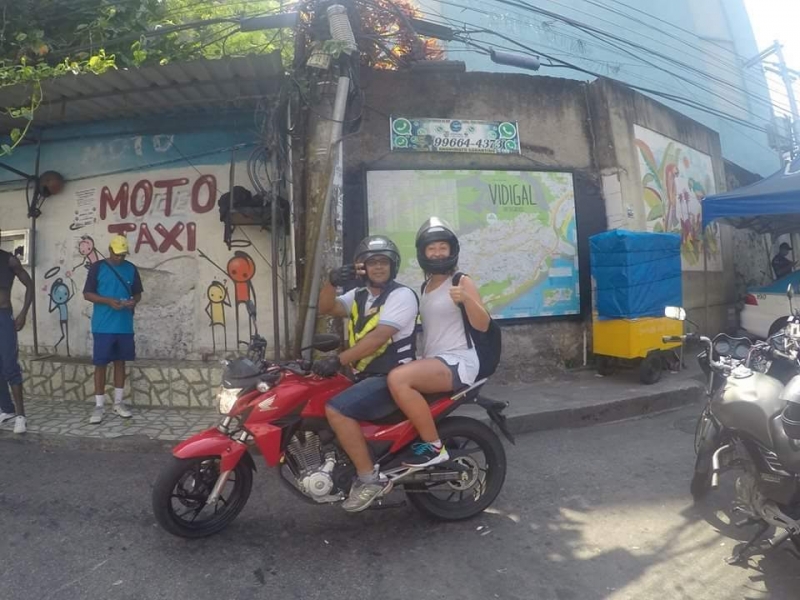 It was a roughly 10-minute ride I believe (although it felt more than that, way more) as I was trying my best to hold on to that metal handle as tight as I could to save my life. I was praying all along as my previous road crash came flashing in my head. It was not fun. I'm glad that soon enough, we reached the football field and the torturous ride was over. Whew!
Morro Dois Irmaos
Finally, the hike was about to start. About 15-20 minutes off, we reached the first viewpoint where a panoramic view of Favela Rocinha will be observed. I finally saw the favela where I was supposed to be teaching and truly, it was huge. Home to over 70,000 people and considered Brazil's most populous favela, it was indeed a city within a city.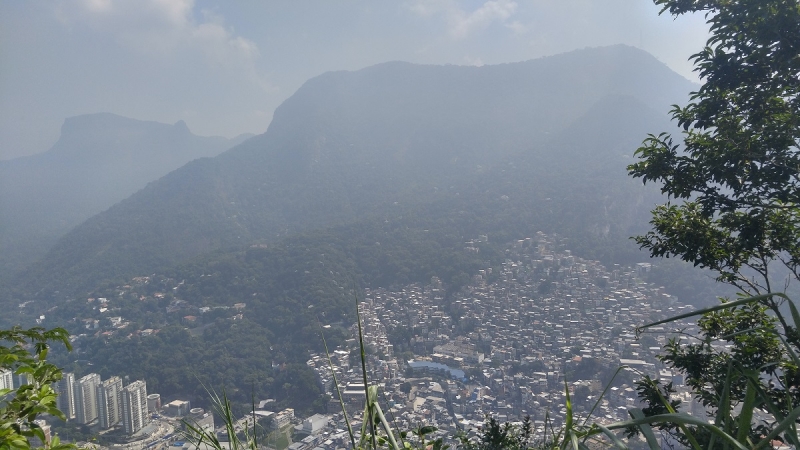 After a few sips of water, I continued to join the group towards the peak of Dois Irmaos. I realised how unfit I was (and how Doha life involves a lot less walking let alone hiking) as I began panting at really catching my breath. I started to slow down just to pace myself and soon, I finally reached the top. I was, unfortunately, the last one to reach.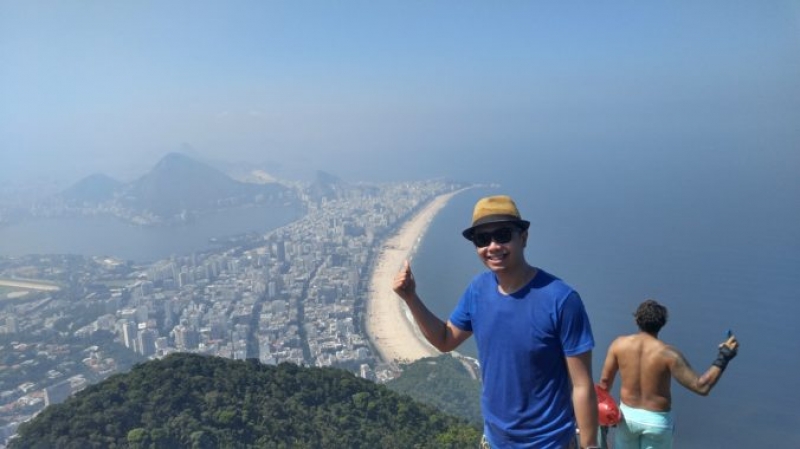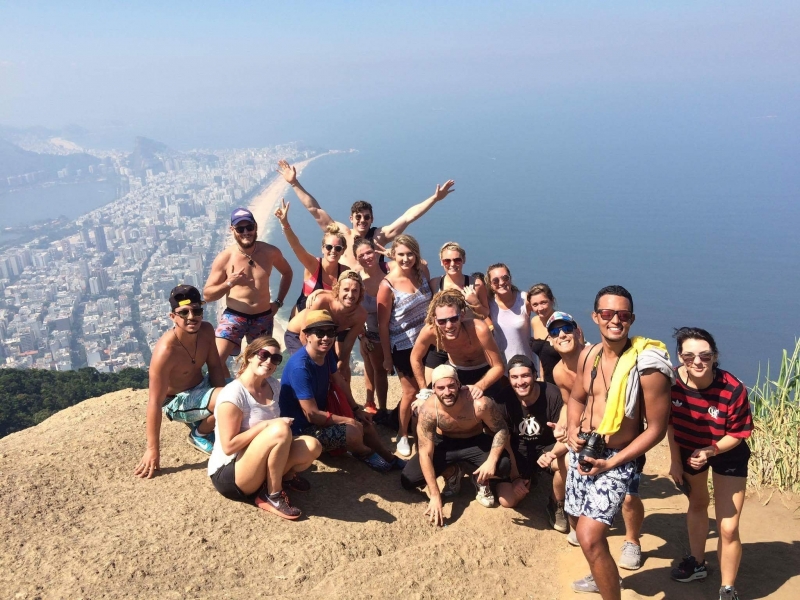 Favela, finally…
We decided to walk our way down towards the Vidigal entrance. Finally, my favela experience was about to happen!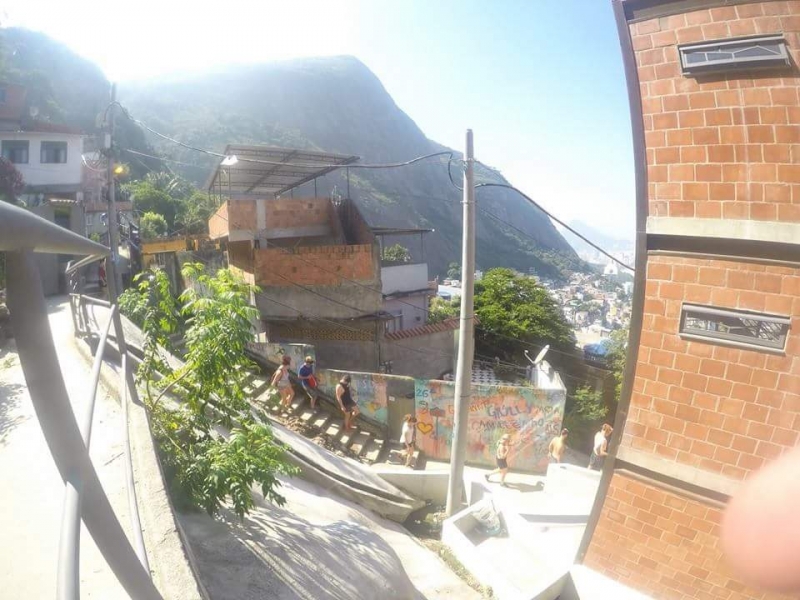 The favela I imagined in my head long ago was not far from what I saw and smelled. Rows and rows of houses are next to or on top of each other. The smell is something that is not commonly desirable. There was this inevitable feeling of uneasiness and apprehension as we walked past through narrow alleys and all eyes were on us. A group of foreigners or "gringos" as the locals would call us. I would not say that I felt unsafe because honestly, everyone was quite warm to us. They were not exactly hospitable but at least not cold or aggressive. It was fine.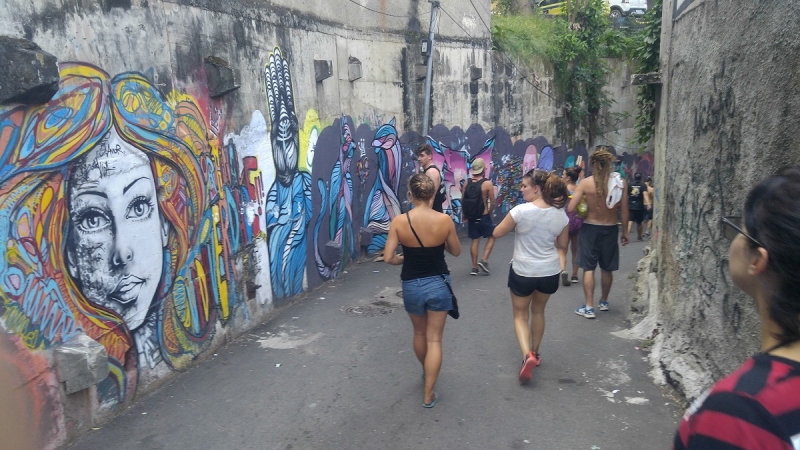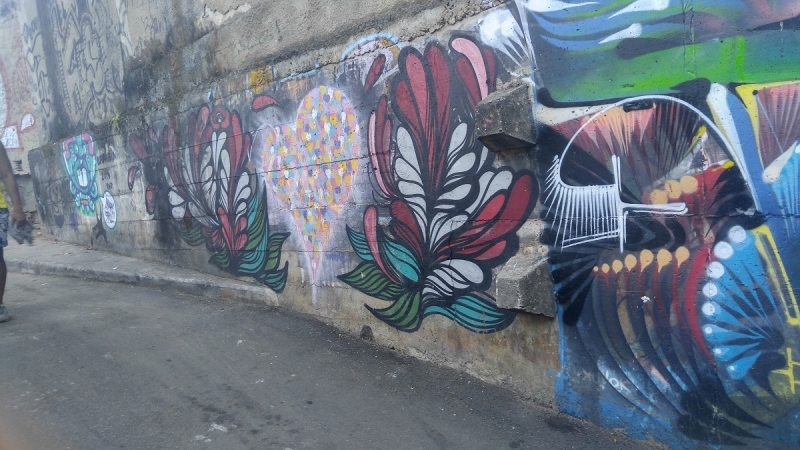 What I found surprising are the brightly coloured alleys with graffiti and street art. For me, this was what made my favela experience truly memorable. It was like a make-believe illusion of the reality that the gunshot holes on house walls present. Life's irony was right in front of me.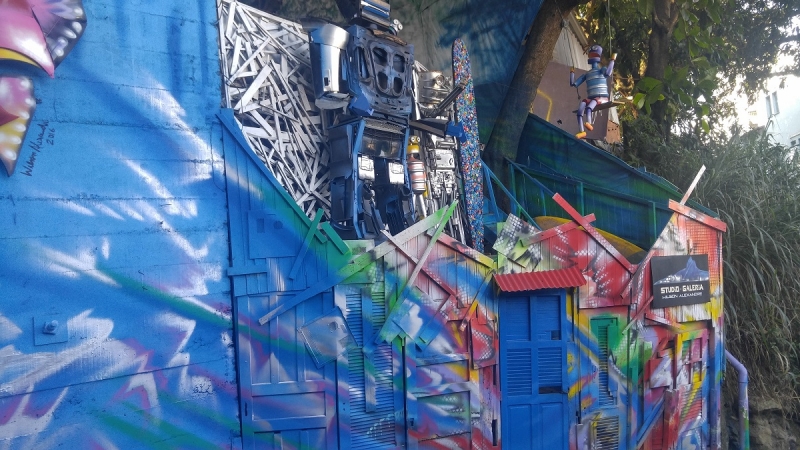 We stopped by for refreshments and some acai smoothie as we waited for our bus back to Copa. I was gazing the entirety of Vidigal one last time, trying to remember all the bits and pieces of its details. I know that this experience was one for the books and I wanted to relish that moment one last time.
Reality check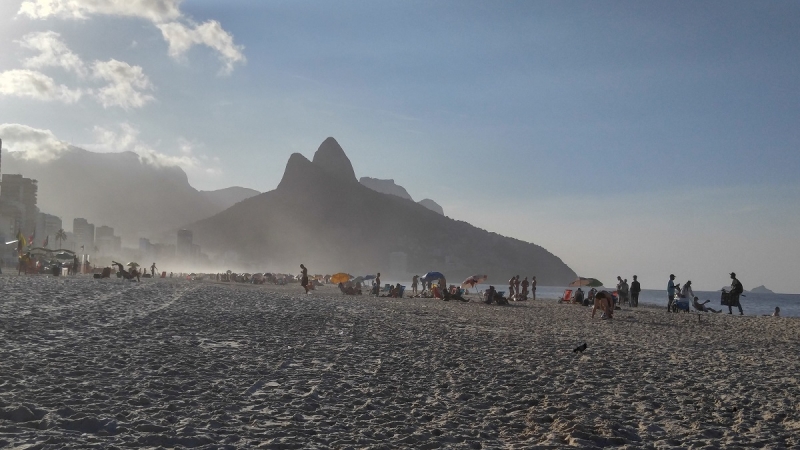 I hopped on the bus with such fulfilment. I might not be able to teach but at least I got to have a glimpse of the favela culture. It is a reflection of reality not only in Brazil but in every place in the world where poverty (in varying degrees) exists. Coming from a third world country myself, I am well aware of this sad fact. While most governments neglect this section of the population, these favelas represent the families trying to live their dreams and survive the challenging world. The media have painted a harsh image of these favelas and while most of it is true, it remains unfair as it leaves a rather negative impression and boxes these favelas to the mere shanty and stinky villages.
Also read: How I Learned To Be a More Responsible Traveller the Hard Way in Russia
There is a lot more to it. They have a lot more to offer and waiting for you to see. More than the experience alone, visiting these favelas will teach you something you won't get to have elsewhere. I'm glad I did.
Rio is not just Cristo, mountains and beaches. Favelas, too.
What are your favourite sites in Rio?