Couples normally flock to Bali for their romantic holidays, or even far away to Hawaii. We'll let you in on a little secret – how about planning a getaway to somewhere a little less crowded, and also someplace not so far away? Unbeknownst to many travellers, Okinawa is actually one of the world's most lovey-dovey destinations! Here are some absolutely romantic things to do in Okinawa with your other half.
Go snorkelling hand in hand through the Blue Cave
What's more romantic than snorkelling hand in hand in the clear turquoise waters? Swim through swarms of colourful fishes, and even pick up a starfish or two!
Okinawa's famous Blue Cave even has a part that is shaped like a heart. You can't get more romantic than that!
Be mesmerised by the whale sharks in Okinawa Churaumi Aquarium
Personally, Okinawa Churaumi Aquarium is my favourite spot in all of Okinawa; I spent almost an entire day just exploring the giant aquarium. It's amazing to think that an aquarium can showcase 3 whale sharks – comfortably! Snuggle into your other half's shoulders as you gaze at these gentle majestic giants swim lazily by. It will definitely be a date to remember!
Feed each other pizza in the sky against a brilliant sunset
Okay, so you won't really be eating pizza in the sky, but this comes really close! Kajinhou is a restaurant that serves up delectable pizza on a cliff overlooking the sea. Feast your eyes on the gorgeous panoramic view as you watch the sunset. There's nothing quite like feeding each other pizza and staring into your partner's eyes with the golden sun rays in the background!
Create glass art and make your own salt at Gala Aoiumi
We can't even stress how important souvenirs are. How are you going to reminisce about your trip or tell your kids about your experiences, without a photo or a souvenir to show? Well, why not go one step further and make your own souvenir? Try your hands at creating some exquisite glass art at Gala Aoiumi for your mantelpiece back home. My favourite is the couple Ryukyu glass – which you and your other half can make, together!
Also, did you know that Okinawa is famous for their sea salt? Instead of just grabbing a bottle off the supermarket racks, why not make your own – it'll taste extra good!
Visit the Heart Rock located off Love Island
Kouri Island is often referred to as Koi-jima, also known as Love Island. It is accessible by the Kouri Bridge, which is the second longest toll-free bridge in Japan! Enjoy spectacular ocean views everywhere you look – take it from us, it's absolutely gorgeous.
Go on a hunt for the famous heart rock – located just off Kouri Island. Be warned: you might just end up leaving a little piece of your heart behind as well.
Travel back in time at Shuri Castle
Shuri Castle is one of Okinawa's UNESCO World Heritage sites, and rightly so! It was featured in the highly popular Japanese drama The Tempest, and draws fans from around the world. Wander around the vast compound hand in hand with your loved one, and imagine yourselves as the King and Queen of an entire dynasty. After all, nothing says love like ruling over an entire kingdom together, right?
Take tons of beautiful couple photos against spectacular backdrops
Okinawa is full of drop-dead gorgeous backdrops – perfect for you to take your couple shots! Warning: you probably won't be alone, as Okinawa is a wedding shoot hotspot! After all, if so many people are taking their wedding shots here… you can't go wrong. Grab your tripod and camera and start snapping!
Have some alone time on the remote Minna Island
Located just 15-30 minutes ferry ride away from the main island, Minna Island is a gloriously remote island with a population of fewer than 50 people. Escape here for a respite from city life, or perhaps even from people! Take the chance to have some precious alone time right here on this practically uninhabited island. Pack a picnic and spend the day on the beach, as well as swimming or snorkelling in the sea.
Say your vows in the glass chapel
All those dreaming of a perfect wedding destination, please take note! Okinawa is home to a couple of absolutely romantic and beautiful chapels by the sea. The Japanese locals love to hold their wedding ceremonies here, especially the gorgeous glass church called Coralvita Chapel. I mean, just look at the pictures!. I do, I do, I do!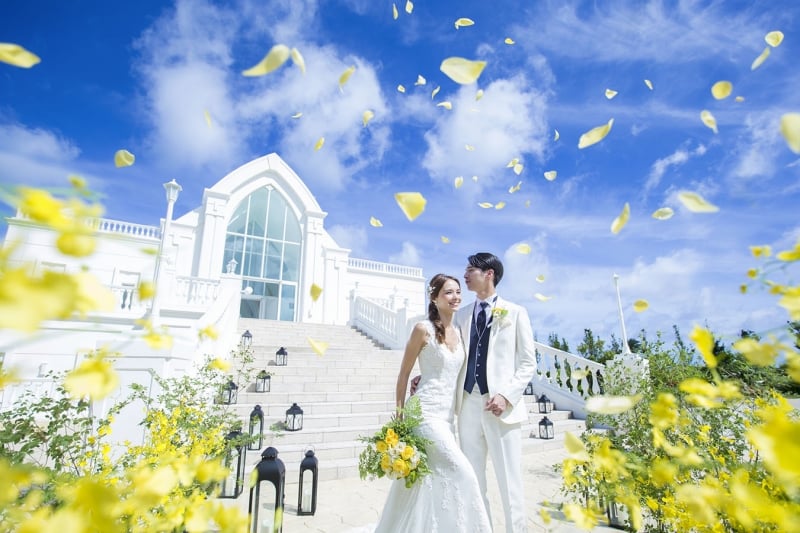 So for your next couple trip, save yourself the research – Okinawa is the perfect place to explore with your loved one!
Also read: 7D6N Okinawa Itinerary: How to Explore One of Japan's Hidden Gems
---
Brought to you by Okinawa Industry Promotion Public Corporation.