In travelling, I've learned that as easy it is to see the differences in various cultures, finding the similarities can be extremely challenging. But that never means there aren't any. There's always something you'll find yourself relating to, even in places you'd never think you'd belong to — like a cruise ship.
As a millennial traveller who has a habit of succumbing to banalities, I'd like to call myself an experiential explorer. In other words, I'm one of those who favour the lackluster of hostels over the comforts of hotels. Upon landing on foreign land, I sniff for local meals — the stranger the scent, the better. Usually, I make my way into "non-touristy" sites, eyeing on where the locals go to eat, shop, and drink coffee. My distaste for the mainstream travel scene has turned me into a snob for all things luxurious.
Alas, I was invited to board the Royal Caribbean Quantum of the Seas last November. Funnily and pitifully enough for me, I immediately found myself swallowing my snobbery painfully whole.  
Travelling before the cruise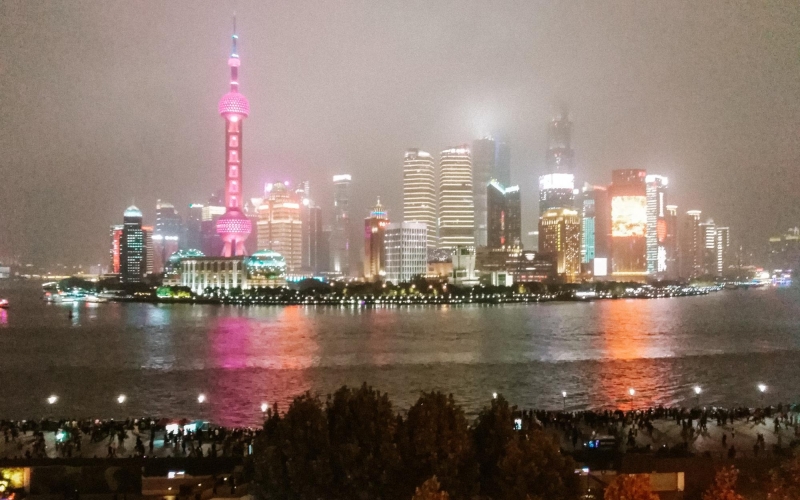 The cruise I took was set to board passengers from the Baoshan port. To be safe, we'd travelled to China a day before the departure of the ship. That gave us a chance to go around Shanghai for the first time, and I enjoyed the rawness of it all. As I traversed through local restaurants and dark alleys, I caught myself thinking: now this is what travel's all about.
That night, I watched the Shanghai skyline glisten through the smog of China. Then and there, I knew for a fact that I was not a traveller easily impressed by city lights. Nor did I enjoy tourist-priced alcohol, so I spent the hour people-watching on a rooftop bar, with no drink in hand. There I was again, proving to myself that I'm indeed a millennial traveller — smart enough to avoid tourist traps.
How (not) to pack for a cruise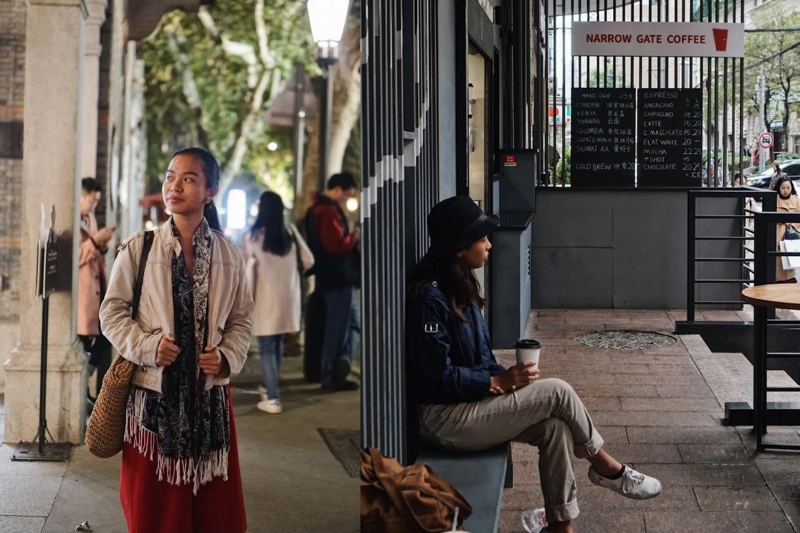 When I boarded the Quantum of the Seas for the first time, it was freezing at the port. Luckily, I was wearing my Michael Kors coat — what else was a cruiser to wear? — as the sea breeze turned the 16 degree celsius weather like a 10 degree celsius day.
In retrospect, I'd say I packed the wrong set of clothes. Typical of a light packer, I did my research weeks before the cruise to bring only the essentials. Everyone on the Internet advised to bring the same items: a tanning lotion, bikinis for when you're tanning, a gown and some make-up for the formal night, a cute cover-up for when you're done tanning. After browsing through all of these lists, my mind had created this mental image of cruisers as people who'd party and tan and do nothing else, so I tried to pack like one, too. Needless to say, I found myself with half a luggage of things I never used.
I never went tanning. Who was I kidding? My skin didn't need it. Also, if I were a bit wiser, I might've realised at packing stage that not all seas are warm. Some are icy cold at Autumn and you'd need more scarves that actually function as windstoppers more than as ornaments. You'd also need a little more coverage than a tiny bikini if you want to survive the Flowrider Surf Simulator at all.
Onboard Quantum of the Seas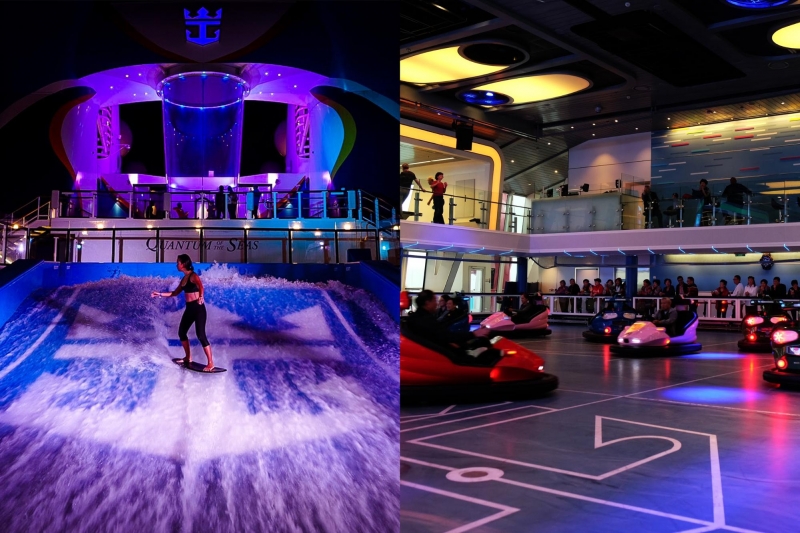 I have never watched the Titanic, my reason being I wanted to save at least one non-experience for the next time I'd lose at the Never-Have-I-Ever game. Nevertheless, I'd read F. Scott Fitzgerald's The Great Gatsby as an elementary girl who knew nothing about the world of luxury. So, I packed another one of Fitzgerald's books to refresh my mind about the mysterious culture of the rich.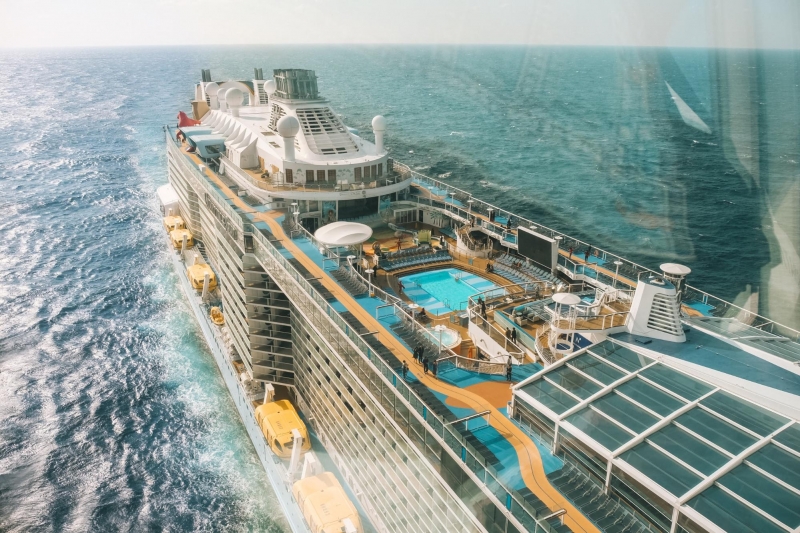 Lo and behold, many things the film and the book shared about luxurious events turned out to be right. And also, many completely wrong. Finally, in between the rightness and wrongness of said representations, many things had also been left out.
As far as I remember, Leonardo diCaprio NEVER told us about the possibility of a cruise ship having a RipCord Skydiving Simulator. Also, I couldn't recall a mention of SeaPlex Bumper Cars. Neither did he drop hints about a North Star 360° ride. Never, I tell you, neither in Titanic nor in The Great Gatsby. He did, however, mention theatre shows with women singing opera while riding the trapeze — now this, this was pretty accurate.
You could only imagine my awe every day. Marching through the decks of a huge cruise ship, there I was, as a wide-eyed young adult who had no idea, still, what else to expect.
Glitz and glamour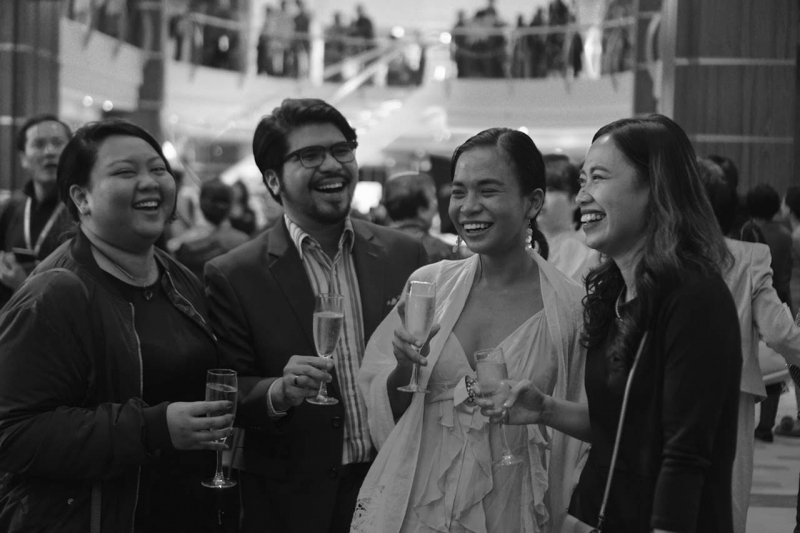 More than the facilities onboard the Quantum of the Seas, it was the culture that took me by surprise. From my experience (and from my occasional eavesdropping), there's a certain way people view the rich. "They're different from you and me" — Fitzgerald wrote in The Rich Boy, which, I think, may be the most graceful way to deliver the idea.
Now, here's where this cruise ship did the impossible. For once in my life, I actually had to disagree with my literary hero. The rich are no different than we are, after all.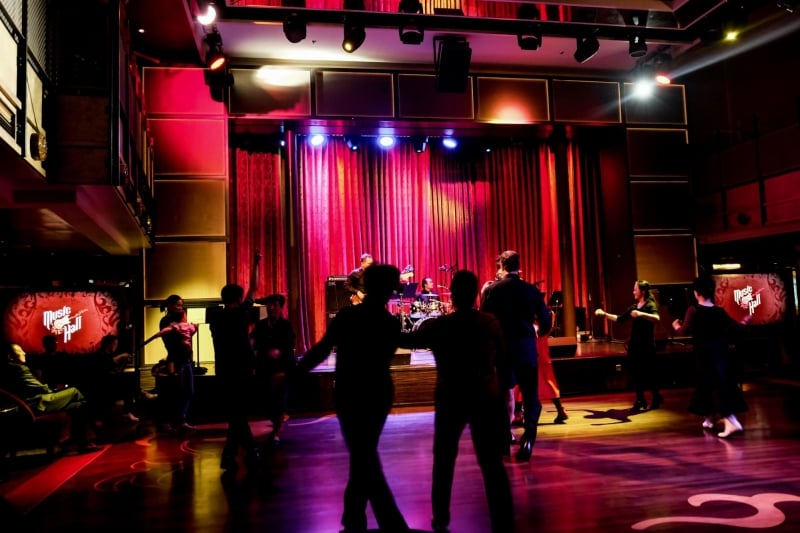 One night, I observed the Quantum of the Seas Music Hall dancefloor. I watched an old Chinese woman steal the spotlight with her ballet. Beside her, three young girls tried to waltz. The youngest one of them ended their dance number with a special finale: a split. And the crowd went wild.
During karaoke night, a group of Australians cheered on my new Filipino friend as he sang his soulful rendition of Billy Joel's Just the Way You Are. Finally, I'd found what I'd been looking for, my private standard before considering a trip worth all the hassles and risks — a home outside my own. A family.
A taste of Pinoy pride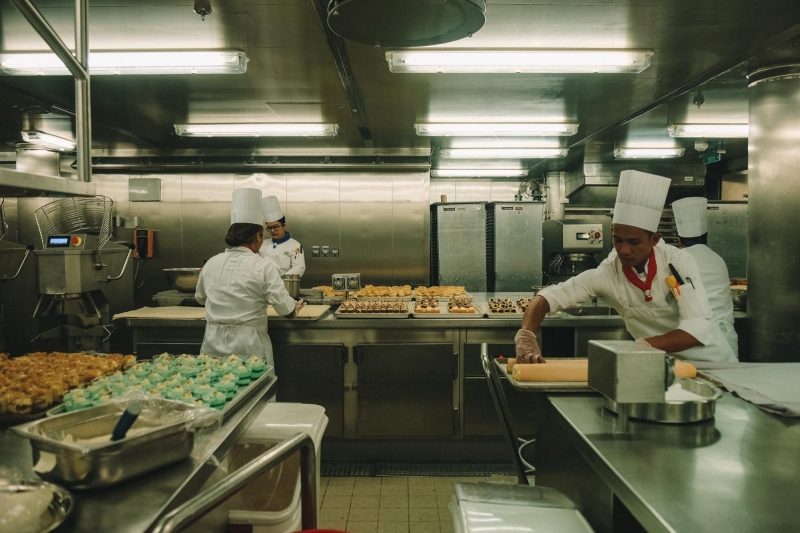 Speaking of family, let me talk about the Filipino staff of the Quantum of the Seas. One saved me from the crazy buffet lines to get me food straight from the kitchen. Another served me two plates of crispy bacon when I'd only asked her "Ate, damihan mo ng konti, ha?" Some chefs even whipped out homey Filipino favourites — adobo, sinigang, leche flan, tapa, ensaymada — once they detected homesickness.
One night, I spoke with a Filipino bartender who started working for the Quantum of the Seas eight months ago. When I asked how he was, he replied with the same answer each Filipino staff had told me — "Ayun, malapit na rin makauwi."
Despite this, he's happy, as all the other Filipino staff I'd talked to are in the Royal Caribbean cruise ship. As we chatted about how his friend recommended him the job, some more Filipino crew joined in on our conversation.
"Uy, ma'am! Diba kayo po 'yung binigyan ko ng limang champagne kanina?" said one of them. He joked that he has a strong bias for fellow Filipinos, and he'd reserve all the good bottles of wine only for us.
That night, I'd also met two more Filipino staff as I was strolling around in my cocktail dress. "Ma'am, bakit kasi kayo nakaganyan? Ang lamig lamig," the two called me over as they cleaned the outdoor pool. As I explained that I wanted a photo in my dress, they dropped their mops and took my phone. "Doon po kayo, para kita 'yung view."
Back at home port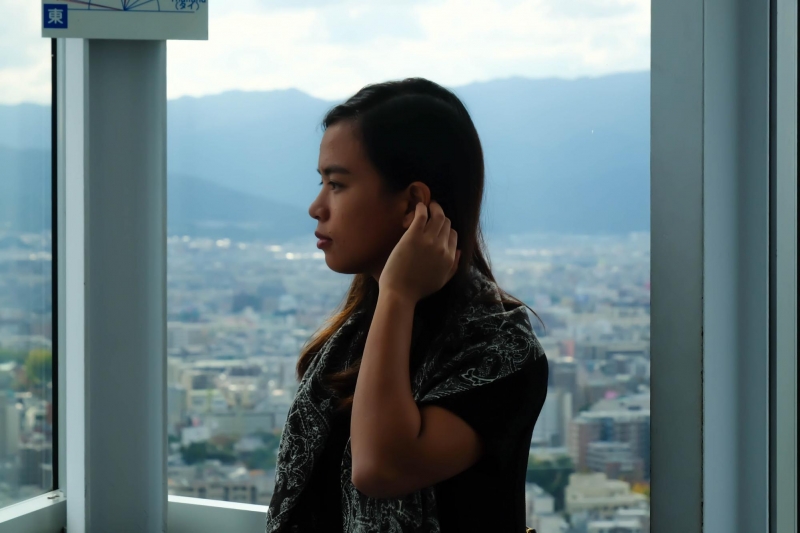 In the process of trying to justify my prejudice against luxury travel, I've learned that I, too, actually enjoy it. Would I try it again? In all honesty, I probably would. In fact, I've gained the courage to dream of the day to treat my whole family to a cruise.
Lucky for us, more and more Royal Caribbean cruise ships have been updating their vessels to cater to a younger market. Contrary to what stereotypes have led us to think, cruising isn't exclusive to the "newlywed and nearly dead" anymore. Today, it's also for those who wander across the world, camera in one hand and smartphone in the other, seeking for new adventures we'd never find anywhere else. 
For inquiries or bookings, visit the Royal Caribbean Philippines website or Facebook page.
---
Special thanks to Greenbulb Communications and Royal Caribbean Philippines for inviting TripZilla Philippines to experience all the exciting and unique things the Royal Caribbean MS Quantum of the Seas has to offer. Thank you, also, for taking care of us during the shore excursions in Nagasaki and Fukuoka, Japan.