Contributed by Camera and Cheese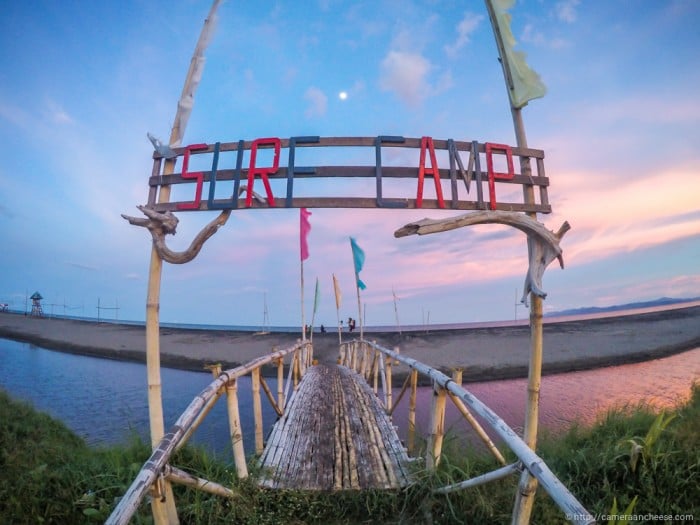 These past few weeks have been extremely stressful. I was not exactly ready to face situations that were very new to me and things just got overwhelming. This might be the reason I decided to go surfing for the first time. I was so set on doing it alone so I can have time to reflect about many things. I contacted friends who've been to Sabang Daguitan Surf Camp in Dulag, Leyte. Turns out they were going there on the same dates so eventually, I joined their group. With my backpack and guitar in tow, I commuted alone to an unfamiliar territory.
Also read: A Simple Travel Guide to Leyte: What You Need to Know Before Your Trip
Transportation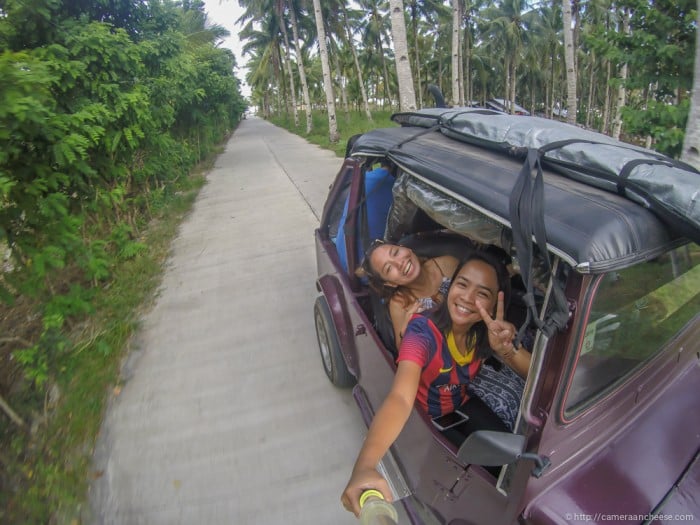 My house is near the New Bus Terminal in Abucay, Tacloban City. From the terminal, one can ride a jeepney going to Mayorga. Make sure you get that jeepney instead of Dulag. Incidentally, I rode a Dulag-bound jeepney but the dispatcher promised me that they'll drop me off at Daguitan Bridge which is a few kilometres away from Dulag town proper. I paid only ₱35. To go to the surf camp, I alighted exactly at the end of the bridge where I saw a narrow paved street headed towards the sea. From there, I hailed a motorcycle and asked the driver to take me to Sabang Daguitan Surf Camp. The fare is not fixed. Some people said it's ₱10 but I paid ₱20 because I was feeling generous that day. Haha! Going home, I hitched a ride with a friend so I didn't spend anything.
Accommodation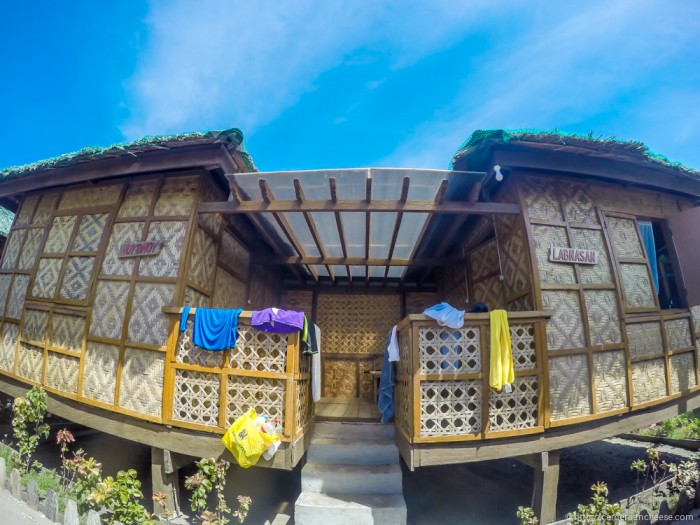 I was pleasantly surprised to find the rooms clean, spacious enough and relaxing. The bathroom was also a great plus! The camp has several traditional duplex cottages. Each room has two double-decks and a bathroom. Basically, one room can fit four to six people. It was not bad at all considering we only paid ₱1,000 for a night! The rooms are not air-conditioned but we did have a wall-mounted fan. Honestly, the sea breeze was enough to keep me cool. Make sure you make reservations first. I messaged their Facebook page here.
Food
I have to admit that I was very unprepared where food is concerned. Thanks to Sheina and her co-workers, I survived the weekend! They brought canned goods and noodles enough to feed our hungry stomachs. Don't worry because the camp has a restaurant and I'm telling you, they serve really good food! Don't expect fancy ones though. The best part is that you can have the staff cook the food you bought outside for a minimum fee. Other than the food we asked them to cook, we also ordered pancit, calamares, shakes, halo-halo and even mango float. You just have to ask the staff what's on the menu for the day or you can ask them to cook any food you want, if available, and they'll buy the ingredients for you.
Service
I cannot stress enough how amazing and hospitable the staff were. I remember the management giving us papayas to make up for their mistake in reserving rooms. We were supposed to have three rooms in total but only ended up with two which were actually quite enough. The people there were friendly, approachable and very helpful.
Also read: A First Timer's Guide to Tacloban: What to See and Do
Sabang Daguitan Surf Camp and Dao Balay Kawilan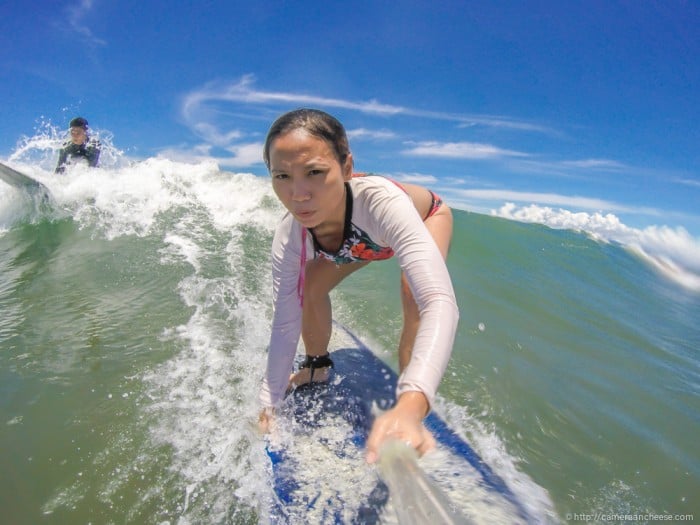 Here comes the fun part—surfing! It was my first time ever and I had a blast. We were a group of eight plus a few others who only stayed for a day. We hired two trainers and rented surf boards. Keep in mind that the boards are limited in number so we rented the trainers' boards too. The fees were only ₱250 per board and another ₱250 for the trainer, both are hourly rates. Not bad!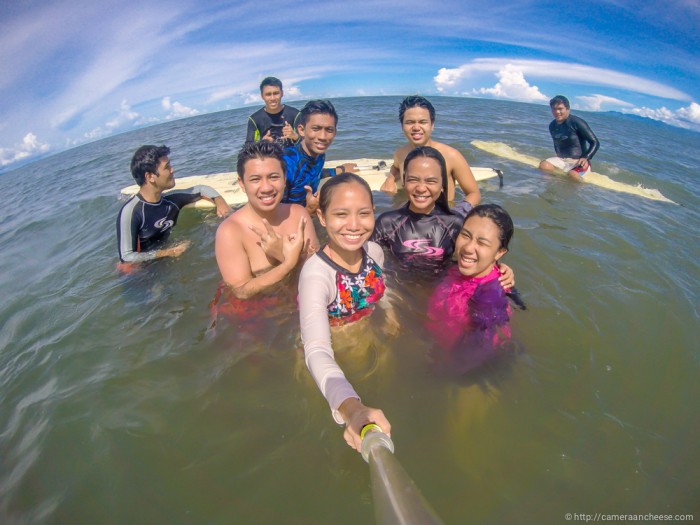 On Saturday, we spent about two hours around noon time in the sea with the scorching sun above us. The waves, said the experts, were perfect for beginners; not so tall, not so short. I caught a few good waves though I had trouble adjusting my feet. I was stoked, I didn't know it would be addicting. My heart sank as we were heading towards the shore.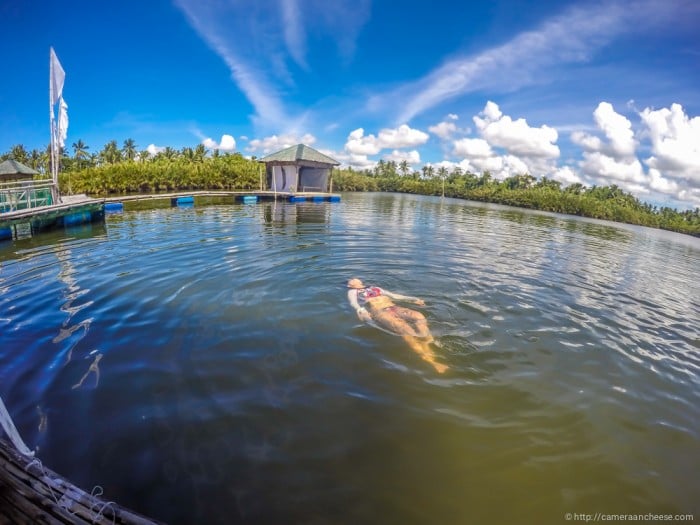 Come Sunday, we were all sad with the thought of leaving the camp. We wanted to surf a bit more and we tried but got unlucky as there weren't any good waves. Before leaving, we headed to Dao Estuarine and Floating Cottages or Dao Balay Kawilan. It's situated in a river with a few floating cottages. Visitors can have a massage and can also eat there. We spent only a few minutes and enjoyed the freshwater and the view. Dao Balay Kawilan is only a few metres from the actual surf camp and is within the area. I highly recommend that you go there too.
Tips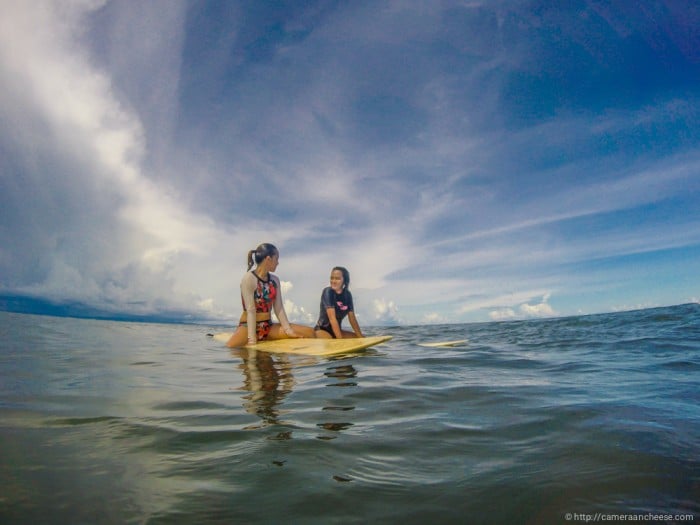 To catch good waves, you'll have to walk a few more metres away from the shore.
Waves are not consistent especially if it isn't surfing season yet. Better ask the staff first before you head out to the sea. The waiting game was excruciating.
The water is not deep but be careful; when the waves come, you'll be surprised because the water will suddenly become deeper. This is common sense, I don't why I wrote it here. Haha!
Put on lots of sunblock!
If you have sensitive skin, wear rash guards. I now have so many rashes all over my stomach and legs because I wore a cropped rash guard.
Mango shake and halo-halo are only ₱40 each. The pancit we had for about ten people was only ₱200. Rice was also cheap.
Itinerary and expenses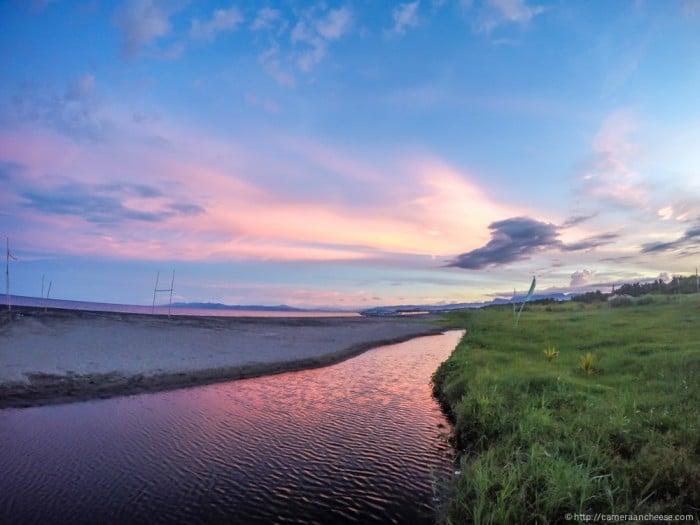 Day 1 – Saturday
Departure
Arrival
Destination & Activities
Price Per Pax (₱)
06:50 AM
New Bus Terminal, Abucay, Tacloban City
07:00 AM
08:30 AM
Sabang Daguitan Surf Camp, Dulag, Leyte
35 (jeep)
20 (motorcycle)
20 (entrance fee)
250 (room, 1000 divided by 4 pax)
08:30 AM
10:00 AM
Relax
10:30 AM
12:30 PM
Surf
400 (trainer) + 250 (board)
12:30 PM
01:00 PM
Freshen up and order food
01:00 PM
02:00 PM
Late lunch
02:00 PM
02:00 AM + 1
Relax, eat dinner, booze, you know what I mean

Day 2 – Sunday
| | | | |
| --- | --- | --- | --- |
| Departure | Arrival | Destination & Activities | Price Per Pax (₱) |
| 09:00 AM | 10:00 AM | Dao Balay Kawilan | 20 (entrance fee) |
| 12:30 PM | 01:30 PM | Surf (we shared boards) | 50 (sharing) |
| 01:30 PM | 03:00 PM | Prepare to leave | |
| 04:00 PM | 05:30 PM | Home (free ride thanks to a friend) | |
*Prices don't include food
**+1 means the next day, Sunday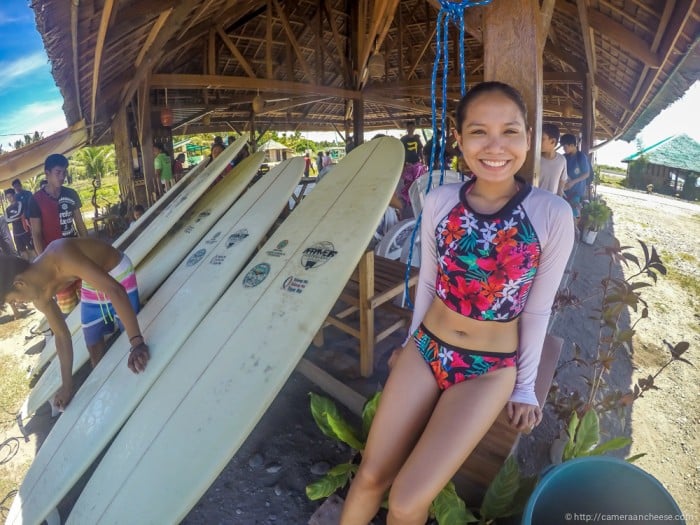 Also read: Escape the Crowd: These 10 Beaches in Eastern Visayas are Totally Unspoilt
The trip was perfect timing. I came home re-energised and more inspired. I had time to think and contemplate. I appreciated nature and life's simple pleasures even more. I unleashed my inner weekend warrior and this will definitely not be my last "solo" trip. I can't wait to go back because I think I left a piece of my heart out in the sea. Dulag, you were amazing!