Being part of the LGBTQ+ community in a predominantly heterosexual society comes with its struggles, battles, and challenges. But knowing that there are places out there where like-minded individuals can safely gather offers a sense of comfort and acceptance. In honour of Pride Month, we've curated a list of safe spaces in Metro Manila for LGBTQ+ folk. From late-night hangout spots to cafes to community centres, we've got the best places for you to be your truest and most authentic self without judgement and prejudice! 
Places in Metro Manila that offer safe spaces for the LGBTQ+ community
1. Futur:ist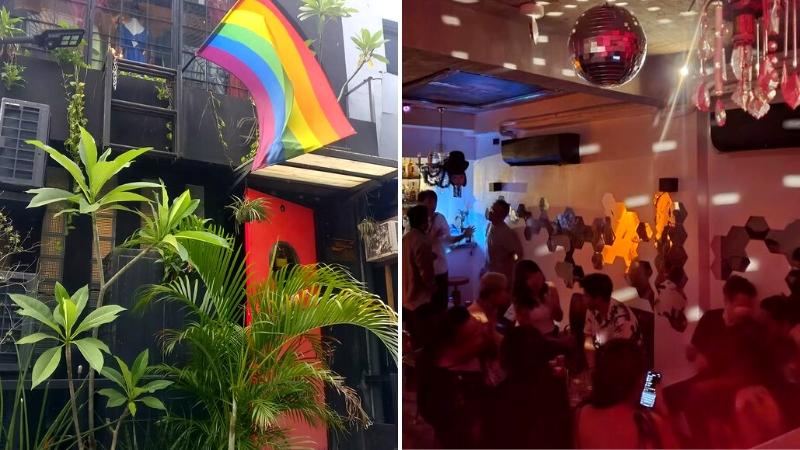 Futur:st, tucked away in the bustling district of Poblacion, is Today X Future's sister bar. The latter, located in Cubao, once served as a meeting place for queer and trans folk after a long, tiresome week. Unfortunately, they closed their doors in 2020 after painting the night scene with vibrant colours for 12 years. In their place, Futur:st now stands as an all-inclusive safe space for people to come together, enjoy great music, and appreciate contemporary art. 
Address: 5062 Guerrero St, Makati City
For more information, visit Futur:st's official website, Facebook and Instagram pages. 
Also read: A Going Out Guide: Where to Eat in Poblacion From Day to Night
2. FFTG Cafe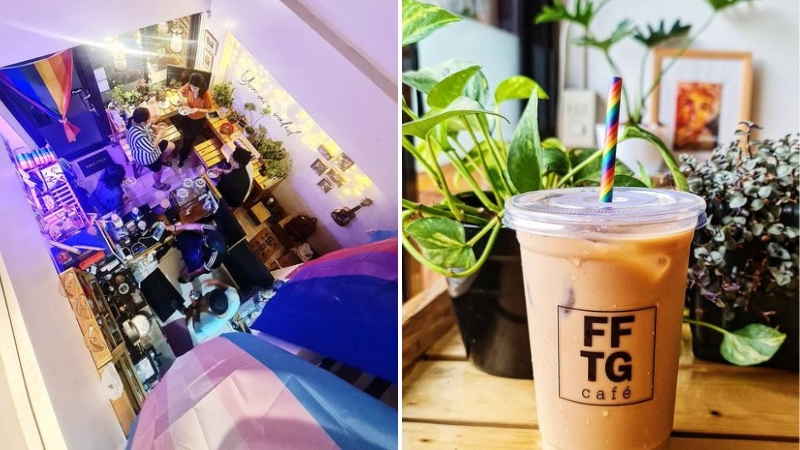 Food For The Gays Cafe, more commonly referred to as FFTG Cafe, is a queer-owned coffee shop based in Cubao. LGBTQ+ rights advocate and fellow member of the community Nariese Giangan (aka Tangina Tibs on social media) took the bold step of opening the cafe during the pandemic. Her passion for culinary arts propelled her to whip up comforting and savoury eats for everyone and anyone. These include coffees, pasta dishes, and rainbow grilled cheese sandwiches among others. Ultimately, this quaint cafe decked out in proudly queer gear welcomes everyone regardless of who they are and who they love. 
Address: 58 13th Ave, Cubao, Quezon City, 1109 Metro Manila
For more information, visit FFTG Cafe's official Facebook and Instagram pages. 
3. Fred's Revolucion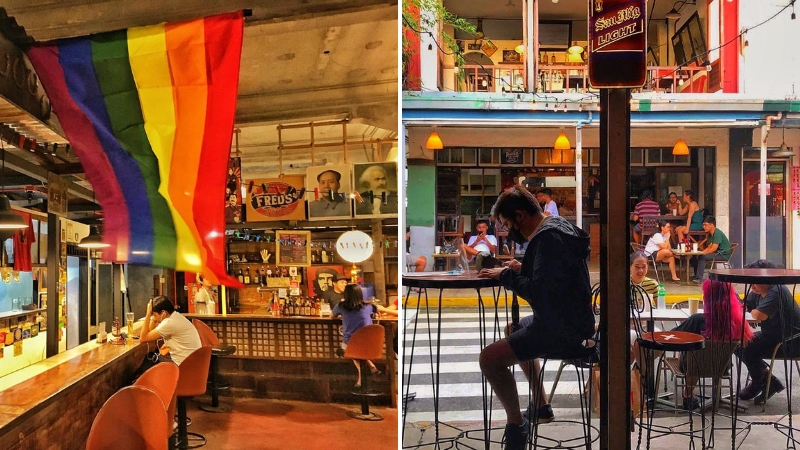 Fred's Revolucion is a restaurant and bar best known for its selection of craft beers and delectable grub. Both of its spaces in Cubao Expo and Escolta are adorned with eye-catching trinkets and knick-knacks that add to its charm and personality. More importantly, Fred's Revolucion has always made a conscious effort to make its place a safe space for everyone. On top of that, they have consistently strongly stood against harassment, rudeness, and violence towards their guests and crew. 
Addresses: 
First United Building, 413 Escolta St, Santa Cruz, Manila
Shop 66 Cubao Expo, General Romulo Ave, Cubao, Quezon City
For more information, visit Fred's Revolucion's official Facebook and Instagram pages. 
4. Onlypans Taqueria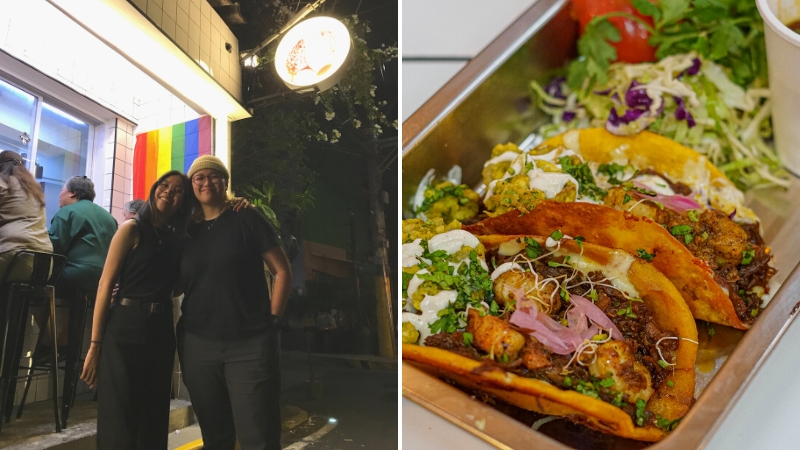 Makati's trendiest neighbourhood, Poblacion, consists of late-night hangout spots for dining, drinking, and partying. The newest addition to this melting pot of flavours and cultures is Onlypans Taqueria (yep, you heard the name right!) This hole-in-the-wall eatery serves up mouth-watering taco birria dunked in flavourful consome, and a bunch of other delicious Mexican-inspired dishes. 
In honour of Pride Month, they took the liberty of putting up pride flags in their store as a symbol of support and respect towards the LGBTQ+ community. Here, "everyone is accepted — no judgement and no discrimination."
Address: 5663 Don Pedro, Makati, 1210 Metro Manila

For more information, visit Onlypans Taqueria's official Facebook and Instagram pages. 
Also read: 10 Exciting Things to Do and Places to Visit in Manila at Night
5. Open Table MCC – Metropolitan Community Church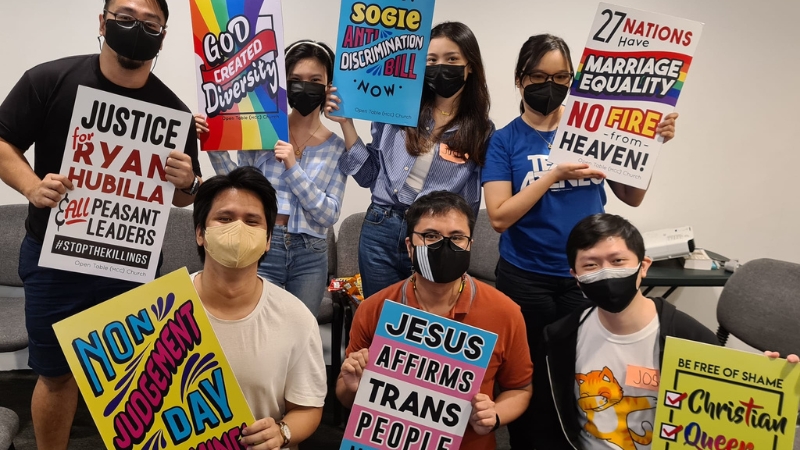 There still exists lived experiences of religion-based stigma and discrimination against the LGBTQ+ community. While this is a constant struggle even in progressive times, there are religious sectors that welcome the community with open arms. 
Open Table Metropolitan Community Church is an ecumenical Christian church that has a specific outreach to folks, families, and communities within the spectrum. Part of their mission is to uphold regular worship services, as well as other liturgical and non-liturgical services like outreach programs, seminars, and talks. 
Address: 4th Floor, Alfonso De Oro Corporation, Unit 401, 587 Sierra Madre, Mandaluyong, 1550 Metro Manila
For more information, visit Open Table MCC's official website, Facebook and Instagram pages. 
6. LoveYourself Inc.
LoveYourself Inc. is a community centre that provides free HIV testing, counselling, treatments, and life coaching in the Philippines. It was founded by Dr. Ronivin Garcia Pagtakhan out of the need to empower and offer better health care for queer and trans individuals. 
Since its humble beginnings, it has grown to become one of the leading organisations that advocate for HIV awareness, testing, and treatment in the country. Now, with seven established health clinics, they continue to "promote self-worth as a key to building an empowered community."
Location: Mandaluyong City, Paranaque City, Pasay City, Manila City, Bacoor City, and Cebu City
For more information, visit Love Yourself Inc.'s official website, Facebook and Instagram pages. 
7. Commune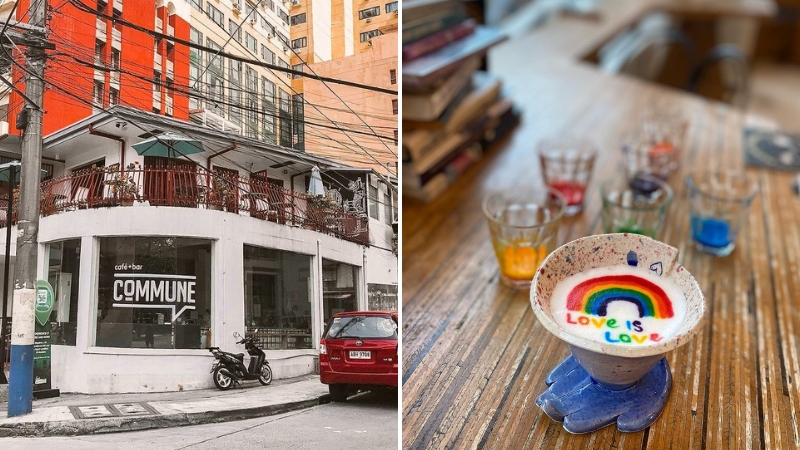 Commune offers a great atmosphere, coffee, fare, and community — perfect for anyone looking for a hangout spot up north. This coffee shop in Makati is a proudly appointed safe space for the LGBTQ+ community. But, it will gladly welcome everyone, even your fur buddies! 
Their menu consists of handcrafted espresso-based, hand-poured, and iced coffee for your daily caffeine kick. You can also snack on pasta dishes, salads, sandwiches, and other yummy nibbles while chatting with friends or getting some work done. If you're looking for a place to chill with your fellow queers this Pride Month, their doors are wide open! 
Address: 36 Polaris, Makati, Metro Manila
For more information, visit Commune's official website, Facebook, and Instagram pages. 
8. Blocleaf Cafe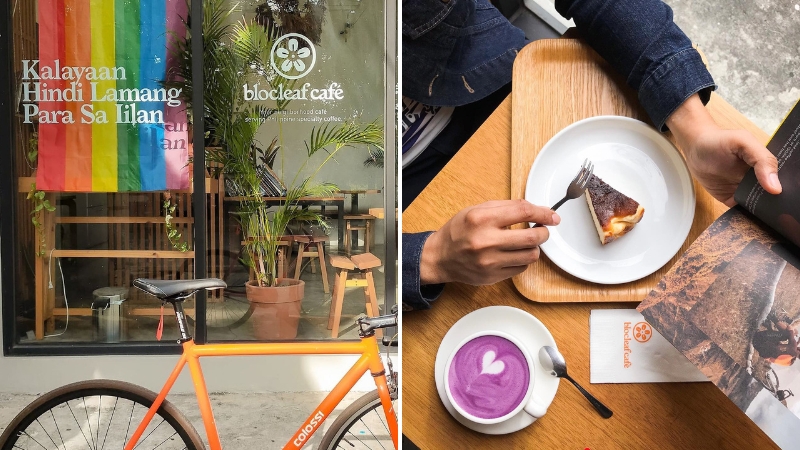 Alternatively, south siders should check out  Blocleaf Cafe, a neighbourhood coffee shop nestled in the heart of Malate, Manila. This small, minimalist cafe serves up Philippine speciality coffee, best served with their selection of pastries and sweets. 
The cafe's goal isn't just to serve the best cup of joe, but to offer the best experience it can provide from the comforts of its walls. Passersby will immediately catch a glimpse of its LGBTQ+ pride flag hung against its windows, welcoming everyone regardless of identity and expression. 
Address: 1850 M. H. Del Pilar St, Malate, Manila, 1004 Metro Manila
For more information, visit Blocleaf Cafe's official Facebook and Instagram pages. 
9. ButterBoy Bakehouse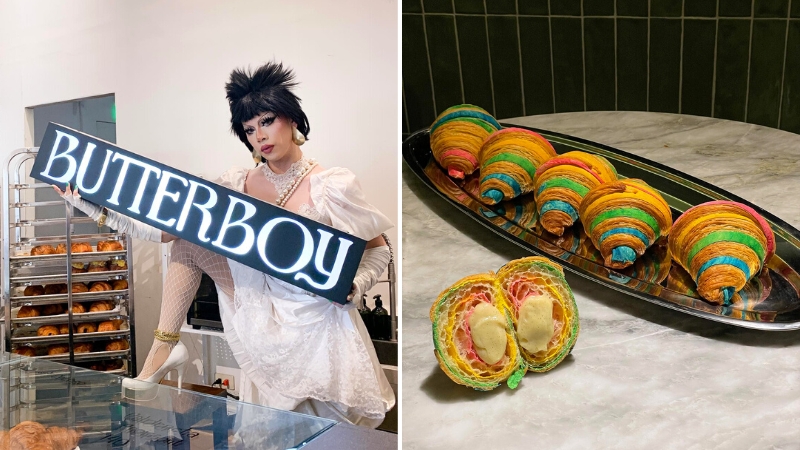 It's not every day that you get to munch on a decadent selection of confectioneries while witnessing a full-on drag show. But, at Butterboy Bakehouse, anything is possible! This small bakeshop in Quezon City "serves you delectable pastries, queer excellence, and a variety of drag performances" that'll surely amp up your brunch experience. Of course, not only are your mornings filled with glitz and glam. They also hold "meriendrag," an afternoon of dazzling entertainment and viewing of the best-loved RuPaul's Drag Race All Stars series.

Rolling into Pride Month, they're also offering sampler sets which include french vanilla rainbow croissants baked with love and pride by the shop's resident pastry gays. Be sure to check out their socials for more details and schedules, so you don't miss out on all the fun! 
Address: 81 Basa St., Quezon City

For more information, visit Butterboy Bakehouse's official Facebook and Instagram pages. 
10. Nectar Nightclub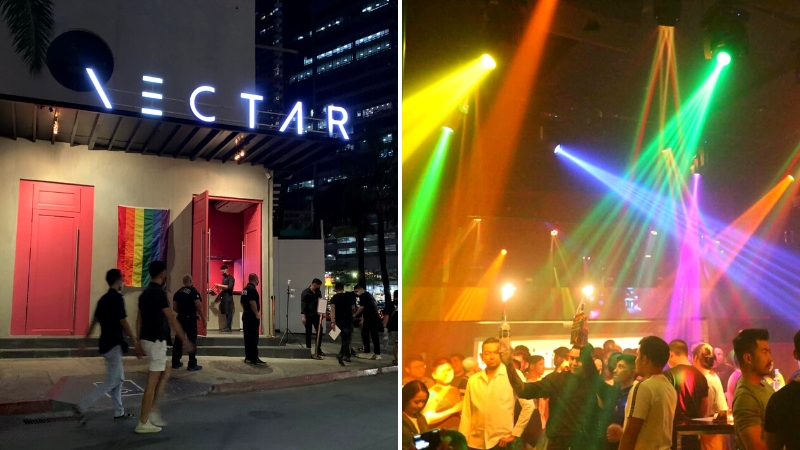 Nectar Nightclub is an LGBTQ+ hotspot in the heart of BGC, Metro Manila. Catch exciting drag performances, electrifying sets by guest DJs, and themed parties in this late-night enclave. It offers an exhilarating atmosphere, a welcoming crowd, and accommodating staff and crew. Anyone who has been to this nightclub will almost always say it's their happy place. That's because, at Nectar, you can just let loose and be yourself while dancing the night away! 
Note: We highly suggest you reserve a table in advance as the place gets packed immediately when their doors start to open. 
Address: The Fort Strip, 5th Avenue, Corner 26th St, Taguig, 1634 Metro Manila
For more information, visit Nectar Nighclub's official Facebook and Instagram pages. 
Also read: Nightlife in Manila: 10 Speakeasies You Have to Check Out
We hope that you feel most valid, accepted, and loved in these safe spaces for LGBTQ+ folk in Metro Manila. But, no matter where you're headed, we hope that you continue to honour yourself by wearing your heart on your sleeve. And while Pride can be a celebration, we must always remember it is most importantly a protest. We have a long way to go, but we believe that radical change can start in small places. Happy Pride Month!