Fancy exploring another part of town? San Juan is a foodie hotspot that's always abuzz, whether you're on the lookout for a classy place to celebrate a special occasion or a low-key place when you're just passing by. Here, there are boundless opportunities to eat well. To help you narrow it down, we've gathered our picks of San Juan restaurants and cafes that deserve two thumbs up.
1. Calderón Cocina Tapas y Bebidas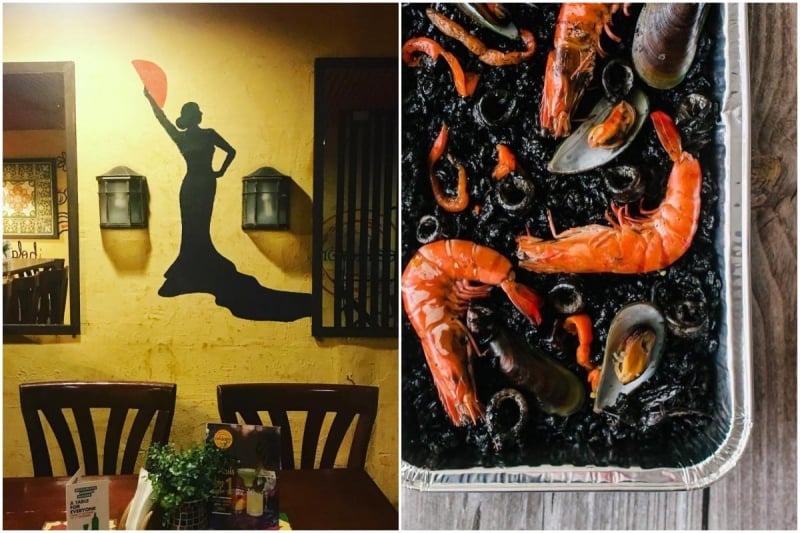 Take your next date night to the next level at Calderón Cocina Tapas y Bebidas. The charming restaurant is a cosy and intimate spot for a meal, especially if you're a foodie who enjoys authentic Spanish dishes, tapas, and drinks. It's worth sampling most of the items on the Calderón menu, but the best-selling paella negra is an absolute must-try. And, of course, get a bottle of wine to pair with it!
Location: 403 F. Calderon Street, Little Baguio, San Juan City
Also read: 10 Metro Manila Restaurants for International Flavours
2. Francesco's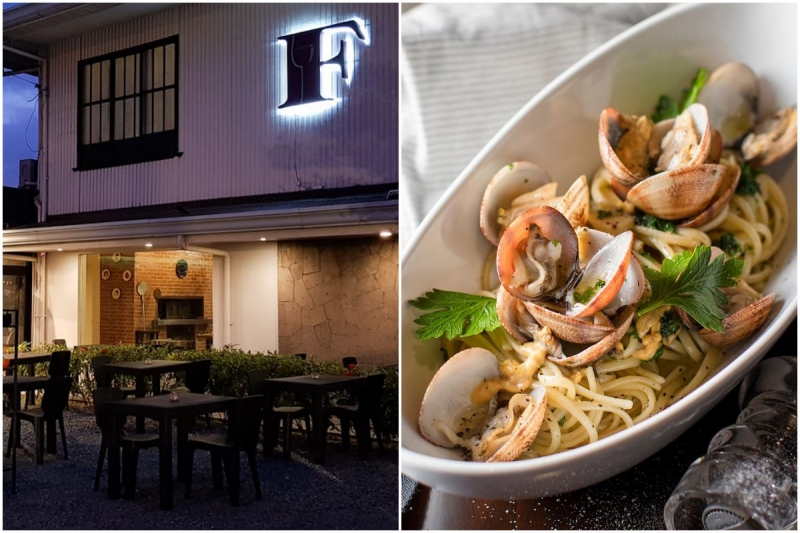 If you're a fan of Italian cuisine, Francesco's is your spot. The homey San Juan restaurant is famous for serving all your Italian favourites, including homemade pasta, brick-oven pizza, and all kinds of succulent meats. Francesco's dishes are made from scratch with fresh ingredients, promising an elevated dining experience that will make you feel like you're in the middle of an Eat, Pray, Love scene. 
Location: 863 A. Mabini Street, Addition Hills, San Juan City
3. Xiù Fine Cantonese Dining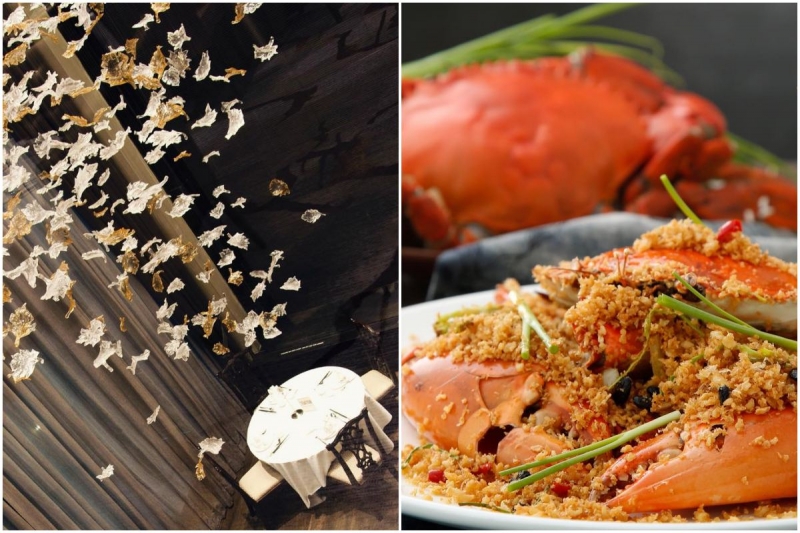 Get a taste of first-rate Cantonese cuisine at Xiù Fine Cantonese Dining. Xiu translates to "elegance," so it's not surprising that this fine dining San Juan establishment is rich in style. We're talking chandeliers, large tables, paintings, and even a beautiful installation of glass leaves falling from the high ceiling.
Additionally, the food is a masterful display of culinary elegance. Collaborations with renowned Hong Kong chefs Lawrence Koo and David Cheung mean that every plate served in Xiu isn't only delicious but also authentic. Diners rave over Xiù's char siu and wok-fried crab with garlic typhoon shelter style, while special occasions call for the best-selling baked lobster with cheese. 
Location: 115 Connecticut Street, San Juan City
4. Cowrie Grill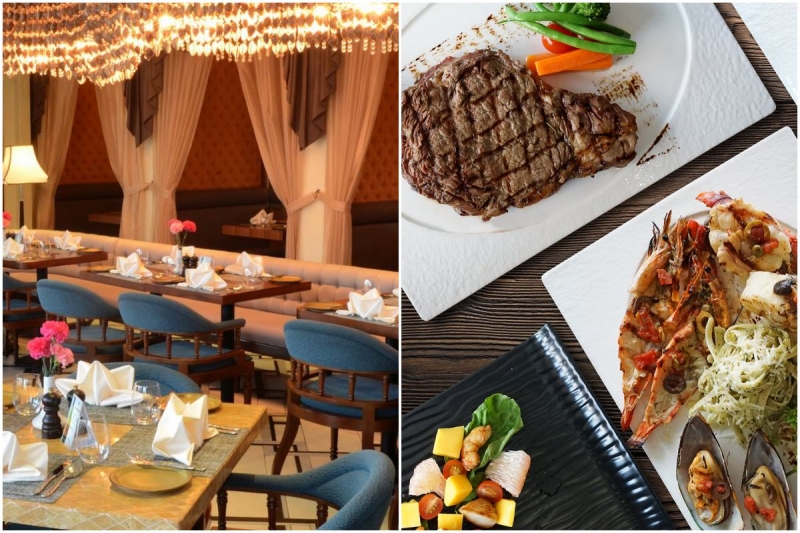 In the mood for a juicy steak? We're already salivating. Head to Promenade Mall to savour some of the best steaks around at Cowrie Grill, managed by Manila Hotel. Meat lovers will go mad over the juiciest cuts, especially the ultra-tender chateaubriand. Meanwhile, foodies who aren't fans of red meat will love the extensive seafood selection, which includes prawn, lobster, and Chilean sea bass dishes.
Location: Promenade 3, Greenhills Shopping Center, Missouri Street, San Juan City
5. Chef Laudico Guevarra's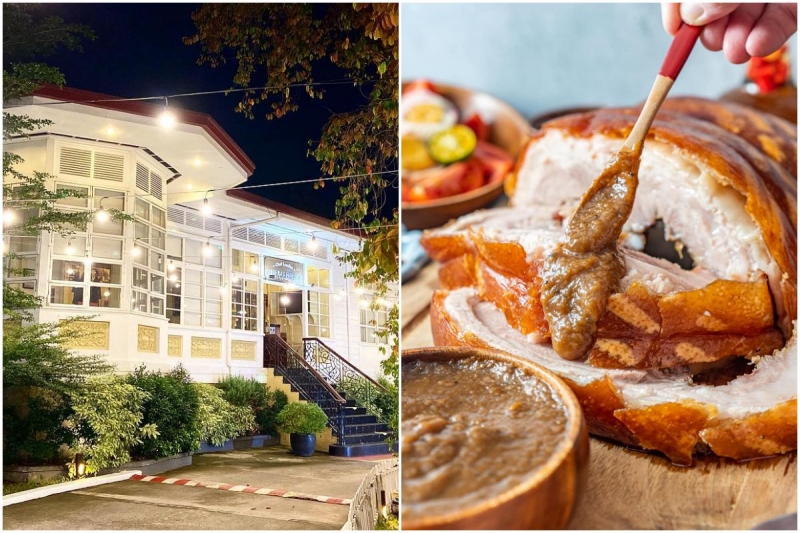 For most of us, Filipino food is comfort food. And it's good to know that there are great San Juan restaurants that specialise in local cuisine! Chef Laudico Guevarra's is certainly one of the best, with the 1920s renovated house-turned-restaurant serving modern and traditional Filipino dishes.
Honestly, the pork bellychon is enough for Pinoys to flock to Chef Laudico Guevarra's. Other must-try fare includes the Angus beef tapa, beef kaldereta, and palabok. Just keep in mind that a dress code is in place, so don't come in your pambahay! Guests are encouraged to come in smart casual attire, and slippers aren't allowed.
Location: 387 P. Guevarra Street corner Argonne, San Juan City
Also read: 10 Classic Restaurants in Intramuros for Timeless Filipino Cuisine
6. Granville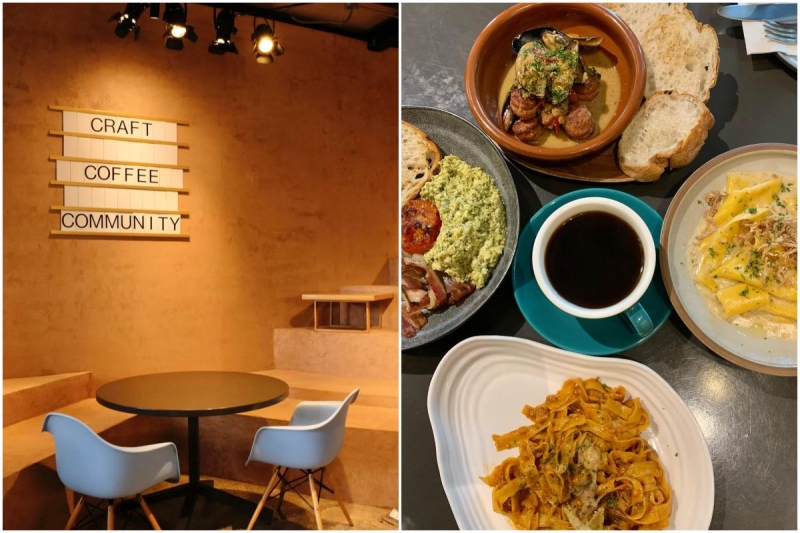 Drinks on you? Whether you're in the mood for delicious coffee or craft beer, Granville is the perfect hangout to quench your thirst. Local beans and beer take the spotlight here, but there's also tasty food for people planning to stay several hours. Yummy pasta like wild mushroom truffle cream always hits the right spot, but if you're really hungry, go for the ribeye steak.
This cool neighbourhood cafe in San Juan is an incredible place to hang out, whether you're solo or with friends. Plus, contemporary interiors create a stunning backdrop for your Instagram snap of the day.
Location: 189 A. Mabini Street, San Juan City
7. Flossom Kitchen + Cafe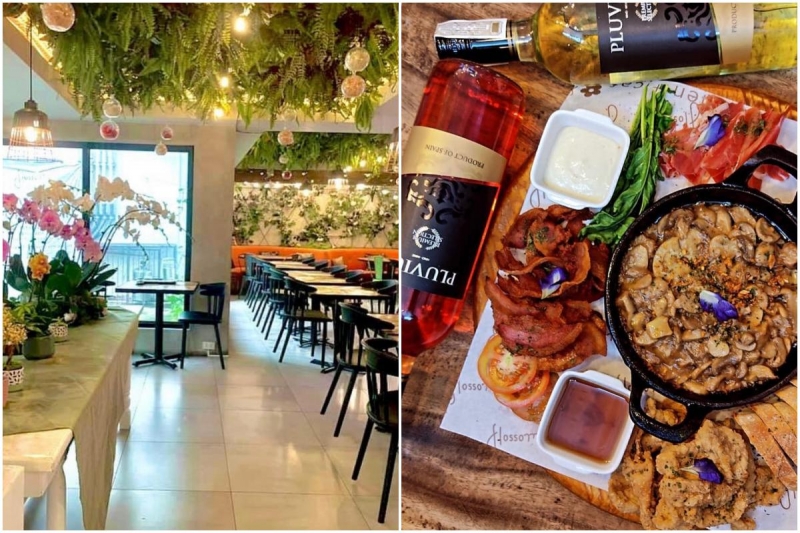 When it comes to pretty cafes, Flossom Kitchen + Cafe truly stands out. The garden-inspired coffee stop welcomes all plantitos and plantitas, with lush indoor plants and floral trimmings jazzing up the café interiors. Flossom features a surprisingly wide-ranging menu, from creamy pancakes to mushroom truffle risotto to ribeye salpicao. And besides coffee, the cafe offers unlimited wine!
Location: 187 N. Averilla Street, Sta. Lucia, San Juan City
Also read: 23 Best Cafes in Manila for Coffee, Brunch, and Dessert
8. Café Ysabel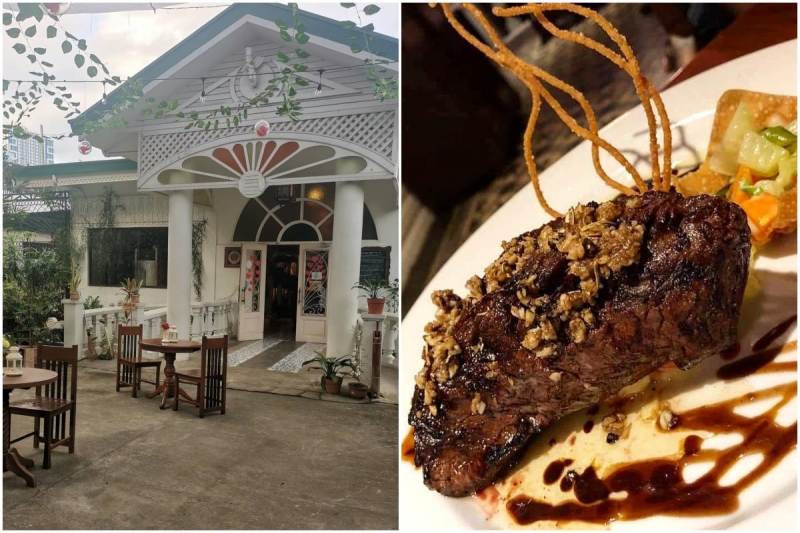 Café Ysabel is one of the oldest restaurants in Metro Manila, and definitely among the best-loved San Juan restaurants. Pop into this neighbourhood institution for the sumptuous Filipino and European food. IYKYK: This is one of the best spots in the metro to chow down, with an affordable weekend lunch buffet that includes paella and Iberian chicken. Also, their famous strawberry shortcake is a metro favourite. 
A major part of Café Ysabel's appeal is the heritage, though. The restaurant is housed inside a beautiful ancestral home that's proudly Filipino, with antique furniture, impeccably restored paintings, and all sorts of local knick-knacks collected over the decades.
Location: 175 M. Paterno Street, San Juan City 
9. Tomo Japanese Dining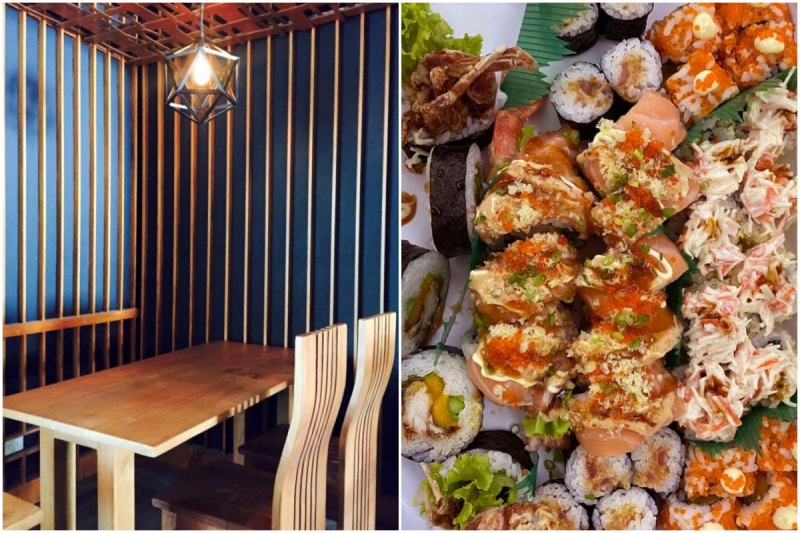 There's no shortage of Japanese restaurants in the metro, but we guarantee that Tomo Japanese Dining is well worth your time. Fresh sashimi, tasty rolls, and a wide variety of donburi — if high-quality and authentic dishes are your jam, then you'll love what Tomo has to offer. 
Moreover, it's tasteful inside this modern San Juan eatery. Dark grey walls, warm lighting, and loads of wooden accents offer a fresh yet inviting spot to enjoy Japanese food. 
Location: 137 Araullo Street, San Juan City
10. Sibyullee Unlimited Korean Barbecue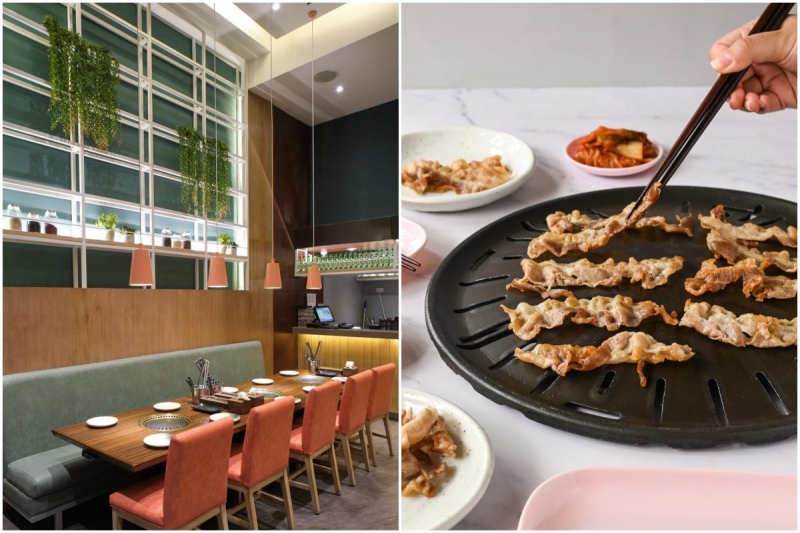 Satisfy your kimchi cravings at Sibyullee Unlimited Korean Barbecue, one of the best San Juan restaurants for when you're famished. Scarf down as much meat as you want with the unlimited selection of premium beef, pork, and chicken. With everything marinated with the signature Sibyullee sauces, this is a regular favourite of San Juan folks. The Korean restaurant's cheesy dishes are also a big draw!
Location: GF Promenade Mall, Greenhills Shopping Centre, San Juan City
Also read: Cubao Expo: Must-Visit Restaurants, Bars, and Stores in 2022
Truly, Metro Manila is a foodie destination that you'll never tire of exploring. And San Juan is definitely one of the must-visit cities in NCR for good grub. Whether you're in the mood for the best Filipino food or well-made international fare, we've got you covered with these must-try San Juan restaurants. Make it your next stop with the barkada? We'll definitely see you there!
---
Featured image credit: Cowrie Grill | Facebook