Gone are the days we'd have to head to the mall and spend at least ₱1,000 for a single item of clothing. (But if you still want to do that, then why not, right?) With the rise of online shopping, dressing stylishly on a budget has gotten a whole lot easier. Instead of having to browse through countless racks at tiangges or ukay-ukays, you can now shop for affordable fashion items with just a few taps on your smartphone.
Our favourite finds so far? Affordable midi dresses that you can purchase for less than ₱250! They'll make for classy additions to your wardrobe, and we love how versatile they are. They're perfect for lazy days — when you just want to quickly throw something on but still look good — and days you want to dress up and look pretty. We don't know about you, but we're pretty sure we'll be living in these midi dresses for the whole of 2022!
Also read: A Very Peri Shopping List to Celebrate the Colour of 2022
Affordable midi dresses to add to your wardrobe
1. These vibrant-coloured dresses perfect for al fresco occasions
Price: ₱208
Where to buy: Shopee
Garden restaurants are our new faves, and these affordable midi dresses are absolutely perfect for any al fresco situation! Just picture this: lush greenery, Instagrammable tablescapes, and one of these dainty dresses flowing with the wind. Swoon! How could you not want to add one to your cart?
2. This dress that'll give you an effortless presko look
Price: ₱238
Where to buy: Shopee
You don't need to try hard to look your best when you can quickly throw on a midi dress like this one. Pair it with your favourite sandals and a cute handbag, and you'll have an IG-worthy #OOTD in no time! 
3. This picture-perfect floral-patterned dress
Price: ₱217
Where to buy: Shopee
Whether you're tall or petite, there's no doubt this midi dress with subtle puffed sleeves will look good on you. Its floral pattern is already eye-catching on its own — so even if you just happen to roll out of bed and grab the first dress in your closet, you'll look like you're purposely dressed to impress! Plus points: We love how it makes for extra cute mirror selfies!
Also read: Best Aesthetic Mirrors in the Philippines to Shop Online
4. This dress that's just the right amount of flirty
Price: ₱230
Where to buy: Shopee
Offering the perfect balance between conservative and flirty, this midi dress will effortlessly take you from day to night. From bunch, to afternoon cocktails, to a romantic dinner at a rooftop restaurant, this closet staple will have you looking straight out of a fashion magazine spread!
5. This wraparound dress in pretty pastel hues
Price: ₱270
Where to buy: Shopee
Pastels never get old, and we love how these midi dresses lend an extra feminine touch. If you're going for a sweet yet chic vibe, then look no further than these wraparound dresses. We love how figure-flattering they are!
6. This lavender chiffon dress with puffy sleeves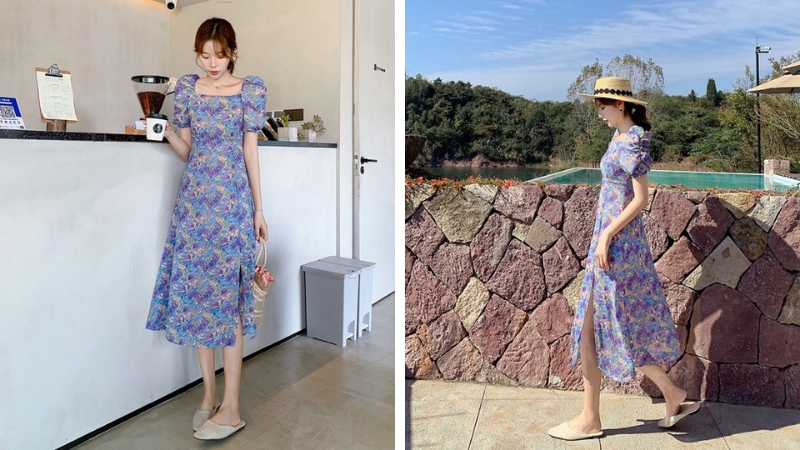 Price: ₱228
Where to buy: Shopee 
This floral dress speckled with intricate violets pairs perfectly with simple jewellery and accessories. Its lightweight chiffon fabric forms a casual and flowy silhouette, ideal for warmer seasons. 
This particular piece reminds us of vast flower fields and bouquets of fresh blooms. Head out the door looking pretty in purple with this airy midi dress this summer! 
7. This polka dot dress with a ribbon back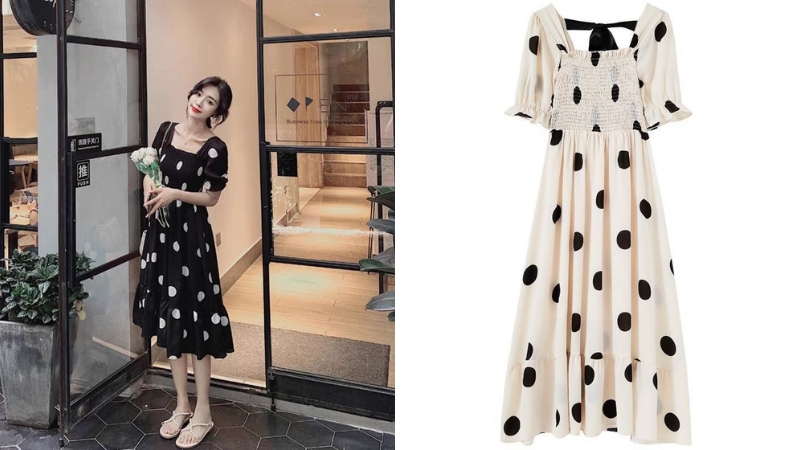 Price: From ₱228
Where to buy: Shopee
Strut around the city in subtle retro fashion! This midi dress' monochrome colours and free-flowing fabric balance out its rather eye-catching polka dot pattern. Making the dress look even more put together, a simple ribbon detail is added to the back. 
Whether you're running errands or going out for a dinner date, this dress has you covered. It's a staple wardrobe piece, no doubt! 
8. This daisy print dress for outdoor picnic dates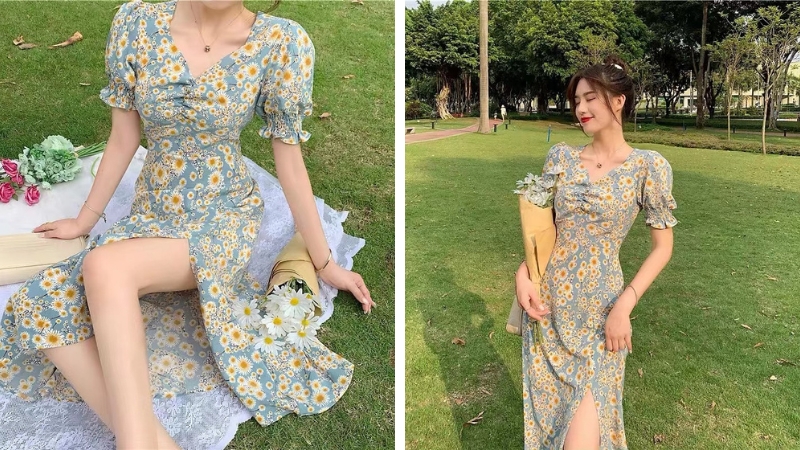 Price: From ₱149
Where to buy: Shopee 
Feeling like dressing up for a stroll at the park? Looking for the best outfit to wear for a picnic date? This daisy print piece can be the perfect day dress for you! While its colours and pattern may suggest a playful look, the dress' cut will give you a shapely outline. Its ruffled sleeves and subtle heart neckline add to the overall delicate look of this garment, too. 
9. This linen bustier midi dress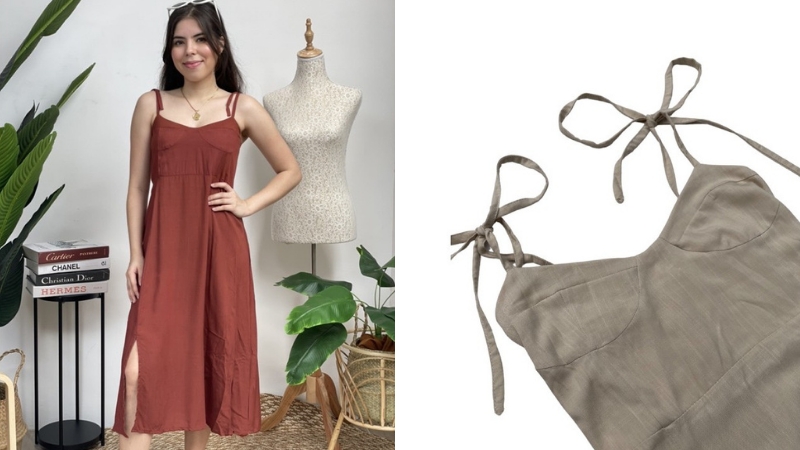 Price: ₱250
Where to buy: Shopee

Ditch the sleeves with this self-tie bustier dress or layer it over long-sleeved tops. However you decide to style the dress, the slide slit detail will give you an  extra oomph! 
This dress comes in a variety of solid tones — perfect for colour blocking outfits. Pair it well with dainty jewellery pieces, and you'll instantly transform from naturally casual to effortlessly elegant in no time. 
10. This chic midi dress with a twisted bowknot front design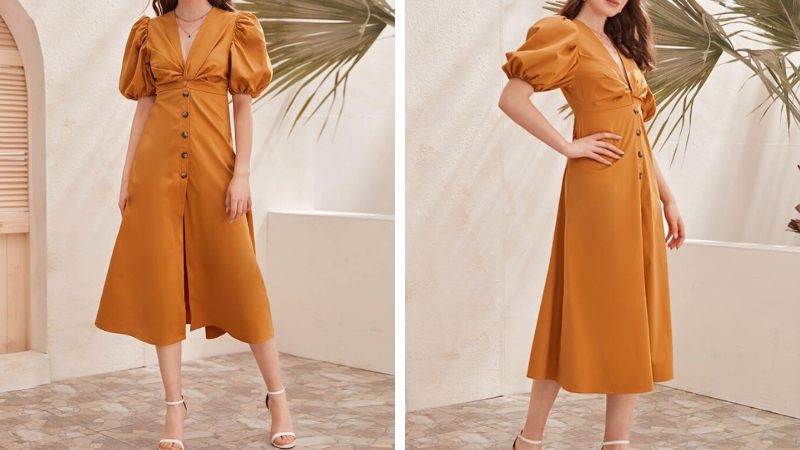 Price: ₱248
Where to buy: Shopee
Get that classy and sophisticated look with a puff sleeve dress! The button-up front and twisted bowknot design cinches up the torso, while the rest of the dress hangs down right above the knees. Pair the dress with some heels and a mini handbag or purse to complete the outfit, and you'll have heads turning for sure! 
Also read: 15 Best Local Sandals & Cute Slippers for Your #PambahayChic Looks
Who says you have to spend a fortune to dress well? Add these midi dresses to your virtual carts and elevate your wardrobe in no time — and on a budget, too!
---
This article contains affiliate links. When you make purchases through these links, we may earn a small commission at no additional cost to you.