Selfie enthusiasts and camera-shy peeps can enjoy the freedom of taking their own photos at their own time and pace. Atomm Studios, the country's first ever self-shoot photo studio, is now open in Quezon City! They're providing you with all the essential tools and equipment you'll be needing for your self-directed photoshoot.

Atomm Studios is located at the second floor of Lot 6, Block 7, Batasan San Mateo Road, Batasan Hills in Quezon City. The do-it-yourself photo studio announced their opening on 28 Dec 2021 on their official Instagram and Facebook pages. Surely, memory makers and photo collectors won't pass up the opportunity to experience this unique way of taking selfies. Here's what you need to know before striking a pose! 
Also read: 8 Photography Tips For You and Your Travel Buddy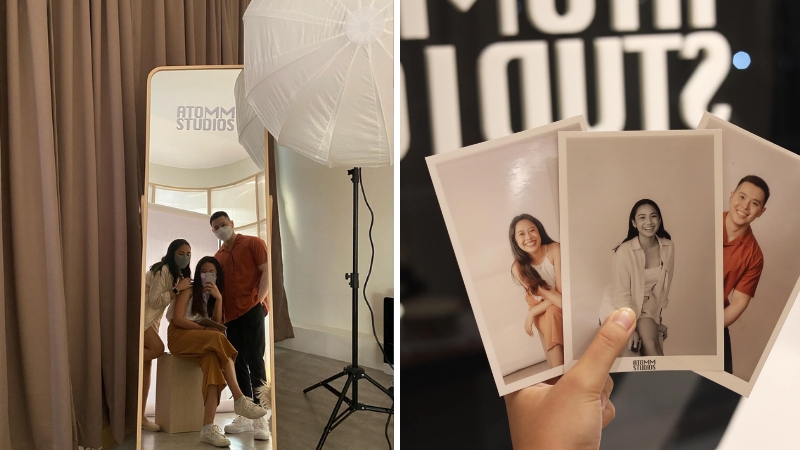 How to book a slot at Atomm Studios self-shoot photo studio
In line with Quezon City's Alert Level 3 COVID-19 restrictions and guidelines, the self-shoot photo studio will only accommodate customers with confirmed reservation slots. Atomm Studios urges customers to reserve slots two days before visiting the studio to allot time for processing. Moreover, the studio will open nine slots per day and accept a maximum of five pax per slot. To secure your slot, you can head directly to their official booking website. 
Other than providing people a comfortable and clean space, Atom Studios also prioritises its customer's health and safety. With this, the studio will carry out their heightened and mandatory sanitation processes before visitors can proceed with their photoshoot. 
How does Atomm Studios work?
Like mentioned earlier, customers will have to follow minimum health protocols before entering the studio area. To help you better navigate your DIY photoshoot experience, there will be a briefing to explain instructions for handling the studio equipment. Feel free to ask for assistance when needed! After the turnover, you will be given a maximum of 15 minutes to take your photos. Another additional 15 minutes will be allotted for selecting and printing the photos of your choice. 
Also read: 7 Best Portable Photo Printers You Can Purchase Online
What are the photo studio's packages and inclusions?
The self-shoot photo studio comes with different packages to choose from, depending on your own personal preferences. They also provide you with quality studio equipment to guarantee that your photos come out crisp and clean! As of now, Atomm Studios provides only two main packages for their customers to select from. 
Package A for ₱700
Two pax

Maximum 15 minutes for the photoshoot proper

Additional 15 minutes for photo selection 

One piece single photo print (6×4 or postcard size)

One piece collage or grid print 

Five digital copies 
Package B for ₱650
Two pax

Maximum of 15 minutes for the photoshoot proper

Additional 15 minutes for photo selection 

Five digital copies (no print) 
Although the studio allows a maximum of five pax per slot, an additional fee of ₱250 will apply per person beyond two pax. Ever thought about doing a photoshoot with your beloved fur buddies? You're free to bring two, but there will be an additional fee of ₱150 per succeeding pet. If you ask us, it's super sulit! 
Make use of simple yet quality photography equipment
Atomm Studio's photoshoot area will include essential and quality studio equipment to make sure that you get the most out of your unique selfie experience. Here you'll find studio lights, prime camera equipment, a monitor, mirrors, different backdrop options, and a clicker to give you full control over your shoot. Don't worry, the studio's friendly and accommodating staff will be there to guide you through everything before you start!
Also read: Where to Get Your Film Photos Processed in & Outside Metro Manila 
Ultimately, the Atomm Studios self-shoot photo studio hopes to bring people together through making new memories and capturing moments. They're not just a studio, but a safe space for people to feel free and be their most authentic selves. Here, you'll get to "enjoy being both the photographer and the model!" with each shutter click! 
---
All images credited to Atomm Studios | Official Facebook Page