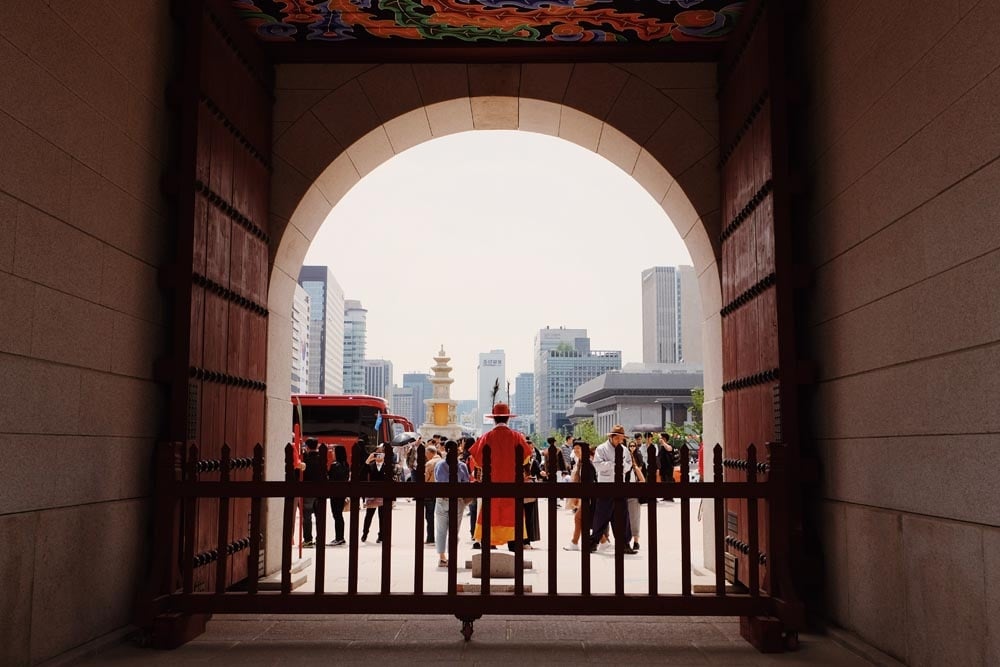 Seoul, South Korea
South Korea, also known as the Land of the Morning Calm, boasts a work hard, play hard culture that you can't easily find in any other places. It is well-known for its rich culture, the delicious Korean BBQ, food markets with fresh vegetables and spices, and historic temples.
Admittedly, planning a trip to South Korea might be expensive, but the country is still budget-friendly and an enduring favourite among backpackers and thrifty travellers. By knowing this, with the right research and budgeting, there are several options that can suit your budget.
Also read: A Filipino Traveller's Guide to Visiting Korea for the First Time
Considering a trip to South Korea? Add these tips to your itinerary!
I have booked a multi-city flight (MNL-ICN & PUS-MNL) via Cebu Pacific Air, three months before my travel date for only ₱6,334; the cheapest airfare compared to other low-cost airlines.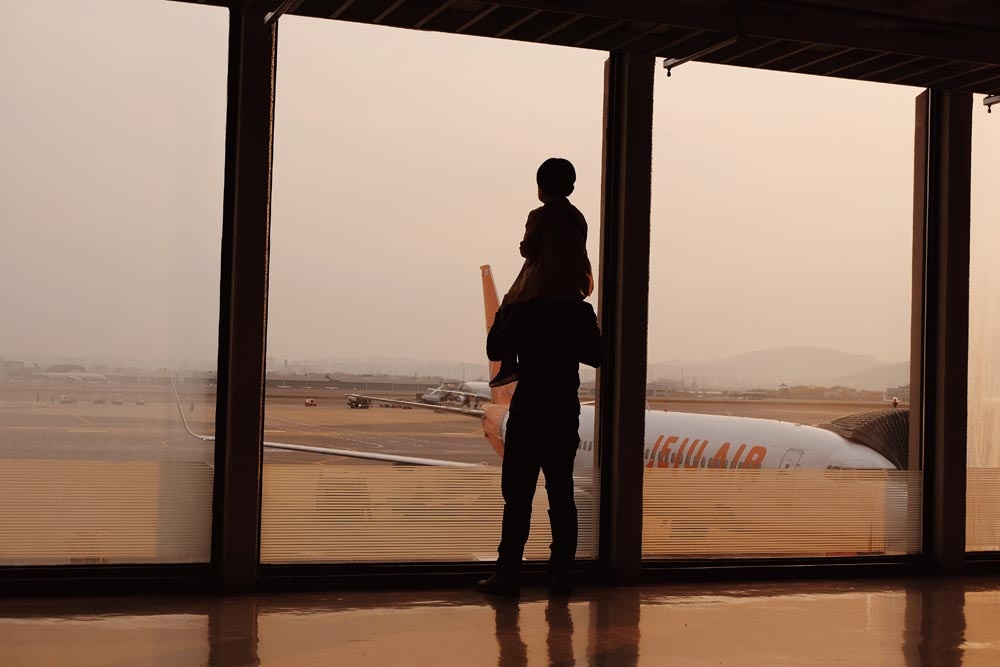 Gimpo International Airport
There are many low-cost airlines in South Korea that offer flights to Jeju and Busan. So I booked a multi-city flight (ICN – CJU & CJU – PUS) in Jeju Air one month before travel date, and yes, I got it cheaper by only ₱3,800. There are pretty good deals as long as you do the research.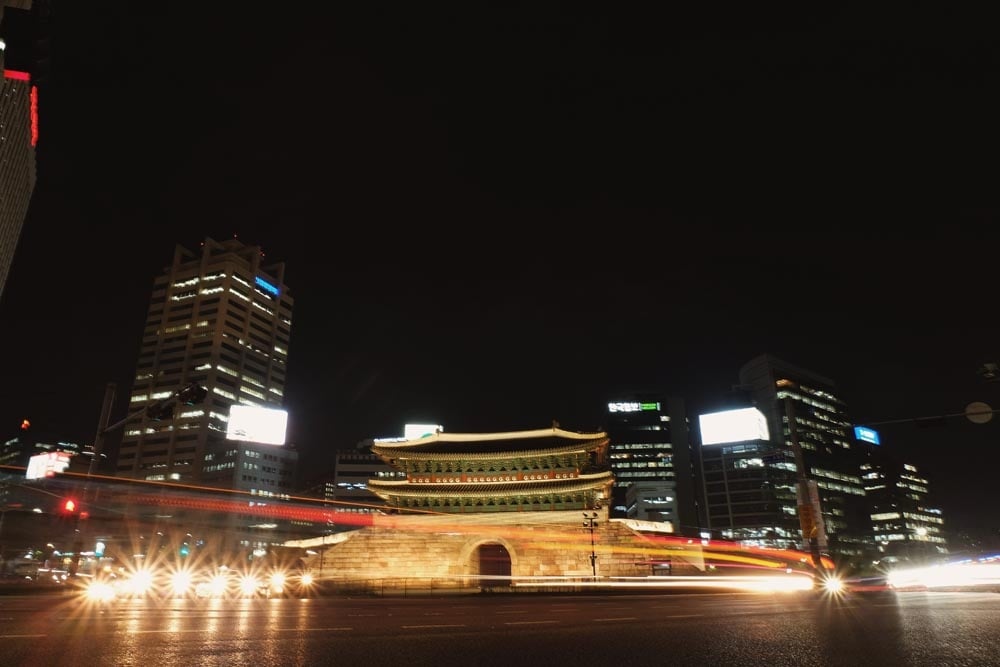 Gwanghwamun Gate
So upon arriving in South Korea, my prepared itinerary helped me save time identifying the places that I need to see and visit because I only have 5 full days to explore Seoul, Jeju and Busan. Good thing, I was able to compress everything. I know my itinerary was short and tight, but it actually depends on your phasing. I initially thought this jam-packed itinerary would kill me, but I was wrong, every moment was worthwhile.
As other travellers would always say, enjoy the beauty of one country – and minimise your travel expenses, too! So here are my tips on how you can save in South Korea:
Food
In Korean cuisine, all the dishes are served at the same time. A typical meal normally includes rice, soup, and several side dishes, the number of which vary. One meal costs about ₩3,000 – 13,000 (₱130 – 550). Take note that their meals usually come in big servings.
There are many affordable restaurants, just ask the locals where to find a good one. I normally ask my hostel for their good recommendation for nearby restaurants. They also have a lot of Convenience Stores (7-11, Mini Stop, GS25, CU Mart, With Me, Storyway, Buy the way) to grab some lunch-to-go or snacks if you're in a hurry. My favourite convenience store snacks are Kimchi and Spam Fried Rice, they were delish!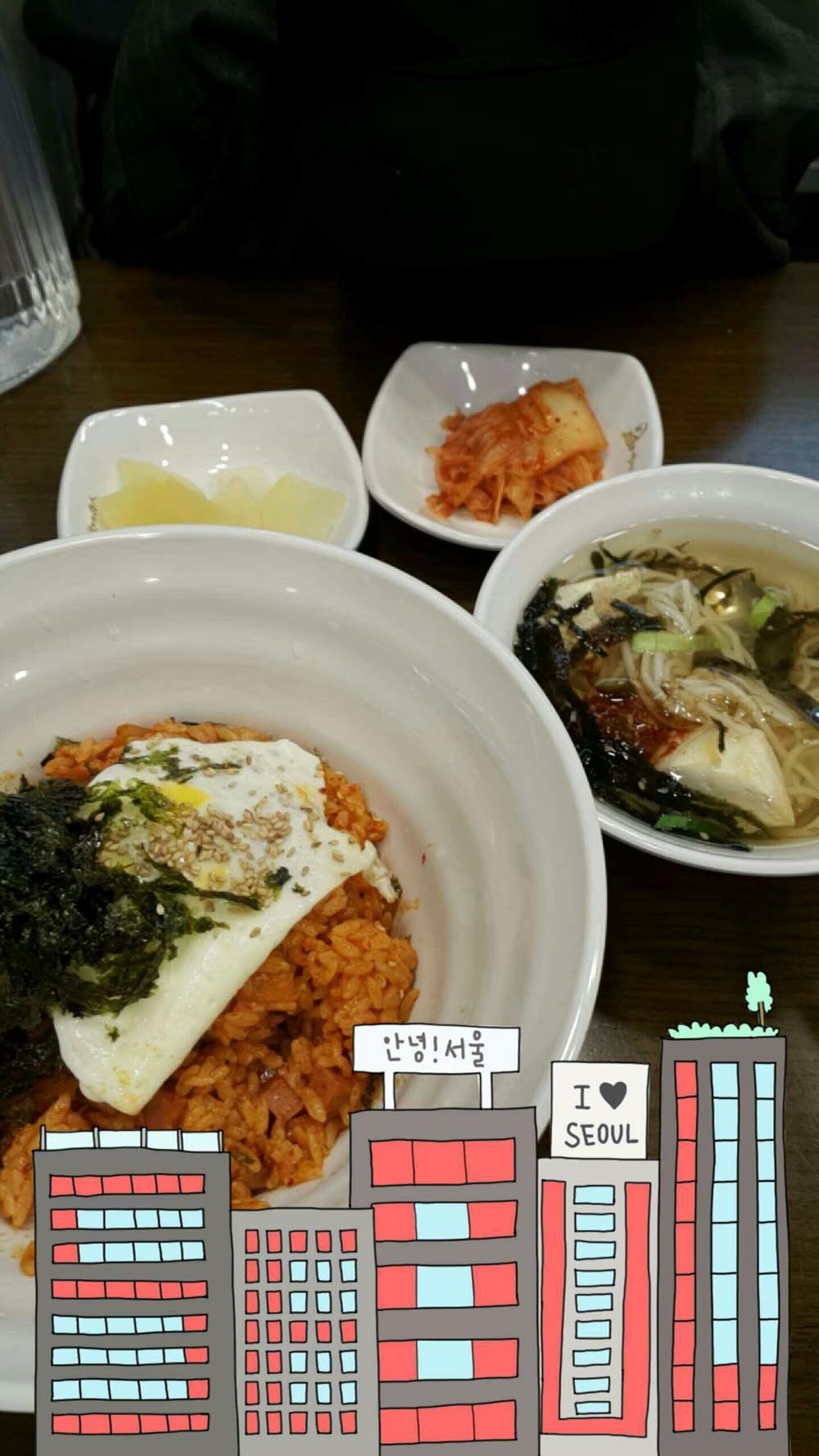 Kimchi Fried Rice with Soup for only ₩5,000 (₱210)
Most Korean BBQ restaurants require 2-3 persons to dine in. Since I'm a solo traveller, they didn't allow me to go even though I said that I will buy 2 platters.
Transportation
Seoul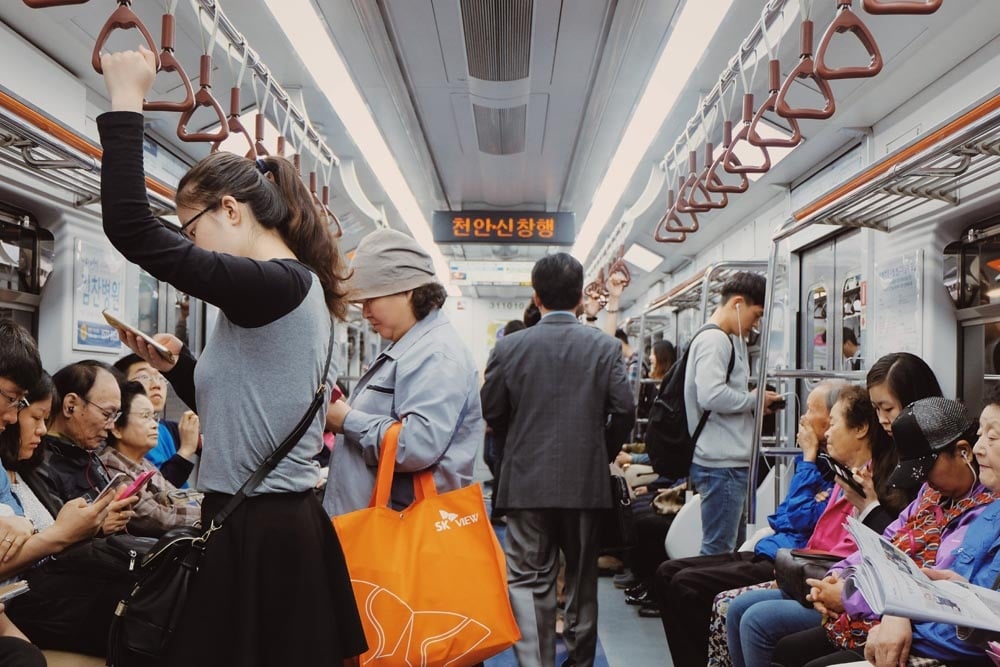 Inside the train
Seoul City's subway is one of the most convenient and fastest systems to get around the city. It currently consists 19 lines and the good thing is, it is connected to their 2 major airports (Incheon International Airport and Gimpo International Airport). Subway fare is calculated based on the distance travelled and the basic fare is ₩1,150 (₱50) for distances less than 10km. You can purchase a Single Journey Ticket or a T-Money Card (which you can purchase at convenient stores). Since I only had 5 days to explore South Korea, I just bought a Single Journey Ticket. T-Money card is more advisable for those who are staying longer in South Korea.
Also read: Singapore to Korea by (Mostly) Trains: An EPIC Journey To Try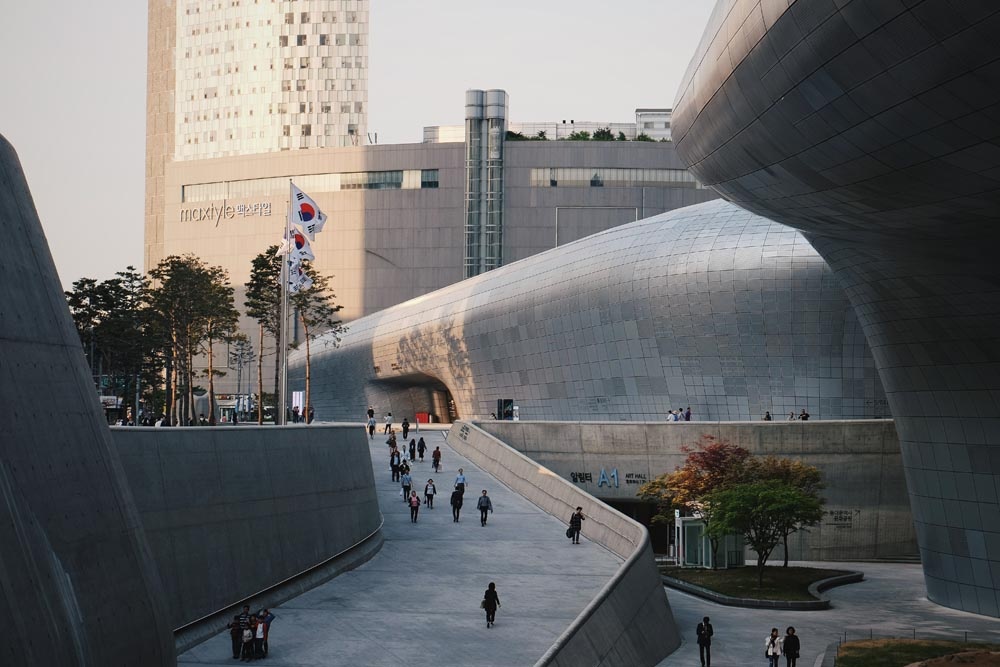 Sunset at Dongdaemun Design Plaza
Most of the tourist attractions in Seoul are close to each other so you can walk your way to your next destination. I walked from Deoksugung to Gyeongbokgung Palace and up to Insa-dong. One time, when I got tired of walking, I asked the tourism officer on what line I should get to Dongdaemun Design Plaza from Jongmyo Shrine and the officer said that if I take the train, it will take longer time because I need to transfer 3 lines in order to get there. Instead, she advised me to walk because it will only take 10-15 minutes.
Jeju Island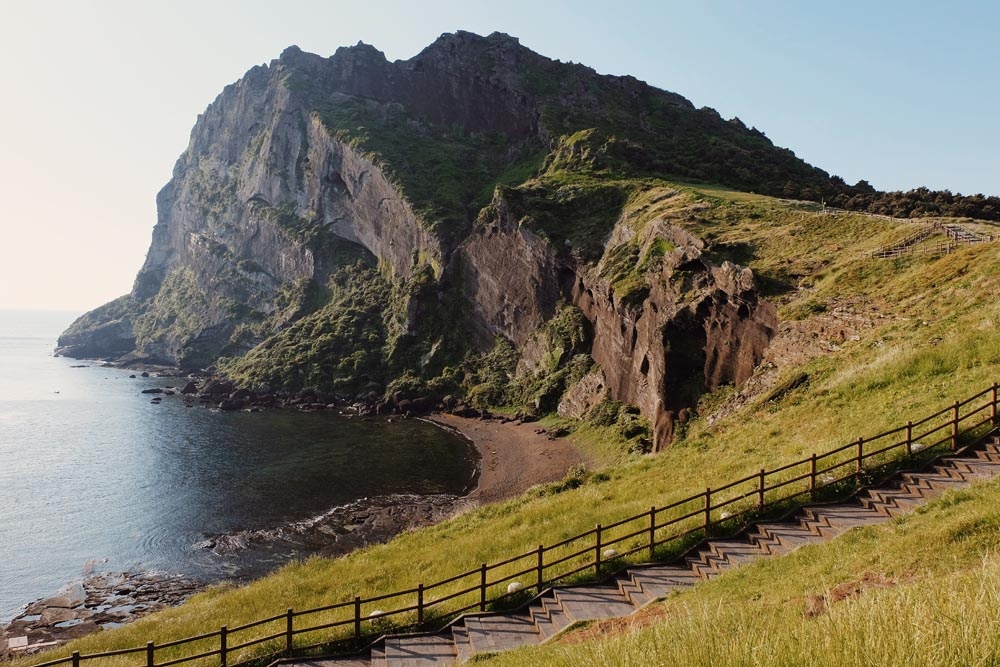 Sunrise Peak
Jeju-do isn't as small as you might think. The island is huge and most tourist attractions are about an hour from each other. Since Jeju doesn't have a subway system, the bus is the cheapest and most convenient way to explore Jeju. The buses travel to most tourist attractions and it covers most of the island. Don't forget to get a copy of the bus schedules in terminals or here. Take note that the first bus leaves at 5.40am and the last bus at 9.00 PM. The bus fare ranges between ₩1,300 up to 3,300 (₱55 – 140) depending on the distance. If you have T-Money, you can also use it.
Jeju also offers Jeju City tour bus for only ₩1,200 (₱50) that allows you to ride the bus all day around Jeju City. Take note that this is only for Jeju City, not the whole island
Also read: 13 Awesome Attractions in Jeju Island You Shouldn't Miss
Busan
Busan also has a good subway system. It currently consists of 5 lines and also connects to Gimhae International Airport. I bought a one-day pass for ₩4,500 (₱190) and it allows unlimited rides on the same day of purchase for all subway lines except for the light rail service (Airport Line).
Accommodation
Seoul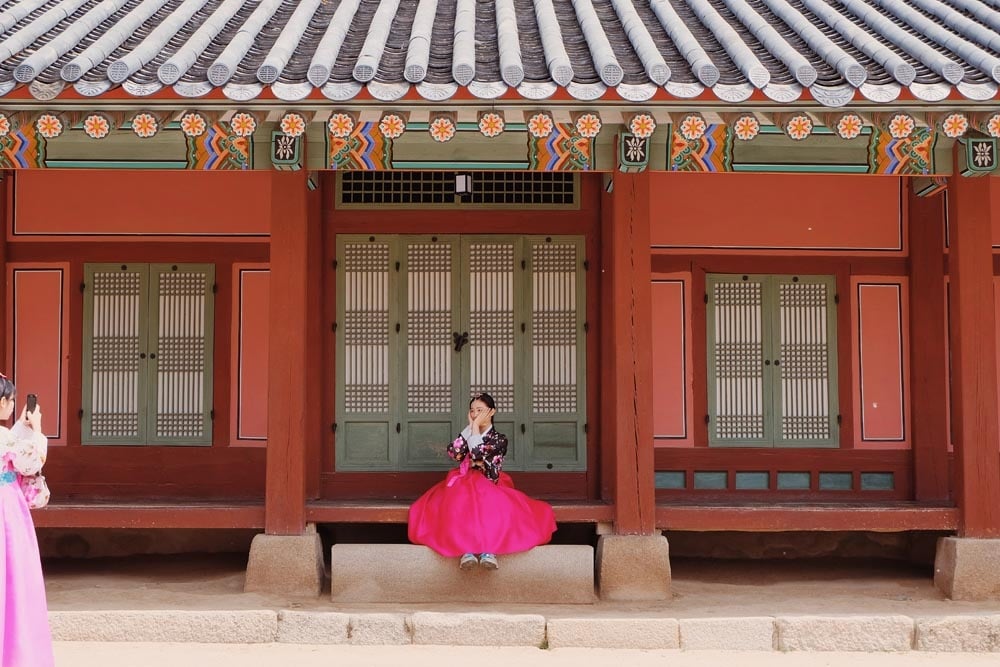 Tourist in Traditional Hanbok
Rates of hostels in Seoul range between ₩9,500 – 30,000 (₱400 – 1,300) per night for a dorm room depending on how artsy it is. The good thing is most of the hostels offer free breakfast. Usually, they serve Bread & Jam, Cereals, Milk, Coffee or Tea.
I stayed in Hongdae area and it is just a 3-minute walk from the metro station and a 5-minute walk from Hongdae street which is known for cafes, bars, wall murals, indie music culture and youthful vibes. It is also a station away from the tourist attraction and is connected with AREX (Airport Railroad Express)
Jeju Island
Rates of hostels in Jeju range between ₩14,000 – 28,000 (₱600 – 1,200) per night for a dorm room. Most of the hostels in Jeju also offer free breakfast. I stayed in Ildo-Dong, Jeju City which is near the shopping districts and night market. It is only 30 minutes from Jeju International Airport and 15-minutes from Jeju Intercity bus terminal.
Busan
I didn't book a hostel in Busan because I only had 13 hours to explore. But rates of hostels in Busan range between ₩9,500 – 30,000 (₱400 – 1,300) per night for a dorm room and includes free breakfast as well.
Entrance Fees
Seoul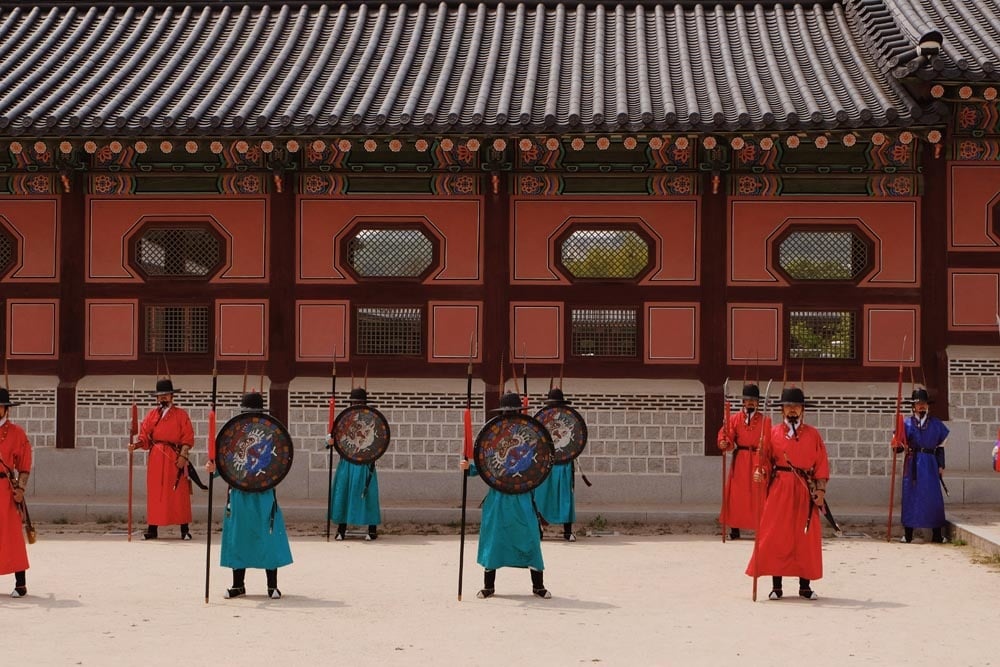 Most of the palaces and shrines have entrance fees which range between ₩1,000 – 5,000 (₱40 – 200). If you plan to visit all of them, (Gyeongbokgung, Deoksugung, Changdeokgung, Huwon Secret Garden, Changgyeonggung, Jongmyo Shrine) I suggest you buy Integrated Palace ticket which only costs ₩10,000 (₱420). Purchasing the pass will save you ₩4,000 (₱170).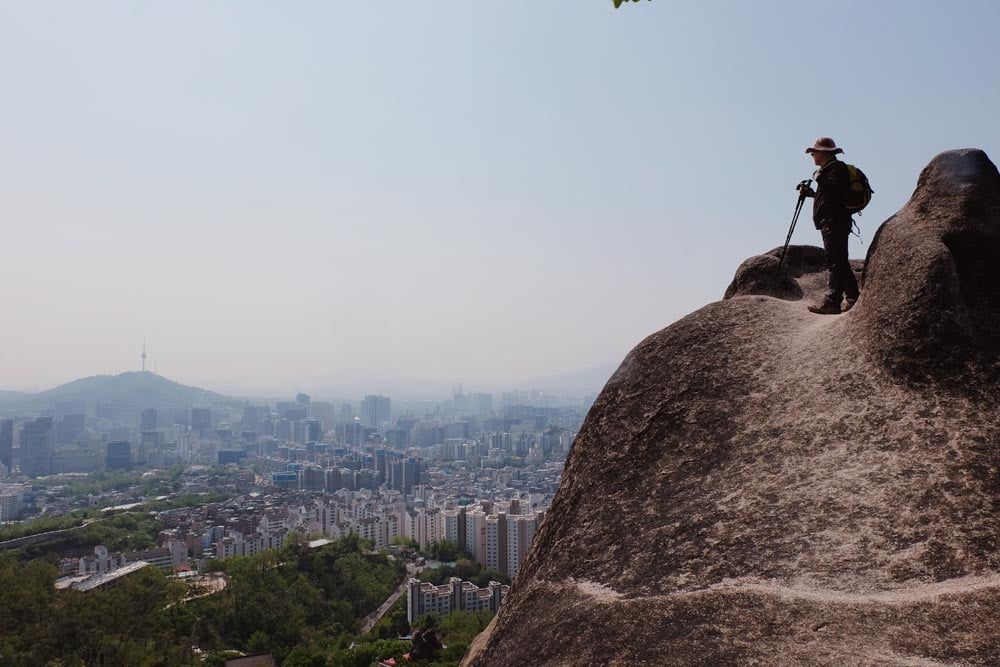 Inwangsan overlooking Namsan and N Seoul Tower
Hiking a mountain in Seoul is definitely free and you don't need a tour guide to get around the mountain, you will just follow the trail or ask locals for the direction.
Also read: 24 Fun Things to Do in Seoul on Your Very First Visit
Jeju Island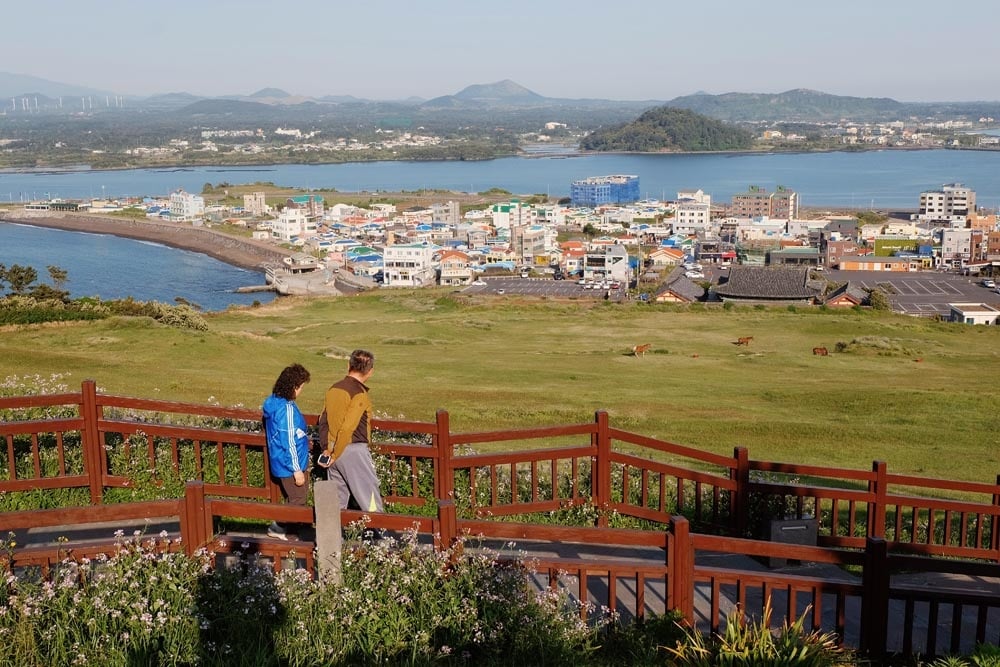 Seongsan Ilchulbong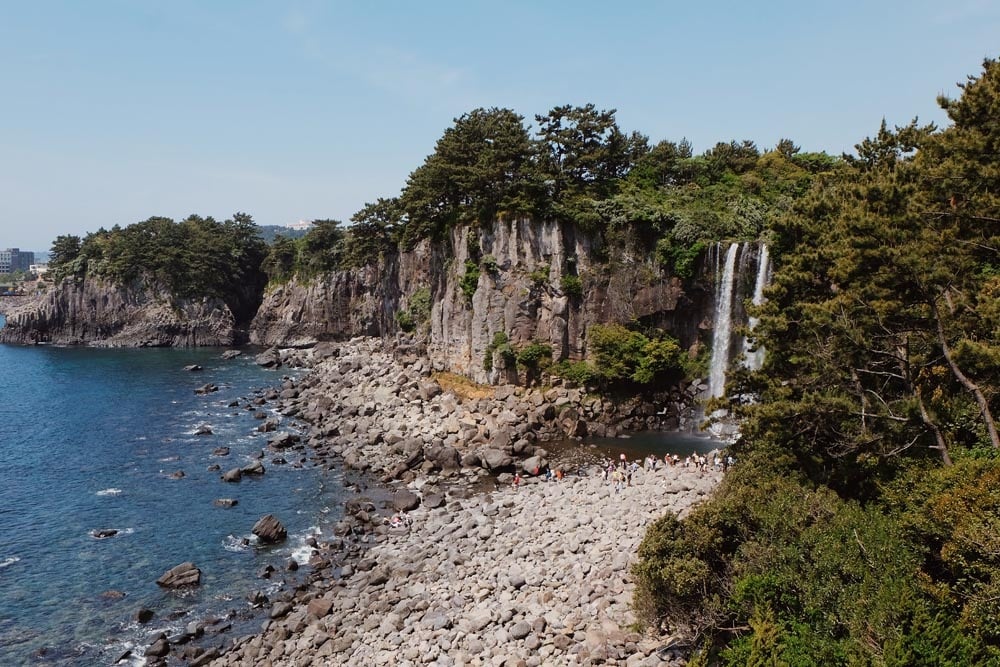 Jeongbang Falls
Entrance fees in Jeju usually cost ₩2,000 (₱80) for nature attractions (Seongsan Ilchulbong Peak, Jeongbang Falls, Jusangjeolli) and ₩9,000 (₱380) for museums and other attractions.
Busan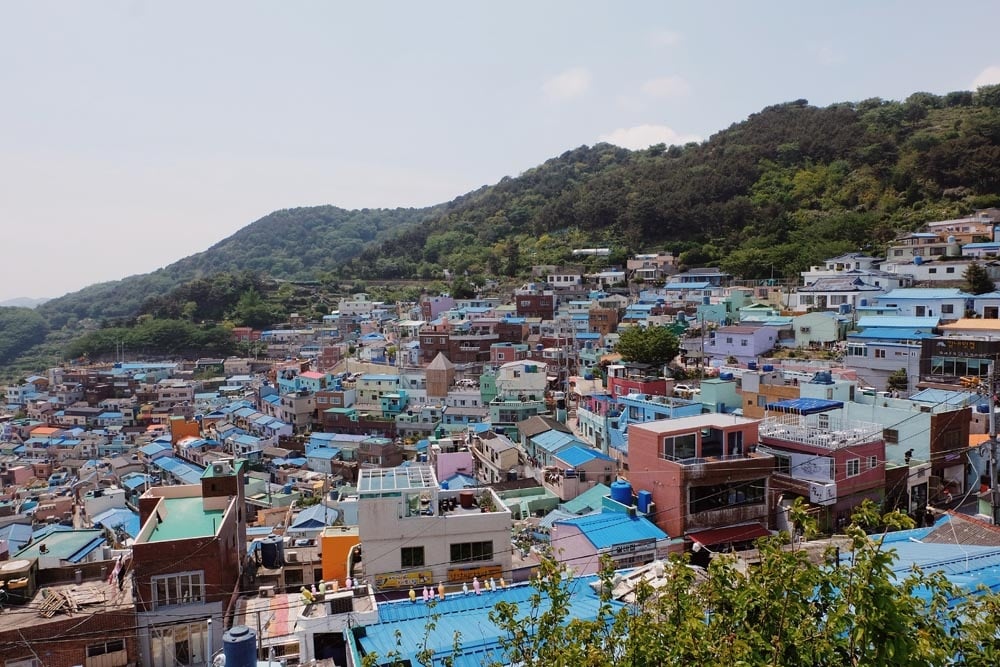 Gamcheon Cultural Village
Most of the attractions in Busan are free like Haeundae Beach, Gwangalli Beach, Gamcheon Cultural Village.
Budget breakdown
| | |
| --- | --- |
| Accommodation | ₱2,751 |
| Transportation | ₱1,518 |
| Food | ₱2,185 |
| Entrance Fees | ₱509 |
| TOTAL | ₱6,963 |
| | |
| --- | --- |
| Travel Tax | ₱1,640 |
| Airfare (MNL-ICN & PUS – MNL) | ₱6,334 |
| Airfare (ICN – CJU & CJU – PUS) | ₱3,800 |
| TOTAL | ₱11,774 |
Total cost for my SK trip = ₱18,737
How much do you need?
South Korea isn't that much expensive at all, it depends on how you spend and utilise your money. If you're staying in a hostel, buying a train/bus pass, eating in local restaurants, you can actually spend around ₱1,000-1,500 per day.
Also read: I Travelled to South Korea for 4 Days with an All-In Budget of Only ₱15k
Tips
Download an offline map or save your places in Google maps so you can navigate with your phone even without internet connection.
South Korea is Wifi Friendly. They have wifi in bus stops and some of the tourist attractions.
Compute your transportation cost for a day and buy train/bus pass if you think you can save more.
If you will go to all palaces in Seoul, buy the Integrated Palace ticket which costs ₩10,000 (₱420).
Book a hostel that includes free breakfast. This will save you a lot in terms of money and time.
Buy T-Money if you will stay longer in South Korea.
Watch the Royal Guard-Changing Ceremony in Deoksugung Palace. Performance Time: 11.00 -11.40am, 2.00 – 2.40pm, 3.30 – 4.30 p, (excluding Mondays)
Watch the opening and closing of the Royal Palace Gates and Guard-Changing Ceremonies:
For Sumunjang Changing Ceremony, the performance time is 10.00am & 2.00pm.
For Gwanghwamun Gate Guard-on-Duty Performance, the performance time is 11.00am & 1.00pm.
For Sumungun Military Performance located outside Hyeopsaengmun Gate, the performance time is 9.30am & 1.30pm.
My itinerary
| | |
| --- | --- |
| Day 1 | 8pm – Arrival in Incheon |
| | |
| Day 2 | Seoul City Hall |
| | Cheonggyecheon Canal |
| | Deoksugung (Watch Guard Changing) |
| | Gwanghwamun Square |
| | Gwanghwamun |
| | Gyeongbokgung Palace |
| | Bukchon Hanok Village |
| | Changdeokgung |
| | Changgyeonggung |
| | Jongmyo Shrine |
| | Insadong |
| | Dongdaemun Design Plaza |
| | Hangang Citizen's Park |
| | Banpo Bridge |
| | |
| Day 3 | Hike Inwangsan |
| | N Seoul Tower |
| | Namsan Park |
| | |
| Day 4 | Seoul Museum of Art |
| | Departure in Seoul |
| | Arrival in Jeju |
| | |
| Day 5 | Seongsan Ilchulbong Peak |
| | Jeongbang Falls |
| | Jusangjeolli |
| | Yeon dong Street jeju |
| | |
| Day 6 | Departure in Jeju |
| | Arrival in Busan |
| | Gamcheon Cultural Village |
| | Gwangalli Beach |
| | Haeundae Beach |
| | Departure in Busan |
Follow my adventures as I explore the world on budget-friendly travels. You may check out my Instagram account (@ac.almelor) and feel free to ask questions. Thank you and cheers to more adventures!