One of the top places I wanted to see and explore in my life is the Angkor Wat Temple Complex in Siem Reap, Cambodia. The Angkor Archaeological Park where the temple complex lies is considered as one of the most important archaeological sites in Southeast Asia, if not the entire world. Its most famous temple, the Angkor Wat, has become an iconic symbol of Cambodia that it appears in their national flag. A trip to Cambodia is definitely not complete without visiting this ancient wonder.
Also read: Why Siem Reap Should Be Your First Out of the Country Barkada Trip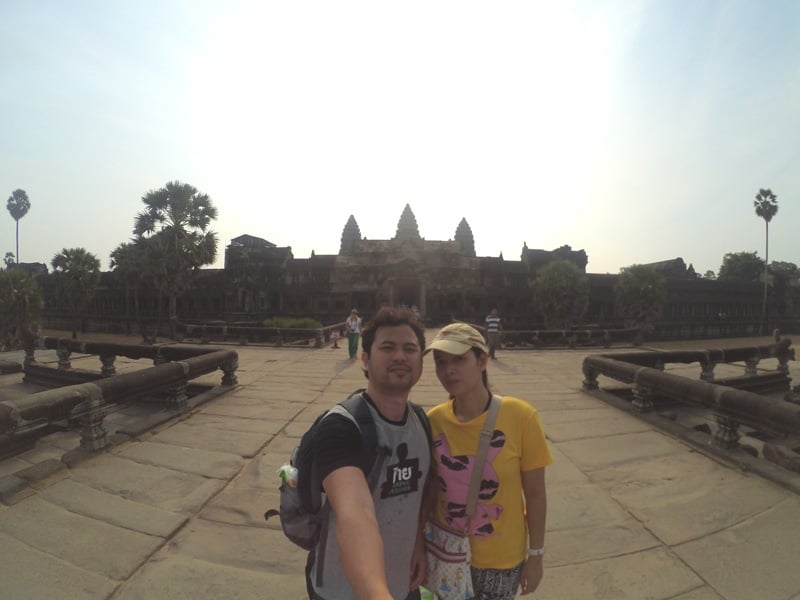 We recently explored Cambodia on our backpacking trip around South East Asia. From Phnom Penh, we took a night bus to Siem Reap then stayed there for 2 days before travelling to Bangkok. But if you're a weekend warrior wanting to explore Angkor and don't have the luxury of time to travel for many days, then let me help you out with an Itinerary specifically planned for 2 days and 2 nights in Siem Reap. This itinerary includes places to see, things to do and an ideal budget to bring for your out of the country weekend escapade. Read on!
Itinerary
I will base the itinerary on Cebu Pacific's roundtrip flight schedule from Manila to Siem Reap.
Day 0 (Thursday)
7:35 PM – Departure
9:30 PM – Arrive in Siem Reap
Relax and sleep or go to Pub Street to drink beer if you want but I suggest to not go yet.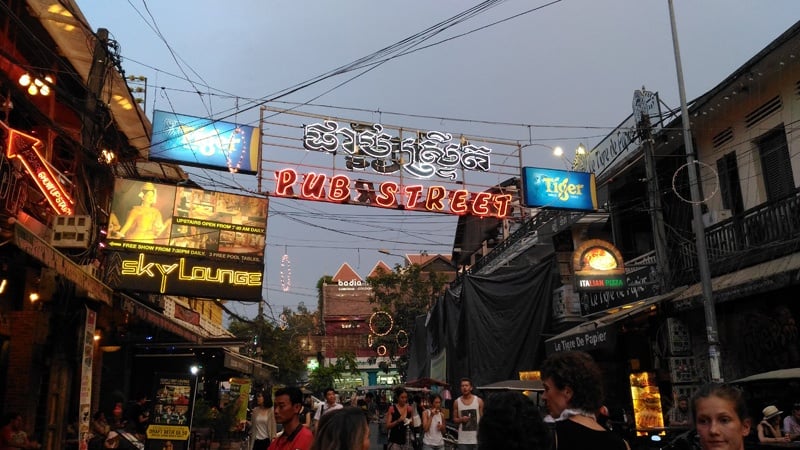 Pub Street
Day 1 (Friday)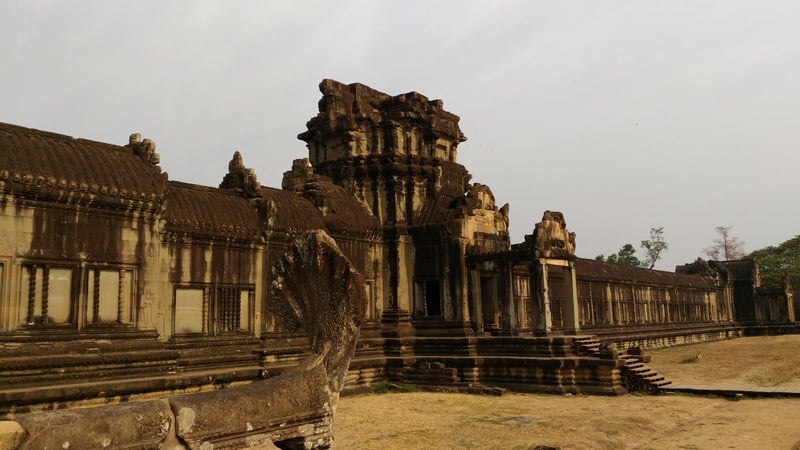 Angkor Wat entrance
This is the Angkor Wat Tour day. Get a 1 day pass to the complex for $20 at the main entrance. For your security, please only buy your tickets there.
7:00 AM to 12:00 PM – Short circuit Tour in Angkor Wat complex
To go there, arrange your tour with a recommended Tuk Tuk driver by your guesthouse/hostel/hotel prior or upon arrival in Siem Reap.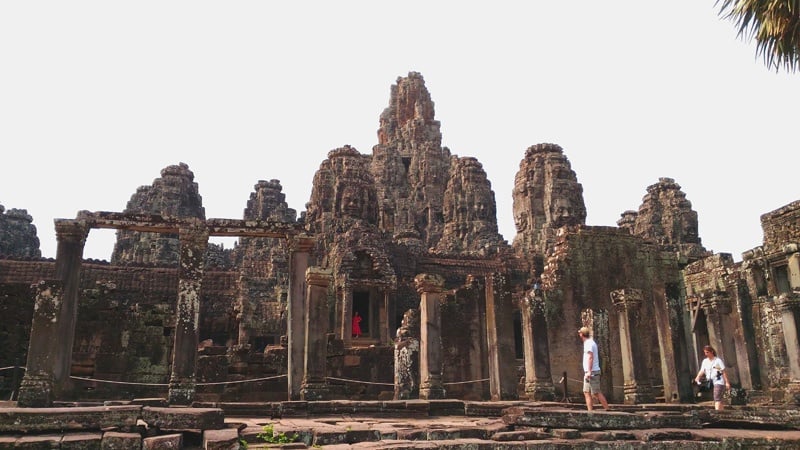 Bayon Temple
Our accommodation (Rosy Guesthouse) recommended us a kind and accommodating Tuk Tuk driver who charged us $12 to/from the guesthouse to the complex for a short circuit tour that spans from 7:00 AM to 12:00 PM. It already includes lots of temples including Angkor Wat, Bayon temple and Angkor Thom. There are so many temples to explore that we actually got templed-out by the end of the tour that we declined to go to the last temple in our itinerary.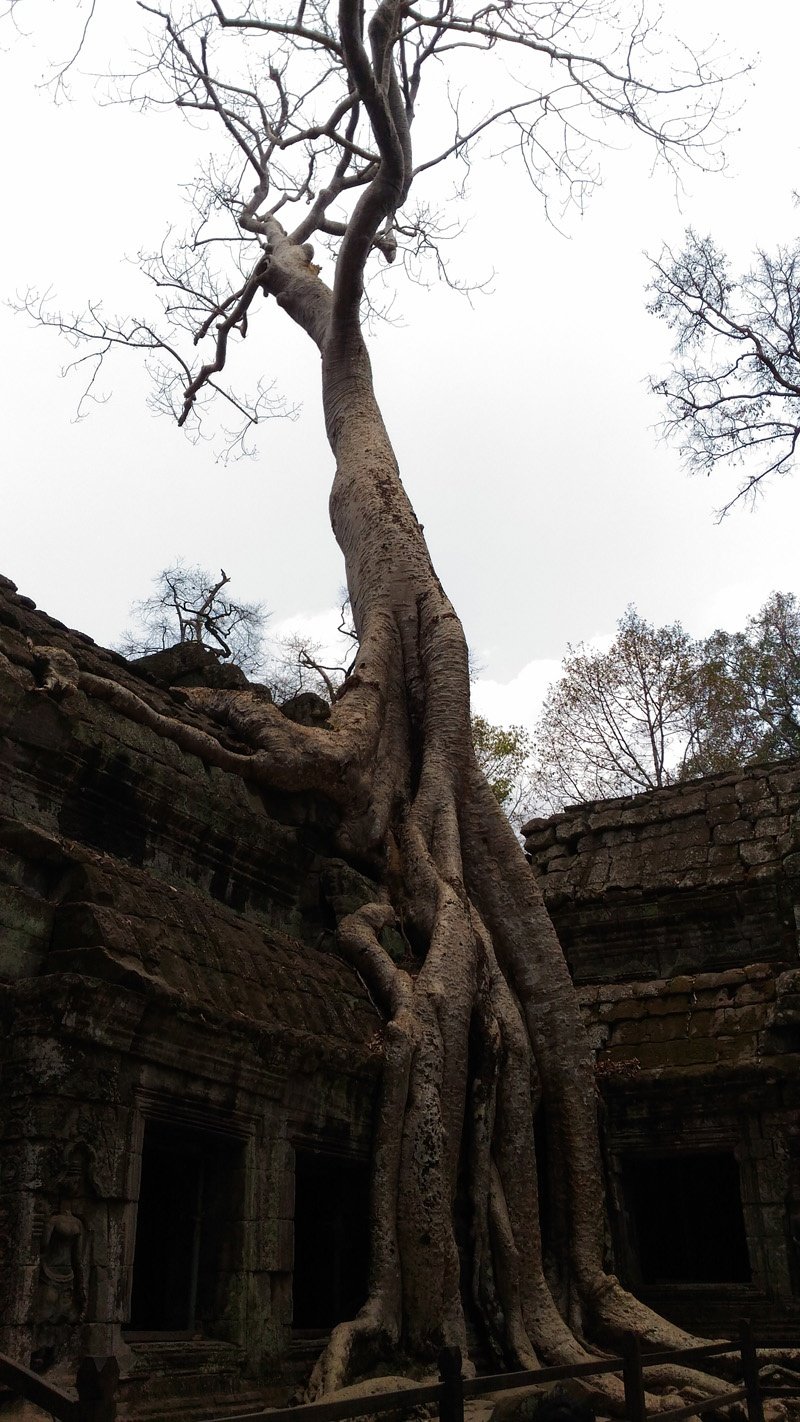 Angkor Thom
Now, you can also opt to go to Angkor Wat during Sunrise or Sunset but that's an additional payment of $3 as far as I know. Just let your driver know that you wish to avail this prior to your tour.
3:00 PM onwards – Free time (or go to Angkor Wat at 5:00 PM for sunset viewing)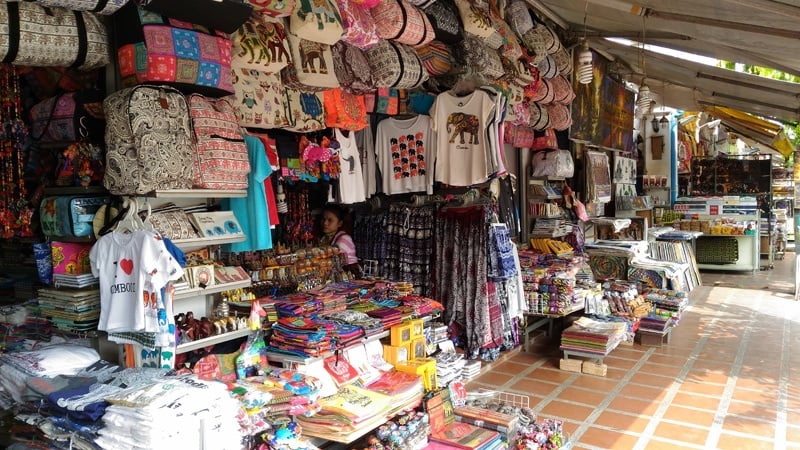 Old Market
You can go to the Old Market to do some shopping or for some food adventures. Then at night, go bar hopping and drink beer in one of the bars/restaurant in Pub Street. Beer is ridiculously cheap there for half a dollar a glass!
Day 2 (Saturday)
More free time before packing up and heading to the airport!
Some suggestions to do: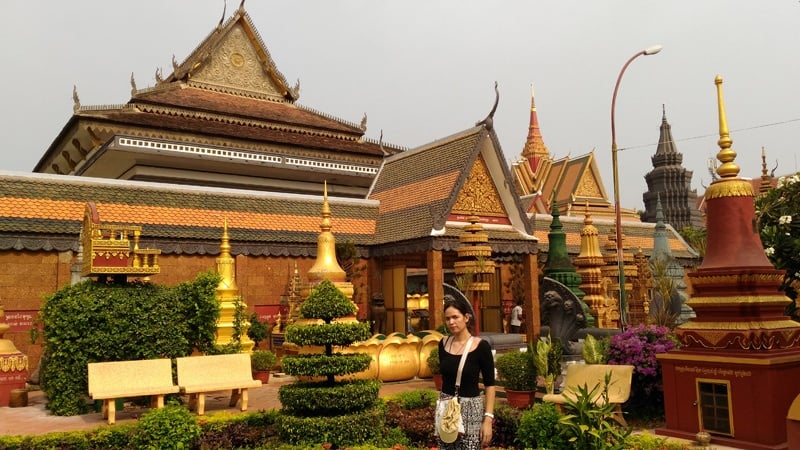 Wat Preah Prom Rath
Visit Wat Preah Prom Rath

Attend a cooking class

Biking around the city

Tonle Sap Lake Tour

: $72 per person (not a budget tour), 8:00 AM to 3:00 PM.

Educate yourself at the Landmine museum and in the Angkor National museum

Watch an Apsara dance, a traditional Khmer dance

Or just relax! Some hostels even have a swimming pool! Perfect for a summer trip in Siem Reap. Or go for a traditional Khmer massage to soothe those aching muscles.
8:30 PM – Go to Airport
10:30 PM – Departure
2:25 AM (Sunday) – Arrive in Manila
There you have it folks! It's not as tiring as you thought it would be because there are lots of free time in this itinerary. You even have the whole Sunday to rest or start uploading your pics on social media!
Also read: Top 10 Things to Do in Siem Reap
As mentioned earlier, this is a weekend warrior friendly itinerary and you only need to file one day of leave (Friday)!
For the budget, here are some of the fixed expenses that you must allot your money with:
Accommodation – USD 5 to 20 per night

Tuktuk to/from hostel to Angkor complex – USD 12

Angkor Wat 1 Day pass – USD 20

Food – USD 1 to 3 per meal
Sample budget plan per person:
Say, you're travelling with your partner and are staying in a double room bed for USD 15 per night, and the cost divided between the two of you, here is a sample budget plan per person:
Accommodation – USD 15

Tuktuk to/from hostel to Angkor complex – USD 6

Angkor Wat 1 Day pass – USD 20

Food – Average of USD 2.5 per meal for 7 meals – USD 17.5

Other transpo expenses – say you'll spend USD 6 for other tuktuk rides for the whole trip (like going to Old Market/Pub Street from your hostel. But if it is walking distance, you can just walk to save more money)
Total of USD 64.5 (PHP 3,029)
Now, you can allot more money for your souvenirs, alcohol or other expenses for the Day 2 activities. Say add PHP 2,000 more, that'd be a total of PHP 5,029! Your only challenge now is to avail a promo fare in one of Cebu Pacific's seat sale! So watch out for those promos and be quick!
Also read: 3 Days 2 Nights Trip to Beautiful Siem Reap, Cambodia
Actually, compared to Vietnam and Thailand, we even find Siem Reap, Cambodia more expensive. It's up to you how to lower the expenses like staying in a cheaper hostel, eating 1 USD per meal (Yes there is, like grilled chicken/pork with rice and veggies) and just walking to other destinations. So goodluck and happy travel to the Land of Smiles and Wonder!