It was the first day of 2015 when I tried soufflé pancakes for the very first time. My family and I were having the first breakfast of the year and the last one for our Japan trip; we decided to head to a coffee shop called Hoschino Coffee, which we would pass by every day. Better late than never — we just knew we had to try out this neighbourhood café!
We definitely got to end our vacay with a bang, because it was there that my family and I were introduced to soufflé pancakes! Who knew we were missing out on them all this time? They're soft, fluffy, and — let's face it — very pretty to look at. Our favourite breakfast food, only with a yummier, more stylish upgrade! A bonus for my caffeine-loving family? They go great with coffee, too.
Also read: 10 Coffee Recipes You Can Easily Master at Home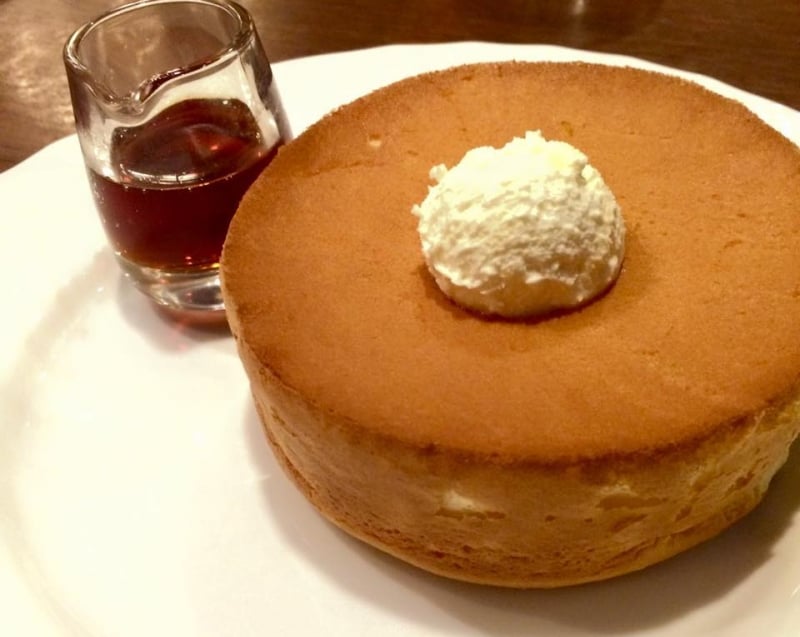 A few years later, the soufflé pancakes trend finally picked up in Manila — and this delicious breakfast food started being offered in Japanese cafés left and right! Who knew that the random dish we chanced upon at a humble café would one day be such a big deal?
On our next trip to Japan (just last December 2019), we made a mental note to head back to Hoschino Coffee. Unfortunately for us, it was closed for the holidays — and so our cravings for soufflé pancakes were never satisfied! Eventually, my mom scoured the web until she finally found the perfect recipe by Emojoie Cuisine.
Recipe for soufflé pancakes
Before anything else, you'll have to make moulds to achieve the perfect shape for your soufflé pancakes. To make this, you'll need parchment paper and some tape. The moulds should measure 36cm x 4cm with a diameter of 11cm.
Ingredients
3 tbsp flour 

¼ tsp baking powder

1 tbsp milk

¼ tsp vanilla extract

2 eggs (separated into yolks and whites)

2 tbsp sugar

Optional:

(1 to 2 tbsp cornstarch) 
*Recipe makes two soufflé pancakes.
Steps
Combine the flour, baking powder, milk, vanilla extract, and egg yolks into a smooth batter.

In a separate bowl, whip the egg whites.

Add sugar to the egg whites, then continue to whisk.

Combine the batter and the egg whites mixture.

Grease a pan with oil, then place two moulds on the pan.

Spoon your pancake mixture into the moulds.

Add a few teaspoons of water to the pan. (Don't add water to the pancake mixture!)

Cover and cook over low heat for four minutes.

Flip the pancakes in order to cook the other side.

Sear your soufflé pancakes over low heat until they're thoroughly cooked.

Check doneness with a barbecue stick or toothpick.

When cooked enough, remove the soufflé pancakes from the pan.

Remove the moulds.

Serve with butter and maple syrup!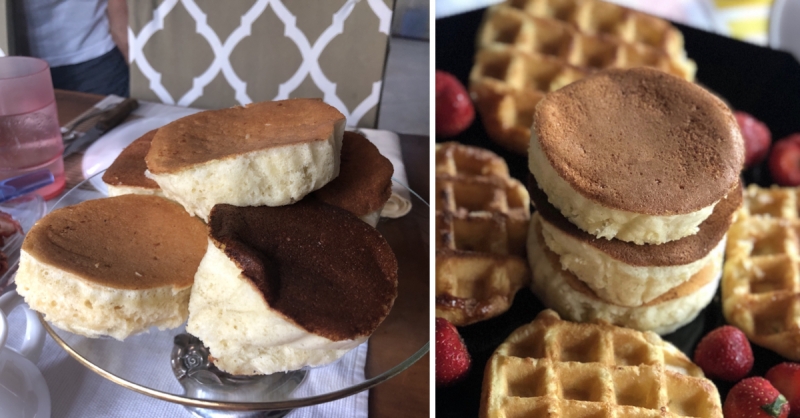 And voila! You have your homemade soufflé pancakes. While there's no guarantee you'll get it right the first time around, this is a recipe you can definitely master at home. Above, I share photos from when we tried them at home. Look at the difference between our first attempt and our nth attempt!
Also read: 10 Delicious Egg Recipes to Start Your Mornings With!
Will you be trying this soufflé pancake recipe? Tag us in your photos when you share them on Instagram!
---
Featured image credit: Ginge Salud.