Subic is a perfect spot for a weekend getaway because of its location that's accessible for Manileños. It's been one of the childhood destinations whenever I go for a road trip with my family for years now since it's just a few hours from Metro Manila. What I love about Subic is its relaxing, quiet yet gloomy ambience that's a depart from the chaotic city life.
Also read: 8 Relaxing Places Near Manila to Escape the City Life
So, what can you do in Subic for a quick weekend getaway? Read on.
1. Go horseback riding at El Kabayo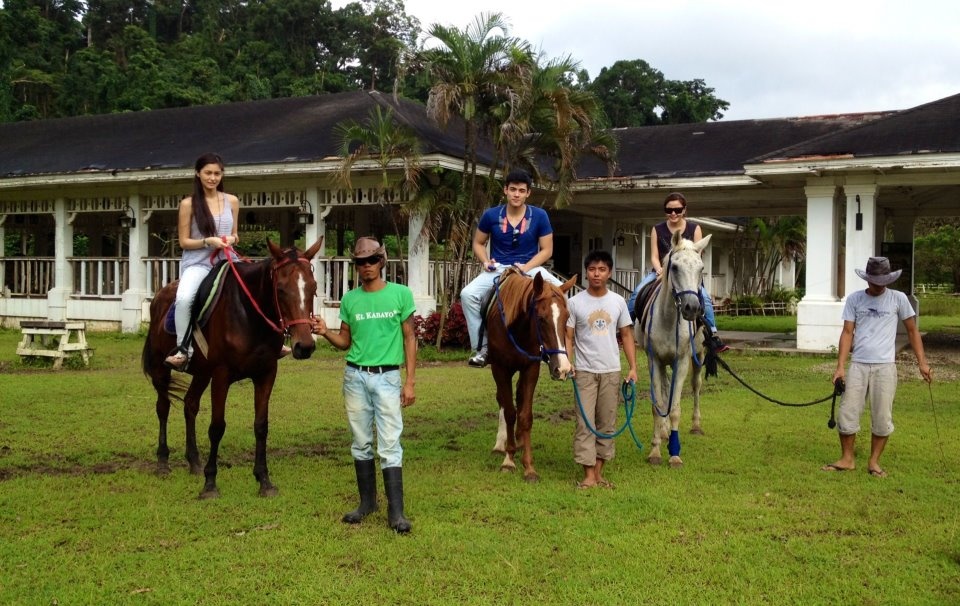 Image credit: El Kabayo Stables Subic Bay
It's the best place to go horseback riding in the country because of their beautiful and strong horses. The ranch is utterly beautiful with its manicured lawns, country-style building and huge ranch. So, if you love riding and the feel of the wind in your hair while riding the horse, visit El Kabayo in Subic. You can go horseback riding around the huge ranch (30 minutes Person Riding Tour) or go on a scenic ride on the trail that leads to the river (30 minutes) and waterfalls (1 hour).
Rates: ₱250 / Person Riding Tour; ₱370 / 30 minutes River Trek; ₱770 / 1 hour Waterfalls Trek
Address: Bldg. 4350 & 4351, Gil Puyat Avenue corner Panday Pira Avenue Clark Freeport Zone
2. Explore the El Kabayo Waterfalls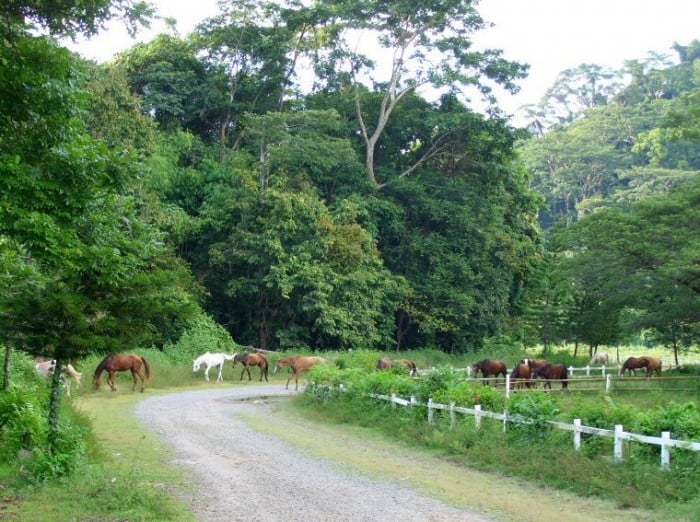 Image credit: El Kabayo Stables Subic Bay
It's a recent discovery after all the years we've gone back and forth Subic. If you love to trek, visit the El Kabayo Waterfalls either on board a horse or on foot. When we went there, it was a bit rainy but it was safe enough to trek a bit to see the hidden falls. It's about 15 to 20 minutes walk to reach the waterfalls. There wasn't any guard or guide at the entrance during the time we visited, maybe because we were there so early in the morning. If you're a bit worried about hiking, don't worry, it's one of the easiest paths I've been to around the country.
Address: Binictican Road, Subic Bay Freeport Zone
3. Visit Funtastic Park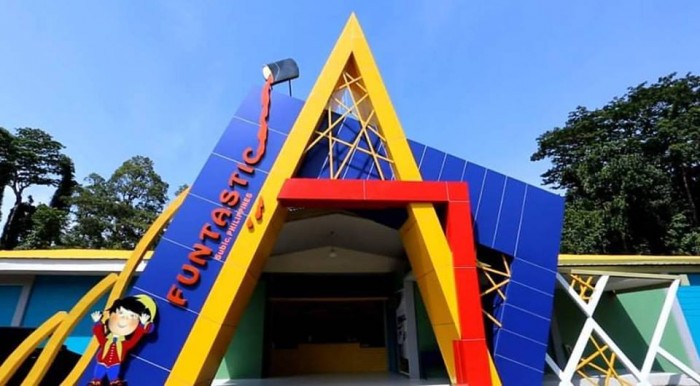 Image credit: Funtastic Park
It's the latest indoor theme park in Subic that's worth visiting, especially if you're with kids. It's located along the highway if you're en route to Camayan Beach. Have fun at the Mirror Maze, Dark Room, and the Enchanted Forests. Take lots of pictures at the Trick Art Paintings and Costume Room. It's the perfect venue for kids and kids at heart where you can spend a couple of hours trying to get those Instagram worthy shots.
Price: ₱350 for Adults; Discounts for Students, Senior Citizens and PWD. ₱20 per head for Environment and Tourism Administrative Fee.
Address: Bldg. 2070 Corregidor Highway, Ilanin Forest, East District, Subic Bay Freeport Zone
4. Experience the thrilling rides of Tree Top Adventure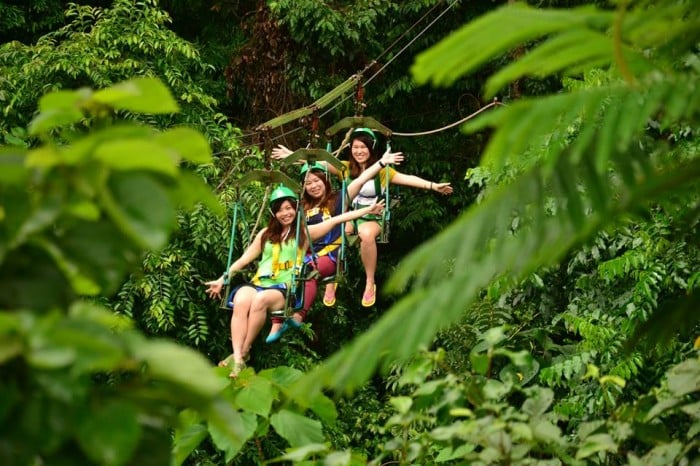 Image credit: Tree Top Adventure
If you're seeking for thrilling rides, Treetop Adventure is the place to be in Subic. Try the exciting Silver Surfer, Superman Ride, Canopy Ride, Free Fall, Tree Drop Adventure, and Trekking Adventure. You can buy tickets per ride or activity but they also have packages you can avail.
Rates: Starts at ₱500 for Packages; ₱100 for Individual Rides
Address: Jest Area, Upper Mau, Cubi Point, Subic Bay Freeport Zone
Also read: My Bucket List-Worthy Skydiving Experience in Iba, Zambales
5. Test your survival skills at JEST Camp
Image credit: JEST Camp
It's a jungle survival training camp in Subic that's open to anyone interested to learn a thing or two about surviving in the jungle—if ever you find yourself in that situation someday. It's held at the forest area in Subic where you'll know how to light a fire using only sticks and stones or cook rice on a bamboo. You can also watch bird shows at Magaul Bird Park or dine with your feathered friends at The Bird House. Why not pretend you're in Hunger Games TV show when you join the Jest Hunger Games. These are only a few of the activities you can do at the Jest Camp.
Rates: Price starts at ₱450
Address: Upper Mau, Cubi-Triboa, Subic Bay Freeport Zone
6. Get close encounters with wildlife at Zoobic Safari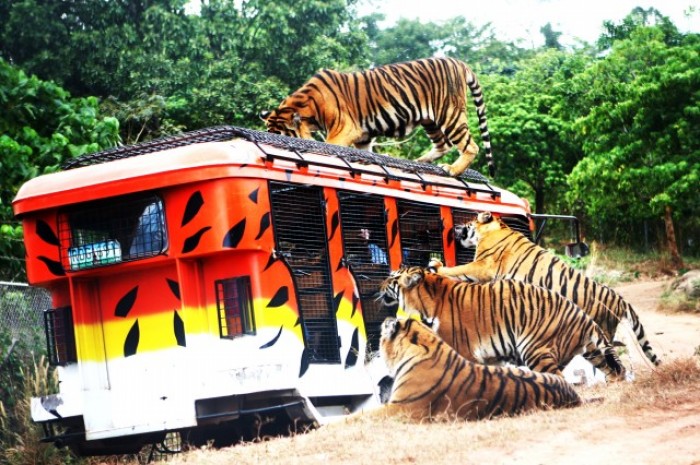 Image credit: Zoobic Safari 
If you want to encounter the wildlife, visit Zoobic Safari to meet the wild animals such as tigers, crocodiles, snakes and more! You can also join the Aeta Trail & Show or explore the Zoobic Cave and Forbidden Cave. See the Rodent World, Serpentarium, Tiger Safari, and Croco Loco. It's a fun tourist spot where you can enjoy spending time with the wildlife.
Rates: ₱595 Kids; ₱695 Adults
Address: Camayan Wharf, West Ilanin Forest Area, Subic Bay Freeport Zone
7. Swim with the dolphins at Ocean Adventure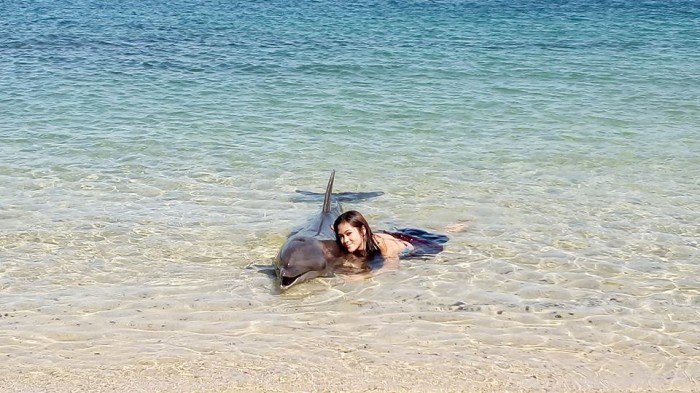 Image credit: Ocean Adventure
Do you love dolphins? If you do, then go to the Ocean Adventure to have close encounters with them! You may swim, dive with them or just watch their shows. You'll also see sea lions, sharks and turtles at the waterpark. Explore the Wild World, learn how to make a fire from Aetas and encounter binturong, bat, python, and scops owl.
Rates:  ₱628 Kids and Senior Citizens; ₱788 Adults
Address: Camayan Wharf, West Ilanin Forest Area, Subic Bay Freeport Zone
8. Relax at Camayan Beach Resort
Image credit: Camayan Beach Resort
Camayan Beach Resort is one of the best beachfront resorts in Subic. It has beautiful rooms and a wide beach shore where you can relax all day. You can do water sports here such as kayaking at the mangroves, snorkelling, Water Gladiator or cruising at Subic Bay. If you prefer a more luxurious place to stay and spend the weekend, this is one of the best options here. You can also visit during the day with an entrance fee.
Rates: Day Pass ₱500 Adult; ₱420 Kids; ₱400 Senior Citizen; Room rates start at ₱4,500
Address: Camayan Wharf, West Ilanin Forest Area, Subic Bay Freeport Zone
9. Go beach bumming at All Hands Beach Resort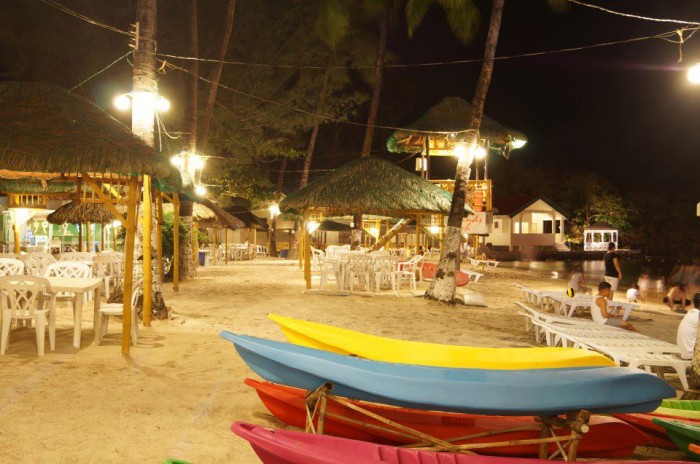 Image credit: All Hands Beach Resort
If you want to frolic on the beach, All Hands Beach Resort is another option. It has a fair swimming area and accommodation. So, if you prefer to stay at a beachfront resort, this is another option in Subic. Apart from swimming, you can also play some water sports such as Jet Ski, banana boat, kayak, etc.
Rates: Room rates start at ₱5,600. Entrance fee is ₱150. Sunrise to Sunrise beach package is ₱450.
Address: San Bernardino Road, Subic Bay Freeport Zone
10. Shop 'til you drop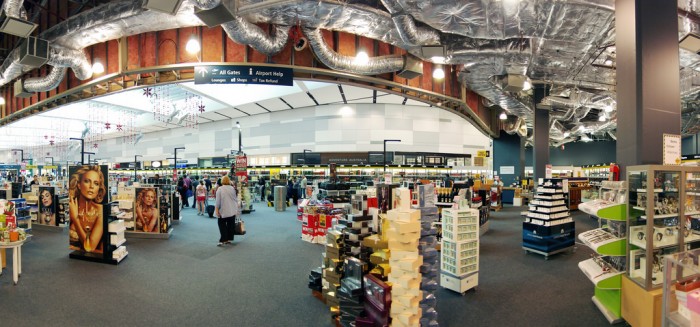 Image credit: Ryan Wick
Of course, Subic isn't complete without shopping at the Duty Free shops and other malls such as Royal, Puregold, Duty Free Superstore and Harbor Point Mall. It's a place known for tax free products such as chocolates, grocery items, bags, clothes, shoes, perfumes and a lot more. Shopping here is the best way to end your quick weekend trip in Subic.
Also read: 5 Easy Weekend Destinations Outside Manila, Philippines
There are also a couple of restaurants and bars to entertain you at night after the whole day excursions. If you prefer a short getaway from Manila, Subic is the place to go. It's also the best place to avoid traffic (take note of stricter traffic rules) and a quiet place to unwind.