Contributed by Tiger Wanders
Taipei is a lovely city in the north of Taiwan. You can see a great mix of old and new architecture, from ancient temples to modern buildings. The food choices are superb from Michelin restaurants to street food stalls. This beautiful country in East Asia is worth a visit.
Last September 2016, Taiwan Economic Cultural Office (TECO)  made an announcement that citizens of the Philippines and other Asian countries like Cambodia, India, Indonesia, Laos, Myanmar and Vietnam can have a visa-free entry to Taiwan – with conditions.
BUT as of today, April 19, 2017, TECO announced a new policy for Philippine passport holders. Starting June 1, 2017, Filipinos can go to Taiwan – VISA FREE. This visa exemption is valid for one year (trial basis). For more info on new visa rules, CLICK HERE.
Also read: It's Official! Filipinos Can Enter Taiwan Visa-Free This June 2017
Going to Taiwan will be easier and affordable – no need to pay for visa and processing fees. Want to save more? Here are some tips when traveling in Taiwan:
Airfare
Philippine Airlines, Cebu Pacific Air and Air Asia have direct flights to Taiwan from Manila, Philippines. Air Asia just launched a direct flight from Cebu to Taipei. Now, Taiwan just became more accessible to Filipinos. 😉
You just have to be patient and wait for a seat sale to save some bucks.
Visa
Filipinos who have expired visa (less than 10 years) of Australia, Canada, Japan, Korea, New Zealand, UK, USA or any of the Schengen countries can just apply for a travel certificate. Check Taiwan Embassy Website for other conditions. The travel certificate is valid until May 2017, because again, Filipinos can enter Taiwan visa free starting June 1, 2017.
If you need to apply for a Taiwanese Visa (if you will travel April – May 2017), seek help from a trusted agency – International Journeys. The visa processing fee is ₱2,800 and processing time is 5-7 days. Note that the recommended show money (stated in the bank certificate) is ₱50,000.
Taiwan (Tourist) Visa Requirements for PH Passport Holders
Passport (valid for 6 months)
Accomplished Application Form
2 Pieces of Passport Size Photo
Photocopy of Passport Bio-page
Original Birth Certificate
Original Personal Bank Certificate
Photocopy of Income Tax Return or Form 2316
Original Certificate of Employment
Transfers
There are 2 international airports in Taipei: Taoyuan and SongShan Airport. SongShan is in Taipei city and there's an MRT (Brown) Line outside the airport so it's easy to transfer to another district. Taoyuan Airport is 10-30 minutes away from Taipei City. Instead of getting a taxi that costs NT$1,000-NT$1,200, just take a bus and pay NT$90-NT$145.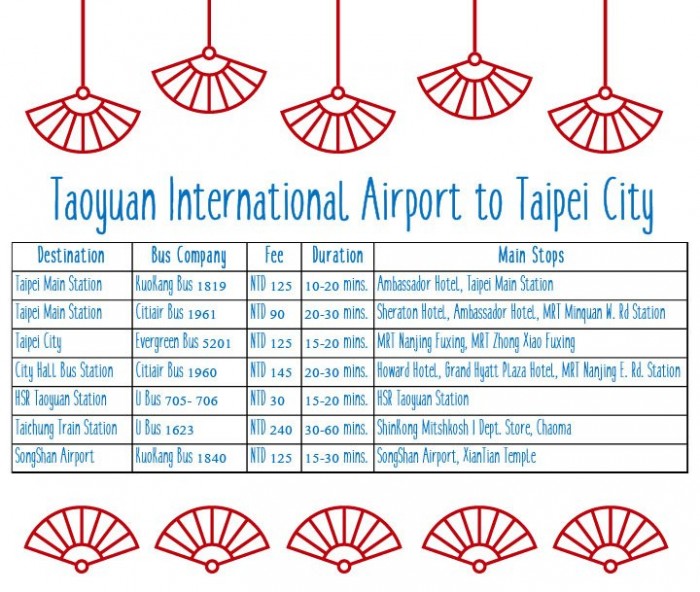 There are 5 MRT lines that are connected from each other. Bus stops are right next to MRT so transfers are very easy. Also, some landmarks are walking distance from MRT stations.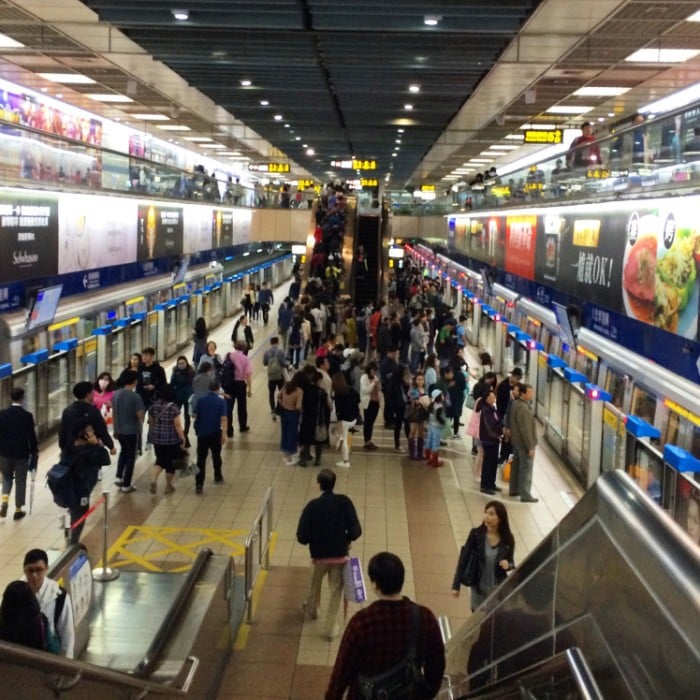 There are 2 main cards you can choose from when travelling in Taipei – Easy Card and Metro Pass.
Easy Card costs NT$100 / ₱156 (non-refundable). You need to top up so you can use it at MRT, some buses and convenience stores like 7/11 or Family Mart. The good thing about Easy Card is that you can refund the excess amount left in your card. You can also have 20% discount per MRT trip.
Also read: Day Trip From Taipei: Shifen Waterfall, Jiufen and Keelung
You can buy and load the card at the airport, MRT stations or convenience stores.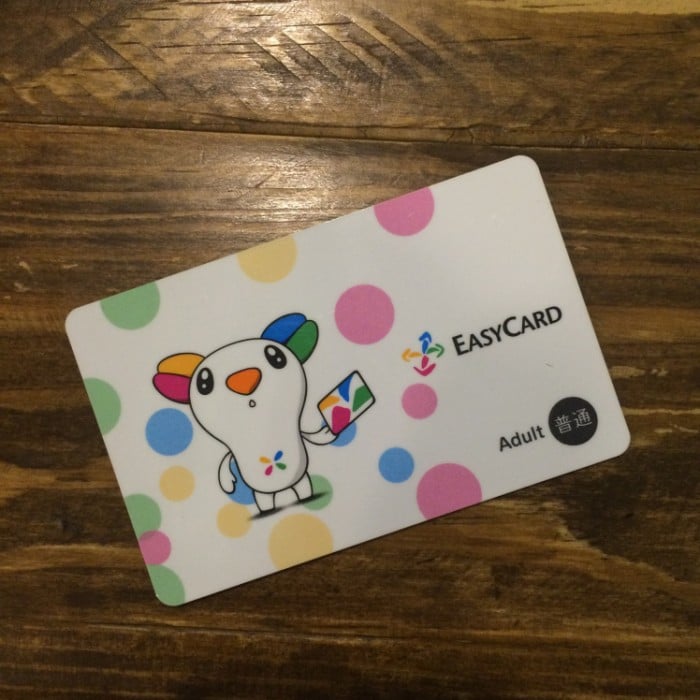 Metro Pass has different types of passes: good for 24 hours (NT$180/₱281), 48 hours (NT$280/₱437), 72 hours (NT$380/₱973). You can use the pass for unlimited MRT travel within the validity of your card. You can buy the metro pass at any metro station information counters.
There's also Taipei Pass and iPass. Check Metro Taipei for more info.
Tip: Download Go! Taipei Metro application for free. The application has Taipei MRT Map and can help you plan your MRT journey. The application also suggests nearby attractions near MRT stations.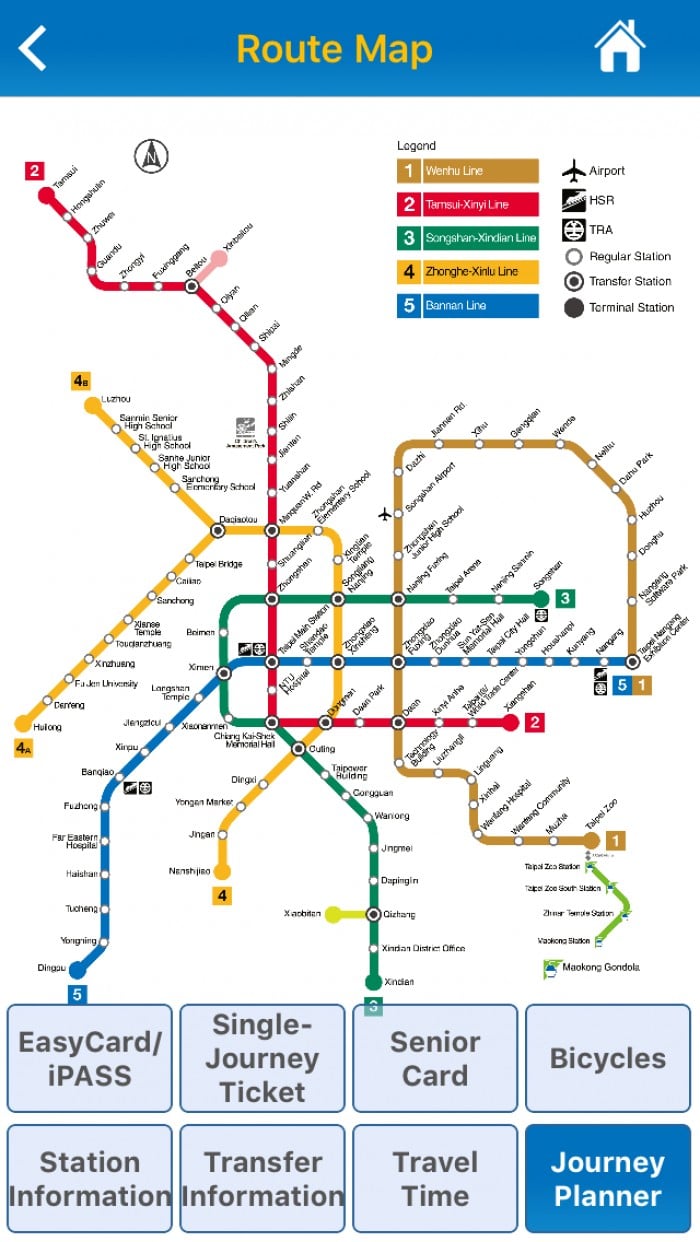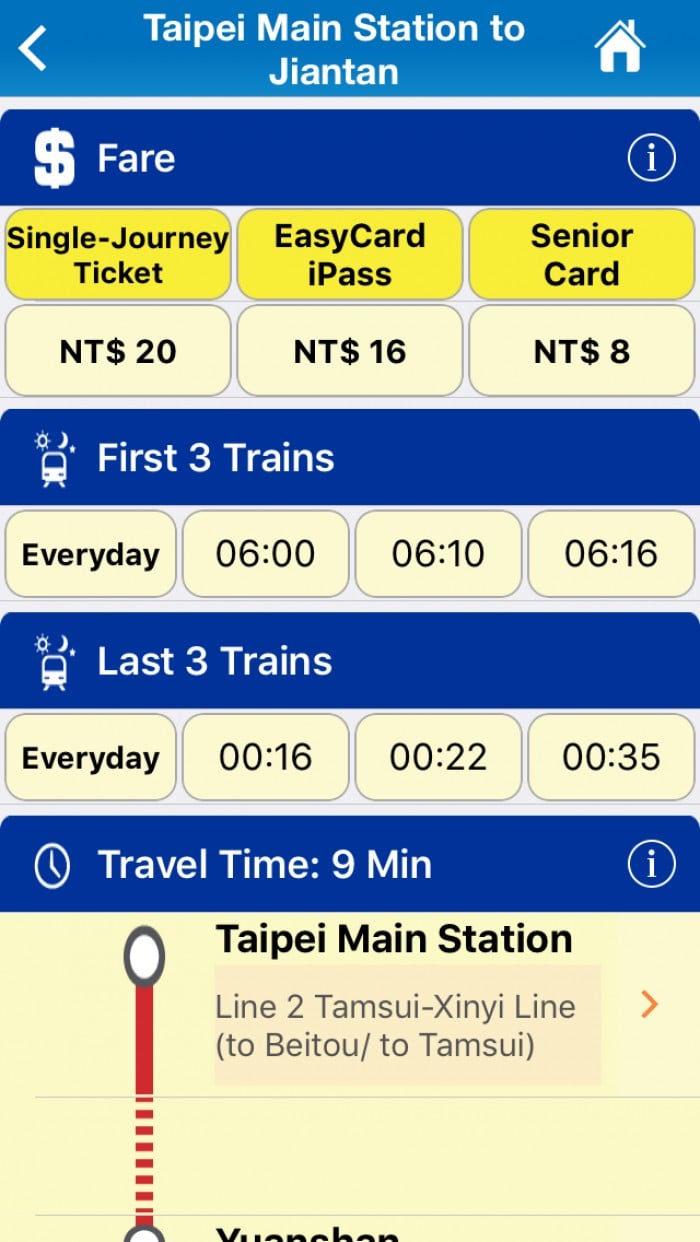 Accommodation
Hostels in Taipei cost around ₱1,500-₱3,000. Shared/ dorm type rooms costs around ₱700-₱900.
You can also try Couchsurfing. It's an online community of travellers where you can request for a couch/place to stay for free. It's not all about free accommodation though; it's more of an exchange of culture, like an immersion. You stay at a local's place to know them and their country deeper – way of living, perspective, etc.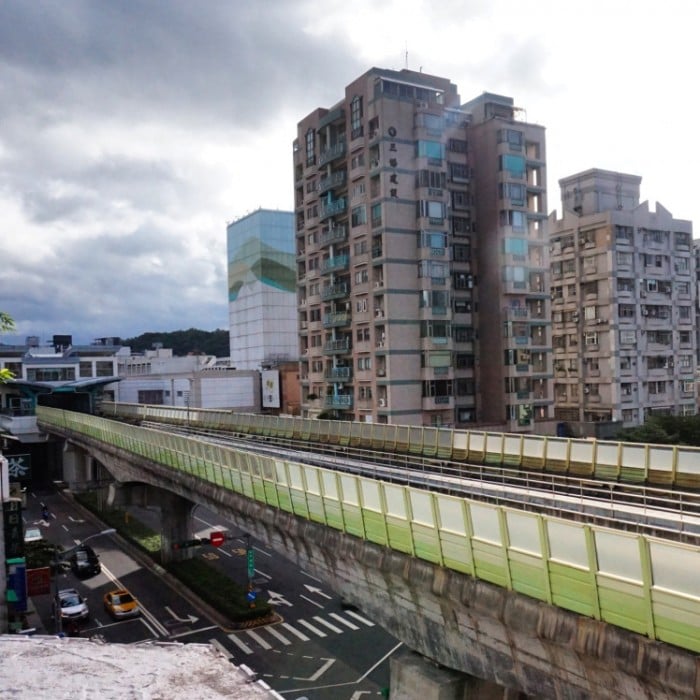 View from my host's balcony
Communication
Sim Card costs around NT$250-500 (₱390-780). You can have unlimited data for 3, 5 or 7 days; depends on what sim card type you choose.
If you can survive not being online 24/7, you can always take advantage of free wifi at the airport, MRT stations and shopping malls. Register at ITaiwan so you can connect to the internet for free.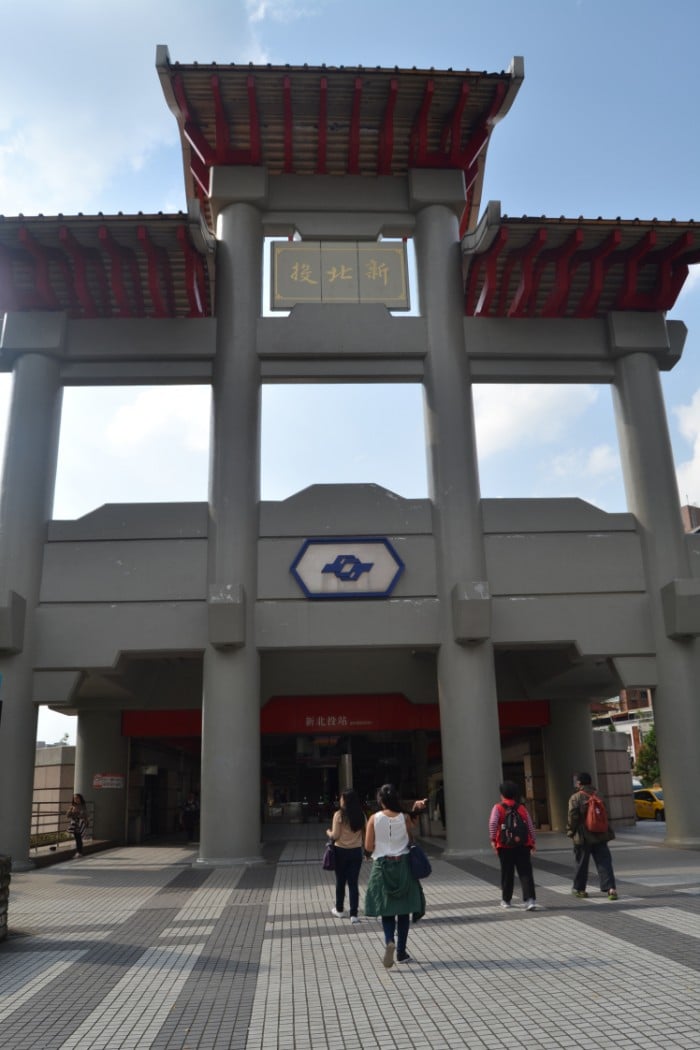 MRT Xinbeitou
Food and drinks
Taipei boasts its variety of delectable food. It's always nice to try a Michelin Restaurant like Din Tai Fung. If you are on a budget and want to have a gastronomic feast, you can always run at food courts and street food stalls.
Street foods costs around NT$20-70 (₱31 – 109).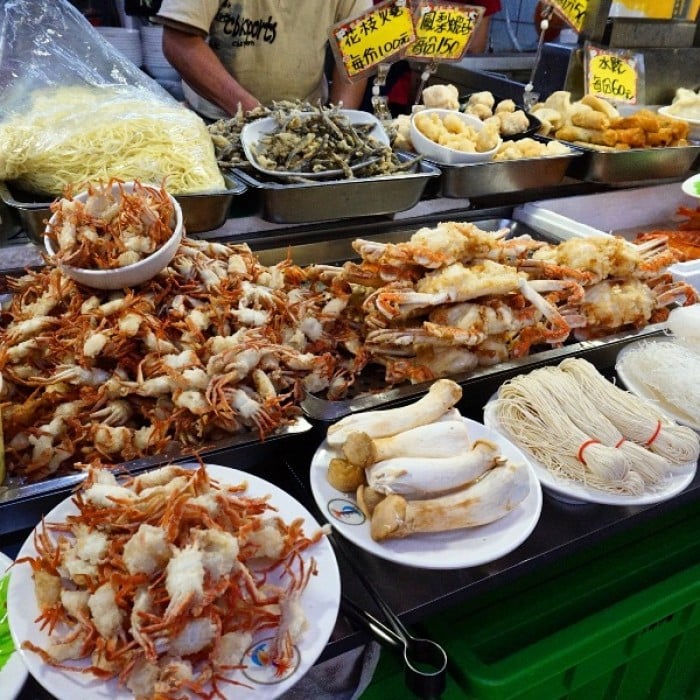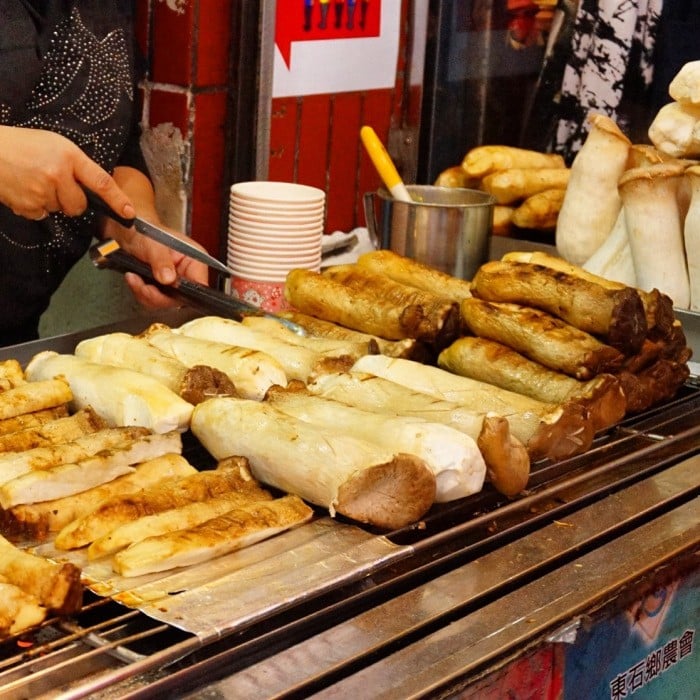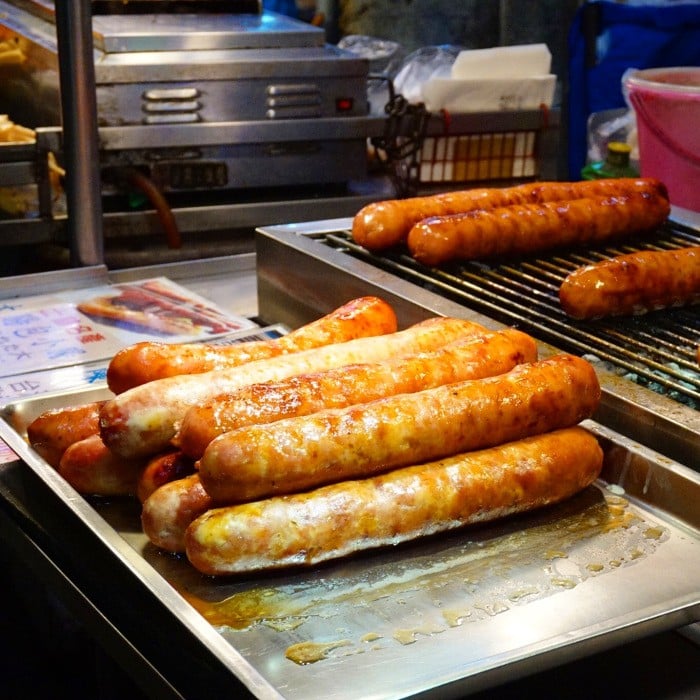 Bubble Tea originated in Taiwan and it's definitely a must try. One regular cup costs around NT$30-50 (₱47-78)
Other must-try foods are beef noodles, oyster omelet, stinky tofu, pork sausage, dumplings and many more!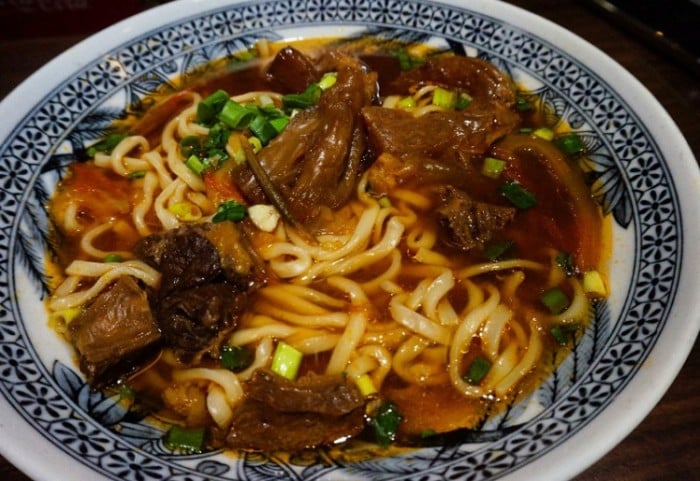 Tip: There are water fountains at MRT stations, refill your bottle and save NT$15 (₱23)/bottle.
Tours
Most of the landmarks are free like temples, parks and night markets. Going around Taipei is easy so you can make a DIY itinerary instead of booking a tour package which is pricey. All you have to do is get a Taipei Travel Map and you can explore Taipei free and easy.
Also read: Travel Cheat Sheet: 10 FREE Things to Do in Taipei for Budget Travellers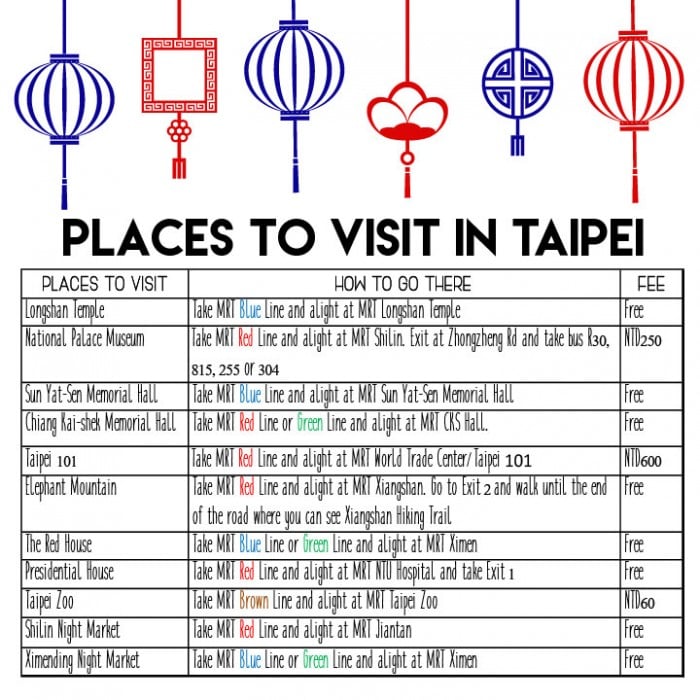 When in Taiwan, one must see Taipei 101. To get a good view of this iconic skyscraper, you can hike at Elephant Mountain or go to Sun Yat-Sen Memorial Hall.
Should you decide to go and see the cityscape at Taipei 101, admission fee costs NT$600 (₱936). You can buy online tickets at Klook and pay only NT$523 (₱815).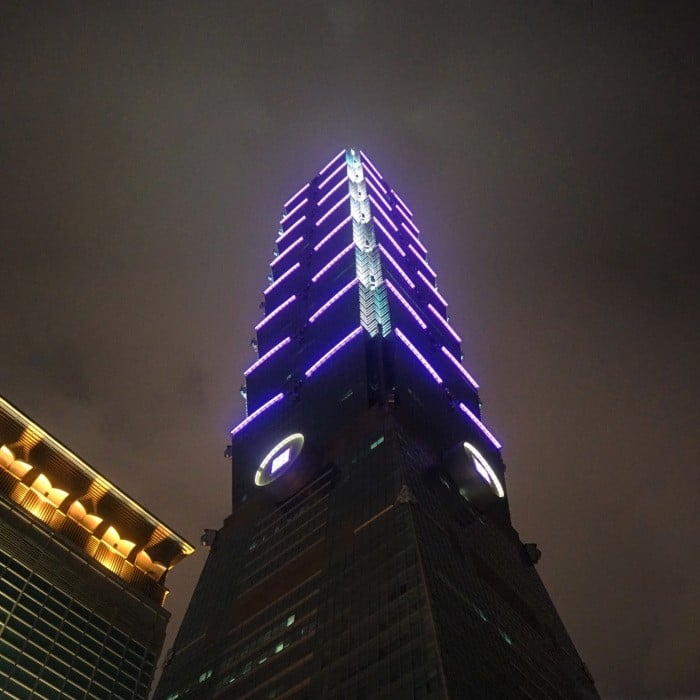 Museums should always be in one's itinerary. The place will feed your mind with history and culture of a country. National Palace Museum is rich with artefacts, paintings and other historical things. The entrance fee costs NT$250 (₱390). English guided tours are free every 10:00 AM and 3:00 PM, but you have to book in advance because it's limited to 30 participants only.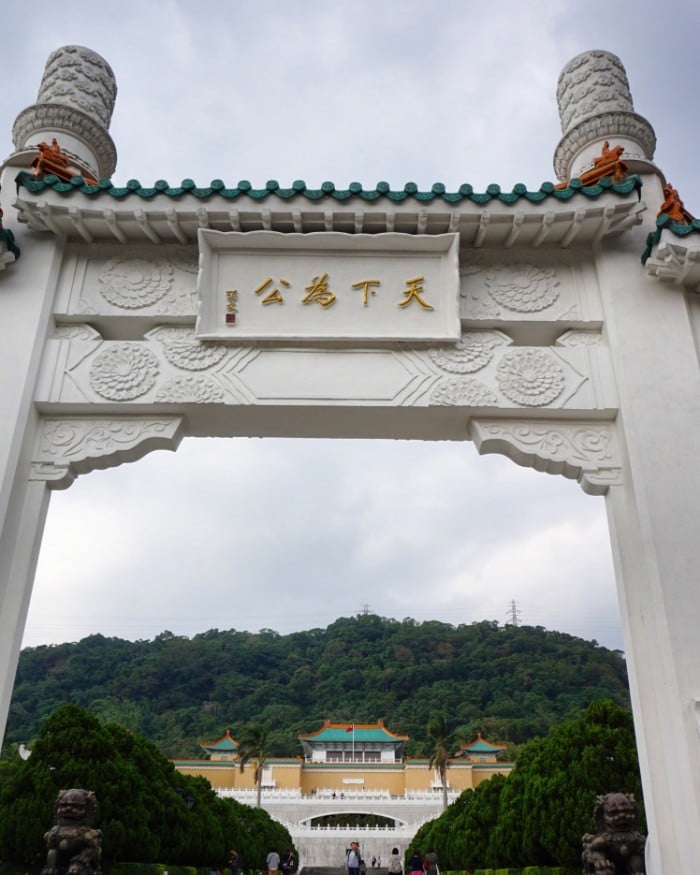 Souvenirs
Magnets and key chains cost around NT$85 (₱133) each. Try to haggle at night markets and buy it for NT$70 (₱109).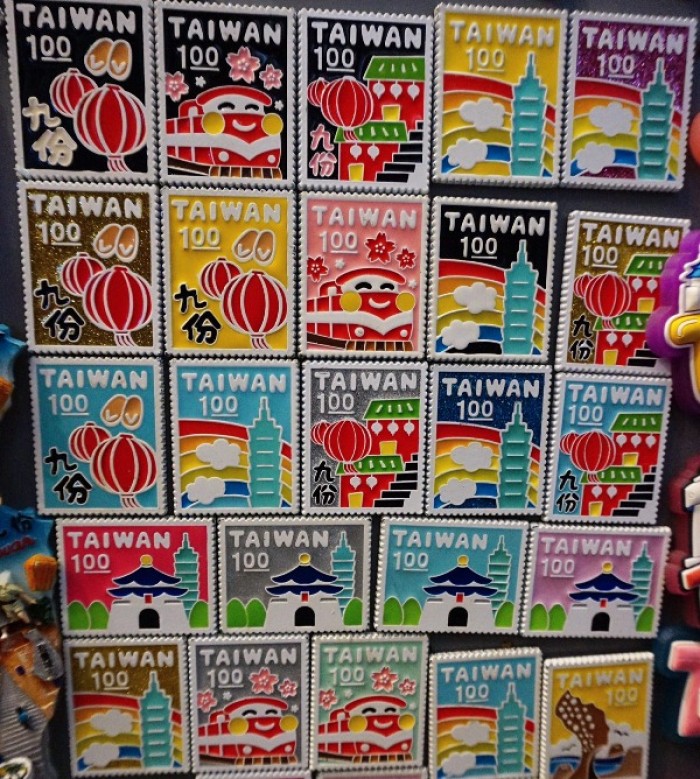 One of Taipei's famous treats is pineapple cake. One box (12 pieces) usually costs around NT$150 (₱234). The finest pineapple cake according to my Taiwanese host is Chia Te.
Other delicacies that you can bring back home are nougat candies, meat jerky, milk tea powder and mung-bean cakes.
More tips
Check the Weather. Always check the weather so you'll know what to bring and wear — sundress or rain jacket, hat or umbrella, etc.
Know the plugs/sockets. Taiwan has a Plug Type A and B with 110 volts.
Get lockers. If it's your last day in Taipei and you need to check out by 12.00 in your hostel/hotel but your flight is at night, it's better to put your bag in a locker than carrying it half day for last sightseeing.
Also read: A Filipino Traveller's Guide to Visiting Taiwan for the First Time
Lockers are located in Taipei Main Station, M3. The initial fee is NT$10 (₱16) good for 1 backpack/luggage. In order to retrieve it, you have to pay NT$10 (₱16) for the succeeding hours.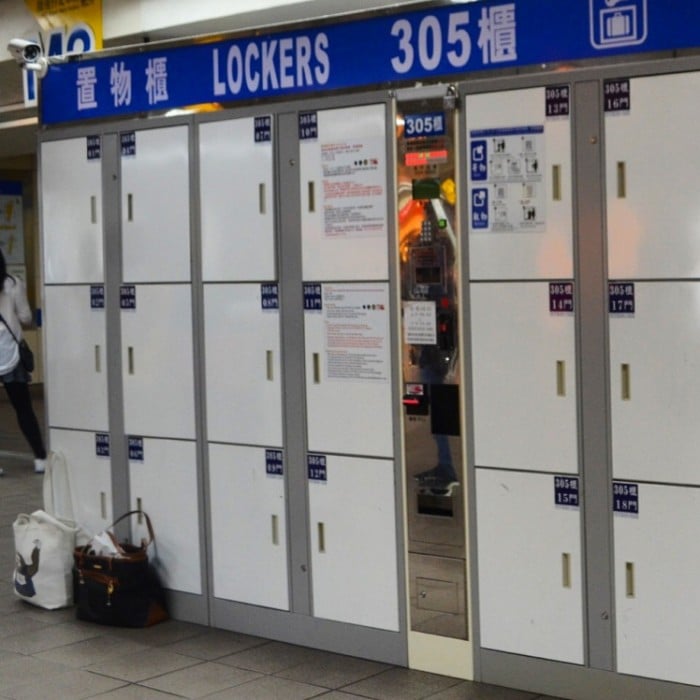 Budget & Itinerary
Here's our planned versus actual itinerary with budget.
Our initial plan was to wake up very early in the morning so we can visit lots of places but we ended up staying in bed a bit longer. Blame it on the weatherman! :p
Even though we were not able to achieve our planned itinerary, it was okay. It's a reason to come back to Taipei soon. 😉