Contributed by Chinito Wanders

The Queen City of the South is steadily making its mark in having direct international flights. Before, I have to admit it was hard for a Cebuano like me to travel on a budget without being broke at airfare cost alone, since we need to travel to Manila for International flights or do connecting flights. Instead of paying one round trip ticket for our destination, we ended up buying two. Now, we are privileged that there are more direct international flights being carried out.
I always wanted to travel on a budget, but I also make sure that my travel will not be compromised even if it is on a budget. It may not be a super budget travel, but it's definitely way cheaper than hiring a travel agency. The advantage of it is that you get to customise the places you wanted to go, and not to mention you don't need to scurry like what happens when you hire a travel agency, and you are obligated to visit factory shops that are brutally time consuming and a waste of time then you are forced to buy their products.
In this entry I would like to share to you how I spent my few days in the Heart of Asia. I visited 4 counties and 1 City in 6 days which covers almost half of Taiwan's Main Attraction. They say that PHP 35,000.00 budget is actually big but wait until you read everything, then you can say if this budget is more than what it's worth. You can actually have it lowered if you can find promo fares, choose a backpacker's inn rather than a hotel and choose not to indulge in a bit of luxury.
When I knew that there was a direct flight from Cebu to Taiwan, I did not hesitate to book one for me and my parents. My mother really wanted to go to Taiwan even before but failed to do so because there was no direct flight back then, and airfare going to Taiwan was still quite expensive. I don't know if it was on Promo fare, but I ended up booking ours at 176 USD/person which includes: a round trip airfare via Eva Airways (Cebu-Taoyuan Intl Airport-Cebu), a complimentary delicious meal, 7 kilos of carry-on luggage and a 20 kilos checked-in baggage in each flight. I think, it was a good deal.
Also read: 8 Tricks to Successfully Grab Cheap Promo Flights in the Philippines
This I can tell you now, I did not have any regret that I visited Taiwan. There are lots of places to visit than I initially thought. The place is rich in culture. The people are well mannered and hospitable (unlike people in Hong Kong that are a bit rude), and of course, they have tons of street food that you can try. You can really tell that it is "The Heart of Asia". Oh By the way, If you are a Milk tea addict, you might braise yourself as Taiwan is the founder of Bubble Milk tea and Milk Tea Houses can be found anywhere within the country.
In order for you to visit Taiwan, you need to have a Taiwan Tourist Visa.
Let me sail you through my detailed itinerary from day 1 to the day we departed from Taiwan. I will also make an expense summary on that specific day and how I managed to travel with PHP 35,000 budget.
Our Flight Itinerary as follows:
Arrival:          APR 18            CEB- TAIPEI          11:05-14:00/ 11AM- 2PM
Departure:    APR 23            TAIPEI-CEB           07:10 -10:05
Note:
1 NT$ (New Taiwan Dollar) is equivalent to 1.65 Phil.Peso more or less
1 USD (US Dollar) is equivalent to 32.5 NTD or P46.00 Philippine Peso
Expenses are in Philippine Peso unless specified.
LET'S SET SAIL!
Also read: A Filipino Traveller's Guide to Visiting Taiwan for the First Time
Day 1
Arrival @ 2:00 PM
Buy Chunghwa store simcard for NTD 300 for the SIM with Unlimited 4G data for 6 days and NTD 50 worth of calls/texts. (may buy this in the airport arrival area)
Buy bus ticket around 125 cheapest in Airport to Taipei Main Station
Taipei Main station ride MRT to Ximen Station (blue Lane) bought an Easy Card for the MRT rides for NTD 500 with NTD 400 consumable and NTD 100 Deposit (this can be refunded if not fully consumed)
Go to EXIT 6 and walk 5 mins to hotel @ ECFA Hotel Wan Nian
(address:  6F., NO.70, XINING S. RD., XIMENDING, TAIPEI, TAIWAN, 108/ CONTCT: +886223619069)
Check in hotel around 5pm
Go straight to Din Tai Fung (Taiwan's famous Dumpling)  for dinner (DongMen –Red Line exit 5) – NTD 750 /3 pax =NTD 250 each
Stroll along the street before going back to the hotel.
Night market at Ximending area
Bubble  Tea 50嵐  —  o.48-4 Xining South Road – NTD 50
Also read: Unique Things To Bring Back From Your Visit To Taiwan And Where To Buy Them
Our flight from Cebu departed at 12:05 noon time, a little bit delayed than our flight schedule and arrived at Taoyuan International Airport around 2:30 PM. We had our passports cleared at the Immigration area and got our checked in baggage. When you exit at the Arrival area, turn left then go far straight ahead until you will be able to see Chung Hwa Store (you may also ask the Help/Information Desk for the location of the store). It is a telecommunications store where in I advise you to get a tourist prepaid sim card. You will need it, and their internet is fast. This is what I chose: Unlimited 4G data for 5 days with NTD 50  (New Taiwan Dollar) worth of calls and text/s for NTD 300. They will need to ask your passport for your sim card registration. It takes less than 5 minutes to do this.
After having your local sim card, go to the Bus ticketing area. Because, Taoyuan International Airport is far away from Taipei City, you need to take a bus. There are no direct MRT to Taipei City. Riding a taxi is expensive as it will cost you NTD 1,500 good for up to 4 person. The best choice would be to take the bus. Remember when I told you that The sim card station is at the far left side when you get out of the arrival area? Well, the bus ticketing station is at the opposite, so its at the far right side of the building. Just follow the signs or watch this video.
There are lots of bus companies to choose from, but I chose the Kou-Kuang Bus Services as it was the cheapest among others for NTD 125 /person. Tell the cashier that you will alight in Taipei Main Station. You will be given a seat # when you buy the ticket and the bus leaves practically every 15 minutes so you don't have to worry.
Upon arrival at Taipei Main Station, go inside the building and look for the Information Centre / Ticketing Centre. In here, you will buy your Easy Card (it looks like an ATM,  you will need it for your MRT Rides). The reason why I bought this is that when using Easy Card for your MRT Rides you will have 25% discount in each trip you make, which can save you a lot of money. I bought mine for NTD 500 with NTD 400 consumable and NTD 100 deposit. You don't have worry if you can't consume it all, you just have to return the Easy card to any information centre inside the MRT station and they will refund to you what is left in your card. To learn how to ride an MRT in Taiwan, watch this video.
After we got our cards, we headed straight to ECFA Hotel Wan Nian for check in.
Address: 6F., No.70, Xining S. Rd., Ximending, Taipei, Taiwan, 108
Contact #: +886223619069
I chose this hotel because of the good feedback, and not to mention it is in the heart of  Ximending Night Market. It is only a few minutes away from the MRT Station. I did not regret one bit about booking in this Hotel. Personally, I love the location of this Hotel. The Buffet Breakfast was good enough considering the price. It is definitely a value for money. Trust me!
How to get to the hotel
From Taipei Main station ride MRT to Ximen Station (blue Lane)
Head to EXIT 6 and walk 5 minutes to hotel
You may use Google map to locate the hotel after you have exited the Ximen MRT Station (that's what I did).
By the way, the Hotel is inside a mall and the lobby is at the 6th floor. Take the lift and press 6.
Checking in was a breeze. It only took 5 minutes for us to get checked in. After that, we went straight to our room to put our bags and freshen up, and headed straight for Din Tai Fung where we had our dinner.
To get there, take the MRT to DongMen –Red Line then exit 5, walk straight for a few metres then you will notice people lining up. The restaurant is located at the right side. You will not fail to notice it! Watch this video for more info about Din Tai Fung.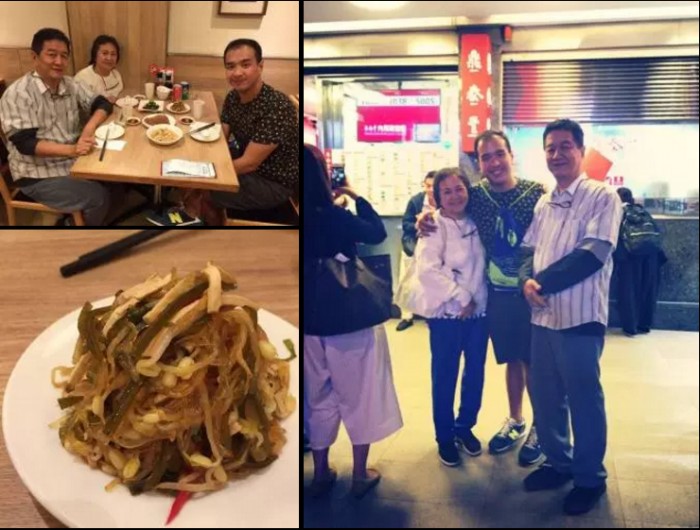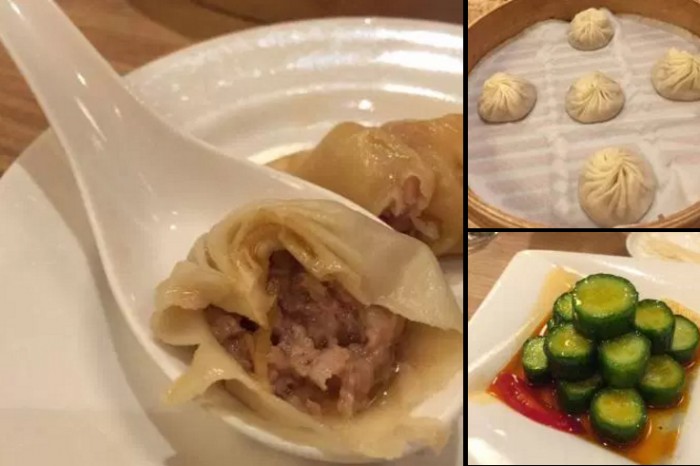 After Dinner, we went back to our Hotel, explored Ximending, and did some food tripping even though we were a bit full already. After that, we headed back to our hotel and hit the sack for the early tour that we planned the next day.
Also read: 4 Days Taiwan Itinerary: Unconventional Things to Do for Your Next Weekend Getaway
Day 1 Summary of Expenses:
Simcard – NTD 300 (PHP 495)
Bus ticket – NTD 125  (PHP 206.25)
MRT Easy Card – NTD 500 NTD (PHP 825) but used only NTD 275, the NTD 225  was refunded, so I only spent NTD 275  (PHP 453.50)
Dinner – NTD 250  (PHP 412.50)
Food trip allowance – NTD 100 (PHP 165)
Bubble Tea  – NTD 50  (PHP 82.50)
Total: PHP 1,814.75
Day 2
5am-6am – Breakfast, Bathing and preparation
6am-6:30 – Straight to Taipei Main Station to catch our 7:20am HSR Train (Bullet Train) to Taichung County
7:20am – Depart from Taipei City
8:30am – Arrived at Taichung County HSR Station
9am – Sun Moon Lake Tour Began
6pm – Sun Moon Lake Tour ended
8:30pm-9:30pm – Took our Train Ride back to Taipei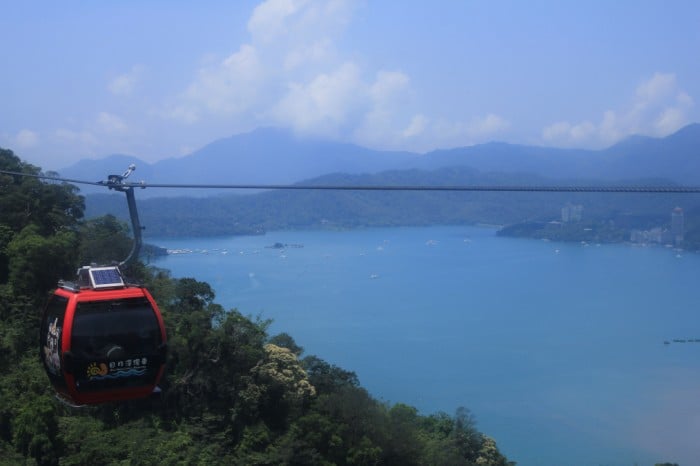 Aerial view of Sun Moon Lake via gondola.
We woke up at 5am to prepare for our Sun Moon Lake Tour. Our free buffet Breakfast will start at 7am, and since we did not have the time, I simply purchased food from Family Mart which is just outside our Hotel. Convenient!
After we had our breakfast, we headed straight to Ximen MRT Station to Taipei Main Station to catch our 7:20am HSR Train (a.k.a. Bullet Train) trip to Taichung County.
Sun Moon Lake, being the largest natural Lake in Taiwan, is a must see. It is located at the middle West of Taiwan.
To avoid the hassle I booked a tour by a local Travel Agency in Taiwan, which was fairly cheap enough. Do not worry; this company is legit as evidenced by our experience.
You may contact them via email. We had ours at NTD 2,490 /person with the following inclusions:
Round trip HSR Train (Bullet Train) taipei City-Taichung-Taipei City
Gratifying lunch
Tour
Entrance fees
Land transfers from Taichung County-Nantou-County- Taichung County
Exclusion: Guide/driving tipping of at least NTD 100 /person (still not a bad deal though)
They can speak English so you don't have a problem communicating with them. They have an English Speaking Guide as well.
After our tour ended, I suggested to my parents to have our late night dinner at Lan Jia Gua Bao, Taipei's Best Gua Bao.
Although my parents were already tired, I convinced them that it's a must-eat, that we should not waste any opportunity since we were in Taiwan.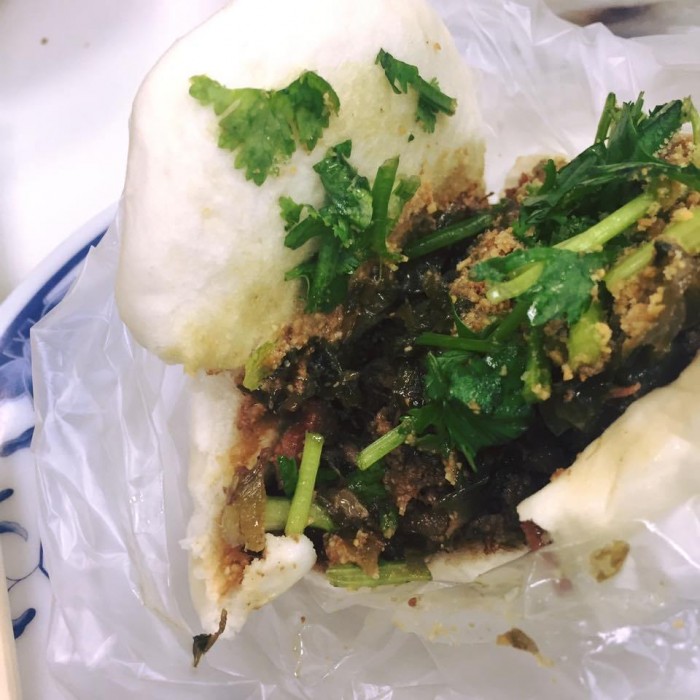 My Gua Bao
Lan Jia Gua Bao (藍家割包) is located very close to National Taiwan University, and within the Gongguan Night Market. Take the MRT to Gong Guan (Green Lane) exit to National Taiwan University. Upon exiting, turn right then head straight until there is an intersection, then make a left turn. You may use your Google Map to locate the restaurant. It is easy!
When my parents tried it, they said it was worth it and did not regret going there. You should definitely try it too!
After we got our stomachs full, we headed back to the hotel. End of day 2.
Day 2 Summary of Expenses:
Sun Moon Lake Tour – PHP 4,108.50
Breakfast – PHP 120
Dinner – PHP 82.50
Food trip allowance – PHP 165
Total: PHP 4,476
Day 3
By this time, you will be a bit familiar with how the MRT Train System works. This will not be as hard as the first day.
Our schedule for this day was:
Eat breakfast at 8:30am.
Left hotel by 9:30am
Go on for Half Day City Tour in the morning.
1st stop: Longshan Temple – Longshan MRT Station:  (Blue Lane):  exit 1. Upon exiting, turn right and head straight. You will be able to find it already. We just had a quick peak and some snap shots and went to our next stop.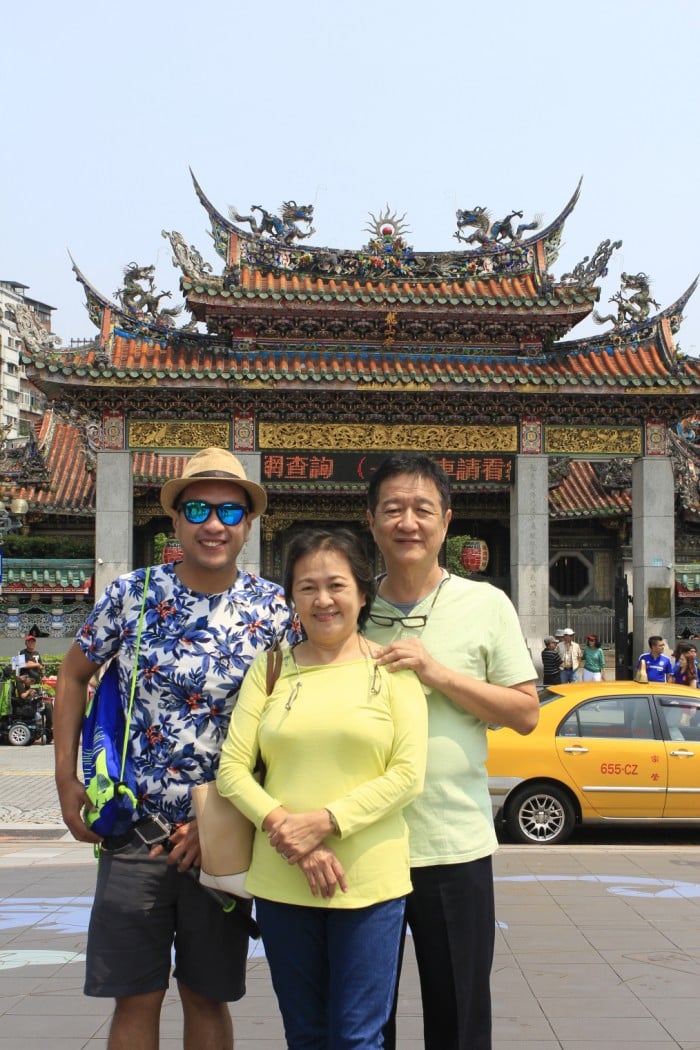 Longshan Temple
2nd stop: Chiang kai Shek Memorial Hall , CKS Memorial Hall Chiang Kai Shek Plaza and Taipei's National Theater  – ride an MRT to Chiang Kai SHek  station (green -red lane):– all  of these can be found at Chiang Kai Shek Memorial Hall area. They are neighbouring buildings. Take lots of pictures. The area was picturesque.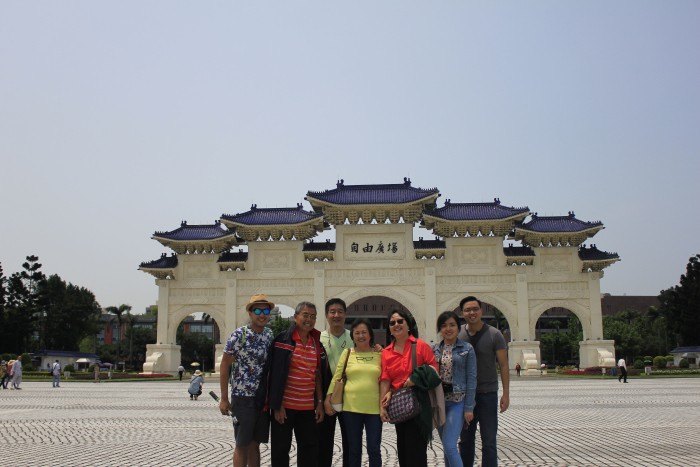 Entrance of the Park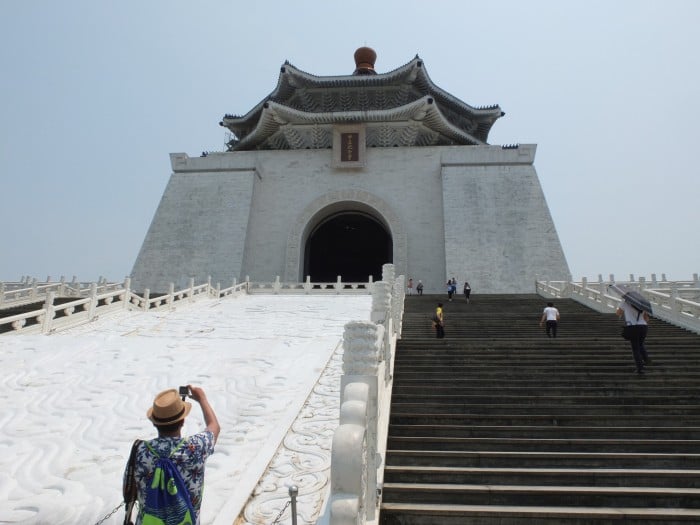 Chiang Kai SHek Memorial Hall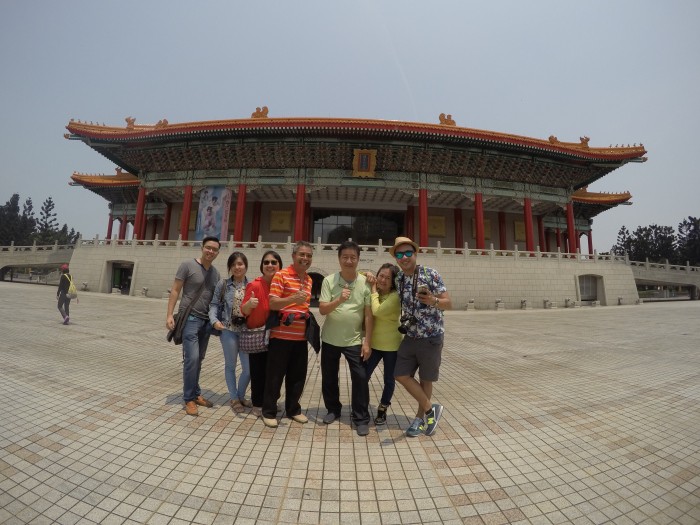 National Theatre
Chiang Kai SHek Monument
If you want, do witness the changing of guards inside the Chiang Kai Shek Memorial Hall. Changing of guards happens every hour starting at 8am with no lunch breaks and ends at 8pm. It is a 15-minute show. Definitely a must watch!
Also read: 6 Totally Underrated Places to Visit in Taiwan
Lunch: Jin Feng Lu Rou Fan Rice meat or  Kinfen –  near Chiang Kai Shek (red-green)
Take the MRT to Chiang Kai Shek station, Exit #2, and walk straight for about 50 metres and you'll see the unique signs of the restaurants with the mountainous landscape background, and a crowd of people outside. That's the spot. The rice meal cost NTD 60 (PHP 107.25).
We then headed back to our hotel before 12:30pm for the afternoon North and North East Coast Tour which will start at 1pm.
After Lunch: North and North East Tour
For this tour we just hired the Hotel van for 8 hours that costs NTD 5,000  for 7 people. We just divided the rate. You may choose up to 4 tourist spots  that you wanted to go.
We chose: Chiufen Village, Yehliu Geo Park, Nanya Rock Formation, Golden Waterfalls and a quick stop at Yin and Yang Sea.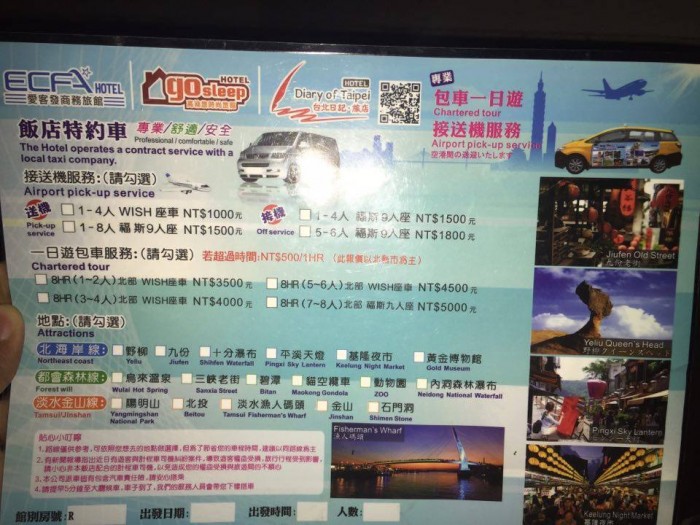 This the Hotel Chartered Tour Services and Pick-up Services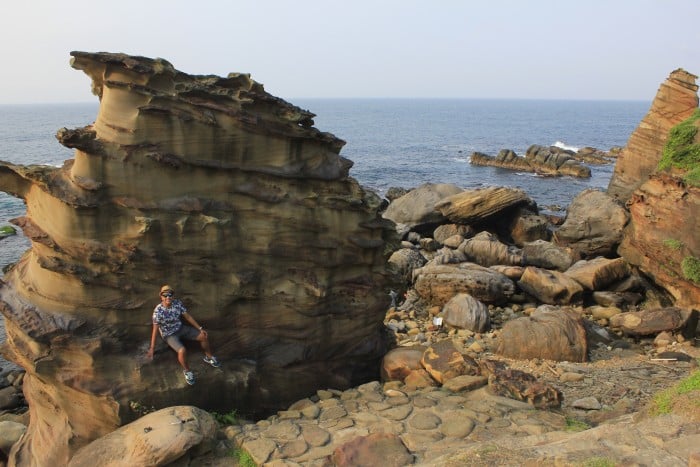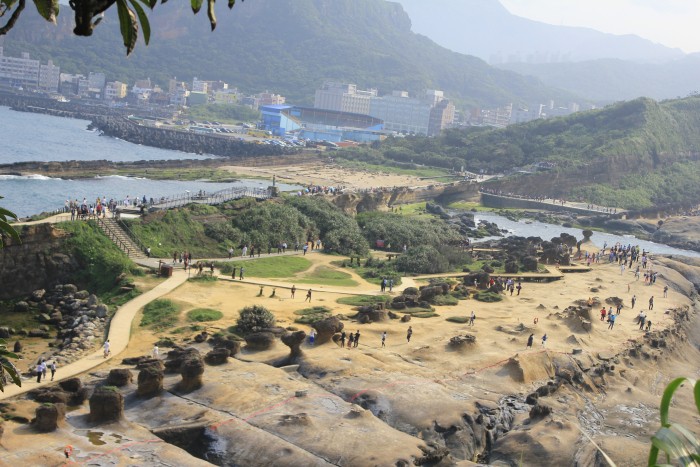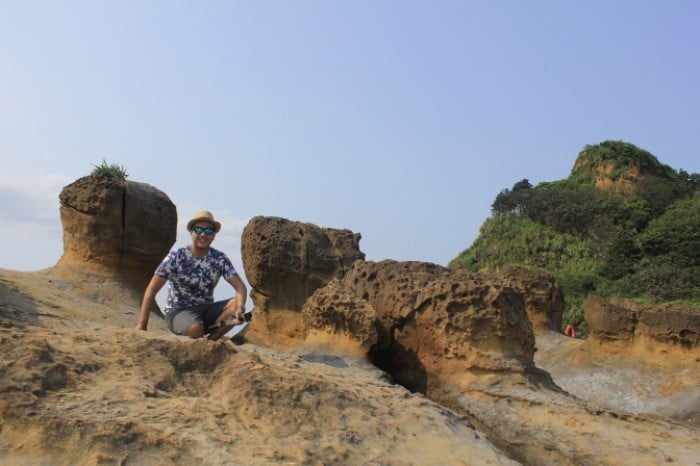 Dinner:
We had our dinner at a local restaurant in Chiufen Village, since it was our last stop before heading back to the hotel. You don't have to worry about where to eat because there are lot food vendors in the area.
After we had our dinner, the van dropped us back to our hotel.
Optional Dinner: If you want, you can have your dinner at Modern Toilet Restaurant which is just a few blocks away from the Hotel. Again, Google Map will be in good use. Well, me and my parents did not go there since I read a review about the pricey menu and the not so good food. You're actually just paying for the ambience. That's it. I just thought it wasn't worth it.
Also read: Bring Your Friends to Eat Poop at the World's First Toilet-themed Restaurant in Taiwan
Day 3 Summary of Expenses:
The morning city tour was free and is located near MRT stations.
Lunch – PHP 107.25
North and Northeast Tour – PHP 1,500
Dinner @ a local Restaurant in Chiufen Old Village – PHP 200/person
Food trip allowance – PHP 200
Total: PHP 2,007.25
Day 4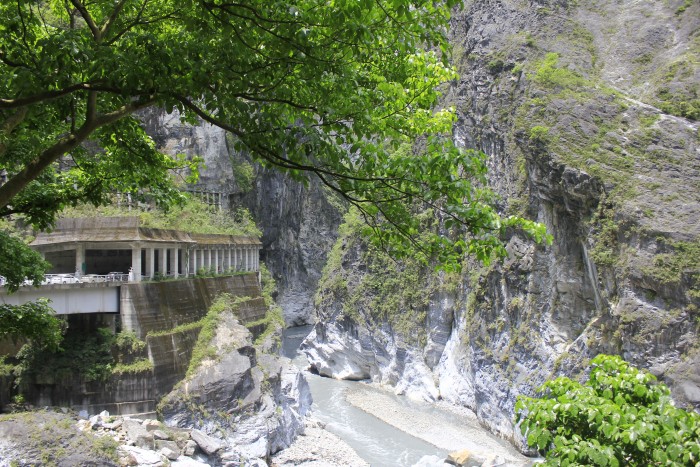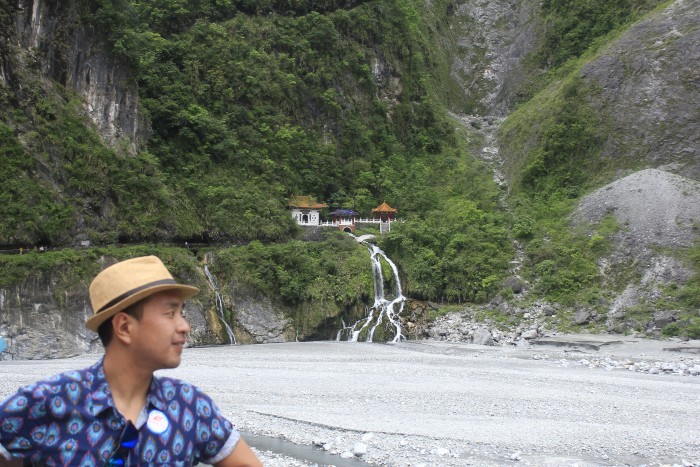 Eternal Spring Shrine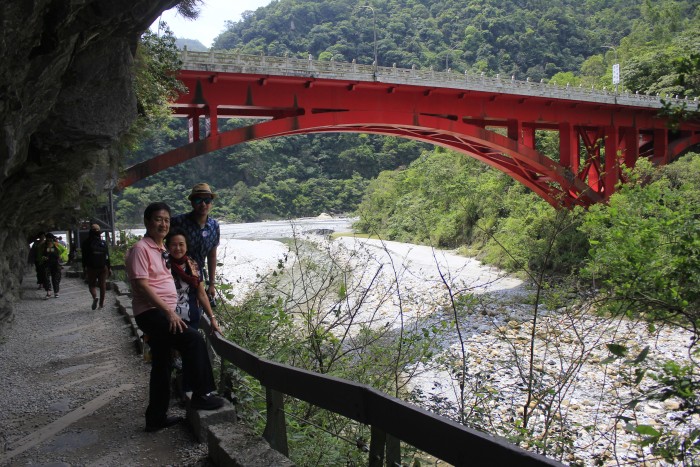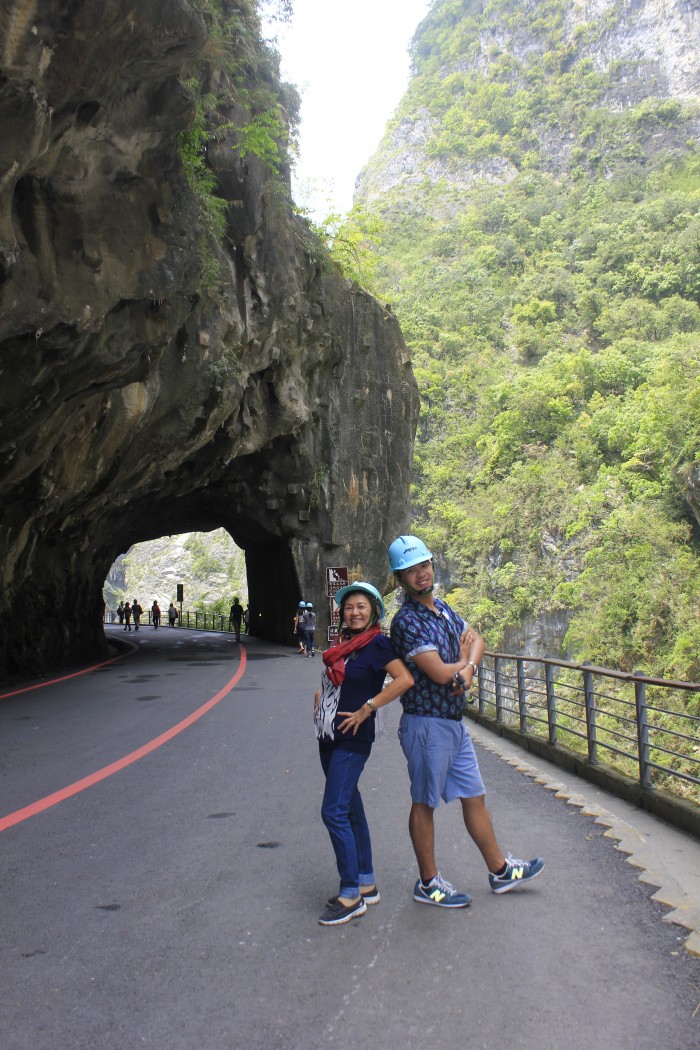 to Swallow Grotto
Taroko Gorge National Park is located in Hualien County, middle east part of Taiwan.
I initially regretted that I booked this tour from Viator since it was the most expensive tour I made from this trip; I would have saved more if I made a DIY tour in the National Park. But when I got there, I realised that it was difficult to have a DIY tour since there are lots of repair that was going on due to the recent earthquake. There are only few buses/vans that are allowed to enter but not impossible. I just wanted less hassle at that time since my parents tagged along. My verdict was, it may have been pricey, but I think it was worth it!
Upon booking, Viator will send you an email regarding your detailed itinerary and the time you will be picked up at your hotel. Since we will be setting out early again, I just bought our breakfast from Family Mart.
We were picked up at our hotel at 5:20am since one of the inclusion of the tour was the hotel pick up, and the time for pick up depends on the hotel location.
After that, everything was according to the itinerary stated.
We were back in our hotel around 8pm and had our dinner in a local restaurant (more like a local diner/carenderia in Filipino dialect) at Ximeding night market that served one of the best Oyster omelettes we ever tasted. I forgot the name of the restaurant but it was located adjacent to Uniqlo, beside Hot Star Chicken. By the way, Hot Star Chicken is also a must try! I would advise you to buy and eat the food that looks delicious.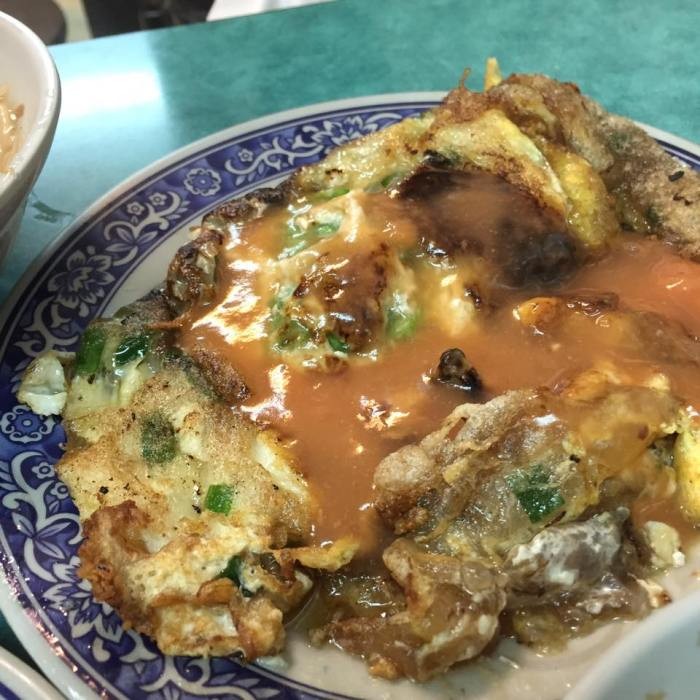 After we had our dinner, I went straight to Starbucks, since there was a Starbucks nearby to buy a tumbler. I collect Starbucks tumbler to the places I went to. It costs NTD 450 (PHP 720). It includes 1 Grande size of any Starbucks drink.
Day 4 Summary of Expenses
Breakfast – PHP 175
Taroko Tour –150 USD (PHP 6,900)
Dinner – PHP 200
Starbucks Tumbler – PHP 720
Total: 7,995
Day 5
9am – Breakfast at hotel
10am – left hotel and went to Guang Hua Electronic Plaza (Taiwan's Largest Electronic/gadget Mall)
1pm – Late lunch at the mall's food court.
2pm – head to Sun Yat Sen Memorial Hall
3pm – visited Wu Pao Chun Bakery (Home of Taiwan's Litchi Rose Champion Bread – bagged as the World's Best European Bread in 2010 of the Bakery World Cup)
4:30pm – went back to the Hotel
5:30pm – went to Taipei 101 for some window shopping
8pm – came home for dinner at our hotel
9:30pm – went to Carrefour to buy last minute Souvenirs.
12 Midnight – had a 3 hour sleep before I woke up for our departure.
On our 5th day, it was just more city tour. My dad wanted to go to the largest Electronic Mall in Taiwan. Taiwan is known for its cheaper electronics / gadget than other Asian countries. We went there to find out if it was really true. Well, it's not all true. It's just more or less the same price in the Philippines, bu they just have more options to choose from.
To get there, take the MRT ZhongXiao Xinsheng (blue lane) upon exit. Use your Google map. It's just a 5 minute walk away from MRT Station.
After we had our window shopping at the mall and had our lunch, we went to Sun Yat Sen Memorial Hall/Park. Take the MRT to Sunyatsen Memorial Hall (blue lane) to get to the park.
Sun Yat Sen Memorial Hall / Plaza also gives you a good view at Taipei 101 where you can have as much photo op as you want. The place is huge for a Memorial Hall. Well, it's almost the same size as Chiang Kai Shek Memorial hall. I really envy Taiwanese as they really respect their leaders who made a mark in their history, and not to mention they are well aware about the country's economy.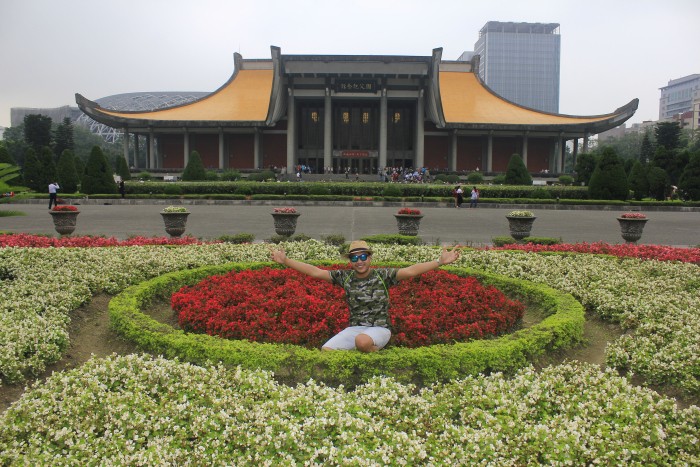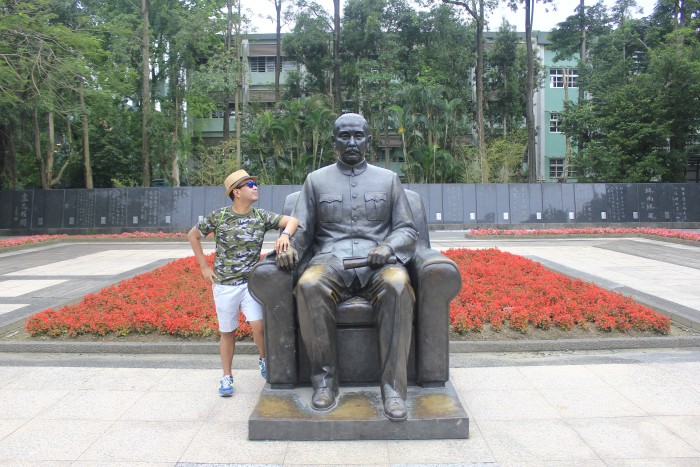 Since my parents were tired of walking. I left them at Sun Yat Sen Park to enjoy the place while I went off to Wu Pao Chun Bakery. All I did was use my Google Map to locate the bakery which is around 10-15 minutes away from Sun Yat Sen Memorial Hall.
Wu Pao Chun Bakery is located inside the basement area of a certain building. You may ask a local guard on duty to give you directions to the Bakery. It nearly took me an hour to be in the bakery itself, since I was in awe of the abundance of the breads that are displayed, which most of them are award winning. My parents were worried why it took me so long to get back.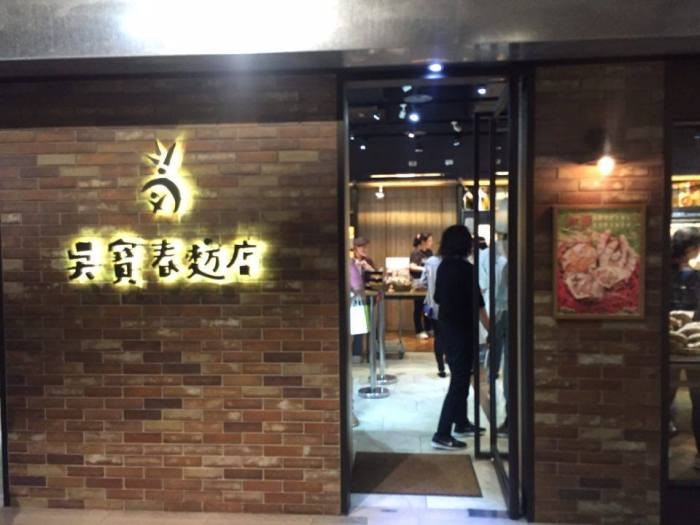 My dad wasn't feeling well at that time so we decided to get back to the hotel to rest for a bit.
After that, me and my mom made a unanimous decision to go to Taipei 101 to have window shopping, but really, ended up buying "ahem" bags, my mom's weakness. We went back to the hotel and had some take away for our dinner and ate it inside our hotel room.
Since I nearly forgot that I still haven't bought some pasalubong (souvenirs), I researched if there are any groceries or super markets near our hotel. And I found this Carrefour (家樂福) Xi Men Ding branch online which is open 24 hours. Again, I used Google Map to locate the place. It is approximately 15 minutes away from our hotel. It is quite far but actually very worth it. I was able to find lots of Milk tea products, from powdered form to the whole tea leaves with creamer at a very affordable price! Taiwan is living up to its reputation as the Founder of Milk Teas! Hurraayyy!!! It is heaven for me since I'm a huge milk tea addict.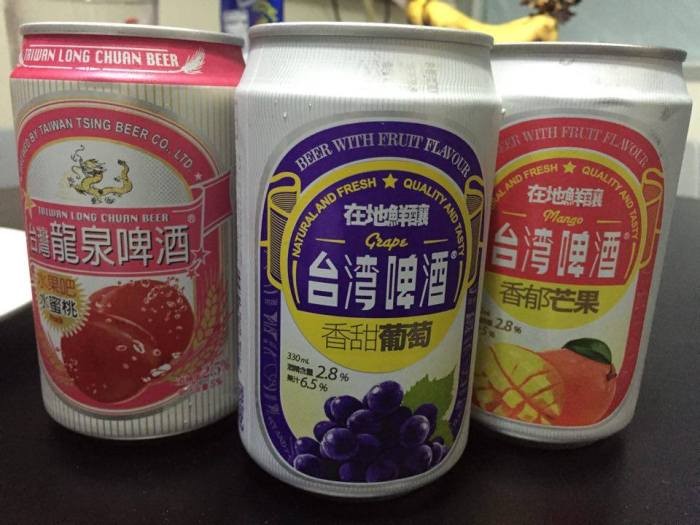 I bought 5 packs of milk tea with other food souvenirs that my mom asked me to buy for additional give away to their friends when we get back to the Philippines.
Even though I struggled my way back to the hotel because I bought more than I expected, I was happy and got back to the hotel with a smile from ear to ear. Up to this moment, I am drinking the milk tea that I bought from Taiwan. Yum!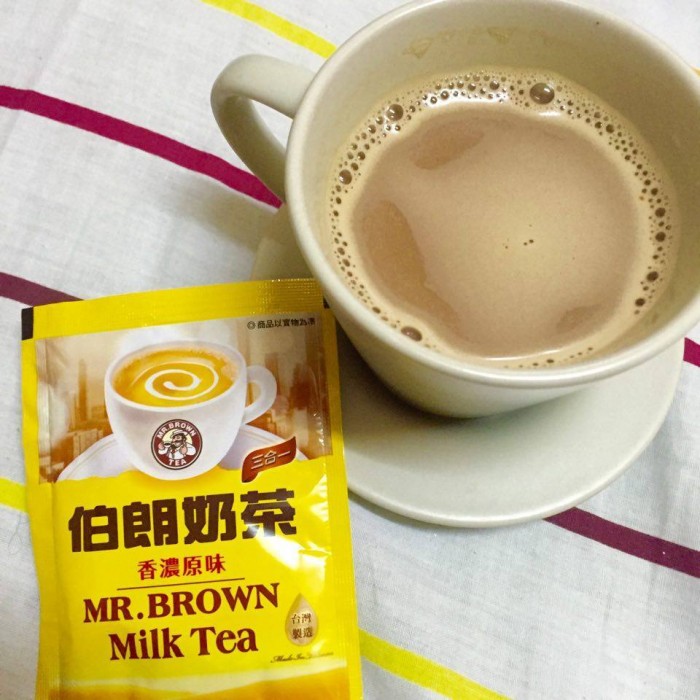 Day 5 Summary of Expenses:
Lunch – PHP 200
Wu Pao Chun – NTD 350 (PHP 577.50)
Souvenirs – PHP 500
Dinner – PHP 250
Total: PHP 1,527.50
Day 6
We woke up early for our early flight back to Cebu. Taxi to airport – NTD 1,000 / 3pax = NTD 333.33  (PHP 550)
Miscellaneous:
Airfare Ticket = USD 176 (PHP 8,096)
Philippine Travel Tax = PHP 1,620
ECFA Hotel Wan Nian = PHP 14, 373 for 5 nights / 3 pax = PHP 4,791
Roundtrip Taxi to and from Mactan-Cebu International Airport = PHP 539
Total = PHP 15,046
Summary of All Expenses for 6 Days:
1st day:  PHP 1,814.75
2nd day:  PHP 4,476
3rd day:  PHP 2,007.25
4th day: PHP 7,995
5th day: PHP 1,527.50
6th day: PHP 550
Miscellaneous: PHP 15,046
Grand Total = PHP 33,416.50
Verdict
I urge you to visit Taiwan! I don't know why I didn't hear much stories about Taiwan than the usual Asian countries that we visited like Hong Kong and Singapore, to name a few. Maybe because it needs tourist visa in order for us to go there? But Taiwan is LOVE for me. Until now, I can't get over thinking how good Taiwan was. I want to go back again soon and visit other places that I failed to go. There are more Night Markets to go to. More food to taste, a lot of other cultural history to know about and much more. I cannot gauge how much I missed the trip. It was very short, but definitely I made the most out of the short time.
Tips
Don't hesitate to ask for directions from locals if you're lost. Taiwanese may not be able to speak English well but they are very helpful and hospitable and they try their best to help you.
Always use your Google Map. That is one of the reasons why I urge you to buy their local Sim card. It will be very useful
Make use of your internet. It is Unlimited. Download lots of movies while you're there.
Below are the other alternatives that you might want to try or check out which I failed to visit (another reason to go back):
Raohe night market – take the MRT to (green line-songshan) – Stinky tofu , Pepper cakes
Elephant Mountain  – take the MRT to Xiangshan (Red Line) – to have a good view in all of Taipei. It is like TOPS or Mountain View in Cebu City. There will be around 300 steps to  reach to the top of the mountain. However there are levels as to where you want to get your shot of the city.
Shih Lin Night Market – take the MRT to Jiantan Red line: B1  – Hot-star large fried chicken (豪大大雞排), pepper pork bun and more street food. By the way their street food area is located at the basement 1 of Shih Lin Market. One of the best night markets in Taipei.
Also read: The Ultimate Guide to Taipei's Night Markets