"Why Taiwan? What's even there to see?" I bet you're now asking me these questions like some of my friends did. Well, aside from the fact that Taiwan will offer visa-free entry to Filipinos, I've heard a lot of good things about this country from the TripZilla Community.
Did you know that Taiwan has cherry blossoms, too? And that it's one of the most bike-friendly countries in Asia? Don't get me started on the night markets and the FOOD!
If you're not convinced yet, let me share with you our recent Taiwan spring trip to give you an idea of what this beautiful country has to offer, especially to Filipino travellers.
By the way, this is not even a budget travel as we wanted to enjoy Taiwan as much as we can.
Also read: Taipei Travel Guide, Tips & Itinerary for Filipino Travellers
Visa
[UPDATE]: Taiwan's visa-free trial for Filipinos has been extended until 31 July 2019! Read the full announcement here.
I used my expired Korean visa to apply for a ROC Travel Authorisation Certificate, allowing me to enter Taiwan visa-free. It's actually free so take advantage of it if you have expired visas to Australia, Canada, Japan, Korea, New Zealand, any of the Schengen countries, the United Kingdom, or the United States. Read this step-by-step guide on how I applied for ROC Travel Authorisation Certificate.
If you don't qualify for a visa-free entry to Taiwan, you may apply for an e-Visa which costs NT$1,632 (approx. ₱2,500), or you could do it the conventional way by following the tourist visa application steps.
Accommodation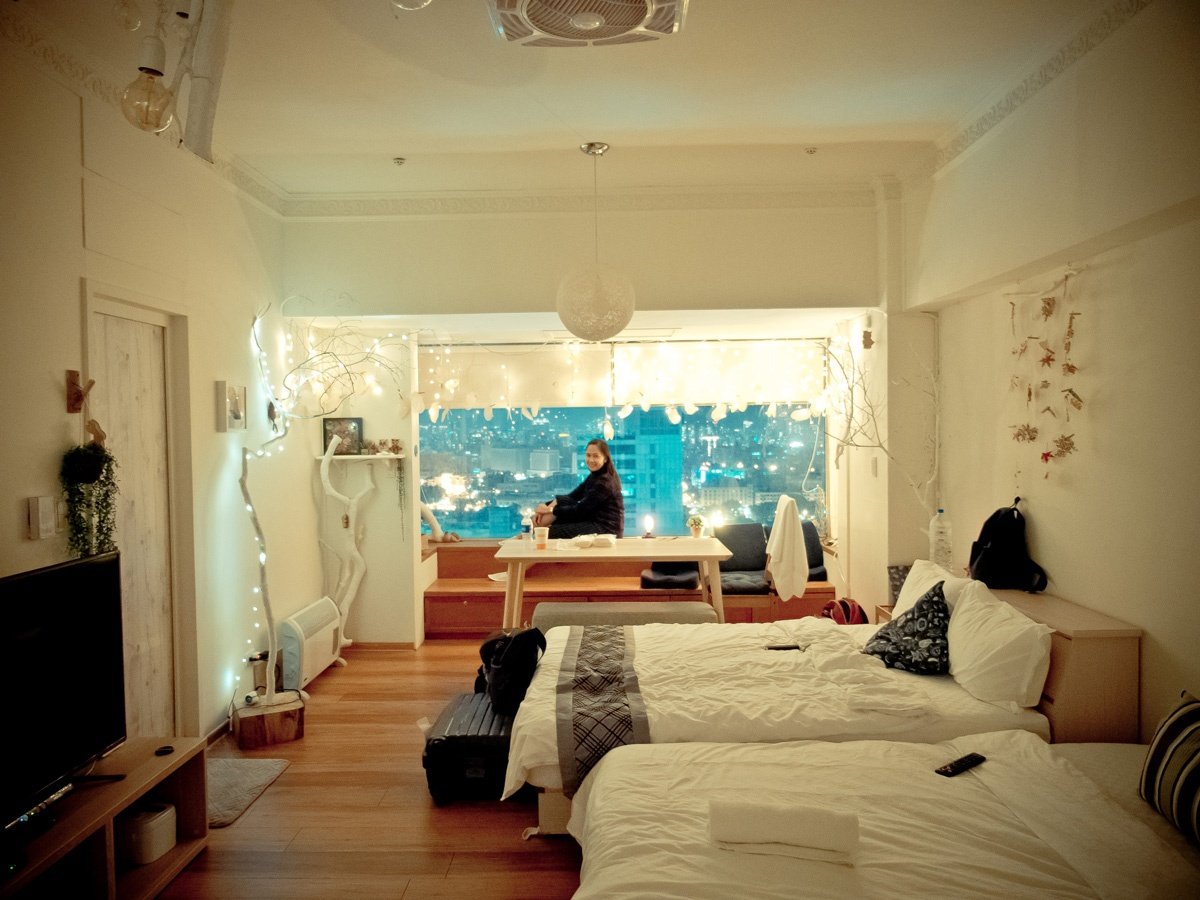 For four nights, we stayed at White Forest, a cool Airbnb property near Taipei Main Station. What's great about this accommodation is that you get the best value for your money since the location is strategic — it's just a short walk from the Taipei Main Station so it's accessible to numerous attractions in and around Taipei.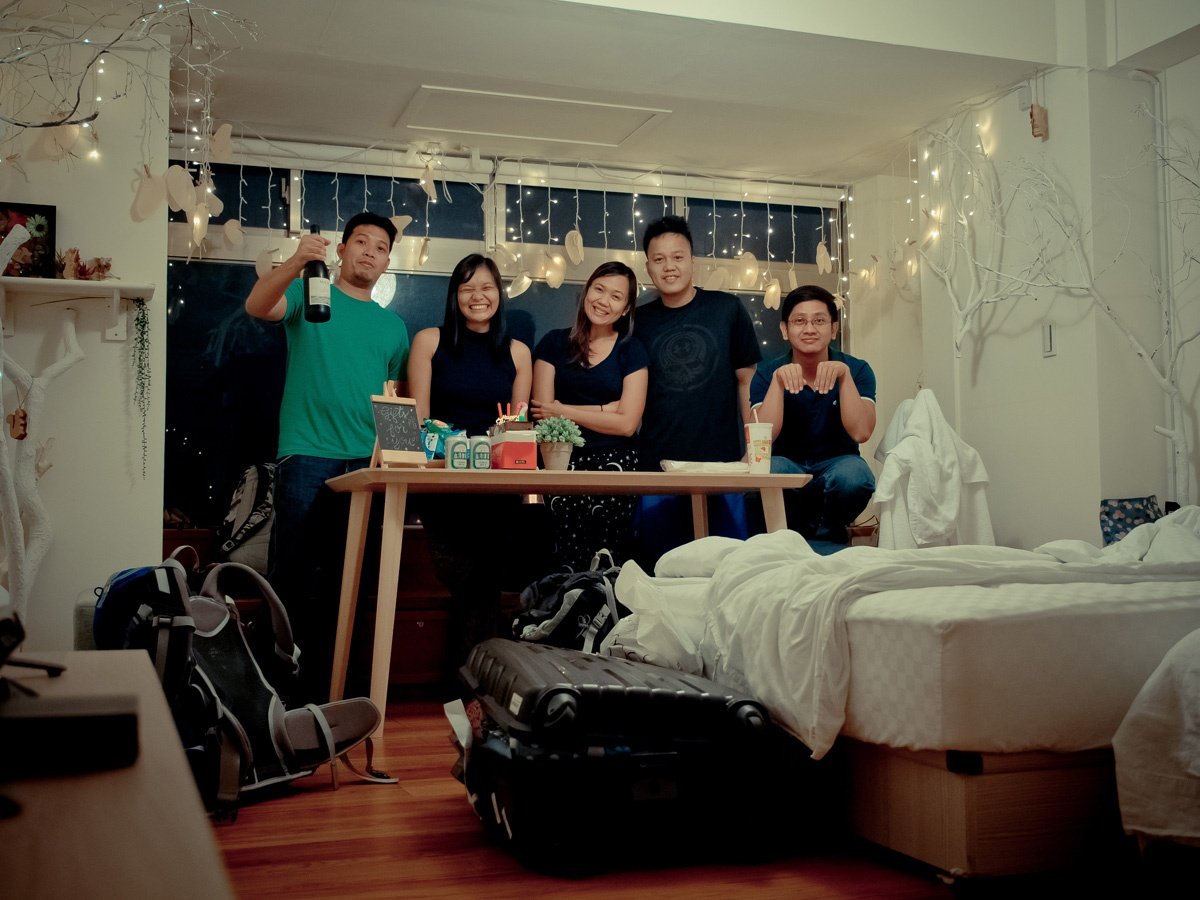 Celebrating my birthday inside our Airbnb property. Thanks for the surprise guys!
The interior is super artistic, and basic amenities like towels, hair dryer, flat screen TV, refrigerator, beds, pillows and blankets are all provided. We love the views from here, too — the famous Chiang Kai-shek Memorial Hall can be seen from the glass window. Awesome, right?
Itinerary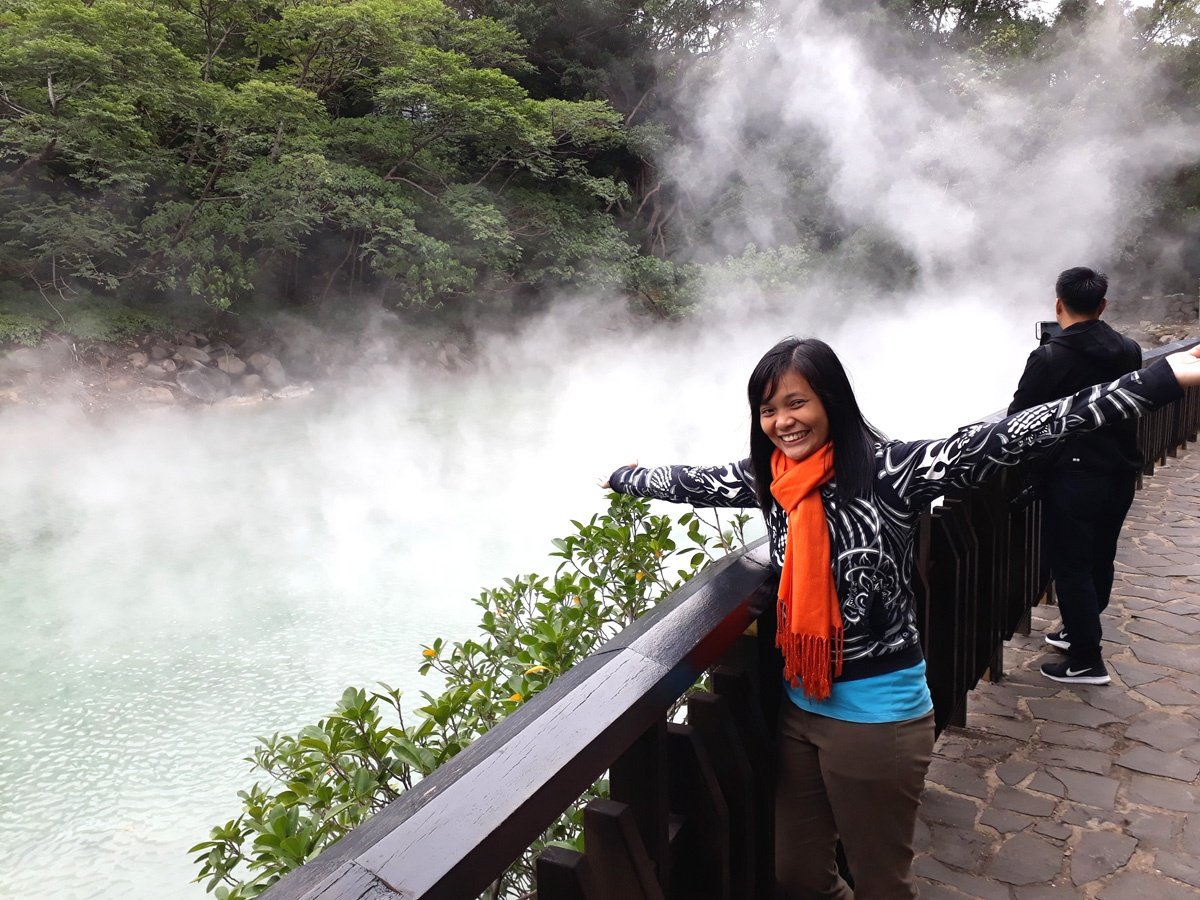 At Beitou Thermal Valley
We made an initial itinerary, but I'm sharing with you the actual places we've covered in four days. It's a good mix of adventure, nature, culture, food, and shopping. Feel free to tweak based on your interests.
Day 1: Cycling Day
Beitou Thermal Valley
Rent YouBike at Xinbeitou Station
Lunch near Guandu Temple
Lover's Bridge
Return YouBike at Tamsui Station
Day 2: Cherry Blossoms Day
Yangmingshan National Park: Flower Clock & Calla Lily Farm
Shilin Night Market
Ximending
Day 3: Keelung City & Taipei City
Starry Paradise in Keelung City
Elephant Mountain
Taipei 101
Raohe Night Market
Day 4: Taipei City & More Night Markets
National Palace Museum
Chiang Kai-shek Memorial Hall to watch Changing of the Guards Ceremony
Longshan Temple
Bopiliao Historic Block
Xichang St. Night Market
Guangzhou St. Night Market
Taipei Huaxi St. Tourist Night Market
Shilin Night Market
Highlights of our trip
1. Cycling in Taipei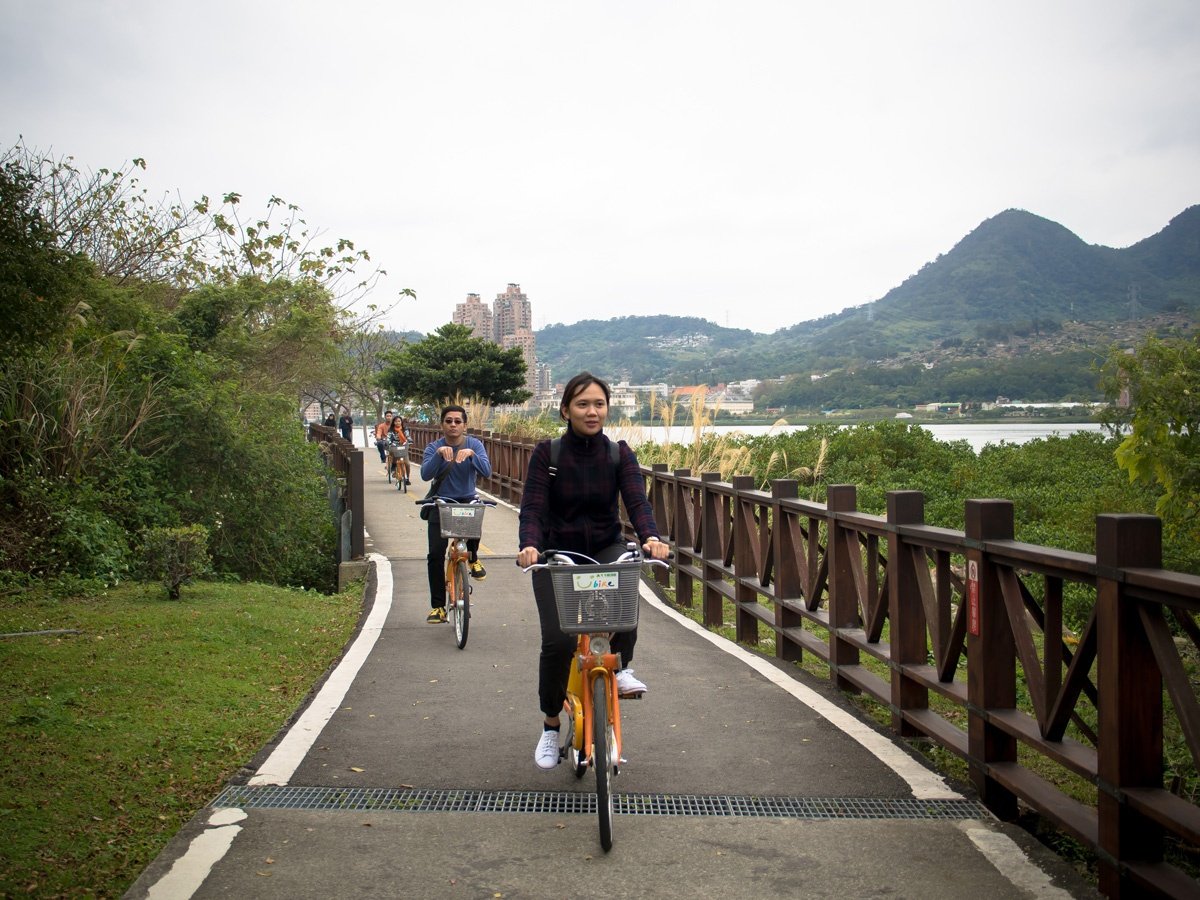 Taipei is one of the most bike-friendly cities in the world so I highly recommend that you allot one day for cycling alone. There are a number of scenic routes available, but here's what we followed (click here for full details of our trail):

Each of us rented a YouBike at Xinbeitou Station and returned it at Tamsui Station. This cycling adventure was quite an experience for me — I crashed several times and got myself injured. Read my full experience here.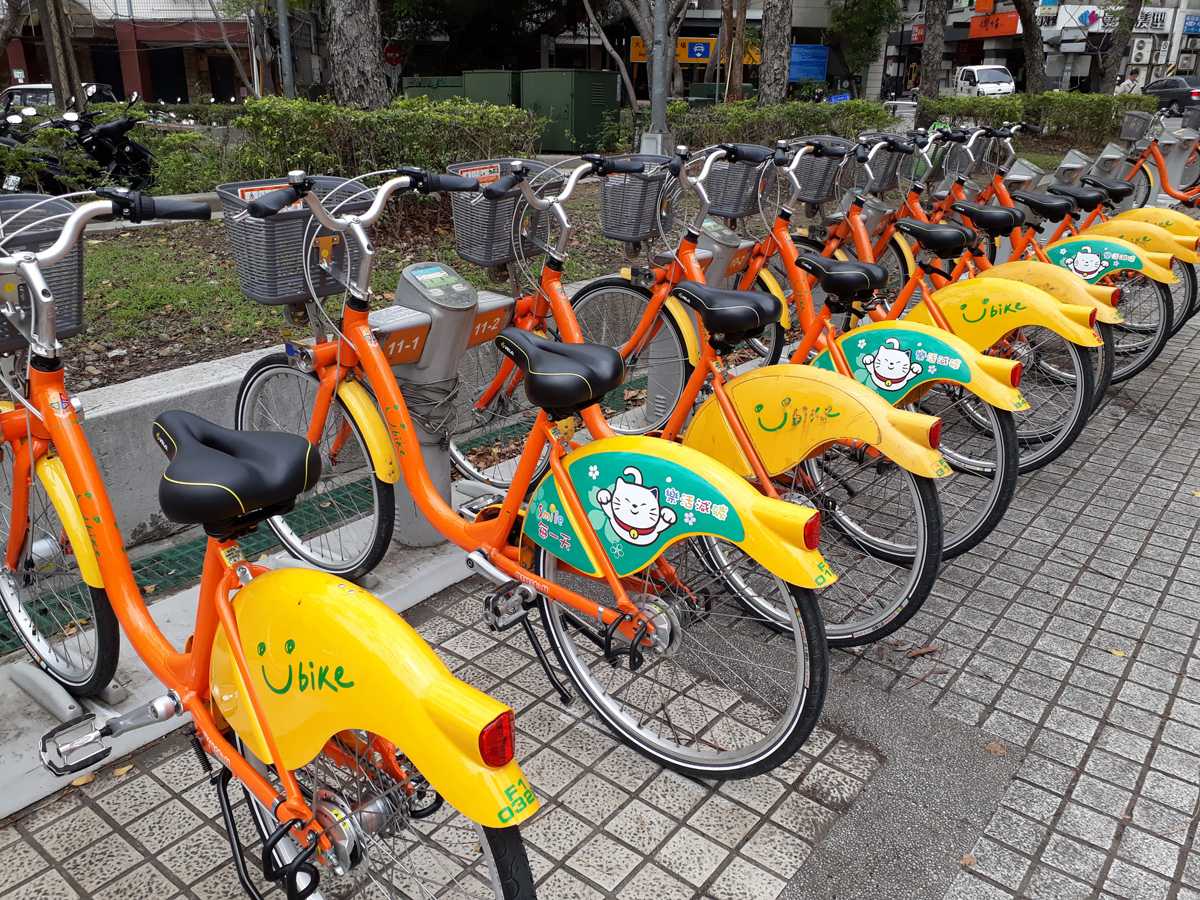 Notes:
You need an EasyCard each and at least one registered sim card to rent up to 5 bikes from YouBike.
The Beitou Thermal Valley is just walking distance from Xinbeitou Station so you might want to drop by this natural attraction first before you start cycling.
How to get to Xinbeitou Station: Take the MRT Red Line 2 to Beitou Station, then transfer line for Xinbeitou.
2. Cherry blossoms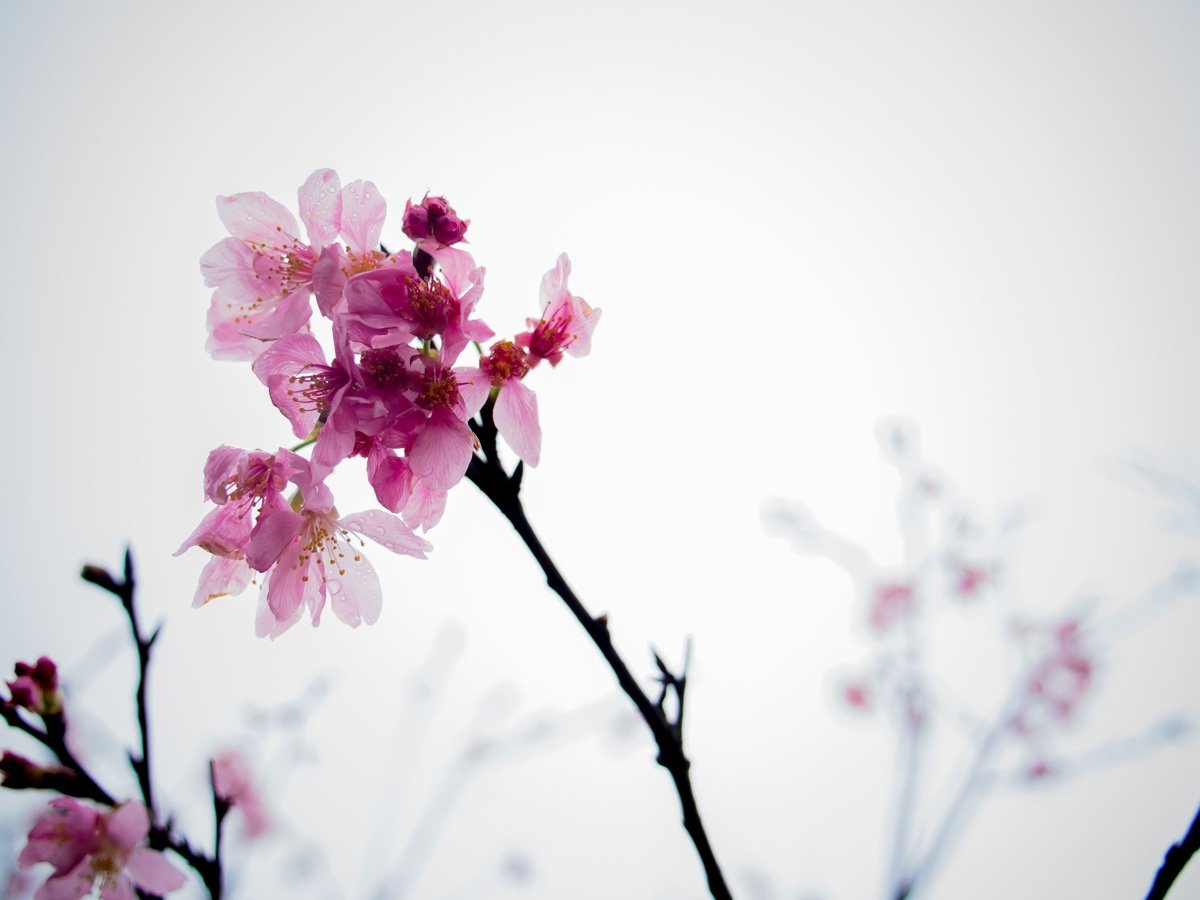 Like Japan, Taiwan has cherry blossoms so I timed our travel during the spring season to check this off my bucket list. From Taipei, the nearest place to spot cherry blossoms is Yangmingshan National Park, one of Taiwan's national parks.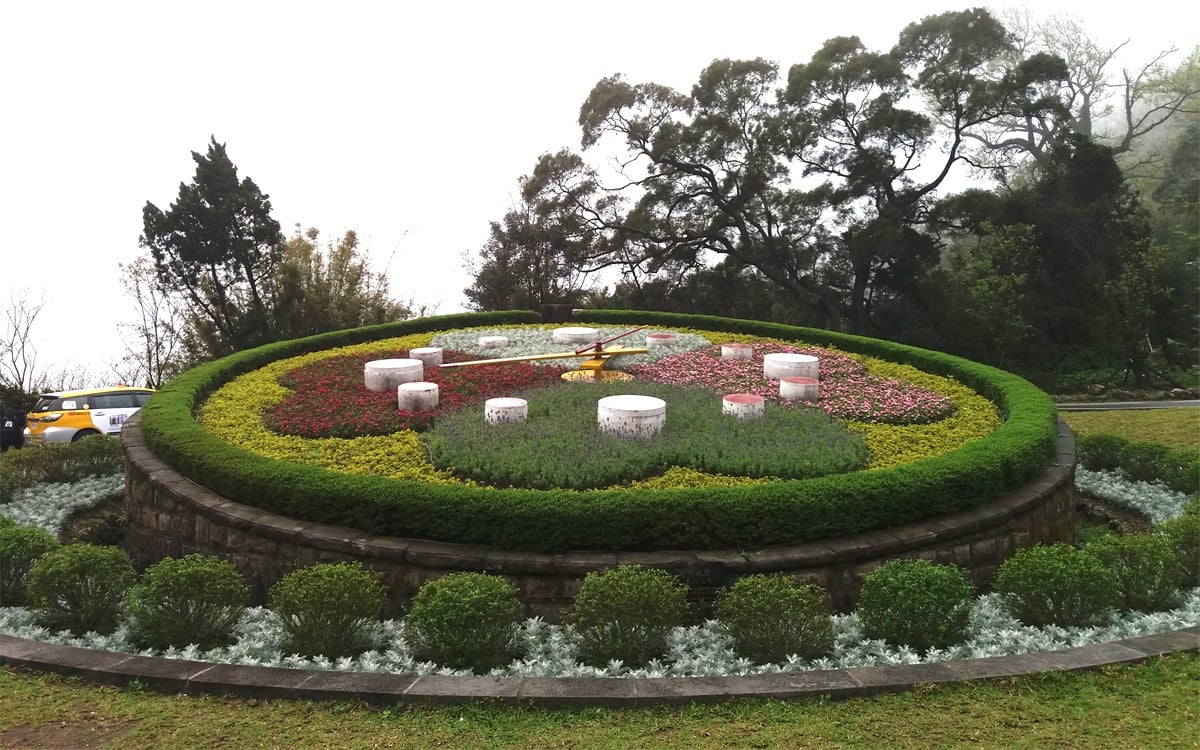 The park is actually huge and home to a number of scenic spots including the Flower Clock and Calla Lily Farm. As it was raining when went there, we decided to forgo the other attractions which you can visit via a hop-on-hop-off bus.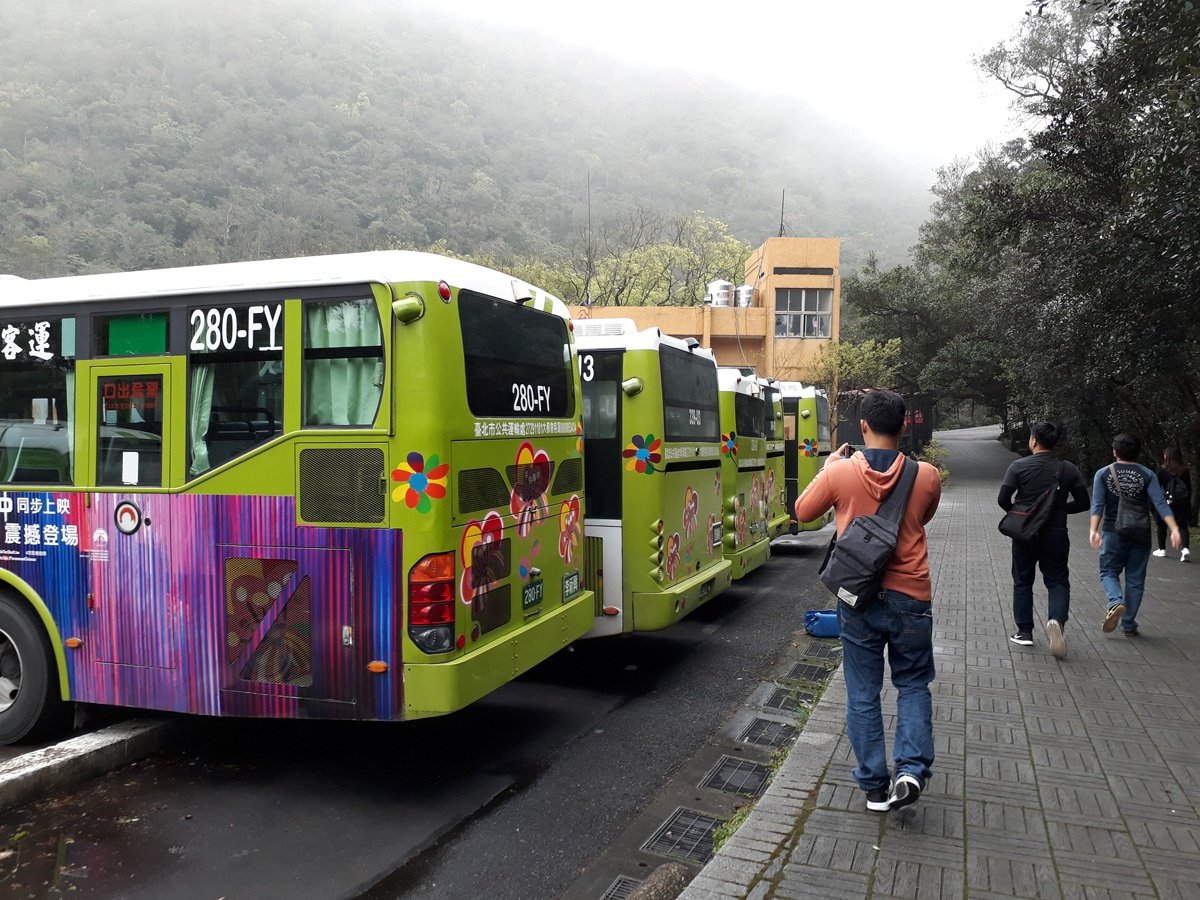 How to get to Yangmingshan National Park: Take the MRT Red Line 2 to Beitou Station. Exit and walk towards the bus station. Take the S9 or S230 bus to Yangmingshan Bus Station. From Yangmingshan Bus Station, take 125 shuttle bus to Yangmingshan Flower Clock. You may also visit the other spots like the Calla Lily Farm via the 108 shuttle bus.
3. Night markets
Taipei is almost synonymous with night markets! We listed a number of night markets on our initial itinerary but due to time constraints, we only managed to visit a few of them. Each night market has their own unique attributes — just see and experience for yourself.
Shilin Night Market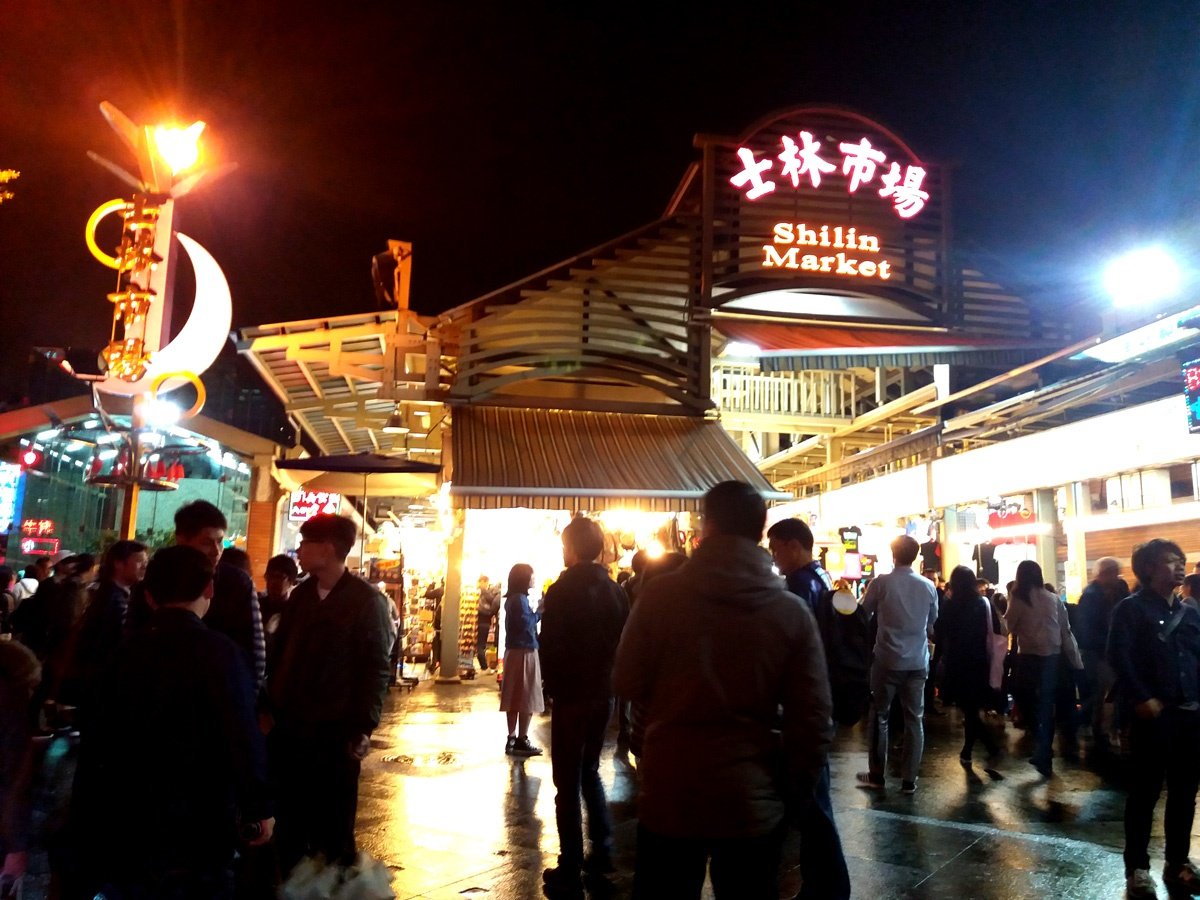 How to get there: Take the MRT Red Line 2 to Jiantian Station, Exit 1. Cross the street and walk towards Shilin Night Market.
Raohe St. Night Market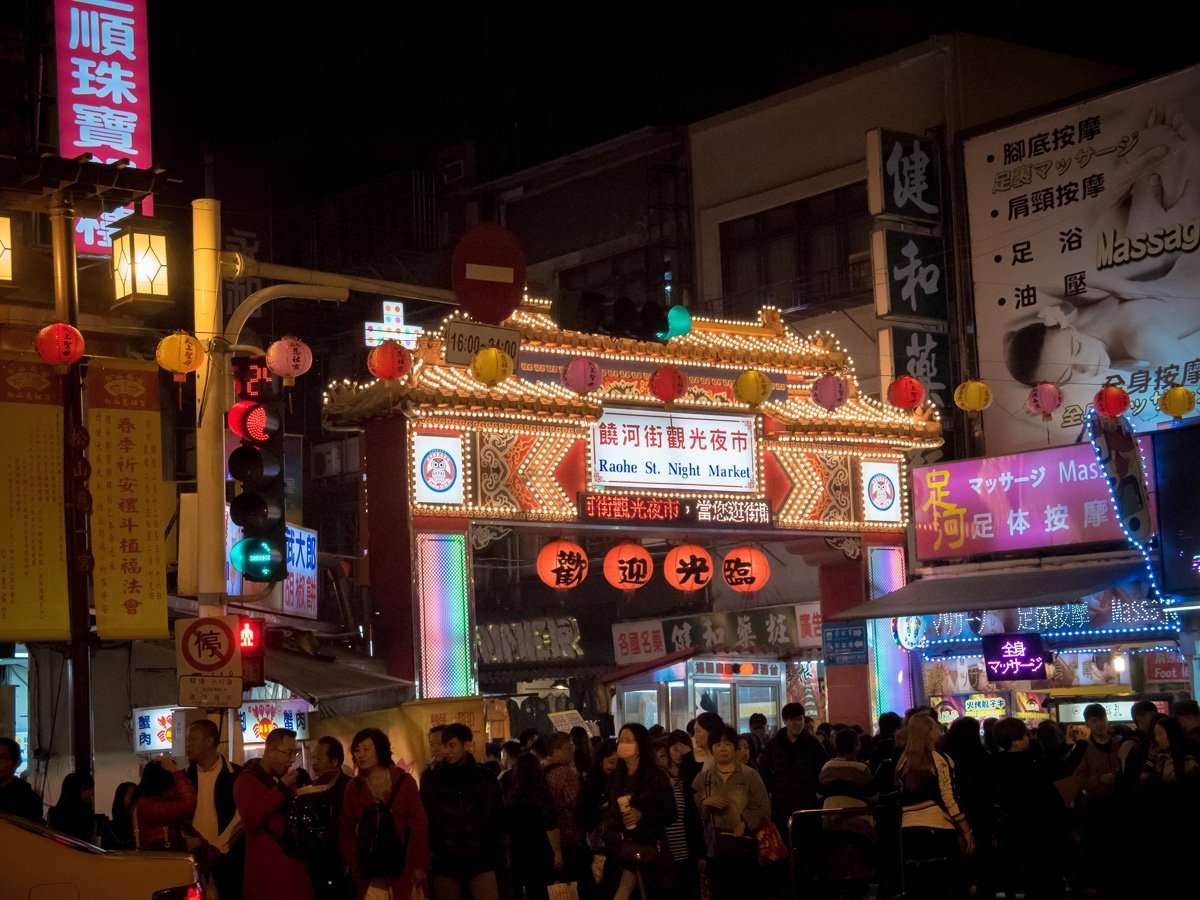 How to get there: Take the MRT Red Line to Zhongshan Station. Transfer to Green Line to Songshan Station, Exit 5.
Ximending Shopping District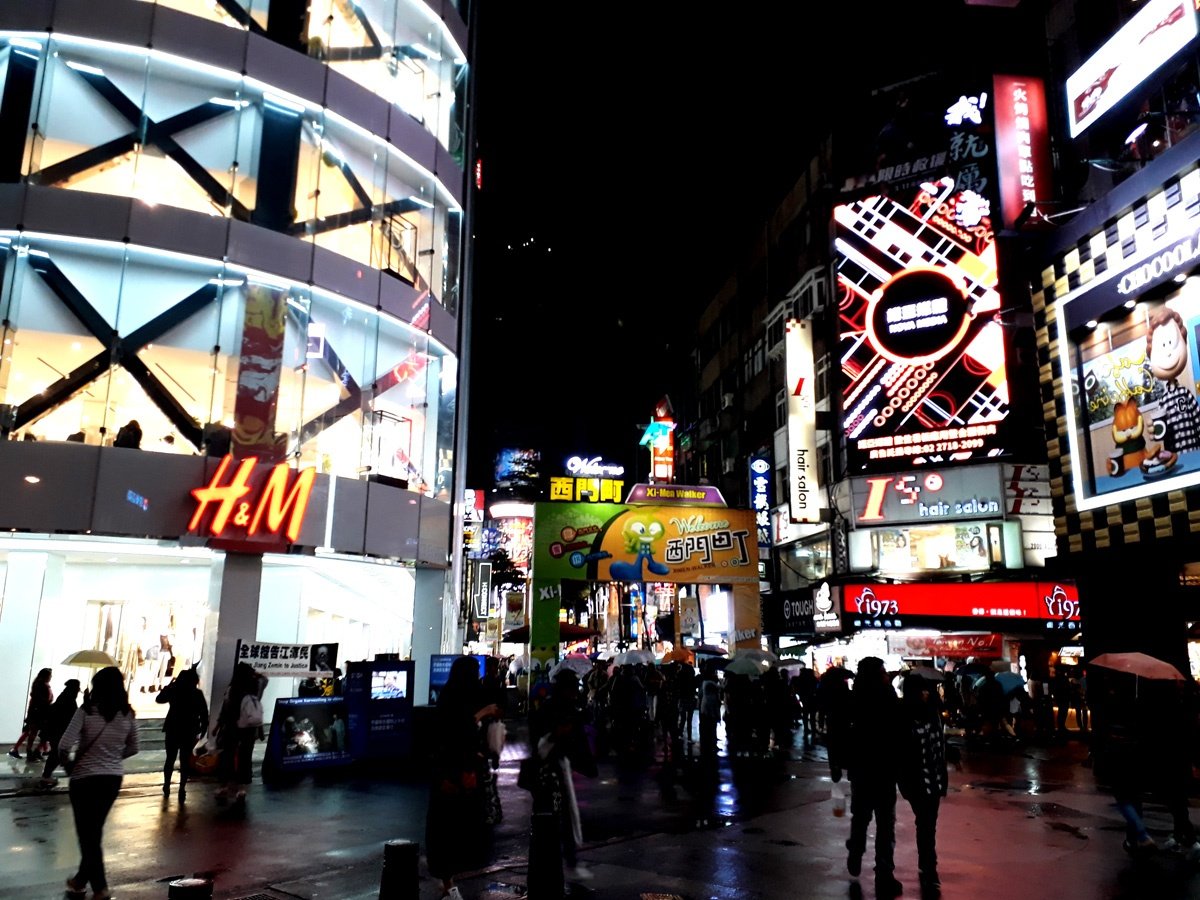 How to get there: Take the MRT Blue Line to Ximen Station, Exit 6.
Xichang St. Night Market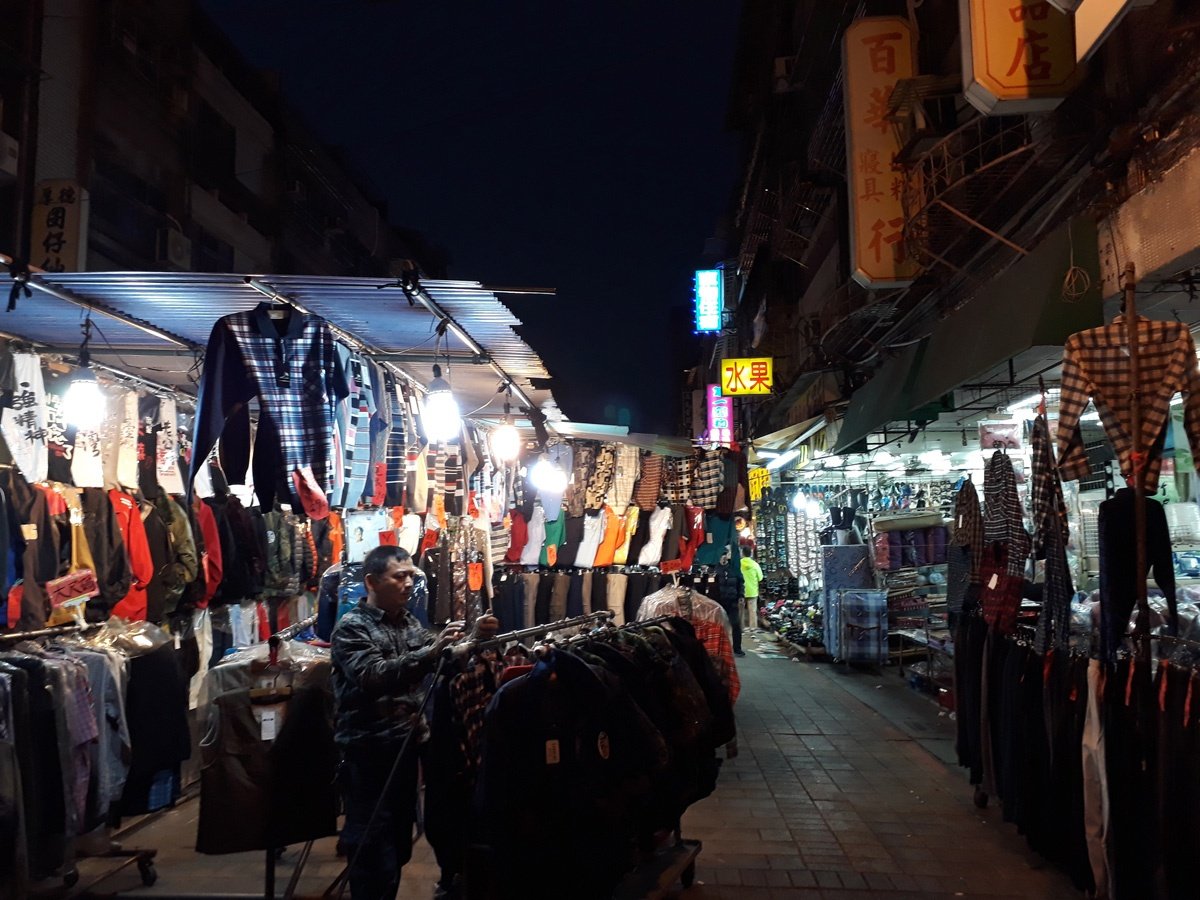 How to get there: Take the MRT Blue Line to Longshan Temple, Exit 1. Facing Longshan Temple, walk a few metres to the left.
Guangzhou St. Night Market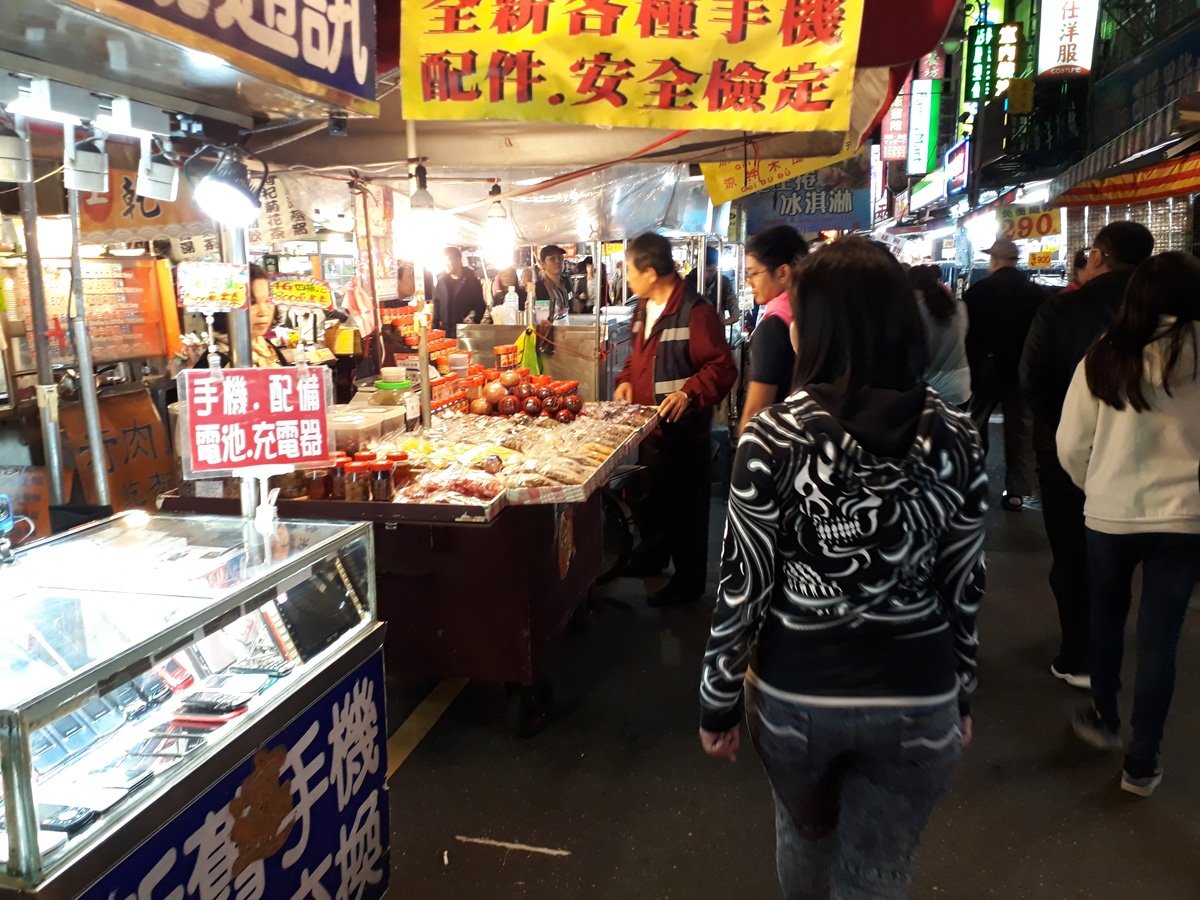 How to get there: Take the MRT Blue Line to Longshan Temple, Exit 1, facing Longshan Temple walk a few metres to the right.
Taipei Huaxi St. Tourist Night Market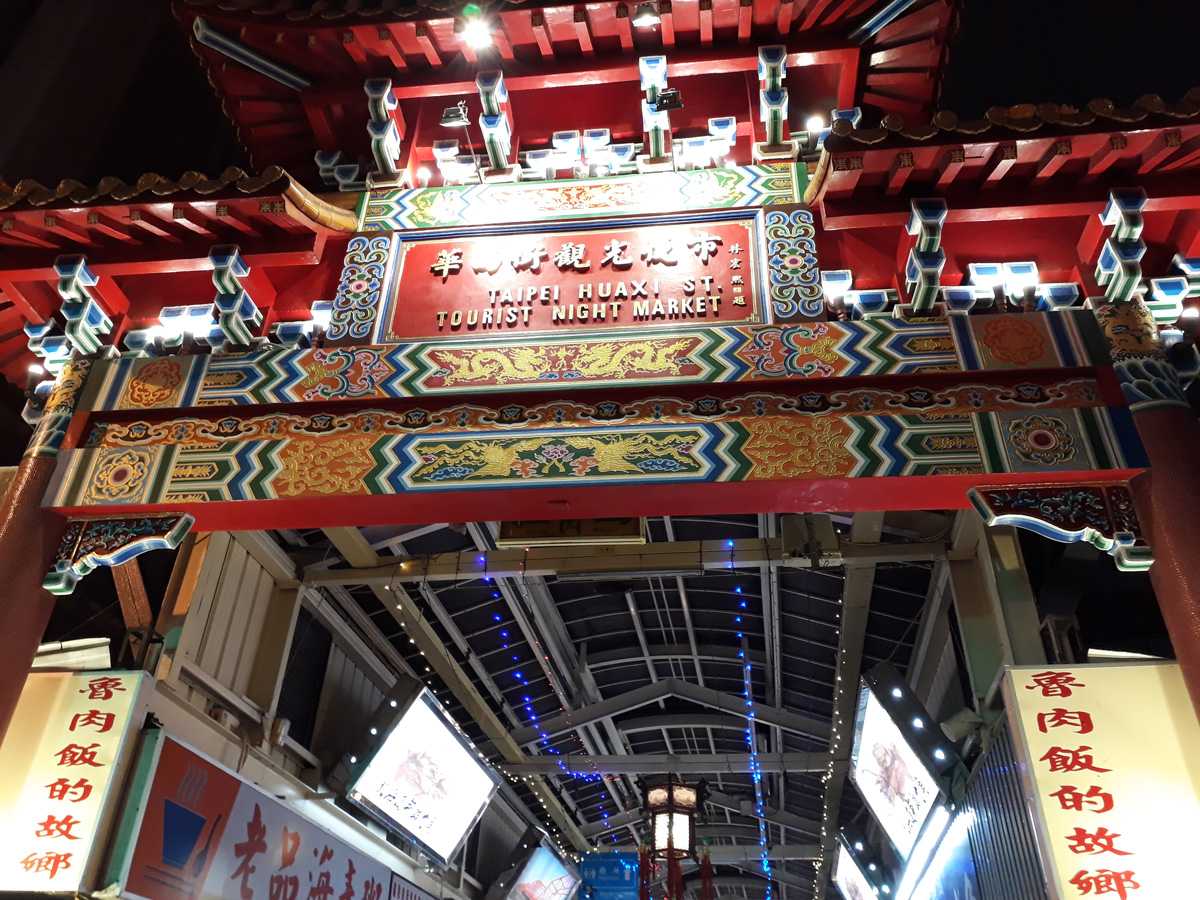 How to get there: Go through Guangzhou St. Night Market, then turn right on Huaxi Street.
4. Street food

I'm really not a foodie but I couldn't resist the drool-worthy street food and drinks in Taiwan! Food prices range from NT$30-100 (₱50-170). Here's a list of what we tried:
Xiaolongbao
Pork dumplings
Blowtorched steak
Taiwan sausages
Cheesy chicken
Crispy pork ribs
Scallion pancake
Tanghulu or sugar coated fruits
Jellies
Fresh fruits
Nougats
Tall soft serve ice cream
Ice cream spring roll
Bubble tea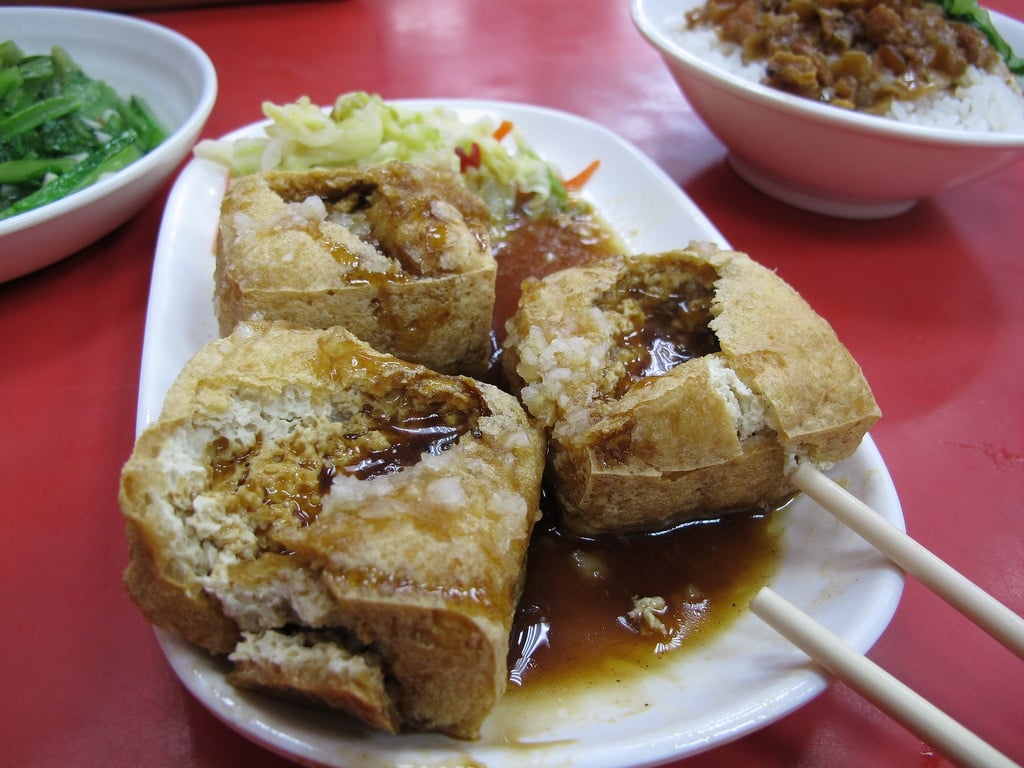 Image credit: Gavin Anderson | Sorry, our noses and stomachs are not ready for stinky tofu just yet. Maybe next time! 🙂
Cost breakdown
Food = NT$1,472.34 (₱2,606.04)
EZ Card = NT$500 + NT$160 (top up) = NT$660 (₱1,168.20)
Airport to Taipei Main Station Bus = NT$125 (₱221.25)
Bike Rental = NT$75 (₱132.75)
Sim = NT$300 (unli data for 5 days) / 2 = NT$150 (₱265.50)
Locker at Taipei Station = NT$160 / 3 = NT$53.33 (₱94.39)
Starry Paradise Entrance Fee = NT$100 (₱177)
Souvenirs & other essentials = NT$1,155/2 = NT$577.5 (₱1,022.18)
Sub Total = NT$3,213.17 = ₱5,687.31
Airbnb stay (4 nights) = ₱4,556
Flights (MNL-TPE-MNL) via Cebu Pacific = ₱4,232.36
Philippine Travel Tax = ₱1,620
Visa = Free
Grand Total = ₱16,095.67
Note: Conversion rate at the time of travel is NT$1 = ₱1.77. This is the breakdown of my personal expenses only and not similar to the rest of the group.
Travel tips
Download the Taipei MRT Map, save locally on your phone or print it out.
Buy an EasyCard at the airport upon arrival. If by chance the stores are already closed, make sure that you buy it at convenience stores or MRT stations first thing in the morning.
Although WiFi is available in some areas, I recommend that at least one of you has a local sim card. We bought ours at Chunghwa Telecom for NT$300 (₱500) which comes with unlimited data for 5 days.
Always check the weather before planning any outdoor activity. You don't want to end up soaked like what we experienced on our second day.
Lockers are available at the Taipei Main Station. Smallest locker costs NT$10 (₱17) per hour.
Maximise the FREE things to do in Taipei.
Venture out of Taipei City on a day trip.
English is widely spoken so if you're lost, don't be afraid to approach the locals.
There you have it! I hope this somehow inspired you to include Taiwan in your travel bucket list — you won't regret it, I promise!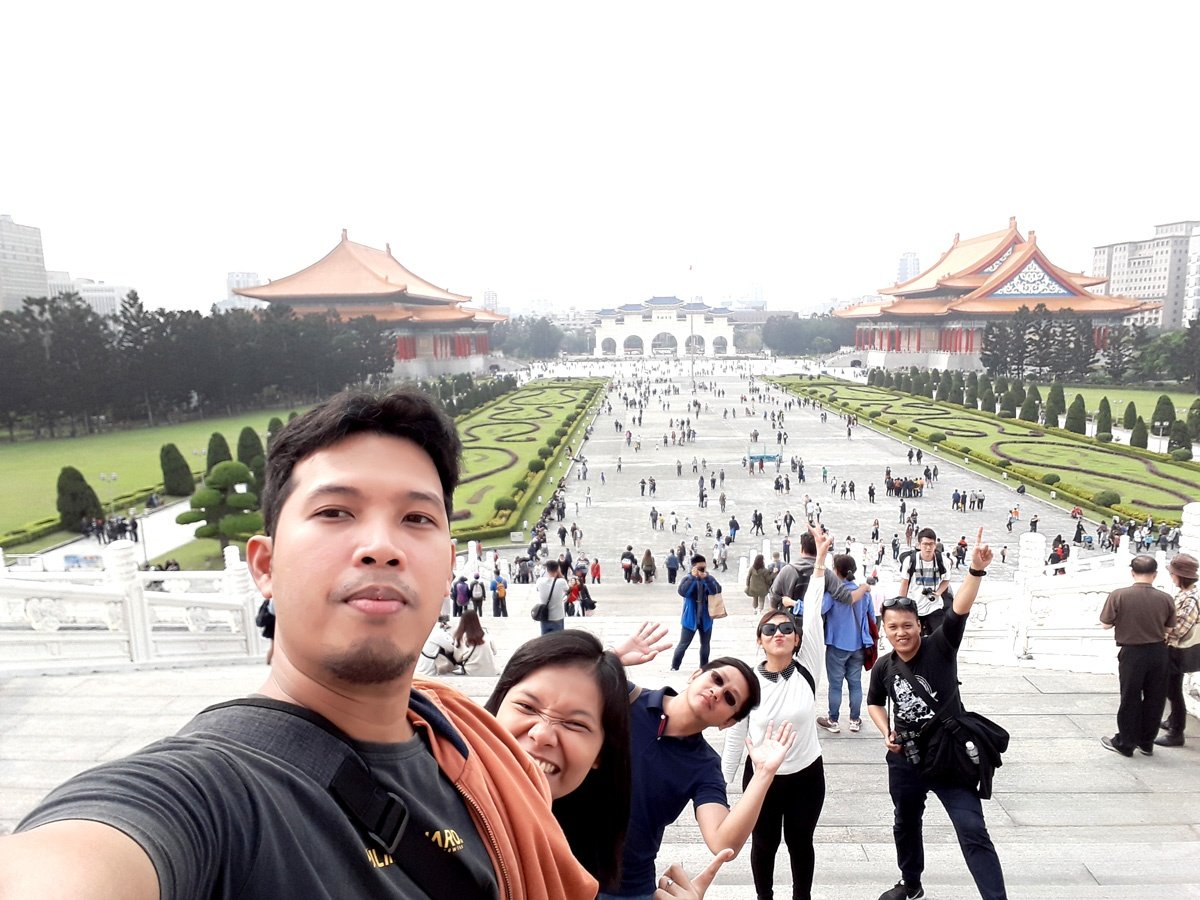 Special shout-out to my friends Joey, Gale, Mickey, and BF Reuben for coming along with me in this incredibly memorable trip. It would not have been as smooth and successful if not for the contribution and cooperation of everyone. Till our next adventure guys!