Admit it — you've seen a lot of travel guides telling you what to do in Singapore and around Sentosa. So what makes this list any different? …only the awesome fact that it was crafted by Singaporeans themselves!
Earlier this year, TripZilla's Singapore team challenged TripZilla Philippines to take on a Singapore bucket list that would give us THE local experience. Of course, we were happy to oblige. And since sharing is caring, we're going to give you the lowdown on the sights we saw. Make sure you click on the video below — that's another Singapore guide we cooked up just for you!
And if you're aching to see a more authentic side of Singapore (alongside the adrenaline rush-inducing attractions of Sentosa), keep reading. Here's an updated list of the best things to do in Singapore, according to Singaporeans. 
1. Start your day with Singapore's national breakfast
We're pretty sure you've heard of Kaya Toast. But did you know that it's actually Singapore's national breakfast?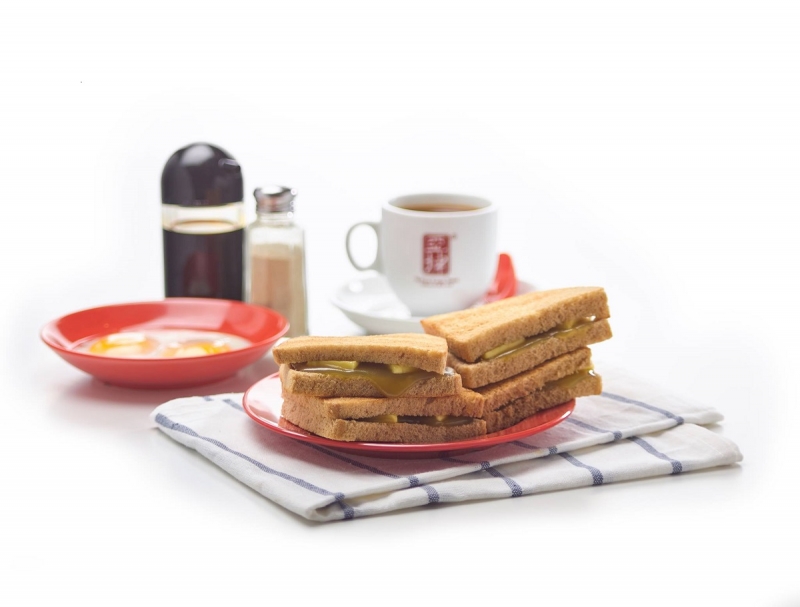 The delicacy is a meal set that features toasted bread filled with butter and kaya, a special jam made of pandan, coconut milk, eggs, and sugar. The jam-filled pieces of bread are then served with half-boiled eggs and a choice of tea or coffee. To make the flavours even more interesting, drops of soy sauce are usually mixed in the eggs, resulting in salty-sweet goodness that's difficult to resist.
We enjoyed Kaya Toast like true-blue locals at the Tiong Bahru Market, but you can also have the dish almost anywhere in Singapore. International chains like Ya Yun Kaya Toast and Toast Box can also take care of your Kaya Toast fix.
Tiong Bahru Market address: 30 Seng Poh Rd, Singapore 168898
2. Ride the MRT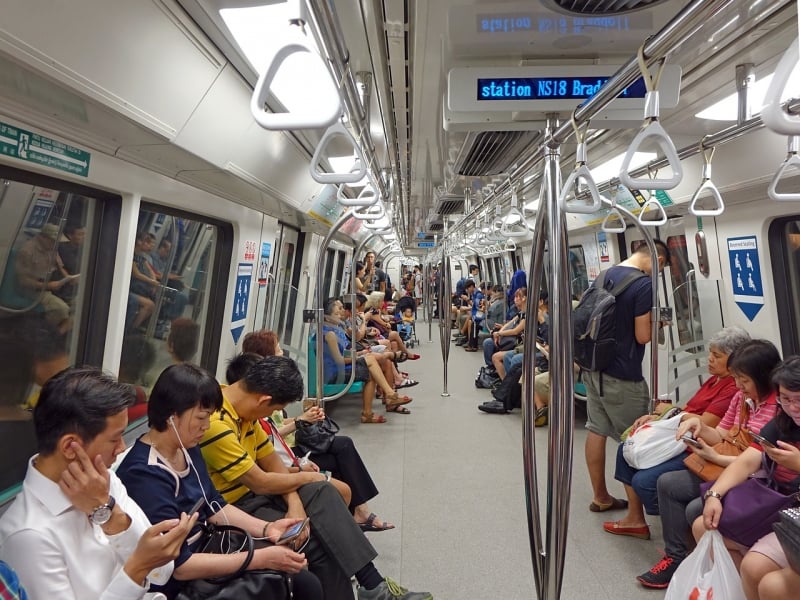 If you really want to get an authentic feel of any place, then you should try the country's public transportation. That's exactly what we did! In the case of Singapore, there are buses and taxis — but we recommend taking the MRT whenever you can. It's fast, efficient, and it's definitely cheaper than hailing a cab.
Tip: Walk when you can! The streets of Singapore make for pleasant strolls. You get to explore every nook and cranny of the city, plus you burn some calories to boot.
Also read: A Three Day Singapore Itinerary for First-Time Visitors
3. Find cheap eats at hawker centres
You're bound to get hungry in between commuting and walking around the city. While we do believe in treating yourself to anything you want while on holiday, staying in Singapore can get pretty expensive. Fortunately, you can save a lot on meals if you eat at hawker centres.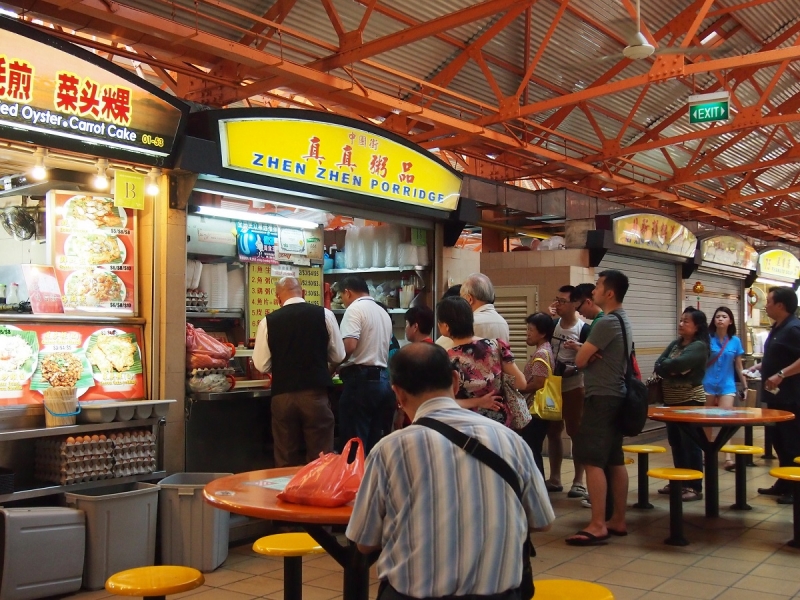 Believe us when we say that almost any craving can be satisfied in these open-air food courts. There is a multitude of choices when it comes to food and drinks, and serving sizes aren't puny at all. Our Singaporean friends actually made us do a ₱200 challenge at Seah Im Food Centre. Here's how we fared.
Seah Im Food Centre address: 2 Seah Im Rd, Singapore 099114
4. Conquer the Southern Ridges Walk
We bet you're seeing a pattern by now. Singapore is known as a foodie's paradise, so for every hearty meal that you indulge in, an activity that will get your heart pumping should follow. We've got just the thing for nature lovers!
The Southern Ridges Walk is a 10-kilometre trail that will take you above the lush forest parks of the city. It takes around three to five hours to finish the entire trail, but if you're on a tight schedule like we were, you can always opt to finish just a portion of it. There are many Instragrammable parts here, but you might want to keep your eyes peeled for the Forest Walk and Henderson Waves.
5. Get lost in the streets of Geylang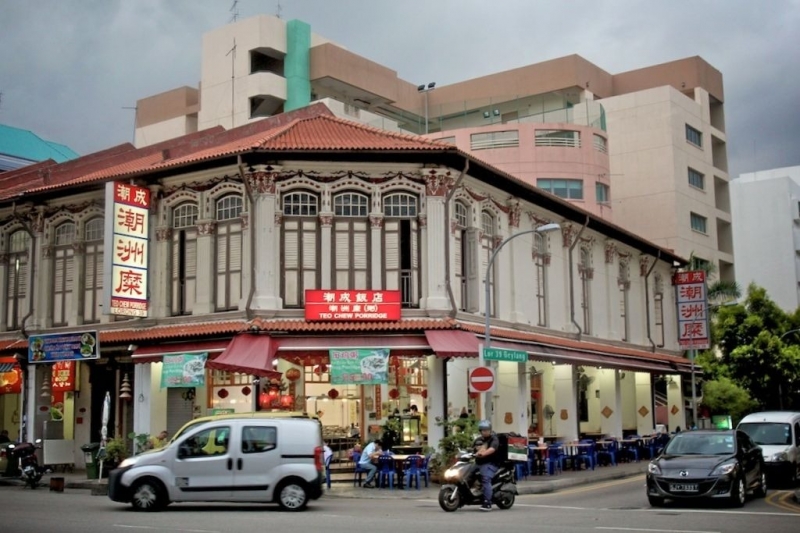 Of the many things to do in Singapore, we bet you're surprised to see this on the list. Geylang is the city's red light district. And while there's absolutely no judgment here, we also know that some tourists usually skip its seedy parts. Don't worry, there's plenty to see around the area even if brothels and exotic massages parlours aren't your thing. Take your pick from the many watering holes and eateries that pepper the place, as well as colourful shophouses and markets like the Geylang Serai Market.
6. Shop at VivoCity and Mustafa Centre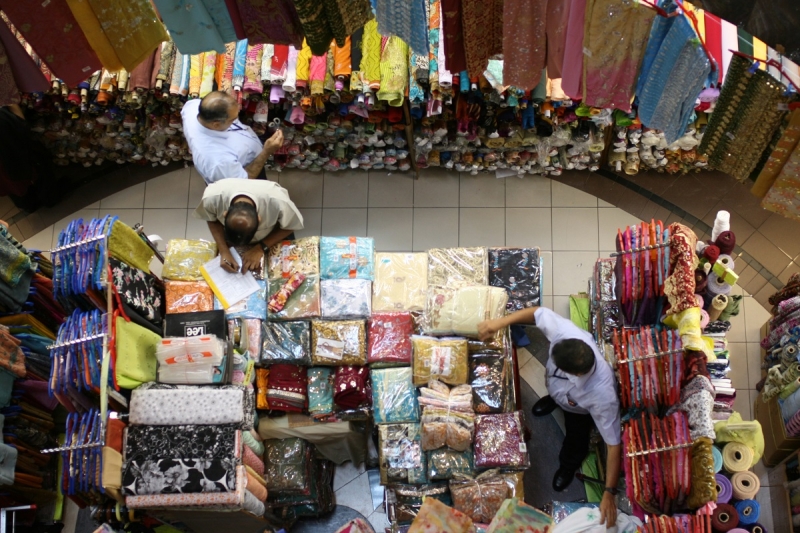 For shopping, you can't go wrong with Mustafa Centre and VivoCity, Singapore's largest mall. It's home to designer labels and international brands. If you're after great bargains, though, Mustafa Centre in Little India should be your first choice. There, you'll be able to score great buys for more affordable prices, plus it's the only 24/7 mall in Singapore. We were able to buy clothes and grocery items from Mustafa, and we were surprised to see the cashiers sealing our purchases with cable ties upon payment. Don't let this dampen your mood — they do that to all customers.
Tip: It's better not to bring a bag when heading to Mustafa Centre. Guards will ask you to leave them anyway at baggage counters outside the mall. Better to go inside with just your wallet and phone.
VivoCity address: 1 Harbourfront Walk, Singapore 098585
Mustafa Centre address: 145 Syed Alwi Rd, Singapore 207704
7. Get your fill of durian and indulge in Singapore's supper culture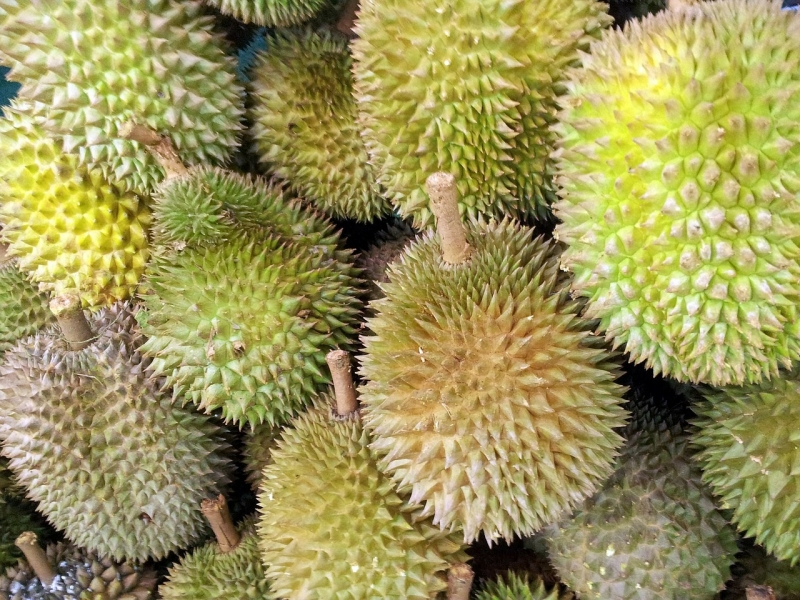 In the markets of Geylang and nearby areas, you'll spot countless stalls dedicated to selling durian. Now, we know we have this infamous fruit in the Philippines as well, but don't pass up the chance to try it in Singapore, where it's considered a prized delicacy. Don't let the prices shock you — durian is pretty expensive in the city. There are cheaper options, but they're supposedly not as good as the costly variants. Our Singaporean friends actually had a good laugh making us guess the prices of durian at Geylang. Watch our guessing game here; maybe you'd like to do the same thing!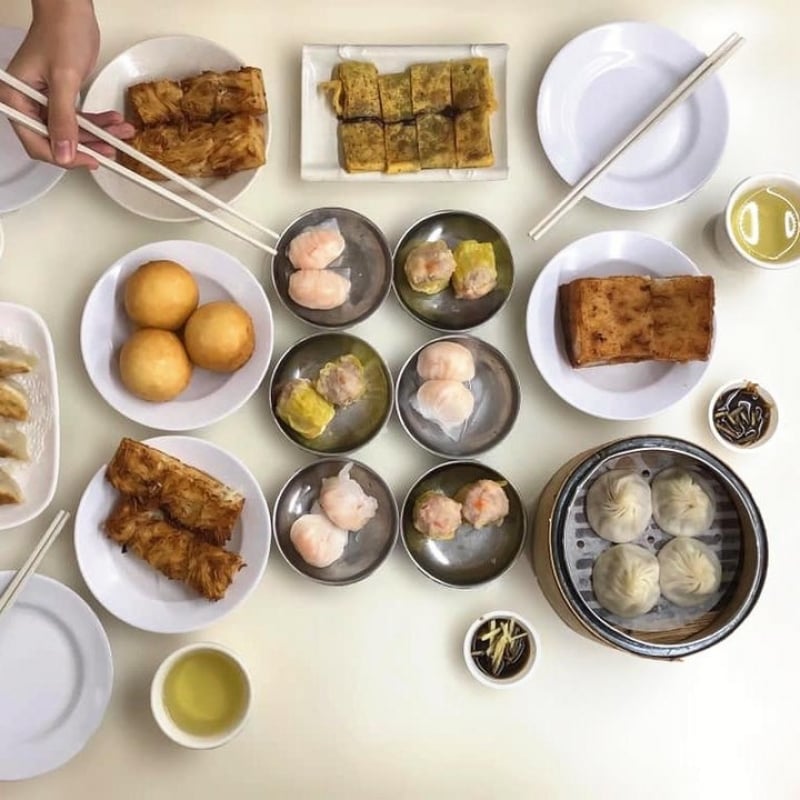 When you're done exploring and getting your fill of the (stinky) fruit, pop by Swee Choon past midnight to experience Singapore's supper culture. You'll be surprised to see that the dim sum place still gets pretty packed even during unholy hours. Perfect for night owls!
Swee Choon address: Jln Besar, 183-191, Singapore 208882
8. Book a comfy stay at Hotel Boss
We've been rambling about the best things to do in Singapore, and yet we haven't covered a very important part: where to stay. Our recommendation? Hotel Boss, a four-star hotel that's right smack in the middle of the city centre.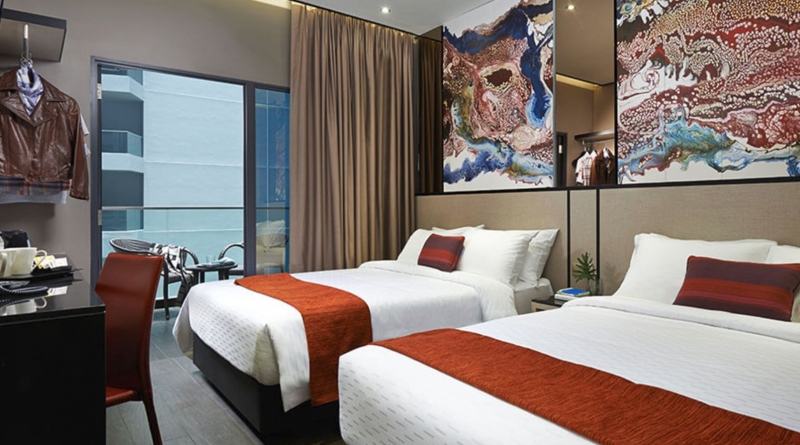 It's near public transportation stops like Bugis and Lavender MRT stations, as well as popular go-tos such as Arab Street and Little India. Hotel Boss has a restaurant and pool, and they offer amazing views of the city. Our friends say it's a good choice for a staycation even for locals; it's also a failsafe option for those on business trips. We bet you won't be disappointed either.
Hotel Boss address: 500 Jln Sultan, #01-01, Singapore 199020
9. Find a cute/hipster cafe to while away the time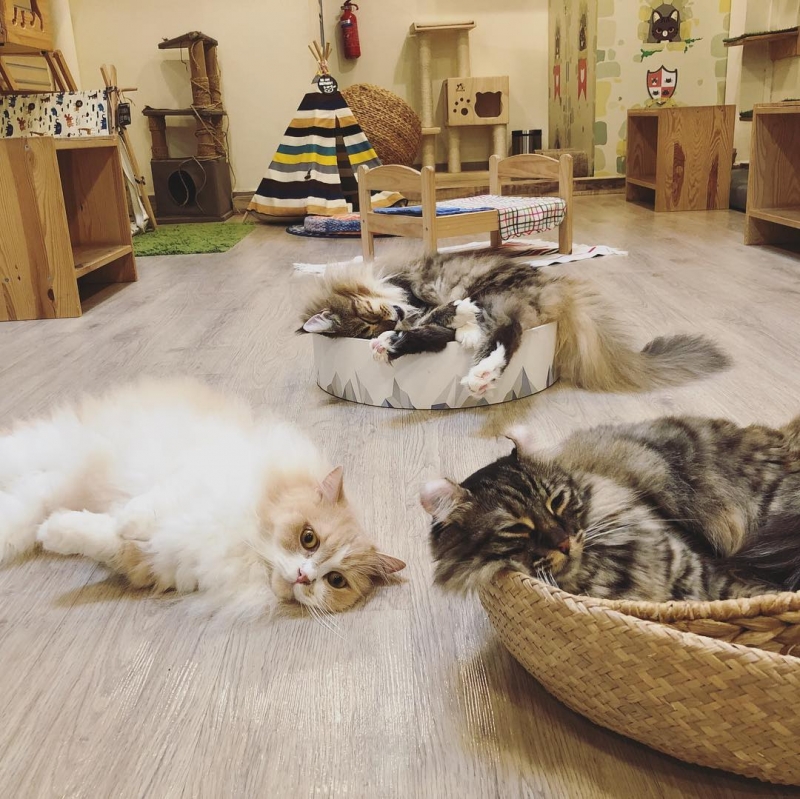 Hipster cafes are aplenty in cool hangouts like Arab Street and Haji Lane. But we actually found a really cute cat cafe near Arab Street called Meowmi. Get a peek of the adorable felines we spent the afternoon with here. If you're planning a visit, don't forget to follow the cafe's house rules! They're for the furry residents, after all.
Tip: You'll find countless boutiques and curioshops in these areas, too, so don't forget to take a look! You might just find a trendy souvenir in one of the stores.
Meowmi Cat Cafe address: 68 North Bridge Rd, Singapore 188801
10. Spot the street art and boutiques along Arab Street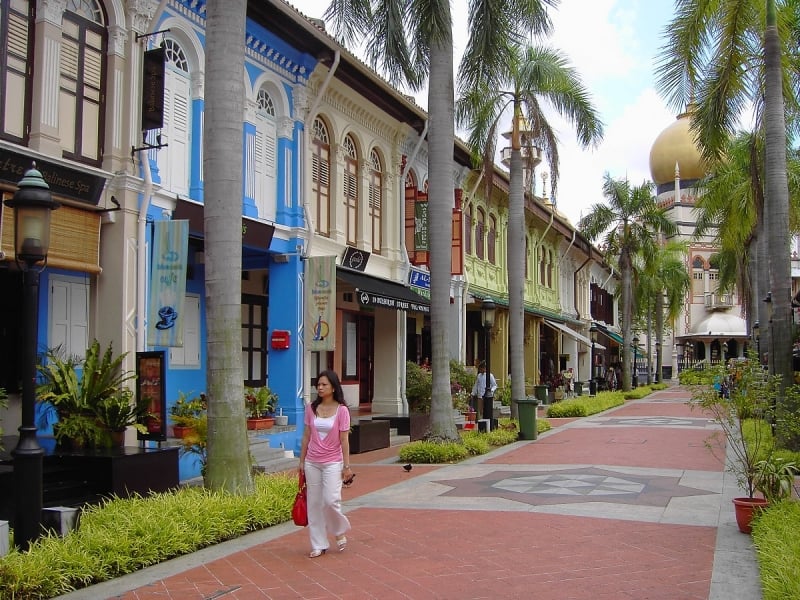 We won't lie; we stopped a couple of times along and near Arab Street just to take a photo with the street art. You should, too! Don't forget to take note of the artist. You never know if you'll see him or her walking the same streets. Another colourful alternative would be Haji Lane, but expect the place to be packed with tourists.
11. Ride the cable cars at Faber Peak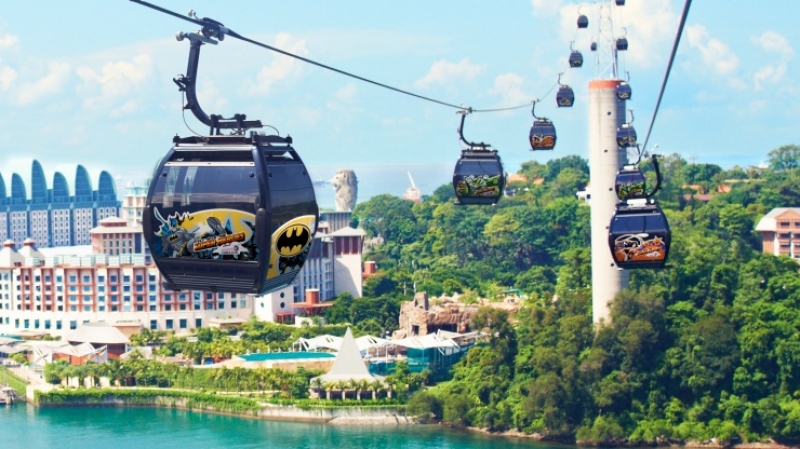 While Sentosa may be considered touristy, this is where a lot of locals go to when they're in need of a quick vacation. An interesting way to get there is by boarding the cable cars at Faber Peak. Just make sure you're not deathly afraid of heights! The view from above is breathtaking, but it's pretty high up… just saying.
12. Get active and wet at Wave House Sentosa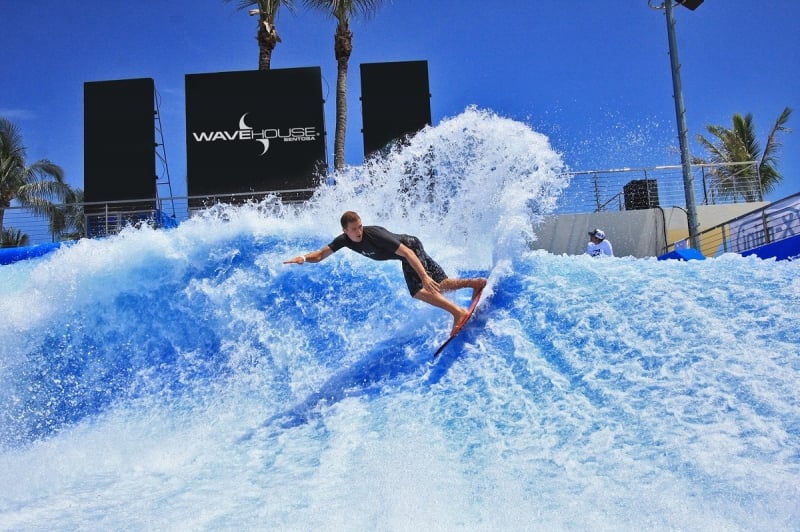 First order of business at Sentosa? Dive right into watersports! Wave House lets you catch some strong waves with their crazy rides, FlowRider and FlowBarrel. If you're not a pro surfer, prepare to be pummelled by pressurized waves that can reach a height of 10 feet! We know it sounds scary, but we were actually pretty stoked once we (kind of) got the hang of it.
13. Take things up a notch then mellow down at Ola Beach Club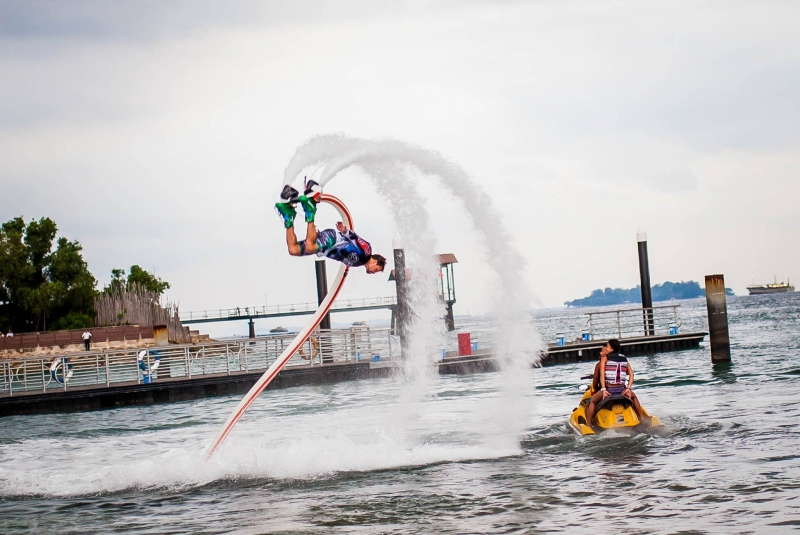 Ola Beach Club, on the other hand, is the answer to your prayers if all you want is some fun under the sun right by the beach. Must-try activities at Ola are jet blading, jetpacking, and paddleboarding. You can even have a few pre-dinner cocktails by the shore when you're ready to unwind.
14. Reward yourself with a sumptuous meal at Coastes
When you're done getting soaked, treat yourself to a filling spread at Coastes, just a few minutes walk from Ola Beach Club. Choose from comfort food staples like burgers, pasta, and pizza to seafood favourites cooked any way you want. Don't forget to cap the day with some drinks; Coastes has a wide selection to quench any kind of thirst.
15. Stay in and have food delivered by Grab Food
We assure you, you won't get enough of the different cuisines in Singapore. It's a melting pot of culture, so the culinary scene surely reflects this diversity.
But there are days when you'll feel like staying in and chilling with some good ol' takeout, just like a local. When you're feeling sluggish, we highly advise taking advantage of Grab Food delivery. We tried it once during our stay to save time; we ordered food while everyone was getting dressed to go out. By the time we were ready, the food had arrived — travel hack!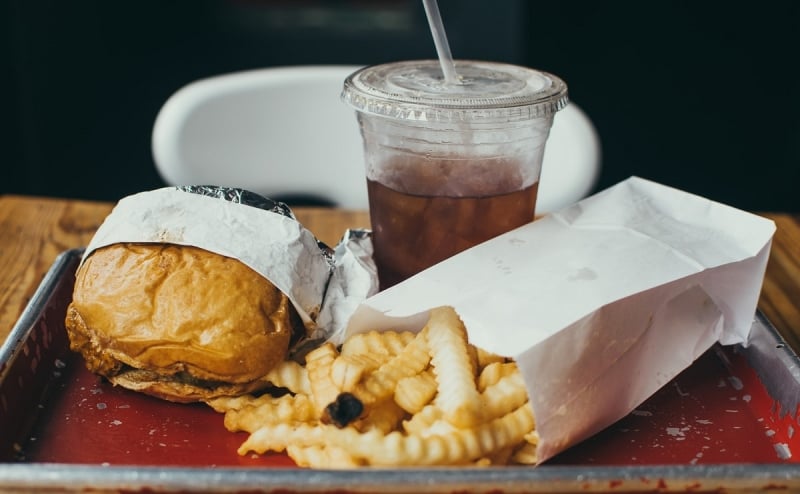 Tip: Do skip the straw. Going for takeout isn't necessarily the most eco-friendly way of enjoying your meal so do what you can to minimise plastic waste.
Also read: Pinoy Traveller Must-Haves: 16 Eco-Friendly Travel Items
We can go on and on, effectively proving that Singapore isn't just for long weekends and quick escapades. Watch how we squeezed all these activities in just three days.
You can take on this challenge or you can add to it and make your own list of the top things to do in Singapore. Let us know how that goes. See you in SG!