Contributed by WEDUit
Whether you do it for a living or just for fun, we all know travel blogging has become so popular that everyone does it these days. Recording and publishing your adventures has never been easier with so many travel blogging platforms out there.
Even little kids can create their own travel blog with just a few clicks here and there. In fact, it's not even a new concept because people have been doing it for the last centuries and the only difference between then and now is that you don't need a pen and a paper to write down your stories.
Heck, Marco Polo was even one of the oldest travel bloggers known to man as he documented his travels all over Asia! He even had a name for his travel blog and it was called Book of the Marvels of the World, a.k.a. The Travels of Marco Polo. Well, it was actually a book but you know what I mean, right? He had a brand of his own as he told stories about his adventures.
Also read: 5 Travel Blogging Subspecialties Worth Starting
If you want to be like Marco Polo and have your own travel blog, these great travel blogging platforms will help kickstart your career and turn you into a world-famous storyteller!
1. Track That Travel
First on the list is Track That Travel, a fresh face in the industry of travel websites that started in 2017. It's a 100% free and simple travel blogging platform that allows you to create your own profile and link your social media accounts. What's unique about this platform is people can subscribe to their favourite writers allowing them to build a large audience. Another cool thing about it is that it has a rewards program, too! And yes, I'm talking about real money where you can earn up to $100/blog. Not too bad if you want to make a career out of travel blogging, huh?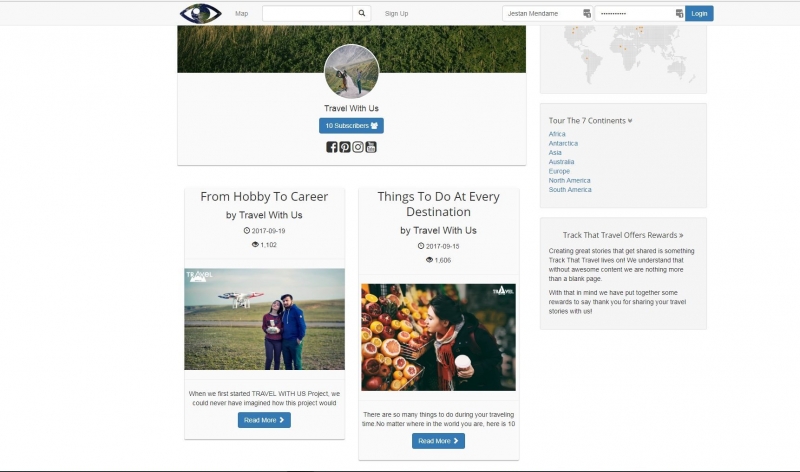 If you're familiar with how a CMS (Content Management System) works then you won't have a hard time getting around this website. Users will have a dashboard of their own where they can write, upload pictures, edit their stories and keep track of their blog analytics. For those newbies who want to sign up, don't worry because the platform is easy to navigate even if you have no technical skills.
Overall, Track That Travel is an easy, fast and free travel blogging platform perfect for anyone who wants to write the occasional blog or start turning their adventures into a famous travel brand.
2. Photler
Photler is another travel blogging platform that hasn't been around for so long. It launched in 2017 and is a Poland-based website that's geared more towards the photography community. It's a drag-and-drop website builder where you can have your own custom domain. Anyone can use it but its whole concept is for photographers to store, promote and sell their work as they travel. It works just like a normal website.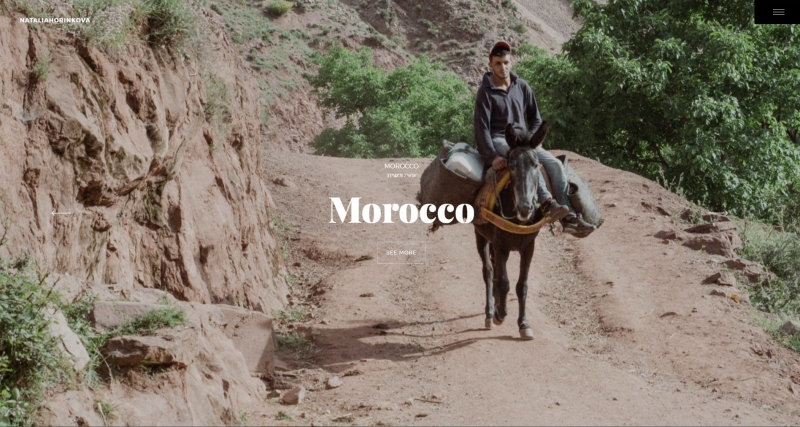 Users can use free pre-existing templates or purchase new ones from their store if they want to change the aesthetics of their websites. There will also be a dashboard provided to manage your website and view your statistics. If you're planning to sign up to this platform, make sure your photos are sell-worthy and not just your regular selfie travel photos.
Not that there's anything wrong with those types of photos, but the reason why is that the platform is not free. There's a 14-day free trial for all three plans but you need to upgrade within the trial period as you will no longer have access to your content if you don't. I wouldn't recommend it for casual bloggers since it's more for aspiring photographers and travel bloggers who really want to make a living out of travel.
3. Atameo
If you want a platform where you want people to be updated about your travels right away, then Atameo might work for you. Their user profiles are set up in a timeline layout where you can connect your trips and blogs with one another. The readers would see details about the routes you took, the distance you travelled and even interact with you through the comments section.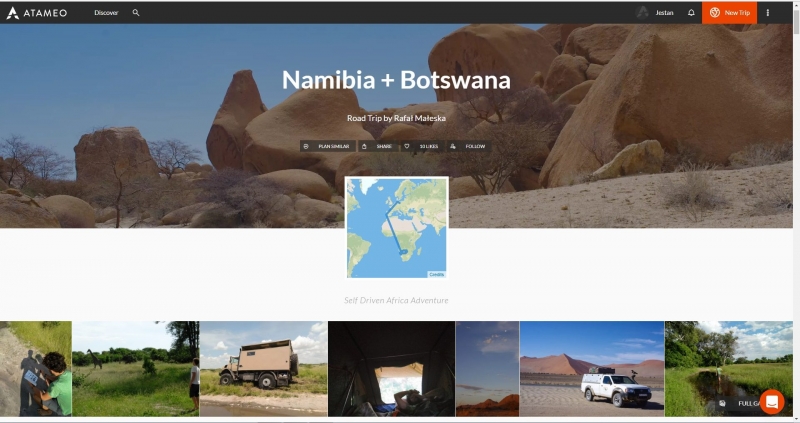 The dashboard lets you upload videos, music and photos to make your stories more interactive for readers. It's 100% free and there's an app version for it as well so it's a good travel blogging platform for casual bloggers. However, it doesn't have the setup of a normal blog or website so the not-so-techy bunch might need to familiarise themselves more with it first. Also, it doesn't have a statistics tab where you can see how well your profile performs, not that it matters.
4. IQ Planner
The name of the website speaks for itself since its main purpose is to plan your travels and share those plans with others. This travel blogging platform features the timeline-type profile where you can link the destinations you travelled to with one another. It's similar to Atameo without the other features like uploading music and videos. However, IQ Planner also doubles as a booking platform and they have this partner offer which is like an affiliate program for the users.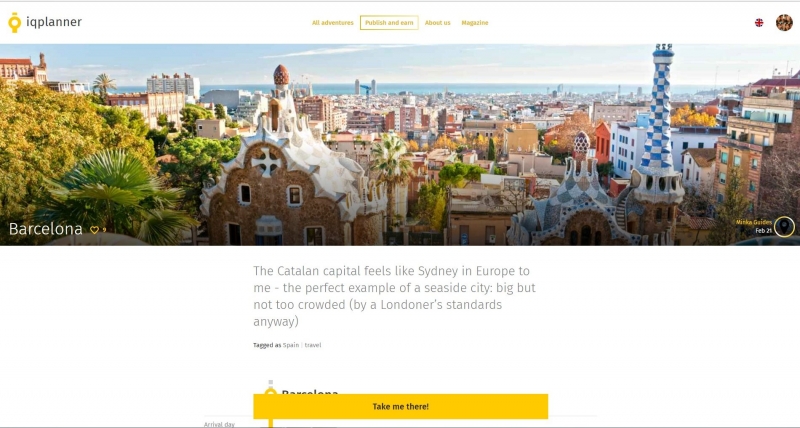 The way it works is you create a travel blog/itinerary using the platform based on the places you visited. If people like your work and book a trip through it (look at the "take me there! button"), you'll get up to 70% commission off the earnings. Well, how about that? You can become a travel blogger and an affiliate marketer overnight!
The dashboard also lets you create descriptions for each destination and key in important details such as the hotels you stayed in, transportation options and much more. It's free as well but it also doesn't have a statistics page to keep track of data.
5. Travelbook
It's not really a travel blogging platform but more like an online photo album. Nonetheless, you can upload photos of the places you've visited and just write limited descriptions for them. It's very visual in terms of aesthetics as it presents your travel photos really well. It works like this: people view your profile, they get amazed by your travel pictures and then they book a trip to those places in your pictures. Travelbook works like IQ planner but with less blogging and the monetising ability, which is probably because it's still in beta.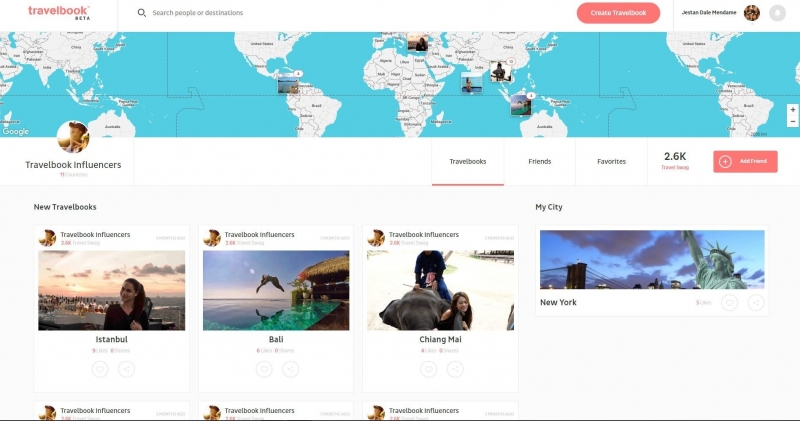 The dashboard is neatly designed and is very user-friendly. I'm not so sure about the "travel swag" concept though since it could mean lots of things and that slang could go "extinct" in a few years. I'm going to give the platform a little benefit of the doubt for now since it's in a trial phase.
Also read: Travel Trends Filipinos Can Look Forward To This 2017
Well, are you ready to take your blogging skills to the next level? People think that travel blogging is a complicated thing to do where you need to set up your own website. There are lots of easier alternatives for those people who have a phobia with words like "hosting" and "domains." If you want an instant travel blog right away then these five travel blogging platforms are your best friends.
What are you waiting for? Pick one and blog away!