Looking to beef up your travel plans this 2019? Start by going to the Travel Madness Expo, which returns this year with awesome travel deals especially curated for all you die-hard Filipino travellers!
Now on its 8th year, the Travel Madness Expo has yet again brought together the biggest names in the local and international travel industry to offer their share of deals, giveaways and other surprises exclusive to this year's attendees. They include, among others, airline companies, tour operators, hotels and resorts, national tourism organisations, cruise lines and partner agencies! Here are a few of the highlights to watch out for in the four-day event:
On-site visa application with VFS for the following embassies: Czech Republic, Switzerland and United Kingdom. Visa assistance services are also offered for those travelling to Japan.
Exclusive international and domestic airfare deals from the country's flag carrier, Philippine Airlines.
Special rates offered by the following cruise companies: Costa Cruising Italian Style, Crystal Cruises, Dream Cruises, Princess Cruises, Royal Caribbean Cruises and Star Cruises.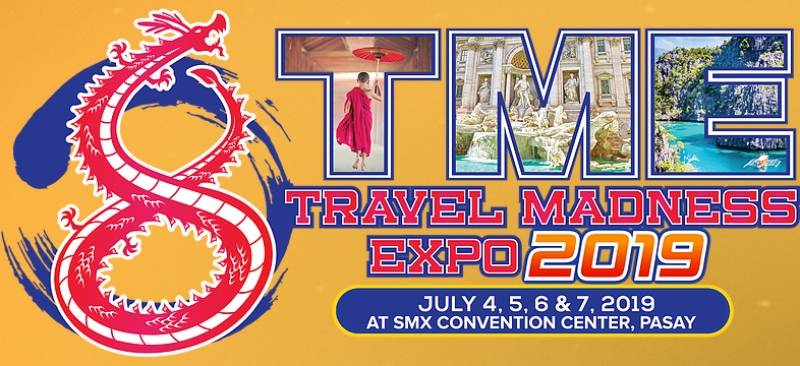 The Travel Innovators, Inc-hosted fair is open to all visitors for an affordable price of only ₱75 (₱50 for Senior Citizen and PWD). If you're a PNB cardholder, you can enter the event for free! All you have to do is present your PNB card and a valid ID at the ticket counter.
Catch the Travel Madness Expo 2019 on the following schedules:
4 Jul 2019: 12pm to 6pm
5 Jul 2019: 10am to 8pm
6 Jul 2019: 10am to 8pm
7 Jul 2019: 10am to 7pm
For more information about the event, visit Travel Madness Expo's official Facebook page. To stay updated on travel fairs, news and deals, go to our Travel Deals section and join our Facebook group, Flight Deals – Philippines.