I vaguely remember myself as a high school student staring cluelessly at a blank Philippine map. We were tasked to fill in the map with the names of all the Philippine islands. Accepting my fate, I submitted my paper with half of my answers as guesses. As I mentioned in a previous article, History was my waterloo growing up — this exam wasn't the first History test I was doomed to fail.
In retrospect, I find it ironic how much I hated History. After all, I've always had a fondness for stories. Sadly, there's barely anything I can remember about the Japanese-Filipino conflict aside from watching Pearl Harbor (2001) in class. Had I known then that years later I'd be travelling to various historical sites, I might've paid more attention to my teachers.
Fast forward to 2016: I was in Japan for a student exchange program. To say the least, I was surprised when some local students approached me to apologise for the damage Japan caused the Philippines. Without understanding where they were coming from, I replied with generic lines that sounded diplomatic in my head. Secretly, though, I wished that I knew what they were talking about. Fortunately, I had the chance to learn more when I travelled back to Japan in 2018.
Nagasaki Peace Park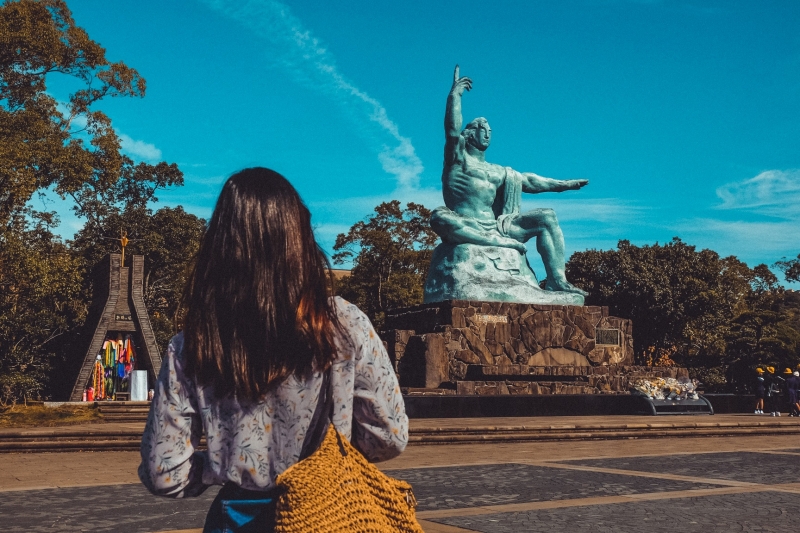 Nagasaki in November is the good kind of chilly: A traveller born and raised in a tropical country can easily survive in a layer of regular clothes over thermal underwear. There's no wind slapping against your face, and the sun is kind enough to let you stroll around without sweating.
On the morning of our tour around the city, we walked past an assembly of young students dressed in their school uniforms: navy blue shorts, white polo, red bucket hat. This scene was an instant crowd-pleaser for Filipino tourists. Not only were the students lined up almost too orderly before a 10-metre-tall statue, they were also reciting Japanese verses with intense passion.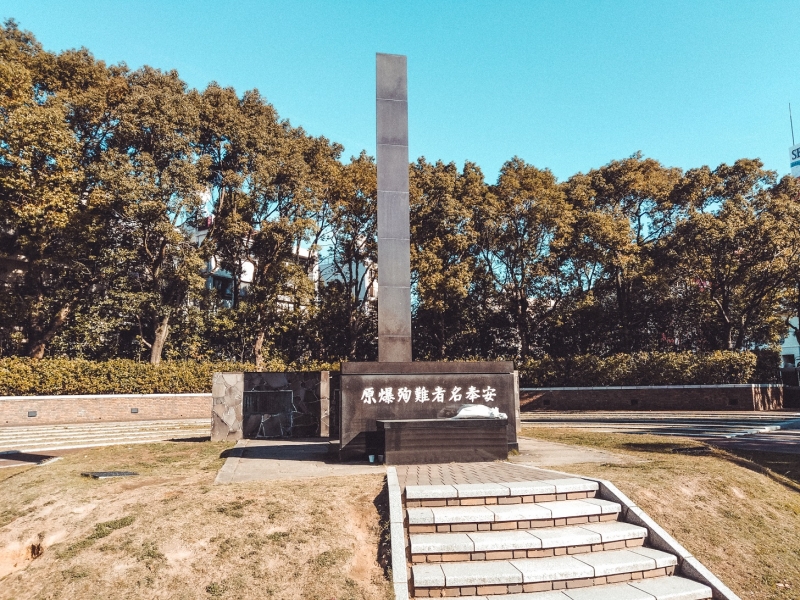 Later, we heard that the assembly at the Nagasaki Peace Park was a routine for Japanese children to remember the importance of peace-making. Indeed, the results of this practice are evident. Seventy-four years after the atomic bombing of Nagasaki, the tragic memory still remains in the minds of these prepubescents.
Also read: What a Young Boy and Girl from Hiroshima Taught Me
Nagasaki Atomic Bomb Museum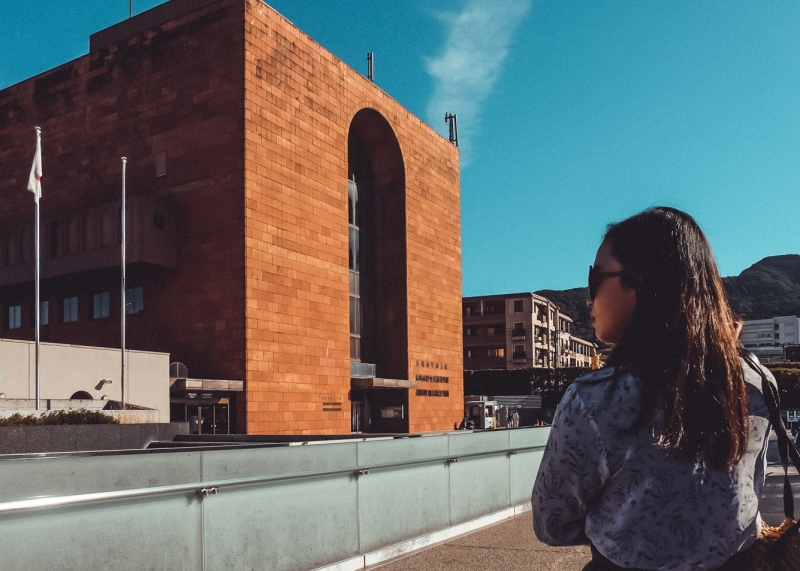 Walking into the Nagasaki Atomic Bomb Museum feels like entering a time machine. Painted on the wall to the right of the huge spiral staircase are the dates counting down to the exact moment of the bombing. At the end of the staircase is a wrecked clock — frozen at 11.02, the exact time the atomic bomb hit the city.
Painful documentaries flash on screens. Personal testimonies of the a-bomb victims are painted over the dark walls of the museum's interiors. Bits and pieces of items that survived the bombing are displayed inside glass frames.
Exiting the museum, one will witness an adornment of colourful paper cranes. On a table nearby, scrapbooks lay one on top of the other. These scrapbooks have notes from children — both Japanese and foreigners — pleading to stop war.
"I do not want people to create tools of war. We cannot fight war if there are no tools. Don't make fighters. I do not want war," a Japanese student wrote in one of the scrapbooks.
Meanwhile, another striking note went like this: "Our friends in Nagasaki-Japan, your friends from Sri Lanka stand with you in love, peace and solidarity."
Nagasaki and the Filipino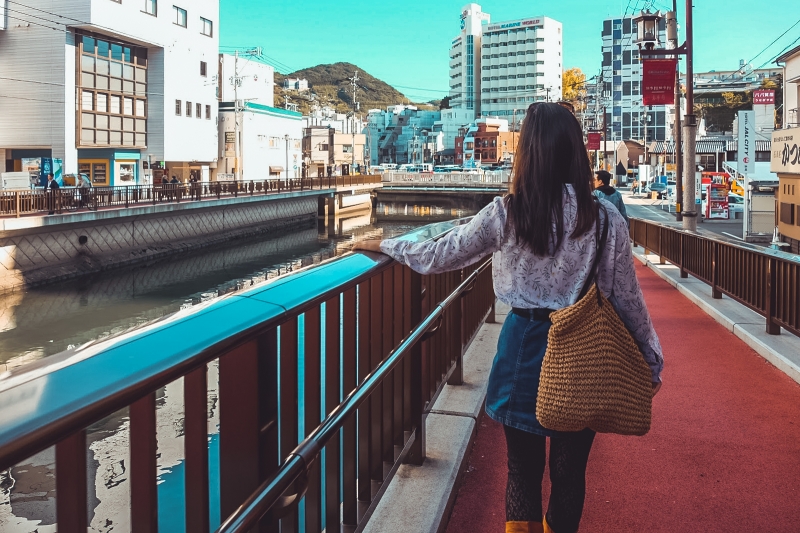 Certainly, the Philippines plays a huge part in Nagasaki's history. Aside from the damages we suffered from as an effect of the attack on Pearl Harbour, 26 Christian martyrs were persecuted in Nagasaki — including first Filipino saint San Lorenzo Ruiz, who now has a memorial statue in Nishizaka Hill. Nishizaka Hill also houses The Twenty-Six Martyrs Museum and Monument, a museum commemorating the martyrdom of the 26 persecuted Christians.
According to our tourist guide, many Japanese folks look up to the Christianity of San Lorenzo Ruiz. In fact, Nagasaki is now known as the most Catholic Japanese city to date. This said, the city is being promoted as a pilgrimage destination for Filipino travellers.
Also read: 29 Reasons Japan is Love
Nagasaki today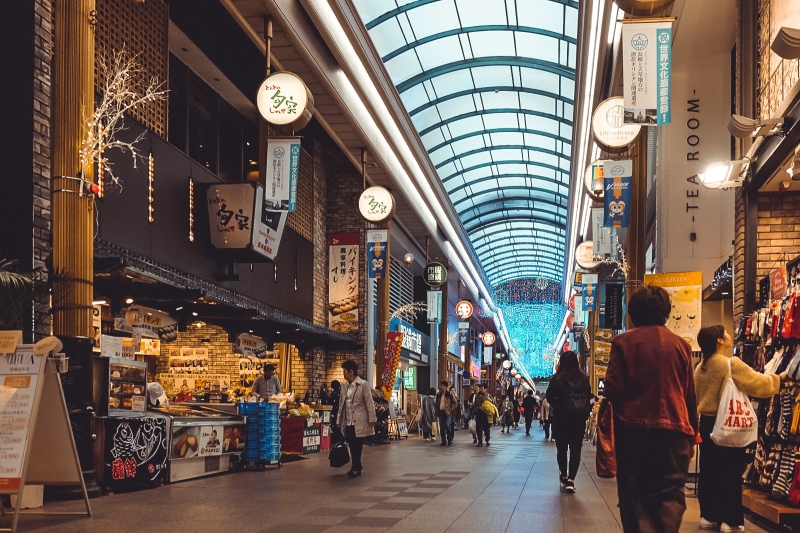 In the Philippines, we consider the youth as the hope and future of our country. We train them to listen to and obey their elders. We ask them to study hard and help out with household chores. In Japan, they teach them history. More importantly, they teach them how history affects today's society.
This said, Nagasaki remains vigorously present although peppered with historical museums, temples, and other heritage sites. Avid shoppers frequent Daiso and Don Quijote, both globally famous Japanese discount stores. These shops sell kawaii items for as cheap as ¥100 (₱0.48).
Foodies also flock Nagasaki for its signature cuisine, the shippoku ryori — a fusion of Japanese and European, Chinese, and Western flavours.
Dutch culture is also evident in Nagasaki, as the city had exclusive formal trade relations with the Netherlands back in the 1600s. Travellers keen on exploring the Dutch culture can check out Holland Village (a Dutch theme park) and the Dutch Slope (a hillside residential area).
Despite having several international influences, Nagasaki doesn't stray from the image most of us have about Japan. The city is clean, the citizens are disciplined, and the environment is livable — ideal, especially for the majority of us who struggle with public transportation and pollution on a regular basis.
Like other Japanese cities, Nagasaki is a breath of fresh air. Its spotless stone walkways remain classic. A tranquil river flows along most of downtown Nagasaki, making the city a refreshing destination for a walking tour.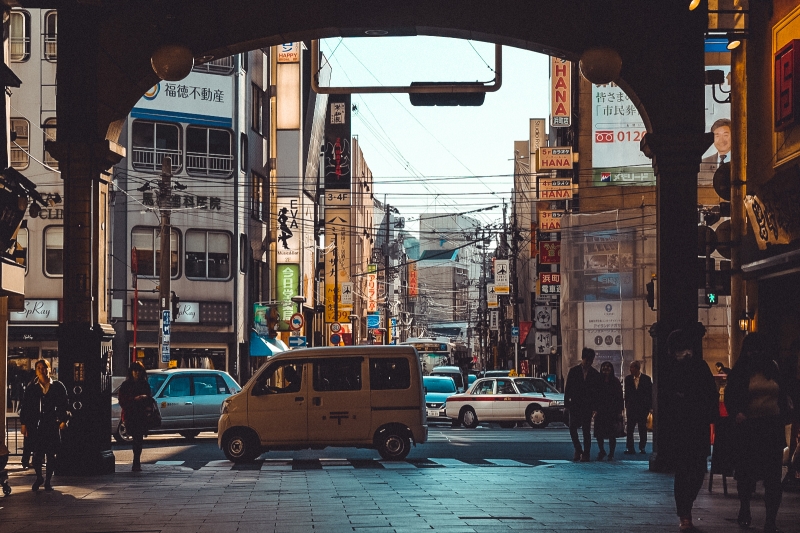 If it weren't for its ruins, it's quite unbelievable that Nagasaki suffered a massive destruction once upon a time. Yet there is a certain beauty that the city exudes: A beauty that knows pain and destruction, but still thrives despite.