Shopping is always extra exciting abroad! We get to bring our remarkable travel memories home for all our loved ones to experience. It gets even more exciting when we find items that are super budget-friendly — that means more pasalubong for everyone! This said, shopping for Turkey souvenirs will surely make everyone (especially the kuripot travellers out there) ecstatic.
Because of the vastness of Turkish markets and souvenir centres, shopping can be quite overwhelming. Fortunately, we were accompanied by a Turkish resident who showed us where the best and cheapest buys were! Let me tell you: my mother and I were constantly leaping for joy.
Also read: 10 Reasons Turkey Should Be On Your Travel Radar
1. Turkish delight
Ah, yes — this is the famous (or infamous?) Turkish delight Edmund Pevenise traded his family for. Narnia author C.S. Lewis was probably head over heels for this delicacy! Not all share his sentiments, though, as this is the kind of food item you'll either love or hate.
Traditionally, Turkish delight is made out of rose oil and sugar. But now, you'll find variations of it in the market. Some have fruits or nuts inside, and others are dusted with powdered sweets. Since this has become such a famous pasalubong, you'll find boxes upon boxes of Turkish delight around the country. But according to our friend, the best kinds are the simplest and most affordable ones just outside the Spice Bazaar. Surprisingly, you'll find them at just 9 TL (₱80) to 12 TL (₱100) per kilogram! After tasting different kinds of Turkish delight (from all the free tastes around the market!), I can truly attest that these ones are actually the tastiest ones.
2. Pistachio baklava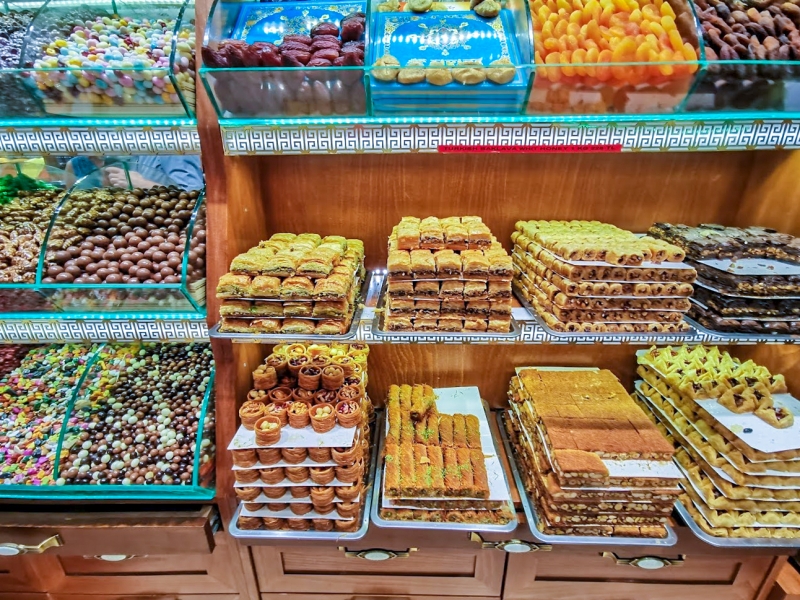 My parents have brought home various types of baklava before, as this product is famous around Europe. I'm not pulling your leg here, but I've never tasted baklava as delicious as the ones I tried in Turkey. Perhaps, it's because I'm a big fan of pistachios — which is one of the most popular ingredients for Turkish baklava. Compared to the other kinds I've tasted, Turkish baklava has a bit more syrup but it's not overly sweet as it also has a tinge of citrus flavour. You'll spot a pistachio baklava easily, just look for the green nuts sprinkled on it.
3. Dried fruits, nuts and seeds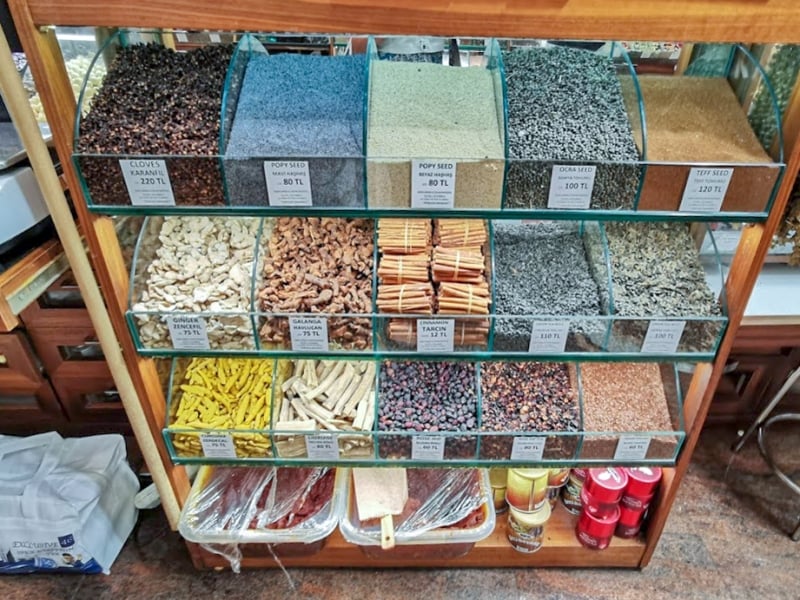 When in Turkey, look around and you'll find people casually snacking on hazelnuts. Why? It's super cheap! Roam around and outside the Spice Bazaar and you'll find various kinds of dried fruit, nuts, and seeds. These are all popular snacks in Turkey. Residents either eat these by themselves or mix them in with other delicacies. Some must-tries are: dried figs, hazelnuts, pistachios, squash seeds, dried grapes, walnuts, and dried wild apricots.
4. Turkish tea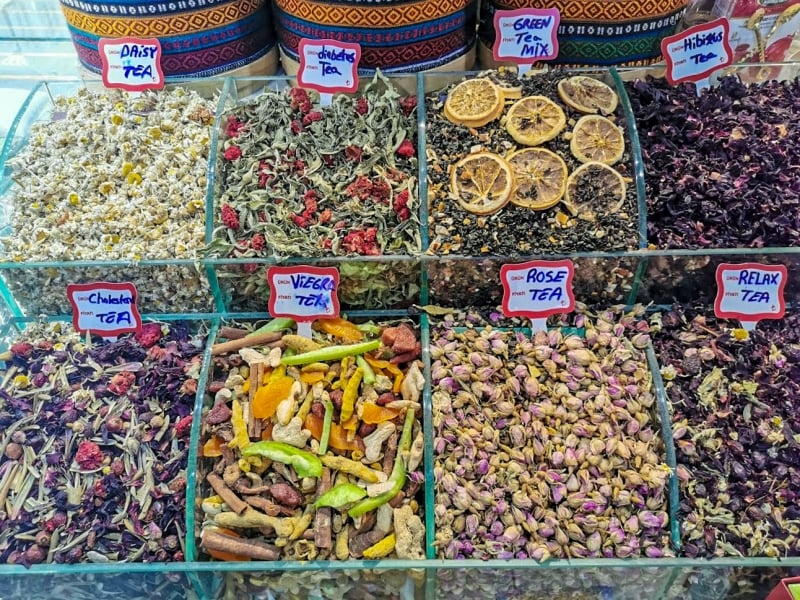 Locally known as çay (pronounced as chai), tea is a fundamental part of Turkey. Most Turkish people have tea for breakfast — others even have some for lunch and dinner! Many restaurants offer free çay for their customers. And as a testament to Turkish hospitality, even merchants serve çay to their buyers!
The classic Turkish tea is a strong variant of black tea prepared in a çaydanlık kettle. Often, it's served in a tulip-shaped glass with small cubes of sugar on the side. Some drop the sugar cubes into the tea, while others opt to put the cube in between their teeth while sipping their hot drink.
In the Spice Bazaar, special tea leaves and mixes are sold at around 30 TL (₱260) for a hundred grams.
5. Turkish coffee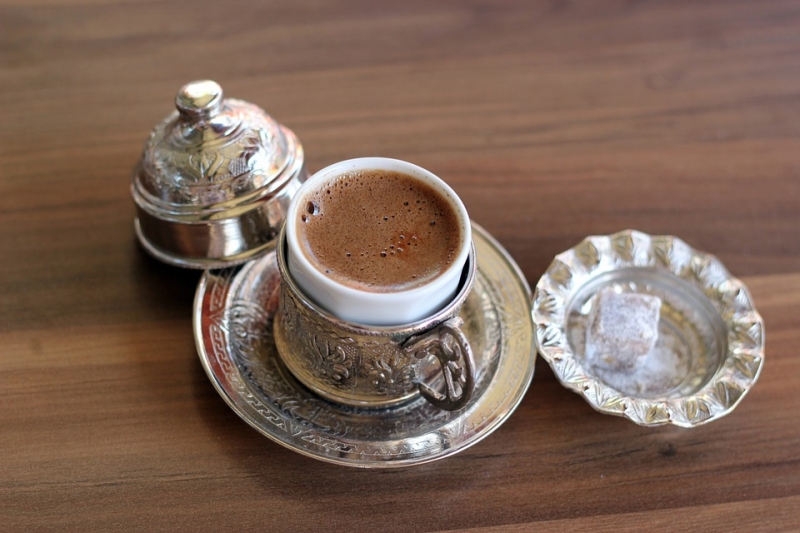 When we first ordered Turkish coffee, we were surprised to be offered a glass of water. Chaser ba 'to? I asked my dad, who was as excited as I was because the coffee looked strong. Apparently, the water was to cleanse our palates as it's best enjoyed that way. Aside from the water, it's also usually served with Turkish delight.
The Turkish way of preparing coffee is very particular. First, they boil a heaping tablespoon of fine Turkish coffee grounds in a cezve (traditional Turkish small pot). Then, they pour the dark foam into a tiny Turkish cup before returning the rest of the coffee on the stove top. Finally, they pour everything back in the cup.
With this kind of preparation, you'd be able to tell that the Turkish people don't take their coffee lightly. They prepare it with love and steadiness (much to our delight). This said, you should definitely bring some traditional coffee grounds home to your loved ones. Just outside the Spice Bazaar, you'll find the Kurukahveci Nuri Toplar shop which sells bags of coffee grounds of all kinds of sizes. The smallest bags cost 3 TL (₱27) each — the perfect pasalubong for your fellow coffee-holics!
6. Tea and coffee sets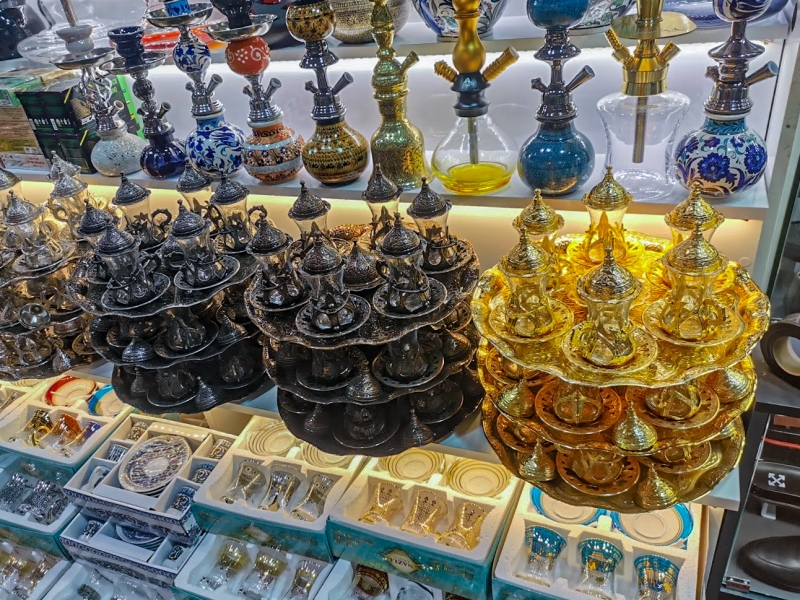 Bring the full Turkish drink experience at home, and get some tea and coffee sets as Turkey souvenirs! Exquisite copper coffee sets cost as low as 30 TL (₱260) outside the Grand Bazaar. If you're feeling a bit fancy, you can even find bejewelled coffee sets for higher price.
7. Exotic spices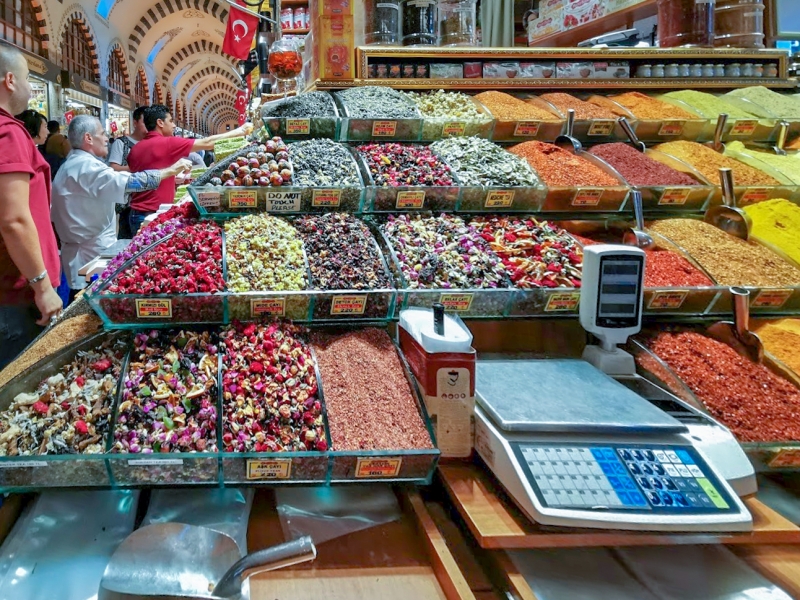 The Turkish palate is very distinct, and they use particular spices to achieve their flavours. When you travel back home, you don't need to leave these tastes behind! At the Spice Bazaar, you'll get to score various spices from 3 TL (₱27) for 500 grams. Don't miss out on the mint, cumin, red pepper, and meatball spices. While you're at it, hoard a bunch of cinnamon sticks for your tea time.
8. Oils, sauces, and other condiments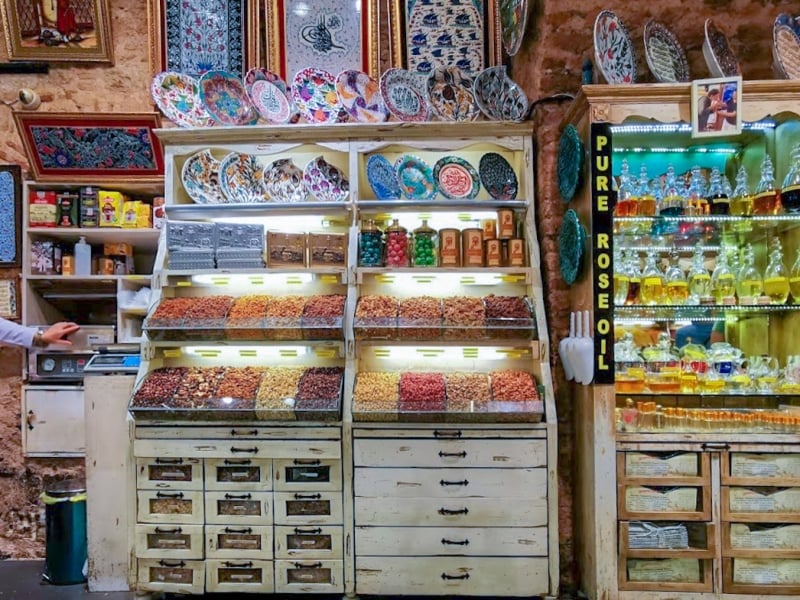 Not a fan of cooking? Salad lovers are bound to enjoy grocery shopping in Istanbul, too. Dressings like olive oil, lemon juice and pomegranate are astoundingly cheap. We bought two litres of olive oil for 20 TL (₱180)! We also scored a litre of catsup for 2 TL (₱18). A huge jar of Nutella? Just 15 TL (₱130)!
9. Iznik coasters, bowls, and other ceramics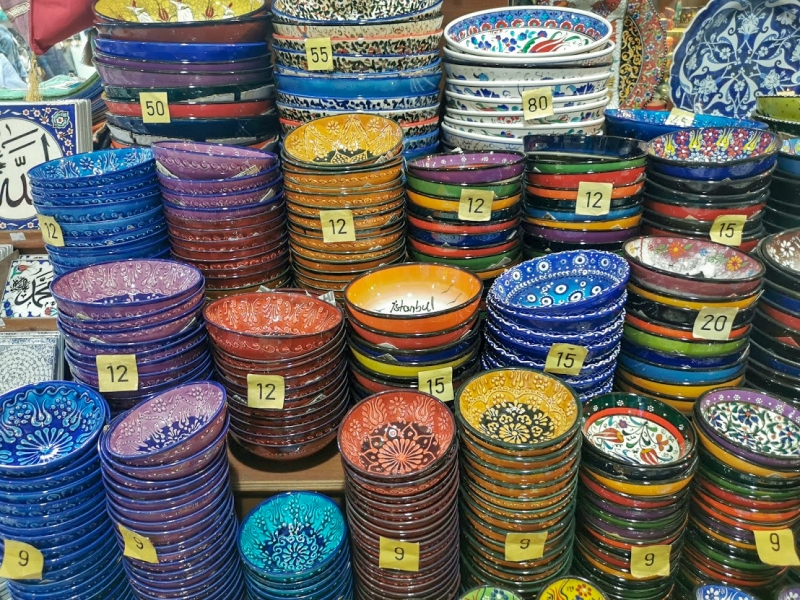 Stunning mosques abound Turkey, and most of them enchant travellers with their beautiful walls and ceilings. Usually made up of Iznik tiles, these walls are sought-after because of their delicate designs. Now portable Turkey souvenirs, Iznik designs come in all forms and colours: coasters, bowls, magnets, plates, ashtrays, etc. You can buy a bunch of small ceramics for 10 TL (₱90) in different markets and bargain stalls in Istanbul.
10. Silk scarves, pyjamas, and handkerchiefs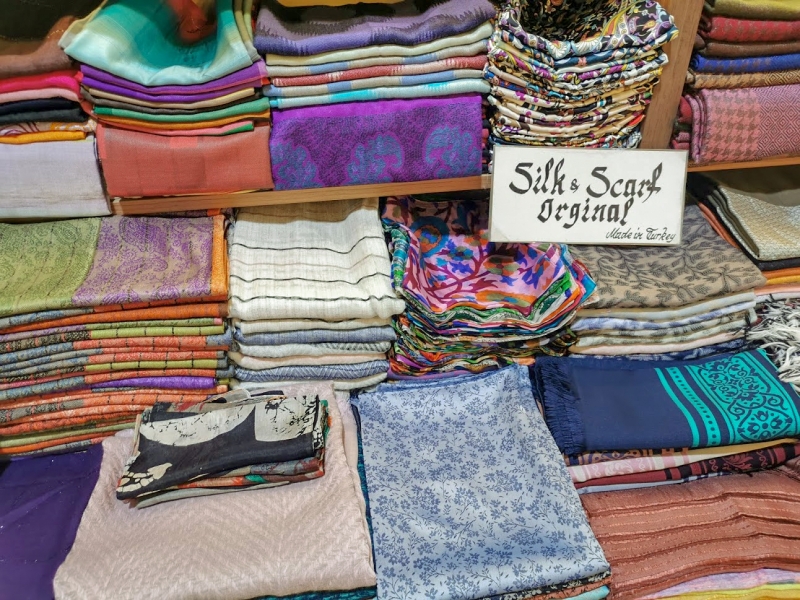 Just outside the Grand Bazaar, you'll find various silk items on display. Don't hesitate to feel the material — you'll instantly know which ones are authentic. According to our friend, most of the elegant items in Turkey are affordable. Perhaps its affordability comes from the fact that Bursa, a town in Marmara, was once a world trade centre for silk. You can score these items for as little as 15 TL (₱130).
11. Mosaic lamps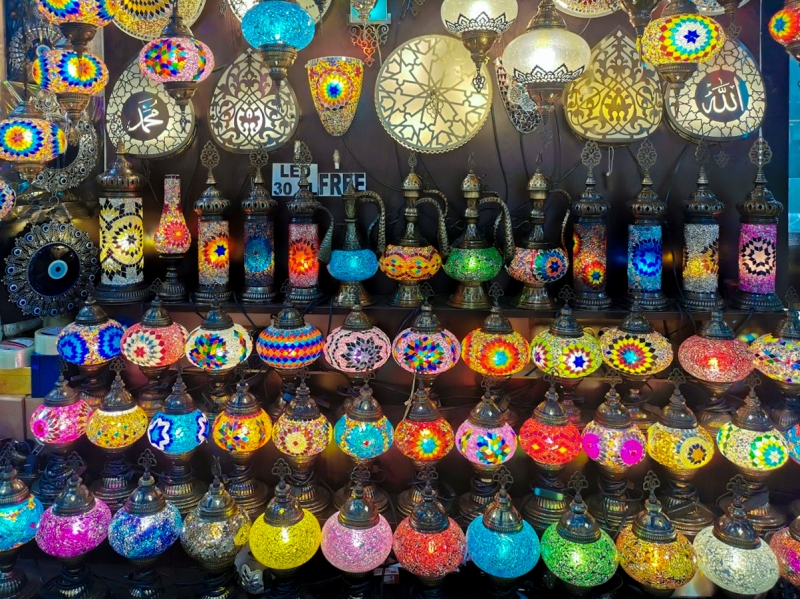 Mosaic lamps are one of the most in-demand Turkey souvenirs, and it's easy to see why. Its colours are eye-catching, and its overall appearance screams Turkish culture. Some shops sell small lamps for at least 25 TL (₱220) and huge ones for 120 TL (₱1,050).
Contrary to popular belief, mosaic lamps are not difficult to bring home. They're very sturdy — merchants even stomp on them to prove their durability. Nevertheless, most merchants will wrap these lamps in bubble wrap to secure them during your travel.
12. Magnets, keychains, and other trinkets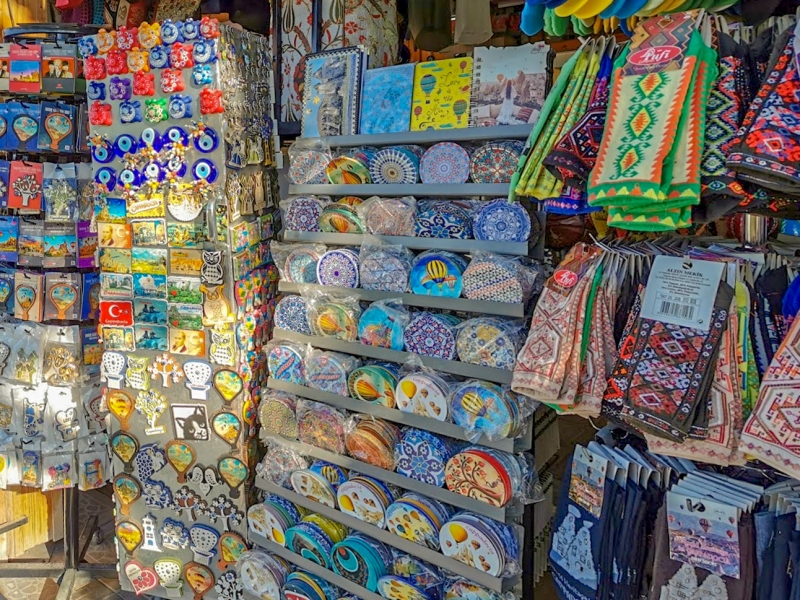 Collectors, here they are — our favourite types of memorabilia! All around Turkey, you'll find magnets, keychains, figurines, and postcards for as cheap as 1 TL (₱9). If you ask me, these are the ideal Turkey souvenirs! You might have enough budget to score figurines of different Turkey tourist sites like the Hagia Sophia and Cappadocia's fairy chimneys.
Meanwhile, decorative wallets and socks are available for 2 TL (₱18). These make great pasalubong for your nephews, nieces, titos and titas!
13. Turkish soap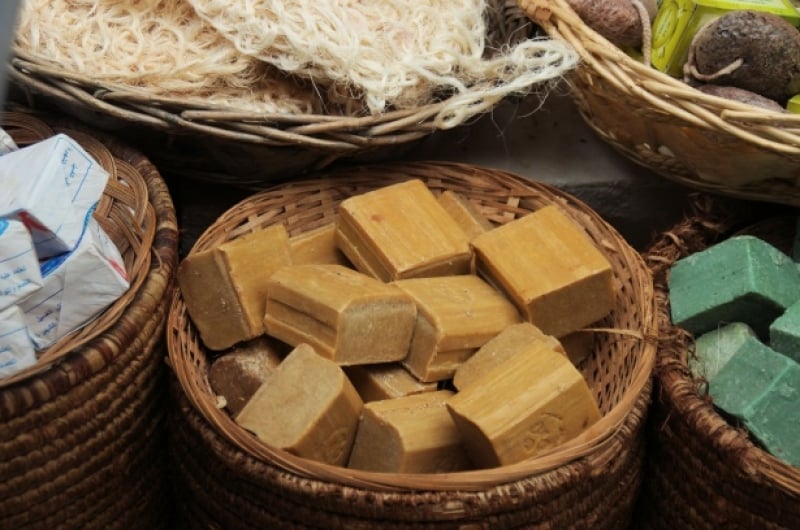 The feeling of Turkish soaps are out of this world! They're super smooth on the skin and they make you feel like a baby after a bath. You'll find Turkish soaps of different varieties all around the country, but if you want the classic kind, go for the olive oil soap. In one of the groceries in Kadikoy, we bought a pack of four huge olive oil soap bars for just 6 TL (₱50)!
Turkish soaps in decorative rounded tin cans also make the perfect Turkey souvenirs and pasalubong. Most stalls sell them at 5 TL (₱40), so go ahead and buy one for every tita friend. These soaps come in assorted aromas as well, such as cinnamon, coconut, and olive oil.
14. Hamam accessories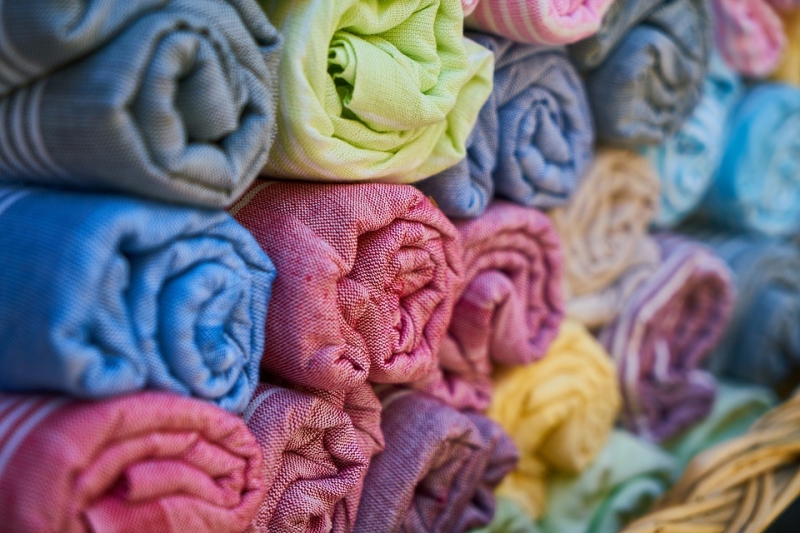 Aside from Turkish soap, other hammam accessories will complete the Turkish bath experience. In and around the Grand Bazaar, you'll find colourful bath towels and robes. If you make sure to buy authentic ones, you can be sure of their quality and durability. They're also very lightweight and absorbent — perfect for travels! Most good quality towels sell for at least 45 TL (₱400).
15. Handmade Turkish carpets and rugs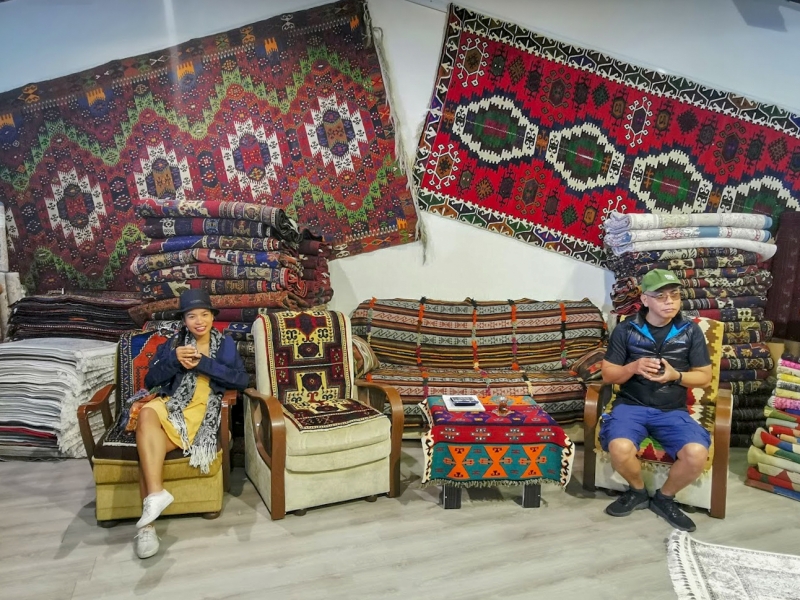 Last but definitely not the least, buy yourself some elegant Turkish carpets. These may just be the most luxurious of all Turkey souvenirs, as some carpets sell as high as 8,000 TL (₱70,000). Not to worry — there are other options. You can score machine-made carpets for 100 TL, as well (₱800).
The reason why some carpets are very expensive is that many of them are passed on from generation after generation because of their quality. Some carpets even come from royal families! Anticipate that old carpets are more expensive than newly-made ones because you're buying the history along with the piece. But you'll definitely get what you pay for.
Also read: 10D8N Turkey Itinerary: Discover the Heritage of City Ruins, Ancient Mosques and More!
Show your family and friends some love and bring home these beautiful Turkey souvenirs for them! Happy shopping!