With globalisation on the rise and conglomerates catching up on the trend, the world is now full of localised fast food restaurants — each fascinating in their own right. In the Philippines alone, we have numerous stores inspired by Spanish architecture. Intramuros, Vigan, and Lucban are only a few destinations that house these unique fast-food restaurants.
Around the world, there are even more outstanding fast food restaurants that are a feast for both your stomach and your eyes. Historically rich, unbelievably  stunning, and certainly fascinating, the following restaurants are a testament that some fast-food restaurants are definitely worth travelling for.
Also read: 10 Beautiful Starbucks Branches for Coffee Lovers Across the Globe
1. This historic train station turned McCafé in Budapest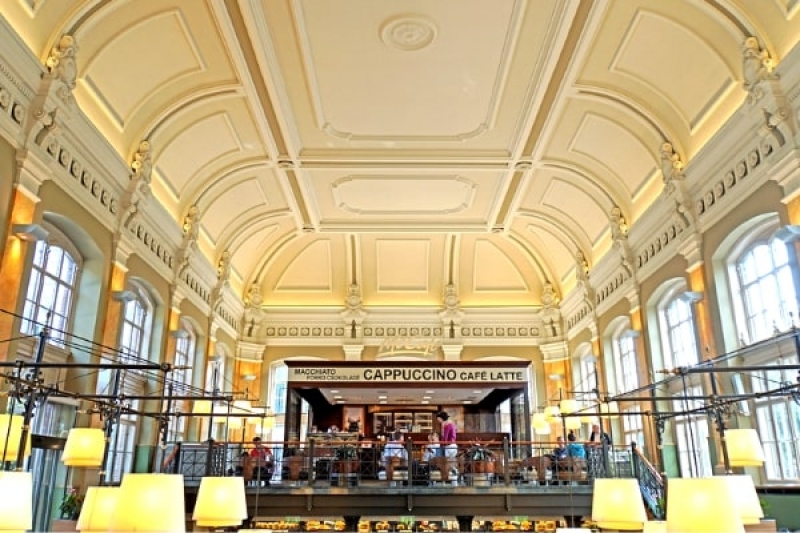 Set inside a major train station in Hungary, this McDonald's branch is a classic beauty. In 1877, the Eiffel Company built the Western Railway Station, where the restaurant stands to date. No wonder this McDonald's store portrays an obvious elegance! Further characterised by brick walls and the quintessential golden arches, this restaurant usually dons the title "Most Beautiful McDonald's Branch in the World."
Address: Budapest, Teréz krt. 55, 1062 Hungary
2. This breezy free-standing cantina in California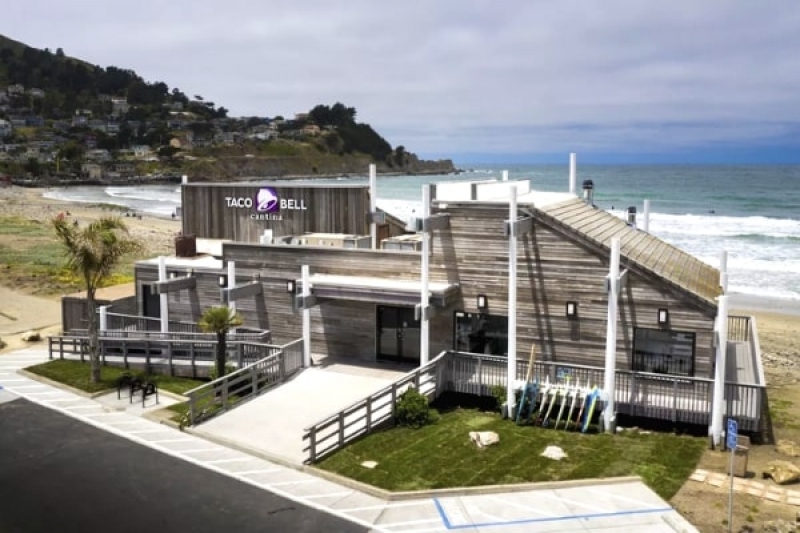 What's a better experience than eating a beef burrito smothered in cheese and spicy garlic sauce? It's eating that burrito by the Pacifica State Beach! In 1980, Taco Bell built a branch in California that resembles a surf shack — complete with an oceanfront patio, a surfboard parking, and compost and recycle bins. Customers with sandy feet can even order their favourite Mexican item through the walk-up window!
Just this year, this Taco Bell branch expanded its menu to include local wine, beer, and spiked frozen drinks. Even Regina George won't be able to resist this!
Address: Pacifica, California
3. This glamourous fast food building in Broadway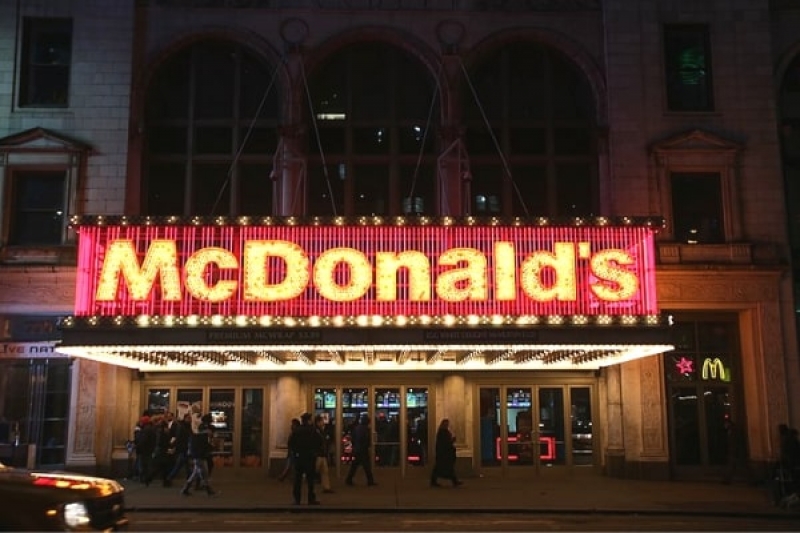 Blending in with the glitz and glamour of Times Square, this McDonald's branch flashes like a metropolitan theatre. Built at the heart of Manhattan, the store has its name spelt out in blinking Broadway lights. From the inside, customers are offered a view of the New York City skyline.  
Address: 42nd Street, Broadway Manhattan, NY 10036 Times Square/Theatre District
4. This emblematic café stylised by art deco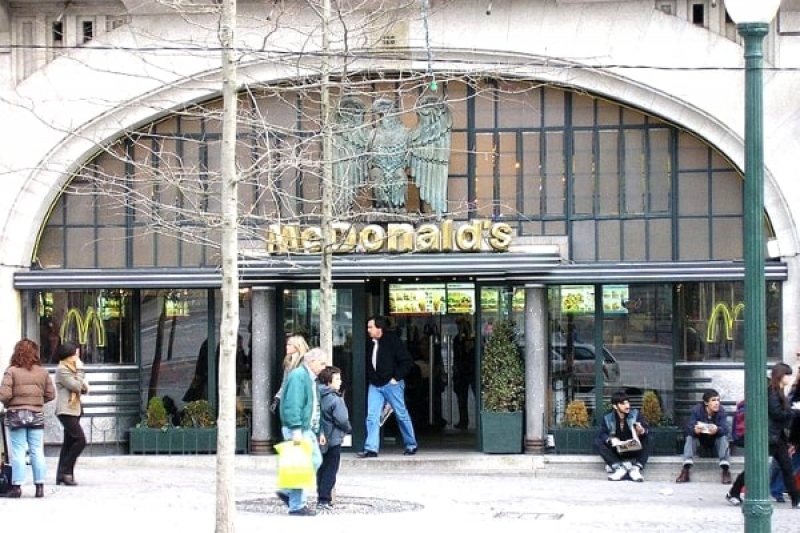 Another historical branch, the McDonald's store in Porto opened in 1995. Stylish to date, the branch was then known as the Imperial Café — a popular coffee shop in the '30s. After McDonald's bought the building for its franchise, it decided to retain the allegorical eagle and most of the structure's art deco features.
Inside the restaurant is even more chic. Embellished with stained glass, florid friezes, and crystal chandeliers, this branch is definitely one of the most grandiose fast-food restaurants in the world.
Address: Praça da Liberdade 126, 4000-322 Porto, Portugal
5. This elegant neo-gothic Burger King in Buenos Aires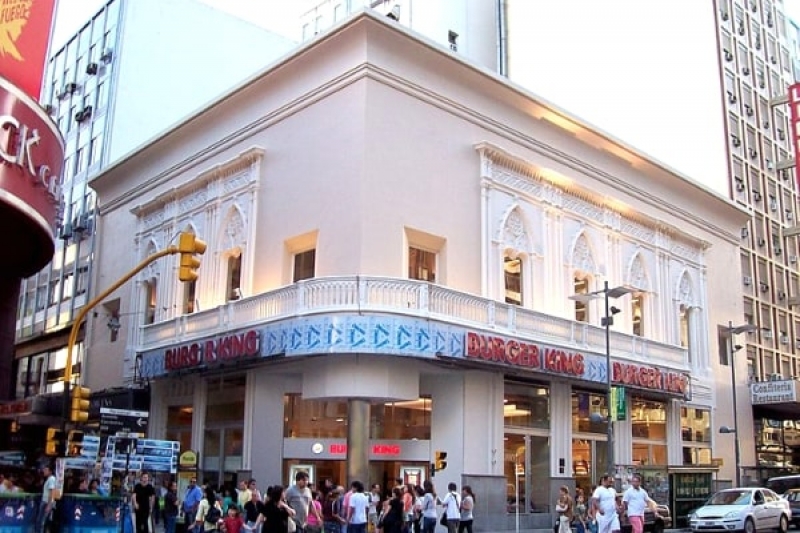 Sophistication marks this Burger King branch in Buenos Aires. Once a residential home of the Elortondo Alvear family, this building was known as one of the most opulent structures in the '80s. Preserving the original interiors of this structure, this store is adorned with freckled columns and chiselled walls.
Address: Av. Rivadavia 3050, Buenos Aires, Argentina
6. This marble bank refashioned into a McDonald's in Norway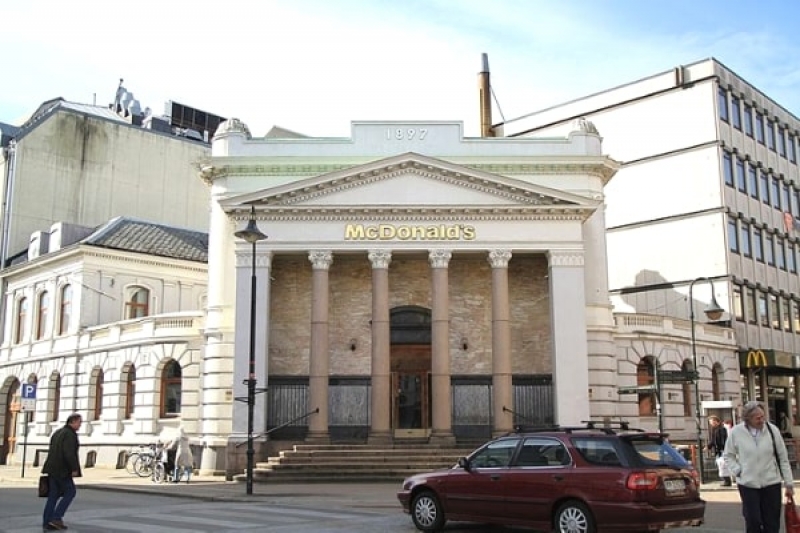 Laden with gold and marble, this monumental fast-food restaurant was once an old bank in Kristiansand, Norway. This branch serves the usual favourites, and more! Early this year, the fast-food company announced that all McDonald's branches in Norway will be serving vegan options. That's right — you can now feast on bean-based vegan burgers and nuggets made of chickpeas.
Address: Markensgt. 11, 4611 Kristiansand, Norway
7. This colossal KFC palace in Azerbaijan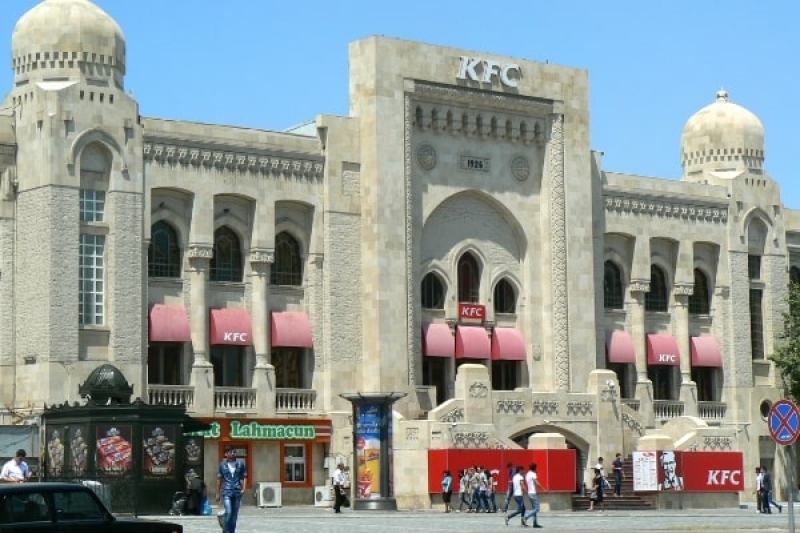 A majestic 1,600 square metre palace towers in Azerbaijan, and you might be surprised to know that it's actually a KFC restaurant. Built in 1926, this historic station was actually doomed for demolition before the fast-food chain invested in its restoration. Today, it sells millions of meals annually and accommodates at most 300 people daily.
Address: Fontanov Square, Baku 1000, Azerbaijan
8. This red-and-silver hovering vintage plane in New Zealand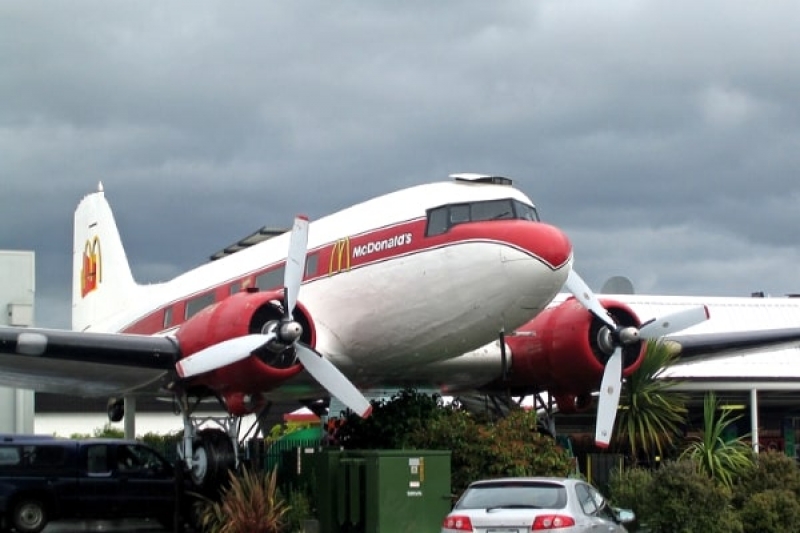 Perpetually levitating atop a McDonald's lot in Taupo, New Zealand, this DC-3 luxury plane is now officially the coolest fast food branch in the world. Seating 20 people in its archetypal red and silver interiors, this restaurant has become a dream destination of children and adults alike. 
Address: 48 Roberts St, Taupo, New Zealand
9. This Georgian-style McMansion in New Hyde Park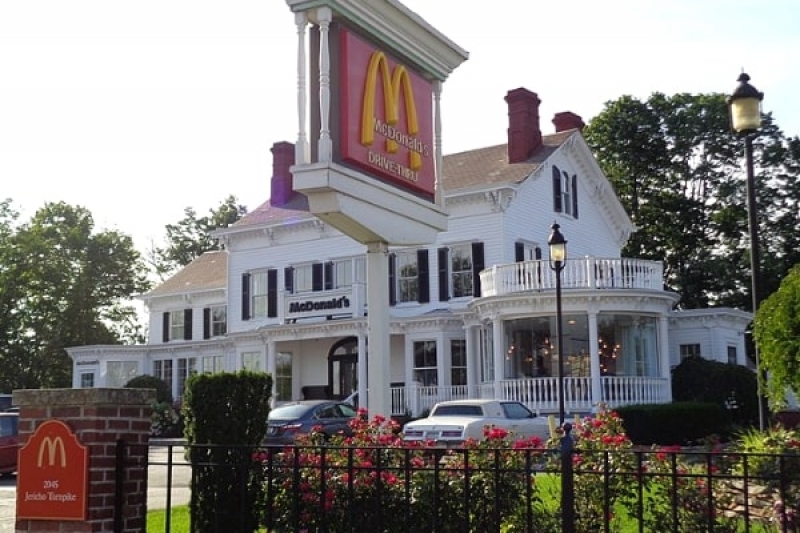 A homey fast food experience is possible at the historic Denton House — or as diners like to call it, "McMansion." Converted into a McDonald's restaurant in 1991, this structure started out as a farmhouse in 1795. It was then renovated into a Gregorian-style mansion in the 1860s, before Larry Anderson bought it and transformed it into what it is today. Most of the original features of the mansion have been preserved.
Address: 2045 Jericho Turnpike, New Hyde Park, New York, United States
10. This cool Tudor-style town hall in Ireland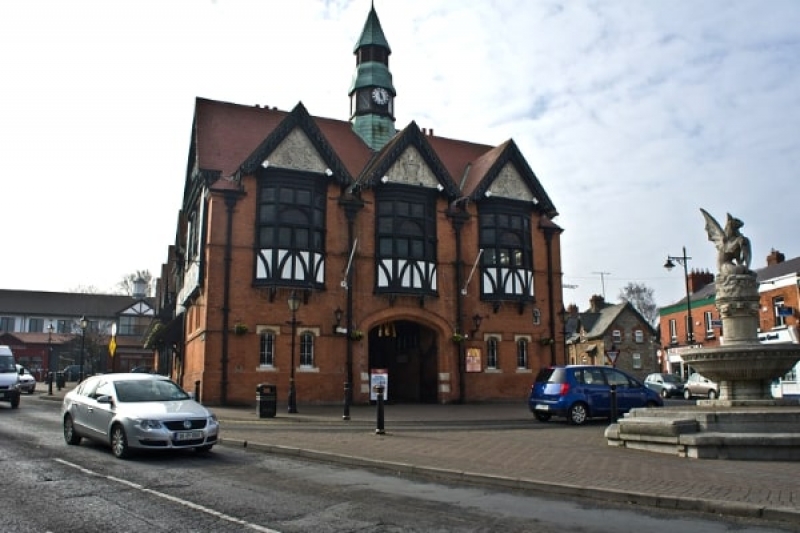 Built in the early '80s, Bray Town Hall accommodates yet another McDonald's branch seamlessly blending in with its environment. Its interiors are composed of dark oak panels and brass details, rendering a bona fide Irish pub.
Address: Bray Town Hall, Main St, Bray, Co. Wicklow, Ireland
Also read: Why You Shouldn't Be Ashamed Of Eating In Fast Food Restaurants Abroad
Fast food is a practical option for filling the stomach. It's cheap, easy, delicious, and graciously familiar — especially to a jet setter who misses the taste of home. Still, some travellers forego fast-food restaurants because they'd rather spend their money on local food which promises unique experiences. But with these fascinating fast-food restaurants, we can surely have it all.