Manila is peppered with so many cafes since Filipinos just love chilling out with a good cup of coffee. But if you're tired of the same old cafe ambience, why not kick your cafe experience up a notch by staying at these unique themed cafes in the metro? From travel and music themed ones to cute cat cafes, you'll have lots of choices here!
Also read: 10 Cafes in the Philippines with the Most Picturesque Views
1. The Urban Café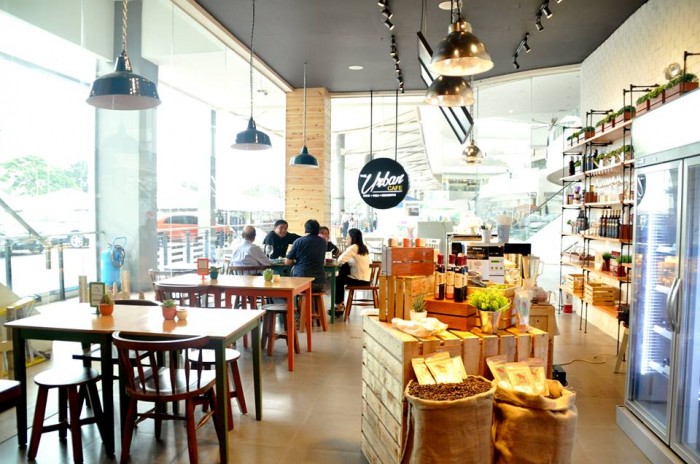 Image credit: The Urban Cafe
The Urban Café is Wilcon City Center's very own coffee shop. It serves great coffee, cakes, and crocodile dishes. Yes crocodile! For the adventurous, it's the perfect new food destination, but for those squeamish about exotic food, they also serve regular dishes like pastas, rice meals, and sandwiches. Their lattes and cappuccinos are perfect when paired with their Blueberry Cheesecake or Chocolate Cake.
Address: Wilcon City Center Mall, 121 Visayas Avenue, Quezon City, Philippines
2. Shutter Café

Image credit: Shutter Café
If you love anything related to camera, Shutter Café is your perfect venue. Located in the Scout area, Tomas Morato, this cafe displays different models of cameras from old school to modern. Fuji Instax DIY was even held here so it also becomes a venue for workshops and other events related to cameras or films.
Address: 118 Sct. Dr. Lazcano St., Brgy. Sacred Heart, Quezon City, 1103 Quezon City, Philippines
3. Café Terminal

Image credit: Café Terminal
Conveniently located in Congressional Avenue extension, Café Terminal is all about TRAVEL. They have photos of diners from the travels they've done around the world. They serve Waffle a la Mode and Cookies which greatly complement with their coffee. And oh, don't forget to try their Bacon Fried Like Chicken too!
Address: Unit 3, Ground Floor, 3 Joroma Place (Phoenix Gas Station), 652-C Congressional Ave. Extension, Pasong Tamo, 1107 Quezon City, Philippines
4. Caffe Piansa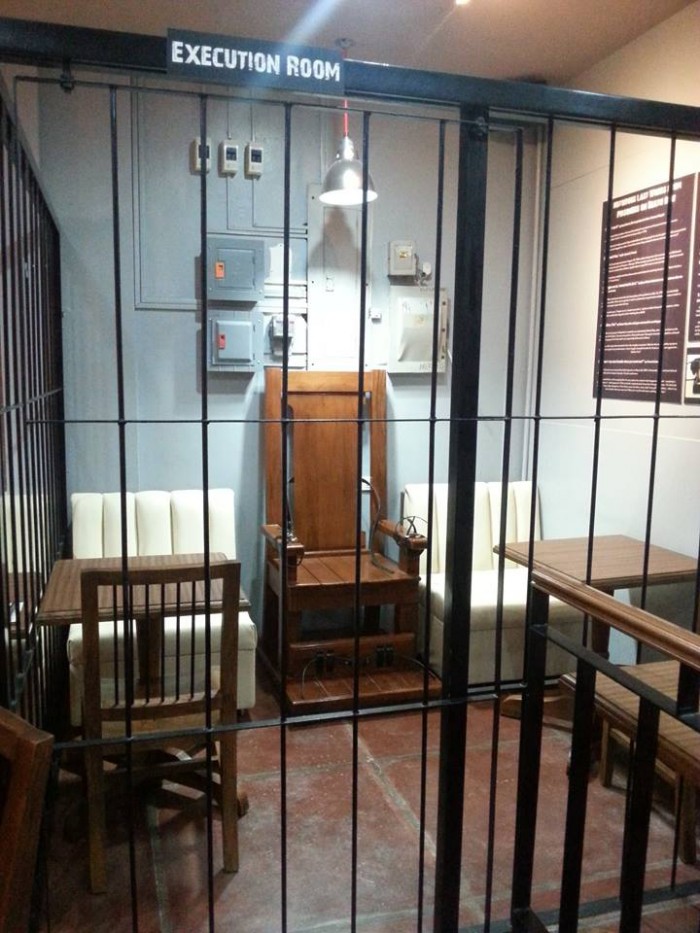 Image credit: Caffe Piansa
Ever been put behind bars? You will be when dining inside Caffe Piansa's prison themed café. Try their House Coffee list of Brewed Coffee, Cappuccino, Frappe and more, as you relax behind bars. They also have an extensive list of dishes if you want to have your last meal in prison.
Address: 57 Dragon Street, Midtown Subdivision San Roque, 1801 Marikina City, Philippines
5. Uke Box Caffé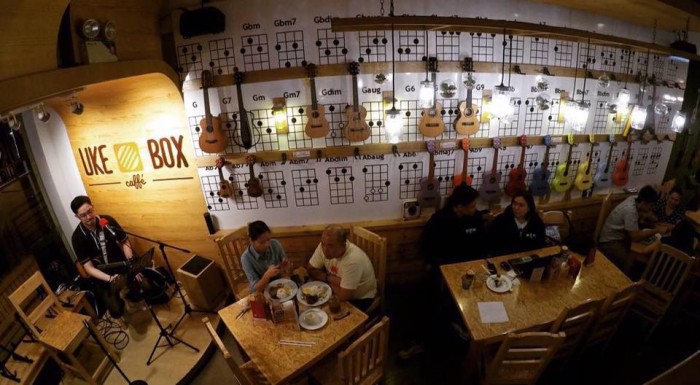 Image credit: Uke Box Caffé
At Uke Box Caffé, you'll see multi-coloured Ukuleles hanging on their walls. Devour sandwiches with coffee while you admire these musical instruments. There are also Open Mic nights so perhaps you'll get to encounter one of their events while dining here.
Address: 187 Village Center Euloguio Rodriguez Jr. Ave Brgy. Bagumbayan Libis, 1110 Quezon City, Philippines
6. Plane Bistro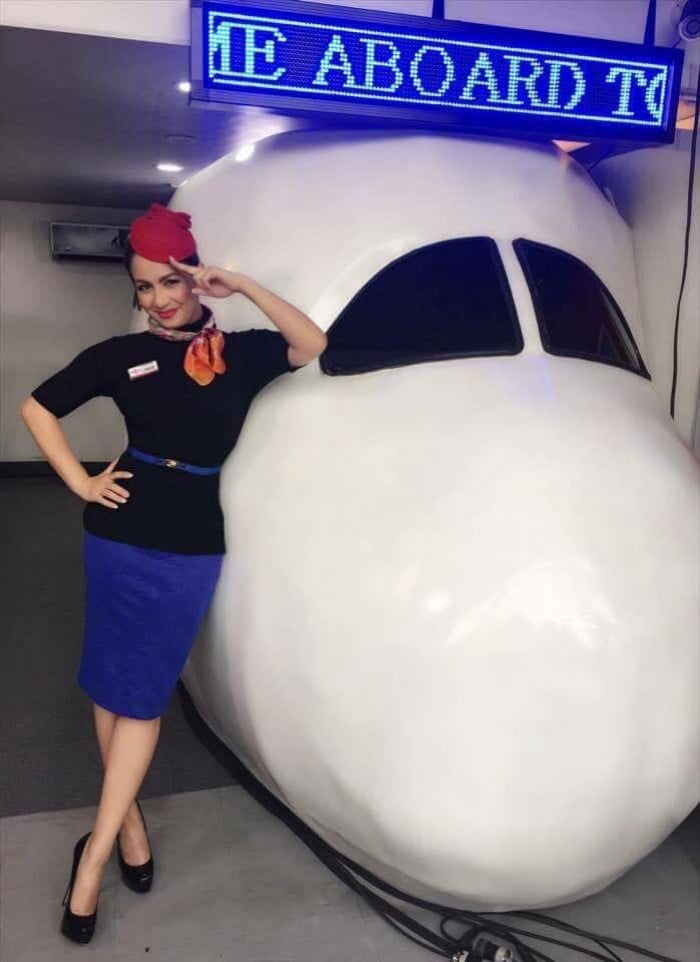 Image credit: Plane Bistro
Board an airplane at Plane Bistro and have the time of your life pretending to be on a flight while sipping their Mocha Choco Loco, Oreo Cookies or Cream Frappuccinos. It's an all out plane theme with the seats, windows, and even their servers are dressed in flight stewardess costumes!
Address: 1920 España Boulevard corner Kundiman street, Manila, Philippines
7. Velvet Friends Cat Cafe Company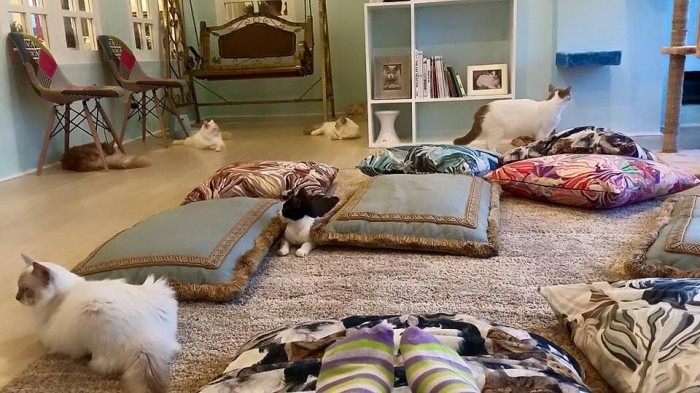 Image credit: Velvet Friends Cat Cafe Company
Are you a cat person? You'll surely love Velvet Friends Cat Café Company in Pasay City. They serve coffee on cat mugs while you spend time with these furry friends. How cute is that? The entrance fee already includes complimentary snacks.
Address: 2nd flr. Cluster H, Blue Bay Walk, Metropark, 1300 Pasay City, Philippines
8. Precious Moments Manila Café Gift Shop and Restaurant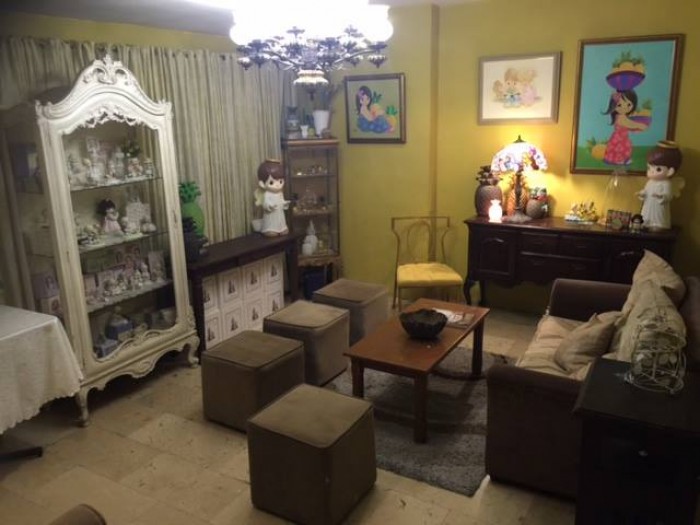 Image credit: Precious Moments Restaurant
Little do we know that the Precious Moments Manila actually has a café and a restaurant inside. You can also sip your coffee while admiring the beautiful figurines that made those wide eyed dolls famous from the 90s. In Makati, you can now dine at the café and try their selection of yummy cupcakes with coffee. Perhaps after eating, you can buy a couple of those cute figurines too.
Address: 95 Sen. Gil Puyat Ave., Palanan,, 1235 Makati, Philippines
9. Perichor Laundry and Coffee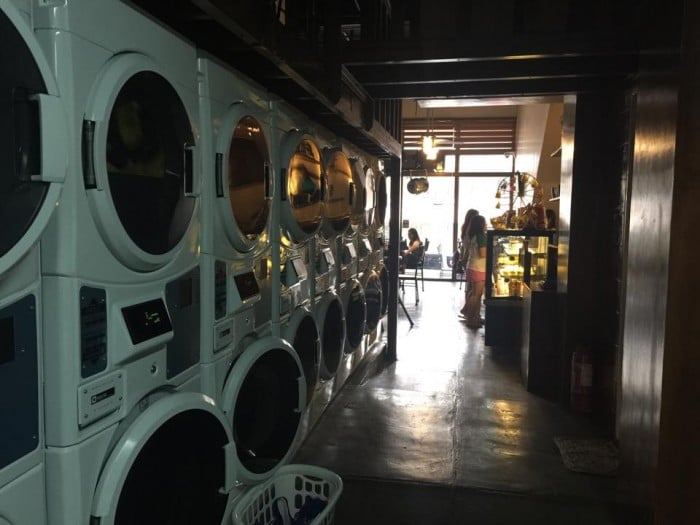 Image credit: Perichor Laundry and Coffee
Talk about multi-tasking! You can now do your laundry while having your coffee at Perichor Laundry and Coffee in Sampaloc, Manila. The coffee shop is at the entrance while the washing machines are at the back section of the shop. You definitely won't feel bored waiting for your laundry to finish because of their wide array of coffee and snacks.
Address: 954 iTower2.0 G/F P. Campa St. Sampaloc, 1008 Manila, Philippines
Also read: Concept Cafes in Singapore Bibliophiles Would Love
10. The Eatles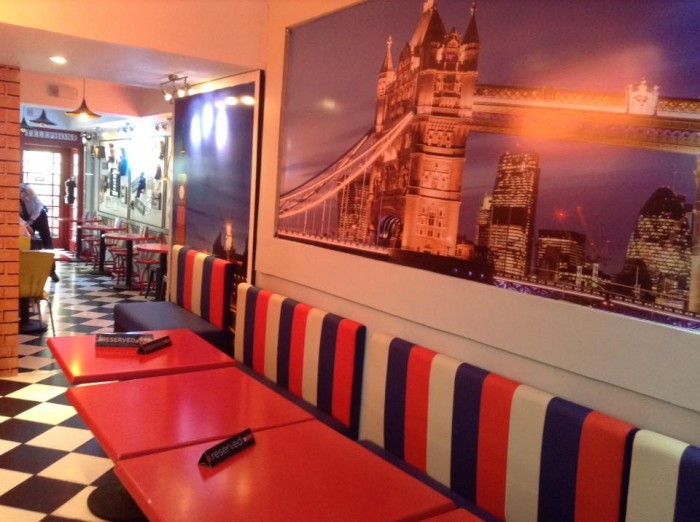 Image credit: The Eatles
It's the 70s all over again at The Eatles in Sampaloc, Manila as everything is decorated during the time The Beatles were the iconic pop singers. Cheesecakes, Red Velvet, and Chocolate Cakes are great with their Iced or Hot Coffee. They also have Frappuccinos and Milkshakes.
Address: P. Noval Street, Sampaloc, 1008 Manila, Philippines
Also read: Dine with a View: 10 Scenic Restaurants in the Philippines
Whether you choose only a few of these unique cafés or visit all of them, most definitely you'll have fun because of their different themes. There's more to just drinking coffee and hanging out with your friends now compared to the traditional and old school coffee shops around the neighbourhood.