Moats, bridges, tall gates, and golden halls. Those are only a few storybook elements that speak to the enchantment of European castles — the same fairytale castles of our childhood. As children, we would only encounter them on TV or in the movies. We thought such bewitching palaces only existed within the pages of our books if not the big screen. But just when we almost outgrow the idea of fantasies and fairytales, we eventually learn that these imaginary fortresses were all inspired by what was, and still is, true to life. 
As travellers, we're lucky to have tangible fairytale castles in Europe we can still visit today, ancient or revived they may be. I know — these places are a very long way from the Philippines, but all the more reason for you to lose yourself in otherworldly medieval realms. See them in person — these fairytale castles in Europe should be at the top of your list!
1. Alcázar of Segovia, Spain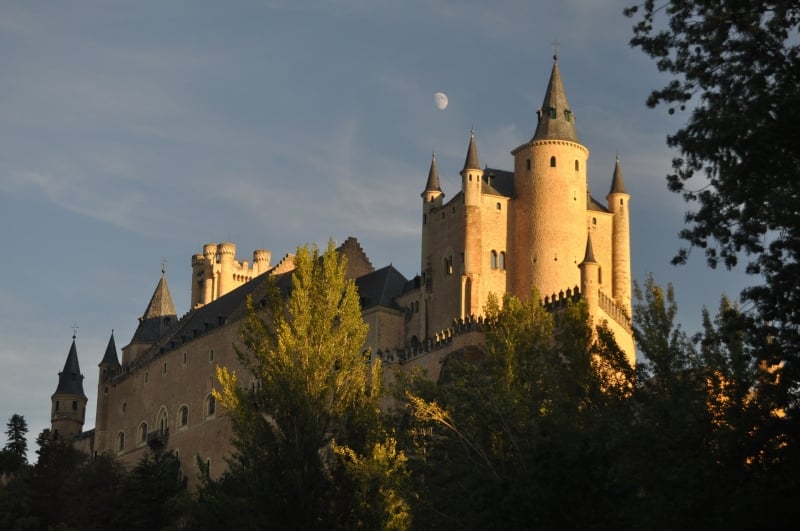 Let's start with Spain's most famous castle, and what's also whispered to be the inspiration for the Cinderella Castle of Walt Disney! Alcázar de Segovia (obviously found in Segovia) is but an hour or two away from Madrid. Alfonso I discovered its foundations on top of a rock in the year 1122. But it wasn't until Alfonso III's reign in 1155 when recordings showed that it was actually shaped like a ship. 
"A castle shaped like a ship?!"
You got that right. Only, the ship has a cream brick facade, Prussian blue turrets, enchanting courtyards, and the Hall of Kings. There's a lot of Moorish history behind Alcázar too, so you'll find hints of Moorish influence throughout the fortification. The two perfectly trimmed courtyards are prefixed by 12 magnificent rooms that are open to tourists. In these rooms is a blend of art movements such as Gothic, Roman, and Moorish.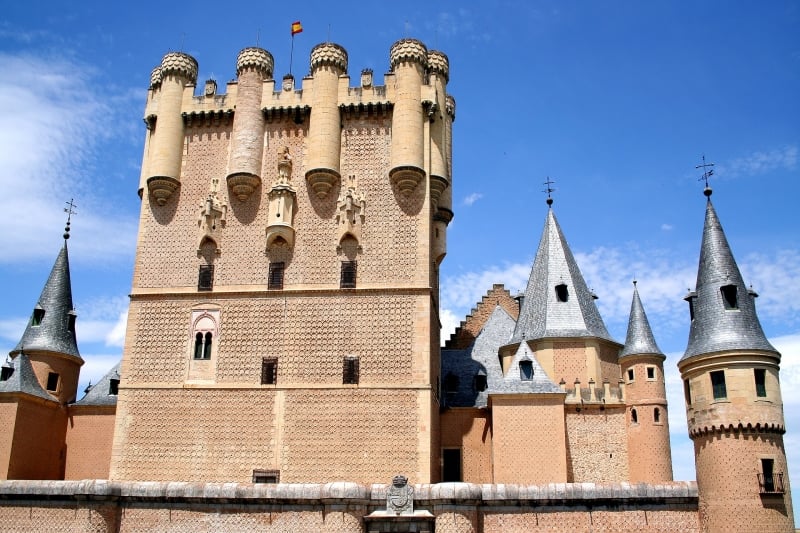 But of all the chambers, the Hall of Kings is a must-see. You will find it at what's considered to be the "bow" of this ship-like castle. Preserved portraits of Spanish monarchs of Leone and Castile occupy the whole gallery. Also, notice how meticulously rebuilt the revived Islamic ceiling is from the traumatic castle fire in 1862. After getting an eyeful, make your way to the opposite end of the castle where the Tower of Juan II lies. Its foundations were there since the 1300s!
Exploring Alcázar is hardly a chore, not when you start to see what the imagineers of Disney saw in this fortress when they scouted fairytale castles in Europe back in the 1960s. It's safe to say that this is the closest you'll come in exploring a realistic Cinderella castle!
2. Alhambra, Spain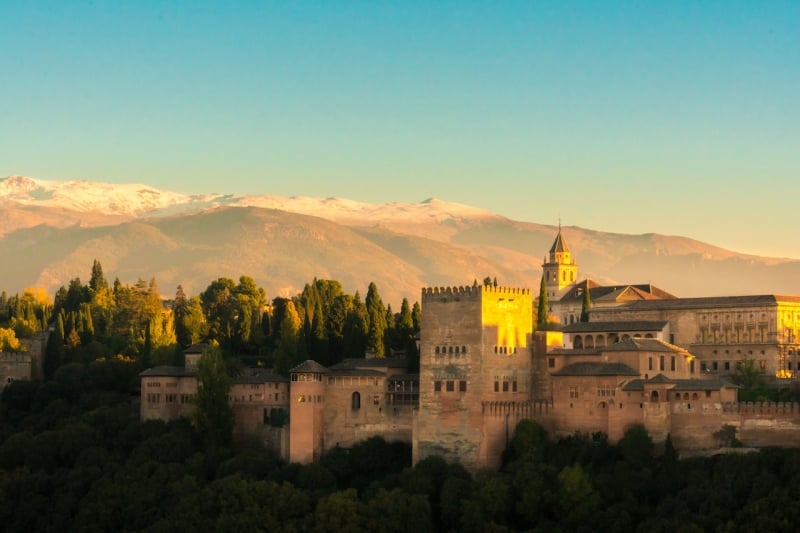 The name Alhambra is an abbreviation of "Qal'at al-Hamra", which is Arabic for "red fort". A truly irreplaceable palace, Alhambra is the last Moorish fort in Europe and the oldest Muslim castle in the world. Inside, Alhambra is as magical as Moorish fortifications can possibly get, with its well-kept courtyards, pristine water fountains, but most especially, the three sub castles inside the palace complex.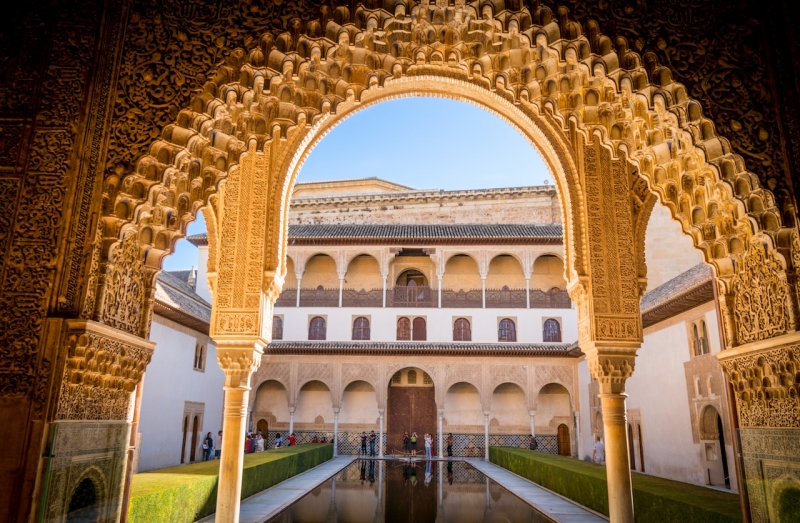 The Comares Palace holds Alhambra's highest tower and features an elaborately designed throne room called Salon de Comares. Meanwhile, the Palace of Lions lies right beside the Comares Palace. In it, you'll find the private chambers of Mohammed V's royal family and marvel at the greatest Nasrid artwork ever achieved. West of the Palace of Lions is the Sala de los Mocárabes. When you look up, you'll notice carvings called "muqarnas" that make for a hypnotising ceiling. And finally, the Partal Palace highlights five Moorish arches overlooking a tranquil pond — the oldest area of Alhambra.
The combination of Moorish themes, detailed carvings, and evergreen nature surely make the Alhambra castle one of the more unique fairytale castles in Europe — but no less inspiring, and even relaxing. Take your time to absorb every bit of it while unwrapping the layers of Spanish history!
3. Castle de Haar, Holland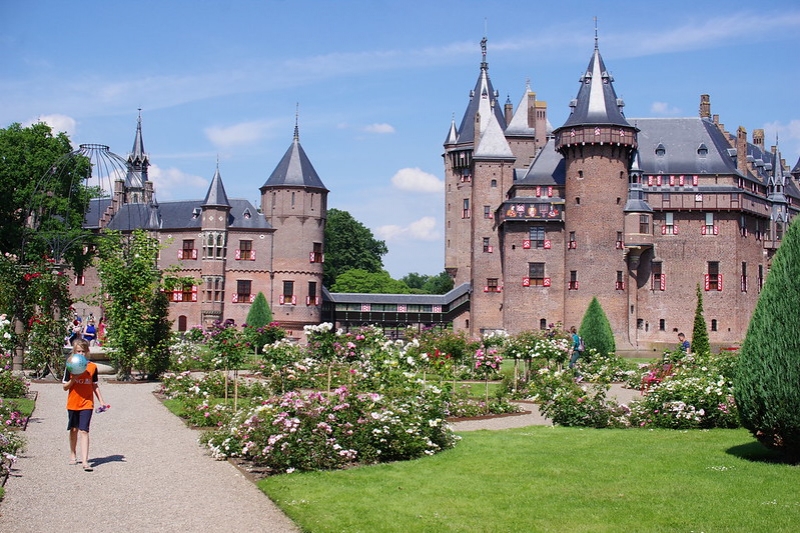 Castle de Haar has been passed down to and from various families throughout the years. Naturally, it has also gone through several reconstructions since its first recordings in the late 1300s. The lovely castle that travellers will see today closely resembles its 1892 restoration. Many people have fallen in love with Castle de Haar for its perfect storybook exterior. No doubt you'll be smitten the same way and feel like you've time travelled to the medieval ages just by admiring the castle at face value. Imagine the lucky ones that had this as a home, which of course, it was — and still is!
The Van Zuylen family still visit their ancestral home every now and again. Given that Castle de Haar is also the largest one in the Netherlands, the family keeps it strictly preserved and elegant inside and out. Wait till you see the castle's moats, drawbridges, and ramparts all around too. Straight out of a storybook!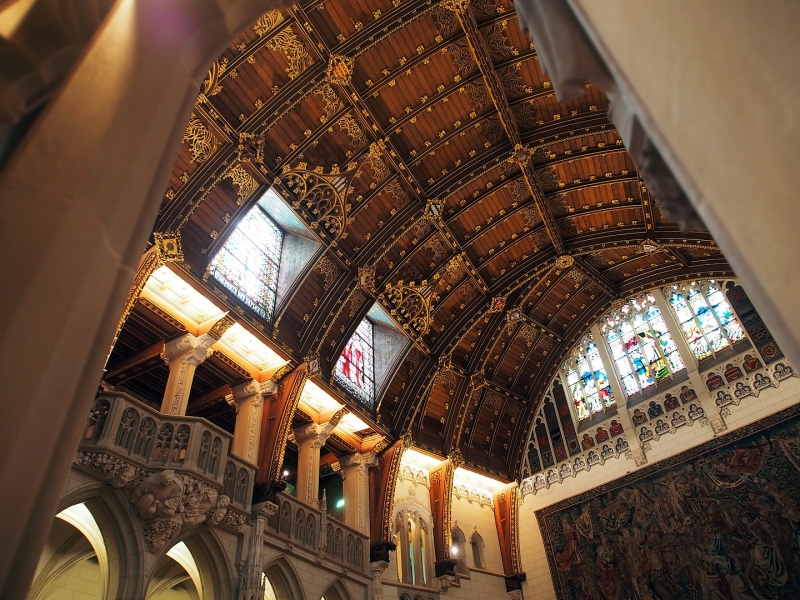 The best interior feature of the castle is the opulent and intricate wood carvings in the main hall. This vintage motif takes after the style of a Roman Catholic church adorned with Flemish tapestries and artworks. On the other hand, the bedrooms have cute pastel-coloured wallpapers in shades of blue, red, and pink. The bathroom even has rose-hued marble tiles! How posh is that?
Also read: Non-Schengen European Countries Filipinos Can Explore First
4. Château de Chambord, France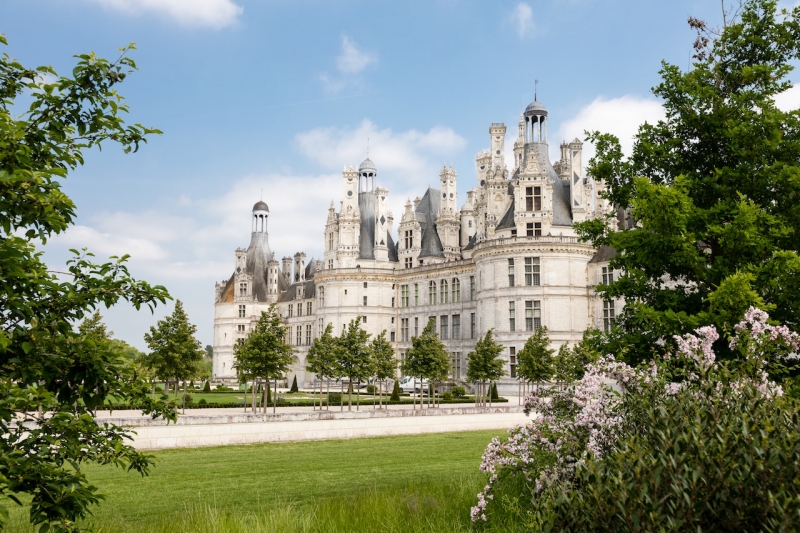 It's hard to believe that this glamorous symbol of French Renaissance was originally a hunting lodge! But I guess European royalty love making their hunting events a grand occasion; they preferred the most extravagant castles to come home to after a glorious hunt. The construction of Château de Chambord was ordered by Francis I in 1515. He wanted it to be but one of his residences that could symbolise his power and host hunting parties. As vast as the property is with 5,440 hectares, Francis I only stayed here for 50 days. On the other hand, Louis XIV who spent a fortune on the château's renovation in the 1600s, visited only six times. 
That's not to say that there are only a few things to see inside the castle. In fact, Château de Chambord is the most inspiring fortress in the Loire Valley with 426 rooms, 60 chambers to visit, 282 fireplaces, and 83 staircases. The Double Helix Staircase, which is the castle's main highlight is even believed to have been designed by Leonardo da Vinci himself. The staircase goes all the way up to the terrace. Due to its peculiar DNA-design, no two people who are ascending and descending the staircase at the same time would ever meet eye to eye!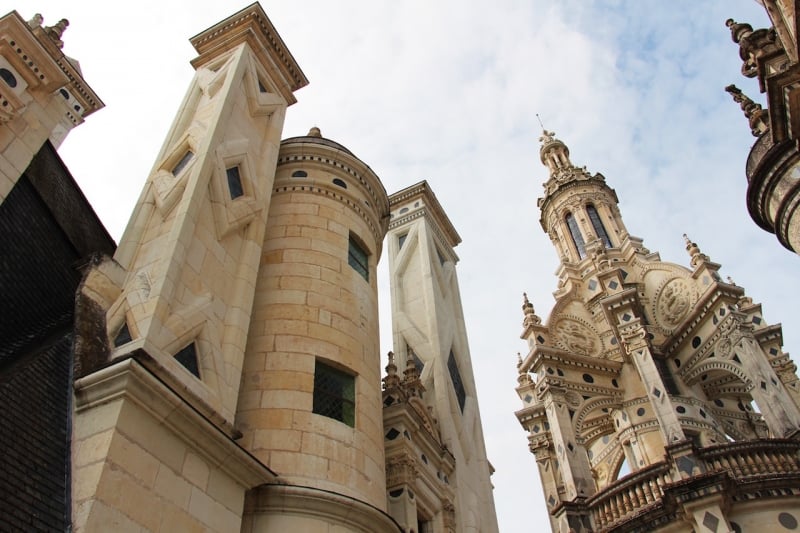 From the terrace, you can admire the view of Renaissance styled turrets, domes, and chimneys. And you can't possibly miss the chance to snap photos of the natural landscape surrounding the castle. Château de Chambord is considered to be the largest enclosed park in Europe that's bedecked with approximately 600 trees, 800 shrubs and 200 roses. You can even explore the park on horseback, bicycles, and carriages to see different breeds of flora and fauna!
5. Château de Chantilly, France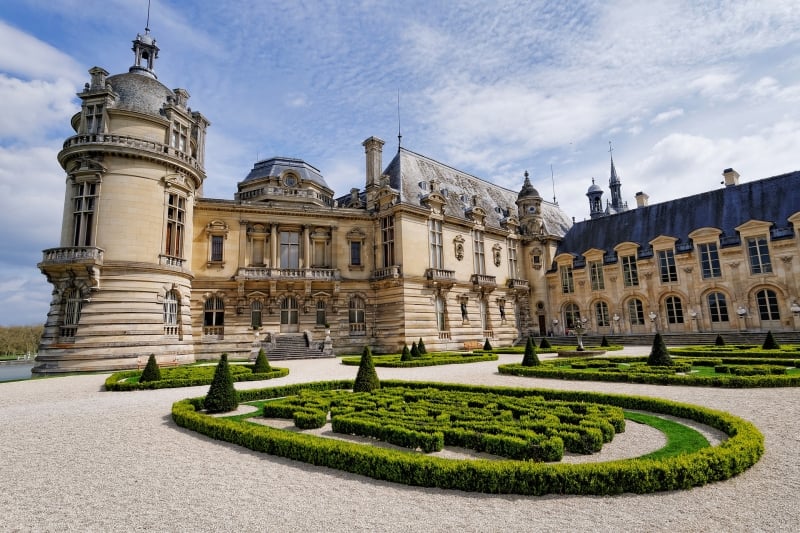 About thirty miles north of Paris is a sweet town called Chantilly with but 11,000 inhabitants. Chantilly town is famous for many things, its elegance, the local fabric, the love of horseback riding  — and of course — its Renaissance castles. The most famous one is the town's namesake, Château de Chantilly. 
Also known as Domaine de Chantilly, this historic palace was always owned by powerful French families that were close to royal power. Each dynasty had a hand in the design of the château as they fashioned it according to their time. But the most significant contributions to Château de Chantilly was established by its very first owner, Anne de Montmorency, who was duke of Montmorency until 1567. 
The duke employed architect Jean Bullant to construct two connecting establishments to the palace which you can still visit today: The Grand Château and Petit Château. The former was destroyed during the French Revolution and restored by architect Honoré Daumet. The latter, on the other hand, is the oldest part of the palace.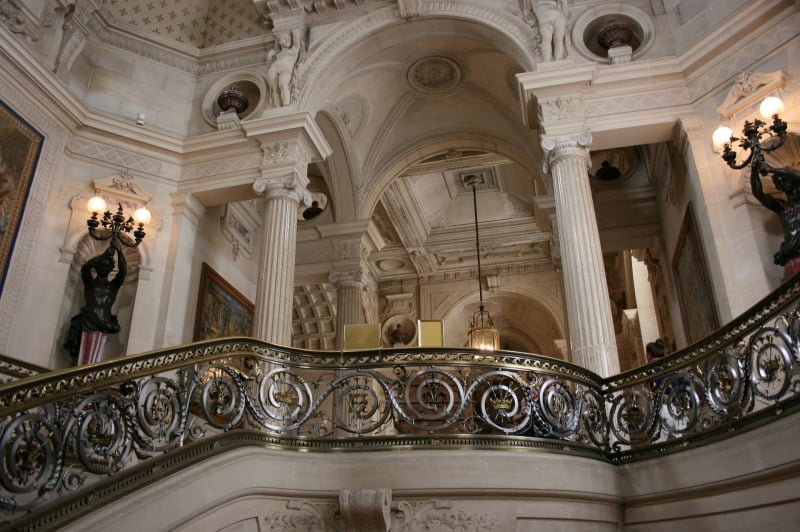 History and age aside, this palace's interiors perfectly reflect the majesty of Renaissance architecture. From the gallery, bedrooms, to the guard room and music room, you'll essentially drown in silver and gold. The castle's art galleries are also famous for housing the second largest collection of antique paintings next to the Louvre! Oh, and did I mention that this has the largest horse stable in all of Europe?
6. Lednice Castle, Czech Republic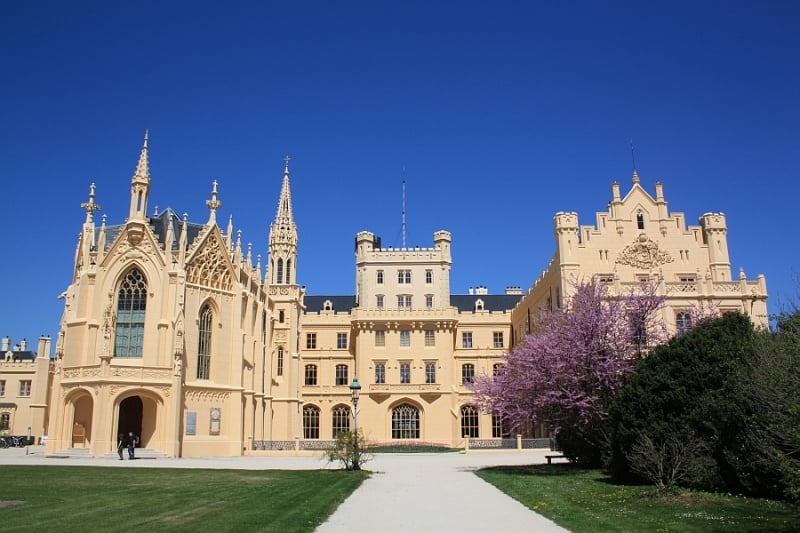 We all know that venturing into the fairytale castles in Europe wouldn't be the same if you didn't take a trip to the Czech Republic. Lednice Castle is one of the most visited attractions in the country and arguably the most beautiful 19th-century Neo-Gothic palace in Europe (it was originally a Renaissance villa in the 17th century). Despite its striking facade of Gothic revival, the castle interior is also a rich mixture of Baroque and Classical architecture. If you want to see more of this, step inside Grotta, the artificial Baroque cave! Their extensive château library also highlights a perfectly carved wooden spiral staircase that's perfect for photo ops!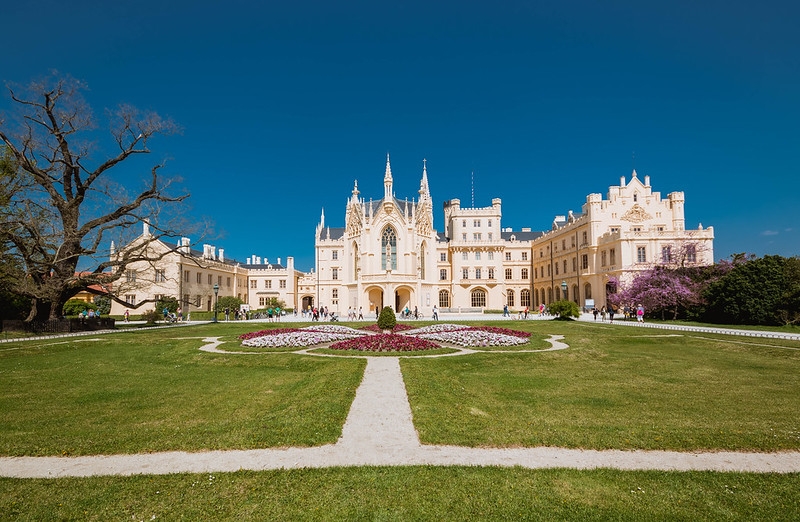 The palace also features Gothic themed chambers, the Private Princely Apartments, Museum of Marionettes, and Children's Rooms. All of which the whole family will surely find interesting! Outside the castle are lush and flourishing gardens that enchant visitors with vibrant flowers in pink, red, white, and yellow. Bask in the thriving landscape and take as many photos as you can while unwinding to the natural beauty of Mother Earth!
7. Ludwigsburg Palace, Germany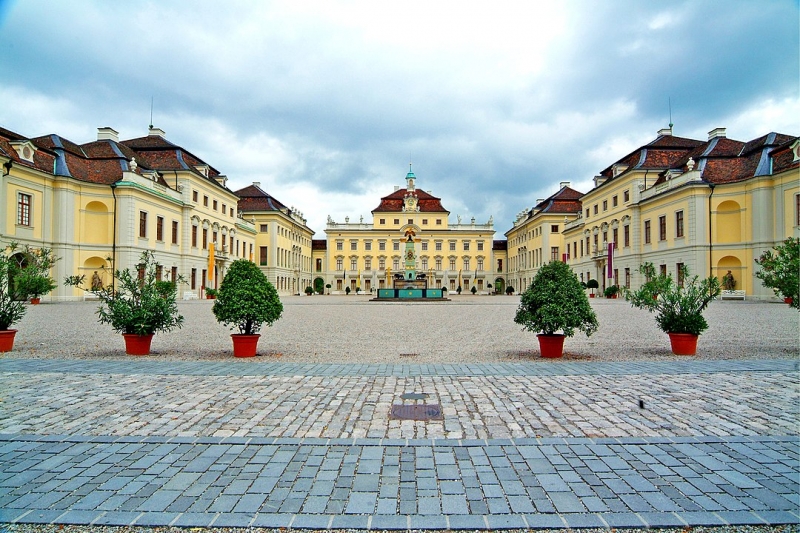 Ludwigsburg Palace is as authentic as you can get to archaic Baroque palaces. In fact, it's one of the largest Baroque complexes in Europe to survive in its original form. Built in 1704, this palace is over 300 years old and has adapted three distinct art movements in the wake of its rich history: Baroque, Rococo, and Neoclassicism. Like many palaces back in the day, Ludwigsburg was originally a hunting lodge for Duke Eberhard Ludwig, but eventually became a residence for the dynasties to be. 
Aside from Ludwigsburg's history and art movements that you'll unravel, you'll thoroughly enjoy its interactive tours. These tours stand out from the typical ones in other European palaces since they're more immersive not only for adults but for kids learning about German history too.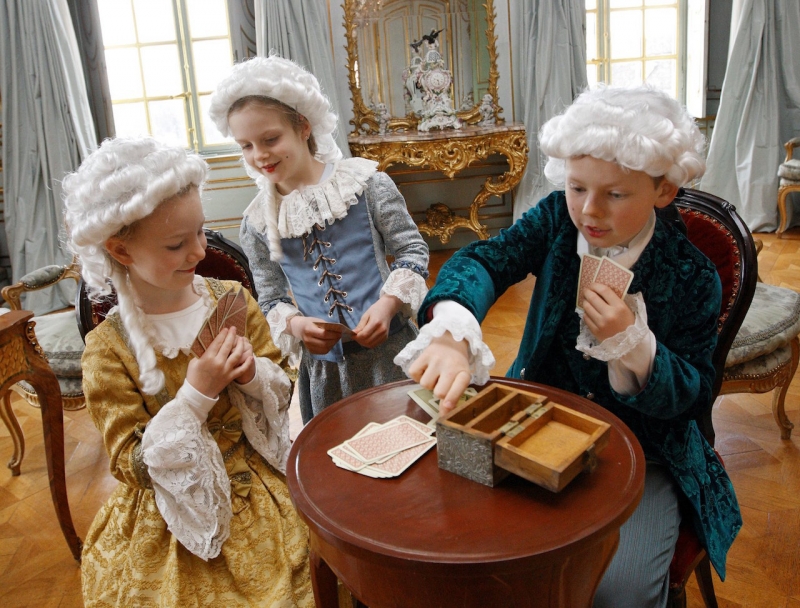 For instance, there's a fashion museum that stages a fashion show featuring sartorial pieces from the 18th to the 20th century; there's also a children's museum which allows kids to experience art and history through their senses. With 452 rooms and 18 buildings, there are several interactive museums to experience, all while you admire the inspiring blend of Baroque and Classical art!
8. Malbork Castle, Poland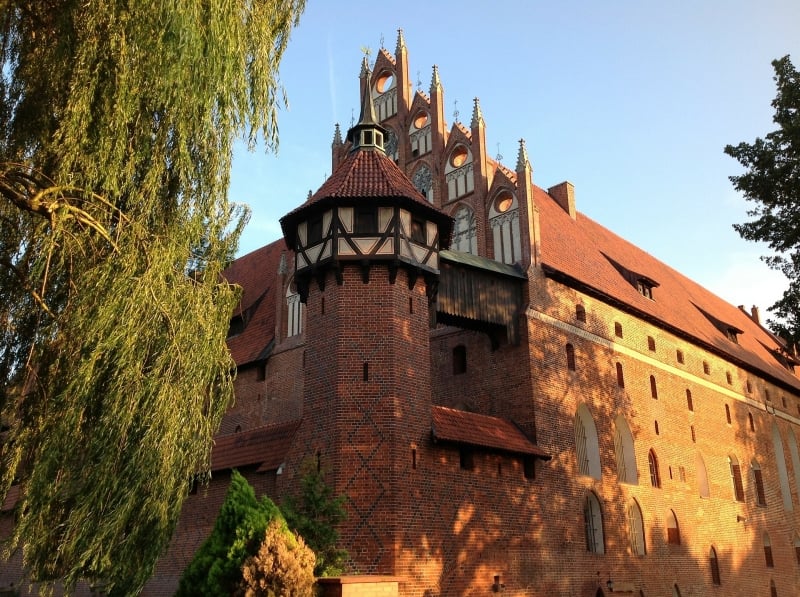 Have you ever heard of the Knights of the Teutonic Order? They began as a military and Catholic order founded by German monks in the middle ages. The Knights of the Teutonic Order were originally assembled to protect Christians on the pilgrimage to Jerusalem — and Malbork Castle was one of the fortresses they had built on their crusade. 
Malbork Castle is the world's largest Gothic brick castle today, standing proud through its revival after WWII. Before entering this legendary stronghold, you can't miss the Madonna figure standing tall overhead. The Teutonic Order considered Mary, Mother of Jesus as their patron. So, in the 13th century, they created the Madonna statue — the biggest European symbol in the middle ages! Albeit destroyed in WWII, you can still appreciate a modern replica. It was created with over 60% of the original statue's remnants!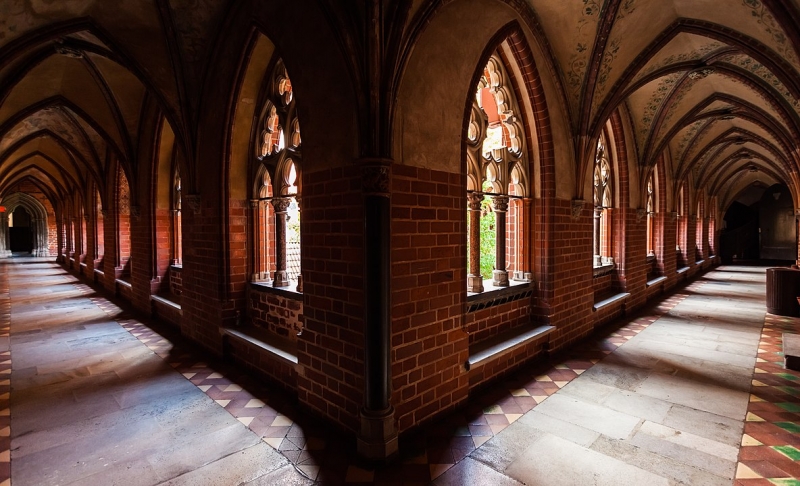 Since Malbork Castle was a military fortress, you'll come upon some crafty and peculiar devices inside the castle. One of these is a unique 14th-century heating system and a wooden elevator that would lift meals up to the knights in the dining hall (that was ingenious technology back in the day!). As you go further into the castle, you'll learn about chambers shrouded in mystery. Their main chapel is even speculated to have been a torture chamber for knights who turned against the order!
There are hundreds of rooms to explore, but so many of them are still not for public viewing. In fact, some scholars believe that there's much to be explored in the castle yet. But, I'm sure you'll agree — all this medieval mystery only makes Malbork Castle one of the most thought-provoking fairytale castles in Europe!
9. Neuschwanstein Castle, Germany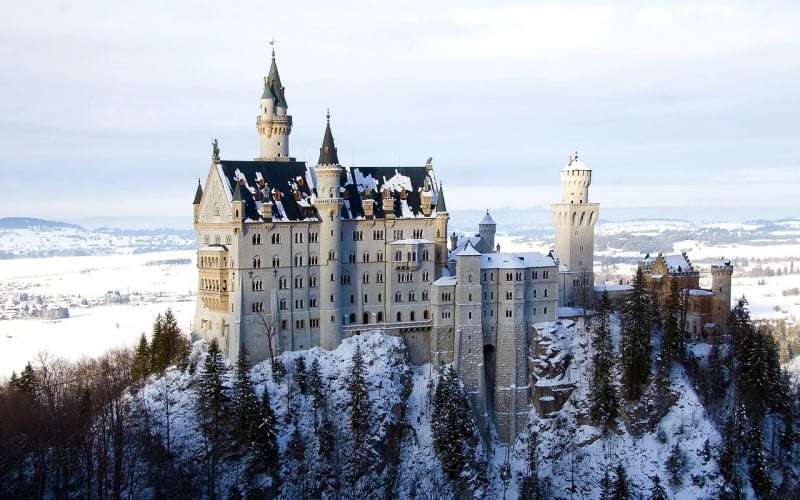 How ironic that a castle — whose every nook and corner made of the stuff of fairytales — was actually commissioned by "Mad" King Ludwig II of Bavaria. At least that's what his ministers dubbed him to be. But regardless if you believe these speculations or not, one can not deny that King Ludwig II had an unmatched taste for medieval and romantic architecture. 
In any season, the view of Neuschwanstein Castle is a breathtaking scene while it sits on top of a hill, cradled by nature. As if the alluring exterior of Gothic high towers and imposing turrets wasn't enough, you'll be even more enchanted once you see the medieval-themed interior halls. Rooms are bedecked with tapestries and paintings presenting brave knights and fair maidens. Golden walls permeate throughout the castle with tall windows and balconies where you'll truly feel like a storybook character looking over a vast expanse of a magical land.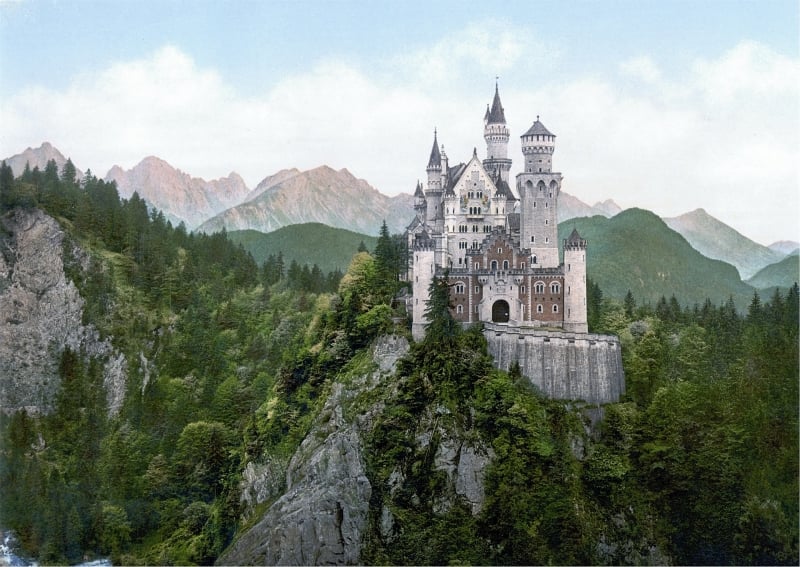 But perhaps the most interesting attraction inside Neuschwanstein Castle are the Byzantine influences, a personal touch of King Ludwig II. Since the king had an affinity for Byzantine designs, the castle's throne room reflects a Byzantine church. You'll even encounter the iconic chandelier shaped like a Byzantine crown!
Being one of the most beautiful fairytale castles in Europe, Neuschwanstein Castle is only tourable by appointment with the Bavarian Palace Department. But you can still book other tours that have stops where you can get a good view and take a postcard-worthy photo of this fantasy castle!
10.  Palace of Pena, Portugal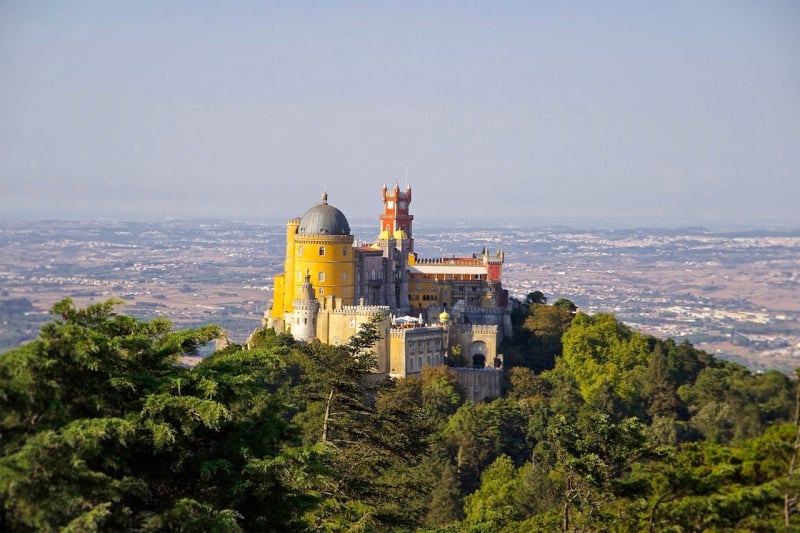 I know you clicked this article because you were curious about this colourful palace in the thumbnail! So without further ado, the Palace of Pena is a UNESCO World Heritage site found in the city of Sintra, Portugal. The castle stands where a monastery once stood in the medieval ages. Come the 18th century, a Lisbon earthquake almost completely destroyed the monastery. But the chapel inside survived, which then encouraged King Ferdinand to build a glorious palace in the wake of the destruction. 
In the spirit of Romanticism, the palace reflects a loud mixture of art movements such as Neo-Gothic, Neo-Manueline, Neo-Islamic, and Neo-Renaissance. With this many influences, no wonder the fortress looks culturally vibrant! I mean, it literally features European parapets on one side then an Islamic dome on another.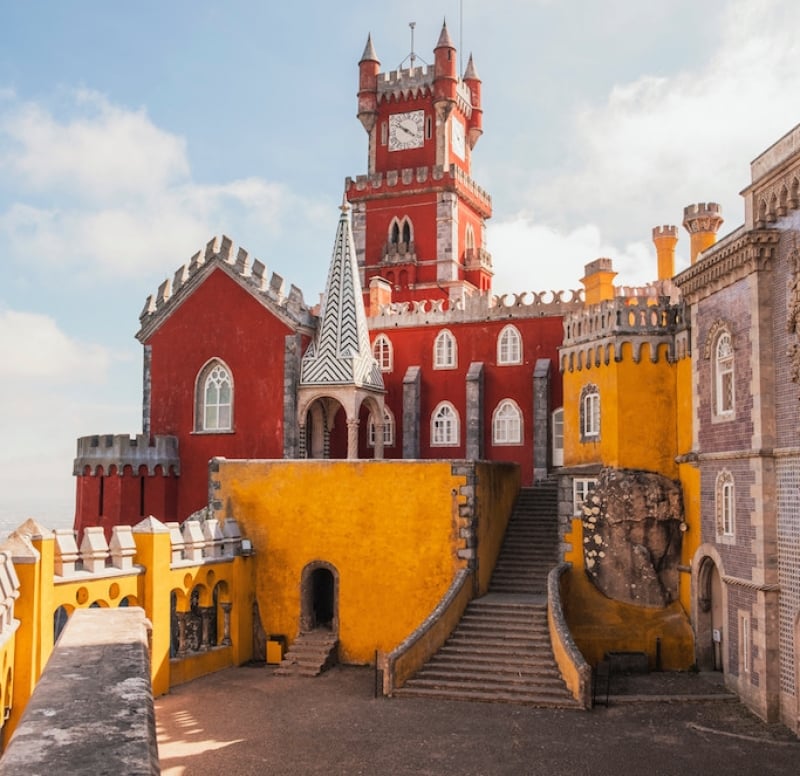 We owe the beauty of this castle to German architect, Baron Wilhelm Ludwig von Eschwege. Not to mention, King Ferdinad and Queen Maria II's penchant for everything luxurious. The interiors are eye candy as well, not only because of the colours, but also the cultural influences that range from European Baroque to Middle Eastern motifs. Suffice to say, the world has never seen such an artfully bedazzling palace such as this!
Also read: 10 Reasons Why Filipinos Should Visit The Balkans
Did this list of fairytale castles in Europe make you hunger for a Europtrip? You'd be right to do so! I'm pretty sure the photos online don't even do justice to the majesty of all these fantastical fortresses. I'm already dreaming of the day I get to see at least one of these magical castles myself! See you there?