Contributed by Deetoxify
Nothing excites me more than travelling to a new place. So before anything else, let me share my latest trip to the Emerald of the Equator, Indonesia.
Indonesia, like the Philippines, is an archipelago. It is a Southeast Asian nation made up of thousands of volcanic islands and a home to hundreds of ethnic groups speaking many different languages.
One of the most famous islands in Indonesia is Bali. It is known for its forested volcanic mountains, iconic rice paddies, beaches and coral reefs. The island is home to several religious sites such as the Uluwatu Temple.
To its south, the beachside city of Kuta has lively bars, while Seminyak, Sanur and Nusa Dua are popular for resorts and villas. Bali is also known for its yoga and meditation retreats.
Also read: Eat, Pray, Haggle in Bali: My 5-Day Solo Trip on a Budget
Over time, Bali has become a popular tourist destination in Indonesia most especially after the release of the famous movie Eat, Pray, Love. It is renowned for its highly developed arts, including traditional and modern dance, sculpture, painting, leather, metalworking and music. There is so much to see and do in Bali. Six days, for me, is not enough but we tried our best to enjoy Bali's best during our short but sweet stay.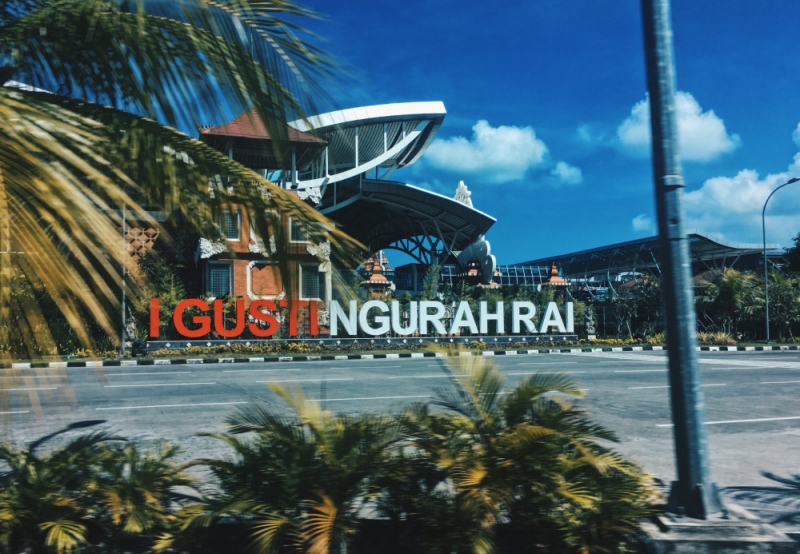 Note: Filipinos can enjoy Bali visa-free for 30 days. If you wish to extend, you can either get a Visa on Arrival or a Multiple Entry Visa.
Must-see
Bali temples and palaces
When I hear someone talk about Bali, I always picture temples and pagodas. True enough, they are all over the place. Balinese are very talented when it comes to arts and crafts. This is very evident in all their furniture, fixtures, homes and temples. You wouldn't miss a block without seeing extrinsic decors or carvings. Their attention to detail is shown in every intricate piece they make. Any door or gate of any temple or family palace has impressive carvings. Perfect for your Instagram feed, don't you think?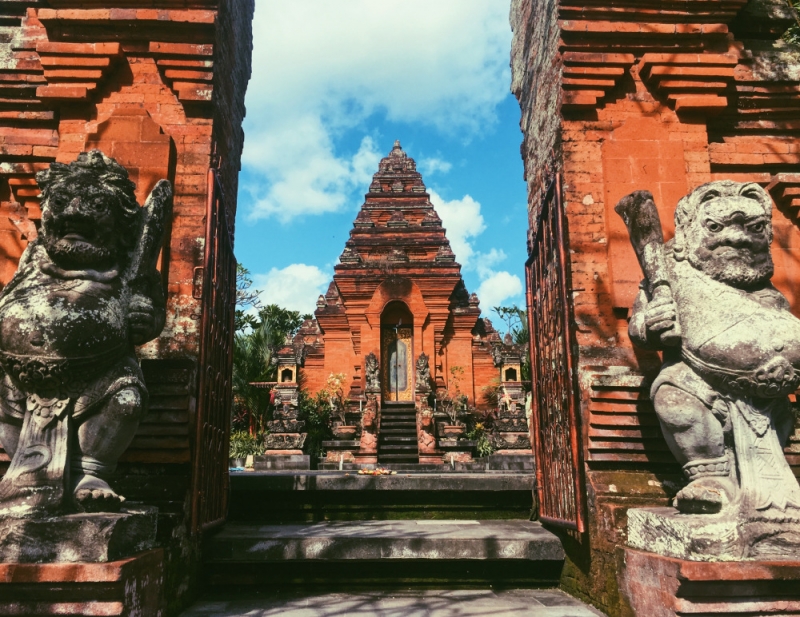 Ubud Palace, Saraswati Temple, Uluwatu Temple are just some of the temples we visited. Most of these temples look alike but they have different and significant backstories.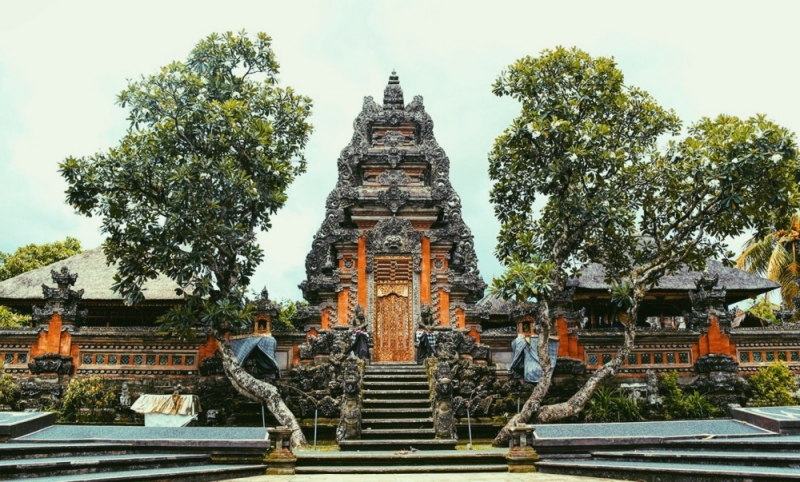 Also, expect to see "offerings" everywhere, not just in temples but literally every place or spot you can think of.
Nusa Penida
Nusa Penida is the largest of the three islands off the southeastern coast of Bali. The other two are Nusa Lembongan and Nusa Ceningan, which I have yet to visit. This has been one of my highlights in Bali! A day trip will never be enough, I tell you. There is more on this island that I have yet to see. I will definitely go back there soon.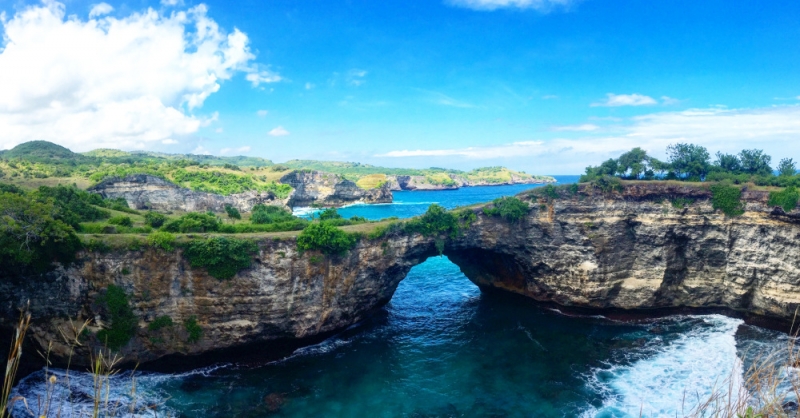 Just to summarise our day trip to this beautiful island, we went to see the Kelingking Beach, Broken Beach, Angel's Billabong and Crystal Beach.
Tegallalang Rice Terraces
Located on the north side of Ubud, Bali Tegallalang Rice Terraces is a famous tourist attraction because of its beautiful rice paddies. Many tourists who travel to and from Kintamani do stopovers here to witness the beauty of the verdant terraced rice field scenery.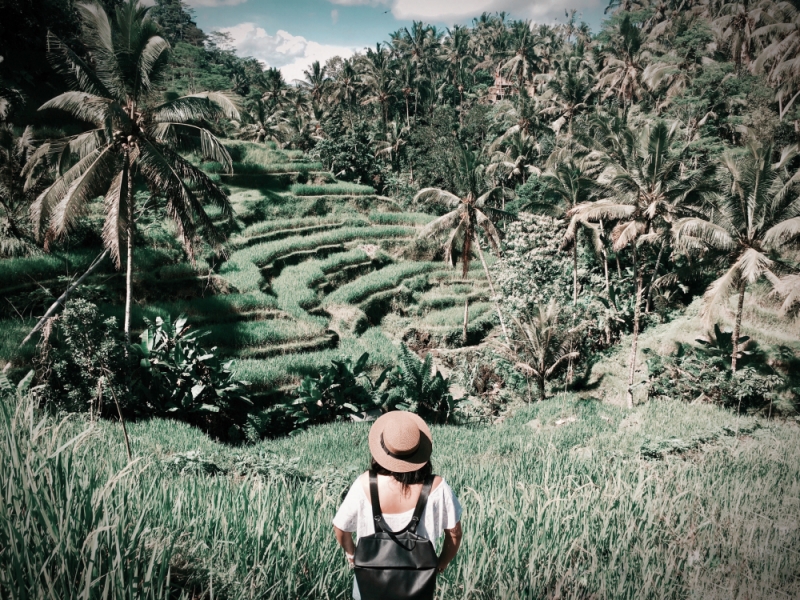 Tegallalang Rice Terraces is open to everyone who wishes to visit. Enjoy the beautiful panorama of the scenery while sipping a cup of coffee or tea, a fresh coconut juice or while having lunch. If you want to climb up and down the valley, you may do so. The locals simply ask for any amount, some sort of donation, to help keep maintain the area.
Bali Beach
Bali may not have the whitest shores in Asia but Kuta's and Seminyak's are must-visit spots. Both Kuta and Seminyak are in the southern part of Bali. It is known for its nightlife and luxurious living. But trust me when I say its more than that. I am not really into partying but I enjoyed my short stay in Seminyak.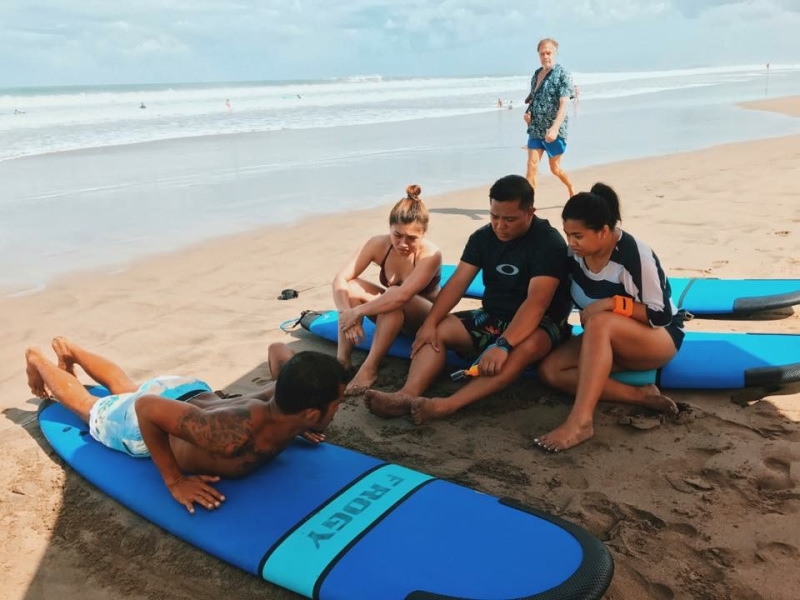 Of course, our whole experience here will not be complete without being able to surf. Many say Siargao in the Philippines has better waves than Bali. I seem to believe that I have not really seen the best waves in Siargao yet. I did not really care about the kind of waves because I'm not a pro surfer. As long as I get to try to ride Bali's waves, I'm good!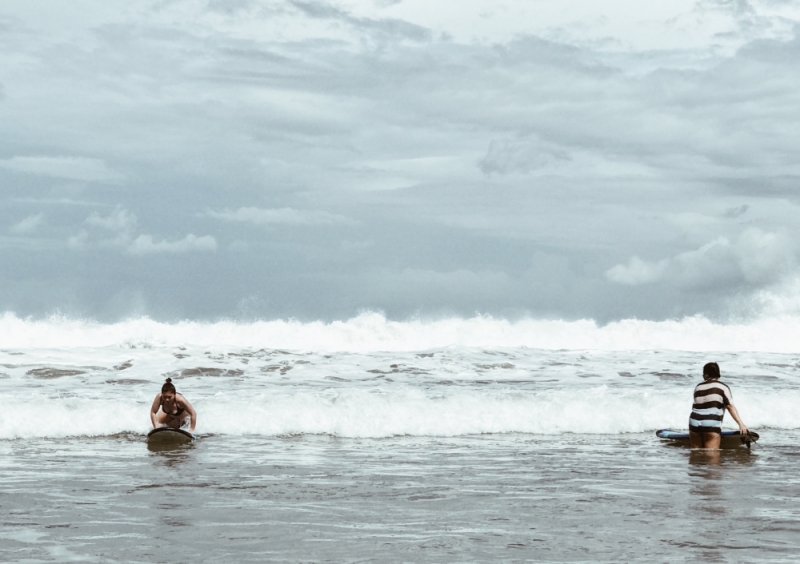 During our visit, our surf instructor told us that the waves were not the usual size. They were really huge, it got me thinking twice! But I surfed anyway.
Mt. Batur in Kintamani
Aside from Kintamani's great coffee, Mt. Batur is one of the town's highlights. Mt. Batur is a semi-active volcano and is the third highest peak in Bali. Most blogs would tell you that the climb to Mt. Batur is just moderate but I would rate the climb as hard.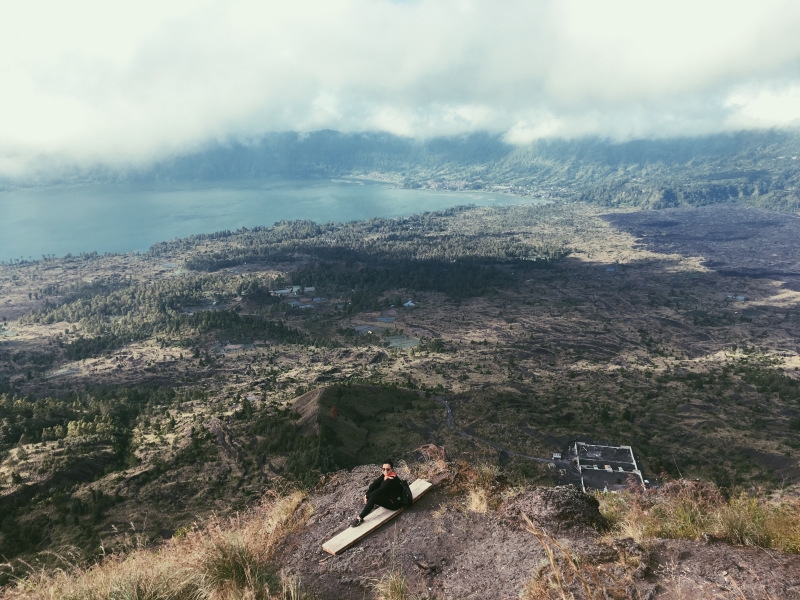 The climb to the summit is no easy thing. We started trekking around 3.30am and it took us two to three hours to reach the top. I really thought I was going to die there! Now the question is, "Why did you climb Mt. Batur?". Well, my friends really wanted to do it and we have the excuse to catch the sunrise on top of an active volcano.
Lodging
During our first two nights, we stayed in Bali Chic Oasis in Ubud, also known as Honeymoon Guesthouse. For the next three nights, we stayed in a new hotel in Kerobokan, Seminyak named Sand Beach Luxury Living.
For the first two nights, we paid ₱3,922.50, and ₱5,774.02 for the remaining three nights. We were five in the group so we only paid ₱1,939.30 per person. That's around $40! Note that prices will differ depending on the exchange rate. The exchange rate of Philippine Peso to Indonesian Rupiah during our visit was ₱1= Rp268.39.
I highly recommend Bali Chic Oasis/Honeymoon Guesthouse in Ubud. We got a huge room with three double beds. Their bathroom includes a HUGE bathtub enough to fit two to three people. Aside from the pretty interiors and exteriors and the overall ambience of the place, their staff is very warm and accommodating. They also offer yoga and cooking classes. And if you're the type who prefers planned tours, they can arrange one for you as well.
As for Sand Beach Luxury, the hotel is quite far from Seminyak Village. Our driver had a difficult time locating the hotel since it is new. The good side to it is that you can sleep soundly because it's far from the partying crowd. Their rooms are really big, too! We got two rooms, with two king-sized beds plus one single bed. The room has a spacious bathroom with a classy bat tub as well. There are times when you can't find any staff in the lobby. You need not worry! Whenever they are there, they will not disappoint. All of their staff are very warm and thoughtful.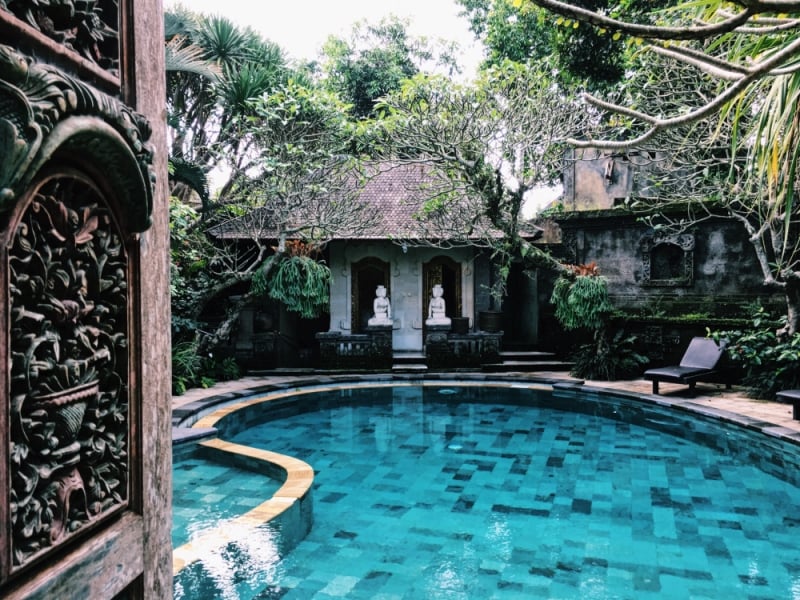 Going around
You might be asking how we went around Bali. So I'll just go ahead and say that Uber and Grab are life. Most of the locals, especially the Uber and Grab drivers, will tell you not to tell anyone about booking the aforementioned services. Why? It is believed to be somewhat illegal since local taxi drivers will not be able to get passengers. But who wants to book an overpriced taxi, right?
Traffic in Bali can be tiring. Most tourists rent bikes or motorcycles for faster transport. But if you don't have an international license or you don't know how to drive, it's better to hail a cab or ride any Transportation Network Vehicle Service (TNVS). If you're not in a hurry and you prefer to be shaded most times, arrange for car rental services. There are plenty of options.
Itinerary
Below is a preview of our itinerary for this trip to help you plan your future trip to Bali. Here you go!
Day 1
Denpasar (Ngurah Rai Airport) to Ubud
Check-in and freshen up
Lunch at Babi Guling Oka (transportation included)
Stroll around Ubud and visit different temples
Stroll with the monkeys at Ubud Monkey Forest
More walking around Ubud Village
Dinner at Casa Luna
Chill/free time
Expenses:
Uber from Airport to Ubud: Rp64,000
Uber from Villa to Babi Guling: Rp3,000
Lunch at Babi Guling: Rp68,000
Starbucks: Rp68,000
Ubud Monkey Forest: Rp50,000
Water: Rp10,000
Shopping: Rp520,000
Dinner at Casa Luna: Rp50,000
Total: Rp833,000 (₱3,103.69)
Day 2
Visit Tegallalang Rice Terraces
Coffee and tea tasting at Alas Harum AgroTourism
Visit the Medicine Man's house (optional palm-reading)
Lunch at Bebek Bengil
Explore Ubud Village and Ubud Market
Dinner by the river at Swept Away Samaya (reservation needed)
Expenses:
Uber from Villa to Tegallalang: Rp35,500
Tegallalang fees: Rp15,000
Water: Rp10,000
Uber to Bebik Bengil: Rp6,250
Lunch at Bebik Bengil: Rp120,000
Luwak coffee: Rp50,000
Souvenir from Alas Harum: Rp550,000
DQ ice cream: Rp43,000
Shopping: Rp75,000
Dinner at Swept Away: Rp295,000
Taxi back to Villa: Rp32,000
Total: Rp1,231,750 (₱4,589.40)
Day 3
Trek to Mt. Batur in Kintamani to catch the sunrise
Freshen up and prepare to transfer to Seminyak
Balinese lunch
Transfer to Kerobokan, Seminyak
Enjoy the view at Uluwatu Temple (optional Kecak Dance)
Dinner at Seminyak
Chill/free time
Expenses:
Mt. Batur Package: Rp400,000
Guide tip: Rp20,000
Soda: Rp30,000
Motor: Rp40,000
Lunch at Ubud: Rp79,000
Taxi to Seminyak: Rp70,000
Uluwatu Temple: Rp30,000
Taxi for Uluwatu: Rp60,000
Bintang: Rp14,500
Magnum: Rp11,000
Water: Rp3,000
Dinner at Seminyak: Rp70,000
Total: Rp827,500 (₱3,083.20)
Day 4
Seminyak to Sanur
Boat ride to Nusa Penida
Explore Nusa Penida
Boat ride to Kuta
Dinner at Warung Siam, Seminyak Village
Chill/free time
Expenses:
Nusa Penida: Rp460,000
Lunch at Nusa Penida: Rp35,000
Water: Rp7,000
Dinner at Warung Thai: Rp95,000
Taxi to hotel: Rp10,000
Bintang: Rp14,500
Total: Rp621,500 (₱2,315.66)
Day 5
Seminyak to Kuta
Surfing
Lunch at Kuta Beach
Kuta to Krisna
Shopping time
Krisna to Seminyak (hotel)
Freshen up
Chill/free time
Expenses:
Uber to Seminyak Beach: Rp7,000
Surfing: Rp270,000
Breakfast at Seminyak: Rp115,000
Uber to Krisna: Rp6,000
Shopping: Rp193,000
Uber to Hotel: Rp10,000
Lunch at Seminyak: Rp31,000
Ice cream: Rp20,000
Alfomart goodies: Rp42,000
Dinner at Seminyak: Rp71,000
Total: Rp765,000 (₱2,850.33)
Day 6
Catch the sunrise
Prepare for brunch
Check out from Hotel
Seminyak to Denpasar (Ngurah Rai International Airport)
Expenses:
Brunch: Free
Taxi to Ngurah Rai International Airport: Rp12,000
Total: Rp12,000 IDR (₱44.71)
Summary of expenses
Total daily spending: Rp4,290,750 (₱15,986.99)
Pre-trip expenses: Accommodation, airfare, Travel Tax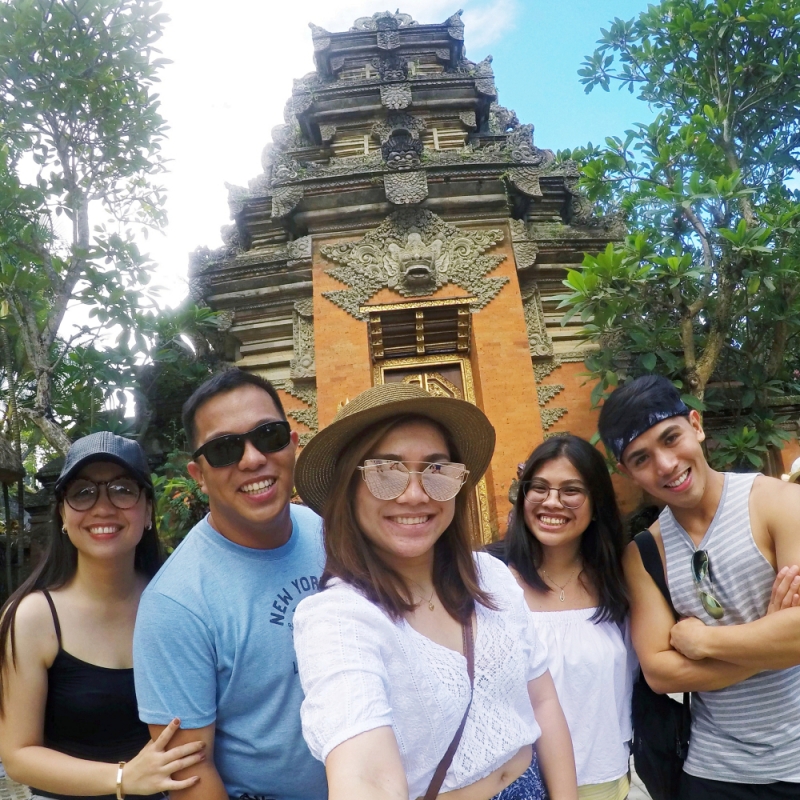 If you wish to know more about this trip, just leave a message or follow me on Instagram, Facebook and Twitter. Ciao!
Also read: Highlights of Our Tri-city Trip: Bali, Yogyakarta & Kuala Lumpur