Once upon a time, there was a tiny island in the Visayas that was called Isla del Fuego (Island of Fire) because of its mysterious trait of appearing to glow at night. It was said to be an island full of magic and mysticism, whose locals were believed to be healers.
That was a time when Siquijor scared away many visitors out of fear for the mysteries this island holds. Today, the place, still as enigmatic as ever, amazes us in ways that are captivating instead of frightening.
If you still doubt whether this tiny island can give you the relaxing vacation you have been longing for, detached from the complexities of the busy city life and surrounded with beautiful nature and friendly locals, let the list below give you a sneak peek of the things waiting for you in Siquijor.
I must warn you though: be careful what you wish for, because you might never want to leave this island!
Also read: How to Spend 3 Days in the Mystic Island of Siquijor
1. Relive your treehouse childhood dream in Guiwanon Spring Park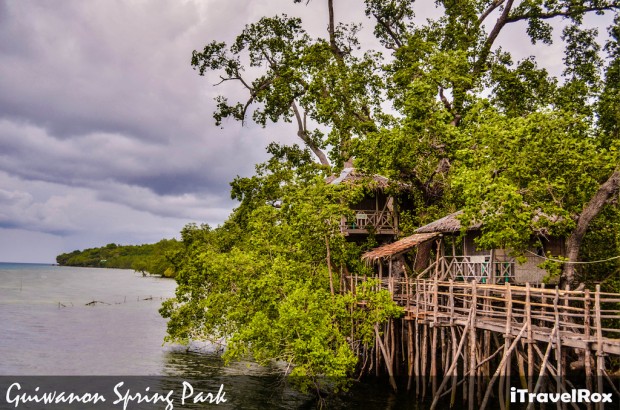 Image credit: Roxanne Tamayo
In Guiwanon, tree houses were built on top of mangroves growing on ocean shores. You can tour along wooden bridges from one tree house to another while enjoying a mesmerizing view of the ocean horizon. You can best enjoy this view during early sunset or late sunrise. Every corner is perfect for your next profile picture, so get your camera ready!
To reach this magnificent spot is very easy. From the Port, you can take a tricycle or a jeepney to Larena. Keep an eye out for the sign or simply ask your friendly driver to drop you off at the exact spot. The tree houses are also open for night accommodation at affordable costs starting from PHP 250 to 350.
2. Explore every cavity of the Cantabon Cave
Image credit: Storm Crypt
Cantabon Cave is a wonder of nature that is yet untouched by commercial development. It is ideal for those who like the thrill of adventure and who are not afraid of the dark.
Be prepared to get dirty and wet, so bring fitting clothes and a comfortable pair of shoes or sandals for hiking/spelunking. The trail can be narrow and slippery, but the local guides will give you plenty of tips and advice on how to tackle every obstacle.
The best option to get there is by motorcycle which you can rent for a day or just for the trip. The entrance fee is PHP 500 for the first 3 people, which is inclusive of the guides.
3. Take a rest under an Old Enchanted Balete Tree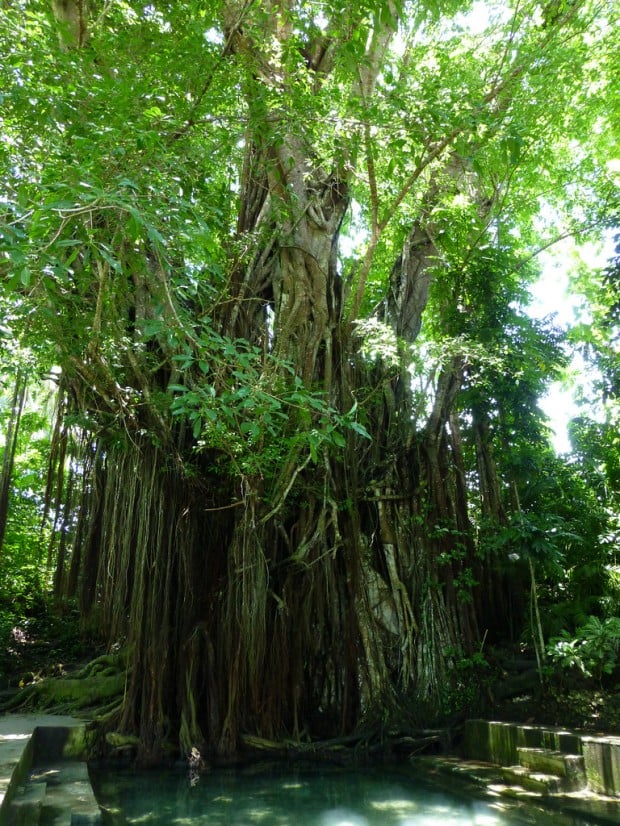 Image credit: Andy Nelson
If you are not yet convinced of the magic this island has, then visit the famous Balete tree. It is huge, enchanting and has a pond near its foot. You can cool your feet down in the clear water while its inhabitants treat you on a relaxing foot spa. If you are ticklish like me, then you will be giggling all through out the treatment!
The majestic tree is located at Barangay Campalanas in Lazi, Siquijor. There is no entrance fee but donations from visitors are used for the upkeep of this truly amazing attraction.
4. Trek your way to enchantment at Mt. Bandilaan National Park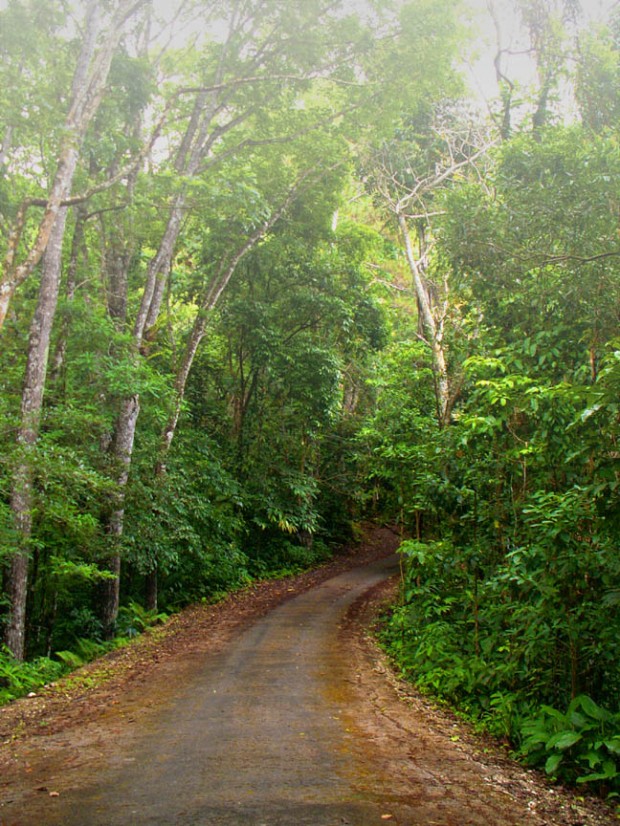 Image credit: Storm Crypt
Another attraction for the outdoor lovers and nature junkies is the Mount Bandilaan National Park. Just getting at the foot by motorcycle is an interesting experience in itself,  but wait until you start your trek to the top!
On the way to the top there are many different and interesting stops like the Bandilaan Butterfly Farm and the various Stations of the Cross leading you to the Shrine of Our Lady of Lourdes.
"But wait, there's more!" The final station of the cross is not necessarily the end of your nature trek. If your knees will still allow it, then you can climb on to the Metal Observatory Deck to get a mesmerizing 360 degree view of the whole island.
Along the way of the trek, there are plenty of stores to stock up on necessary refreshments to keep you hydrated. As you go back down, you can buy souvenir amulets that ward off evil intentions and diabolical spirits.
5. Jump like Tarzan at Cambugahay Falls
Image credit: Killy Ridols
The highest rated attraction, Cambugahay Falls will definitely take your breath away.
The falls cascade into 3 tiers forming the entire falls. You can swim in its clear and fresh water or just relax on the rocks. A favourite stunt visitors enjoy doing, is to jump into the water from a large rope, Tarzan style. Be aware that on weekends the falls might get a little crowded.
From Lazi town proper, the falls is only a couple of kilometres away. But to get to the falls itself, you have to walk down more than a hundred steps from where the entrance is. A pretty easy compromise, I'd say!
6. Feed your tranquility in Lazi Convent and St. Isidore de Labrador Church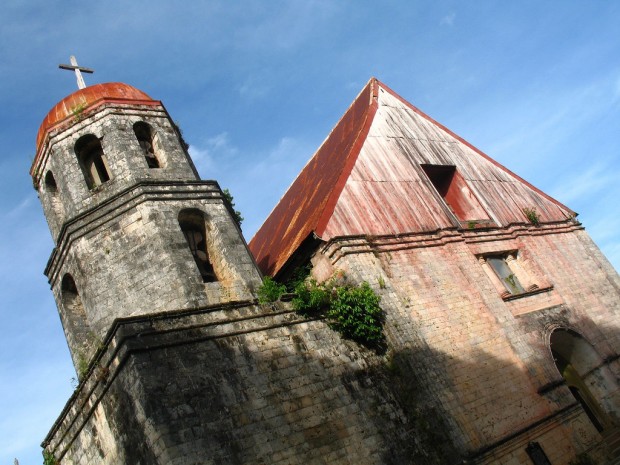 Image credit: Jenny Tañedo
On every visit to a place, it is always nice to learn its history. Like many other old provinces in the Philippines, Siquijor's history is reflected in its old buildings which date back to the Spanish time.
The Lazi Convent and Saint Isidore de Labrador Church are prime examples of this architectural style. Built around the 1880's in a Baroque style, both buildings are picturesque inside and out.
The convent also serves as a mini museum, and its caretaker is an old lady who is always eager to share her stories while touring you around. The church which is also known as the Lazi church has a pinkish facade with a red-coloured roof. During a clear sunny day, it creates a beautiful contrast to the bright blue sky.
Also read: 8 Haunted Tourist Spots in the Philippines that Will Send Chills Down Your Spine
7. Find peace and quiet at Paliton Beach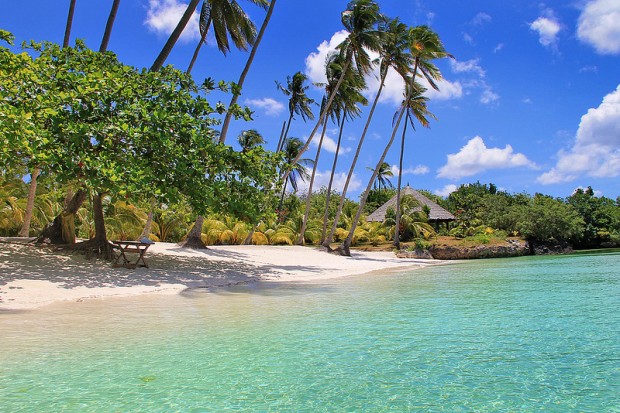 Image credit: Just One Way Ticket
We have heard of Cebu, we have heard of Bohol and yes, both provinces have beaches that are among the top in the country. But unbeknownst to most, Siquijor is not far down in that list. It offers peace and quiet, which you can't have in most popular beach getaways.
Also read: 15 Secret Beaches in the Philippines You Probably Didn't Know About
An example of this is the Paliton Beach, a public beach that can still be considered as secluded.  Its white sand and clear water will entice you to let go of anything that bothers you and to simply enjoy this paradise. Like any other beach, there will be times when there's low tide and swimming might not be possible. But the coconut trees, the sea breeze and the horizon will keep you in a tropical mood!
In the years to come, we expect more commercial development that will bring in more tourists. Luckily, the local government seems to always handle this matter very well and have kept their treasures, no longer hidden, still pristine and natural.
Tip: Be aware that if you happen to get a hotel far from the town proper, you will need to plan your meals ahead, especially dinner. Shops and restaurants close early so it might be difficult to eat out in the evening.
Even though Siquijor is a place well known for its mysticism, its true magic lies in its ability to evoke everyone's sense of wonder and amazement. It may look simple, but its drive to preserve its simplicity and pureness, is what makes it a true vacation treat. This list only contains snippets of the many attractions this island offer. The rest, I leave for you to explore.
Also read: 15 Totally Underrated Destinations in the Philippines