Buzzy Pasay isn't always on top of our minds for a staycation, but this city in the southern part of Metro Manila has a lot going for it. Massive shopping malls and amazing nightlife promise a memorable time for anyone looking for entertainment. Additionally, travellers just passing through will find its proximity to the airport extremely convenient. Not to mention, Pasay is close to all the Metro Manila action, with the cities of Manila, Makati, and Taguig only a quick drive away (at least when traffic isn't so bad).
Luckily, there are plenty of Airbnb choices in Pasay for anyone who needs to stay a night or two (or more) in this urban centre. From sleek condominiums to cosy studios, we've rounded up the perfect hideouts below.
Also read: 13 Airbnb Homes & Vacation Rentals in Manila for a Well-Deserved Staycation
Best Airbnb rentals in Pasay
1. This spacious studio near the airport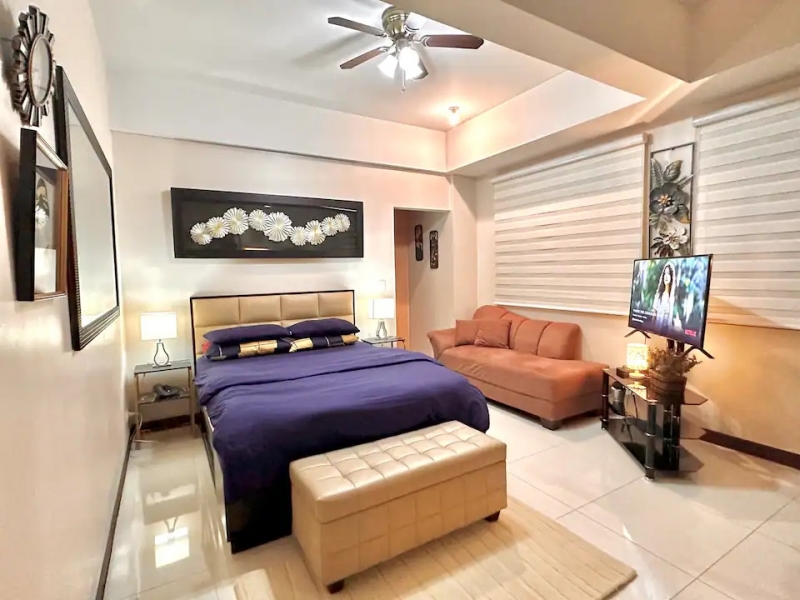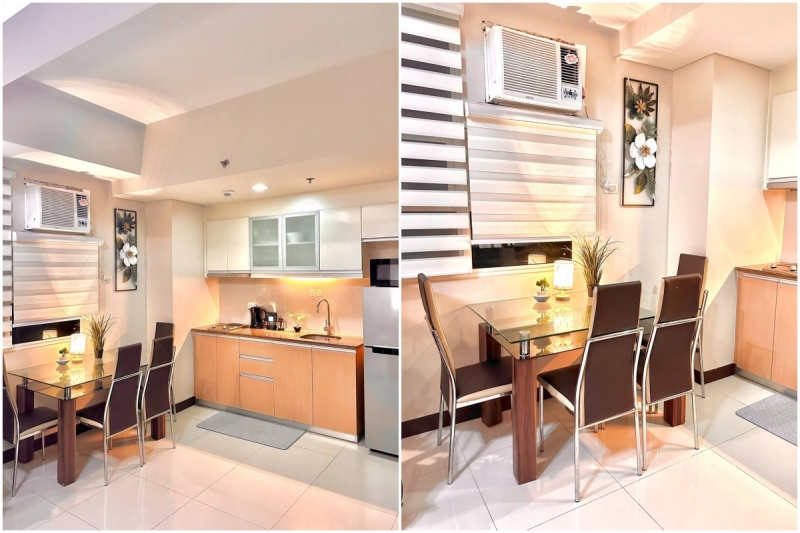 Listing name: Spacious Unit near the Airport
Listing type: Entire condominium
Max. no. of guests: 3
No. of bedrooms: Studio 
When it comes to picking the right Airbnb in Pasay or any city in the metro, arguably the most important thing is the location. Location is relative, of course, depending on where you need to be in Metro Manila. 
This roomy studio near NAIA Terminal 3 is ideal for travellers with early or late flights. Or maybe you just don't want to get stuck in traffic on the way to the airport. Plus, it's also within walking distance of malls, restaurants, cafes, casinos, and other hotels. Inside, the rental sleeps three guests. Fast WiFi means you can catch up on work or attend Zoom meetings smoothly.
Also read: MOA Restaurants: Where to Eat in SM Mall of Asia 
2. This aesthetic oasis with all the essentials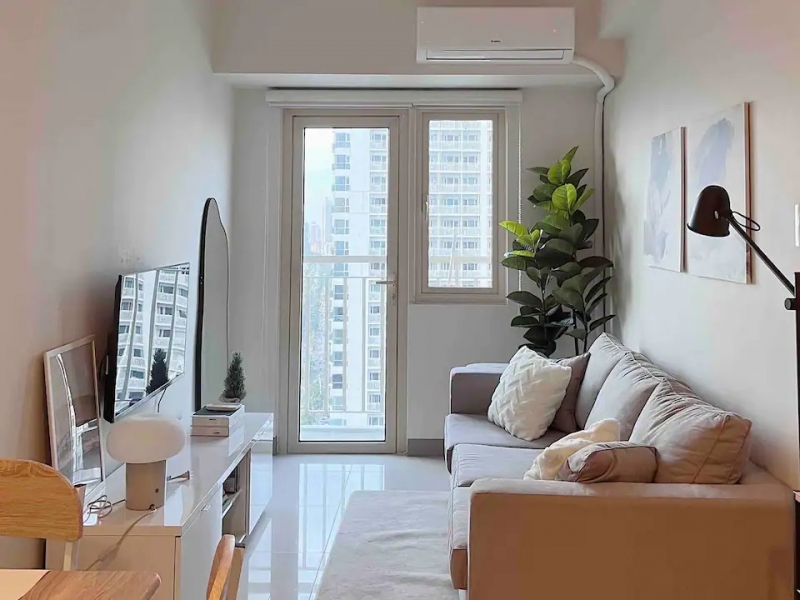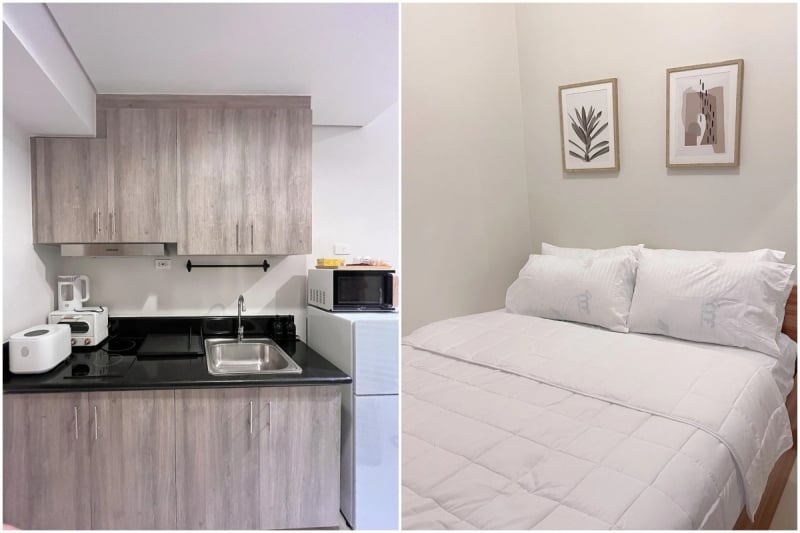 Listing name: Condo in Pasay-Cozy Unit near NAIA, MOA, WTC
Listing type: Entire condominium
Max. no. of guests: 4
No. of bedrooms: 1 
Another well-positioned Airbnb in Pasay is this pretty one-bedroom apartment in Coast Residences. It's a short driving distance near the airport, Mall of Asia, and Star City, and within walking distance of Harbour Square.
Inside, the bright and airy condo is thoughtfully designed with comfy furnishings and tasteful décor. At the end of the day, step into a charming balcony for a beautiful sunset. As a bonus, guests can access shared condominium facilities, including the swimming pool, gaming room, and gym.
3. This beautiful city suite with views of the bay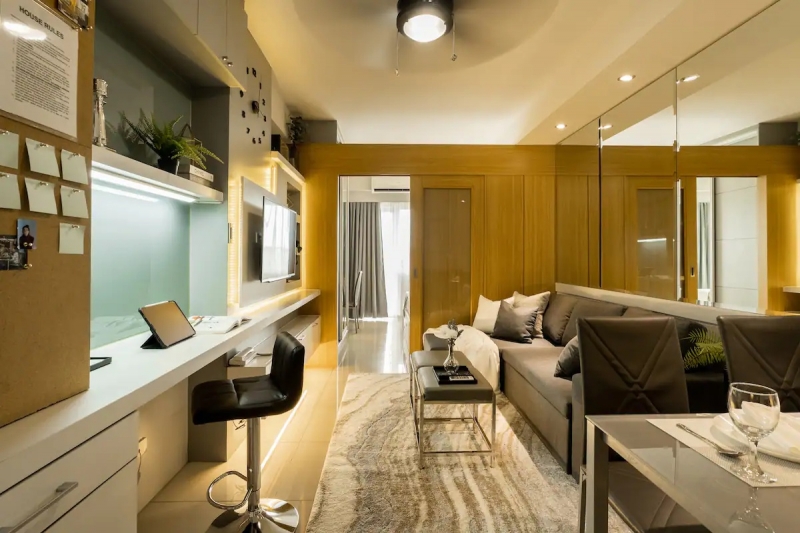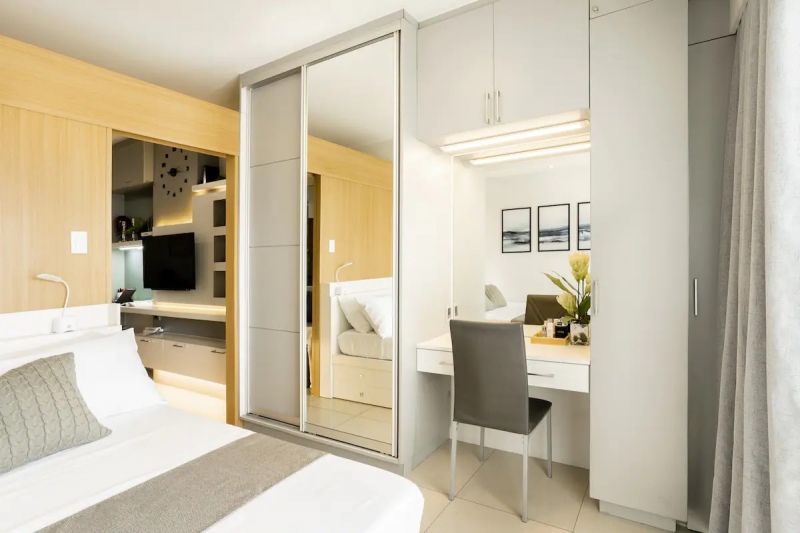 Listing name: MOA Shell Modern Executive Suite with Sunset View
Listing type: Entire condominium
Max. no. of guests: 5
No. of bedrooms: 1 
If it's a stylish Airbnb you're after, this modern sanctuary in Pasay is the perfect fit. And since it's in the Mall of Asia area, shopaholics will be happy to stay here, too.
The space is big and chic, with clean lines and high-quality materials. Enjoy the smart TV, free WiFi, and modern kitchen. You'll find that this apartment has thought of everything an out-of-towner would need in a city condominium, including a sleek washer in the bathroom for when you need to do a little laundry. For long-term guests, there's even free basement parking.
Best feature? Definitely the cosy balcony, where you're treated to the famed Manila Bay sunset every day.
4. This colourful apartment with a balcony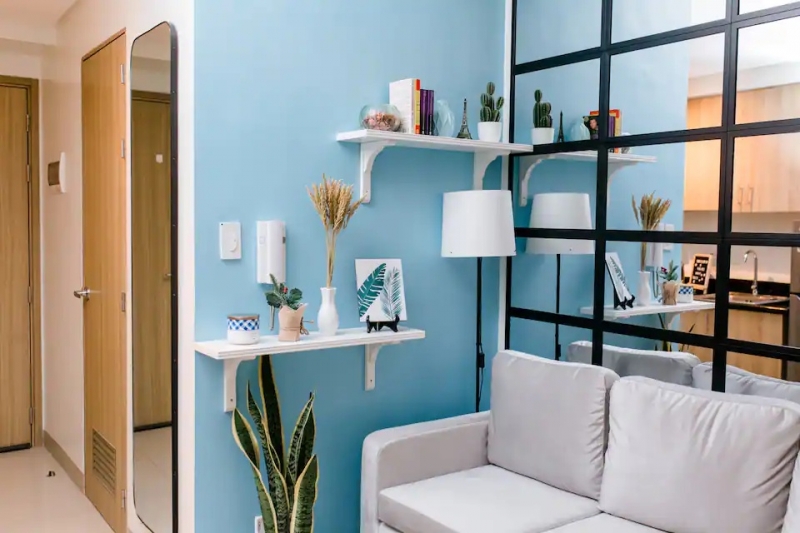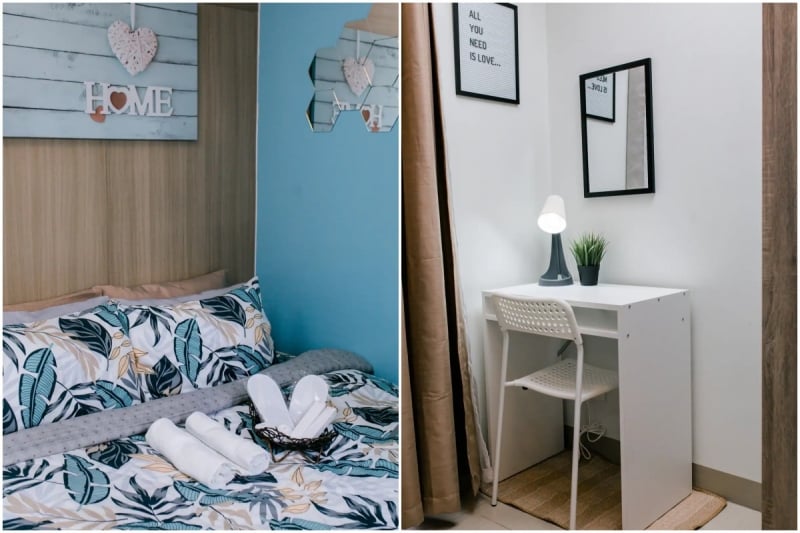 Listing name: Cozy 1-bedroom with balcony in MOA, Pasay City
Listing type: Entire condominium
Max. no. of guests: 2
No. of bedrooms: 1 
Discover this one-bedroom gem in the Mall of Asia complex, a beautifully designed property that blends style, function, and comfort effortlessly. Small but not cramped, everything is well-positioned, with a sitting area, a kitchen, and a small dining space.
The sprawling mall is steps away, but if you'd rather stay in, Airbnb Superhost Rodel filled the space with fun things to do. Besides the reliable WiFi, there are books, board games, and a Smart TV with Netflix, Disney+, and YouTube. Freebies like indoor slippers, coffee, and bottled water are even part of the deal.
5. This tatami-inspired contemporary pad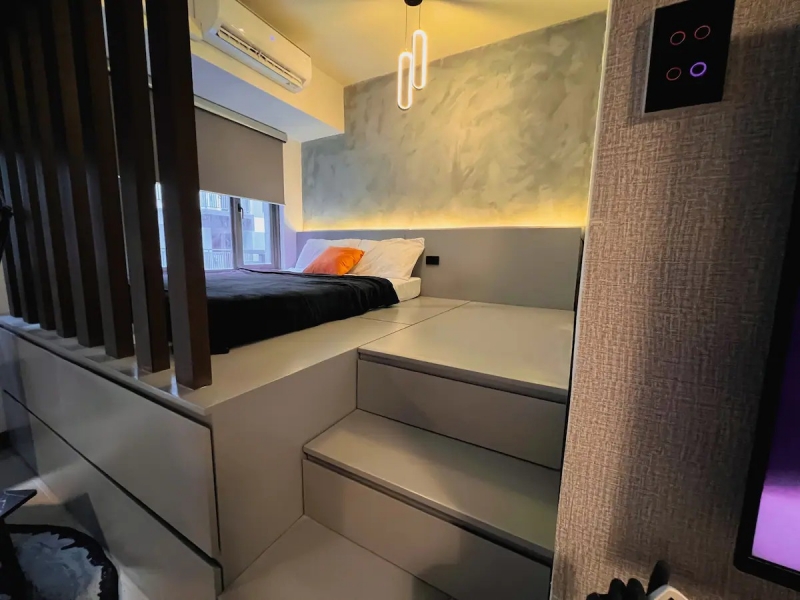 Listing name: Modern Tatami Smart Pod
Listing type: Entire rental unit
Max. no. of guests: 4
No. of bedrooms: 1
Looking for a restful retreat in the heart of the bustling city? Get inspired by minimalist living in this stunning smart pod that features a traditional Japanese-style bedroom. Climb a few steps up to the cosy nook to rest in a quiet space at the end of each day.
At the same time, this Airbnb in Pasay comes packed with ultra-modern features for tech-savvy guests: a keyless doorknob, light sensors, screen-operated light switches, and even an automated trash bin.
6. This penthouse hideout with prime comfort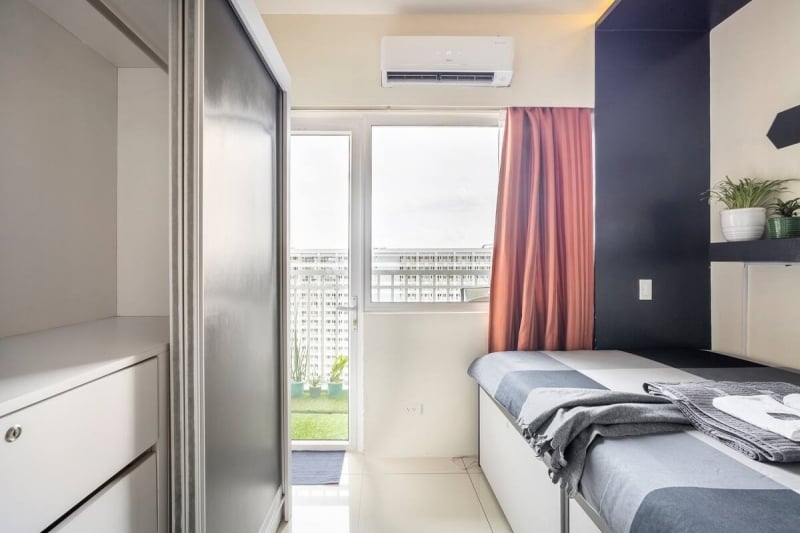 Listing name: Papo's Sky Place (Penthouse Near WTC, PICC & CCP)
Listing type: Entire condominium
Max. no. of guests: 2
No. of bedrooms: 1 
This cosy condominium in Pasay will make all your penthouse dreams come true — and at a surprisingly affordable price. It lets travellers indulge in small luxuries, such as a plush bed, a private balcony, and amazing views of Manila Bay and the Pasay cityscape. And since it's on the upper penthouse floor, guests of this unit enjoy peace and quiet during their entire stay. 
Previous guests praise the Airbnb's clean and comfortable interiors, as well as the Superhost's warmth and flexibility. For a small fee, guests of the penthouse can also access the building's shared outdoor pool.
7. This relaxing flat that's easy on the eyes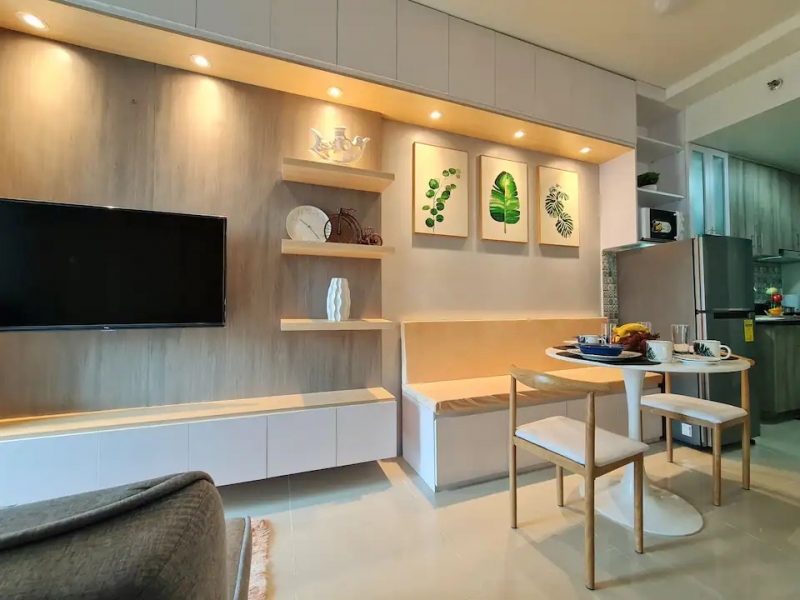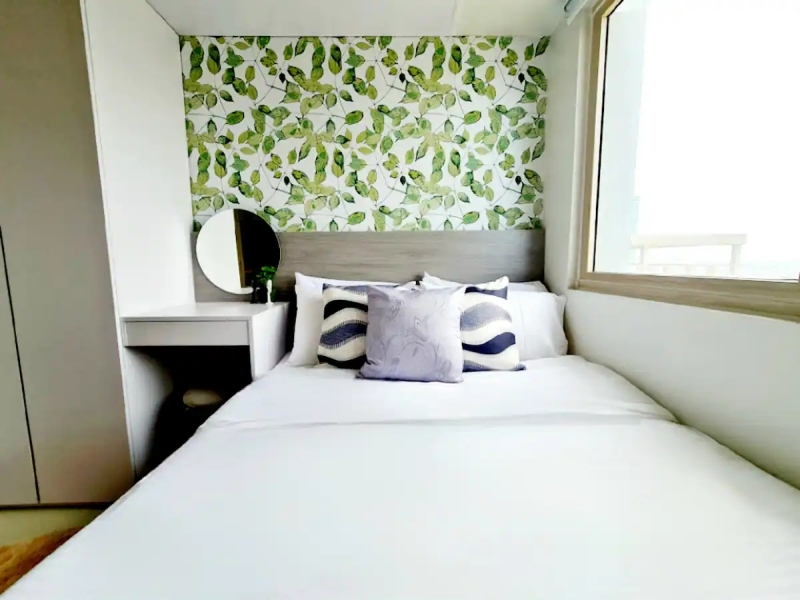 Listing name: Modernistic flat along Roxas Blvd |Fast net|Netflx
Listing type: Entire condominium
Max. no. of guests: 3
No. of bedrooms: 1 
Nestled at the heart of Roxas Boulevard, this light-filled Airbnb in Pasay makes for an Insta-friendly backdrop for a getaway in the metro. It looks beautiful and clearly decorated with elegant taste. But it also has everything you'll need for a comfortable stay, from a kitchen to a washing machine. There's also fast WiFi, in case you're on a working vacation. 
If you're in Pasay to explore, this Airbnb is a wonderful base located near the Mall of Asia, Manila Bay, the US Embassy, and the airport.
8. This classic condo that feels like home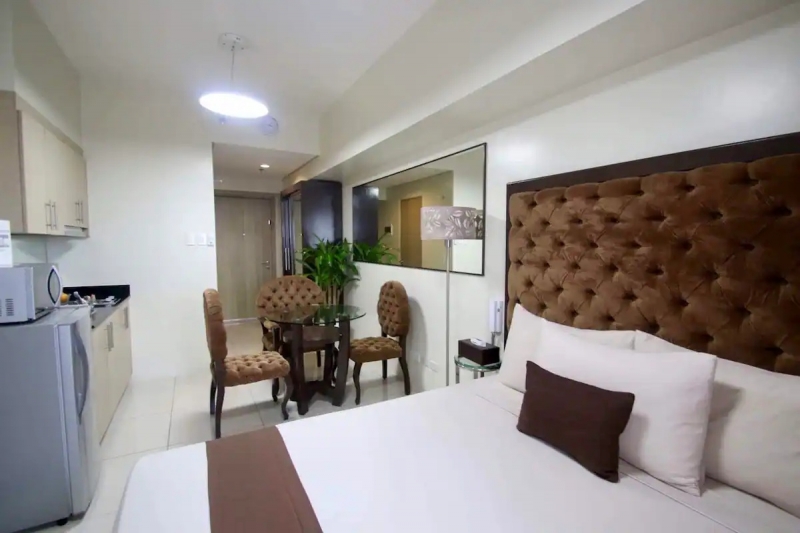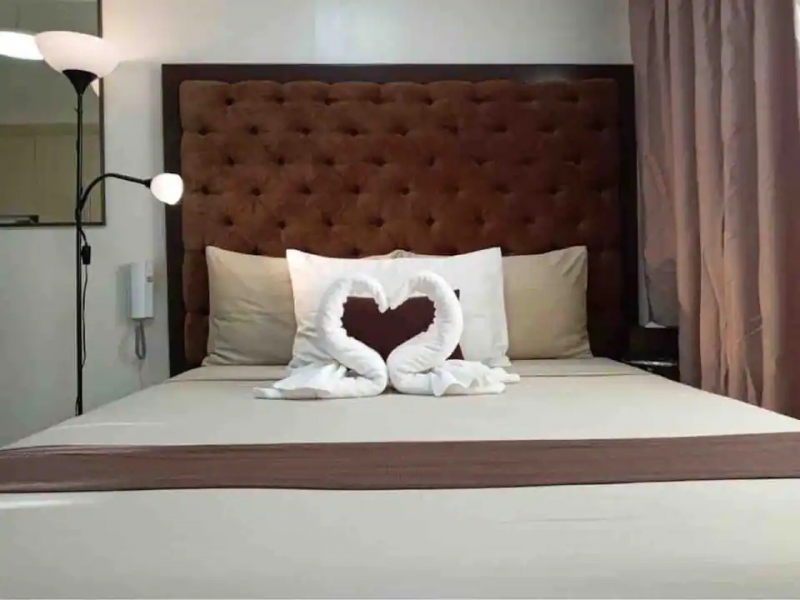 Listing name: A cozy place to stay in Manila (Breeze) w/Netflix
Listing type: Entire condominium
Max. no. of guests: 3
No. of bedrooms: Studio 
Hoping to take in the sights? Stay in this classic studio in the heart of Roxas Boulevard that's only a short stroll across the road to Manila Bay. Not only is it within easy walking distance to the bay, but it's also near entertainment, recreation, dining spots, and multiple transport options.
Additionally, this studio is well-styled. Featuring high ceilings and air-conditioning, it's a pleasant place to spend a much-deserved staycation. Other highlights include free WiFi, a Smart TV, and an electronic digital safe. Towels and shampoo are even provided. All that's left to do is relax.
9. This sunny studio that's cosy and bright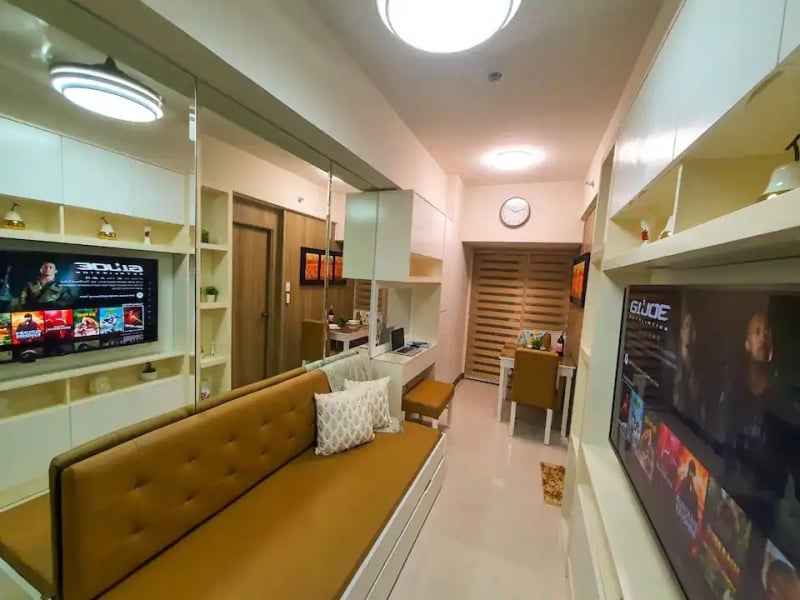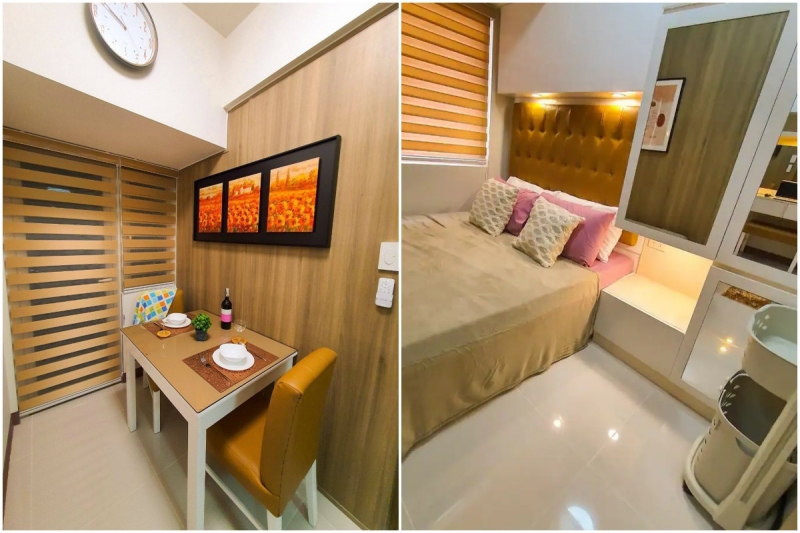 Listing name: NEW1BR:Roxas Blvd, CCP, NAIA, MOA, USEmbassy, PICC
Listing type: Entire condominium
Max. no. of guests: 3
No. of bedrooms: 1 
Meet Casa Divina, a vibrant studio that keeps you close to popular spots like the Cultural Centre of the Philippines, the World Trade Centre, and the Mall of Asia. With a double bed and a sofa bed, this cosy space won't fit a lot of people — it's good for three guests, max — but it's a comfortable Airbnb for solo travellers or pairs who want to see the sights in Pasay. Freebies include complimentary drinking water, coffee, shampoo, and bath soap.
10. This laidback home for four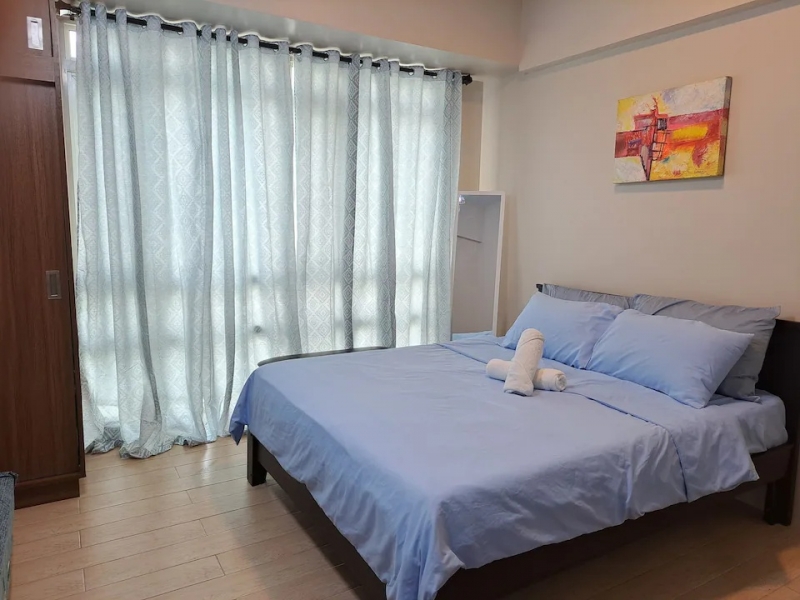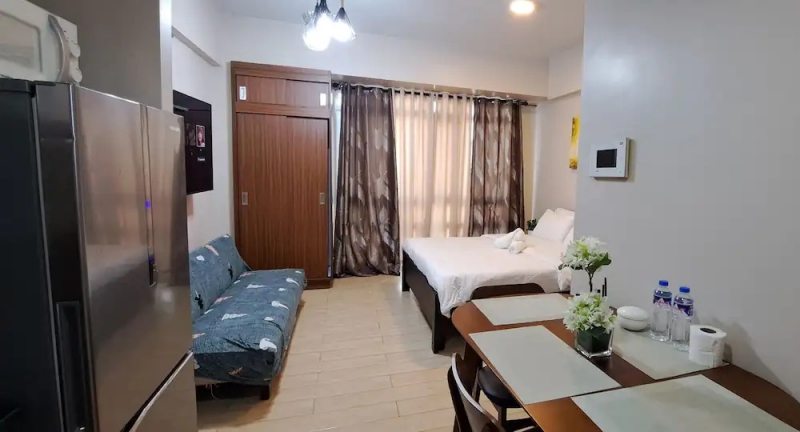 Listing name: Condo Deluxe near NAIA T3
Listing type: Entire condominium
Max. no. of guests: 4
No. of bedrooms: Studio 
This clean and comfortable Airbnb in Pasay is ideal for a small family visiting the metro. With enough space for four travellers, it's a good hotel alternative if you're looking for something homier and more affordable. Cook delicious meals over a two-burner electric stove, and enjoy a safe neighbourhood close to restaurants, cafes, and supermarkets.
Most of the previous guests praise the Superhost's kindness and responsiveness. Reviews also highlight the rental unit's proximity to the airport, saying that it's perfect for early flights and long layovers.
Also read: 12 Hotels Near Manila Airport (For When Your Flight is Too Early)
Whether you're planning a visit to Metro Manila or just browsing for staycation spots near the Manila Bay area, these Airbnb finds in Pasay won't disappoint.
Got a property you'd like TripZilla to feature? Inquire with us here.
---
This article contains affiliate links. When you book through these links, we may earn a small commission at no additional cost to you. All images courtesy of the respective property listings.