Welcome to the province of Albay — home of the famous Mayon Volcano! This volcano is known far and wide for its perfectly symmetric cone shape, which can rival the likes of Mount Fuji. But if you think that's the only thing interesting about this Philippine province, well, think again! We've come up with a handy travel guide that includes every Albay tourist spot (both mainstream and underrated), as well as everything else you need to know before and during your trip. 
General topography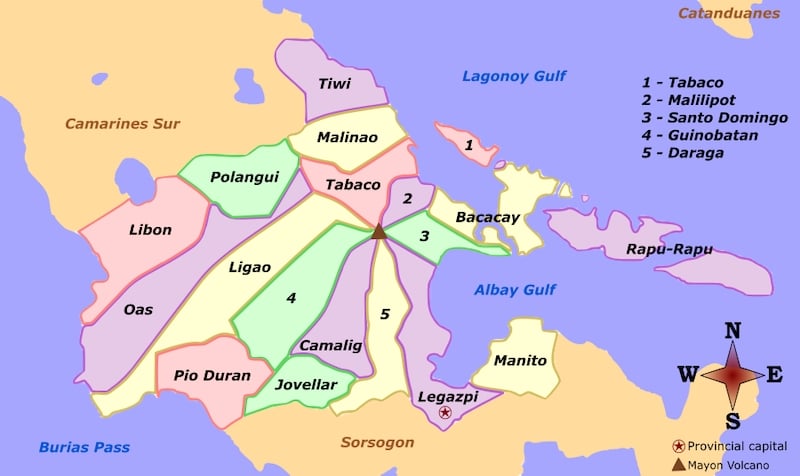 If you'd look for Albay on a map, you'll notice that most of its cities and towns have a 'slice of the pie' that is Mayon Volcano (see photo above). So, you can expect to see this mesmerising view in nearly every Albay tourist spot that you'll visit! As you read further, you'll also find out where you can get the best views of the most active volcano in the Philippines.
Top places to visit in Albay
Every popular Albay tourist spot that you should visit, especially if it's your first time!
1. Legazpi Boulevard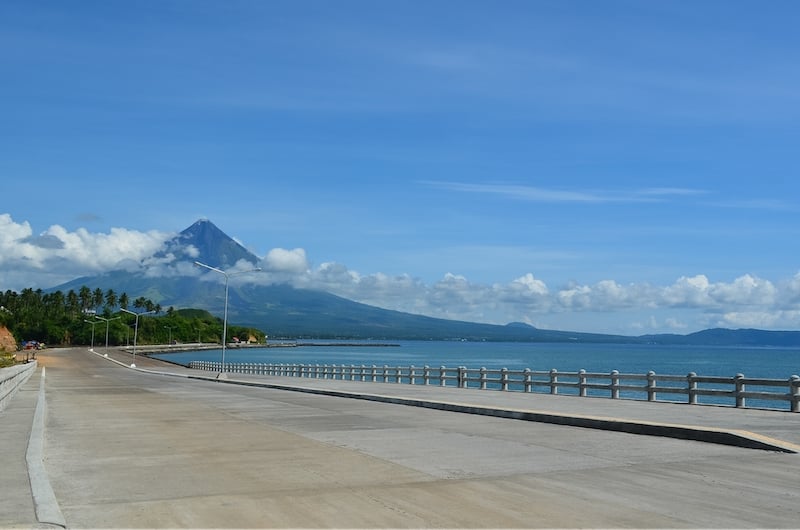 For travellers arriving from Legazpi Airport, we recommend making Legazpi Boulevard your first stop. If you can, visit this coastal road early in the morning to watch the sunrise, topped off with a view of Mayon Volcano and the glistening gulf. You'll find many locals engaging in various fitness activities, like jogging, biking, and even Zumba! There's also a set of life-size letters spelling out 'Legazpi' right by the bay walk if you're up for that quintessential touristy shot. 
2. Cagsawa Ruins Park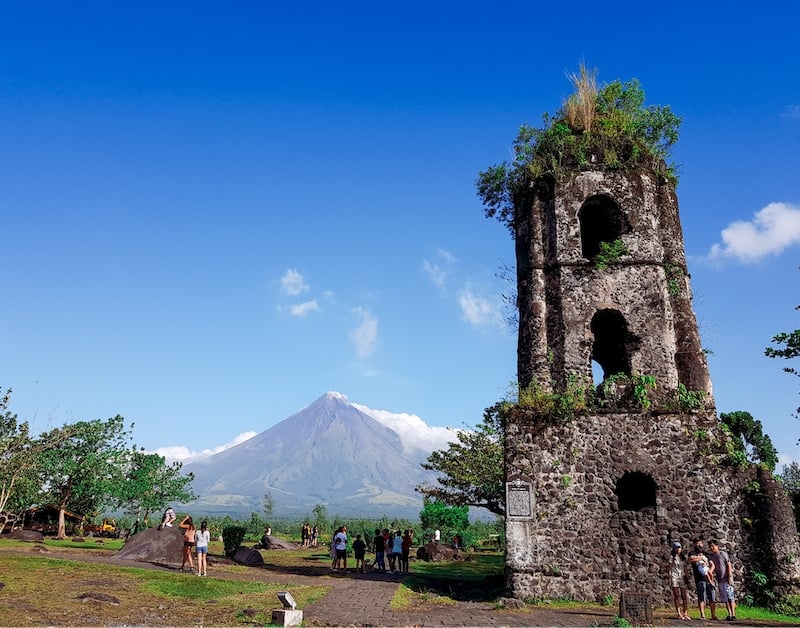 Located in the town of Daraga, Cagsawa Ruins Park is arguably the most iconic Albay tourist spot. Any Filipino student would definitely recognise this from their history books — specifically, the Cagsawa Church tower and the majestic Mayon Volcano in the background. So, whatever happened to the bottom half of the church, you ask? 
Back in 1814, the volcano eruption ended up burying the town of Cagsawa and its surrounding areas, killing approximately 2,000 people. Hundreds of inhabitants supposedly evacuated to the said church, which isn't exactly the best place to seek refuge given that it's just 11 kilometres away from the volcano. So, yes, there are several ghost stories about the place, which you can ask the locals about! 
Also read: Cagsawa Ruins Bloom with Flowers Amidst COVID-19
3. Mayon Volcano National Park
Looking for a more up-close experience with the Mayon Volcano, beyond Cagsawa Ruins? Well then, head over to Mayon Volcano National Park. Fun fact: it has been on the UNESCO World Heritage tentative list since 2015! Take your pick between riding an ATV or jeep to explore the nature-filled scenery, from rice fields to creeks and rivers. 
Feeling more adventurous? You can also opt to go hiking at the volcano base, but make sure to check the travel advisory prior to your trip. It is, after all, an active volcano. Most likely, you'll even see puffs of smoke coming out of its peak! If that isn't a spectacular sight to behold, then we don't know what is. 
Also read: What If The Philippines Had Its Own '7 Natural Wonders'?
4. Sumlang Lake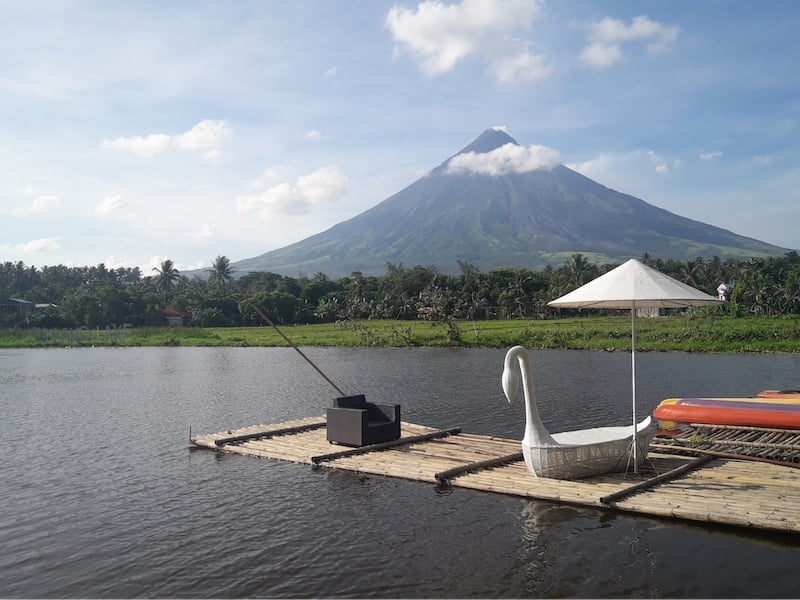 Meanwhile, in the town of Camalig, there's Sumlang Lake. Like the previous items, this too offers an unspoilt view of the Mayon Volcano. Though, it's actually relatively new; it went by unnoticed for decades, given that waterlilies covered most of its formerly filthy waters. But thanks to the combined efforts among locals, it eventually became another must-visit attraction! 
While swimming isn't allowed because of the murky waters, you can still have a quiet, relaxing time in this Albay tourist spot. Spend the afternoon cruising on a bamboo raft, while taking in the unspoilt view of Mayon. You can also rent a paddleboard or kayak, if you want to sneak in a workout in between sightseeing! There are also lovely handcrafted abaca chairs and art pieces around, which are perf for your travel photos. 
5. Daraga Church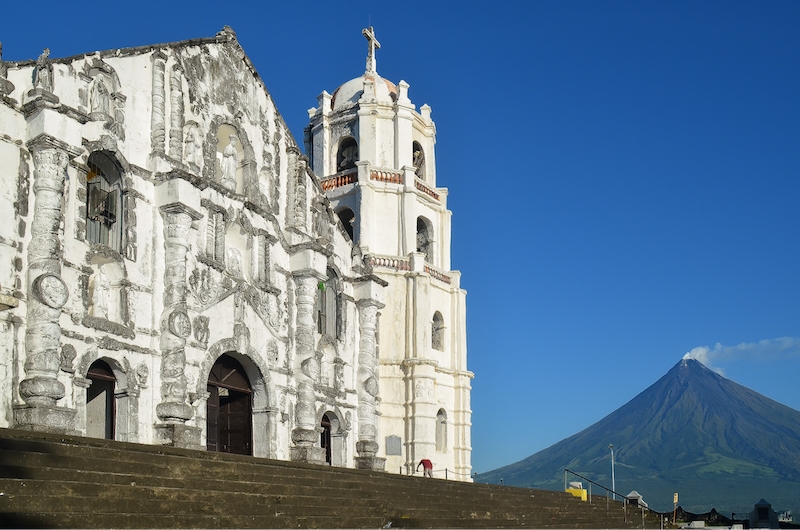 Built in 1772 by Franciscan missionaries, Daraga Church is another Albay tourist spot that's a must-see. This 18th-century Baroque church sits atop a small hill, with the walls, facade, and belfry made out of volcanic stone. Also, certain sections of the church have been declared a National Cultural Treasure by the National Museum of the Philippines. Its complete and original name is actually Nuestra Señora de la Porteria Church. 
6. Ligñon Hill Nature Park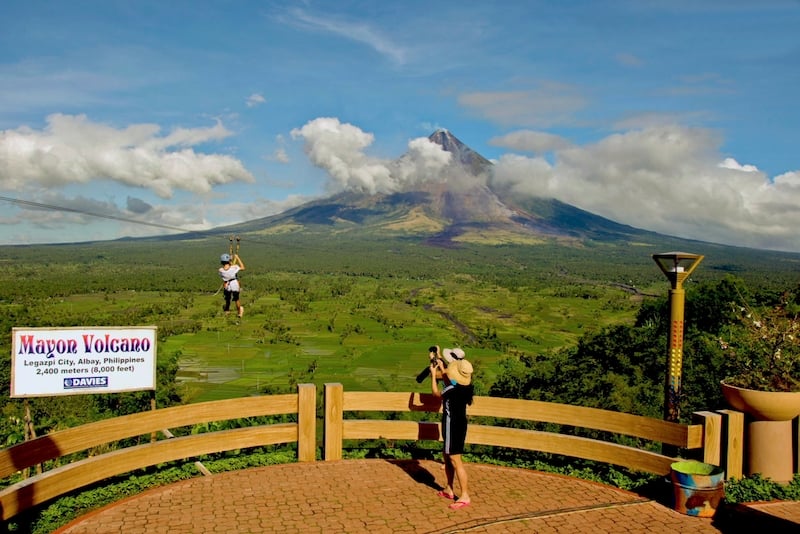 For the sporty and outdoorsy, Ligñon Hill Nature Park is the perfect Albay tourist spot for you. It offers stunning panoramic views of Mayon Volcano, as well as Legazpi City below. Here, you can take your pick among fun activities like trekking, ziplining, rappelling, and crossing a hanging bridge! Oh, and there's even a historic tunnel that you can see, which was used by Japanese forces during World War II. 
Also read: 10 World-Class Islands in the Philippines Travellers Rave About
Underrated Albay attractions
Beyond the usual Mayon Volcano gazing, here are some places to visit in Albay that are thankfully still under the radar. 
7. Quitinday Hills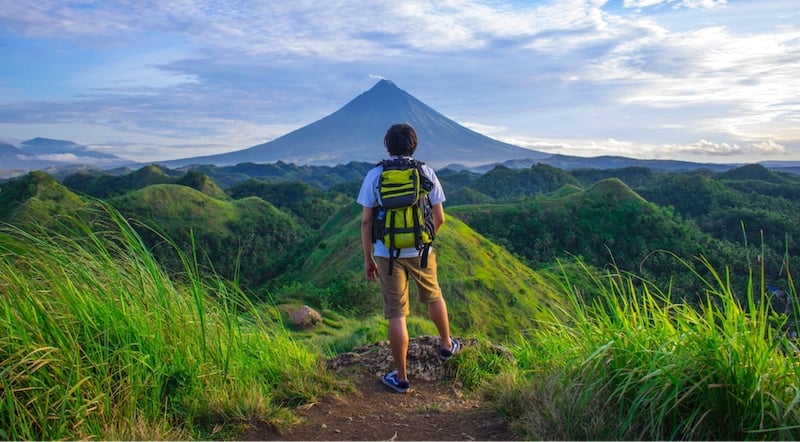 You've probably already heard of the Chocolate Hills in Bohol, but did you know that there's an equally stunning one in Camalig? That would be Quitinday Hills, which covers about 400 hectares and no mound is exactly alike. Topping off this already picturesque scenery is the Mayon Volcano in the backdrop, of course. This Albay tourist spot is also referred to as the 'Pili Nut Hills' — since pili nuts are one of the top produce in the Bicol Region.  
8. Jovellar Underground River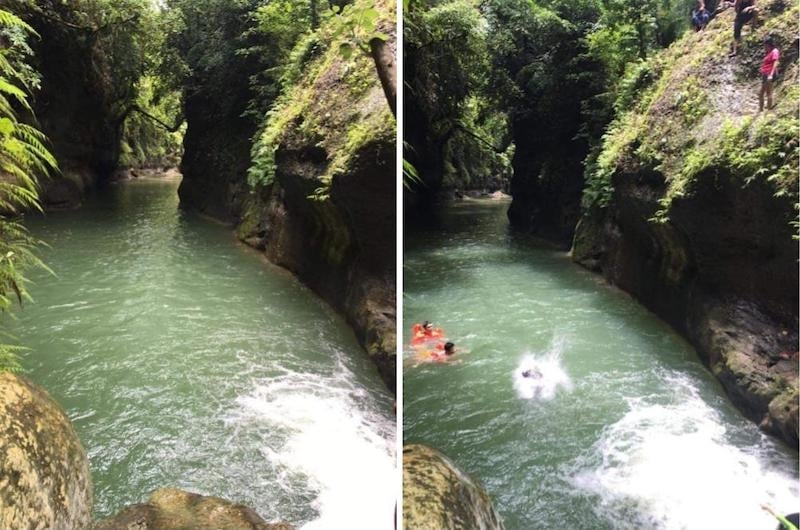 While there's the famous Puerto Princesa Underground River in Palawan, you'll be surprised that you can also find one here in Albay. In the town of Jovellar, just a half-hour drive from Quitinday Hills, lies another hidden gem: the Jovellar Underground River. Sure, it's not as massive as the one in Palawan, but it's amazing in its own way. 
Hop aboard a bamboo raft that'll take you inside the cave, which is about 150 metres long. Inside, you'll find glimmery stalagmites, stalactites, columns, and other impressive rock formations. When you reach the end, you'll find the underground Sigpit Falls, where you can take a dip! If you're feeling extra gutsy, you can even go cliff-diving from a makeshift swing in this spot. 
9. Albay Farmers Bounty Village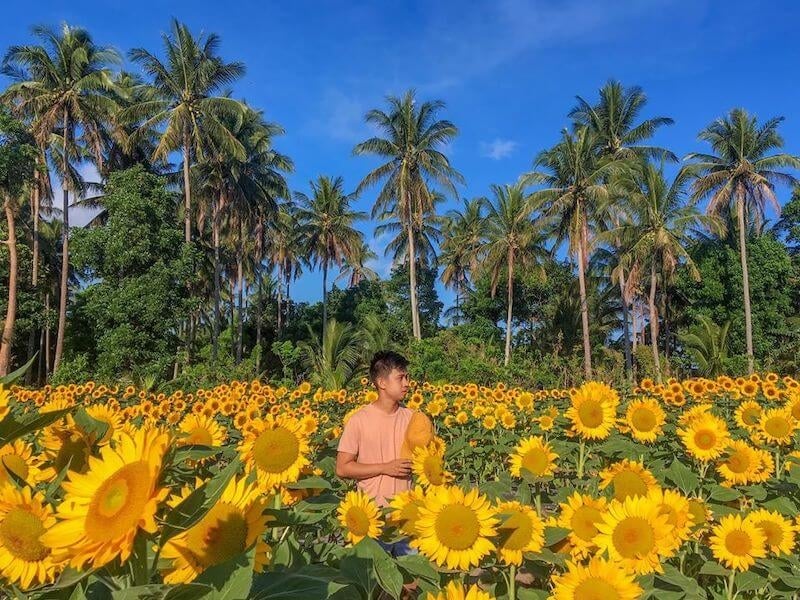 For a sunny, bloom-filled sight, head over to Albay Farmers Bounty Village. Here, you'll find a vibrant sunflower maze set against a stunning backdrop of coconut trees and the Mayon Volcano on the horizon. This recently expanded agricultural hub also has a bee farm and a dairy farm where you can buy some wellness souvenirs. It was built to be an inclusive, one-stop-shop for anyone interested in agriculture, from farmers and producers to students and enthusiasts. 
10. Rapu-Rapu
Most travellers often make a beeline for Misibis Bay or even Sorsogon if they're looking for lovely beaches to frolic on. But here's a hidden Albay tourist spot that you might not know about: the island town of Rapu-Rapu. It has several island villages with remote, pristine shores where you can bask in the tropical sun and quiet surroundings. 
Some of the must-visit islands include Guinanayan Island and Batan Island. The former is perfect for snorkelling and scuba diving, while the latter has caverns and waterfalls that you can explore aside from the beach. In between island-hopping, make sure to try some yummy fresh seafood and refreshing coconut juice, too! 
Also read: 15 Things to Do in The Philippines That Even Some Locals Don't Know About!
How to get around and explore these Albay attractions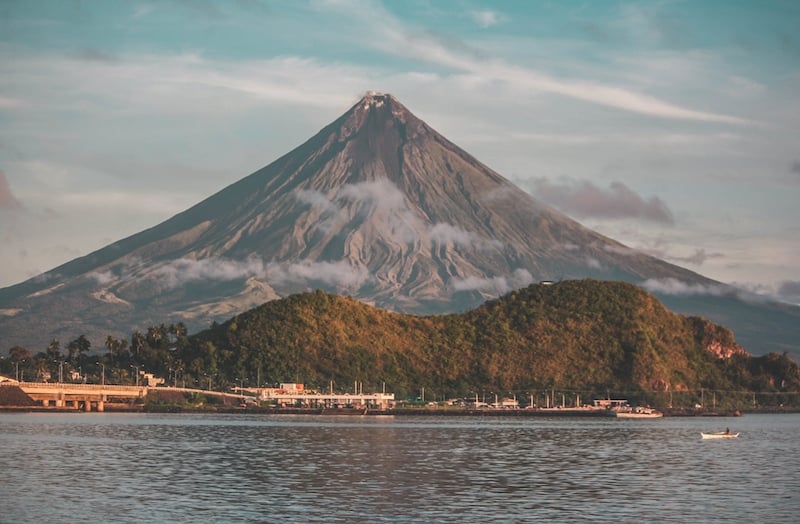 For a seamless way to see the recommended Albay tourist spots, it's best to rent a car or van. This also allows a more flexible itinerary, and you can ask your local driver for insider tips and info, too! Although, if you're going for a budget trip, public transportation is also fairly easy to come by. This is especially true in Legazpi, given that it's the capital city, so there are definitely a lot of options like taxis, jeepneys, UV Express vans, and tricycles. 
For other cities and towns, you can take buses, jeepneys, and tricycles to hop from one area to another. And in case you're wondering which is the cheapest option — that would be jeepneys, for sure. Just make sure you take note of the designated routes and plan ahead!  
Best places to eat
Of course, it's important to grab a bite in between experiencing the best things to do in Albay! You'll find a great selection of must-try restaurants around Legazpi City. Better yet, why not allot one day of just eating and trying out the best bites that the capital has to offer?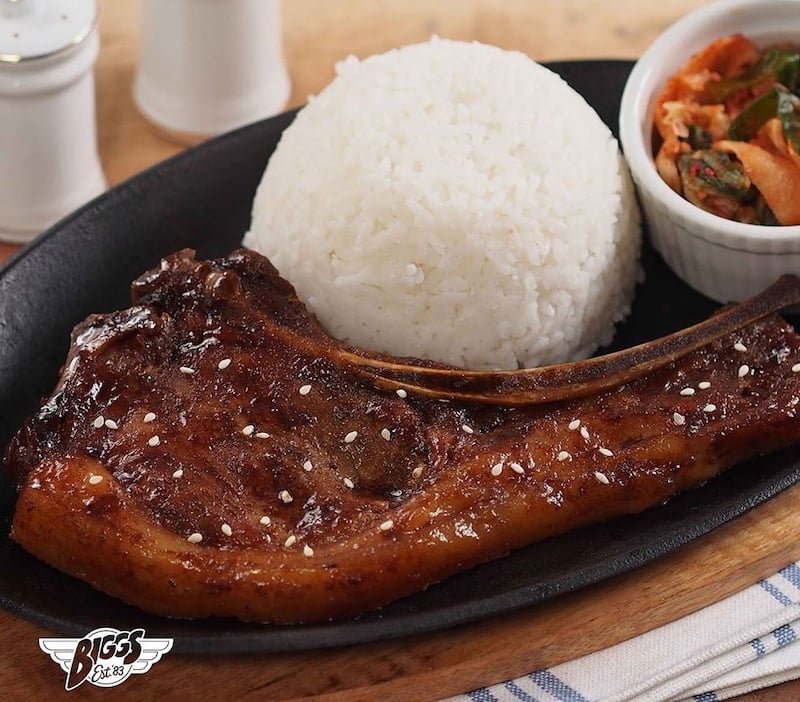 Start your day with a filling brunch at Bigg's Diner: the biggest homegrown resto chain in the Bicol Region. Trust us, your trip wouldn't be complete without this! They have a total of three branches in Legazpi alone, but we recommend the one in Old Albay District for a full-on old-school vibe. It's also the first-ever branch in this province, which makes it an Albay tourist attraction on its own.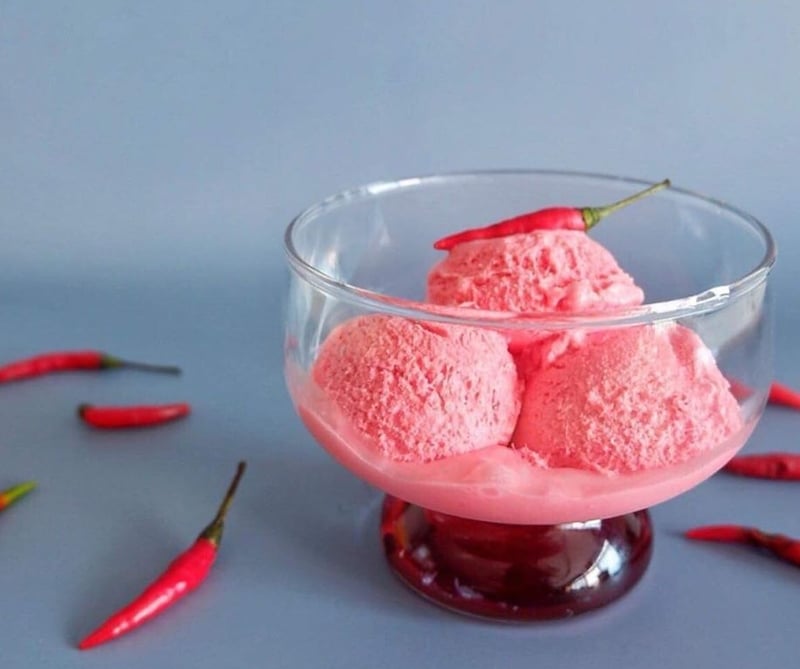 Afterwards, head over to 1st Colonial Grills for your first dessert of the day: sili ice cream. Made with chili pepper and coconut milk, it's literally fire and ice in gastronomical form! Don't worry — it comes in varying degrees of spicy, so you should be a-ok whatever your tolerance level is. 
Of course, as far as cold and refreshing Filipino desserts go, halo-halo will always be king! For those who are unfamiliar with this, it's composed of shaved ice, milk, pinipig rice, flan, jelly, and fresh and preserved fruits — topped off with a scoop of ice cream. And for most locals, DJC Halo-Halo in Landco Business Park is the way to go.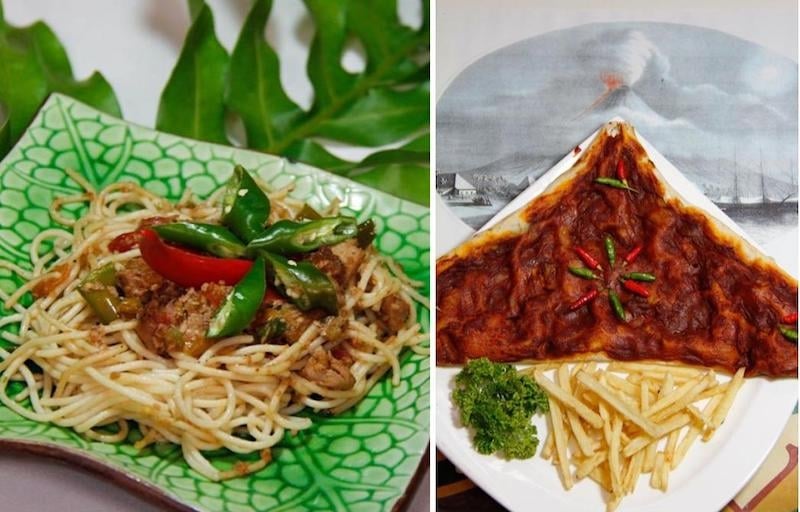 Finally, for the best of Bicolano cuisine, make sure to visit Small Talk Cafe on Doña Aurora Street. Their menu has a fantastic mix of traditional dishes and unique fusion specialities. It's no wonder that it's a crowd fave among tourists and locals alike! For straightforward classics, we recommend their Beef Salpicao, Bicol Express, and ox tongue with mushroom sauce. But if your tastebuds are feeling adventurous, go and try their Laing Pasta,  Bicol Express Pasta, and Mayon-shaped Spicy Pizza! 
Also read: A Taste of the Philippines: Top 10 Food Destinations for Travellers
Where to stay in Albay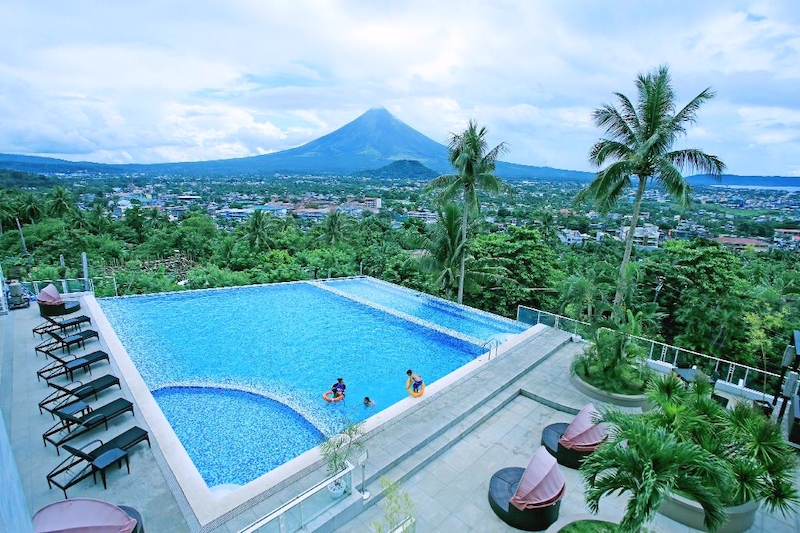 Most of the best hotels in Albay are in Legazpi, since it's where the airport is. So, if you prefer the usual hotel as your accommodation, then the capital is your best bet. For this, we recommend The Oriental Albay, Hotel Venezia, Lotus Blu Hotel, and Emerald Boutique Hotel. As for beach resorts, there's the famous Misibis Bay on Cagraray Island. Clearly, it's an Albay tourist spot and luxe tropical haven rolled in one!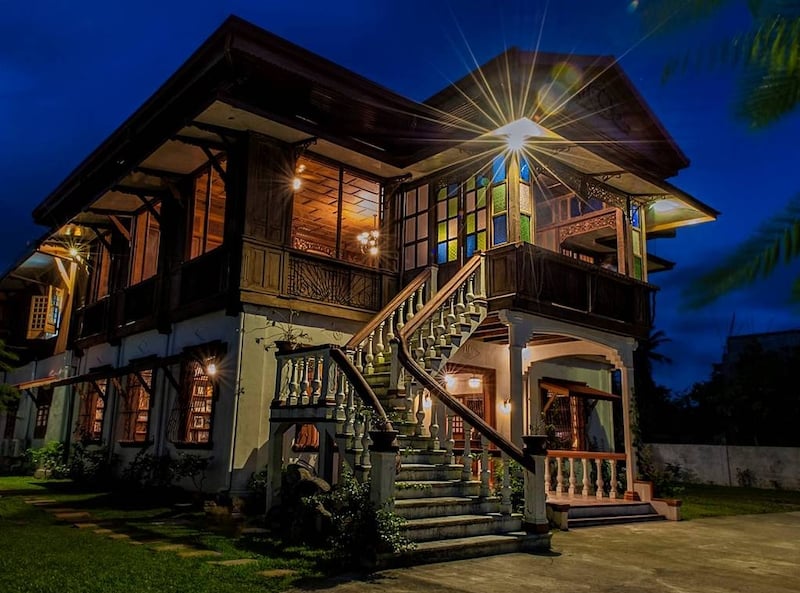 Want to experience living inside a traditional Filipino house as your chosen stay? Fortunately, there are a handful of options in Legazpi and even in nearby towns! There's Casa Simeon in Bacacay, and FYI — it's a real heritage manor. For something more lowkey, modern, and homely, check out Balay Tinay Guesthouse. Apart from these, there are a lot of homestays and budget-friendly hostels around Albay that are ideal for young travellers on a budget. 
Also read: Where To Stay In The Philippines – Best Hotels, Hostels and Resorts
How to get to Albay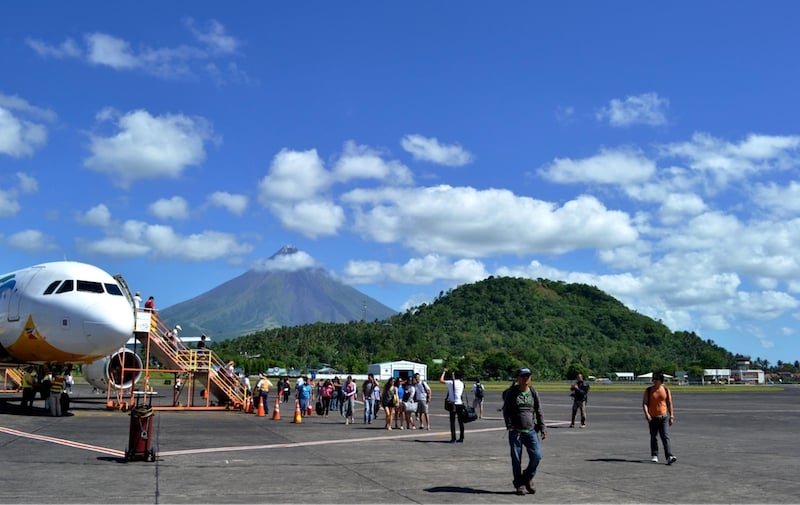 Travelling to Albay can be done by air and land. The former is definitely faster and therefore more convenient, whereas the latter allows for more sightseeing. 
Travel by plane
Local airlines like Philippine Airlines and Cebu Pacific have direct flights to Legazpi Airport from both Ninoy Aquino International Airport (MNL) and Mactan-Cebu International (CEB). Flights from both points of origin take approximately an hour and a half, but it's best to make leeway for potential flight delays and airfield traffic. 
Also read: Bicol International Airport Will Soon Be the "Most Scenic Gateway" in the PH
Travel by land
Travelling from Manila to Legazpi via private/rented vehicle takes about 10 hours on average traffic with minimal stopovers. If you're taking a bus from Manila, there are several bus companies at Araneta Center Bus Terminal that offer routes to Legazpi Grand Central Terminal in Legazpi. For bus travel, it's best to anticipate a 12-hour trip, especially if the bus isn't a direct route to Legazpi (meaning there are stops in select towns and cities along the way). 
When is the best time to visit Albay?
Like in most Philippine destinations, Albay has a tropical rainforest climate, so there's always a chance of rainfall all year 'round. That said, January to February is the best time to visit (especially for foreigners) since these are the coldest months with less chances of rain. Meanwhile, April to June are the hottest months, yet this is the best time if you're planning to go to the beach, too. August also tends to be a peak season for Legazpi, because this is when the non-religious Ibalong Festival is held.
Also read: 17 Things Foreigners Shouldn't Do in the Philippines!
There you have it — a quick, handy travel guide to Albay province! Which Albay tourist spot are you planning to check out first? Though, if you've been here already, which one would you say is your fave? Go ahead and tell us in the comments. 
---
Featured image credit: Archie Binamira via Canva Pro. This article was originally published on TripZilla.