Contributed by Shelly Viajera
South Korea is one of the bigger countries in Asia, not only in size but also in number of visitors all year round. So the flock of tourists, especially in the two largest cities Seoul and Busan, somehow makes the demand very high—a factor that could make travelling here a bit expensive.
Also read: A Filipino Traveller's Guide to Visiting Korea for the First Time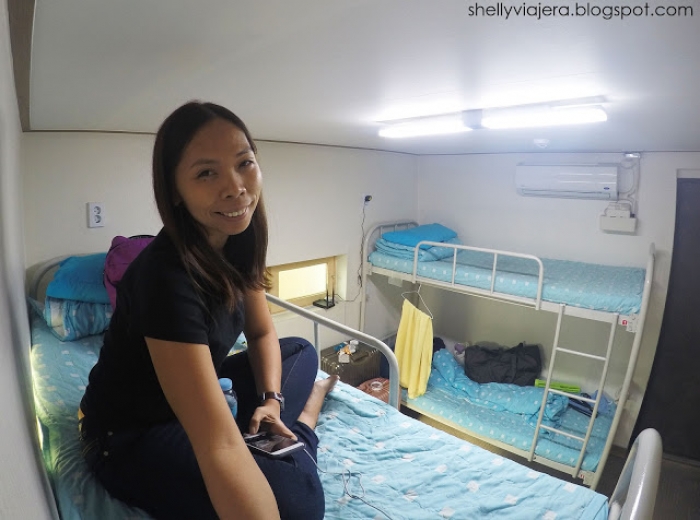 But with careful planning, of course, budget travelling is still possible. Here are some tips to save money when in South Korea:
1. Take the train and subway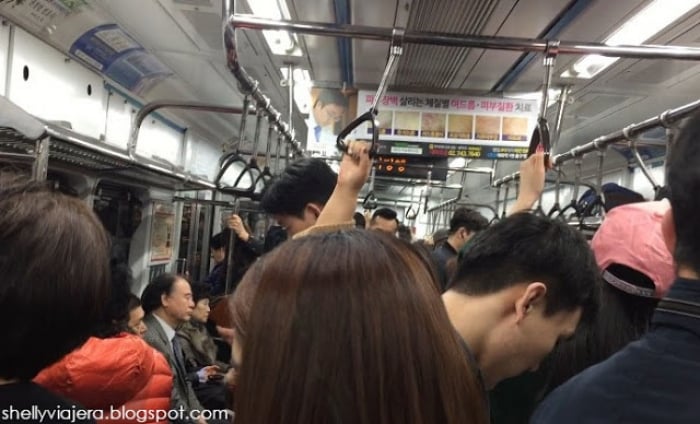 The Koreans are lucky for having an amazing public transportation system. It is safe, convenient and tourist-friendly. Almost all tourist spots are accessible by train or subway. You can easily go from the city to the province through the connected railways. Even the locals themselves, regardless of the profession and age, ride them on a daily basis.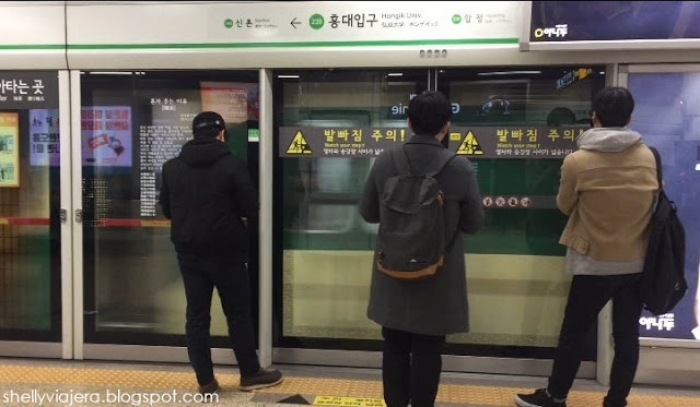 Right at Incheon International Airport, you can take the train. Although there are taxis and airport buses available, the Airport Railroad Express (AREX) is the fastest way to get to Seoul. It has two types namely, the Express Train and the All-stop Train.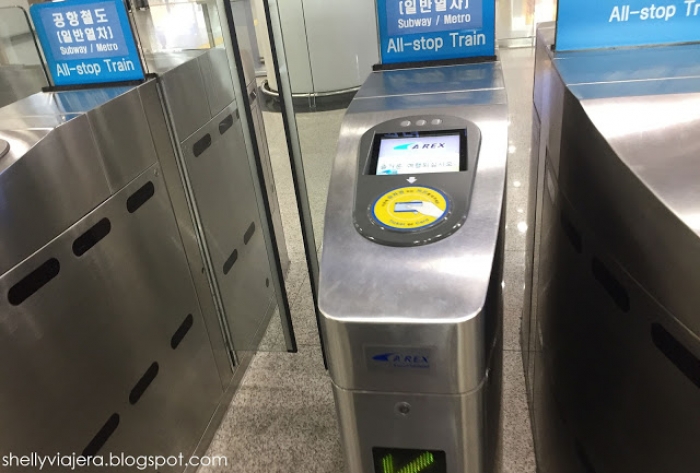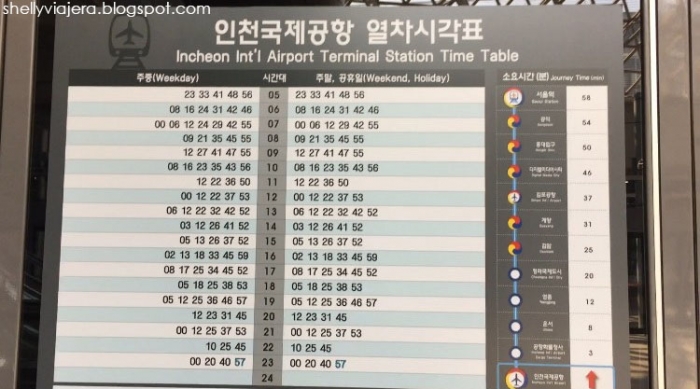 If you aren't in a hurry at all, then take the All-stop Train. It is cheaper! One-way ride only costs ₩4,250 (₱187) as compared to the Express Train's ₩14,800 (₱650). It stops at 12 stations before reaching the final stop, Seoul Station. Travelling time is 58 minutes as compared to 43 minutes with Express Train. There is only a slim difference in time, but the price is tripled. Here is a table of comparison:
| | | |
| --- | --- | --- |
| | AREX Express Train | AREX All-stop Train |
| Price | ₩14,800 | ₩4,250 |
| Stops | Non-stop | 12 stops |
| Travel time | 43 minutes | 58 minutes |
| Train interval | Every 35 minutes | Every 10 minutes |
| First train | 05.20 AM | 05:23 AM |
| Last train | 09:45 PM | 11:42 PM |
2. Use T Money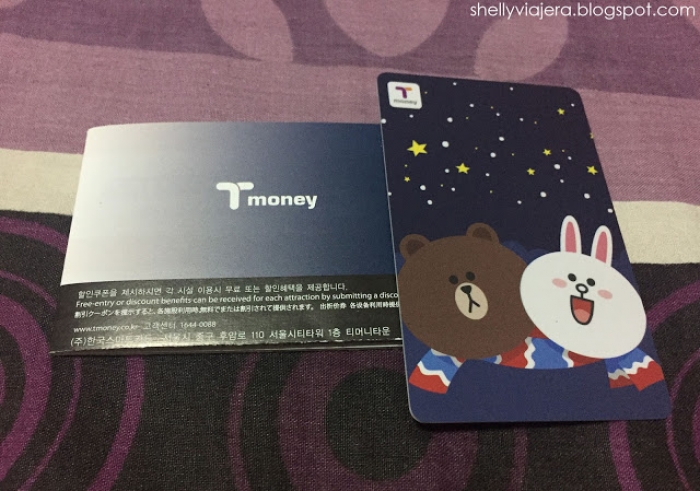 T Money is one of South Korea's tap cards that may be used in trains, subways, buses, and even at convenience stores. Aside from saving time in buying tickets all the time, it gives discounts per ride. For adult passengers, there is a ₩100-discount when using the T Money against paying in cash. So imagine, you can save ₩1,000 after 10 rides, an amount that can relatively buy you a coffee at the convenience store.
T Money cards are mostly sold at convenience stores. There is one at the ground floor of the arrival area of Incheon International Airport. The card itself costs ₩4,000 without any load yet. You have to load and reload it separately, which may be done at convenience stores or any reloading machine at the train or subway station.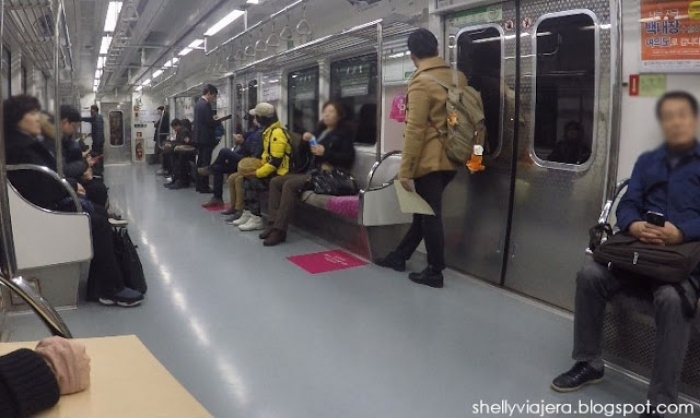 The amount to put in the T Money card depends on you. But to give an idea on how much to put in, I initially loaded ₩25,000 and I was able to use it for five days in Seoul and Busan's subways and trains. The T Money card can also be used in the AREX All-stop Train.
3. Stay in a dormitory style accommodation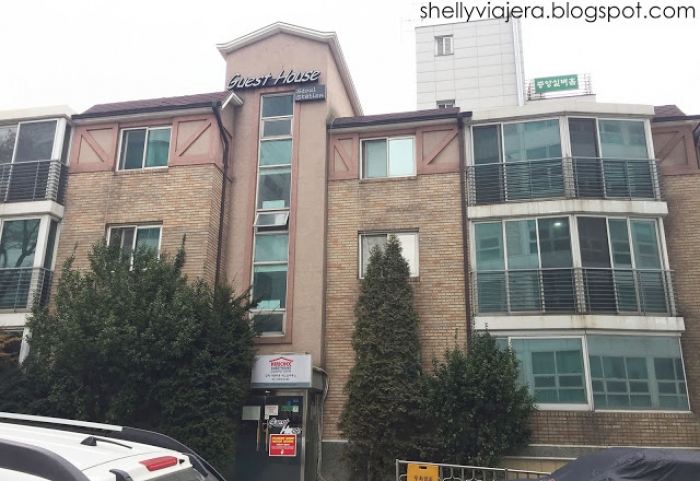 To get the cheapest accommodations in Seoul, stay close to university areas such as in Hongik University (Hongdae) or in Ewha University. Aside from accommodation, food and shopping items are usually cheaper here than anywhere else to fit the budget of university students.
I stayed for four nights at Kimchee Guesthouse Downtown. I loved this guest house for many reasons. First, it was so cheap at ₩10,750 (₱505) per night. It is dormitory type. I slept in a bunk bed in a shared room with three other female guests.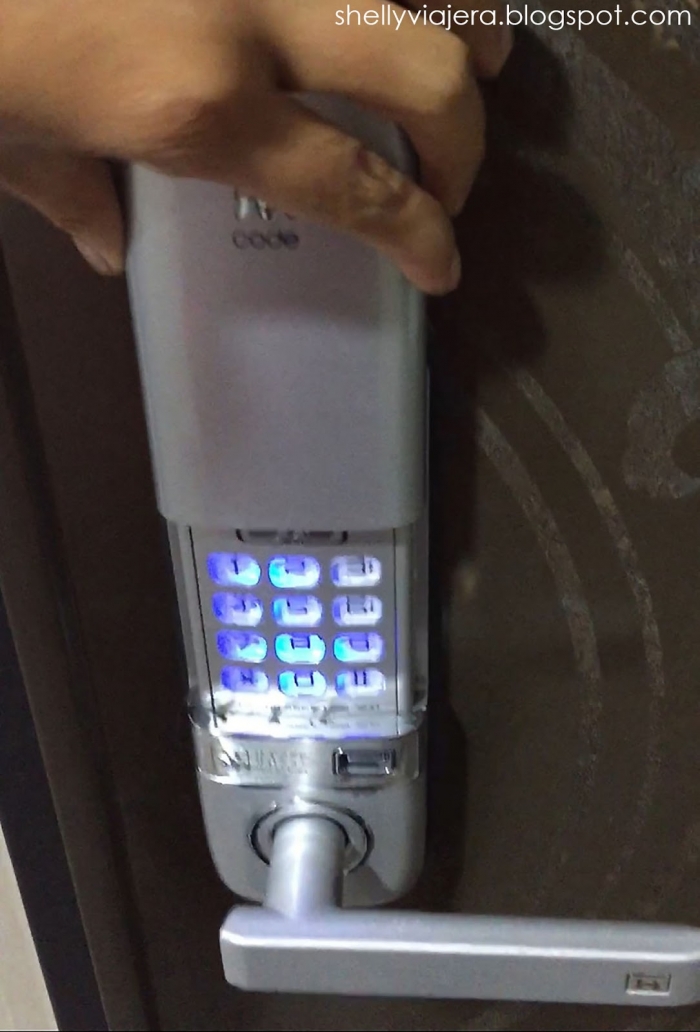 Both the locker and door are equipped with pass codes so security was not an issue even though I shared most of the facilities here with other travellers.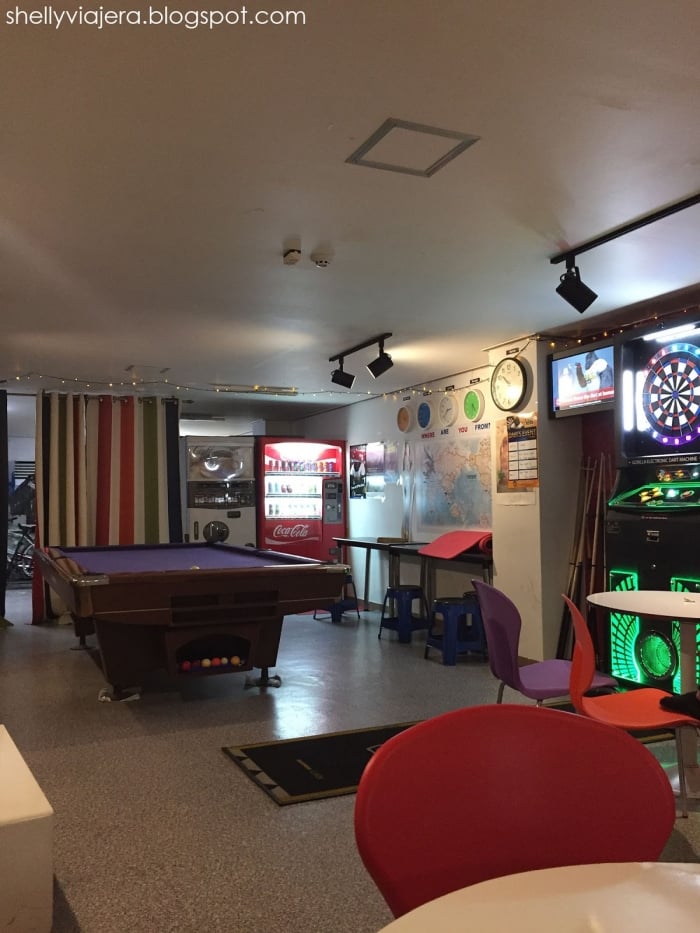 The atmosphere is also very youthful. I got to know many young backpackers especially in the common area that has a reading, computer, and play area. The fully functional kitchen where one can cook and prepare food also makes it cost-friendly. But most of all, the location was a win-win for me as it is a hop away only from Chungjeongno Station Lines 2 and 5.
4. Enjoy the street food
I find food prices in South Korea quite similar in Japan: expensive. It is not bad to eat once in a while at restaurants and cafes, but doing it every single meal may get pretty harsh in the pocket.
Also read: 12 Must-Try Korean Street Foods in Myeongdong
As an alternative, try Seoul's diverse street food. They are filling to the tummy and wallet at the same time. For example, a stick of fish cake is priced at ₩1,000 (₱44), chicken skewer at ₩2,000 (₱88) and octopus cake at ₩3,000 (₱132).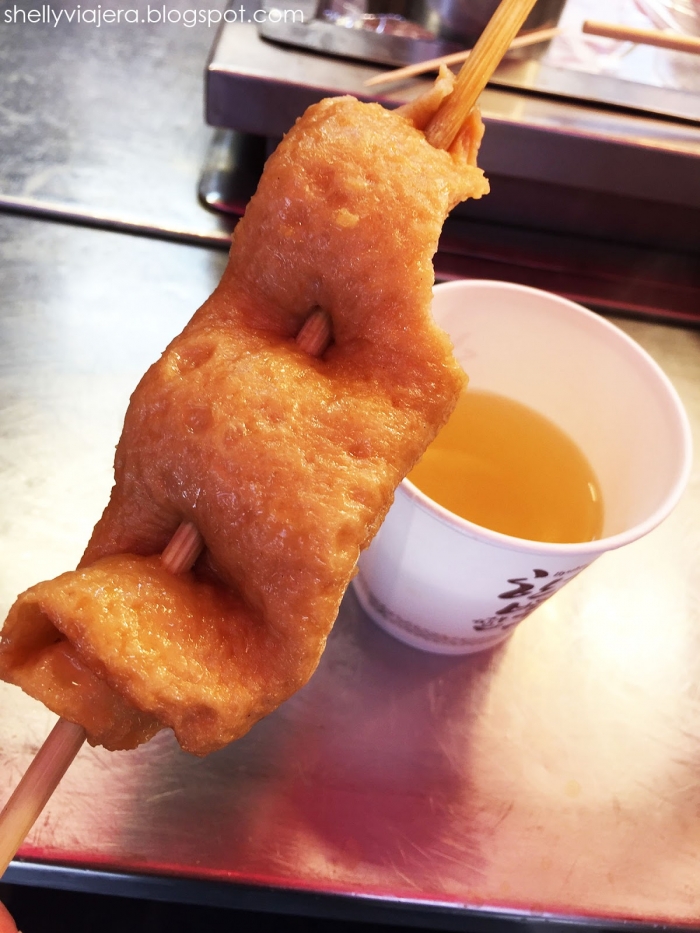 It even includes a delicious cup of hot ginseng tea for drinks.
Watch out for the spicy food though. It is very common in South Korea and spiciness is defined there at a different level! You can say: "Ahn maep-gae hae-ju-se-yo" ("Do not make it too spicy, please") to inform the vendor.
5. Wear the traditional hanbok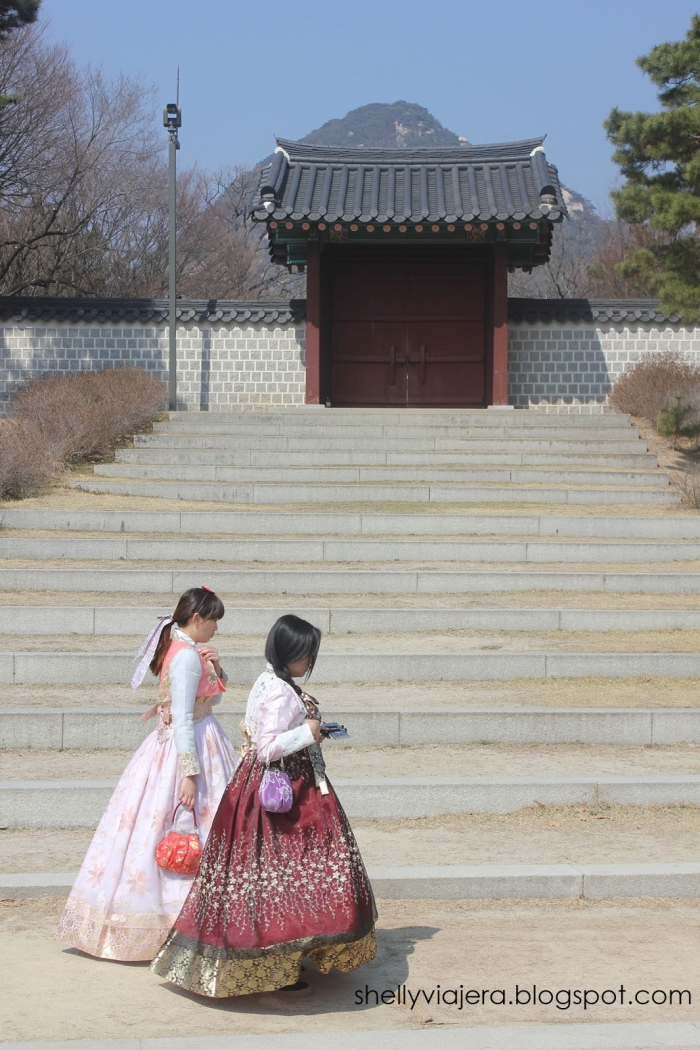 Seoul, despite being a city, reserves a lot of spot for history. The five palaces namely Gyeongbokgung, Changdeokgung, Changgyeonggung, Deoksugung, and Gyeonghuigung are all located in the heart of the capital. And if palace-hopping is your thing, then you may want to rent and wear hanbok, the traditional Korean costume. Why?
Aside from making you look so Joseon dynasty-ish in photos, entrance ticket to the palace is waived when wearing a hanbok! Most hanbok rentals are priced at ₩13,000 (₱573) and up for 4-hour usage. If you want to buy hanbok and keep it as good souvenir, ready-made ones are sold cheaper in Dongdaemun market.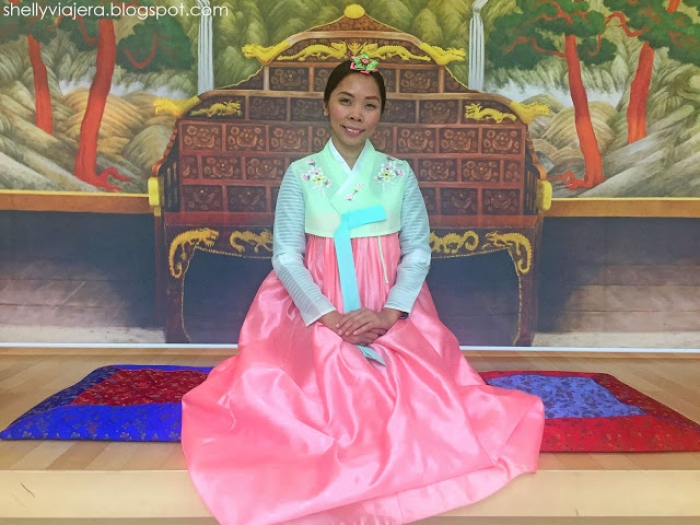 But if you are just after the experience of wearing a hanbok, there is a FREE hanbok experience in Myeong-dong. Head to Seoul Global Cultural Center, reserve a slot, and have a five-minute photoshoot wearing the hanbok. It is open daily, from 10am to 6pm. There are a couple of colourful hanbok costumes and head accessories to choose from. They offer costumes to men, women, and kids.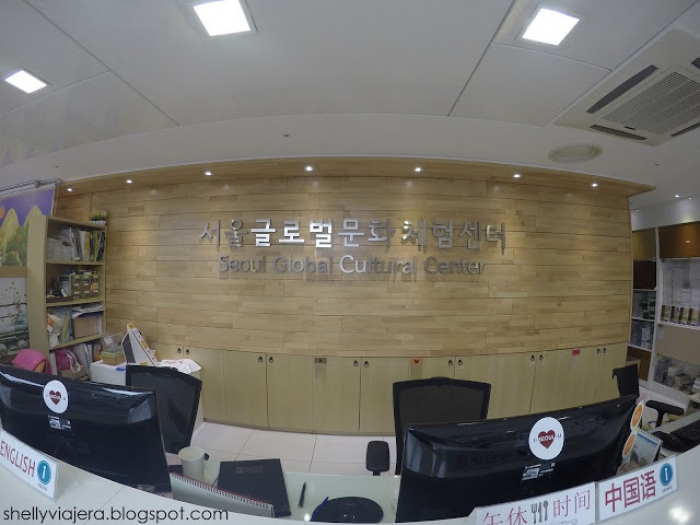 How to get there
Complete Address: Seoul Global Cultural Center, 5th floor M Plaza, 27 Myeong-dong 8-gil, Myeong-dong 2(i)-ga, Jung-gu, Seoul South Korea
From Myeong-dong subway station, take exit 6 and turn left. You will find yourself walking in the Myeong-dong shopping street. Before the third block, you will find M Plaza building to your right. There is a huge Zara store at the ground floor. Take the escalator to the 5th floor.
6. Rent a locker at the train or subway station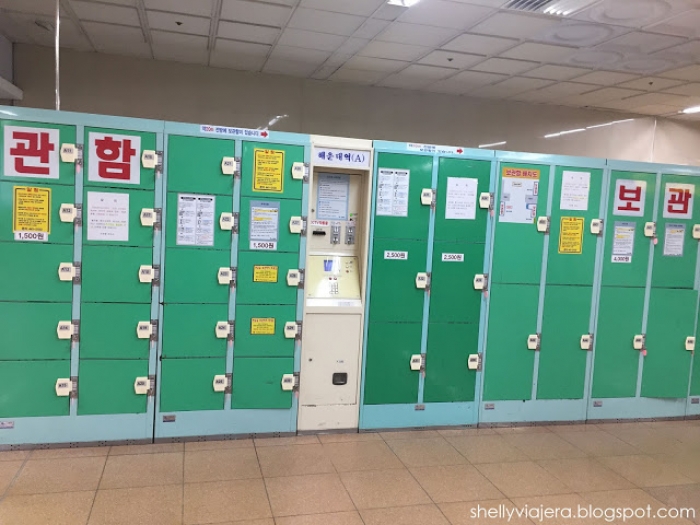 Some accommodations charge an amount for very early check in or late check out. While the intention is to just put down the heavy luggage to freely move around and spend the entire day out, there is no place to leave them. In South Korea, you may safely leave luggage in the train or subway station locker.
I only got a full day in Busan. The time was too short to get an accommodation yet too long to go straight to the airport. I did not have any plans of sleeping within the day anymore since I was able to take a nap during the 2-hour train to Busan already. But my problem was, I was already bringing everything with me coming from Seoul.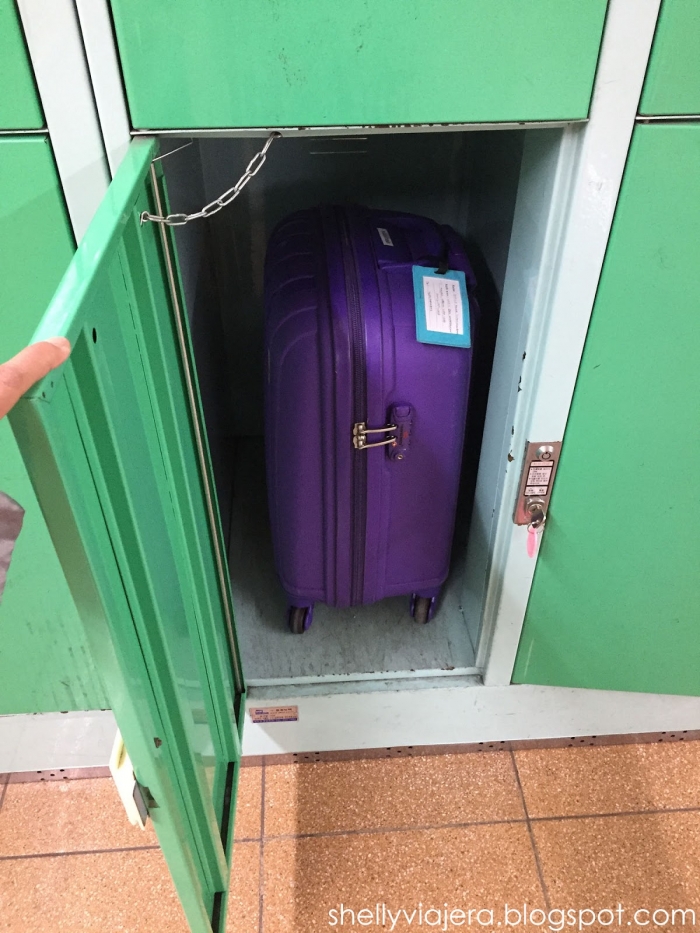 Instead of getting an accommodation, I decided to rent a locker at Haeundae subway station to keep my trolley and other belongings. It only costed me ₩4,000 (₱176) for a large locker.
Most train and subway stations in South Korea conveniently have lockers in small, medium and large sizes that can keep belongings for 24 hours. Although it is self-service, the machine has English instructions and very easy to follow.
Also read: I Travelled to South Korea for 4 Days with an All-In Budget of Only ₱15k
To sum it all, I managed the spend less than ₱30,000 all-in for a 5D / 4N backpacking in Seoul and Busan, South Korea. Here's a detailed table of expenses as guide:
Description
Amount
Promo air fare (Manila to Seoul) via Air Asia
₱3,760
Air Asia 20-kilo Baggage Allowance
₱1,070
Promo air fare (Busan to Manila) via Cebu Pacific
₱3,726
Cebu Pacific 20-kilo Baggage Allowance
₱1,298
Philippine Travel Tax
₱1,620
Accommodation
₱2,020 (4 nights)
Transportation

Train and subway expenses

KTX train to Busan

Namsan cable car

Grab car

₱1,722

₱2,175 (one-way)

₱276 (one-way)

₱444 (for 2 rides)

Food
₱5,193
Shopping and souvenir
₱4,848
Entrance tickets
₱141
Locker rental
₱184
Others
₱180
TOTAL
₱28,657